By Lambert Strether of Corrente.
Readers, household duties caused me to get a late start. A bit more in a bit. –lambert UPDATE 3:10PM All done!
Trade
"Textile Industry Shattered by China Trade Embraces Trump Crusade" [IndustryWeek]. "After decades of shedding thousands of jobs and closing factories as the U.S. opened up trade with China and other countries, textiles stabilized in recent years. And just as the sector was trying to invigorate growth, along came a presidential candidate pledging to revive American manufacturing. The industry immediately saw Trump's election as the best chance in a generation to reorient U.S. trade policy. And so far he hasn't disappointed…. Trump, however, largely avoided targeting consumer products for fear of upsetting voters who could face higher prices at the mall." • But wait… Consumers are also workers… So if their wages were higher…
"World Trade Organization Deputy Director-General Alan Wolff said Tuesday that a leaked EU proposal detailing reforms to the global trading group, including its embattled dispute settlement process, is a sign of hope that member countries could be starting to work toward a compromise over U.S. complaints" [Politico].
Politics
2020
"Hillary Clinton Blasts Trump For His Putin Press Conference With Just Four Simple Words" [Bustle]. • The words are less important that the fact of the words, and the venue. Clinton having veto power over the next Democrat candidate, or even being that candidate, is the ugliest possible scenario. So probably it will happen.
2018
UPDATE Have you seen the other guys?

POOR PERSON: "I don't have money for food tonight."

RESISTANCE: "Don't worry, the nightmare will end soon! There is a light at the end of the tunnel, for, you see, Trump and Putin have gay sex!"

POOR PERSON: "Oh good, this has given me nutrients!" https://t.co/T7SWFnDScn

— Dr. Peter M. Coffin, BLT ? (any/all) (@petercoffin) July 17, 2018

Why, yes. Yes I have.

And then there's this:

Gallup recently did a poll of what Americans say is the most important problem facing the country. One finding: the percentage of Americans saying "Situation with Russia" is the most important problem is literally too small to represent with a number. https://t.co/1Kzqek9eCb pic.twitter.com/aftMkCqQi1

— David Sirota (@davidsirota) July 17, 2018

This is silly. The problem with the Democrats' Russia messaging is that they aren't talking about it enough.

"'These guys need to wake up': House Republicans badly outraised in midterms" [Politico]. "Democrats in 56 House districts surpassed Republican incumbents in second-quarter fundraising… It's a financial trend line that has gotten worse for Republican candidates over the past year… The picture is even grimmer for Republicans in open, battleground districts, where a slew of retirements has put even more seats up for grabs. More than two dozen Democratic candidates in those districts also topped GOP opponents in fundraising, and 19 of those Democrats also led in cash on hand." • Presumably, at some point, the dark money taps will be turned on?

NY-14: "Vote Joe Crowley, for Working Families" [Joe Lieberman, Wall Street Journal]. • Joe Crowley, the DCCC, and the DNC have naturally disavowed… Oh, who am I kidding?

NY Governor: "State resources went to Cuomo campaign effort, records show" [Times-Union]. "For eight months in 2014, a longtime top aide to Gov. Andrew Cuomo, Joe Percoco, left the state payroll to manage the governor's re-election campaign. Yet during that time, the taxpayer-funded phone line in Percoco's former government office was routinely used for campaign-related business in violation of state regulations, according to records obtained by the Times Union." • Not a regulation, but the law, if I understand the rest of the article correctly.

UPDATE NY Governor: "Cuomo donor made 69 tiny donations to campaign" [New York Post]. "Queens resident Christopher Kim donated $1 or $5 to Cuomo's campaign 69 times over three days as the filing deadline approached. All told, he gave just $77, records show. But Kim isn't just an overeager small-dollar donor: records show he shares a Long Island City apartment with the Cuomo campaign's "creative director" Julia Yang." • Cuomo gives a refreshingly low number of f*cks, doesn't he?
New Cold War
"The Helsinki Summit: Trying to Turn the Page on the New Cold War" [Zero Anthropology]. "Taken together, all of [Trump's] positions are united by their divergence from the status quo ante, the neoliberals' dream of a New World Order, of a 'transatlanticism' that married Europe and the US in an imperial alliance that sought to command, and thus exploit, the rest of the planet. In the US, it repaired the apparent belief among neoliberals of the right and left that the political system is one where the FBI/CIA rule at the top, and the President is second." • Readers know that my priors include this "apparent belief" by elites; whether a "repair" has taken place — as opposed to a punch, followed by a return by both sides to their corners — is open to question. (That is the point of the two versions of "Back in the Saddle" that I presented yesterday. A long read, so get your coffee and settle down with some stimulating and hysteria-free commentary.

UPDATE "Imagine if Russia were to launch a real attack — say, a surprise strike on a US Navy vessel somewhere in international waters. How would the national security apparatus respond? First, presumably, it would try to figure out Russia's motives and guess its next steps. Then calculations would be made about what military and political objectives to seek and how to safely achieve them. Moves and countermoves would be methodically gamed out. And confident declarations of serene resolve would be issued" [Seth Ackerman, Jacobin]. "None of that is happening now. Instead, the mandarins of US power and their acolytes in the commentariat seem to be having a collective meltdown." • Indeed! See below…
The Political Class Has Lost Its Mind
Democrat calls for military coup:

Where are our military folks ? The Commander in Chief is in the hands of our enemy! https://t.co/3eF7OLKEdN

— Steve Cohen (@RepCohen) July 16, 2018

To which the answer should be: "In their barracks, and long may they stay there!"

And then there's the religious aspect:

INBOX: Ash Carter has thoughts on Trump-in-Helsinki. "It was like watching the destruction of a cathedral." pic.twitter.com/sJERv8baYA

— Ankit Panda (@nktpnd) July 17, 2018

"Putin's Attack on the U.S. Is Our Pearl Harbor" [Politico]. • Wowsers.

Black misleadership class, the next generation:

Folks being more outraged by anthem protests than by a Russian mole president undoing the post-WWII western alliance is exactly why I will never take y'all seriously when you claim to be motivated by anything other than racism & hate

— Bree Newsome (@BreeNewsome) July 16, 2018

Sadly, Newsome was the South Carolina activist who climbed a State capitol flagpole to take down a Confederate flag. A laudable act in itself, of course.

Torture advocate John Brennan, who should have been in the dock at the Hague, asks a question:

Donald Trump's press conference performance in Helsinki rises to & exceeds the threshold of "high crimes & misdemeanors." It was nothing short of treasonous. Not only were Trump's comments imbecilic, he is wholly in the pocket of Putin. Republican Patriots: Where are you???

— John O. Brennan (@JohnBrennan) July 16, 2018

To which the answer is that the Republican Patriots, like the Spanish fleet, are not yet in sight. #Resistance hero Bill Kristol:

Newt hastens to scurry back onto the Trump barge as soon as possible. There's something about many Republicans' relationship to Trump that prevents them from abandoning Trump. They may waver but they return, finding comfort in huddling together on a sinking and unworthy ship. https://t.co/qs3tCG9vXL

— Bill Kristol (@BillKristol) July 18, 2018

Beneath the blather, Kristol is saying that the Helsinki gambit has failed and with it, at least for now, a #Resistance + #NeverTrump alliance (however implicit). No doubt another gambit is already being primed. But consider: Why would the Republicans abandon Trump? The base would punish them. And if you try thinking about policy like a Republican, instead of like a hysterical, self-regarding, virtue-signaling, and intellectually lazy Democrat, you'll see that for them, there's a lot to like about Trump: He's doing the right thing on judges, he's gutting reining in the EPA, he's sabotaging making ObamaCare sustainable, he's even more into charters than the Democrats, and he's not making the dumb mistakes Bush made on Iraq, or on Social Security. Plus Mr. Market is all in his happy feelings, and Trump is totally owning the libs on an hourly basis. And who doesn't love owning the libs? Sure, Trump may be a little… crass, but look at the big picture, and is everything so very bad?

Dammit Bernie:

President Trump's press conference with Putin was an embarrassing spectacle. Rather than make clear that interference in our elections is unacceptable, Trump instead accepted Putin's denials and cast doubt on the conclusions of our intelligence community. This is not normal.

— Bernie Sanders (@SenSanders) July 16, 2018

"This is not normal" is a liberal Democrat talking point of the most vile order, and generally applied to things Trump has done that Bush and then Obama prepared the way for, are typically bad Republican practice, or are routine in the Beltway (like press secretaries lying, for example). Feelings aren't facts, and what is, in fact, not normal is that the Democrat base in the 9.9% feels disempowered and disrespected. I am not altogether certain that is such a bad thing, at least for a period of time. Perhaps it will have a chastening effect.
Realignment and Legitimacy
"Top Voting Machine Vendor Admits It Installed Remote-Access Software on Systems Sold to States" [Motherboard]. "The nation's top voting machine maker has admitted in a letter to a federal lawmaker that the company installed remote-access software on election-management systems it sold over a period of six years, raising questions about the security of those systems and the integrity of elections that were conducted with them… [Senator Ron] Wyden told Motherboard that installing remote-access software and modems on election equipment 'is the worst decision for security short of leaving ballot boxes on a Moscow street corner.'" • It's not Moscow I'm worried about, you insufferable ninny.

UPDATE Sound advice:

There are 111 days until the midterm elections. Please—ignore the Trump Show, which is designed to distract and derail you. Find candidates you like, and get your friends and family to back them. If you live in a safe blue district, give time and money to races further afield.

— Pinboard (@Pinboard) July 17, 2018

And don't contribute through rent-seeking intermediaries. Give directly to candidates.

UPDATE It's not clear to me why this should have taken a year:

The @DemSocialists handed about $200k to the National Compassion Fund to distribute to victims of the August 12, 2017 mass casualty in Charlottesville. The National Center for Victims of Crime operates the NCF and has made multiple errors since taking control of these funds.

— HOLD RVA POLICE ACCOUNTABLE (@TheQueerCrimer) July 17, 2018

It still looks to me, very much from the outside, like DSA has growing pains. The growth is good. Festering institutional problems — if any — are not so good.
Stats Watch
MBA Mortgage Applications, week of July 13, 2018: "Purchase applications for home mortgages fell" [Econoday]. "Though still an improvement from the negative readings seen in June, the week's slim year-on-year gain in purchase applications does not indicate robust housing market strength." • If wages rose — or costs, like health insurance and college, went down — maybe more people would be able to afford houses. Just a thought.
Housing Starts, June 2018: "In an unexpected downturn, housing starts as well as permits both fell sharply to their lowest rates since September last year" [Econoday]. "Housing data can be very volatile… Volatile or not, this report is a warning that the housing sector, where resales have been dead flat, may not be a positive contributor to the 2018 economy including second-quarter GDP." And: "Housing starts in June were disappointing, and starts for April and May were revised down. However this was just one month, and most of the decline was in multi-family starts that are volatile month-to-month" [Calculated Risk]. "It is likely that both starts and completions, on rolling 12 months basis, will now move mostly sideways."
Retail: "An increasingly urgent in the fast-growing grocery home-delivery market is drawing big investment in logistics technology. FreshDirect LLC, which helped pave the way for Amazon.com Inc. and other retailers jockeying to pick out your produce, is making a big bet on the business with its move into a highly-automated distribution center in the Bronx" [Wall Street Journal]. "The site, which helps speed up order fulfillment by 75%, is the latest sign of an arms race in grocery delivery. At FreshDirect, software maps out routes for order bins, helping food move faster and stay fresh longer. Brick-and-mortar competitors like Kroger Co. are answering with their own investments, and they're gaining ground with "click-and-collect" services where customers pick up their own groceries. All are trying to reduce the cost of last-mile delivery in a sector projected to hit $40 million in sales by 2021." • $40 million? That's it? (Watch that word "race"; the conditions for the race are almost always artificial and not explained in the article. Here, we seem to be racing to pick up a few pennies, so why? I mean, are we really going to order fresh tomatos we can't put back in the cooler if we don't like them? Or ice cream that's melted and then refrozen?)
Retail: "UPS tests smart locks for parcel delivery to apartment lobbies" [DC Velocity]. "Transport and logistics giant UPS Inc. has been testing a service that allows its delivery drivers to open 'smart locks' on apartment buildings and leave packages for residents in the lobby area instead of waiting to be admitted by doormen or residents, the company said today…. The system relies on smart locks provided by New York-based Latch, a firm which provides an electronic lock that can be opened by residents or others who have the appropriate code on their smartphone. In UPS' case, drivers use the same handheld computers they carry to provide route planning and to record proof of delivery signatures. To ensure security, the credential for each lock works only for a specific building and creates an audit trail that identifies the user and their time of access, according to UPS." • I think, at this point, when we hear the word "smart" we should think "hackable." I would bet physical locks are superior, exactly as hand-marked paper ballots, hand-counted in public are superior, and for the same reasons.
Shipping: "Trade war sparks more capacity cuts on transpacific container trades" [The Loadstar]. "Following last week's news that both the 2M and The Alliance groupings would suspend a service each this summer, the latter announced this week it would also withdraw its PSW4 loop at the end of August. The service deploys six COSCO vessels with an average of 10,000 teu capacity and has a port rotation of Lianyungang-Shanghai-Ningbo-Long Beach-Seattle-Lianyungang. In combination with the withdrawal of the 2M's TP-1/Eagle service from 29 June and THE Alliance's PS8 on 31 July, total capacity on the trade will be reduced by some 31,300 teu a week, or 6.7%, according to Alphaliner. However it warned capacity would likely increase again due to planned upgrades to APL's premium services."
Shipping: "Sabah Port officials detained for corruption investigations" [Splash 247]. "A director of Malaysia's Sabah Ports and Harbours and three directors from the port's contractors have been remanded by authorities to assist in alleged corruption investigations related to shipping arrangements between 2016 and 2018. The four officials are allegedly involved in offering bribes to a civil servant in a ship maintenance contract." • Hmm. Maintenance contracts seem relatively innocuous. Kill a chicken to scare the monkeys?
The Bezzle: "Bezos' Space Flight Gamble" [Safe Haven]. " Teal Group aerospace analyst Marco Caceres told Reuters that each flight will cost Blue Origin up to $10 million, and they're only taking six passengers per trip. So, if tickets go on sale for $200,000—those six passengers are getting a great deal….But the problem here is that no one can see the market—just like they couldn't predict the rise of the Internet in its early days. That is precisely the Blue Origin gamble. Bezos is willing to subsidize it to some extent, vowing to sell $1 billion in Amazon stock every year to help Blue Origin be the first to commercialize space flight." • Wowsers. Those squillionaires are desperate to get off-planet, aren't they? (I'm having a hard time wrapping my head around the idea that markets which cannot be seen are precisely those into which you should dump all your stupid money. Then again, I'm not an adventure capitalist. Cf. Heb 11:1).
Private Equity: "Private equity firms bet on pet care to survive economic slump" [Financial News]. "Alternative investment firms are hoping to cash in on the the humanisation of pets." • Great. I can set up a lease-back arrangment for the cat.
Recession Watch: "There are two important points to keep in mind while economists and the financial press obsess about whether the labor market is full and a recession is impending in the next 1-2 years. First, the labor market doesn't need to be full for there to be a recession. The mini recession from mid-2015 to early 2016 occurred when the labor market was less full than it is now. In April 1981, the unemployment rate bottomed at 7.2% and a recession occurred a few months later. The labor market doesn't need to be tight for a recession to occur. The second point is something we've discussed often in our labor market articles. The prime age labor participation rate is still signaling the labor market has about 2-3 years of slack left before it gets tight. The quick job creation in 2018 is evidence that the labor market isn't nearly full" [Econintersect]. • One reason, perhaps, that the instints of the "I won't, because all of me wants to" #NotYetBears are in fact correct: Bad stats. The whole article is worth a read.
Five Horsemen: "All of the Fab Five are down at mid-morning, including Alphabet after being fined $5 billion by the EU" [Hat Tip, Jim Haygood]. • The EU doesn't mess around, does it? This isn't some kinda small-fry pissant insider trading indictment. Although one does wonder if we're every going to see criminal penalties for the elite….
NakedCap Mania-Panic Index: "Yesterday's mild market rise lifted the mania-panic index to 57 (complacency)" [Hat Tip, Jim Haygood]. (The NakedCap mania-panic index is an equally-weighted average of seven technical indicators derived from stock indexes, volatility (VIX), Treasuries, junk bonds, equity options, and internal measures of new highs vs new lows and up volume vs down volume … each converted to a scale of 0 to 100 before averaging, using thirty years of history for five of the seven series.)
Health Care
But we can't:
Happy 70th birthday to the NHS! I moved to the UK 4 yrs ago after 4 decades using US health care. Was amazed at how easily I registered my family at our local GP. Quality care, free at point of use & £8 for prescriptions? Shocking to an American. #NHS70

— rob delaney (@robdelaney) July 5, 2018
"Free at the point of care" needs to become a #MedicareForAll talking point/requirement and any bills that do not include it must be revised. If any portion of the eligibility determination infrastructure is not uprooted, it will come back stronger, like kudzu or quack-grass.
"The one big winner of the Obamacare wars" [Politico]. "Health care, as the current president famously noted, is complicated­—and the past decade of change has generated an immense new market for consultants, advisers and a whole universe of ancillary experts who don't practice medicine but promise to help navigate a landscape that seems to change every six weeks." • In other words, ObamaCare's complexity is a Jobs Guarantee for the 9.9%. That's why they "fight" so hard to preserve it, and fight even harder to oppose #MedicareForAll. Maybe when the squillionaires all fire themselves off the Mars, they can take some "ancillary experts" with them? I mean, besides the armed guards and the nannies? Just leave us alone….
Black Injustice Tipping Point
Anniversaries:
Eric Garner was killed 4 years ago today.

I read this poem about him just now. You should, too. pic.twitter.com/pK45ehQqLw

— Kelly Wickham Hurst (@mochamomma) July 17, 2018
I heartily appreciate the sentiment, the imagery, and the punchline, although I don't like this style of poetry very much.
"Eric Garner was killed 4 years ago today. His killer is free, and got a raise." [GritPost]. "Eric Garner was killed four years ago today for selling loose cigarettes in Staten Island. His killer remains on the job, while the man who filmed his death is in jail. On July 17, 2014, police originally approached Garner on suspicion that he was selling loose, untaxed cigarettes on the street. The questioning transitioned into a physical struggle when Officer Daniel Pantaleo put Garner in a chokehold, which has been banned by the NYPD since 1993. Garner died, leaving behind four children (daughter Erica Garner, who became an outspoken criminal justice reform activist after her father's death, died in December of last year due to a heart attack at the age of 27). Eric Garner's final words were 'I can't breathe,' which later turned into a rallying cry for the Black Lives Matter movement in a wave of protests nationwide after a grand jury declined to charge Pantaleo in Garner's death." • The tragedy of the Garner family should be an an English-language opera, not that neoliberal claptrap Hamilton.
"It's Time For Us to Rethink 'The Talk' [Radical Faggot]. This is well worth a read, and if you, like me, were not given the talk when you were young, do consider reflecting on that and what it means. More: "I did not get 'the talk'—at least not directly—given to so many young Black people about the dangers of the police. I grew up middle class, half-white, and very light skinned in suburban Massachusetts…. [A new book is designed to] provide parents with tools for making 'the talk' easier. The book ends with a five step plan to keep Black kids safer in police interactions… The most glaring problem with this approach is that it obscures the core injustice of police violence: There is absolutely nothing one can do to avoid it…." The author then gives an alternative to "the talk," whose first bullet point is: "Do not talk to the police." • And that's good advice. I know Yves has run this before, but here it is again:
This is well worth listening to, in its entirety, if only because it's also very funny.
"The chief wanted perfect stats, so cops were told to pin crimes on black people, probe found" [Miami Herald]. "'If they have burglaries that are open cases that are not solved yet, if you see anybody black walking through our streets and they have somewhat of a record, arrest them so we can pin them for all the burglaries,' one cop, Anthony De La Torre, said in an internal probe ordered in 2014. "They were basically doing this to have a 100% clearance rate for the city.'"
Class Warfare
"How Corporate America Is Filling The Gaps In Public Education" [Safe Haven]. "U.S. businesses have recently begun training primary and high school students with the skills needed in the market. Or, more to the point—they're training them with the skills they need them to have to fill jobs that are increasingly hard to match with capable applicants. And they're starting as young as kindergarten." • Get the kindergartners in debt, and there's your feudalism, right there (and neoliberal playbook, step 4). But wait. I thought twenty years of Charters under both administrations would have fixed this? Guess not.
"What's driving the new wave of unionization sweeping digital newsrooms?" [Columbia Journalism Review]. • Let me guess: Wages and working conditions. Yep: "For staffers at young digital media companies, the thing that once was thought to be a barrier to unionizing—their tendency to hop from employer to employer—has turned into a prime motivation to organize. One recently unionized employee tells me her last job was at an organization that no longer exists and she doesn't expect to stay at her current company for long, either. Still, she says, 'I want a 9-to-5 job that I earn a decent salary from, [to] be able to save money, leave work when I'm not working, and not be working all the time.'" • Notice how everything the left wants supportsthat, and there's nothing on offer from liberals or conservatives except two flavors of more of the same.
News of The Wired
"Federation in social networks" [LWN.net]. • A focus on the ActivityPub W3C specification — I found the bios of the editors encouraging, because they're not corporate — and what it supports. More: "One of the most exciting aspects of ActivityPub is that its flexible definition of an 'activity' allows it to serve as the federated messaging layer for a variety of social applications. One interesting example is PeerTube, which combines ActivityPub federation with WebTorrent, an in-browser peer-to-peer file transfer implementation, to build a decentralized video sharing service. In this case, the activities exchanged between instances are simply references to videos that are retrieved directly from other peers. While PeerTube is still in early development, the current implementation is quite promising and it's easy to imagine it succeeding in many of the same ways as Mastodon." • Federated blogging would be interesting; an abstract or first para could work as a tweet….
* * *
Readers, feel free to contact me at lambert [UNDERSCORE] strether [DOT] corrente [AT] yahoo [DOT] com, with (a) links, and even better (b) sources I should curate regularly, (c) how to send me a check if you are allergic to PayPal, and (d) to find out how to send me images of plants. Vegetables are fine! Fungi are deemed to be honorary plants! If you want your handle to appear as a credit, please place it at the start of your mail in parentheses: (thus). Otherwise, I will anonymize by using your initials. See the previous Water Cooler (with plant) here. Today's plant (Arizona Slim):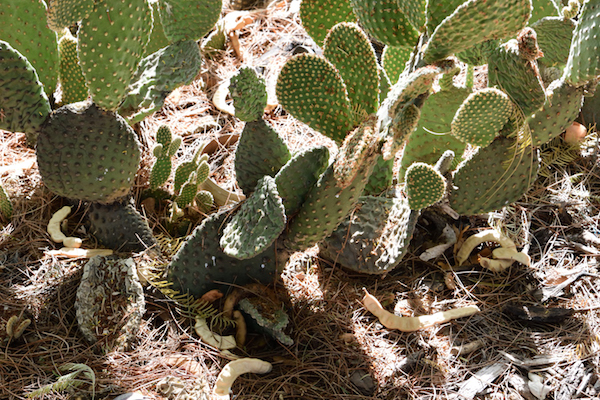 Arizona Slim writes: "Attaching a photo of Bunny Ear Cactii (Opuntia Microdasys) from the front yard at the Arizona Slim Ranch. And, yes, those little glochids hurt when they poke you!" Literal bunny ears, not TV bunny ears…
And not to overplay the cat angle, but cats are supposed to like boxes. What's up with the distinct lack of excitement?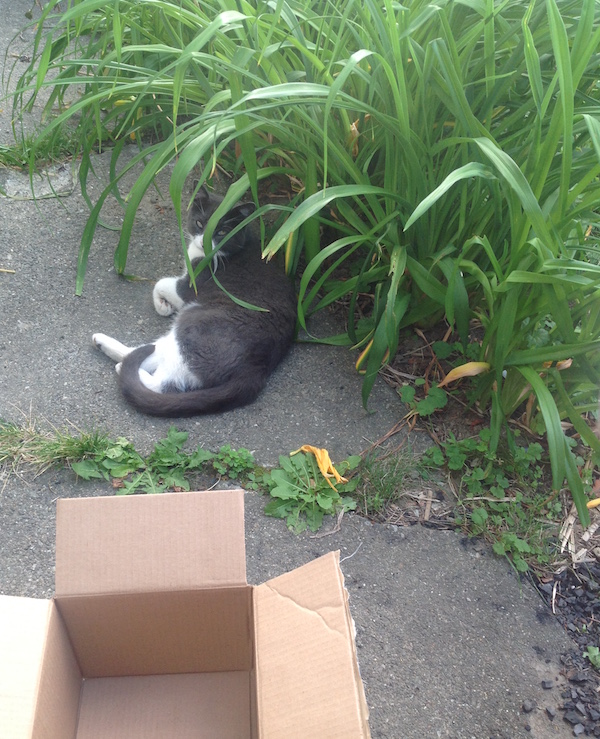 * * *
Readers: Water Cooler is a standalone entity not covered by the annual NC fundraiser. So do feel free to make a contribution today or any day. Here is why: Regular positive feedback both makes me feel good and lets me know I'm on the right track with coverage. When I get no donations for five or ten days I get worried. More tangibly, a constant trickle of small donations helps me with expenses, and I factor that trickle in when setting fundraising goals. So if you see something you especially appreciate, do feel free to click the hat!

To give more, click on the arrow heads to the right of the amount.
If you hate PayPal — even though you can use a credit card or debit card on PayPal — you can email me at lambert [UNDERSCORE] strether [DOT] corrente [AT] yahoo [DOT] com, and I will give you directions on how to send a check.