By Lambert Strether of Corrente.
Trade
"Negotiators from the U.S. and Mexico are entering their fourth week of resumed NAFTA talks as they push to wrap up the remaining bilateral issues – namely the automotive rules of origin, which have been one of the biggest sticking points in the renegotiation. But while Mexican Economy Secretary Ildefonso Guajardo has repeatedly said their teams are 'making a lot of advancements,' the talks haven't progressed far enough along to invite Canada's team back to the negotiating table" [Politico].
Politics
2020
"Seth Moulton Is Building A Political Army. But He's Not Sure What Comes Next." [Lissandra Villa, Buzzword]. "The House Democrat, only in his second term, has carved out a unique brand for himself that sets him apart from a lot of his House colleagues. What he's perhaps best known for is consistently breathing fire on his own Democratic leadership…. Moulton's Serve America PAC has endorsed dozens of candidates, mostly veterans, in races across the United States, including politically influential states like Iowa and New Hampshire." • Swell. Just what the Democrat Party needs. More militarization. What a steaming load from Villa. Check this out: "'I think [Moulton] really represents that new generation of leadership that's stepping up to approach politics in a different way,' said Jason Crow, a Colorado Democrat who is running against Republican Rep. Mike Coffman this year. Crow, who campaigned with Moulton throughout the district this week (and also has DCCC backing), argued that Moulton is 'leading the way' in changing 'the entire culture of politics in Washington.'" • A DCCC-backed candidate is running to change the culture in Washington? Really? If you read the whole thing, you'll note there's nothing on policy at all. Crow, as we might expect, opposes #MedicareForAll. Whenever you hear a candidate blather on about their working class values, ask what universal concrete material benefits they're offering the working class, and you'll have an index for how far they've left their roots behind.

"Evan McMullin at Register's Soapbox: American values under threat" [Des Moines Register]. "American values and institutions are under threat, said Evan McMullin, a former Central Intelligence Agency operations officer who ran as an independent candidate for president during the 2016 election cycle." • A spy-humper for President. How nice.

"Eric Swalwell has visited Iowa 10 times in last year and a half. Is he running for president?" [Mercury-News]. Politicos in the Hawkeye State, which holds the first presidential nominating caucuses in the nation, say Swalwell has spent more time there over the last year and a half than nearly any other potential Democratic presidential candidate… His frequent trips come as he's skyrocketed from obscurity to a measure of political fame over the last two years, thanks to his role on the House Intelligence Committee during its investigation into Russian election interference." • Oh good. Another spy-humper!
2018
"Democratic National Committee Backtracks On Its Ban Of Fossil Fuel Donations" [HuffPo]. "The DNC's new resolution 'reaffirms its unwavering and unconditional commitment to the workers, unions and forward-looking employers that power the American economy,' according to the text. As such, it states that the DNC 'will continue to welcome the longstanding and generous contributions of workers, including those in energy and related industries, who organize and donate to Democratic candidates individually or through their unions' or employers' political action committees.'" • Ka-ching.

"Candidates Tout Careers in Espionage" [Wall Street Journal]. "This year, Ms. Spanberger is one of a crop of House candidates, most of them Democrats, with deep experience in national security who have emerged as a force on the campaign trail, touting backgrounds in espionage, counterterrorism and foreign policy. The national Democratic Party considers Ms. Spanberger, Ms. Ortiz Jones, Ms. Slotkin, Ms. Soderberg and Andy Kim, who is running for a House seat in New Jersey, top-tier candidates in competitive races. All have been included in the Democratic Congressional Campaign Committee's "Red to Blue" program that lends resources and support to candidates with a serious chance to win." • One can only wonder why the Democrat Party is so solicitous of the intelligence community, considering their many debacles. Oddly, or not, the WSJ doesn't credit the WSWS, who broke the story.

More Brock trolls:

Democrats seek stronger social media presence to guard against potential Russian interference in midterms https://t.co/qhbPky4JPM

— Washington Post (@washingtonpost) August 11, 2018

DE Senate: "Tom Carper isn't unbeatable. Ask Joe Biden or Christine O'Donnell about Delaware politics" [Delaware Online (BobWhite)].

MN Governor: "U.S. Rep. Keith Ellison accused of domestic violence; he denies it" [Star Tribune]. "Monahan's son, Austin Aslim Monahan, posted that he watched a video on his mother's computer in which Ellison could be seen dragging Monahan off a bed as he screamed profanities at her. 'This video does not exist because I never behaved in this way, and any characterization otherwise is false,' Ellison's statement read." • Curious timing. Producing the video would solve the evidentiary problems.

* * *

NY-21, NY-22: Alert reader PQ throws the following over the transom on NY-22, along with some linky goodness (below):

Trump is scheduled to visit Upstate New York tomorrow (Mon 8/13) in support of Stefanik in NY-21 and Tenney in NY-22. The event with Tenney is a fundraiser, with a minimum donation of $1,000 to get in the door. For $15,000, you get to sit at a special table and have your picture taken with Trump.

Resistance groups are having a field day with that info, of course. NY-22 is, for all practical purposes, flyover country. There are rumors flying that her campaign is offering discount tickets for $500 to attend her event in Utica, giving rise to speculation that she can't fill a room at $1,000 a pop. This is coming from protest groups, but to their credit, a few of them did manage to find out where the event was going to be held before it was announced officially, so maybe they've got good sources. They've been working overtime to organize protests on short notice. FYI, I live in the backwater south in NY-22; NC community members in Utica and Syracuse may have a lot more info. Likewise, I'm not up on activities in NY-21.

Many of the people organizing the protests are actively campaigning for Tenney's opponent, New York Assemblyman Anthony Brindisi. According to news reports, he's ahead in fundraising. I'm starting to see signs here and there for him. None yet for Tenney.

NY-22: "OUR VIEW: Trump on the stump a moment in area history" [Observer-Dispatch]. "The president certainly can be considered major firepower for Tenney, R-New Hartford, who is being challenged in the 22nd Congressional District by Democrat Anthony Brindisi, a New York state assemblyman from Utica. The district includes all of Chenango, Cortland, Madison and Oneida counties, as well as parts of Broome, Herkimer, Oswego and Tioga counties. The majority of the district's voters are from Broome and Oneida counties. Brindisi has scheduled a fundraiser of his own while Trump is in town, but it's not so secret or expensive. It will be at 6 p.m. at Chesterfield Restaurant on Bleecker Street in East Utica, with tickets priced at $10 for a supporter, $50 for a sponsor and $150 for a co-host." And: "The last sitting president to visit Utica was President Harry Truman, who stopped at Union Station during a "whistle-stop" train tour in summer 1948 and spoke to a large crowd." • Big subtext in that last sentence.

NY-22: "Protests planned in Utica during Trump fundraiser with Tenney" [Syracuse.com]. "Indivisible Mohawk Valley is organizing what it calls an "epic protest" from 4 to 7 p.m. at Liberty Bell Park at LaFayette and Genesee streets in Utica, which is near at least two downtown hotels that could host Tenney's event." • I wonder what the Twitter will show.

NY-22: "Zogby: President Trump's Utica visit 'huge' for Tenney campaign" [Observer-Dispatch]. "When Bobby Kennedy was in the Senate in the mid-1960s, he endorsed former Utica Mayor Dominick Assaro as well, [Utica pollster John Zogby] said. 'He came in and endorsed a local reform candidate for mayor and that was really a big deal especially in a peak of the Kennedy days, or the post-assassination of Jack Kennedy,' he said. '(Bobby Kennedy) was building a Democratic party base and a reform base for the statewide party and we had a reform movement here, led by (Assaro). … Those who remember will still say that the bullet that killed Bobby Kennedy killed the Asaro movement, as well. They were battling a political machine.'" • History doesn't repeat….

* * *

OH-12: "Why the Ohio Special Election Won't Tell Us Much About November" [Charles Cook, Cook Political Report]. "The fact is, we knew a year ago that the Republican majority in the House was in danger, we knew it a month ago, we know it today, and we will know it tomorrow, next week, and all the way up to Election Day. Special elections in odd years and early in election years can give us an indication of which way the wind is blowing and a rough idea of velocity, but once you get within 100 days or so of the general election, electoral dynamics are pretty much set. In modern history, we've never seen a directional change in the last three months of a midterm-election campaign. Waves can stay the same or increase in the closing months, but they don't reverse direction or dissipate…. What would be the difference between a tight contest for control of the House and a big Democratic year is the makeup of the electorate this fall…. While young people are making a lot of noises about voting in big numbers and Trump's numbers are worst among young people, historically you could go broke betting on younger voters showing up at the polls, particularly in midterm elections. In Obama's two presidential elections young turnout was up a bit, but it was dismal in both 2010 and 2014, as well as in previous midterm elections." • Now he tells us….
New Cold War
"FBI agent Peter Strzok has been fired: Washington Post" [MarketWatch]. "FBI Agent Peter Strzok, who helped lead the investigation into Russian interference in the 2016 election as well as into Hillary Clinton's email server until his anti-Trump tweets were discovered, has been fired, The Washington Post reported, citing Strzok's lawyer. His lawyer told the newspaper that the head of the FBI office that handles employee discipline had recommended a 60-day suspension and demotion but not a firing." • Sending a message to worker bees everywhere. I don't know how case assignments are handled at the FBI, but in retrospect, doesn't putting Strzok on both these cases look a little odd?
The Liberal Democrats Have Lost Their Minds
Holy moly:

A reminder: we didn't have neo-Nazi rallies until Trump took office – let alone in the light of day in our nation's capital! Their hate used to be unacceptable and hidden until Trump came along and legitimized them. https://t.co/ahQOpxnKkb

— Amy Siskind (@Amy_Siskind) August 10, 2018

Siskind is a former Wall Street executive and head of "The New Agenda." Maybe she missed the pre-Trump rallies because she was at brunch?
Realignment and Legitimacy
"So, How's That Major-Party Election Madness Working for Us?" [Paul Street, TruthDig]. "The people's movements we desperately need to form—perhaps it is my delusion that rank-and-file citizens can and will ever do so—should include in their list of demands the creation of a party and elections system that deserves passionate citizen engagement. The oligarchic system (beyond mere plutocracy) now in place in the U.S. is worthy of no such thing." • A pitiless dissection. Street makes the often-forgotten point (using my phraseology) that liberal Democrats would have regarded Sanders' election as just illegitimate as Trump's — remember what they did to Sanders supporters on the DNC, if you don't believe me — and would have deployed the exact same RussiaRussiaRussia hysteria against a Sanders administration. (The Democrat establishment also crippled Carter, back at the dawn of the neoliberal era.) The difference is that with Trump, liberals are fighting conservatives (except for the wealthy suburbanites and Bush administration hacks they want to flip). With Sanders, liberals would have joined with conservatives. Again, though, if you think of the Democrats as a crime syndicate that controls the ballot instead of a street-corner, is it really possible to defeat them without going onto their turf? Even if you control another street corner? I'm not so sure.

"Our loneliness epidemic is a political problem, too" [Salon]. "In their bracing and brilliant book, 'A General Theory of Love,' psychiatrists Thomas Lewis, Fari Amini, and Richard Lannon put America on the couch, and their diagnosis is rather grim. 'A good deal of modern American culture," they write, "is an extended experiment in the effects of depriving people of what they crave most.' That which people most crave are the elements and effects of love — hospitality, community, solidarity — a general feeling of belonging and appreciation coupled with the exercise of moral agency for the benefit of other people. Thomas Aquinas defined love as 'actively willing the good of the other.'" • Hard to achieve solidarity under such conditions. Harder left elements scoff at DSA social events, but I think DSA is onto something. More summer reading…

"D.C. officials, union criticize decision to use Metro to transport Jason Kessler and white supremacists to Unite the Right rally" [WaPo]. • Apparently, Kessler et al. didn't get a private car, a proposal previously mooted by the WMTA. But they did get a police escort. I suppose if Heather Heyer had been given a police escort, she'd be alive today. So there you are.

"Wanting More Power, Public Employees Run for Office" [Governing]. "While state and local government employees have the power to change things, they are limited by the resources and rules set by elected officials. This truism is leading more of them to run for office…. Because 40 states have part-time legislatures, many public employees can keep their jobs if they win…. According to the American Federation of Teachers, about 300 of its members are running for elected office this year or next — almost three times the usual number."

"New Poll: Majority of Americans Believe Race Relations Have Worsened Under President Trump" [Larry Sabato's Crystal Ball]. "Americans believe by 57% to 15% that race relations have become worse since President Trump's election. By contrast, respondents were evenly divided about Barack Obama's time in the White House, with 38% believing race relations improved and 37% saying they worsened." • Retuers/IPSOS.
Stats Watch
No statistics of note today.
Capital Spending: "Combined U.S. & Canadian Industrial Spending Slides 27 Percent" [Industrial Reports]. "Research by Industrial Reports, Inc. shows combined U.S. and Canadian planned capital spending fell 27 percent in July compared to June with $36.04 billion in spending for the two nations. June's planned investment showed $49.44 billion. The research organization reported 234 planned U.S. and Canadian projects in July. Planned U.S. project spending slipped 20 percent in July with $32.40 billion in planned investment compared to the June total of $40.54 billion. Canadian planned investment also sank from $8.90 billion in June to $3.64 billion in July. Projects in both nations ranged in value from $500,000 to $8 billion." • From August 1, sorry I missed it. Bad news for a capitalist economy. Still, this is a very sporty index, with a lot of ups and downs, so I'm not filing it under "Honey for the Bears." Note that "Texas was the U.S. leader in planned investment for the month," so its not an oil thing.
Shipping: "Port Tracker points to import volume gains but is wary of tariff impact" [Logistics Management]. "Against the backdrop of increasing retail sales and an ongoing "pull forward" efforts by retailers to import goods in advance of new tariffs levied on products made in China, various import volume records continue to be set in 2018, according to the most recent edition of the Port Tracker report, which was released this week by the National Retail Federation (NRF) and maritime consultancy Hackett Associates…. While 2018 is expected to see import volume gains, Hackett cautioned that may not be the case, as he said there could be a downturn going into 2019, due to the trade war, coupled with an anticipated economic slowdown based on forward-looking indicators."
Shipping: "The Trouble With Trucking" [Editorial Board, New York Times (DK)]. Here is the lead: "The economy is booming. The stock market is frothy. Corporations are earning record profits. Yet workers are getting minuscule raises that don't make up for the rising cost of living. What gives?… • Followed by an enormous list of why trucking today is a screw-job except for the top echelon (that is, the drivers the Teamsters are trying to protect at UPS, while throwing everybody else under the bus with a two-tier contract). The closest the Times comes to answering their question — "Why?" — is buried in the middle: "[D]eregulation also took a toll on drivers by giving the industry a bigger financial incentive to lower costs and by weakening unions." See, deregulation, like globalization, is an invisible magic force that… just happens. The Times poses another question at the end: "Imagine, however, that the government instead decided to use its prodding power to improve the lives and incomes of truck drivers." • Yeah, imagine that. Why isn't that happening? "I know! I know! [raises hand] Putin keeps wages low!"
Shipping: The meta (DK)! It b-u-r-r-r-n-s!!!!
This is a ship-shipping ship, shipping shipping ships pic.twitter.com/CUfksNgBz7

— Nate Lanxon (@NateLanxon) August 8, 2018
Tech: "AP Exclusive: Google tracks your movements, like it or not" [Associated Press]. "An Associated Press investigation found that many Google services on Android devices and iPhones store your location data even if you've used a privacy setting that says it will prevent Google from doing so. Computer-science researchers at Princeton confirmed these findings at the AP's request…. — a popup that appears when you 'pause' Location History on your Google account webpage . There the company notes that 'some location data may be saved as part of your activity on other Google services, like Search and Maps.' • So, Google engineers are getting free lunch and backrubs at their desks to create "dark patterns" that screw their users over. I've helpfully underlined the dark pattern in the quote: It's called "Privacy Zuckering," where "You are tricked into publicly sharing more information about yourself than you really intended to." We've got the patterns documented, and we understand the engineering. Why not outlaw the practices as consumer fraud? With criminal penalties?
Tech: "25% of Known Computer Security Vulnerabilities Have No Fix" [247 Wall Street]. "In the first half of 2018, analysts at computer security firm Risk Based Security (RBS [and not the Royal Bank of Scotland, fortunately]) published 10,644 flaws in a computer system (known as vulnerabilities) that could be exploited by a hacker to take unauthorized actions within the system. Of the total number of vulnerabilities, there is no known solution for 25.6%…. RBS notes that flaws of this kind demonstrate the difficulties software vendors face in validating untrusted input from users. The moral of the story is that companies can't be too careful." • I'd say RBS was talking their book, except a doctor isn't talking their book when they tell a patient what they have is incurable…
Tech: Business model:
How to build a 1 trillion dollar company: pic.twitter.com/s0SzgeuhA1

— Halle Tecco (@halletecco) August 3, 2018
I'm sure Apple doesn't make its squillions by screwing users who invested in products with ports that were, unbeknownst to them, about to be made obsolete. But there's something about the process and attitude that really frosts me, especially the 2015 removal of the MagSafe connector, without which my expensive machine is at risk if I trip over the power cord ([guffaw] "like that would ever happen"). Seems like the 2015 PowerBook is the last decent Mac laptop ever, and we should just hoard them. Readers?
The Bezzle: "Elon Musk Says Saudi Interest Sparked Effort to Take Tesla Private" [Industry Week]. "'I left the July 31st meeting with no question that a deal with the Saudi sovereign fund could be closed, and that it was just a matter of getting the process moving,' Musk wrote in the post. He said this is why he tweeted on Aug. 7 that he had 'funding secured' to take Tesla private at $420 a share." • Would the SEC think that "funding secured" is something that happens when you leave a meeting saying the funding "could be closed"? Perhaps today's SEC — where's the insider trading, after all? And isn't Saudi money famously dumb? Or are there nuances?
The Fed: "Goldman: "Price pressures seem to be everywhere except the inflation statistics" [Calculated Risk]. From the Goldman note: "Barring a sizeable rebound in capital formation or labor-force participation, capacity constraints are likely to become increasingly binding as the expansion continues. While the Fed may view further declines in the unemployment rate with some ambivalence, the implications of broadening labor shortages and product-market bottlenecks are more clear-cut, representing a textbook form of overheating that the Committee has historically taken great pains to avoid."
Honey for the Bears: "The U.S. industrial sector is bursting at the seams. Suppliers are scrambling to keep up with demand for everything from engines to electronic components and some manufacturers are even idling production lines… as they cope with late deliveries and rising transportation and other costs. The strains at factories come as orders remain strong and hiring in the sector is on a roll. Yet a survey of U.S. manufacturers shows deliveries from suppliers have slowed for 22 consecutive months through July, with many reporting bottlenecks in their supply chains are crimping earnings and their ability to meet demand. . Some now are struggling to find workers* and remain hesitant to ramp up production because they worry a machinery-sector recovery is drawing to a close." • I've helpfully underlined the material that pertains to "hysteresis" (see NC here). After hubris, nemesis. NOTE * I think what this means is that a lot of the "shed staff" lost their homes to foreclosure or died deaths of despair. So, yes, it would be hard to attract those workers back into the labor force. And I would bet those of the "shed staff" who survived have, well, trust issues.
Rapture Index: Closes unchanged [Rapture Ready]. Record High, October 10, 2016: 189. Current: 181.
Health Care
"Trump's 'Junk' Short-Term Health Plans Banned in Connecticut" [Governing]. "The Connecticut Insurance Department has determined state law prohibits the sale of skimpy 'short term' plans that are being promoted by President Donald Trump as a cheaper alternative to Affordable Care Act coverage. 'Connecticut already has the necessary statutory consumer protections in place to prohibit 'junk plans' " Insurance Commissioner Katharine Wade said in a statement released Thursday."
Class Warfare
"How smart cities will improve trucking and the supply chain" [FreightWaves]. "A smart city is a framework, largely composed of Information and Communication Technologies (ICT), to develop, deploy and promote sustainable development practices to address growing urbanization challenges. For as complex as the topic of smart cities can be, a big part of the ICT framework is an intelligent network of connected objects and machines transmitting data using wireless technology and the cloud. Cloud-based IoT applications receive, analyze, and manage data in real time to help cities and the citizens who inhabit them, to make better decisions in the moment with the goal toward improving overall* quality of life." • tl;dr: A highly insecure digital dystopia. NOTE * "Overall." Averages conceal.
"Ralph Nader: Give Apple profits to 'serfs,' not shareholders" (interview) [247 Wall Street]. "[Apple] just announced earlier this year – a $100 billion stock buyback adding to previous stock buyback without asking the shareholders, institutional and individual, their opinion or even their approval. So the point I was making is it could've been used to increase employees. It could've been used to shore up the pension fund. It could've been used – 2 percent of it, Scott, to double the income of the serf laborers – 1.3 million Chinese laborers in the contractor that builds the iPhones. It could have had 2 percent of 100 billion to improve the recycling of used computers and phones, which are endangering both the environment and the workers. It could've been put in productive investment. It could've been put in research and development. It could've been sent to cash dividends back to the shareholder, but no." • So the money is buying squillioanaires walled compounds in New Zealand. I don't see an issue here.
News of The Wired
"Biting the Bucket with Ayahuasca" [Medium]. • Yikes. Not sure I want to be tripping and vomiting at the same time, but de gustibus…
A Brief History of Milwaukee Avenue, Part 1: an Indian Trail Becomes Dinner Pail Avenue" [Chicago Patterns]. From 2016, but well worth a read on Chicago's grid pattern, among other things. Then there's this: "1890: The End of Tolls: a Mob Destroys Toll House and Gate…." And the toll house was not, in fact, rebuilt. A court ruled against it.
* * *
Readers, feel free to contact me at lambert [UNDERSCORE] strether [DOT] corrente [AT] yahoo [DOT] com, with (a) links, and even better (b) sources I should curate regularly, (c) how to send me a check if you are allergic to PayPal, and (d) to find out how to send me images of plants. Vegetables are fine! Fungi are deemed to be honorary plants! If you want your handle to appear as a credit, please place it at the start of your mail in parentheses: (thus). Otherwise, I will anonymize by using your initials. See the previous Water Cooler (with plant) here. Today's plant (TH):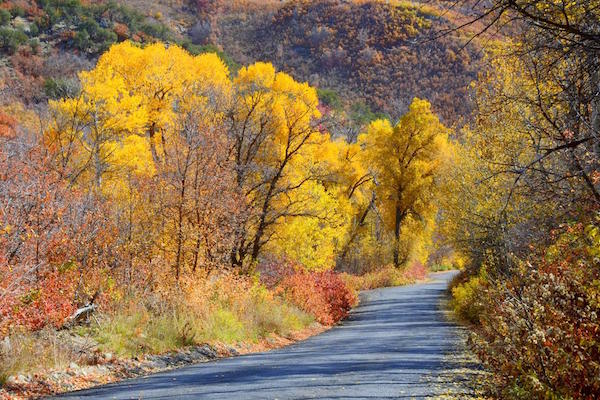 TH writes: "This was October in the Wasatch Mountain Range in Utah. I believe the golden leaves belong to Aspens." A reminder that fall is not that far away.
A reader has asked whether the garden cat returned. I did in fact provide a status update ("just in time for dinner", but buried in comments. So, not to overplay the cat card, but herewith: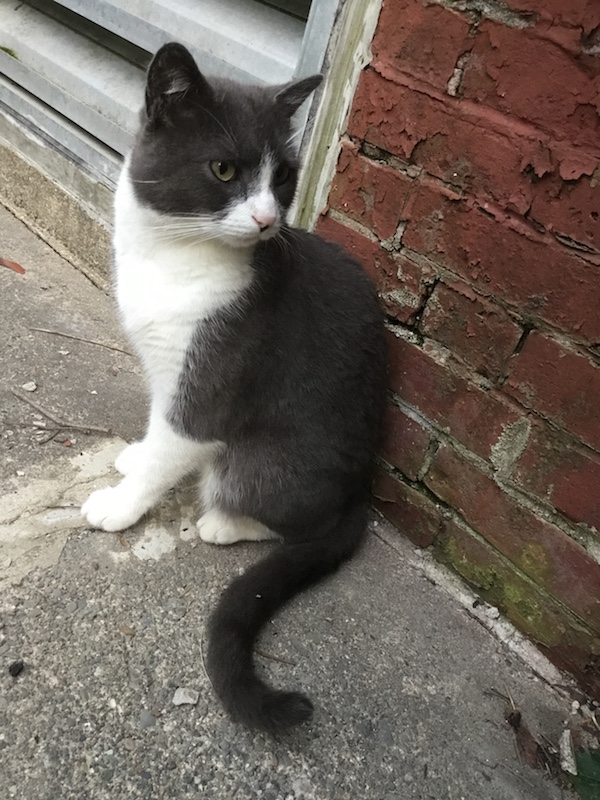 * * *
Readers: Water Cooler is a standalone entity not covered by the annual NC fundraiser. So do feel free to make a contribution today or any day. Here is why: Regular positive feedback both makes me feel good and lets me know I'm on the right track with coverage. When I get no donations for five or ten days I get worried. More tangibly, a constant trickle of small donations helps me with expenses, and I factor that trickle in when setting fundraising goals. So if you see something you especially appreciate, do feel free to click the hat!

To give more, click on the arrow heads to the right of the amount.
If you hate PayPal — even though you can use a credit card or debit card on PayPal — you can email me at lambert [UNDERSCORE] strether [DOT] corrente [AT] yahoo [DOT] com, and I will give you directions on how to send a check.