By Lambert Strether of Corrente.
Trade
The Chinese know about the Iowa primaries:
CHINA sends a message to Trump and Ambassador Branstad by taking over 4 pages of Des Moines Register.

Advertising supplement has "news" on:
—China buying soybeans from South America due to "trade row"
—Xi Jinping's "fun days in Iowa"
—"Beijing can set an example for the world." pic.twitter.com/axquXHyPaz

— Jennifer Jacobs (@JenniferJJacobs) September 23, 2018
Politics
2020
"Eyeing White House, Cory Booker introduces himself to Iowa" [Associated Press]. "Booker has secured the keynote speaker role at the marquee fall Democratic Party fundraising banquet in Des Moines on Oct. 6. He'll also headline a Democratic fundraiser later in October in South Carolina, which holds the first primary in the South and is a key test of support among black voters. Adding to the intrigue surrounding Booker is his budding relationship with Des Moines lawyer Jerry Crawford, a party powerbroker helping the senator make connections in Iowa…. While many potentially top-tier prospects have fostered relationships in Iowa, Booker is the only one — for now — to be in the state ahead of the November midterm elections."

Neera still doing enforcement:

James Zogby, founder & president of the Arab American Institute, has been officially warned that "an army" will "rise up" and be dispatched against him if he every again expresses criticism of centrist Democratic politicians. He has been generously given one last chance to stop: pic.twitter.com/buGii29oQM

— Glenn Greenwald (@ggreenwald) September 23, 2018

"Bernie Sanders: Donald Trump and GOP want to cut Social Security. We should expand it instead." [USA Today]. "If Trump actually cared about saving Social Security, he would support my bill to expand Social Security benefits and extend its solvency for the next 60 years by requiring the wealthiest Americans — those making over $250,000 a year — to pay their fair share of Social Security taxes…. A moral society does not give tax breaks to billionaires and large corporations, and then cut back support for struggling seniors or people with disabilities.Our job now is to rally the public to ensure that everyone in America can retire with dignity and everyone with a disability can live with security." • You show Bernie the way out of the austerity box (MMT) but he just won't take it….

"Bernie Sanders backs Scottish Government's Amazon funding freeze in workers' Living Wage battle" [Daily Record]. Our exclusive last week revealed that Amazon will have to pay workers the Living Wage of £8.75 an hour if they want to access public cash in the future. And Sanders, who ran for president in 2016, has now called on America to follow Scotland's lead."

UPDATE "Reviving The Mishandling Of Anita Hill's Testimony Is Bad News For Biden 2020" [HuffPo]. Lots of detail for those who came in late. This caught my eye: "Biden also handed a major victory to Republicans in agreeing to let Thomas testify both before and after Hill ― most crucially, scheduling his response to her allegations for 9 p.m. on a Friday, when millions of people were tuned in for their prime-time broadcast." • Prime time? Really?
2018
42 days until Election Day. 42 days is a long time in politics (as we are seeing right now with Kavanaugh and Rosenstein).

"'100 Kegs or Bust': Kavanaugh friend, Mark Judge, has spent years writing about high school debauchery" [WaPo]. (Ford says Judge witnessed Kavaugh attacking her.) Interesting article on the Kavanaugh milieu: "Judge has written about his Prep years as a time of drunken debauchery. Beach Week, a summertime excursion with classmates, was a nonstop roller coaster of drinking, sexual encounters with girls from other prep schools, blackouts and more drinking. 'It was impossible to stop until I was completely annihilated,' he wrote. Such experiences filled weekends during the school year as well, and on Monday mornings during senior year, the boys would tell their Marriage and Sex teacher, Bernie Ward, about their excesses. 'The drinking was unbelievable,' said Ward, who later spent two decades as a radio talk-show host in San Francisco and served six years in federal prison for distributing child pornography. 'It was part of the culture. A parent even bought the keg and threw one of the parties for the kids.'" So if you were asking "Where were the parents, there's your answer. More: "Like Kavanaugh, Judge grew up in a Catholic Washington that formed its own social world, centered in the big old houses of Chevy Chase, Bethesda and Potomac, places today known as home to millionaires but through most of the second half of the 20th century communities where police officers, civil servants and teachers lived alongside lawyers and doctors. The big houses were perfect for large Catholic families, and the lives of kids and parents alike revolved around a core set of institutions — parishes such as Our Lady of Mercy in Potomac and Blessed Sacrament in upper Northwest Washington, and the private Catholic high schools within easy reach, such as St. John's College, Georgetown Visitation, Stone Ridge and Georgetown Prep." • My question is, why on earth didn't the Federalist Society mavens who created the list of potential Justices see Kavanaugh's association with Judge as a giant red flag, given Judge's writing? After all, the Trump administration's court nominations had been going like clockwork before Kavanaugh, so what changed?

"Senate Democrats Investigate a New Allegation of Sexual Misconduct, from the Supreme Court Nominee Brett Kavanaugh's College Years" [The New Yorker]. Here are two phrases that leap to a skeptical eye: "after several days of considering the matter carefully," and "The New Yorker has not confirmed with other eyewitnesses that Kavanaugh was present at the party."

UPDATE "Michael Avenatti Implicates Kavanaugh in Pattern of Teenage Sexual Assault" [New York Magazine]. • A different set of allegations. Presumably, Avenatti's witnesses will at some point come forward. Given what we know of sexual mores in the Kavanaugh milieu, little would surprise me, but that's not the same thing as saying that the allegations are true. The purpose of these house parties is to get drunk and have sex. Why is anyone surprised that an environment like that fosters assault? And what do we do about it? Given that "party culture" persists to this day? Aided and abetted by parents and schools, as the "100 Kegs or Bust" story makes clear?

* * *

"Is Winning Women Enough for Democrats to Win the House?" [Cook Political Report]. "Poll after poll have shown that white college-educated women, once a persuadable pool of voters, have abandoned the GOP. The most recent NBC/Wall Street Journal survey found that these women support a Democrat for Congress by 22 points — 58 percent to 36 percent. In 2014, they preferred a Democratic Congress by just 2 points (46-44 percent). Republican strategists on the ground are seeing and feeling the same thing…. The defection of these women voters are the reason why traditionally GOP, upscale, overwhelmingly white districts in suburban Chicago (IL-06), Kansas City (KS-03), Dallas (TX-32), Houston (TX-07), New Jersey (NJ-07) and Minneapolis (MN-03), are in serious peril…. "

"Polling in Real Time: The 2018 Midterm Elections" [New York Times]. "The Upshot has partnered with Siena College to conduct polls of dozens of the most competitive House and Senate races across the country. Our poll results are updated in real time, after every phone call. We hope to help you understand how polling works, and why it sometimes doesn't." • Interesting project, though the interface is confusing. The results are organized by state, but not alphabetized.

"Ratings Changes: House and Governors" [Larry Sabato's Crystal Ball]. "Affluent suburban seats looking dicier for GOP, but their numbers in the House are not all bad; Colorado, Michigan gubernatorial races shift to Democrats."

TX Senate: "What 39,000 Words in 15 Profiles Didn't Tell You About Beto O'Rourke" [Inside Elections]. "I read more than a dozen profiles, and they most often describe a young, sweaty candidate with Kennedy-esque looks and punk sensibilities as an accidental and almost reluctant challenger to Republican Sen. Ted Cruz. But O'Rourke was never going to be content with being on the El Paso City Council or playing bass for the band Foss." • Basically, not reluctant at all; groomed for higher office by the local establishment, if anything. Which is fine!

AZ-04: Plot twist:

This ad has to have the biggest wow moment of any political ad I've ever seen https://t.co/2wwTqygX15

— Joe Perticone (@JoePerticone) September 21, 2018

UPDATE CA-10: "A venture capitalist is running for Congress in farm country. And his opponent is turning those Silicon Valley years into an insult" [Recode]. Shouldn't be hard…
2016 Post Mortem
"Majority of 2016 nonvoters wouldn't vote again in hypothetical rematch" [The Hill]. "The survey, conducted by Hill.TV and the HarrisX polling company found that 53 percent of those who did not vote said they would not vote again in a hypothetical rematch…. Eighty-three percent of voters said they were "not very likely" or "not at all likely" to vote in the midterms, according to an April Suffolk University/USA Today poll."
New Cold War
"Deputy Attorney General Rod Rosenstein to meet Trump Thursday" [CNN]. Other coverage: Rosenstein is considering resigning, has resigned, is expected to be fired. • And it's only Monday…

UPDATE "Donald Trump's Rosenstein dilemma" [Mark Penn, The Hill]. From Clinton's former pollster, of all people: "[A]s an outside observer, watching the unmasking of the actions of one official after another at the FBI, CIA and DOJ, I have come to accept that an unelected group of well-educated, experienced individuals running these departments became inebriated with their own power during the last election campaign and apparently came to believe they were on a mission to stop, defeat or remove President Trump and his associates for crimes they would find or, if necessary, manufacture." • Worth a read.
Realignment and Legitimacy
UPDATE "'I am frustrated too': Michelle Obama urges voters to register ahead of midterms" [Guardian]. "A star-studded voter registration drive launched by Michelle Obama kicked off its national week of action this weekend with events across the country, including a rally by the former first lady on Sunday at Chaparral high school in Las Vegas. The drive, When We All Vote, marks Obama's return to the political stage, aiming to encourage voter participation and 'spark a conversation about our rights and responsibilities in shaping our democracy.' The effort aims to be nonpartisan and to . Co-led by several former Obama White House advisers, it will stage rallies in cities such as Pittsburgh and Miami, where celebrities like Tom Hanks, Lin-Manuel Miranda, and Janelle Monáe will promote civic engagement and the need to participate in voter outreach." • 42 days before the election…

"How Connected Is Your Community to Everywhere Else in America?" [New York Times] • A neat interative map that makes the enormous scale of the country clear.
Stats Watch
Chicago Fed National Activity Index, August 2018: Solid rise to match July [Econoday]. "Despite the spots of weakness in today's report, the 3-month average is showing acceleration… " And: "[The three month moving average] suggests economic activity was slightly above the historical trend in August" [Calculated Risk].
Dallas Fed Manufacturing Survey, September 2018: "Growth in the Dallas Fed's manufacturing sample is less robust this month" [Econoday]. "Slowing in this report and the easing in capacity stress are positives given the risk that conditions in this region, benefiting from high energy prices, had been pointing to the risk of overheating." And: "So far the regional surveys for September have indicated solid growth" [Calculated Risk].
Shipping: "Holiday hiring time has arrived for the transportation and logistics sector" [Logisitics Management]. UPS: 100,000. FedEx: 55,000.
Shipping: "Germany's vital role in the global maritime world is starting to recede under the changing business of financing ships" [Wall Street Journal]. "Once the world's predominant shipping lenders, most German banks have abandoned ship finance under the weight of around $100 billion in toxic debt and sold scores of vessels to foreign owners at knock-off prices. Before the financial crisis, some 26% of new ship orders book came from Germany. That has fallen to less than 2.3%, and hundreds of the small-investor groups commonly known as KGs have gone insolvent. Fleet ownership has shifted to Greece, China and Singapore, and the financial business is following in the ships' wake."
Supply Chain: "Employee guns down three at Maryland distribution hub before killing herself" [Japan Times]. • I'm surprised there aren't more episodes of "Going Postal" in the supply chain.
Transportation: "Rolls-Royce Trent engine programme incurs more costs" [Financial Times]. From June, still worth noting: "Rolls-Royce is expected to incur further costs on its troublesome Trent 1000 engine programme, after discovering new issues with the latest variant of the turbine powering Boeing's 787 Dreamliner… Turbine blades have been corroding and cracking on certain variants of the engine, prompting more frequent shop visits and a huge schedule of repairs…. All of the engine makers are facing difficulties. It seems it is very hard to make the new engines of the last decade meet the simultaneous requirements of emissions, economy and reliability," [Nick Cunningham, aerospace analyst at Agency Partners] said." • Emissions, economy and reliability, pick two of three?
The Bezzle: "Fire at U.S. Tesla's factory in Nevada prompts evacuation" [ECNS]. "A Tesla's factory building in the state of Nevada was evacuated late Saturday after a large oven used in the manufacturing process caught fire." • This does keep happening, doesn't it?
The Bezzle: "Instacart needs to treat its delivery workers 'much, much better'" [Recode]. "One of the ways Instacart is trying to tackle the problem: It's building a new support center in Atlanta to take calls from delivery people who run into issues on the job. Mehta says he plans to have 300 people working in the support center when it's up. 'When something goes wrong in the store, in the app, outside the customer's door, they need support,' he said. 'They need to be able to call in and make sure there's someone from Instacart there to help them.'" • Not sure how a support center helps when Instacart messes with tips….
Labor Market: "Army blames strong economy for missing recruiting goal" [ABC News]. "For the first time in thirteen years the Army has failed to meet its annual recruiting goal and Army officials believe the strong U.S. economy is partially to blame. The Army failed to meet its recruiting goal of 76,500 new recruits for fiscal year 2018, bringing in 70,000 recruits — an 8.5 percent shortfall from this year's goal." • So, thirteen years of stagnation, then? That seems about right.
Infrastructure: "Gas service could take 'several months' to restore in Merrimack Valley" [Boston Globe]. " Columbia Gas said Thursday that restoration of gas service across the Merrimack Valley could take "several months," a dark new prediction for local business owners and residents as frustrations continue to grow with the company amid uncertainty over the future." • That's nice. In the winter…
Rapture Index: Closes unchanged. [Rapture Ready]. Record High, October 10, 2016: 189. Current: 183. Seems indeed that 180 is a floor.
Gaia
"Treating protest as terrorism': US plans crackdown on Keystone XL activists" [Guardian]. "The government has characterized pipeline opponents like [Angeline Cheek] as 'extremists' and violent criminals and warned of potential 'terrorism', according to recently released records.The documents suggested that police were organizing to launch an aggressive response to possible Keystone protests, echoing the actions against the Standing Rock movement in North Dakota. There, officers engaged in intense surveillance and faced widespread accusations of excessive force and brutality."
Health Care
"Iowa Medicaid's per-member cost increases nearly triple since privatization" [Des Moines Register]. "Since fiscal 2017, the first full year of privatization, the per-member cost of Iowa's Medicaid program has risen an average of 4.4 percent per year, according to the non-partisan Legislative Services Agency. In the previous six years, the per-member cost rose an average of 1.5 percent per year, the agency said….. Republican Gov. Kim Reynolds said in an interview Wednesday she remains confident in the promise of private Medicaid management, despite the new cost numbers. Reynolds said Department of Human Services administrators have assured her part of the explanation for the recent spike in per-member Medicaid costs was bills incurred in past years were being paid in the current budget year." • No explanation for why this years's budget would be different from past years', however. Iowa readers?
Class Warfare
"It's Down to the Wire in Tense Talks at Health Care Giant Kaiser" [Labor Notes]. "Bargaining between health care giant Kaiser Permanente and a new union alliance representing 38,000 of its employees has come down to the wire…. The unions that split from the Coalition of Kaiser Permanente Unions this year to form the Alliance of Health Care Unions have emphasized their commitment to continuing a friendly partnership with the employer. But , Enghouse said, would be a strike issue for OFNHP members. 'It would be the demise of our union,' she said. 'Nope, we're not falling for that."" • Good. Two-tier should be opposed where found.
"Accounting for Incorporation: Part I" [Law and Political Economy]. In the early days of the American Republic: "Corporate privilege represented a profound departure from these longstanding background principles of moral and legal responsibility – a departure that only sovereigns or near-soereigns like US states could authorize, and only for reasons of extraordinary necessity. Hence the familiar ring, until relatively recently, of phrases like 'the [state-conferred] corporate franchise,' and adages like that pursuant to which corporations are observed to be 'creatures of the state.' The corporate privileges were also, again, meant solely to encourage the owners of scarce capital to organize and finance projects for the public good, during a time when capital was indeed scarce and reliable public revenue correspondingly hard to come by. For this very reason, the privileges were operative only insofar as the incorporated entity was actually pursuing such projects. They were, in other words, strictly conditional. And both the state's Secretary of State and committees of interested citizens had to agree that the conditions were likely to be met before any firm's corporate charter would be conferred or renewed."
"Exploitative Revenues, Law Enforcement, and the Quality of Government Service" [Urban Affairs Review]. "A growing body of evidence indicates that local police departments are being used to provide revenue for municipalities by imposing and collecting fees, fines, and asset forfeitures. We examine whether revenue collection activities compromise the criminal investigation functions of local police departments. We find that police departments in cities that collect a greater share of their revenue from fees solve violent and property crimes at significantly lower rates." • Just as in Ferguson.
News of The Wired
"Disable Google Chrome Sign In and Sync" [IdeaSynthesis]. • Because Chrome 69 automatically logs you into the browser when you log into any Google programs (like Gmail). Google seems to have done this without announcing it, so thank heavens I don't use any Google programs. The writer: "I can't speak for anyone else but I personally don't expect a routine software upgrade to suddenly start uploading passwords somewhere, or copying my passwords onto any random computer I happen to log into." • Well, yes. More–
Secondly, people: there is a *reason* Google works so hard to encourage logins on Android and Chrome. And the obvious reason is that those platforms provide user data they *can't get from their other sources*.

— Matthew Green (@matthew_d_green) September 22, 2018
* * *
Readers, feel free to contact me at lambert [UNDERSCORE] strether [DOT] corrente [AT] yahoo [DOT] com, with (a) links, and even better (b) sources I should curate regularly, (c) how to send me a check if you are allergic to PayPal, and (d) to find out how to send me images of plants. Vegetables are fine! Fungi are deemed to be honorary plants! If you want your handle to appear as a credit, please place it at the start of your mail in parentheses: (thus). Otherwise, I will anonymize by using your initials. See the previous Water Cooler (with plant) here. Today's plant (MF):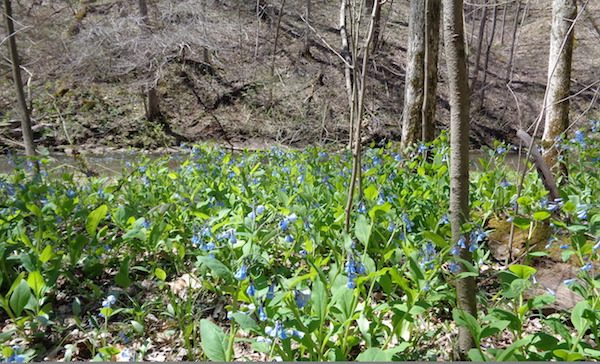 MF writes: "Bluebells abide in Baker Fork Gorge. Highland County, Ohio, from Spring 2018."
* * *
Readers, I'm still running a bit short on plants. Probably a little soon for fall foliage, or wrapping up the garden, but I'm sure you can find something! How about a project you completed over the summer?
* * *
Readers: Water Cooler is a standalone entity not covered by the annual NC fundraiser. So do feel free to make a contribution today or any day. Here is why: Regular positive feedback both makes me feel good and lets me know I'm on the right track with coverage. When I get no donations for five or ten days I get worried. More tangibly, a constant trickle of small donations helps me with expenses, and I factor that trickle in when setting fundraising goals. So if you see something you especially appreciate, do feel free to click the hat!

To give more, click on the arrow heads to the right of the amount.
If you hate PayPal — even though you can use a credit card or debit card on PayPal — you can email me at lambert [UNDERSCORE] strether [DOT] corrente [AT] yahoo [DOT] com, and I will give you directions on how to send a check.