By Lambert Strether of Corrente.
Trade
"A Closer Look at the NAFTA Replacement Deal" [Industry Week]. (Authors are trade lawyers.) "The dispute settlement mechanisms of NAFTA, with respect to allegations of unfair trading practices, have not changed in the new agreement (USMCA). Under this system, each signatory country allows member countries to review antidumping and countervailing duty grievances against other members before appointed expert arbitration panels. However, , which allows investor companies to bring claims against member-country governments, will be phased out between the U.S. and Canada, while certain industries (such as energy, infrastructure, and telecommunications) will still be able to bring such cases against Mexico." • ISDS has always been my concern. If it's truly been gutted, I'm happy.
"The loyalty oath nestled inside the new NAFTA" [Politico]. "Buried within the USMCA deal is a provision that requires any member of the pact to give three months' notice to its partners if it launches negotiations with a non-market economy, which the United States considers China to be. The stipulation — which bears President Donald Trump's fingerprints — means that if any of the North American countries enters into talks with China or another similar economy, the new three-way U.S.-Mexico-Canada deal can become a bilateral one. It also means that when it comes to the growing trade war with China, the U.S. is seeking to keep Canada and Mexico on its side."
"Trade war spurs a shift in seafood supply chains" [Supply Chain Dive]. "U.S. lobster exports to China faced a 25% tariff as of July. The result was a shift in the product's sourcing networks: China began to buy more lobster from Canada — so much, Eastern Canadian airports added cargo flights to accommodate the demand…. United States based lobster processors are shipping lobster to Canada, but at lower margins. This has added pressure along the entire domestic supply chain, but puts Canada in a strong position. Lobsters are heading north by land and sea to a country not fighting a trade war." • Well, if Susan Collins wants to trade something for her Kavanaugh vote, there it is.
"Donald Trump tweaks NAFTA and it's not better" [Editorial Board, USA Today]. • Measured, and worth a read, but very much a two-sides-to-everything piece. For example: "The deal includes a sunset clause that will cause it to end after 16 years. For years, American companies have complained about a tax code that is subject to uncertainty. Now they will have the same fears with trade." What some might call "uncertainty," others might call "democratic control" and "national sovereignty."
Politics
2020
"Sen. Sanders wants to break up JP Morgan, Berkshire Hathaway and other large financials" [CNBC]. "Sen. Bernie Sanders introduced a bill on Wednesday that would require the breakup of any financial company that has a total exposure of greater than 3 percent of gross domestic product. Based on that threshold, which is $584 billion, six banks and the four nonbanks would have to split up. The banks are J.P. Morgan Chase, Bank of America, Citigroup, Wells Fargo & Co., Goldman Sachs and Morgan Stanley. The nonbanks are Berkshire Hathaway as well as Prudential Financial, MetLife and American International Group." • How about Amazon, Facebook, and Google? While we're doubling down.

A happy dance:

What happened at Amazon is a big step forward for workers across the nation. I want to thank the many hundreds of workers at Amazon fulfillment centers all across this country who contacted us and spoke up. pic.twitter.com/5UebVD5gnM

— Bernie Sanders (@SenSanders) October 2, 2018

Putting workers first; and also an invitation to other workers in other industries to speak up, possibly in more town halls.

A grudging dance:

In the face of an administration that doesn't care about the middle class, this is a bold, impressive step by Amazon. Kudos to Jeff Bezos and the employees fighting for 15. https://t.co/p0RqHPlQch

— Hillary Clinton (@HillaryClinton) October 3, 2018

"Middle class," not working class. "Employees," not workers. And — speculating freely, here — Clinton hates Sanders so much she can't bring herself to mention him. (Also, of course, Clinton thought $15 was too much, and that $12 would be better.)
2018
33 days until Election Day. 33 days is a long time in politics (as we are seeing right now with Kavanaugh. And what about Rosenstein?).

"FBI has not contacted dozens of potential sources in Kavanaugh investigation" [NBC]. "The bureau is expected to wrap up its expanded background investigation as early as Wednesday into two allegations against Kavanaugh — one from Christine Blasey Ford and the other from Deborah Ramirez. But sources close to the investigation, as well as a number of people who know those involved, say the FBI has not contacted dozens of potential corroborators or character witnesses." • Quite a lot of detail.

"Kavanaugh warned friends of condo eviction in 1983 letter: 'We're loud, obnoxious drunks'" [CNBC]. "The letter, reportedly written by current Supreme Court hopeful Brett Kavanaugh in 1983, described himself and his classmates as 'loud, obnoxious drunks with prolific pukers among us.'" • Has Kavanaugh never heard of the concept of a "paper trail"? Or was his sense of impunity so strong he didn't worry?

"Nancy Pelosi Not On Board With Impeaching Brett Kavanaugh" [HuffPo]. • BWA-HA-HA-HA-HA-HA-HA-HA!!!!

"Robert Mueller shedding more attorneys, suggesting parts of Russia probe are winding down" [Associated Press]. "Special counsel Robert Mueller is trimming more attorneys from his office, another sign his team of prosecutors is winding down parts of their investigation into potential ties between Russia and President Donald Trump's campaign…. But it's only a limited view into the tight-lipped Mueller's timetable or possible endgame. Critical investigative strands still remain, such as an active grand jury probe of longtime Trump associate Roger Stone and ongoing negotiations over an interview with Trump." • So, no report in September?

"Will 2018 Be a Wave Election?" [RealClearPolitics]. "Time and events before November could change these indicators. However, the odds of the generic ballot and party identification shifting to the Republicans between now and Election Day are not good. One group that could affect these results is independents, who vote less than partisans and make up their minds later in the campaign. In the latest poll, independents lean 28 percent to 26 percent for Democrats, with 29 percent saying not sure; if these percentages carry over till November the Democrats' numerical advantage will prevail."

"Where to Look on Election Day for Early Signs of a 'Blue Wave'" [Bloomberg]. • Useful wrap-up, but there are rather a lot of places to look.

"Kansas Democrat Sharice Davids outraises GOP's Kevin Yoder with $2.7 million haul" [McClatchy]. "Kansas Democrat Sharice Davids outraised incumbent GOP congressman Kevin Yoder by more than $1.6 million over the past three months, a strong sign of Democratic enthusiasm in a race that could determine which party controls the U.S. House of Representatives…. Davids' record-breaking fundraising total is in line with other big third-quarter hauls by Democrats running in competitive House races, said Nathan Gonzales, editor and publisher of Inside Elections, which provides nonpartisan analysis of campaigns for Senate, House, governor and president. 'Normally that would be regarded as a good fundraising quarter for a U.S. senate candidate," Gonzales said, but so many Democratic challengers are raising incredible amounts of money that $2.7 million starts to sound normal.'" • Ka-ching. (I'm assuming that if these were small donations, the story would have said.)

"Two Democrats in House Races Top $3 Million in Third Quarter" [Bloomberg]. "A pair of Democratic House candidates hoping to unseat Republican incumbents raised more than $3 million apiece in the third quarter, a prodigious amount for a challenger. Amy McGrath, running in Kentucky's 6th district against Representative Andy Barr, raised $3.65 million and ended the quarter with $1.7 million in the bank, her campaign said Monday. In California's 10th district, Democrat Josh Harder raised $3.5 million in the third quarter, in his campaign against Representative Jeff Denham, a four-term incumbent." • Ka-ching. (Ditto.)
2016 Post Mortem
"Trump, the 2016 Election, and Expressions of Sexism" (PDF) [Brian F. Schaffner, American Political Science Association]. "In this paper, I examine how the 2016 election influenced the expression of sexist viewpoints among Republicans. Specifically, I find that partisan motivated rea-soning made Republicans more willing to express tolerance for sexist rhetoric when it came from Trump rather than from another source. Additionally, I show that Repub-licans became more willing to endorse sexist statements after the 2016 election, likely due to the fact that Trump's victory changed their perceptions about the prevalence of sexist attitudes in American society. This increase in expressed sexism has persisted into 2018."
Realignment and Legitimacy
"Academic Grievance Studies and the Corruption of Scholarship" [Areo]. "We spent that time writing academic papers and publishing them in respected peer-reviewed journals associated with fields of scholarship loosely known as 'cultural studies' or 'identity studies' (for example, gender studies) or 'critical theory' because it is rooted in that postmodern brand of 'theory' which arose in the late sixties. As a result of this work, we have come to call these fields 'grievance studies' in shorthand because of their common goal of problematizing aspects of culture in minute detail in order to attempt diagnoses of power imbalances and oppression rooted in identity. We undertook this project to study, understand, and expose the reality of grievance studies, which is corrupting academic research. Because open, good-faith conversation around topics of identity such as gender, race, and sexuality (and the scholarship that works with them) is nearly impossible, our aim has been to reboot these conversations. We hope this will give people—especially those who believe in liberalism, progress, modernity, open inquiry, and social justice—a clear reason to look at the identitarian madness coming out of the academic and activist left and say, 'No, I will not go along with that. You do not speak for me.' … . To demonstrate this, we needed to get papers accepted, especially by significant and influential journals." • The prose is dense as a fruitcake, as befits the authors' immersion in the field. Their method was to get absurdly bad papers published in respectable journals in these fields. For samples, see this thread:

Three intrepid academics just perpetrated a giant version of the Sokal Hoax, placing scores of fake papers in major academic journals. Call it Sokal Squared.

The result is hilarious and delightful. It also showcases a serious problem with big parts of academia.

(Thread.)

— Yascha Mounk (@Yascha_Mounk) October 3, 2018

I'm of two minds here. There's been truly amazing scholarship on these topics in the last few years, especially on race. Then again, I'm very happy to épater les identitarians. And since this is a direct assault on the credentials of personnel in any number of verticals in the liberal Democrat nomenklatura, I'm sure it will generate a good deal of, well, anger. As if there wasn't enough already.

"Russian Meddling Is a Symptom, Not the Disease" [Zeynep Tufekci, New York Times]. "It is understandable that legislators and the public are concerned about other countries meddling in our elections. But foreign meddling is to our politics what a fever is to tuberculosis: a mere symptom of a deeper problem. To heal, we need the correct diagnosis followed by action that treats the underlying diseases. The closer our legislators look at our own domestic politics as well as Silicon Valley's business model, the better the answers they will find." • Follow the money?

"GOP pressure shaped state's district maps, court records show" [Detroit News]. "[D]ocuments show [redistricting] mapmakers in 2011 gave top party officials the partisan vote history breakdowns of new districts, shared proposed maps with an interest group linked to the DeVos family, entertained suggestions from at least one GOP donor and faced backlash from incumbents vexed at how their districts were redrawn."

"'They are actually suppressing votes': Pa. voters abroad are blocked from state election website" [Philadelphia Inquirer]. "Thousands of registered Pennsylvania voters who live outside the United States are being blocked from accessing absentee ballots on the state's website in a move intended to beef up election security. Several other states, including New Mexico, Tennessee, Georgia, and Vermont, also appear to be blocking foreign access to their election sites." • Well done, all.

"California Sees Record Voter Registration Ahead of Midterms" [Courthouse News]. "In his latest voter report, California Secretary of State Alex Padilla says a record 19 million Californians have registered to vote, an increase of nearly 1.5 million from the 2014 midterm election. As of Sept. 7, nearly 76 percent of all eligible voters have signed up to vote – including 3.6 million more Democrats than Republicans…. For the June primary, turnout topped 37.5 percent – the highest in a California gubernatorial primary since 1998 – with a total of 7.1 million ballots cast."
Stats Watch
ADP Employment Report, September 2018: "higher-than-expected" [Econoday]. And but: "This month the rate of ADPs private employment year-over-year growth is slightly above the tight range seen over this year. Last month's employment numbers were revised marginally downward" [Econintersect]. "ADP employment has not been a good predictor of BLS non-farm private job growth."
Institute For Supply Management Non-Manufacturing Index, September 2018: "Led by a record high in employment and a 14-year high in business activity, the Institute for Supply Management's non-manufacturing composite index easily beat Econoday's consensus range" [Econoday]. "If there ever was an ISM non-manufacturing report that was consistent with overheating, this one is it." But: "Declines in gauges of backlogs and supplier-delivery times signal factories are catching up with demand, helping to dissipate price pressures. In prior months, producers' rush to buy materials ahead of U.S. tariffs and counter-levies by China triggered supply-chain disruptions and a surge in costs" [Industry Week]. But: "Both [ISM and PMI] services surveys are in expansion – and their intensity of growth and general trends are different again this month. Markit shows this sector's growth rate is slowing whilst the ISM Services growth rate is improving. Pretty hard to draw conclusions when one survey is improving and the other slowing" [Econintersect].
Purchasing Managers Services Index, September 2018: "Easing optimism in the outlook along with concern over the housing market pulled the services PMI to an 8-month low" [Econoday]. "In sum, today's services report is mixed with concern over housing and the dip in optimism offset by the rise in new orders and hiring."
Motor Vehicle Sales, September 2018: "Unit sales of motor vehicle proved very strong in September" [Econoday]. "This points to a sharp rise in dollar sales of motor vehicles for the September retail sales report which in prior months had been flat. Note that some of the month's gain may reflect replacement demand tied to Hurricane Florence."
Capital Spending: "Strong Gains for Combined U.S. & Canadian Industrial Spending" [Industrial Reports]. "Research by Industrial Reports, Inc. shows combined U.S. and Canadian planned capital spending grew by 37 percent in September compared to August with $64.09 billion in spending for the two nations. August's planned investment showed $46.74 billion. The research organization reported 218 planned U.S. and Canadian projects in September. Planned U.S. project spending expanded by 44 percent in September with $55.66 billion in planned investment compared to the August total of $38.60 billion." • Sporty!
Retail: "Takeoff Technologies partners with U.S.-based Hispanic grocer to launch robotic supermarket" [DC Velocity]. "Takeoff Technologies, an e-grocery solution provider, announced today the launch of the first automated hyperlocal fulfillment center, in partnership with one of the largest Hispanic grocers in the U.S., Sedano's Supermarkets. This technology is expected to be introduced in the upcoming month. Customer orders will be placed via an online app and carried out by Takeoff's automated micro-fulfillment center, with the support of Sedano's employees. Robots enabled with artificial intelligence (AI) assemble full supermarket orders of up to 60 items in just a few minutes and are designed to reduce the speed and cost of current manual picking options. Takeoff's first hyperlocal micro-fulfillment center will serve 14 Sedano's Supermarkets locations throughout Miami and offer consumers pickup services."
Shipping: "Drivers continue switching jobs as turnover rate hits 5-year high" [FreightWaves]. "Driver churn continues to plague the industry as the turnover rate at large truckload carriers has reached its highest point in five years. According to the latest data from the American Trucking Associations' Trucking Activity Report, the annualized turnover rate increased 4 percentage points to 98% in the second quarter." • Turnover in smaller fleets, however, is down 14%.
Shipping: "Veteran trucking exec Shevell rips 'absurd' plan to allow teenage truck drivers" [Logistics Management]. "A pilot program that would allow teenagers to drive an 80,000-pound truck in interstate commerce is one of the worst ideas to solve the driver shortage, [Myron P. "Mike" Shevell, chairman of the Shevell Group ,] a top trucking executive with six decades experience in the industry says…. But it's not just lack of money that's driving people out of the industry, Shevell said. 'It's also about lifestyle and respect,' he said. 'When you've been in the industry 60-plus years as I have, you see the difference. I was a truck driver, and they used to be treated like knights of the highways. Now they are treated very poorly as second-class citizens. All this stuff builds up in people and finally it's like a bubble bursting. I don't see it (driver shortage) going away with a flick of a pen (legislation). It's going to take time and a lot of work.'"
Supply Chain: "Shipping's New Arctic Routes Won't Thaw Cold Economic Reality" [Wall Street Journal]. "Arctic routes are drawing greater attention as the global climate warms up and polar ice recedes, potentially opening new paths between Asia, Europe and North America. The Northern Sea Route [NSR], a mostly frozen seaway, is considered a likely lane because it already is used in warmer seasons to move part of Russia's massive energy exports…. The NSR may be a more direct path, but that doesn't make it smoother. The route has no transshipment ports to allow the efficient transfer of goods, and has other important operating constraints. Parts of the route are too shallow for big container ships and issues such as how to contain an oil spill on ice or where to evacuate the crew in an emergency are unresolved."
Supply Chain: "Despite high interest in robots, adoption remains low" [Supply Chain Dive]. "Although interest in commercial service robots is "exceptionally high," just more than 16% of 600 participants — across eight industries — recently surveyed by IDC say they have deployed the technology either enterprise-wide or at the local level…. [However,] industries such as wholesale and distribution that, today, have 0% deployment of service robotics, had more than 50% of respondents say they were piloting the technology within their operations. Those numbers indicate that supply chains at large are on path to adopting more automation."
The Bezzle: "[Tesla] made 53,239 Model 3s during the three-month period ending June 30, nearly doubling output from the second quarter. But Tesla says delivery and outbound logistics were big hurdles last quarter" [Wall Street Journal]. "Chief Executive Elon Musk has said Tesla is running short of trailers to deliver cars and looking at building its own car carriers to get its inventory moving, potentially bringing the company a whole new set of production challenges.
The Bezzle: "Waymo's self-driving car crashed because its human driver fell asleep at the wheel" [Quartz]. "[T]he human driver manning the vehicle 'appeared to doze off' after about an hour on the road, according to two people familiar with the matter. The safety driver unwittingly turned off the car's self-driving software by touching the gas pedal. He failed to assume control of the steering wheel, and the [Chrysler Pacifica minivan] crashed into the highway median…. The dozing driver didn't respond to any of the vehicle's warnings, including a bell signaling the car was in manual mode and another audio alert, the Information reported. He regained alertness once the car crashed, then turned around and headed back to the Mountain View office. He no longer works for Waymo." • Why, because he discovered a bug?!
Guillotine Watch
"The Super-Rich Are Stockpiling Wealth in Black-Box Charities" [Bloomberg]. "Donor-advised funds [DAFs]— money that grows tax-free in individual accounts — are reshaping the landscape of U.S. philanthropy. After creating their account, donors choose how it's invested, and the money compounds until they decide where to dole it out…. A common DAF marketing theme is the ability to leave a legacy of giving for heirs." • Hmm. Seems familiar…..
Class Warfare
"data for politics #25: What the Hell is Happening in DC?" [Data for Progress]. "In June, residents of Washington, DC, voted to end the loophole that allowed employers to pay tipped workers (like waiters and bartenders) less than other employees…. 53 percent of voters approved the initiative…. Today, however, the DC City Council voted to overturn the initiative passed by voters… But it gets even weirder. It turns out that the council members who voted to overturn the initiative represent parts of the city where voters were more supportive of the initiative. In fact, of the 27 precincts where more than 60 percent of voters approved of the initiative, just two were in wards where there council member didn't look to overturn it… This is doubly problematic – not only is the city council overturning the decision of DC's voters, but individual council members are directly contradicting the will of their own voters."
News of the Wired
"Self-playing pipe organ" [The MagPi Magazine]. "To make it play, each wooden pipe has a valve opened and closed by a solenoid, triggered from an Arduino Due via a power-boosting driver board. The 'brains' of the operation is a Raspberry Pi." • Neat project!
Happy birthday:
Remembering Woody Guthrie who passed away 51 years ago today, with two designs, a #celebratepeopleshistory poster by Scout and Machine by Fernando Marti pic.twitter.com/kXiITJPrcY

— Justseeds (@Justseeds) October 3, 2018
UPDATE One more reason to stick with your landline:
Ugh. pic.twitter.com/PZ81y1508e

— Ryan Dalton (@capetownbrown) October 3, 2018
* * *
Readers, feel free to contact me at lambert [UNDERSCORE] strether [DOT] corrente [AT] yahoo [DOT] com, with (a) links, and even better (b) sources I should curate regularly, (c) how to send me a check if you are allergic to PayPal, and (d) to find out how to send me images of plants. Vegetables are fine! Fungi are deemed to be honorary plants! If you want your handle to appear as a credit, please place it at the start of your mail in parentheses: (thus). Otherwise, I will anonymize by using your initials. See the previous Water Cooler (with plant) here. Today's plant (TH):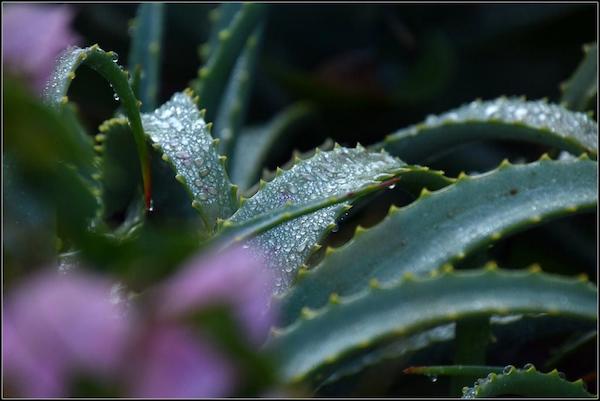 TH writes: "Aloe Vera in dew drops."
* * *
Readers: Water Cooler is a standalone entity not covered by the annual NC fundraiser. So do feel free to make a contribution today or any day. Here is why: Regular positive feedback both makes me feel good and lets me know I'm on the right track with coverage. When I get no donations for five or ten days I get worried. More tangibly, a constant trickle of small donations helps me with expenses, and I factor that trickle in when setting fundraising goals. So if you see something you especially appreciate, do feel free to click the hat!

To give more, click on the arrow heads to the right of the amount.
If you hate PayPal — even though you can use a credit card or debit card on PayPal — you can email me at lambert [UNDERSCORE] strether [DOT] corrente [AT] yahoo [DOT] com, and I will give you directions on how to send a check.