Yves here. New York City had long had developers focusing on luxury apartments at the expense of the rest of the market. But recent data shows this city is less extreme in that regard than most.
By Wolf Richter, a San Francisco based executive, entrepreneur, start up specialist, and author, with extensive international work experience. Originally published at Wolf Street
There are plenty of brand-new apartments to choose from, thanks to a multifamily construction boom in major cities. These apartments are in good locations. They're nice and have everything you'd want. But for many people, rents are just too damn high. Here's why:
In the first half of this year, 87% of the completed apartment projects with 50 or more apartments in 130 major cities in the US are considered "high end," according to a report by RentCafé, based on Yardi Matrix data on 80,000 large-scale apartment developments. This is up from 52% of properties completed in 2012: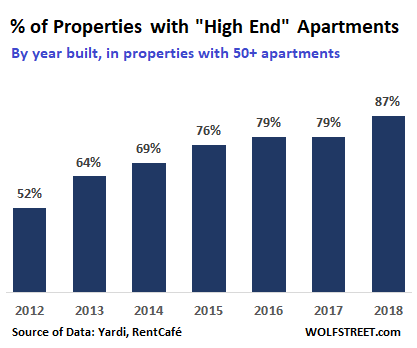 "High end" here means "luxurious" – a marketing position for a building. In expensive cities, projects that are not luxurious are nevertheless expensive – such as San Francisco. You have to pay a lot in rent but you might not get a lot for it. An expensive dump in San Francisco is not "high end." It's just expensive. In other cities, for the same amount, you can rent a luxury apartment. But that kind of "high end" in San Francisco requires princely sums of money.
This is based on Yardi Matrix's definition and classification of the apartment market of multi-family properties of 50+ units, where "high-end" or "luxury" rental properties make up the top two categories:
"A+" and "A" buildings: Renters by choice. Attracted to the extreme upper end of the apartment market; properties generally of resort quality, clearly appealing to households capable of owning a residence, but choosing to rent, or households with substantial incomes, but without wealth. The luxury rental category primarily focuses on empty nester households, or more particularly, high net worth households. The renter-by-choice household is demanding; finishing detail and amenities included in properties appealing to this category must be of exceptional quality.

"A-" and "B+" Buildings: Lifestyle renters. The high mid-range category appeals to double-income-no-kids ("DINK") households holding income status similar to that typically required of discretionary property positioning, but not in possession of the wealth more probably associated with the renter-by-choice rental household category. Properties holding high mid-range status typically offer excellent finishing quality, and attractive common area facilities, and typically focus on an environment providing a more social experience.
These two categories are considered "high end." A step down and no longer "high end" is B and B-, which is for "working professionals," such as policemen, firemen, teachers, and technical workers. Then it goes down the scale all the way to "D." Subsidized housing is in a separate category.
These "high end" apartments are marketed to high-income people. Alas, there are not that many high-income people around. Nevertheless, in many cities, 100% of new apartment properties being complete in 2018 are "high end."
The percentage of high-end projects has soared in cities that are not among the most expensive rental markets in the US and have hit 100% in cities such as Oklahoma City, OK, Dallas-Fort Worth, TX, Kansas City, MO, Charlotte, NC, and Philadelphia, PA.
On the other hand, in ultra-expensive markets such as San Francisco, Los Angeles, and Seattle, there are still projects being built that (while expensive) are not in the "high-end" category.
The list below shows the 30 largest US cities (not metros) and their high-end properties as a percent of all properties with 50+ units completed in the first half of 2018. Of these 30 cities, 16 exclusively built "high-end" properties in the first half, up from 7 cities in 2017. Texas has four cities on this list where new high-end developments accounted for 100% of all large-scale apartment completions:
| | |
| --- | --- |
| City | 2018 |
| Dallas, TX | 100% |
| Forth Worth, TX | 100% |
| Boston, MA | 100% |
| Houston, TX | 100% |
| Jacksonville, FL | 100% |
| Charlotte, NC | 100% |
| Indianapolis, IN | 100% |
| Columbus, OH | 100% |
| San Jose, CA | 100% |
| Memphis, TN | 100% |
| Oklahoma City, OK | 100% |
| Los Angeles, CA | 100% |
| Chicago, IL | 100% |
| Detroit, MI | 100% |
| San Francisco, CA | 100% |
| El Paso, TX | 100% |
| Nashville, TN | 92% |
| Washington, DC | 91% |
| Baltimore, MD | 88% |
| Austin, TX | 88% |
| San Antonia, TX | 86% |
| Philadelphia, PA | 86% |
| New York, NY | 85% |
| Denver, CO | 83% |
| San Diego, CA | 83% |
| Las Vegas | 80% |
| Louisville, KY | 80% |
| Portland, OR | 80% |
| Phoenix,  AZ | 78% |
| Seattle, WA | 72% |
Clearly, there is a trend among some high-income and high-wealth people to avoid the suburbs and go instead for convenience, views, short commutes to work, etc. This dynamic is spread over apartments and condos. Urban living has become cool. And these dynamics look good when the project is pitched to investors – and that's where the money is.
But the market for high-end apartments is limited. Not that many people make enough money to be able to afford them. Flooding the market exclusively with these apartments, and not building apartments suitable for median incomes, the industry creates a mismatch of supply and demand that has been cropping up in major markets. And given the "high-end" projects underway, this mismatch will grow.
The solution is the market. These units will have to be rented out, either by the developer or by the creditors that will end up with the project if it fails. The way to fill these units is to cut rents until sufficient demand materializes. And this puts pressure on rents in lesser buildings that have to compete with these high-end units. In other words, it creates downward pressure on rents, from the top down.
It's a lot of debt too: Multifamily mortgage debt outstanding rose to $1.3 trillion in Q2. Of this debt, 49% has been securitized, and many of those MBS have been guaranteed by Fannie Mae and Freddie Mac. Banks and thrifts own 32% of the multifamily mortgages. State and local governments, insurance companies, and other entities own the rest.
With most of the new funding going into high-end projects, creditors clearly are being charmed when these projects get pitched. On paper, one by one, they make a lot of sense. But the market might not play along.
And here are the rents, and how they've risen or fallen, by city, down to the neighborhood. Read… The Rental Markets in America, from Hot to Cold