Finance, the media and a catastrophic breakdown in trust John Authers, FT
World economy at risk of another financial crash, says IMF Guardian. Last para: "Like many institutions the IMF has warned that rising levels of inequality have a negative impact on investment and productivity as wealthier groups hoard funds rather than re-invest them in productive parts of the economy. Without a rise in investment economies remain vulnerable to financial stress."
General Electric has an overactive imagination FT. "The fact that Mr Welch, Mr Immelt and Mr Flannery have each left toxic legacies suggests that GE's reputation for managerial excellence is exaggerated."
Brexit
Ireland backs Theresa May's plan for all-UK customs union with EU FT. Let me know how that works out…

Theresa May: Don't risk no Brexit by pursuing 'perfect Brexit' Politico

Brexit: the dancing of May EU Referendum
Berlin's untenable foreign-policy strategic vacuum Global Handelsblatt
North Korea
South Korea reveals plan to break stalemate in U.S.-North Korea talks WaPo
China?
Ex-Malaysian PM Najib's wife Rosmah pleads not guilty to 17 counts of money laundering and tax evasion Straits Times. The 1MDB case.
Russia Missile Deal Puts India in U.S. Sanctions Crosshairs WSJ
Syraqistan
Kavanaugh
Mitch McConnell Sets Friday Vote to Thwart Filibuster of Brett Kavanaugh Roll Call

Brett Kavanaugh and alcohol: Two dueling narratives WaPo. But:

At least six of Kavanaugh's Yale classmates have now said he was a sloppy drunk who surely had blackouts:

1. Liz Swisher
2. Lynne Brookes
3. Daniel Lavan
4. James Roche
5. Kit Winter
6. Chad Ludingtonhttps://t.co/KjMEc2QB7H

— Keith Boykin (@keithboykin) October 2, 2018

Meaning perjury. What's all the more remarkable is that Kavanaugh stonewalled, when narratives like "I was young and stupid, but I've changed" come so easily.

FBI has not contacted dozens of potential sources in Kavanaugh investigation NBC (Furzy Mouse).

The Senate, Not the FBI, Should Investigate Kavanaugh The American Conservative

The Man Behind the Brett Kavanaugh Strategy: Don McGahn WSJ

Conservative Women Are Angry About Kavanaugh—And They Think Other Voters Are, Too The Atlantic
Health Care
Opinion: Memorial Sloan Kettering, you've betrayed my trust STAT
Our Famously Free Press
A new look at local nonprofit news sites finds revenues of more than $325 million, 2,200 journalists Poynter

Seymour Hersh on the Future of American Journalism JSTOR Daily

CPJ Safety Advisory: Pegasus spyware used to target journalists, civil society Committee to Protect Journalists. One more reason not to have a smart phone.
Driverless police cars of future could act as mobile courtrooms The Times. What could go wrong?
O Caption, My Caption: The National Theatre rolls out accessible smartglasses Wareable. There's that word, "smart."
Iowa company donates AR-15s to be placed in Bismarck schools KXMB
Imperial Collapse Watch
The Committee to Save the World Order Foreign Affairs. These dudes are still yattering on about a "rules-based order" after Bush's invasion of Iraq and 15 years of our Middle East shenanigans, including rebooting the slave markets in Libya with a bombing campaign.

U.S. military comes to grips with over-reliance on Chinese imports Reuters (EM). EM: "Reshoring – it's not just an issue for the Deplorables anymore."
God Admits There Was Probably A Better Way Of Giving Humans Taste Of Heavenly Bliss Than Opioids The Onion
Class Warfare
Metro says it doesn't know what to do about falling ridership. An internal report lays out exactly what to do. WaPo. "However, according to the analysis in this report, on a daily basis, the [Uber and Lyft] transport about half as many passengers as Metro, providing about 300,000 passenger trips in the region." For a median driver wage of $9.73/hour. Looks to me like the squillionaires subsidizing Uber and Lyft are destroying public transporation. Perhaps that's their goal, and spending the big bucks to do that is worth it to them.
Reflections on the 2nd International MMT Conference – Part 1 Bill Mitchell
'Sokal Squared': Is Huge Publishing Hoax 'Hilarious and Delightful' or an Ugly Example of Dishonesty and Bad Faith? Chronicle of Higher Education. More on "grievance studies."
Antidote du jour (vanda):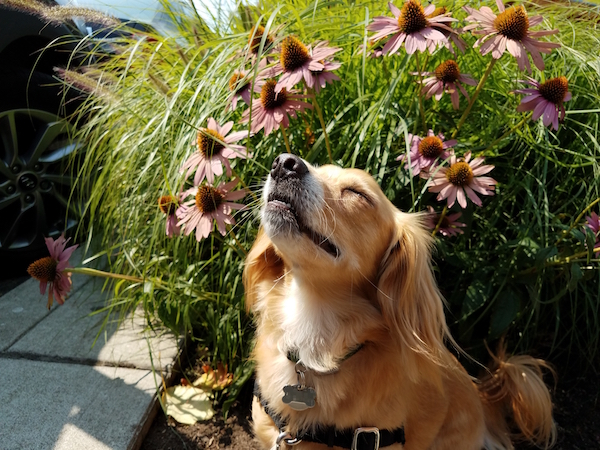 Vanda writes: "My dog with some echinacea."
See yesterday's Links and Antidote du Jour here.