By Jerri-Lynn Scofield, who has worked as a securities lawyer and a derivatives trader. She is currently writing a book about textile artisans.
Nearly a year has passed since China barred imports of most plastic waste for recycling.
From 1992 until that date, 45% of all plastic waste went to China, according to a June article in Science Advances, The Chinese import ban and its impact on global plastic waste trade.
Where is that discarded plastic going now?
Answer: Southeast Asia, according to a report Greenpeace released last week, US plastic waste is causing environmental problems at home and abroad, as part of its UNEARTHED journalism project.
The Chinese ban caused US exports of plastic scrap to a decline by about a third in the first six months of 2018, from 949,789 metric tonnes to 666,760 metric tonnes.
Waste firms found other destinations for US plastic garbage. According to Greenpeace:
In the first six months of 2017, a little over 4,000 metric tonnes of America's plastic went to Thailand, but the country took in 91,505 metric tonnes of America's scrap in the same period this year. That's an increase of 1,985%.
Malaysia experienced a similar increase, a rise of 273% to 157,299 metric tonnes.
Vietnam also saw a significant rise, to 71,220 metric tonnes in the first six months of this year.
Exports to Turkey and South Korea also rose significantly in the same period, to 11,224 metric tonnes and 14,760 metric tonnes, respectively.
Despite the China ban, Asia remains the main destination for American waste exports. In the first six months of this year, 81% of plastic waste exports from the US went to Asia, a 7% drop on 2017.
The following charts convey this information visually.
Figure 1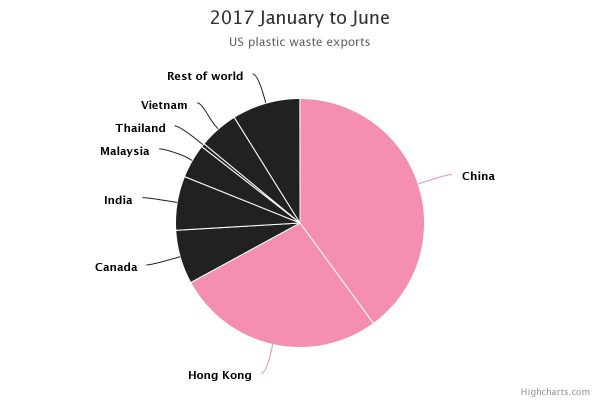 Source: US plastic waste is causing environmental problems at home and abroad
Figure 2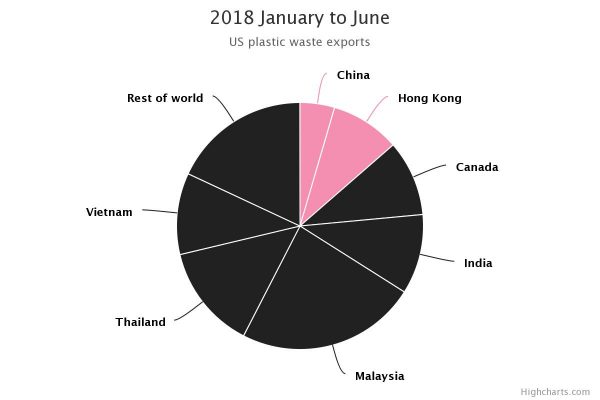 Source: US plastic waste is causing environmental problems at home and abroad
Figure 3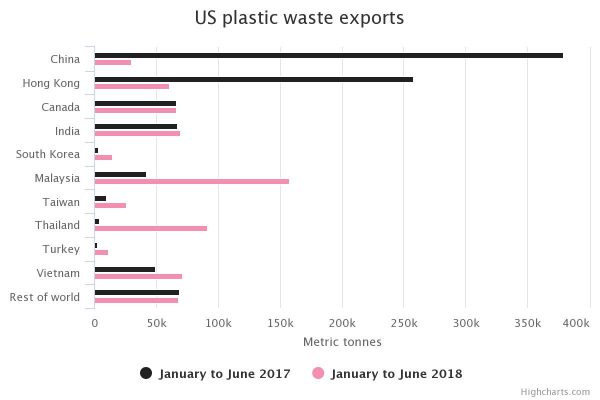 Source: US plastic waste is causing environmental problems at home and abroad
Southeast Asian Countries Now Saying: Enough!
So, despite the Chinese ban, most US plastic waste exports continues to end up in Asia, with three Southeast Asian countries, Malaysia, Thailand, and Vietnam, now taking in about half of the total (and India, and Turkey are increasing their shares) . The Guardian reports in Huge rise in US plastic waste shipments to poor countries following China ban:
"Instead of taking responsibility for their own waste, US companies are exploiting developing countries that lack the regulation to protect themselves," said John Hocevar, Oceans campaign director for Greenpeace USA.

…

Hocevar said that China's decision to no longer accept waste has revealed the scale of the global plastic waste crisis: "Which is that we are producing an enormous amount of plastic material that we don't know how to handle.

"The average person when they put a piece of plastic in a [recycling] bin, they assume it is being recycled, not being shipped to China or now to south-east Asia, where it will possibly be incinerated or landfilled." [Jerri-Lynn here: My emphasis; note that possibly, which I'll discuss further below.]
Yet even these southeast Asian countries are now saying– Enough!– and imposing limited restrictions. These range from closing recycling plants and imposing an import  tax in Malaysia; to temporary import bans in Vietnam; to increased inspection requirements or a possible complete ban on plastic waste imports in Thailand.
The more modest of these measures are unlikely to stem imports of plastic waste.
According to Greenpeace:
Experts are concerned that these increasingly popular destinations for US waste do not have the capacity to deal with waste in a safe or environmental way.

"Some of these countries just don't have the infrastructure in ports or roads to deal with an increase in volume of material," Robin Wiener, CEO of US trade body the Institute of Scrap Recycling Industries (ISRI), told Unearthed.

"Pop-up recyclers are trying to take advantage of these shifting markets but they are not doing it properly. They are not following industry standards when it comes to environmental, health, and safety practices."
Let me pick up on that possibly I highlighted in the excerpt from the Guardian above. What happens when recycling plants in these countries cannot keep up with the volume of imported plastic scrap? I disagree with Hocevar's assessment and would bet that some if not much of the plastic ends up in the ocean, alongside the domestic plastic waste that already finds its way there from some of these countries.  As I wrote last month in UK Consumers Sour on Plastic Packaging:
Currently, more than half of the plastic waste that ends up in oceans emanates from five Asian countries: China, Indonesia, the Philippines, Thailand, and Vietnam, according to a 2015 McKinsey report, Saving the ocean from plastic waste Any serious effort to address plastic waste as a global concern must confront that reality.
Note the overlap: Thailand and Vietnam are two prime destinations for increased plastic waste imports of plastic waste and are cited in the McKinsey report.
Response of US Recyclers
This Chinese waste import ban has upended the traditional business model for US recyclers, which operate on a for-profit basis. Waste management is yet another area that's treated according to the standard neo-liberal playbook. According to Greenpeace:
Recycling firms, under pressure to meet higher standards, have seen costs rocket. While they have traditionally paid authorities for waste that could be turned into recycled goods, they are now starting to charge the state for the cost of getting rid of it.
Jerri-Lynn here: These costs impose an additional stress on strained municipal budgets. Greenpeace provides further details:
San Diego is now facing a potential $1.1m annual charge from its waste contractor, which last year provided the city with a $4m income stream.

"The environmental benefits of recycling now come with a cost that we haven't seen in California before," Zoe Heller, assistant director of policy development at CalRecycle, California's state waste management agency, told Unearthed.

"What used to be a very profitable revenue stream is now becoming a cost."

In towns and cities across the US, firms have been taking a variety of steps to deal with the backlog. Some have suspended their recycling schemes, begun education campaigns or refused to accept certain types of plastic waste. Others have refused to pick up rubbish from outside houses, sent recycling to landfill or burned it.
The bottom line: the state of many recycling programs is a complete mess.
Trump Administration Worsens the Plastic Problem, Others Signal Their Virtue 
And to make things worse, as regular readers of my posts on plastic may recall, even well conceived, well-executed recycling programs alone won't solve the plastic crisis (see Four Rs: Reduce, Reuse, Recycle, and…Repair).
Unsurprisingly, the Trump administration isn't interested in either the immediate recycling problem or the larger plastic issue, and by promoting fracking, ensures manufacture of more, rather than less, plastic (see Fracking Boom Further Spurs Plastics Crisis, for further details). I note that pro-fracking federal policy didn't commence on his watch, but is a continuing bipartisan legacy of his predecessors.
TreeHugger's report on the Greenpeace findings is Now that China won't take plastic waste, what's the U.S. doing? is much more optimistic than I about what comes next:
I've always maintained that, if we didn't have the ability to send waste away to some nebulous, distant place, and if we had to stash it all in our own backyards indefinitely, moving to zero-waste and reusable packaging would become an obsession. The fact that we've been able to offshore the majority of our waste processing has caused us as consumers to grow complacent and lazy.
Jerri-Lynn here: Really?
We agree, however, that recycling is no panacea:
This report underscores what we've been arguing on TreeHugger for years — that recycling doesn't work. It is not the feel-good, environmentally-friendly solution that people like to believe it is. What we need is to stop throwing things away, whether it's in the garbage or the blue bin (compost heap excepted). This means making smart, sustainable choices as consumers, and applying pressure on manufacturers to come up with circular packaging solutions.
Alas, consumer action alone isn't going to go very far either.
Greenpeace understands regulation is necessary, and thinks state and municipal regulators are on the case:
Stockpiling has been occurring in California, now the world's fifth largest economy, and a number of bills are now being considered to cut plastic waste.
That's no doubt true.
Yet let's look what the state of California enacted with much fanfare last month, Assembly Bill No. 1884, a ban on plastic straws– a textbook example of virtue-signalling. How is this policy inadequate?
Let me count the ways. First, the ban applies to plastic straws only, and no other forms of single-use plastic (although the state does have in place a ban on single use plastic bags; see this summary by the National Conference of State Legislatures). Second, only full service restaurants must comply, so cafes and coffee shops can continue to supply such straws. Third, a customer can still request– and receive– a single-use plastic straw. I realize that some people must use straws for medical reasons, but for them, I would have thought the statute could have specified that non-plastic straws be available (e.g., bamboo, paper, metal). Fourth, the penalties are pathetic for restaurants that get caught. For first and second violations, state inspectors would warn offenders; only upon the third violation, would they impose fines of $25 per day, up to an annual maximum of $300.
This counts as serious public policy? And I point out that, sadly, California actually is much better than some states on plastic policy– as the straw ban bill allows cities, counties, and public agencies to impose tougher local bans. Whereas, as I discussed in Fracking Boom Further Spurs Plastics Crisis, other states have overturned tougher local plastic restrictions.
Compare this policy to what Vanuatu has done since the start of the year: If Vanuatu Can Ban Single-Use Plastics, So Can the Other Commonwealth Countries.