By Lambert Strether of Corrente.
Trade
"Port Tracker report points to increased import activity ahead of next round of tariffs" [Logistics Management]. "United States-bound imports trended down from the pre-holiday peak while still coming in at higher-than-usual levels, with retailers importing merchandise in advance of a coming tariff increase in January, according to the new edition of the Port Tracker report issued today by the National Retail Federation (NRF) and maritime consultancy Hackett Associates…. 'Imports have usually dropped off significantly by this time of year but we're still seeing numbers that could have set records in the past,' NRF Vice President for Supply Chain and Customs Policy Jonathan Gold said in a statement. 'Part of this is driven by consumer demand in the strong economy but retailers also know that tariffs on the latest round of goods are set to more than double in just a few weeks. If there are shipments that can be moved up, it makes sense to do that before the price goes up.'"
"Growing trade restrictions are triggering tensions between companies in automotive supply chains. … [Q]uestions over tariffs have prompted some blunt warnings between buyers and suppliers and even a lawsuit between a major auto parts maker and a key components provider" [Wall Street Journal]. "Pierburg US LLC says a supplier is trying to exact 'extortion' by refusing to ship parts from China unless the 25% tariff cost is paid in full. The disputes highlight the complexity of supply chains that may take in roughly 30,000 individual parts and hundreds of direct or downstream suppliers. The business is underpinned by thousands of detailed long-term contracts that now have big new costs and uncertainty thrown into the mix."
Politics
"But what is government itself, but the greatest of all reflections on human nature?" –James Madison, Federalist 51
2020
Perhaps not entirely safe for work:

Ojeda and Avenatti as candidates are like the guy who thinks good sex is pumping away while you're making a grocery list in your head wondering when he'll be done.

O'Rourke is like the guy who is all sweet and nerdy but holds you down and makes you cum until your calves cramp.

— Leah McElrath (@leahmcelrath) November 12, 2018
2018
"Most House Democrats Will Be in Majority for First Time Ever" [Roll Call]. "Of the 227 Democrats who are guaranteed to be serving in the 116th Congress — 10 House races remained uncalled as of Tuesday morning — 58 percent will be new to the majority. That includes 79 members who have served in Congress already and 53 new members. Only 95 Democrats returning next year have experienced life in the majority." • And I can't imagine anybody better equipped to show them the ropes than Nancy Pelosi….

Pelosi (1):

Nancy Pelosi: "None of us is indispensable, but some of us are just better at our jobs than others." https://t.co/R0h3X8auA1

— Taegan Goddard (@politicalwire) November 13, 2018

Pelosi (2):

Now @Ocasio2018 has joined the sit-in by @sunrisemvmt & @justicedems at Pelosi's office calling for a #GreenNewDeal.

Pelosi has planned to relaunch a weak committee from 2008 to "study" the effects of climate change — essentially denying the serious reality of climate change. pic.twitter.com/tSjuJ5OTTU

— Waleed Shahid (@_waleedshahid) November 13, 2018

"Black Lawmakers Set to Assume More Powerful Roles in U.S. House" [Bloomberg]. "The Congressional Black Caucus is on the verge of becoming the most powerful bloc in the U.S. House when Democrats take control in January, with members to lead at least five committees and more than a dozen subcommittees." • For more on the CBC, see Black Agenda Report: "The Black Political Class? The Congressional Black Caucus? These Joes Ain't Loyal." The black misleadership class, BAR calls them.

"Democrats Say Their First Bill Will Focus On Strengthening Democracy At Home" [NPR]. "The bill would establish automatic voter registration and reinvigorate the Voting Rights Act, crippled by a Supreme Court decision in 2013. It would take away redistricting power from state legislatures and give it to independent commissions. Other provisions would overturn the Supreme Court's Citizens United ruling, which declared political spending is First Amendment free speech; they would mandate more disclosure of outside money and establish a public financing match for small contributions." • We'll need to see the details, of course, but this sounds good. However, I don't see anything about hand-marked paper ballots, hand-counted in public. If the ballot system is broken, everything is broken, because no vote count can be trusted.

AZ Senate: "Kyrsten Sinema becomes first Democrat to win a Senate race in Arizona in 30 years" [Salon]. "Kyrsten Sinema has been elected as Arizona's next senator — as well as the first openly bisexual United States Senator ever." • She'll immediately join the "Bisexuals Opposed to Medicare for All" caucus.

CA Leg: "Nearly a Week After Election Day, California Democrats Regain Supermajority in Legislature" [Governing]. "Democrats claimed victory Monday in two state Senate races, giving them back the two-thirds supermajority they lost in June when Orange County Democrat Josh Newman was recalled after he voted in favor of Gov. Jerry Brown's gas tax increase." • Great! Maybe now they can fix CalPERS without those pesky Republicans obstructing everything.

FL Vote: "Bay County accepted ballots through email—which state law doesn't allow: report" [Florida Politics]. "Elections officials in Bay County, a Republican stronghold recently battered by Hurricane Michael, accepted votes via email. The catch: That's counter to state law."

ME-02: "Poliquin sues in federal court to stop ranked-choice vote count" [Portland Press-Herald]. "Republican 2nd District Rep. Bruce Poliquin filed a federal lawsuit Tuesday against Maine Secretary of State Matthew Dunlap in an attempt to stop a tabulation of ranked-choice ballots in his race against Democratic challenger Jared Golden." • This is ridiculous. Poliquin knew the rules going in.

The suit filed in federal court in Bangor is asking for an injunction against Dunlap to stop what would be the first congressional race in the nation to be decided through ranked-choice voting.

"The Week in Public Finance: How Tax Policies Fared at the Ballot Box" [Governing]. "With a few exceptions, voters across the country on Election Day approved statewide proposals to reduce or limit taxes while also widely rejecting any efforts to raise them. But that wasn't the story at the local level, where several tax increases passed."
2018 Post Mortems
Why you've got to focus on the districts:

I feel like the broad take I come away from 2018 is that voters don't process ideology the way pundits do and the relationship between campaign coverage, candidate rhetoric, actual candidate positions and actual candidate votes is tenuous. https://t.co/VgVNsSxHBR

— we're going to abolish ICE (@SeanMcElwee) November 12, 2018

Focusing on the districts is something I wish I had had more time to do. It's not just a useful corrective for the media critique, it's more important.

"How Did Medicare for All Candidates Fare in the Midterms?" [Splinter News]. "This year, a majority of House Democratic candidates endorsed Medicare for All, according to the union National Nurses United. If you had told me in 2014, or even 2016, that this would happen, I would have frowned at you, walked away, and possibly tried to contact someone who cares about you out of concern for your mental health. This was pretty damn huge….Only seven candidates in the 30 races Cook labeled as toss-ups endorsed Medicare for All; of those candidates, two won, three lost and two races are still undecided, but only one reduced the vote share over 2016. Harley Rouda, who supports Medicare for All, increased the Democratic share of the vote by 10 percent to beat Dana Rohrabacher, per current totals. Incredibly, a district that previously looked at Dana Rohrabacher and said yes, I want him, now wants a guy who supports single-payer instead."
Realignment and Legitimacy
A very unfair portrait of the Democrats:

— Max Jerneck (@MaxJerneck) November 12, 2018

An even more unfair portrait of the Republicans:

For the sake of fairness, I should provide the Republican credo as well pic.twitter.com/qK35PlEml7

— Max Jerneck (@MaxJerneck) November 12, 2018
Stats Watch
NFIB Small Business Optimism Index, October 2018: "Optimism among small business owners remains near record levels" [Econoday]. "Along with glowing business optimism, the NFIB October survey also showed inflation heating up, with the net percent of owners raising selling prices up… The survey results should thus reinforce the Federal Reserve's resolve to continue in its current policy of gradual increases in the Fed funds rate." But: "Small Business Optimism Index decreased in October" [Calculated Risk]. "Most of this survey is noise, but there is some information, especially on the labor market and the 'Single Most Important Problem'…. Usually small business owners complain about taxes and regulation… However, during the recession, 'poor sales' was the top problem. Now the difficulty of finding qualified workers is the top problem."d
Banks: "New Supervisory Rating System for Large Banking Organizations" [Sullivan & Cromwell]. "On November 2, the Board of Governors of the Federal Reserve System (the "FRB") issued a final rule (the "Final Rule") that establishes a new rating system for the supervision of large financial institutions ("LFIs"). The LFI rating system applies to all bank holding companies with total consolidated assets of $100 billion or more…. [T]he new rating system still in the rating process.[25] Both the capital and liquidity components emphasize planning and risk management, as well as actual financial positions. The governance and control component is inherently subjective. The element of subjectivity may be intensified because an institution will not be considered well managed unless it is rated at least "Conditionally Meets Expectations" for each of the three rating components." • Well, I imagine that whatever the banks can come up with, including the books, would involve a considerable amount of subjectivity in any case. No worries!
Retail: "How the 'dark stores' loophole helps big-box retailers evade millions in property taxes" [The New Food Economy]. "Since 2013, national retailers have successfully sued local governments in Midwest states to lower their property taxes. They claim that assessors shouldn't determine their stores' property value based on what they cost to build, or how much money the stores are taking in. In other words, they shouldn't be taxed like occupied, functioning stores. Instead, say the stores (which also include supermarkets like Meijer, hardware stores like Home Depot, Lowe's, and Menards, and pharmacies like CVS and Walgreens), the tax assessments should be based on what comparable stores sold for elsewhere. And that's where things get tricky. For comparison, they're pointing to so-called "dark stores"—those empty supercenters that blight small-town America…. The retailers were collectively seeking over $700 million in tax revenue."
Shipping: "Think small when it comes to warehousing" [Logistics Management]. "[A]s the folks [ugh] at CapRock put it in a press release: 'Typically less than 200,000 square feet in size and in a nearby infill location, and surrounded by housing with substantial purchasing power, small-box warehouses are now the linchpin in the e-commerce ecosystem.'" • My town used to have several small stores. Maybe now we'll have a small warehouse instead. Exciting times.
Shipping: "Disruption in global oil trade is giving the tanker industry a much-needed boost. Daily freight rates for big crude carriers have soared four-fold to the highest levels in two years, WSJ Logistics Report's Costas Paris writes, as buying patterns and shipping routes adjust to U.S sanctions on Iran and the trade battle with China" [Wall Street Journal]. "Tanker owners fear the rebound is short-lived, but they're reaping the benefits now."
Transportation: "Self-Driving Hotel Rooms May Soon Become a Reality" [Traveler (J-LS)]. "Imagine a world where you no longer fly between your house and your hotel. You drive there. Or more accurately, your hotel room drives you there." • We call this a "train."
Transportation: "Driverless cars will lead to more sex in cars, study finds" [MarketWatch]. "People will be sleeping in their vehicles, which has implications for roadside hotels. And people may be eating in vehicles that function as restaurant pods," Scott Cohen [of Annals of Tourism Research said.] 'That led us to think, besides sleeping, what other things will people do in cars when free from the task of driving?'" • Indeed. This works if the robot car industry retains today's ownership model. If robot cars are hailed and rented, a la Uber, not so much. Who wants to find food, or body fluids, in their robot car?
Tech: "Apple's new bootloader won't let you install GNU/Linux — Updated" [Boing Boing]. "The chip comes with a user-inaccessible root of trust that allows for the installation of Apple and Microsoft operating systems, but not GNU/Linux and other open and free alternatives…. To make things worse, publishing tools to allow for bootloader overrides is legally risky under section 1201 of the DMCA, which provides for 5 year prison sentences and $500,000 fines (for a first offense) for anyone who trafficks in tools to override access controls for copyrighted works….. Update: After some doing, it's possible to install GNU/Linux by disabling boot security altogether, though some further tweaking is required."
Gaia
"Why did the Catastrophic Camp Fire Start Where it Did?" [Cliff Mass Weather and Climate Blog]. Good use of maps: "The power line failure occurred on the northeast side of a terrain feature, where the canyon narrowed. The terrain features would have blocked the flow and thus the winds could well have been substantially accelerated at EXACTLY the location of the failure."
"Meat Has a Replacement But No One Knows What to Call It" [Bloomberg]. "Lab-grown. Cell-based. Clean. In vitro. Cultured. Fake. Artificial. Synthetic. Meat 2.0. These are all terms that refer to the same kind of food, one that's not even on the market yet. But the companies making it have already raised hundreds of millions of dollars worth of investor cash and earned the close attention of U.S. regulators. Rather than methodically slaughtering animals, this industry uses science to grow what it claims is essentially the same thing as traditional meat. Given the planetary damage wrought by mass-market animal husbandry, such cellular agriculture is seen as the future of meat. But what to name it, and getting people to eat it, is another matter altogether."
Guillotine Watch
"I understand your house is on fire…."
Fuck work. Fuck bosses. Fuck capitalism. pic.twitter.com/VPl3hu7yFp

— Los Angeles SRA (@LA_SocialistRA) November 11, 2018
I would love for this to be a hoax…..
Class Warfare
Interestingly, the Long Island City Amazon so-called HQ is on DSA's patch. They're on it. Thread:
As news spreads of a possible Amazon headquarters in Queens, let's review Amazon's history of worker abuses, shall we? https://t.co/3HiP0VGkHA

— New York City DSA ? (@nycDSA) November 6, 2018
And DSA is canvasssing:
Wanna come canvass with us in Queens? https://t.co/F8cTuiKKwY

— Aaron Taube? (@aptaube) November 13, 2018
Amazon is on AOC's patch as well:
Amazon is a billion-dollar company. The idea that it will receive hundreds of millions of dollars in tax breaks at a time when our subway is crumbling and our communities need MORE investment, not less, is extremely concerning to residents here.

— Alexandria Ocasio-Cortez (@Ocasio2018) November 13, 2018
So certainly the possibility for some interesting dynamics here. Chance for DSA to flex its muscles, if any.
* * *
"UPS Freight avoids strike, plans to accept new volumes 'immediately'" [Supply Chain Dive]. "Teamsters Local 25 member and UPS Freight employee for 12 years Nicholas Mayo told Supply Chain Dive that closing the network and "threatening closure" of the UPS Freight business, as he described it, left voters fearing for their jobs. 'Look, I and everyone else that voted 'no' understood their need to get the freight out of the system protecting the customers' interests, but it was the initial planted threat that caused the about-face creating fear amongst those that knew no better,' said Mayo. The Teamsters' main issues with the contract as it stands approved are around the ." • Ugh. So UPS muscled the Teamsters.
"When low-income families can meet their basic needs, children are healthier" [Boston Medical Center]. Ya think? More: "The study team created a composite measure of hardships that included a family's ability to afford food, utilities, and health care, and maintain stable housing. All hardships described in the study have previously been associated with poor child and caregiver health. This study, however, examined the differences between children living in hardship-free families versus those in families with any or multiple hardships. In all cities, living in a hardship-free family was associated with good overall health for children and caregivers, positive developmental outcomes for young children, and positive mental health among mothers."
"The unequal vulnerability of communities of color to wildfire" [PLOS One]. "[O]ver 29 million Americans live with significant potential for extreme wildfires, a majority of whom are white and socioeconomically secure. Within this segment, however, are 12 million socially vulnerable Americans for whom a wildfire event could be devastating. Additionally, wildfire vulnerability is spread unequally across race and ethnicity, with census tracts that were majority Black, Hispanic or Native American experiencing ca. 50% greater vulnerability to wildfire compared to other census tracts. Embracing a social-ecological perspective of fire-prone landscapes allows for the identification of areas that are poorly equipped to respond to wildfires."
"Plans to microchip UK workers spark privacy concerns" [Independent]. "Several legal and financial firms in the UK are reportedly in discussions with a company responsible for fitting thousands of people with chips in Scandinavia… 'These companies have sensitive documents they are dealing with,' Biohax founder Jowan Österlund told the publication. '[The subdermal microchips] would allow them to set restrictions for whoever.'" • "For whoever."
Workerdote:
When you work alone a lot.

— laney (@misslaneym) November 12, 2018
News of the Wired
"New Study Details Toxic Particles Spewed by 3D Printers" [Gizmodo]. "A newly published, two-year investigation to assess the impacts of desktop 3D printers on indoor air quality, conducted by scientists at UL Chemical Safety and Georgia Institute of Technology, now overcomes these shortcomings. The results, published in two separate studies in Aerosol Science and Technology (here and here), were not encouraging; in tests, the researchers were able to identify hundreds of different compounds, some of which are known health hazards. These findings come at a time when these low-cost machines are increasingly appearing in commercial, medical, and educational settings." • Of course. I should have known….
"Mother of Invention" [Nnedi Okorafor, Slate]. Short SF story. The premise: "The post-oil city New Delta is now the greenest place in the world, thanks to the innovative air-scrubbing superplant known as periwinkle grass, a GMO grass created in Chinese labs by Nigerian scientist Nneka Mgbaramuko." • Also, smart houses.
"Stan Lee, Marvel Comics' Real-Life Superhero, Dies at 95" [Hollywoood Reporter]. "Born Stanley Martin Lieber on Dec. 28, 1922, he grew up poor in Washington Heights, where his father, a Romanian immigrant, was a dress-cutter. A lover of adventure books and Errol Flynn movies, Lee graduated from DeWitt Clinton High School, joined the WPA Federal Theatre Project, where he appeared in a few stage shows, and wrote obituaries. In 1939, Lee got a job as a gofer for $8 a week at Marvel predecessor Timely Comics. Two years later, for Kirby and Joe Simon's Captain America No. 3, he wrote a two-page story titled "The Traitor's Revenge!" that was used as text filler to qualify the company for the inexpensive magazine mailing rate. He used the pen name Stan Lee."
"What Marvel Comics' Stan Lee Thought About Death and the Afterlife" [E! News]. "'I don't fear death. I'm curious. I can't imagine what it could be like, because I personally feel when you die, that's the end. It's the machine that the engine is off,' Lee said on Hulu's Larry King Now. 'But how can there be nothing forever? You know what I mean? I can't believe it.'"
"The 'me' illusion: How your brain conjures up your sense of self" [New Scientist]. "A mind is just an object that some brains can model, and so become aware of. Moreover, it is hard to establish whether this ability is associated with uniquely complex biological machinery." • Hmm.
* * *
Readers, feel free to contact me at lambert [UNDERSCORE] strether [DOT] corrente [AT] yahoo [DOT] com, with (a) links, and even better (b) sources I should curate regularly, (c) how to send me a check if you are allergic to PayPal, and (d) to find out how to send me images of plants. Vegetables are fine! Fungi are deemed to be honorary plants! If you want your handle to appear as a credit, please place it at the start of your mail in parentheses: (thus). Otherwise, I will anonymize by using your initials. See the previous Water Cooler (with plant) here. Today's plant (EM):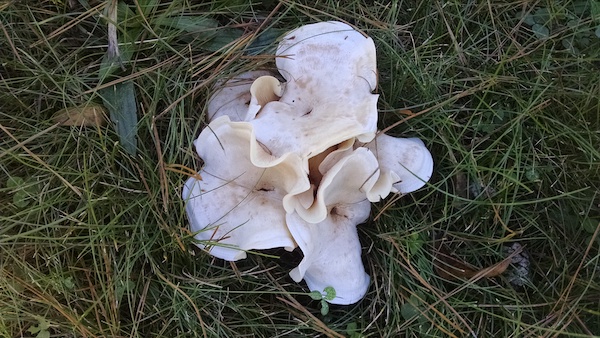 EM writes: "Calocybe carnea possibly but I'm not sure. There are some brownish ones but no pink." Readers?
* * *
Readers: Water Cooler is a standalone entity not covered by the annual NC fundraiser, now completed. So do feel free to make a contribution today or any day. Here is why: Regular positive feedback both makes me feel good and lets me know I'm on the right track with coverage. When I get no donations for five or ten days I get worried. More tangibly, a constant trickle of small donations helps me with expenses, and I factor that trickle in when setting fundraising goals. So if you see something you especially appreciate, do feel free to click below! (The hat is temporarily defunct, so I slapped in some old code.)
Or Subscribe to make a monthly payment!