By Lambert Strether of Corrente.
Patient readers, I got a late start today. I'll add a few more items shortly. –Lambert Strether
Politics
"But what is government itself, but the greatest of all reflections on human nature?" –James Madison, Federalist 51
2020
UPDATE "Deval Patrick's Presidential Prospects" [The New Yorker]. "Patrick's credentials as a partisan warrior will always be open to question, in part because of his temperament, but mostly because of his position at Bain Capital. In 2012, Obama's reëlection campaign turned Bain into a national symbol of capitalist greed and irresponsibility. As Patrick weighs a run for the Presidency, he is confronting widespread dismay that, of all the places he could have chosen to work after his governorship, he chose that one. 'People, they put you in a box,' Patrick told me, evasively." • "Evasively." From The New Yorker?

"Only on AP: Bloomberg charts aggressive timeline on 2020 bid" [Associated Press]. "Having spent a fortune to help elect Democrats this fall, former New York City Mayor Michael Bloomberg declared lifetime allegiance to the Democratic Party on Tuesday and outlined an aggressive timeline for deciding whether to run for president…. Bloomberg endeared himself to many Democratic leaders in recent months after deciding to invest more than $110 million in the 2018 midterms." • Ka-ching.

"Hillary Launches Campaign To Raise $100 Million Or Else She'll Run For President" [The Onion]. "'I'm very excited to roll out my initiative to secure this full amount within seven weeks, and if it is not successful—let me be very clear on this—I will once more fill out the paperwork to run for president and submit it to the Federal Election Commission,' said Clinton."
2018

IL-06: "A Democrat Ran on Climate Change in a Republican Stronghold—and Won" [The New Republic]. "'After years fighting climate change as an entrepreneur, I'm now determined to fight it as the next member of Congress,' reads Casten's Twitter bio, updated to reflect his victory on Tuesday. A scientist, environmental writer, and the founder of a successful renewable energy business, Casten talked repeatedly about global warming on the campaign trail and regularly called out his opponent—six-term incumbent Republican Representative Peter Roskam—for being weak on the subject. Casten's focus on climate was mostly overlooked in the widespread coverage of his five-point upset of Roskam, who once referred to climate change as 'junk science.' But it's an important factor, considering the Democratic Party's prevailing logic on the subject. Knowing that global warming can be a polarizing issue, most Democrats running in red or purple districts this year strategically avoided talking about it."

MS Senate: "Mississippi senator, whose runoff opponent is black, jokes about 'public hanging'" [NBC News]. "A video of Sen. Cindy Hyde-Smith, R-Miss., who faces a runoff this month against [former Secretary of Agriculture Mike Espy, an] African-American Democrat, joking about attending 'a public hanging' went viral Sunday as she insisted there was nothing negative about her remark. 'If he invited me to a public hanging, I'd be on the front row,' Hyde-Smith said during a campaign stop in Tupelo, Mississippi. The man she was referring to was identified as a local rancher….." Hyde responds: "In a comment on Nov. 2, I referred to accepting an invitation to a speaking engagement. In referencing the one who invited me, I used an exaggerated expression of regard, and any attempt to turn this into a negative connotation is ridiculous." • An exaggerated expression of regard….
2018 Post Mortems
"2018 rewrote the main rule of US politics" [Ron Brownstein, CNN]. "So much for the old rule that all politics is local…. In virtually every state, Democrats last Tuesday displayed a clear advantage in densely populated, culturally and racially diverse white-collar metropolitan areas, while Republicans relied on elevated margins in the preponderantly white, religiously traditional, smaller places beyond them. In almost all cases, the outcome in each state was determined less by how much they varied from that persistent pattern than by how much of each group was present in the state's electorate to begin with… [T]he palpable recoil from Trump among white-collar voters in all regions explains why the GOP losses in suburban House seats extended so widely. It was perhaps not a surprise that Democrats ousted many of the last House Republicans who had survived for years in suburbs of otherwise blue-trending metro areas, such as Philadelphia, Chicago, Miami, Denver, Los Angeles and Seattle. But the breadth of the movement toward Democrats among well-educated white voters explains why the GOP also lost suburban House seats last week in Atlanta, Charleston, Houston, Dallas, Kansas City, Des Moines, Oklahoma City, Orange County (CA), and possibly Salt Lake City, all places that had earlier resisted the white collar Democratic tide." • It's interesting to watch the slippage from "white collar" to "well-educated white voters."
Liberals Have Lost Their Minds
Big payoff for a piece of candy:

Michelle Obama on George W Bush: 'He is a beautiful, funny, kind, sweet man' https://t.co/tUlitLQrFV

— Stacy Herbert (@stacyherbert) November 14, 2018

No, but seriously: Anything for those suburban Republican votes. Personally, I don't think rehabilitating the architect of the Iraq War debacle and the destroyer of the Fourth Amendment goes nearly far enough. Why not go the whole route and rehabilitate Henry Kissinger? Oh, wait….
Realignment and Legitimacy
"Speak Your Piece: To Win Rural America, Dems Must Lean into Progressive Policies" [Daily Yonder]. "Where's the disconnect? Democrats tend to engage rural voters in one of two ways: They either outright ignore them, or they try to look more like Republicans. But progressive policies are significantly more popular than the Democratic party in small towns and rural communities and running as a Democrat with Republican policies is the worst way to engage rural voters. Rural Americans want rural-specific solutions to rural-specific problems and the policies they support come straight from the progressive platform. Democrats should lean into them."
Stats Watch
Consumer Price Index, October 2018: "Energy prices which are now sliding lifted what is yet another subdued consumer inflation report, this time for October where the headline… overstates the pressure [Econoday]. "Housing is the dominant component in the consumer price report and here price pressures are also moderate… Food prices continue to be very subdued…. [T]he biggest question for inflation isn't measured directly in this report and that's wage pressure where risks, given the rising level of job openings and declining number of unemployed, do point to a turn higher." And: "Energy and used cars were the main driver for year-over-year inflation. Core inflation remains above 2.0 % year-over-year" [Econintersect]. And: "inflation softened slightly on a year-over-year basis in October. Overall, these measures are at or above the Fed's 2% target (Core PCE is slightly below 2%)" [Calculated Risk].
Atlanta Fed Business Inflation Expectations, November 2018: "Inflation isn't accelerating. That's the story from this morning's consumer price report for October and also the Atlanta Fed's November measure of inflation expectations' [Econoday]. "The Federal Reserve is raising interest rates to protect against unwanted inflation, a risk that has yet to appear."
Consumer Spending: "November 2018 Consumer Expectations: Income and Spending Growth Expectations Strengthen" [Econintersect]. "The Federal Reserve Bank of New York's Center for Microeconomic Data released the October 2018 Survey of Consumer Expectations, which shows that households' expectations about income and spending growth improved notably. Consumers continue to lower their home price growth expectations. Short- and medium-term inflation expectations were unchanged."
MBA Mortgage Applications, week of November 9, 2018: "Rising interest rates continue to dampen mortgage activity" [Econoday].
Retail: "This time, Amazon has gone too far: Jeff Bezos's company is profiting and taxpayers are paying the price" [Matt Stoller, New York Daily News]. The conclusion: "Fundamentally, Amazon is simply too powerful. It isn't just about subsidies. It isn't that merchants, or local businesses, or warehouse workers, or communities are being mistreated or misled. It's that Amazon has so much power over our political economy that it can acquire government-like functions itself. It controls elected officials, acquired the power to tax, and works with government to avoid sunshine laws. It's time to recognize the truth about this company. Two-day shipping might be really convenient, but at least in its current form, Amazon and democracy are incompatible." • Very good to see Stoller in the New York Daily News!
Retail: "Alexandria Ocasio-Cortez Is Right about Amazon's Corporate Welfare" [National Review]. "I can't believe I'm saying this, but Ocasio-Cortez is mostly correct on this matter, and her conservative critics are wrong. Handouts like this to Amazon and other prominent companies are appalling in their cronyism, pure and simple. I agree that she doesn't understand economics and that her socialist ideal is a recipe for fiscal and economic disaster. But her conservative critics reveal their own economic misunderstanding when they support targeted tax breaks as a means of creating jobs."
Private Equity: "Senior living communities seized from Dallas firm after residents found neglected" [Dalllas Business Journal]. "Three senior living communities in Vermont owned by Dallas private equity firm East Lake Capital have been seized after a state investigation found more than 100 elderly residents were being neglected and, in some cases, weren't receiving food. The crackdown comes amid a flurry of deals for facilities across the U.S. by investors eager to get in on for the country's aging population." • I've helpfully underlined the oxymoron.
Retail: "Amazon's Last Mile" [Gizmodo]. "Near the very bottom of Amazon's complicated machinery is a nearly invisible workforce over two years in the making tasked with getting those orders to your doorstep. It's a network of supposedly self-employed, utterly expendable couriers enrolled in an app-based program which some believe may violate labor laws. That program is called Amazon Flex, and it accomplishes Amazon's "last-mile" deliveries—the final journey from a local facility to the customer…. Flex is indicative of two alarming trends: the unwillingness of legislators to curb harmful practices of tech behemoths run amok, and a shift towards less protected, more precarious opportunities in a stagnant job market.' • Read for the detail. It sounds as hellish as Amazon's warehouses.
Retail: "Desperately Seeking Cities" [n+1]. "It is beyond question that, in whatever city it chose to grace, Amazon would bring neither the jobs that that city needed, nor the public works that it needed. In his latest variation on the urbanist delusion, written for the Financial Times, the much-pilloried Richard Florida plaintively appealed to Amazon not to "accept any tax or financial incentives," but rather to pledge to "invest alongside cities to create better jobs, build more affordable housing, and develop better schools, transit, and other badly needed public goods, along with paying its fair share of taxes." The depths of Florida's naiveté cannot be overstated. Not only is Amazon categorically unlikely to pledge what he wants (or, even if it did, make even the slightest effort to deliver on such a pledge), but Florida openly expresses his desire to cede all urban political power and every human demand to the whims of the company. In this respect, too, the Amazon HQ2 contest has been clarifying."
Retail: "Access":
Love how Virginia's pitch for Amazon included this section on doing corruption. pic.twitter.com/VnVLwMkSn8

— Paul Blumenthal (@PaulBlu) November 13, 2018
The Bezzle: "Comcast forced to pay refunds after its hidden fees hurt customers' credit" [Ars Technica]. "Comcast has agreed to pay $700,000 in refunds 'and cancel debts for more than 20,000 Massachusetts customers' to settle allegations that it used deceptive advertising to promote long-term cable contracts, Massachusetts Attorney General Maura Healey announced yesterday. 'Comcast stuck too many Massachusetts customers with lengthy, expensive contracts that left many in debt and others with damaged credit,' Healey said…. [C]ustomers entered long-term contracts that they could not afford; the inadequately disclosed fees typically raised customers' bills by 40 percent over the advertised price, the AG said."
Tech: "Facebook Morale Takes a Tumble Along With Stock Price" [Wall Street Journal]. "Amid a plunge in the stock price, ongoing leadership turmoil and critical media coverage, just over half of employees [responding to Facebook's internal survey] said they were optimistic about Facebook's future, down 32 percentage points from the year earlier… which was taken by nearly 29,000 employees. Fifty-three percent said Facebook was making the world better, down 19 percentage points from a year ago."
Tech: "Google accused of 'trust demolition' over health app" [BBC]. "A controversial health app [(Streams)] developed by artificial intelligence firm DeepMind will be taken over by Google, it has been revealed….. Lawyer and privacy expert Julia Powles, who has closely followed the development of Streams, responded on Twitter: "DeepMind repeatedly, unconditionally promised to 'never connect people's intimate, identifiable health data to Google'. Now it's announced… exactly that. This isn't transparency, it's trust demolition, she added….. It is not the first time an independent firm has been subsumed by Google. Nest, which collects data from home security cameras, thermostats and doorbells, was set up as a stand-alone, with promises that no data would be shared with the search giant. But in February it was merged with Google to help build 'a more thoughtful home.'"
Transportation: "Self-driving cars expand the fight over airwaves" [Axios]. "The Federal Communications Commission is assessing whether cars and Wi-Fi services can safely share the same frequency…. [But] the FCC has already signaled the debate may have shifted away from spectrum-sharing and that further tests might be unnecessary, suggesting a cellular approach will be the winner. Europe is leaning toward DSRC but the progress of C-V2X in China may prove decisive, per the World Economic Forum's Eric Jillard."
Mr. Market: "The Three-Minute Chat That Wiped Billions Off Stocks" [Bloomberg]. "Lumentum Holdings Inc. makes lasers for 3D facial recognition used by major smartphone makers, with Apple Inc. its key client. On Monday, the company announced a 17 percent cut in its December-quarter revenue outlook. That triggered a plunge in shares of Apple and its suppliers, and reverberated through stock markets in the U.S. and Asia."
Gaia
Amost a slogan:
Here's my response to those who say that preventing environmental breakdown means a drastic cut in our quality of life. #PrivateSufficiencyPublicLuxury pic.twitter.com/46WA6AQMAU

— GeorgeMonbiot (@GeorgeMonbiot) November 14, 2018
"Private sufficiency, public luxury" is a wonderful concept, and dovetails neatly with MMT. Too many syllables?
Guillotine Watch
"Super rich people are paying up to $500,000 for luxe panic rooms — and as gun violence picks up, they're more popular than ever" [Business Insider]. "Of course, safety is still paramount in these fancy safe rooms, which are made of blast-proof and bulletproof material. But some have decorated their panic rooms to look like a 1920s speakeasy and or a Ralph Lauren catalog, as Chris Cosban, the owner of New York-based Covert Interiors, which makes luxury panic rooms for the elite of New York City and the Hamptons, told Mansion Global."
Class Warfare
UPDATE "Good News, the Stock Market Is Plunging: Thoughts on Wealth" [Dean Baker, CEPR]. When people decry the rise in inequality in wealth over the last decade, they are basically complaining about the run-up in the stock market. The real value of the stock market has roughly tripled from its recession lows. With the richest one percent holding close to 40 percent of stock wealth and the richest 10 percent holding more than 80 percent, a tripling in the value of the stock market pretty much guarantees a big increase in wealth inequality. If we think this increase is bad, then why would we not think a drop in the stock market is good?"
"What Vermont Para-educators and School Bus Drivers Learned When They Almost Went on Strike" [Labor Notes]. Much useful tactical detail. The conclusion: "Members in small towns can be hesitant to share their stories of economic hardship with their neighbors, but direct contact with neighbors and parents proved to be the most powerful tool. Also, it's tough for the boss to replace school employees in a rural area on short notice. Keeping schools open during a strike would have meant understaffed classrooms, gaps in bus schedules, unfamiliar drivers, and special-ed staffing shortages—which could all spark public outrage."
"The Border Crossing Us" [Viewpoint Magazine]. "If we step outside media narratives, think beyond the immediate electoral horizon, and train our sights on migrant organizing and solidarity, the basis for such a politics becomes demonstrably clearer. Just as the right's strategy of white fear-mongering has highlighted new, more visible tactics among migrants in the form of the caravan, we propose to respond by centering migrant struggles, particularly from the perspective of "migrant autonomy" that was so well-illustrated by the democratic decision-making of caravan members over their collective fate. With this perspective, it becomes evident that to consider class politics in the United States today means considering a working class whose composition crosses geographical borders and weaves together the exploited and the dispossessed from across a much broader region."
"The winds of revolution in the 18th century Atlantic" [New Frame]. "'The negroes have a wonderful art of communicating intelligence among themselves,' noted an obviously impressed [John] Adams in his diary after discussion [with two Georgia delegates to the Continental Congress in 1775]. 'It will run several hundreds of miles in a week or fortnight.' Subsequent events fulfilled some black hopes and proved white fears prophetic. After the outbreak of hostilities, ; others hoped to gain freedom by fighting with the patriots. " • That would be interesting history to know.
"I Used to Be Homeless—and Here's What Everyone Gets Wrong About It" [Yahoo News]. "When you have no safety net, the tiniest issue—an unexpected medical bill, an illness or injury, a lost wallet—quickly balloons into an emergency that can make you homeless, or if you're already homeless, make your life infinitely worse. An example I like to share is when I was living in my car. One day it got towed for a parking violation and once you're towed, you're done. There are towing fees, impound fees, parking fees… before long you owe $2,000 on a $600 car. So now you don't have a car or any of your stuff that was in it and you're stuck sleeping out in the elements. Sleeping outside makes you get sick which leads to other problems… One tiny mistake can spiral into a life-ending problem….. I can't tell you how many people I saw die from a lack of simple medical care. A cut, a broken bone, or an illness left untreated can become infected and deadly very quickly."
News of the Wired
"Japanese man 'married' to a hologram" [Agence France Presse]. "Akihiko Kondo's mother refused an invitation to her only son's wedding in Tokyo this month, but perhaps that is not such a surprise: He was marrying a hologram. 'For mother, it wasn't something to celebrate,' said the soft-spoken 35-year-old, whose 'bride' is virtual reality singer Hatsune Miku…. Kondo is not alone: Gatebox, which produces the hologram device, has issued more than 3,700 certificates for "cross-dimension" marriages and others have sent him supportive messages, he said." • So, the premise of William Gibson's Idoru (1996) comes true.
"The origins of sexism: How men came to rule 12,000 years ago" [New Scientist]. "The vast majority of cultures are patriarchies, where men are more likely than women to hold positions of social, economic and political power. So it is tempting to assume that this is the natural state of affairs, perhaps because men are, on average, stronger than women. But a study of humanity's roots suggests this answer is too simple…. Patrilocal residence, as it is called, is associated with patriarchy, says anthropologist and primatologist Sarah Hrdy at the University of California at Davis… For most of our history, we have been hunter-gatherers, and patrilocal residence is not the norm among modern hunter-gatherer societies…. According to one school of thought, things changed around 12,000 years ago. With the advent of agriculture and homesteading, people began settling down. They acquired resources to defend, and power shifted to the physically stronger males. Fathers, sons, uncles and grandfathers began living near each other, property was passed down the male line, and female autonomy was eroded. As a result, the argument goes, patriarchy emerged." • My experience has been that recent New Scientist stories are always locked. But they seem to be unlocking older stories, many of which are still germane.
* * *
Readers, feel free to contact me at lambert [UNDERSCORE] strether [DOT] corrente [AT] yahoo [DOT] com, with (a) links, and even better (b) sources I should curate regularly, (c) how to send me a check if you are allergic to PayPal, and (d) to find out how to send me images of plants. Vegetables are fine! Fungi are deemed to be honorary plants! If you want your handle to appear as a credit, please place it at the start of your mail in parentheses: (thus). Otherwise, I will anonymize by using your initials. See the previous Water Cooler (with plant) here. Today's plant (SS):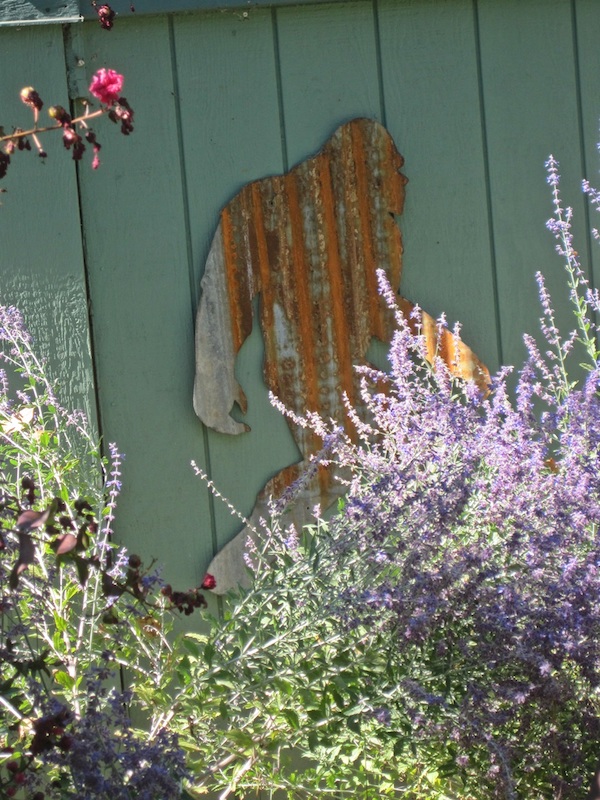 SS writes: "Sasquatch (a PNW icon) lurks behind the Russian Sage."
* * *
Readers: Water Cooler is a standalone entity not covered by the annual NC fundraiser, now completed. So do feel free to make a contribution today or any day. Here is why: Regular positive feedback both makes me feel good and lets me know I'm on the right track with coverage. When I get no donations for five or ten days I get worried. More tangibly, a constant trickle of small donations helps me with expenses, and I factor that trickle in when setting fundraising goals. So if you see something you especially appreciate, do feel free to click below! (The hat is temporarily defunct, so I slapped in some old code.)
Or Subscribe to make a monthly payment!