CalPERS as an institution is either unable to curb its poor impulses or so lacking in self-awareness as to not even recognize them. And more than ever, these pathologies start at the top of the organization.
One case study is l'affaire burgundy, in which CEO Marcie Frost asked the CalPERS senior leadership team to wear burgundy to show their support for her. This is obviously inappropriate since a request made by a CEO is effectively an order. CalPERS executives and employees are civil servants, not Frost's personal retainers. As an expert on managerial and political conduct reacted:
I don't even know what category to put this in. A scandal-plagued boss orchestrating support by inventing gang colors and pressuring employees to wear them? What happens to the employees who don't perform this ritual of fealty? Should they be polishing their resumés and practicing their swimming skills?
These incidents smack of underlying panic. Frost is working overtime to shore up her position as CEO in the face of fully deserved questions regarding her long history of misrepresentations about her background, which include committing perjury in Washington on a gubernatorial questionnaire. Not only is Frost pushing her subordinates far too hard to back her up, since they can only do so much for her and coercing them will diminish their good will, she is also showing a lack of a sense of professional boundaries.
As we'll show, Frost's burgundy campaign may well have crossed the line into creating a hostile work environment. One senior staff member who came to the office and saw the "dress burgundy" request too late to comply issued a written apology. Similarly, when "asked" to wear burgundy to an offsite, one employees who wears only black and white felt compelled to buy a burgundy outfit to comply.
We managed to catch this sorry affair as it devolved into cultism, when the pressure to sport burgundy went beyond senior staff to the rank and file. In case you missed it, we learned about this abuse from a CalPERS employee who sent a short e-mall and a photo:
Now executives are making employees wear badges to show if they support Marcie or not!!! These are in every break room at CalPERS!!! They say participation isn't mandatory but you know they're making note of who is wearing them and who isn't.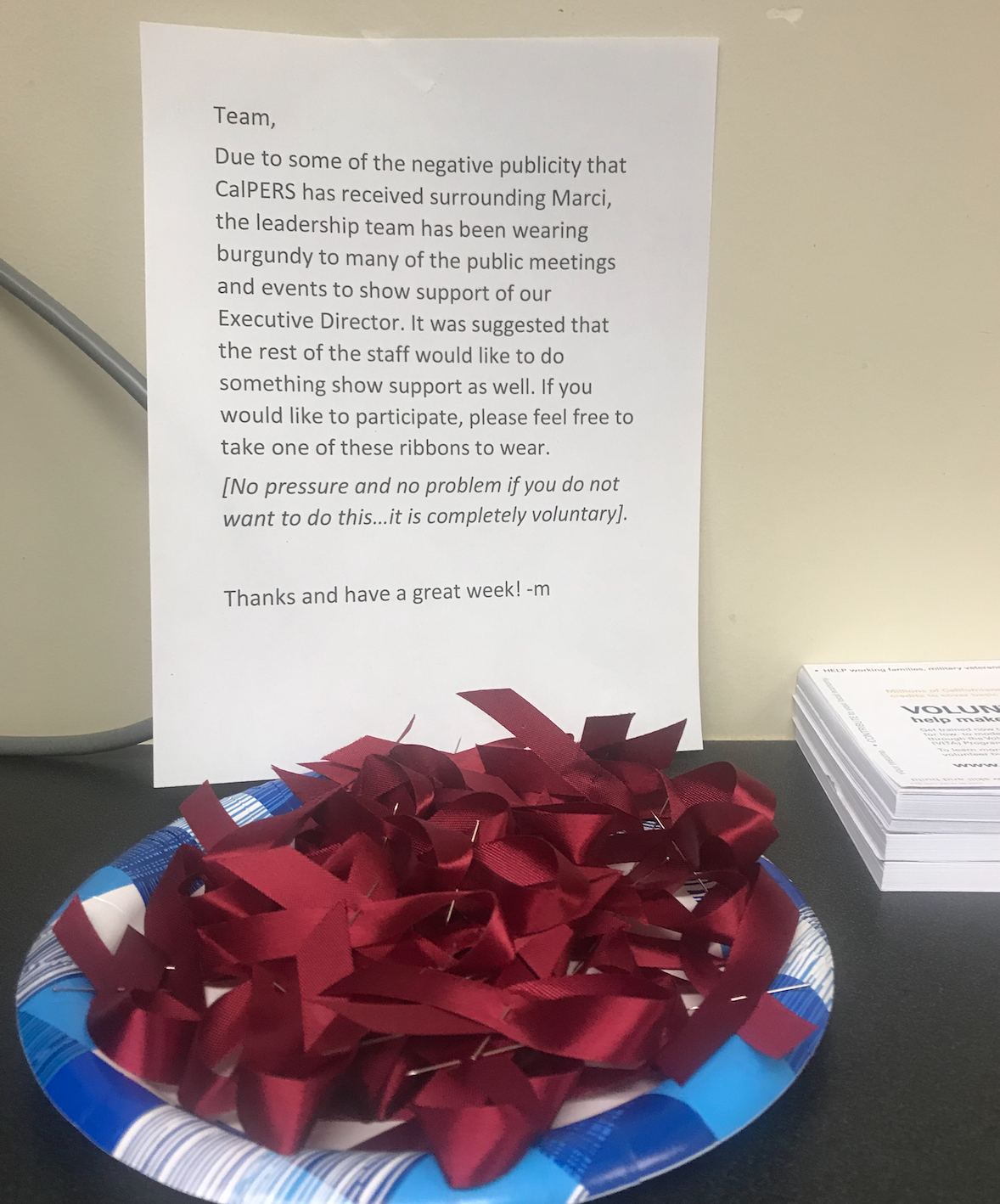 At least the -m is not Marcie Frost, but Michele Nix, who used the "-m" signature in records produced in the response to our Public Records Act request #4075 and CalPERS confirmed that Nix produced the document above in response to Public Records Act request #4134. More on our forensics on this pathetic episode in due course.
Let us step back and point out the obvious:
A "show of support" for a boss is nothing o the kind. Like the Big Lies that have become routine at CalPERS, it is a mislabeling. Frost has orchestrated a required demonstration of loyalty. Not participating would be seen as opposition and insubordination. This clip is a reminder that refusing to show allegiance is hazardous:
Recall that Frost has a reputation for vindictiveness that goes back to Washington. Just because she can't roast people alive doesn't mean she would not resort to other forms of punishment. Two sources in Washington State who had worked for Frost said that other former subordinates who had serious reservations about her leadership were unwilling to speak about Frost even now, years later, out of fear that Frost would find a way to retaliate.
This "show of support" is toadying. Giving such priority to the personal needs of the CEO is corrosive. It puts employees in a position of worrying that they have to out-do each other in displays of sycophancy to maintain their good standing with the boss.
A "show of support" for someone in a senior position is an admission of weakness. As we wrote:
This childish effort is a sign that Frost is desperate and needs positive reinforcement from her immediate environment to maintain what looks to be a tenuous hold on authority. The fact that this push for employees to wear ribbon more than two months after the scandal broke, on the first day of the monthly two and a half day board meetings, also suggests that she or her key staffers suspect that Frost is still in a rocky position with the board. And the note pumping for the ribbon show is a diss to State Treasurer John Chiang, by pretending that his request for an independent investigation of Frost's claims before and after she was hired didn't exist.
Pushing ribbons on the rank and file was a big backfire. High profile uses of ribbons include showing support for the fight against AIDS, and more recently, breast cancer. From Disabled World:
What are Awareness Ribbons?

The use of various colored ribbons is designed to create public awareness to health, medical conditions, disability, and other issues….

Today, awareness ribbons are now considered as a universal symbol for social or disease awareness, and a formidable path to cures.
So CalPERS employees chose a symbol says that Marcie is a disease or social problem that needs to be fought vigorously. Well done!
From the section on "Burgundy Awareness Ribbons Causes and Meanings":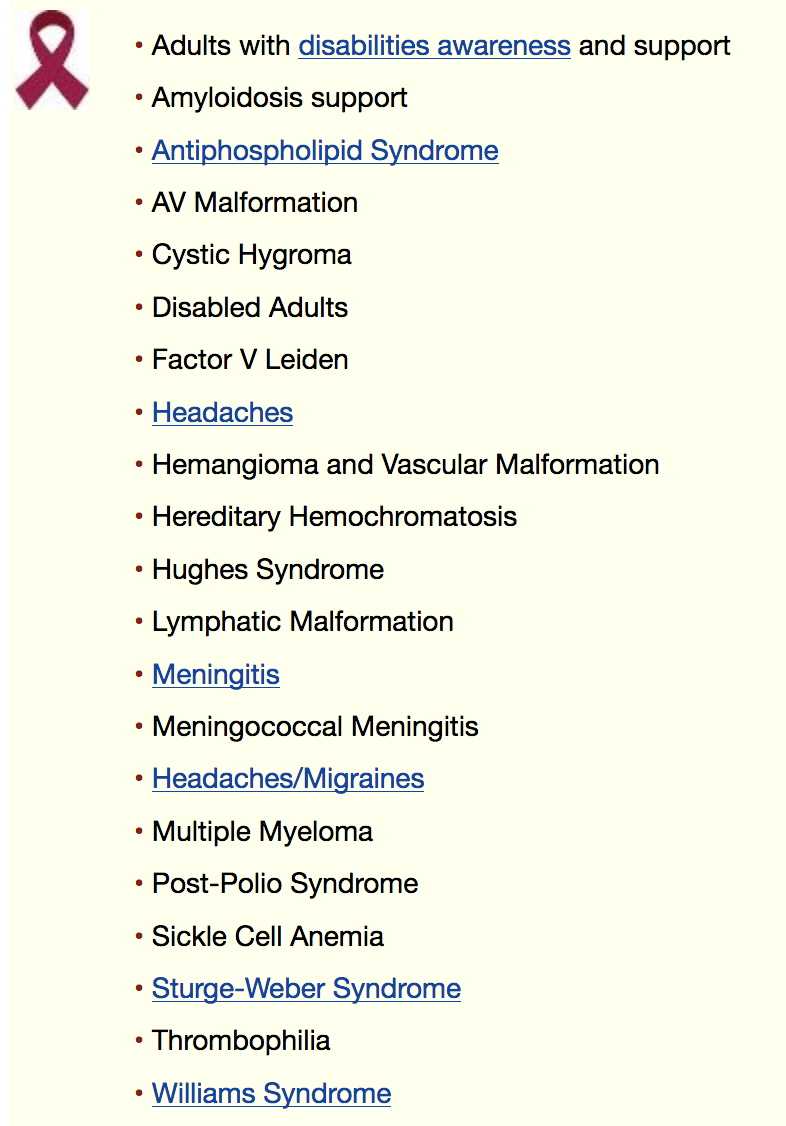 And staff also appears not to have considered that individuals who have suffered from serious medical problems would take offense at Marcie's boosters misappropriating their symbol. As one CalPERS retiree wrote:
As a breast cancer survivor, I am appalled to see CalPERS staff using colored ribbons to try to defend CEO Marcie Frost. I was already troubled by the evidence of her resume misrepresentations, which says she is untrustworthy and not fit for office. The fact that she did not support calls for an investigation is an admission of guilt.

But this is a slap in the face of breast cancer survivors, the relatives of women who died of breast cancer, and campaigners against serious ailments generally. These ribbons are badges of dedication to serious causes. For Frost to use them as a tools of her careerism shows her ego is beyond bounds.
Let's work back from what we learned about the ribbon episode, to how the burgundy campaign got rolling.
What Did We Learn About the Ribbons?
Someone at CalPERS who was not in the PR department saw our post on l'affaire ribbons and e-mailed about it a mere seven minutes after the article went live. This says CalPERS is overstaffed, since people have time to surf the web during the day rather than do their work. This was one of the responses to that e-mail:

The fact that the presence of the ribbons in breakout rooms was no surprise meant that many, presumably most, people at CalPERS had seen them by mid-PM.
A couple of hours later, by the time the top brass had found out about our post, the ribbons appear to have been removed. Recall that Matt Jacobs is the General Counsel: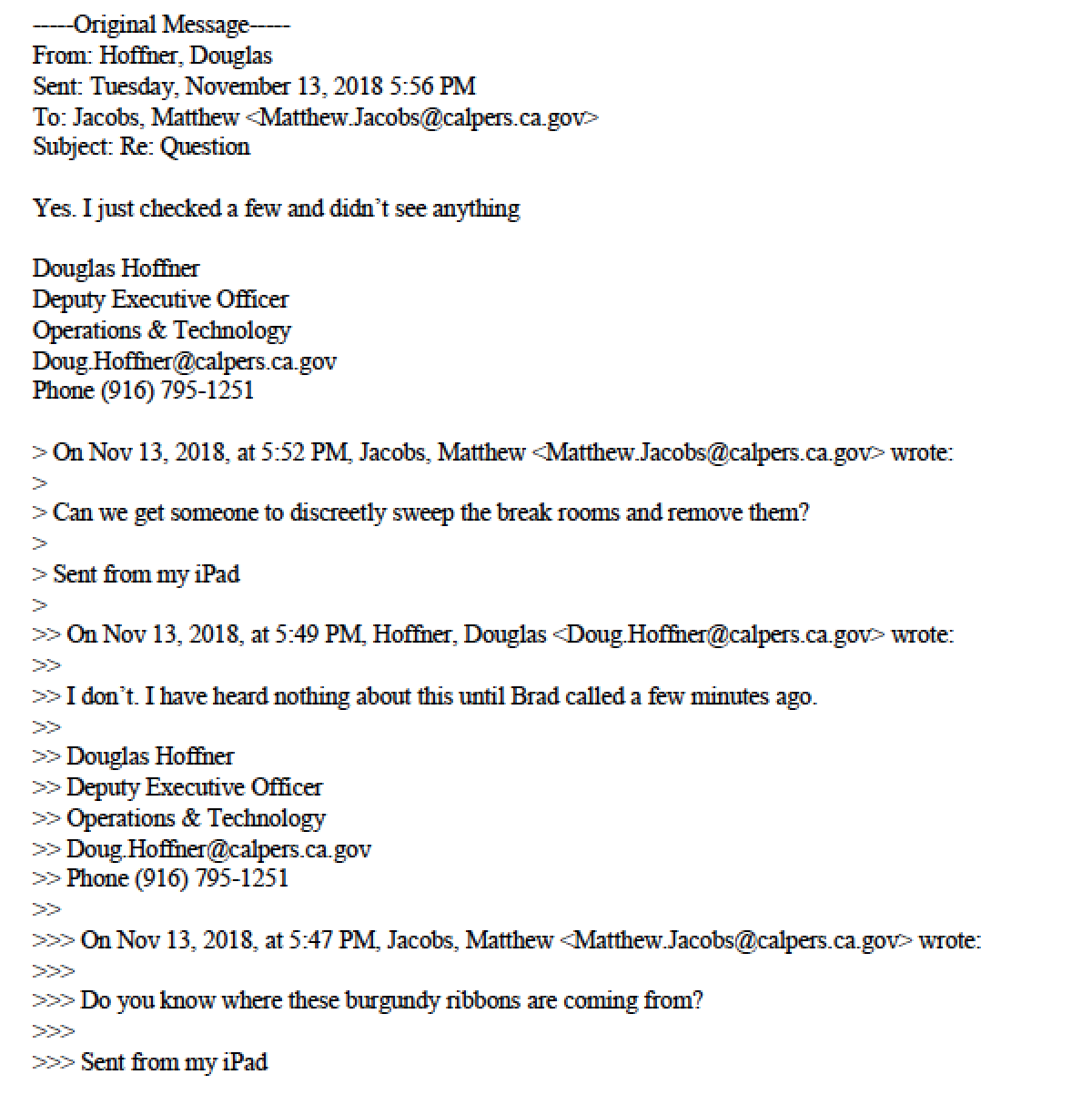 It's rich for Hoffner to feign ignorance, since as we'll see shortly, he was a major instigator of the burgundy campaign.
And this is cute. Notice that this is time -stamped the day after Jacobs ordered the discreet sweep of the break rooms. Apparently word had not gotten out that the ribbons were now a dodgy idea. Further notice that a relatively new employee had one presented to her in person: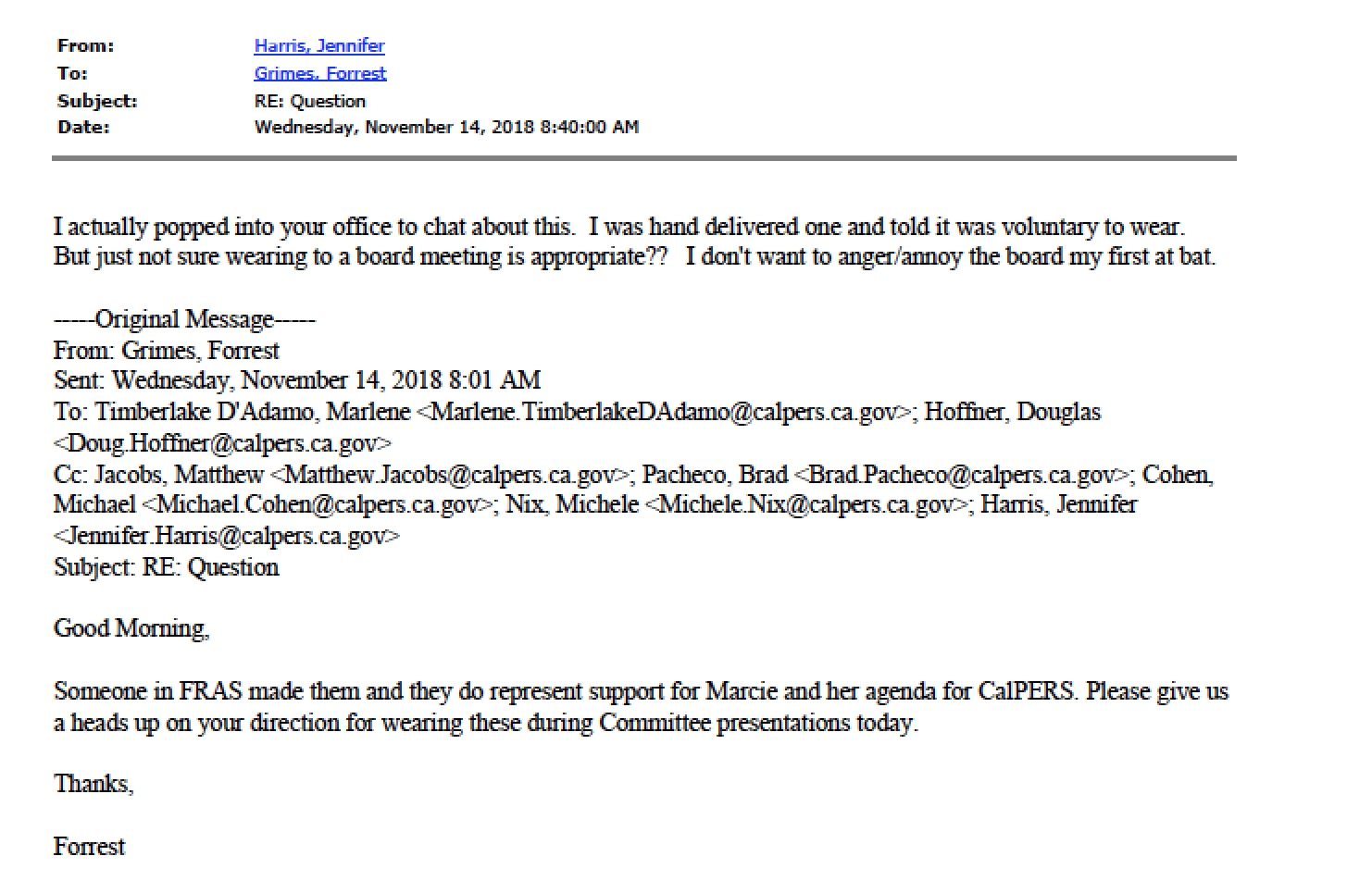 General Counsel Jacobs e-mailed back, "Please do not. Thanks."
Mind you, this is what the General Counsel role has now become, cleaning up after what we will see was a Marcie-Frost-originated mess.
What Did We Learn About How the Burgundy Campaign Got Started?
Marcie Frost was the instigator. Recall that our series on her hiring and later misrepresentations launched on August 27. Many business press outlets picked it up, with the most important from Frost's perspective being the article by Pulitzer Prize winner Mike Hiltzik of the Los Angeles Times, CalPERS needs to come clean about its CEO's educational background, on September 19. The September board meetings were starting on Monday the 24th, with Frost's annual review on the 25th.
Frost solicited senior employees to wear burgundy on the day of her CEO review on Tuesday the 25th:

Frost's close confidante Kelly Fox quickly moved to institutionalize the color-as-loyalty-show late that Tuesday, as you can see from this message on the 25th. "SLC" refers to the CalPERS senior leadership team, although I do not know who uses that address: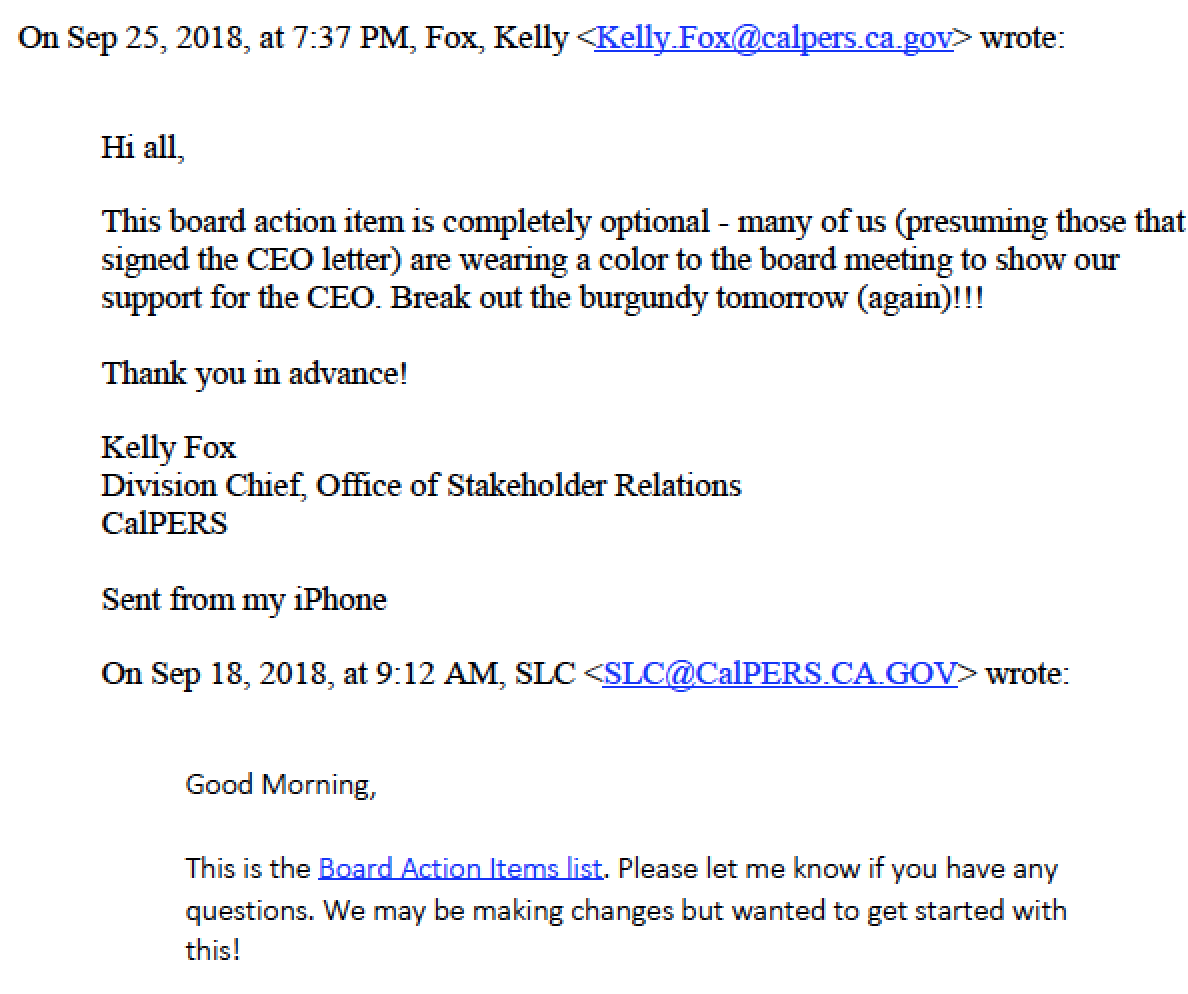 Frost was obviously in on this, since these screenshots from Wednesday the 26th show her wearing burgundy a second day. And staff compliance was high, with departing Chief Investment Officer Ted Eliopoulos the only person I could identify who did not fall in line:1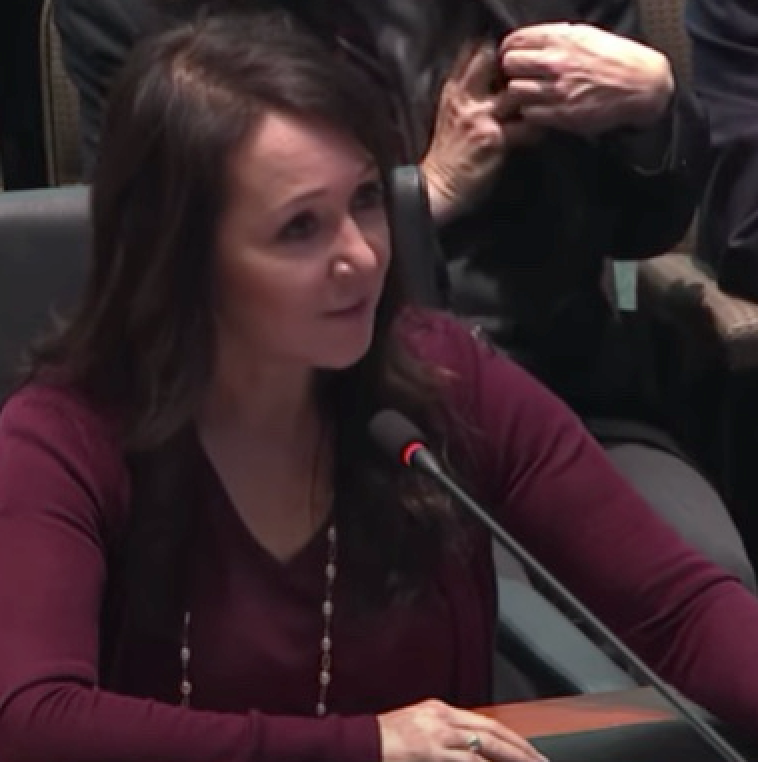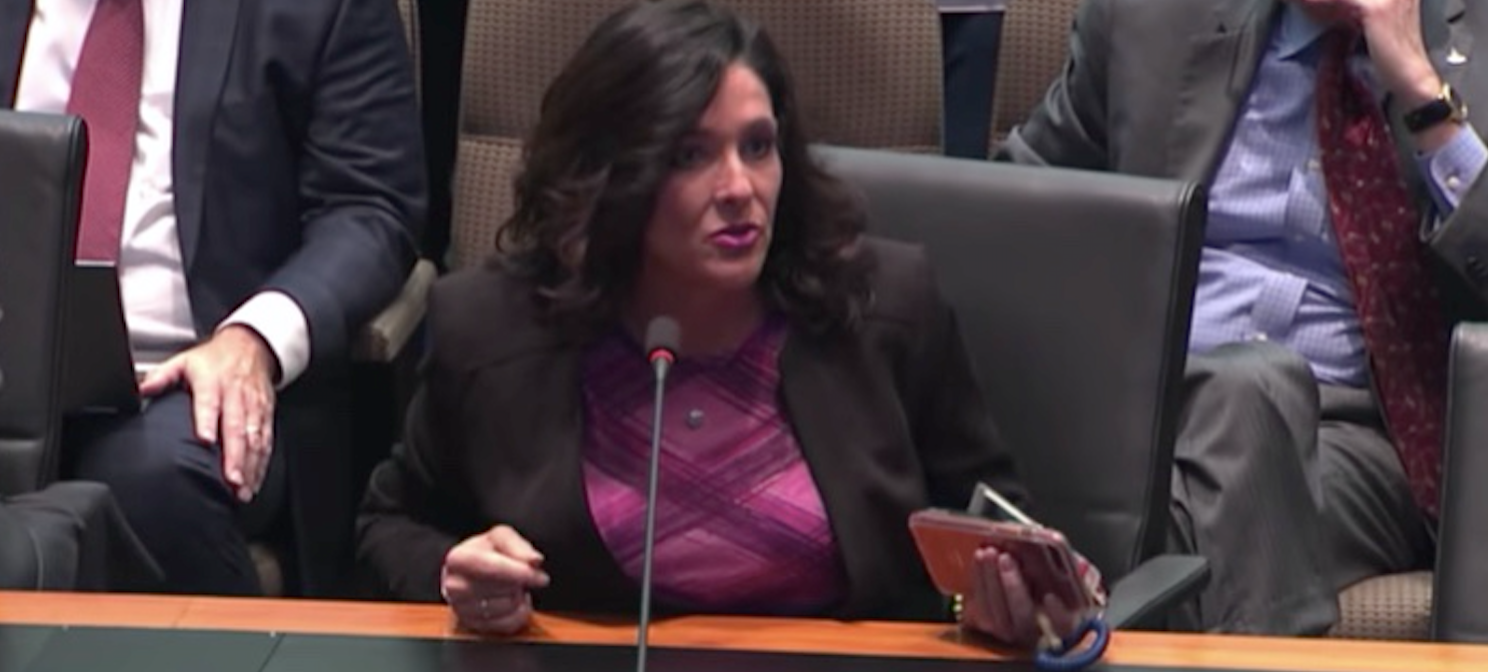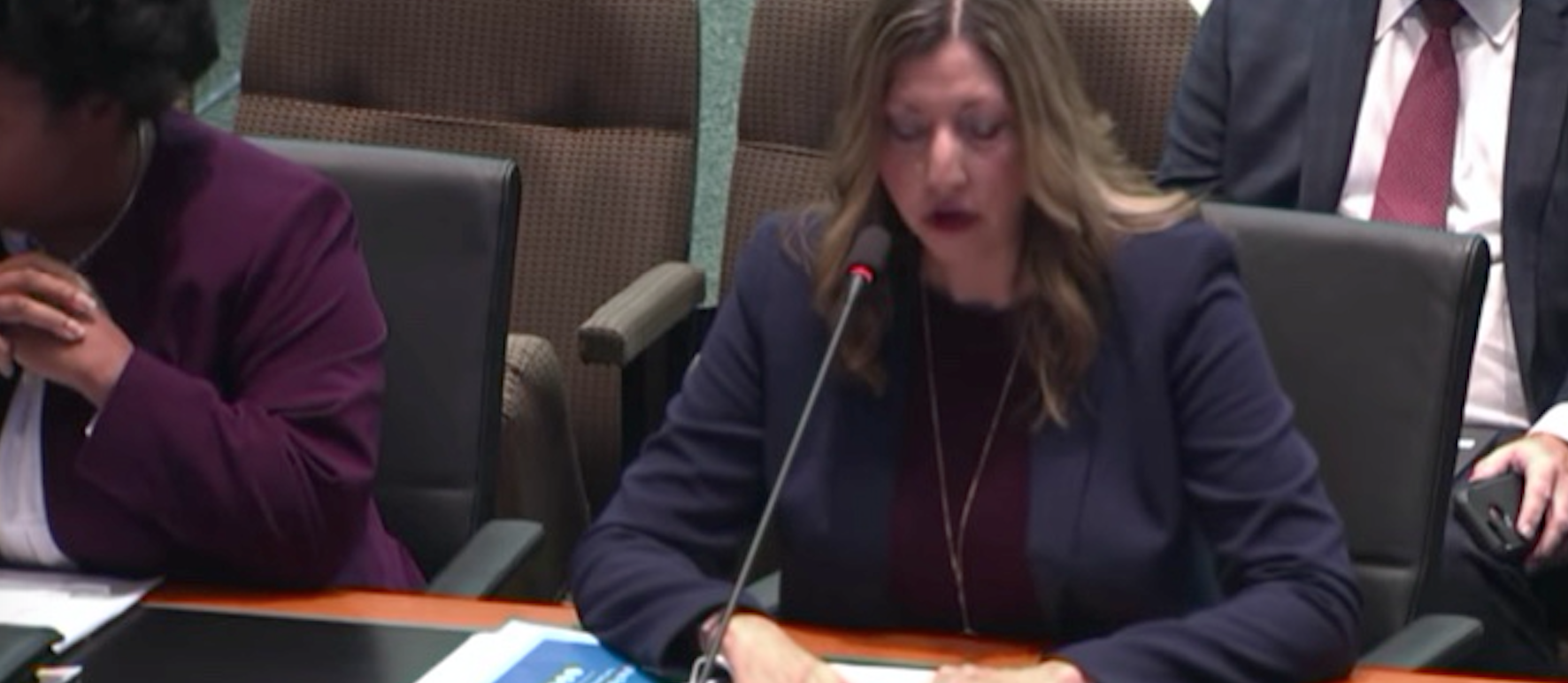 The word clearly got around quickly, including the notion that non-compliance was risky.2 A woman who didn't get word in time to make the right wardrobe choice felt she had to 'splain herself: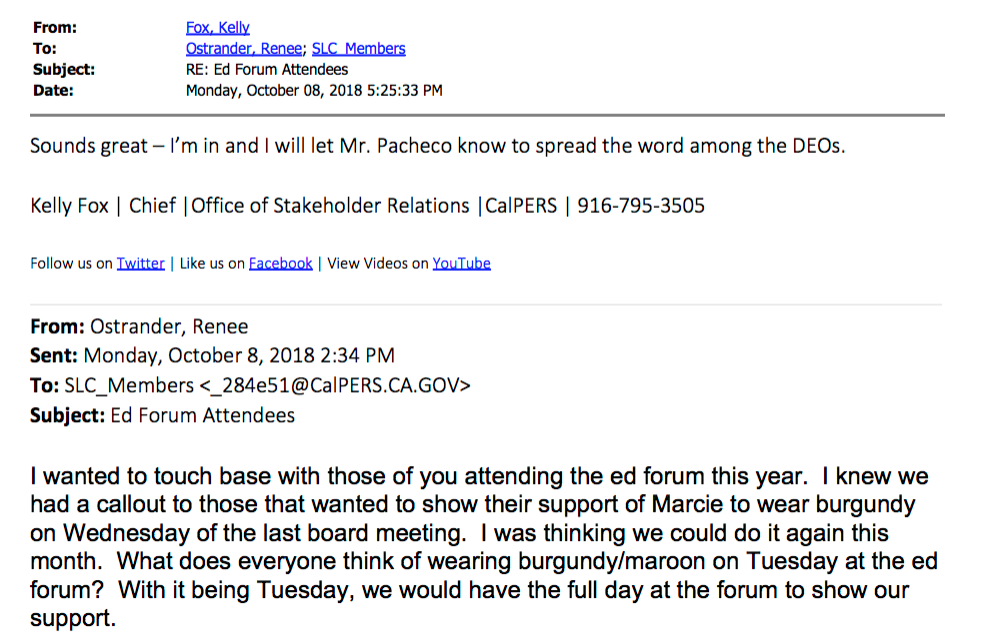 This shows that participation could not be considered to be voluntary: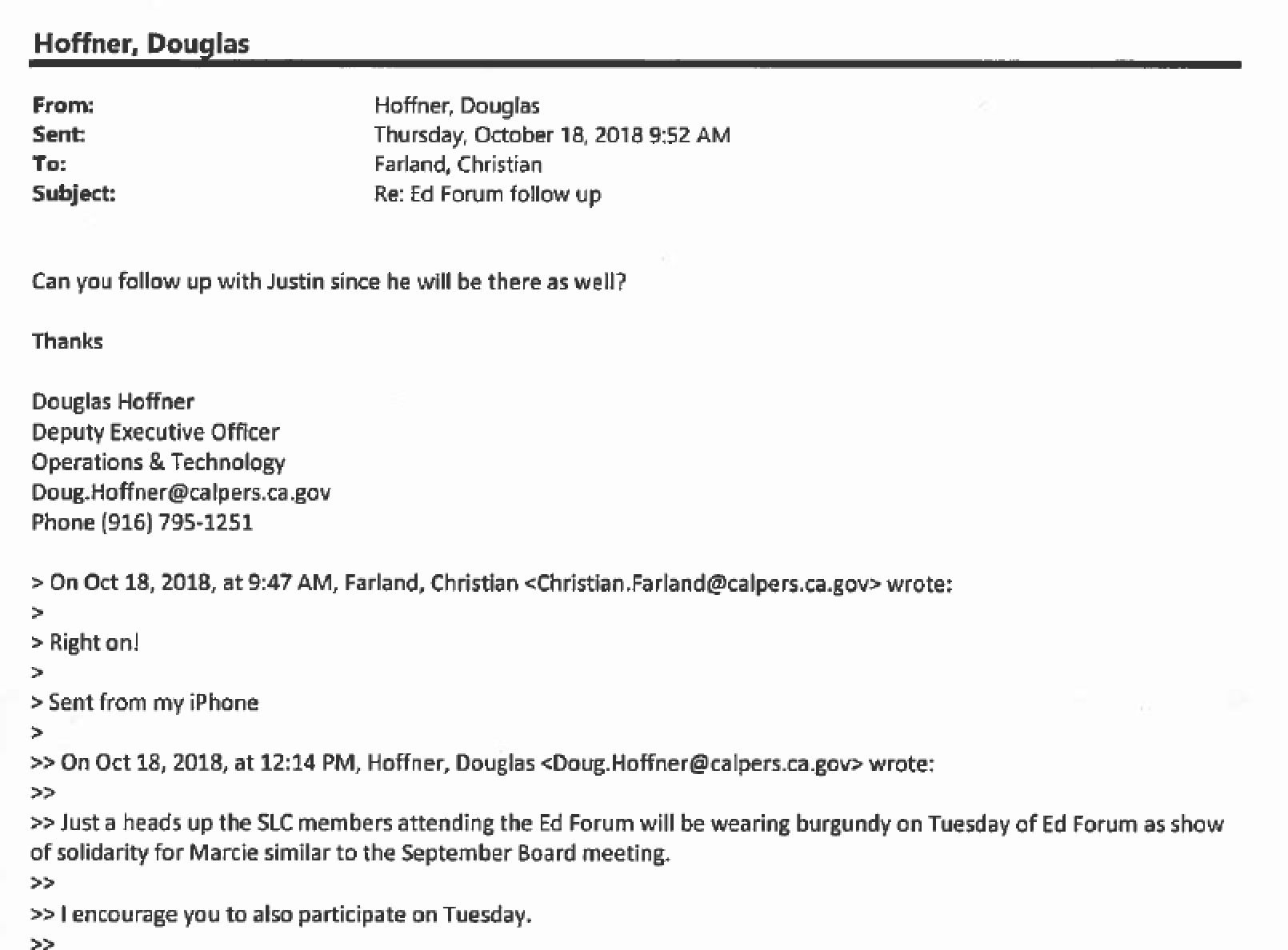 Hoffner was not writing to make sure that "Justin" was attending the meeting, since he makes clear he was fully aware that "Justin" was joining. The follow up was obviously to enforce the burgundy display.
More proof that everyone understood that they needed to participate: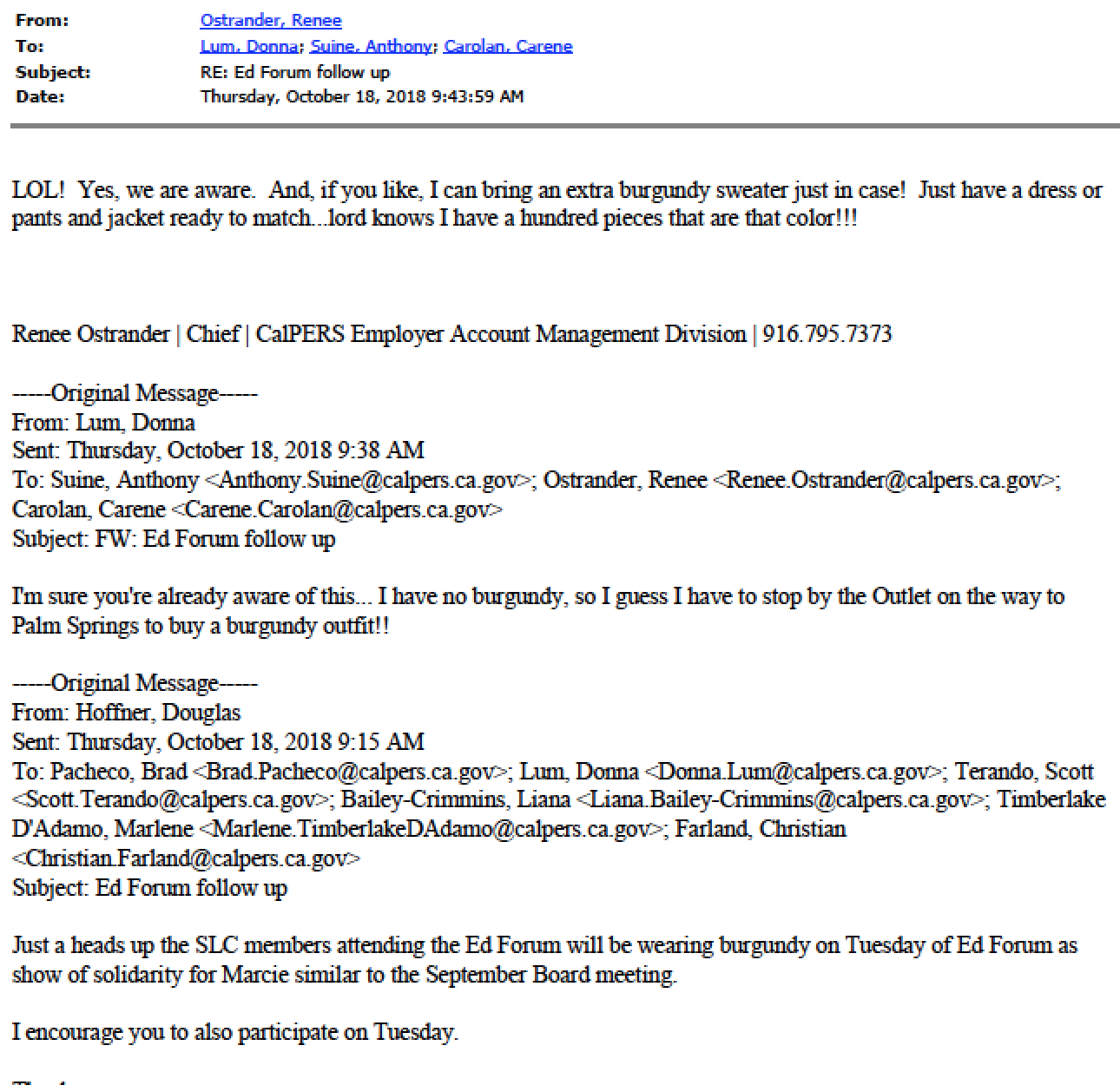 Donna Luma wears only black and white, so she was forced to abandon her well-known personal signature or else brand herself as an apostate to the Church of Marcie. And Luma was not the only woman forced to shop to please Marcie:

Kelly Fox was also pushing for high compliance, um, participation. Recall that Brad Pacheco is the head of the Communications and Stakeholders Relations department, meaning PR. "DEOs" are "Deputy Executive Officers". For instance, CalPERS has DEOs for Benefit Programs Policy and Planning and for Customer Services & Support.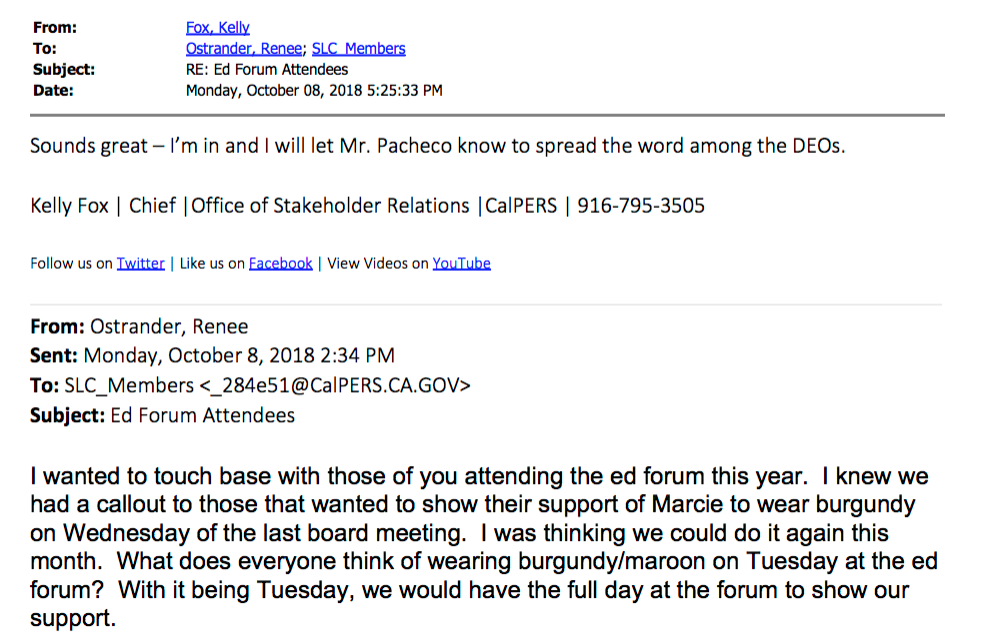 Aa an aside why did CalPERS refuse to comply fully our the Public Records Act request? The request was to send all records with the word "burgundy," "ribbon," or "ribbons" in it from September 1, 2018, shortly after we published our series on Marcie Frost's resume misrepresentations, to November 17, 2018. See the first embedded document at the end of this post, where the response shows the title of our November 13 post, and apparently reproduced it in full, yet redacted that. What sort of nonsense is that? The post contained all the words sought in the PRA and hence was required to be disclosed. Or is CalPERS tying to pretend that is it not still abusing copyright by reproducing and circulating copyrighted material without having obtained the legal right to do so?
And in a final bit of irony, the Public Records Act request also turned up a document from one of the board's consultants which gives apple pie and motherhood advice which the board is ignoring as far as Frost is concerned, letting her get away with misconduct and compounding the damage with junior-high-school level antics. Key section: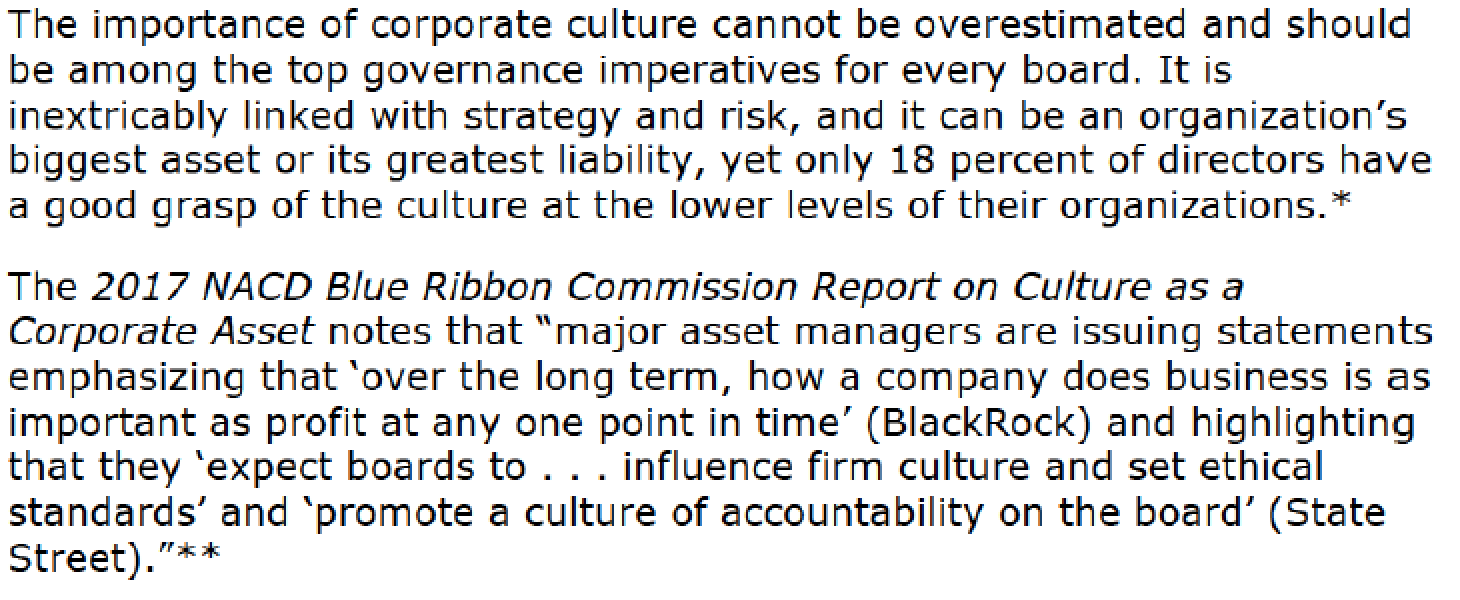 * * *
For a CEO who appears to be exceptionally PR oriented, Frost is making a hash of it. The point of the burgundy dress and later ribbons was to be noticed at stakeholder events and by the board at board meetings which are videotaped and posted on YouTube. It apparently never occurred to Frost that this display would be recognized for what it was, a show of narcissism and insecurity. Even if an employee had naively dreamed up this idea, a competent leader would have squashed it immediately.
In addition, Frost appears not to grasp a fundamental rule of marketing: never misrepresent the product. Embellish, yes. Deceive, no. But Frost has repeatedly and consistently misrepresented herself via her whoppers before and after her hiring, and now the painfully amateurish efforts to shore herself up as CEO.
Notice neither Frost nor her staff have offered a credible explanation. Frost clearly pressured one of the members of the Stakeholder Relations department, Wayne Davis, to tell the howler that was the source of the resume fabrications, when they predate Frost's hiring. Both the Financial Times and the Los Angeles Times pours cold water on that tall tale. Frost then claimed she was misunderstood, which is obviously inconsistent with her embellishments of her history appearing on multiple CalPERS documents.
Because she has no defense, Frost is willing to fall back on an emotional appeal, that her subordinates appear to back her. But so too did every army led by its generals into slaughter, like Napoleon's march on Moscow. The display is merely an exhibition of an ugly aspect of a superior-subordinate relationship, and no proof of the caliber of the person in charge. And in this case, it is clearly a negative indicator.
____
1 Forest Grimes did indicate he was not going along, but I am not sure whether he knuckled under and wore a wine-colored tie that day, since he would have seen the e-mails all showing assent: His Wednesday early AM message:
Sorry but burgundy is not in my fall collection this year! I will be thinking burgundy thoughts
however since bringing red wine to the meetings is frowned upon.
And he had decided to comply by the October meeting. From an October 8 e-mail:
Melissa and I will be arriving on Tuesday afternoon to present on Wednesday. While burgundy is
limited in my fall collection this year I will find something and pass the word along.
2 If you think Frost enjoys the genuine support of most of her employees, I have a bridge I'd like to sell you. I have been following CalPERS intensely, and often critically, since early 2014. I did not have any current employees sending me inside information when Anne Stausboll was CEO. I now have a meaningful and growing number of sources who are currently at CalPERS, including ones who were said they and many others were distraught and demoralized by the board's failure to take any action regarding clearly documented fabrications by Frost. And I have never had anything even remotely like this happen at any other organization I have covered intensively, including mortgage servicers (the Bank of America whistleblower series is not an apt comparison since our sources were all temps who were no longer assigned there when they spoke to me).
OK - FW Just posted (2)_Redacted