By Lambert Strether of Corrente.
As before, my daily schedule has ended up complexified and I'm working on a post on HR1, the Democrat bill reforming the voting system. So I'm going to put up some red meat now, and then return later with more. –lambert UPDATE All done!
* * *
Politics
"But what is government itself, but the greatest of all reflections on human nature?" –James Madison, Federalist 51
"They had one weapon left and both knew it: treachery." –Frank Herbert, Dune
2020
Weld: "Potential GOP primary challenger: Trump's 'contempt for the American people' behind possible bid" [The Hill]. "Former Massachusetts Gov. Bill Weld (R) told CNN Monday that Trump's 2017 Oval Office meeting with Russian Foreign Minister Sergey Lavrov and then Ambassador Sergey Kislyak struck a bad tone with him, priming him to consider a run against Trump. 'That showed contempt for the American people if anything I've ever seen does,' Weld said." • After the Dukakis era ended, Weld became Governor of Massachusetts, beating the (truly noxious) John Silber in 1990. Interestingly, the same Rush Limbaugh mini-me, Howie Carr, who was responsible for launching Elizabeth Warren-as-Pocohontas, also dominated the media environment in 1990 through his radio talk show, and successfully savaged the Democratic establishment.

Biden: "Why Joe Biden shouldn't run for president" [Philadelphia Tribune]. "The Democrats should not assume that an older, moderate white man is inevitably the strongest candidate. Even Bernie Sanders offers a fresh perspective with his left of center, Democratic Socialist positions (he would also be notable as a Jewish-American nominee)." • [x] Jewish. Finally somebody gave "even" Sanders an identity checkbox.

Harris (1): "California needs to take another look at its Catholic Church sexual abuse cases" [Los Angeles Times]. From 2018, still germane: "Many of the still-alive monsignors, bishops and cardinals involved in California's part of the pedophile priest problem have never faced appropriate consequences for their inaction. In New Jersey and New York, the attorneys general have launched new investigations…. Our sainted Sen. Kamala Harris, who trumpets her prosecution of Backpage.com as evidence that she's tough on sex crimes, is also among those tarred in my mind… In 2005, while she was San Francisco's district attorney, Harris rebuffed a public-records request by SF Weekly to release personnel files from the Archdiocese of San Francisco. (Her predecessor had planned to make them public after prosecuting criminal priests, but the California Supreme Court stopped those cases when it declared unconstitutional a 2002 law that lifted the criminal statute of limitations.) Similar archives in Boston had exposed the scope of the scandal there…. And she never prosecuted any pedophile priest." • As opposed to Mnuchin. Or threatening to prosecute the parents of truants.

Harris (2): California's move to Super Tuesday hands Harris a big edge in 2020″ [Politico]. "California's Super Tuesday primary is foundational to Harris' plans to win the nomination. Her home-state advantage is an enormous asset, holding the promise of a huge haul of delegates early in the nomination fight…. Well aware there's no guarantee of success, Harris and her team of longtime operatives there started working the state long before many of her 2020 Democratic rivals arrived for their first fundraisers and retail campaign stops. Harris has already held seven fundraisers in the Golden State, lined up endorsements from Gov. Gavin Newsom plus dozens of state legislators and congressional members, and brought on a top delegate expert and senior strategist with deep ties to powerful organized labor groups in the state. Harris' strength in her past campaigns of running up her vote counts in the bluest regions — such as the Bay Area congressional districts of Nancy Pelosi and Barbara Lee — could give the freshman senator a significant edge over her competitors." • If everything is like CalPERS, the "powerful organized labor groups" won't mean much. We can also see Harris recapitulating the 2016 Clinton playbook — pretty well-thumbed, at this point. The Sanders campaign has a very different vision of "working the state" — as they had best do.

Harris (3): Lost in the totally authentic and spontaneous hot sauce eruption, this:

We kind of forced @kamalaharris to try on this awesome oversized rainbow sequin jacket … She snapped it up. @alivitali perfectly named it as "the Mardi Gras Jacket" #2020 #SouthCarolina #CampaignFashionReport pic.twitter.com/2G0NFRkKL6

— Maeve Reston (@MaeveReston) February 16, 2019

I don't know about the fashion, except it's not Nina McLemore (or it's McLemore with sequins, I'm not sure). But what's with that "we forced"? Maeve Reston is the CNN National Political Reporter covering Kamala Harris, not an embed. One would think. (Though if you want a fine look at the odd dynamics between candidate and reporter, read Amy Chozick's Chasing Hillary, which is also good on the cluster that was 2016).

Harris (4): Dolores Huerta is a Harris campaign co-chair:

Huerta's $100,000 from the Clinton Foundation. pic.twitter.com/X8bYQtC3m7

— d car (@savvie54) February 16, 2019

One more reason to put the Harris and Clinton campaigns in the same box.

Sanders: "Are Democratic Primary Voters Feeling "The Bern"? [Cook Political Report]. "Sanders, however, commands less enthusiasm from Democratic voters than Biden. Seventy-seven percent said they'd support Biden if he ran (including 44 percent who said they would be very likely to support him), while 20 percent said they wouldn't (including 8 percent who said they definitely wouldn't). Overall, the prospect of a Biden candidacy comes in at +57 percent positive. Support for Bernie was solid, but a smaller +36 percent. More important, the intensity of support — those who said they were very likely to support Sanders minus those who said they were very unlikely to vote for him was half of Biden's (15 percent to 36 percent)." • It's hard for me to believe there's enthusiasm for Biden, at least according to any definition of "enthusiasm" I know. Readers, do you know anybody who's enthusiastic about Biden?

Sanders: "Sanders has early lead over Warren in battle of the left" [Politico]. "Warren has sought to head off comparisons with Sanders by creating her own space where she hopes she'll catch fire. She's gone out of her way to avoid the "socialism" tag — declaring she is "a capitalist to her bones" — putting her in a position to step in if Sanders, a self-described democratic socialist, is rejected for being too far left. (On Thursday, he came under fire from Florida Democrats after declining to answer whether Venezuela's socialist dictator, Nicolas Maduro, should step down.)" • Looks like Florida Democrats are going for the Batistista vote. Don't they know Batististas always vote for the real Batististas?

UPDATE Klobuchar: "How Amy Klobuchar Treats Her Staff" [New York Times]. "An aide, joining her on a trip to South Carolina in 2008, had procured a salad for his boss while hauling their bags through an airport terminal. But once onboard, he delivered the grim news: He had fumbled the plastic eating utensils before reaching the gate, and the crew did not have any forks on such a short flight. What happened next was typical: Ms. Klobuchar berated her aide instantly for the slip-up. What happened after that was not: She pulled a comb from her bag and began eating the salad with it, according to four people familiar with the episode. Then she handed the comb to her staff member with a directive: Clean it." • (1) Eeeeeeew! (2) I assume that this reminds the old-timers among us, if any, of Paul Wolfowitz, "Godfather of the Iraq War: "[H]e is the unedifying figure captured in Michael Moore's Fahrenheit 9/11, licking his comb as he smooths down his hair for an interview." Good detail, though.

"Hillary Clinton met with Biden, Klobuchar on 2020" [CNN]. "The assumption among people who have talked to Clinton is that the former nominee will sit out the Democratic primary and get behind the eventual nominee, but one source cautioned in January that things could change based on how the primary plays out." • Scorpions mating.

"The Obama primary: Which Democrat can claim his legacy in 2020?" [Los Angeles Times]. "In the rapidly growing Democratic candidate field, an under-the-radar competition is brewing over who is the clearest heir to former President Barack Obama's political legacy. Many of the Democrats running or thinking about it have made a pilgrimage to Obama's office to seek his counsel. Some have found ways to casually drop that fact into televised interviews. Obama is unlikely to weigh in with a public endorsement [lol no]. But the competition to ignite an Obama-like spark and to reassemble the coalition of young voters, women and people of color that carried him twice into the White House testifies to his lasting impact on his party." • A coalition that disintegrates after two election cycles isn't much of a coalition.
Health Care
"For 2020 Dem Hopefuls, 'Medicare-For-All' Is A Defining Issue, However They Define It" [Kaiser Health News]. "Front and center are three words: Medicare. For. All. That simple phrase is loaded with political baggage, and often accompanied by vague promises and complex jargon. Different candidates use it to target different voter blocs, leading to sometimes divergent, even contradictory ideas. 'People are talking about this as a goal, as a commitment, as a value as much as a specific program,' said Celinda Lake, a Democratic pollster." • Celinda Lake, not unexpectedly, is a horrible human being. When the State of Maine ran a poll on health care policy, Lake conducted it. Activists had to force her to put single payer questions in the survey (and that ended up being the preferred choice). More journalistic malpractice: "Vague promises and complex jargon." That's because liberal Democrats are, in bad faith, obfuscating the policy issues, just as they did in 2009. There are three bills to look at, and a third coming: S1804, the late-lamented HR676, and Jayapal's forthcomong bill. It would be better if KHN simply summarized them, surely not impossible. Oh, and "Medicare. For. All" echoes a classic Clintonite trope on the Twitter: It. Goes. Like. This. You are, I think, to imagine a finger wagging at each "." I loathe it.

"How Mainstream News Coverage Distorts the Policy, Politics, and Polling on Medicare For All" [34Justice]. "If you tell people that the policy will result in them losing their current insurance, paying higher taxes, and interacting with a bankrupt federal government, they're less likely to support it. If you tell people the truth, however – that public insurance in the United States is well-liked and more cost-efficient than private insurance, that other countries with Medicare-For-All-type systems spend way less money while covering a much higher percentage of their populations than we do, and that, under a Medicare For All system, all but the richest among us will get better coverage while paying less than they do today – people are fully on board. We need our news media to start telling the truth." • Tell people the truth… What an odd strategy!
New Cold War
"The Mueller joke" [The Week]. "Has there ever been a better shaggy-dog story than the one about the crooked lobbyist for the Ukrainian government who failed to fill out some forms and cheated on his taxes and then years later advised a TV star who went down an escalator before running for president against someone who refused to campaign in the states she needed to win both before and after her emails got hacked and some D-list political operatives sent some messages asking about the emails after they were in the news and then the guy won the election and an incoming member of his administration engaged in diplomacy? We haven't quite arrived at the punchline yet, but let me go ahead and spoil it for you: Ohio goes Republican again in 2020." • Yep.
2019
UPDATE Smooth move:

A thing our office is doing that I'm really proud of is guaranteeing a salary floor of $52K. It is crazy that offices are paying junior and even mid-level staffers $35-40K. When rent for a 1BR is almost $2K/month in DC/NYC, that's not a livable wage. https://t.co/XAcHfo7ONj (1/4)

— Every Billionaire Is A Policy Failure (@DanRiffle) February 22, 2019

No doubt forcing everybody else to do the same. Imagine the wailing and gnashing of teeth! (Klobuchar could take some hints from AOC, I think.)

Realignment and Legitimacy

"Man Bites Blue Dog: Are Moderates Really More Electable than Ideologues?" [The Journal of Politics]. From the abstract: "Are ideologically moderate candidates more electable than ideologically extreme candidates? Historically, both research in political science and conventional wisdom answer yes to this question. However, given the rise of ideologues on both the right and the left in recent years, it is important to consider whether this assumption is still accurate. I find that, while moderates have historically enjoyed an advantage over ideologically extreme candidates in Congressional elections, this gap has disappeared in recent years, where moderates and ideologically extreme candidates are equally likely to be elected. This change persists for both Democratic and Republican candidates." • Well, so much for the centrists, or at least rationalizations on behalf of the centrists by pundits. From the Bonica (DIME) database, n = 70,871 candidates over 35 years.

Stats Watch

There are no statistics of note today.

Retail: "Nike stock market value plunges by $1.1bn after basketball star Zion Williamson's shoe breaks" [Independent]. "The company's value tumbled by 1.7 per cent on Thursday as it was repeatedly blamed for a sprained knee to rising basketball star Zion Williamson, seen by millions live on TV. Sports lovers across the US watched in horror as the teenager was crocked when his Nike trainer tore apart mid-shot during a high profile college match. Barack Obama, who had gone to watch the match live, could be seen in his court side seat apparently saying with disbelief: 'His shoe broke.'" • Apparently, it didn't break. It exploded. I certainly don't have any shoes that explode. How could this be?

Retail: "Nike's smart sneakers are breaking when used with an Android phone" [The Verge]. "Nike's brand-new Adapt BB smart sneakers have stopped working for some users because of a bad Android update just days after they were released. Affected owners say either their left or right shoe no longer pairs with Nike's app, meaning it can't be used to tighten their fresh pair of $350 self-lacing shoes." • Self-lacing shoes are the very definition of apparel that is not Jackpot-ready. But did they turn their shoes off and then on?

Tech: "YouTube loses Hasbro, AT&T as brands flee pedophile problem" [Ad Age]. "[A]d executives on the Thursday call said that YouTube 'dodged' questions about implementing a system that would vet all videos before ads run. They believe Google won't allow that type of monitoring because it wants to keep its inner workings private [I'll bet!]. YouTube says it has to think about user privacy before opening to third parties that could poke around its platform. The offending videos were exposed earlier in the week by a YouTube personality who has been criticizing the company for months for featuring videos of children that could be construed as sexual. In many of them, children are playing or trying on clothes, and while this could be considered harmless content, the comments sections are filled with child predators sharing links to worse content or directing other pedophiles to moments in the videos. YouTube's algorithm was also suggesting videos that featured children, even when a viewer wasn't looking for them or only viewed a tangentially related video." • So the algo is working as designed?

Tech: "You Give Apps Sensitive Personal Information. Then They Tell Facebook." [Wall Street Journal]. "Millions of smartphone users confess their most intimate secrets to apps, including when they want to work on their belly fat or the price of the house they checked out last weekend. Other apps know users' body weight, blood pressure, menstrual cycles or pregnancy status. Unbeknown to most people, in many cases that data is being shared with someone else: Facebook Inc…. The Journal tested more than 70 apps that are among the most popular in Apple's iOS store in categories that handle sensitive user information. The Journal used software to monitor the internet communications triggered by using an app, including the information being sent to Facebook and other third parties. The tests found at least 11 apps sent Facebook potentially sensitive information about how users behaved or actual data they entered… just seconds after users enter it, even if the user has no connection to Facebook." • Facebook is an outlaw company, worse than Uber. Can't we put Zuckerberg in jail? (Assuming you can jail an android; the Zuckerberg's handlers have to do something about the way its hairpiece melds with its skin; there's something really odd about it. That picture!)

Tech: "Google fails to disclose microphone in Nest Secure" [Reuters]. "'The on-device microphone was never intended to be a secret and should have been listed in the tech specs. That was an error on our part. The microphone has never been on and is only activated when users specifically enable the option,' Google said." • Of course, of course! A strange definition of "secure"!

Tech: "A former social media evangelist unfriends Facebook" [Evgeny Morosov, WaPo]. "Perhaps data itself could become a platform on which all the others, from a town hall to a small local start-up, build new services." • You'd have to standardize data to do that. It was tried….

The Biosphere

"A Green New Deal Is Technologically Possible. Its Political Prospects Are Another Question." [New York Times]. "The Green New Deal, in other words, is an exciting idea for many liberals and an enticing political target for conservatives. But, most of all, it is an extraordinarily complicated series of trade-offs that could be realized, experts say, with extensive sacrifices that people are only starting to understand… But while the scope of the Green New Deal is enormous, experts believe that the economic trade-offs — saving trillions on potential catastrophe by spending trillions to prevent it — are worth serious consideration given the scale of the threat, and that a deep policy discussion would help voters and other Americans grapple with the environmental threats." • Gosh, I hope preventing the grandkids from frying when they go out to play in the sun doesn't cost a lot of money!

"Green New Deal is big, but 'big' is what America does best" [Des Moines Register]. "While many on the right have responded with predictable hysteria — calling it communism, fascism and the end of air travel — there's one criticism, coming from both left [i.e., liberals] and right, that speaks volumes about what America is in this moment. It says the GND is simply too big an idea. As in House Speaker Nancy Pelosi dubbing it, 'the green dream;' columnist Jonah Goldberg ripping it as a 'fantasy;' the Washington Times calling GND supporters 'the unicorn caucus.'… it has always been in the country's DNA to believe it had the power to transform destiny. Given the frightening state of our affairs and the planet's imminent meltdown, we could do a lot worse than to reclaim that conviction. Instead, we get dour pragmatism and lectures on limitations." • That's your austerity talking.

"Young climate strikers can win their fight. We must all help" [George Monbiot, Guardian]. "A central task for any campaign is to develop a narrative: a short, simple story explaining where we are, how we got here and where we need to go. Using the narrative structure common to almost all successful political and religious transformations, the restoration story, it might go something like this. "The world has been thrown into climate chaos, caused by fossil fuel companies, the billionaires who profit from them and the politicians they have bought. But we, the young heroes, will confront these oligarchs, using our moral authority to create a movement so big and politically dangerous that our governments are forced to shut down the fossil economy and restore the benign conditions in which humans and other species can thrive. This restoration narrative, I think, could be greatly strengthened by recent findings suggesting that ecological recovery – restoring forests, salt marshes, peat bogs, the seabed and other crucial ecosystems – could, by drawing carbon dioxide from the atmosphere, make a massive contribution towards preventing climate breakdown." • It took more than the hobbits to throw the ring into Mount Doom…

"New England is losing 65 acres of forest a day" [The Harvard Gazette (Joe Well)]. "The region, heavily deforested in colonial days, is today one of the most densely wooded in the world, thanks to forests that regenerated over the past 150 years as farms were abandoned for city life… Thompson said that about 88 percent of New England is forest or farmland, but that development — 50 percent of which is residential — amounts to a 'hard, permanent' deforestation that removes the land from natural uses for the foreseeable future… While climate change threatens to alter natural communities and favors some species over others, development eliminates ecosystems altogether, Thompson said. In addition, he said, land is our biggest asset in fighting climate change, with growing trees locking up carbon and natural areas buffering the effects." • Get on your local zoning or land use board and be an obstructionist! Leave it in the ground applies to trees too, besides oil!

Health Care

Oregon efforts:

"So why is Senator Cleveland allowing the Whole Washington bill to die in her committee while pushing these other bills?" ~Tobias G., Vancouver resident (1/2) #sb5222 https://t.co/nQhOy257In

— Whole Washington (@WAsinglePayer) February 18, 2019

Guillotine Watch

"Patriots owner Robert Kraft charged for soliciting prostitutes in Florida" [AOL]. "Kraft, 77, has been the principal owner of the Patriots since 1994, shepherding the franchise to one of the best runs in NFL history. That has included six Super Bowl titles, including the latest in February. He's revered in New England for saving the Patriots from moving out of the region, as well as his family's myriad philanthropic endeavors." • Kraft is worth somewhere between $4.36 and $6.6 billion. Maybe when his lawyers have this misdemeanor charge dropped, he can pay it forward by dropping a billion or so on a decriminalization campaign.

Class Warfare

"Universal Basic Income in the US and Advanced Countries" [NBER]. From the abstract: "We develop a framework for describing transfer programs, flexible enough to encompass most existing programs as well as UBIs, and use this framework to compare various UBIs to the existing constellation of programs in the United States. A UBI would direct much larger shares of transfers to childless, non-elderly, non-disabled households than existing programs, and much more to middle-income rather than poor households. A UBI large enough to increase transfers to low-income families would be enormously expensive. We review the labor supply literature for evidence on the likely impacts of a UBI. We argue that the ongoing UBI pilot studies will do little to resolve the major outstanding questions."

News of the Wired

"I love taking long-distance trains. Here's why I'm thrilled Amtrak might cut them back." [Grist]. "Amtrak is planning a major restructuring of its national network, which could finally make shorter-routes competitive with air travel…. According to the Wall Street Journal, Amtrak is gearing up to replace its aging equipment, and is leaning towards replacing traditional dining and sleeper cars with sleek intercity cars designed for quick travel between nearby cities. The move would effectively chop up cross-country routes and prioritize travel between higher-traffic city pairs. The reallocation could boost ridership by millions with the same (meager) funding levels." • Which is good for greenhouse gas, at least!

"#131 Surefire Investigations" (podcast transcript) [Reply All]. "GOLDMAN: Um, so our boss Alex Blumberg comes to us with stuff from the internet that he doesn't understand and we do our best to explain it to him. Uh, hi, Alex…. BLUMBERG: All right. So I have a Tweet. It's from somebody named Maya Kossoff, and Maya's Tweet says I just left a hipster coffee shop in Philadelphia, all the young libs there were sipping disposable cups full of SEPTA sewer sludge and murmuring among themselves how Gritty is actually the Phanatic's son. (laughs) And there's 1,163 likes and a bunch of retweets. And uh and I really don't know–" • This transcript is weirdly relaxing, and very Philly.

"The Communal Mind" [London Review of Books]. "Close-ups of nail art, a pebble from outer space, a tarantula's compound eyes, a storm like canned peaches on the surface of Jupiter, Van Gogh's Potato Eaters, a chihuahua perched on a man's erection, a garage door spray-painted with the words 'STOP NOW! DON'T EMAIL MY WIFE!" • This, on the other hand, is not relaxing at all.

"An Interview with Nick Harkaway: Algorithmic Futures, Literary Fractals, and Mimetic Immortality" [Los Angeles Review of Books]. "People like Anthony Giddens and Bruno Latour have been talking for decades about late or liquid modernity: what happens when the traditional axes of self are cut loose. For example, people no longer define themselves so much by their family name; we're all singleton individuals. We know where we come from, but we don't for the most part see "The Name" as a living entity to which we add. Likewise we are from a place, but we don't any more expect to be born, live, and die within a couple of kilometers of that location, and we don't define our identity by our village in the way that our forebears did. The same phenomenon is occurring with religion, profession, or trade — almost every traditional domain of human identity. Any one of these things — even all of them — might still be important to you, but at the same time they're less absolute than they once were. The distance from one coast of the United States to another might be vast to walk, but it's a day in a plane." • Don't worry. When the Jackpot hits, we'll be thinking very hard about villages, and how to make them work. In fact, we should be thinking about that right now, and not this… liquid…. stuff.
* * *
Readers, feel free to contact me at lambert [UNDERSCORE] strether [DOT] corrente [AT] yahoo [DOT] com, with (a) links, and even better (b) sources I should curate regularly, (c) how to send me a check if you are allergic to PayPal, and (d) to find out how to send me images of plants. Vegetables are fine! Fungi are deemed to be honorary plants! If you want your handle to appear as a credit, please place it at the start of your mail in parentheses: (thus). Otherwise, I will anonymize by using your initials. See the previous Water Cooler (with plant) here. Today's plant (TH):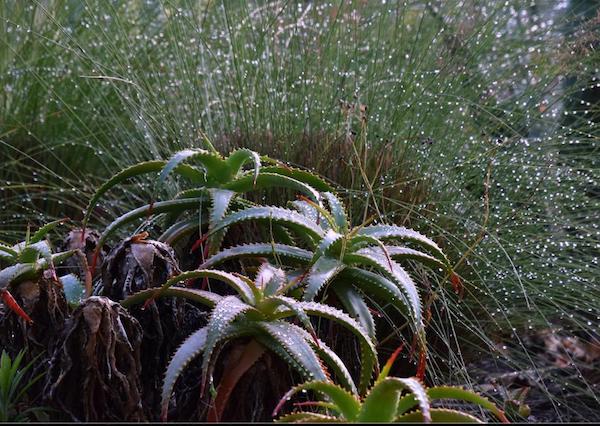 TH writes: "Early morning—Aloe Vera, backed by ornamental grass." Winter in California, I guess.
Readers, I'm still a little short on plants. And it would be very nice to see plants from readers who've never sent in pictures before!
Also, readers, if any of you have access to the "online Web of Science database" (which is subscription only), would they kindly get in touch? We might be able to pose queries that the Bayo-Wyckhuys review study did not.
* * *
Readers: Water Cooler is a standalone entity not covered by the annual NC fundraiser. So do feel free to make a contribution today or any day. Here is why: Regular positive feedback both makes me feel good and lets me know I'm on the right track with coverage. When I get no donations for five or ten days I get worried. More tangibly, a constant trickle of small donations helps me with expenses, and I factor that trickle in when setting fundraising goals. So if you see something you especially appreciate, do feel free to click below! (The hat is temporarily defunct, so I slapped in some old code.)
Or Subscribe to make a monthly payment!