Dear patient readers,
I had to waste time tonight looking for a replacement for my GE microwave which died with my dinner locked in it. The locking a a big feature on these stupid microwaves so it's not as if I can pry the door open. And this microwave sits in a small space over the stove…and I can't get a microwave in the same form factor as the old one (12″H x 10″D x 24″W), which is also frustrating, since the old one fit that space very well. So I need to settle on a compromise and get a new hanging rack and bribe the super + a handyman to install it (this is a two person job thanks to the space being difficult). Grr. Crapification plus a tax on my time since the old one only lasted four years while its predecessor lived to be nearly 20.
Plus drama on the managing mother long distance front….all interpersonal stuff but still…
Year of the Pig 2019: 1959, 2007, 1971, 1995, 1983 Chinese Zodiac Pig. Resilc: "So appropriate for the State of the Union speech."
Colorado runner kills mountain lion in self-defense MPR (Chuck L)
The Sierra Nevada Has Received 8 Feet of Snow (and Counting) Since Saturday Adventure Reports (David L)
Even groundwater is contaminated with microplastics TreeHugger
Lightsource BP to build U.S. university solar project Reuters. EM: "The 'BP' indeed stands for British Petroleum, which acquired a 43 percent stake in Lightsource in 2017."
Twitter is down at of 8:15 PM!!! WTF!!
Dark fiber lays groundwork for long-distance earthquake detection and groundwater mapping PhysOrg. Chuck L: "A multidimensional breakthrough in seismometry, including lower cost."
Crypto exchange in limbo after founder dies with password Naked Security (Glenn F)
IBM Completes Blockchain Trial Tracking a 28-Ton Shipment of Oranges Coindesk
Texas Man Dies After Exploding E-Cigarette Sends Shrapnel Into His Neck Popular Mechanics (resilc)
The World's Biggest Spice Company is Using AI To Find New Flavors CNN
Scans show women's brains remain youthful as male brains wind down MPR (Chuck L)
Potential treatment for eye cancer using tumor-killing virus The Conersation
Call for retraction of 400 scientific papers amid fears organs came from Chinese prisoners Guardian (Dr. Kevin)
China?
Jaw-Jaw: How Chinese Sharp Power Takes Aim at American Democracy War on the Rocks (resilc)

US Warns European Allies Not To Use Chinese Gear For 5G Networks Reuters

How to fight China's financial abuses: Crack down on anonymous companies Washington Examiner. Getting all sorts of odd bedfellows for Richard Smith's long fight against shell companies and dodgy corporate registries. The UK got sort of serious due to RussiaRussia! and now some in the US are worked up about China.
Brexit
Stop Looking for Meaning in Brexit New Republic (resilc)

Theresa May angers eurosceptics by saying she is 'not proposing' to replace the Irish backstop, but merely 'change' it Independent

UK union leaders 'at war' over Brexit Financial Times

No longer just a national embarrassment – he's gone international https://t.co/ybgvjmPfh7

— Labour Whips (@labourwhips) February 5, 2019

We all want Brexit closure – but May's deal won't supply it Tony Blair Guardian. From Clive:

The Good:

He's finally got it that Continuity Remain is Just Another Bloody Unicorn. If Remain had assembled itself around this kind of positioning two years ago, we wouldn't be in the current mess because the Ultras wouldn't have the excuse that Remain was threatening to "undo the will of the people blah blah blah".

The Bad:

It's hard to see how a softer Brexit / EEA+EFTA / BINO+gradualism / whatever etc. can be worked through at this late stage and with the ever-present suspicion in Leave that it's all just a Remain ploy.

The Ugly:

The second referendum nonsense refuses to die so he stops short of telling his rump of Blairite MPs to quit with the we-have-to-destroy-the-village-to-save-it parliamentary gridlocking and start cutting a deal.

And vlade:

Good grief. Are you telling us that Blair is now the most sensible UK politician? (I assume when you say "stops short", it means he tacitly implies it to them, which is more than Sturgeon). What have come to?

Throw open our market to competitors while simultaneously exposing our producers to the quadruple whammy of smashing their supply chain, slapping them with new red tape, suppressing domestic demand, & punitive export tariffs? Genius! What could go wrong? https://t.co/zPyH1T9c9B

— Chris Kendall ?? (@ottocrat) February 5, 2019

Chaos, incompetence, decline: Brexit and the British government RTE (PlutoniumKun)
Cabinet Office voices concern over Interserve rescue deal Guardian. Richard Smith: "The next Carillion."
Germany reveals plan to stop foreign takeovers DW
Venezuela
Experts Warn Ousting Maduro Without Violence Is Unlikely Antiwar (resilc)

In Venezuela, US Forgets What Century It Is Consortiumnews (UserFriendly)
New Cold War
OPEC Pursues Formal Pact With Russia Wall Street Journal
Russian Navy has new weapon that makes targets hallucinate, vomit: report The Hill (UserFriendly)
Syraqistan
Baghdad: Calls to Expel US Troops from Iraq after Trump said They spy on Iran Juan Cole
Big Brother is Watching You Watch
Imperial Collapse Watch
Is this the Trump Doctrine? Sic Semper Tyrannis (Chuck L)
SOTU. Seems to have been a damp squib….
Trump Asks Americans to Transcend Their Differences and 'Choose Greatness' and Democrats' State of the Union Message: GOP Has Left Middle Class Adrift Bloomberg. Help me. "Dare to be great" versus Dems trying to make the fallen state of the middle class a one-party affair. where were they, for instance, when Obama failed to intervene and allow 9 million foreclosures to happen, when a very high percentage were preventable and mortgage modifications would have been a win for investors too?

Fact-checking the State of the Union: What's true, what's false and what needs context in Trump's address NBC (furzy)

FYI Bros.

Stacy Abrams is now on the board at CAP (Center for American Progress). They're a stink tank funded by PGE, Walmart, the UAE, etc.)

CAP does great progressive work like undermining Medicare For All and promoting fracking.

Welcome to the resistance!#StillWithering?

— Peter Douche's Liaison (@SilERabbit) February 5, 2019
Trump Transition
GOP senators think Trump would win vote on emergency declaration The Hill

We may finally see Trump's tax returns, and Republicans are panicking Washington Post (David L). Repeat after me: tax returns are not a Rosetta stone. They won't show who he borrowed from, nor will they show co-investors. The might show (as we expect was the case with Romney, he hid tax returns that could have shown this) that he had a Swiss bank account and participated in the amnesty.
pulling the rope Freddie Boer (UserFriendly)
2020 moderates have a credibility problem The Week (UserFriendly)
America's new antitrust agenda Financial Times (David L)
The Democratic Party's Most 'Electable' 2020 Candidate Isn't Running New York Magazine (resilc)
Dem presidential field looks smaller than expected The Hill
Ralph Northam's demise can't be blamed on social media or the left. Slate
Loud booms in downtown L.A.? That was a U.S. Army training exercise Los Angeles Times (resilc)
Fake News
High school citizenship tests will surely help address the problem of 65 year olds passing around falsified news about MS-13 or whatever on Facebook, a platform designed by thousands of scientists and engineers to manipulate them. https://t.co/gStu3JkVTl

— Matt Stoller (@matthewstoller) February 5, 2019
Flip the Script: Drugmakers Blame Middlemen for Price Increases Wall Street Journal
Class Warfare
Antidote du jour. O4amuse: "Barrett contemplates a rare snow day near the Oregon coast."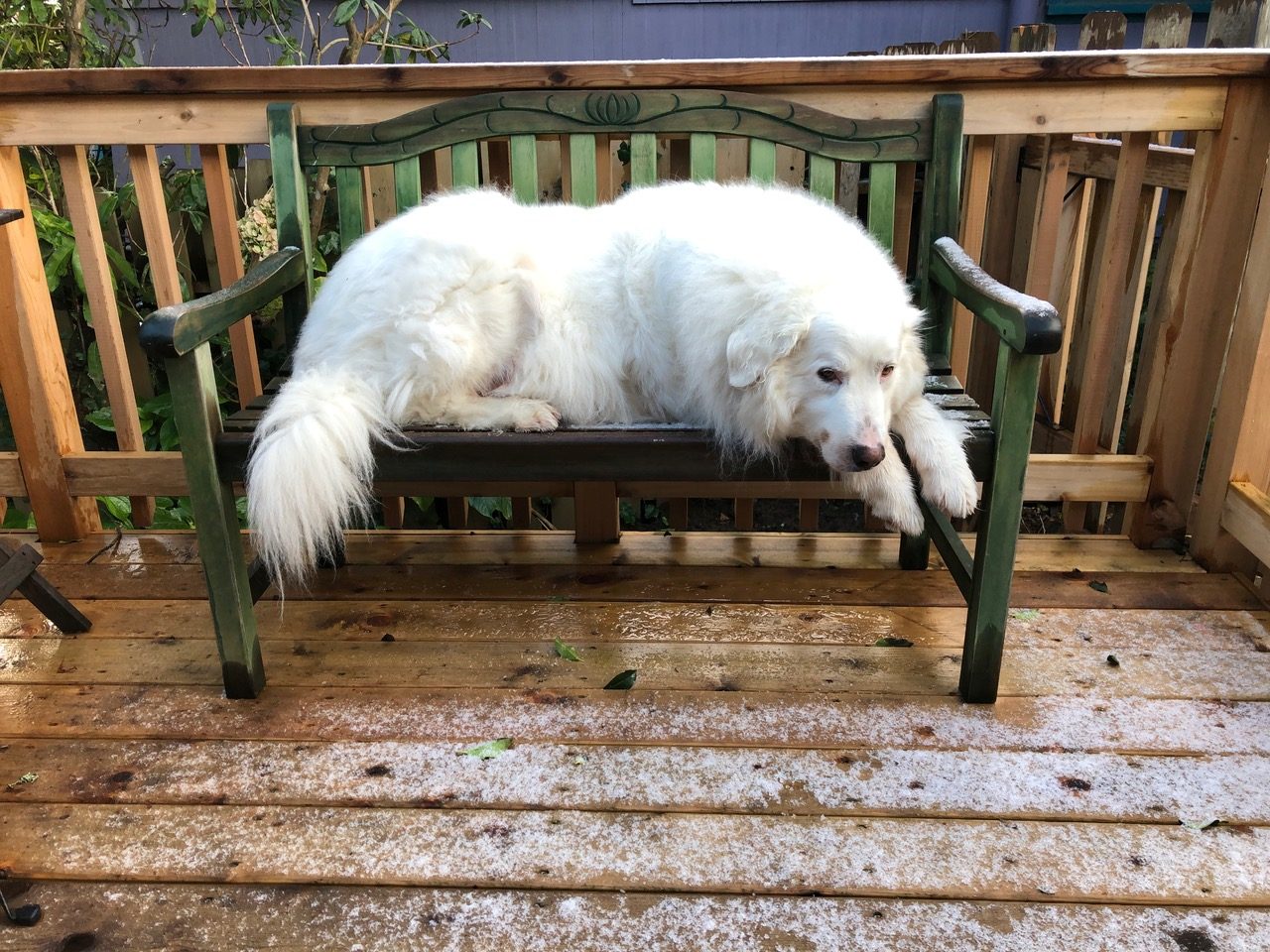 And an anti-antidote, courtesy Richard Smith:
NIWA is searching for the owner of a USB stick found in the poo of a leopard seal…
Recognise this video? Scientists analysing the scat of leopard seals have come across an unexpected discovery – a USB stick full of photos & still in working order! https://t.co/2SZVkm5az4 pic.twitter.com/JLEC8vuHH0

— NIWA (@niwa_nz) February 5, 2019
See yesterday's Links and Antidote du Jour here.