Dear patient readers,
We had a good meetup in Fort Lauderdale. We had over 10 people attend and the discussion included living in Europe, the Federalist Society, crisis reminisces (as in of telling incidents), and MMT. We met outside on a lovely day. But the flight back today was totally screwed up, four hour delay and then they moved everyone to another flight (this wasn't a scheme to cancel the flight; Delta needed to get the crew and equipment to New York, and they still had the flight as delayed after they got pretty much everyone off it). And someone on the plane had a mild heart attack.
Two other random data points: The cab driver on the ride to airport volunteered that his service had seen the last few recessions coming via a drop in their rides, which reflected a slowdown in tourism in Sort Lauderdale. He said things had been soft this fall and winter. See another indicator of sorts here:
Bling is no substitute.
One the ill-fated flight back, I would up seated next to an off-duty flight attendant, going back to her base in NYC, I infer after a break in Fort Lauderdale. We did not talk about what I did; I grilled her when the EMTs came on the plane about why they hadn't brought an aisle chair and immediately gotten her off the aircraft. Got a long story about the fact that the chairs belonged to Delta and Delta didn't want to be liable, the chairs would not be used until the EMTs had assessed the patient for liability reasons.
Unprompted, she brought up the Green New Deal: "They want to get rid of airplanes. Never gonna happen. You can't tell people they can't go to a business meeting. And of course I'd have no job. And what would happen if the US stopped all flights and also didn't allow international flights to land or depart? We'd become a third world country.
Sumatran tiger killed by potential mate on first meeting in London zoo Guardian (TYJ)
If Bees Can Prevent Bad Information From Going Viral, so Can We Undark (Dr. Kevin)
Isle Royale wolf takes advantage of rare ice bridge, leaves for mainland MPR (Chuck L)
Honeybees Can Add and Subtract, Study Finds Motherboard. Resilc: "Bee bond traders next?"
Deaths put e-scooters in spotlight BBC (David L)
'Drinkable' potato chips: the products keeping your phone grease-free Guardian (Dr. Kevin)
Worrisome nonstick chemicals are common in U.S. drinking water, federal study suggests Science (David L)
China?
U.S., South Korea Reach Initial Military Cost-Sharing Deal Atlantic (resilc)
A Profound Development in Japan-South Korea Relations The Diplomat (Chuck L)
Brexit
Vote giving MPs chance to force May's hand on Brexit set to be delayed Guardian. Help me. The ERG must be ecstatic.

US Congress warns hard border could threaten trade deal RTE (PlutoniumKun)

Japanese Customs here tells Japan's businesses that "conditions remain unpredictable" re UK & Brexit but the new EU free trade area low tariffs won't apply to imports from UK, and to expect WTO tariffs in and out from March 30 with No Deal/ no transition https://t.co/LvWpYpMzUl

— Faisal Islam (@faisalislam) February 8, 2019

Ex-Japanese government official has some interesting + ?comments in @FT comments section re Brexit and trade negotiations. "only the British think international treaty negotiations are played like a game. The rest of the world don't think that." [Trump-type Americans might?] 1/

— Pernille Rudlin (@pernilleru) February 8, 2019
Gilet Jaunes
Macron Tactics Against Yellow Vests Have Nothing to Do with Public Safety, Everything to Do with Global Politics BSNEWS (Chuck L)
Venezuela
Exclusive: U.S. in direct contact with Venezuelan military, urging defections – source Reuters (resilc)

What Venezuelans Think About Trump's Intervention Plan Atlantic

What Trump Has in Common With Venezuela's Maduro Washington Monthly. Resilc: "They both are presidents of joke countries with joke governments?"
Syraqistan
Trump's Palestinian aid cuts means thousands lose access to food and healthcare Haaretz (resilc)

Conflict erupts for control of Libya's largest oil fieldGuardian. Resilc: "Let this Obomba/Clintoon brainstorm sink in before invading Venezuela."
Big Brother is Watching You Watch
Trump Transition
Trump's Attack on Socialism Is a Colossal Blunder New Republic

Five takeaways from acting AG's fiery House hearing The Hill
The Economic Impact of the 'Green New Deal' Bloomberg. Interview with Stephanie Kelton
Tonight's injunction suggests that the Court is not poised to pivot hard in the direction of limiting abortion rights. Both the Chief Justice (in granting the injunction) and Kavanaugh (in saying he would deny it pending factfinding) seem inclined to hew to existing precedent.

— SCOTUSblog (@SCOTUSblog) February 8, 2019
SCOOP: @AOC & @SenMarkey's "Green New Deal" plan heads for watershed moment, w/ 5 Sens. running for pres. — Harris; Booker; Gillibrand; Sanders; Warren — cosponsoring resolution

+20 House Ds also on board

Critics say AOC cant build consensus, but this looks like a big rollout

— Jeff Stein (@JStein_WaPo) February 7, 2019
AOC Masterfully Breaks Down How Money Affects Politics David Doel, YouTube
Pelosi's solution to high drug prices is to… create a board that would suggest pharma voluntarily reduce drug prices. Not kidding. https://t.co/liN7tXx4Ma

— Matt Stoller (@matthewstoller) February 8, 2019
Attacking a Pay Wall That Hides Public Court Filings New York Times
A Water Crisis Is Growing In A Place You'd Least Expect It NPR
Rage Drove the Google Walkout. Can It Bring About Real Change at Tech Companies? New York Magazine (David L)
Google Warns News Sites May Lose 45 Percent of Traffic If EU Passes Its Copyright Reform The Next Web
Millions Could Lose Power Under PG&E's Plan To Prevent Wildfires NPR (David L)
Long, strange trip: How U.S. ethanol reaches China tariff-free Reuters (resilc)
The Only Green New Deals That Have Ever Worked Were Done With Nuclear, Not Renewables Forbes (UserFriendly)
Class Warfare
Antidote du jour. Tracie H:
These Mule Deer are probably a common sight in some states, but here is Southern California, not so much. My husband pointed these out to me as we were trudging up the hill to the Getty Center, having decided the tram line was way too long—I took several pictures. They got closer together to nuzzle each other, but this is the only one you can see both of their faces.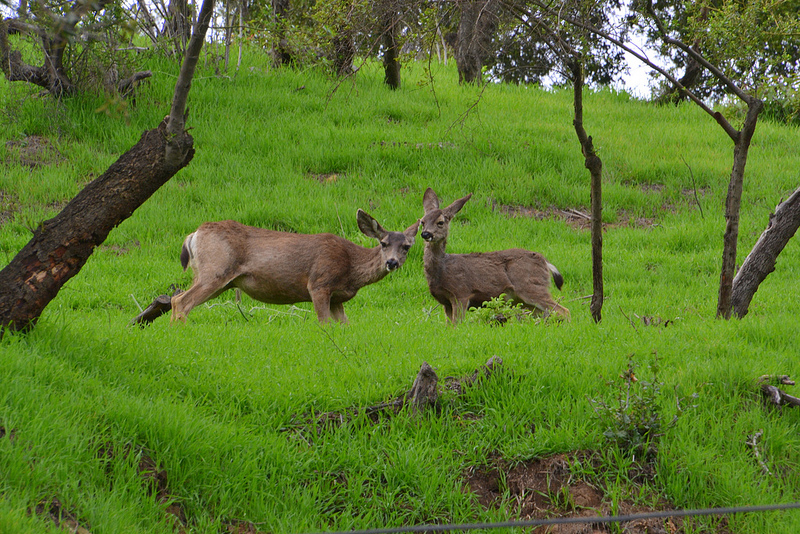 And a bonus (martha r):
One a scale for 1 to 10 how beautiful is this photo ? pic.twitter.com/hpGPctzFWB

— Welcome To Nature (@welcomet0nature) January 20, 2019
See yesterdays Links and Antidote du Jour here.