By Lambert Strether of Corrente.
Readers, this is a little top-heavy on politics, but I really had to do a pantry clearout! –lambert
Politics
"But what is government itself, but the greatest of all reflections on human nature?" –James Madison, Federalist 51
"They had one weapon left and both knew it: treachery." –Frank Herbert, Dune
2020
Biden: "Rip The Bandaid" [Eschaton]. From last Friday, still germane: "I hope Joe Biden runs. Because it's time." • Yes, this will be clarifying…..

Biden: "Exclusive: Biden to run for White House, says Dem lawmaker" [The Hill]. "'I'm giving it a shot,' Biden said matter-of-factly during a phone call with a House Democratic lawmaker within the past week — a conversation the congressman recounted to The Hill and interpreted as a sure sign that Biden will run in 2020…. Despite the swarm of senators already in the race — Sanders, Harris and Warren, as well as Cory Booker (D-N.J.), Kirsten Gillibrand (D-N.Y.) and Amy Klobuchar (D-Minn.) — one Democratic senator is hoping Biden joins the group. 'I love him,' the senator told The Hill, 'and think he's got a unique ability to connect with Americans in the Rust Belt who feel left behind by government.'" • He's tanned, rested, and ready!

Biden: "Biden is expected to wait until early April to announce so that he'll have nearly three full months to raise money before filing his first quarterly fundraising disclosure. The next public event on his schedule is the Delaware Democratic Party's dinner on Saturday in Dover" [Bloomberg]. • Presumably, the money won't be from small donors. I wonder what Harris and Booker's fundraising teams are thinking right now?

Biden: "Biden eyes fundraising challenge amid new sense of urgency" [Associated Press]. "Those close to the former vice president believe he would start off at a fundraising disadvantage compared to would-be rivals, whose campaigns have benefited from an early flood of small-dollar donations from the most liberal wing of the party. Biden, a 76-year-old lifetime politician with strong connections to the party's establishment, would be forced to rely on an 'old-school grind-it-out' plan to generate campaign cash from wealthy individual donors, according to a person with direct knowledge of Biden's thinking." • Totally relatable!

Buttigieg: "Buttigieg feels momentum after CNN town hall, with $600K raised in 24 hours" [CNN]. "According to the Buttigieg aide, the mayor raised more than $600,000 from over 22,200 donations in the 24 hours after the CNN town hall. The number is even more significant, the aide said, because the committee employs 20 staffers, lean when compared to other Democratic operations… 'I have rarely seen a candidate make better use of televised Town Hall than @PeteButtigieg is on @CNN tonight,' former top adviser to President Barack Obama David Axelrod said on Twitter. 'Crisp, thoughtful and relatable. He'll be a little less of a long shot tomorrow." • Rhodes Scholar, McKinsey Consultant, Afghan vet, [x] gay? What's not to like? (I mean, besides everything, excepting [x] gay, which is irrelevant, as Obama's [x] black showed).

Gabbard: CNN still rigging questioners:

This was the person selected by CNN last night to question Tulsi about Assad. She's a corporate consultant who has worked for Goldman Sachs, Google, and Time Warner. Why does CNN pretend these "town halls" are representative of average voters? pic.twitter.com/PNLGOYDKRn

— Michael Tracey (@mtracey) March 11, 2019

Gillibrand: "Former Gillibrand aide resigned in protest over handling of sex harassment claims" [Politico]. "Sen. Kirsten Gillibrand (D-N.Y.), one of the most outspoken advocates of the #MeToo movement who has made fighting sexual misconduct a centerpiece of her presidential campaign, spent last summer pressing legislators to update Congress' "broken" system of handling sexual harassment. At the same time, a mid-20s female aide to Gillibrand resigned in protest over the handling of her sexual harassment complaint by Gillibrand's office, and criticized the senator for failing to abide by her own public standards."

Harris, in great contrast to Sanders' campaign events yesterday:

This is the crowd at Kamala Harris' campaign event in South Carolina.@tomwatson pic.twitter.com/GrJinqkO5X

— The_Uncharted_X (@TheUnchartedX2) March 11, 2019

Poor staffing. Always make sure the hall is too small, so it looks crowded.

O'Rourke: "Beto O'Rourke Moves Toward a 2020 Race He Could Upend, Ready or Not" [New York Times]. "Robby Mook, Mrs. Clinton's campaign manager in 2016, said that Mr. O'Rourke stands apart as a politician who can 'drive his own news,' independent of Mr. Trump, alluding to his history of social media-ready flourishes on the campaign trail. 'It's not just a matter of being authentic,' Mr. Mook said. 'It's authentically taking on Trump and challenging political norms.'" • Norms like what? A billionaire father-in-law?

Sanders: "In Iowa, Bernie Sanders attacks 'factory farming,' big agribusiness" [Des Moines Register]. "Now, Sanders connected his longstanding disdain of corporate America with the state of Iowa's agricultural industry, a major force in rural communities from the Missouri River to the Mississippi River… At rallies in Council Bluffs, Iowa City and Des Moines, he chided the CEO of Smithfield Food's parent company for reportedly earning $291 million in 2017. While executives get rich, he said, the livestock farmers who lease animals and equipment from giant agribusiness firms earn 'an inadequate wage for doing extraordinarily hard work'" • No Smithfield Farms operations in South Carolina, however…

Sanders: "Bernie Sanders takes jabs at Donald Trump while other Democrats avoid president's name" [Philadelphia Inquirer]. "He told the [Iowa] crowd that Trump 'embarrasses us every day,' before attacking the president's health care promises. 'I know it will shock you when I tell you he lied,' Sanders added…. But Democratic pollster [the horrid –lambert] Celinda Lake said Sanders' attacks risk alienating older, female and black voters. Sanders has 'a 25 percent base that is fired up by this, that sent him $6 million in his first day,' Lake said. 'But is his job just to hang on to that base, or is his job to expand that base? I think others are going to find this too harsh — too much negative and not enough about the alternatives about what the Democrats provide.'" • Older, female, black voters are going to be alienated because Sanders attacks Trump by name? Lol. (In reality, Sanders is the only candidate who's free to do that, (a) because he's seen as authentic, and (b) he can compete successfully for "deaths of despair" Trump voters.)

Warren: "Facebook backtracks after removing Warren ads calling for Facebook breakup" [Politico (MR)]. "Facebook removed several ads placed by Sen. Elizabeth Warren's presidential campaign that called for the breakup of Facebook and other tech giants. But the social network later reversed course after POLITICO reported on the takedown, with the company saying it wanted to allow for 'robust debate.' … A message on the three ads said: 'This ad was taken down because it goes against Facebook's advertising policies.'" • Proving her point…

Warren: "'It's not even hard' to break up Amazon and other tech giants" [Los Angeles Times]. "Sen. Elizabeth Warren's (D-Mass.) bold proposal to take on Google, Amazon and Facebook barreled through the conference, which continues through March 17 in Austin, Texas, like an electric scooter on a crowded sidewalk. Onstage at one event, journalist Kara Swisher said Warren's plan has the tech industry 'vomiting on their Allbirds.' But at one tech podcast's live recording session on Sunday, chants of 'Break them up' broke out." • Interesting, even if not spontaneous.
2019
AOC (1): "'I Felt Like I Was Being Physically Ripped Apart': Alexandria Ocasio-Cortez Opens Up About Her New Fame, Trump, and Life in the Bubble" [Vanity Fair]. AOC: "It's really hard to communicate that I'm just a normal person doing her best. I'm not a superhero. I'm not a villain. I'm just a person that's trying."

AOC (2):

I find it revealing when people mock where I came from, & say they're going to "send me back to waitressing," as if that is bad or shameful.

It's as though they think being a member of Congress makes you intrinsically "better" than a waitress.

But our job is to serve, not rule.

— Alexandria Ocasio-Cortez (@AOC) March 8, 2019

That's the stuff to give the troops!

Liberal Democrats competing for the Latin irredentist vote in Florida:

Today is the fourth day of a nationwide blackout in Venezuela; people are starving and need access to medical services. There is vital humanitarian aid in Colombia nearby where we are now, Las Tienditas Bridge, which crosses the border to Venezuela, but the bridge is closed. pic.twitter.com/1kw1q8KAAj

— Rep. Wasserman Schultz (@RepDWStweets) March 10, 2019

Hillary Clinton would be proud!

"Dems have started the gears of impeachment. Can they still turn back?" [Politico]. "For that reason, Speaker Nancy Pelosi (D-Calif.) and committee chairs have broached the impeachment topic cautiously, arguing it should be considered only after the various federal and congressional investigations of the president are complete." • Lol, so the whole RussiaRussiaRussia thing wasn't treason after all?
2016 Post Mortem
"Hillary Clinton Is Still Deeply Confused About What Happened in Wisconsin. Here's Why That Matters." [The Intercept]. "The attempt to analogize the Southern struggle for voting rights with her fate in Wisconsin subordinates some uncomfortable, and likely more relevant, truths — in the service of a narrative offered by an element of the Democratic Party that would prefer to see cheating and illegality, rather than politics and policy, as the causes of its collapse. That narrative glosses over a remarkable, decadeslong decline in black economic conditions and political disillusionment outside the Southern, black Democratic firewall." • And read the story for the Democrat's horrible blunders in fighting Walker.
Realignment and Legitimacy
"NY State to Review Certified Vote System After Computer 'Ballot Stuffing' Design Flaw Revealed: 'BradCast' 3/11/2019" [BradBlog]. "A serious 'design flaw' in a previously certified computer voting system is finally acknowledged on Friday by New York State's top election official… The vulnerability has resulted in Douglas Kellner, the co-chair of the NYS Board of Elections, calling for a reexamination of the ImageCast Evolution (ICE) computer Ballot Marking Device (BMD), which both prints ballot selection on a paper and then scans that ballot to record results after it, theoretically, has already been verified by the voter. 'After you mark your ballot, after you review your ballot, the voting machine can print more votes on it!,' [emphasis in original], Princeton's computer science professor Andrew Appel warned about the Dominion ImageCast Evolution system in October of last year…. The very same design flaw appears to be present in systems currently in use or set for use before 2020 in parts of Kansas, Texas, Pennsylvania, Delaware and elsewhere, as jurisdictions scramble to spend federal dollars to 'upgrade' their voting systems to new equipment in advance of the next, crucial Presidential election. A similar system made by ES&S, currently being pushed for use across the entire state of Georgia by Republicans, vendors and elections officials, also appears to have the same flaw." • It's only a "design flaw" if you think party operatives never want the option of stealing an election.

"Reexamination of an all-in-one voting machine" [Freedom to Tinker]. "The co-chair of the New York State Board of Elections has formally requested that the Election Operations Unit of the State Board re-examine the State's certification of the Dominion ImageCast Evolution voting machine. The Dominion ImageCast Evolution (also called Dominion ICE) is an 'all-in-one' voting machine that combines in the same paper path an optical scanner (for hand-marked bubble ballots) with a printer (for machine-marked ballots via a touchscreen or audio interface). Last October, I explained that why this is such a bad idea that it should be considered a design flaw: if a hacker were able to install fraudulent software into the ICE, that software could print additional votes onto a voter's ballot after the last time the voter sees the ballot. I'll just give one example of what the hacker's vote-stealing software could do: In any race where the voter undervotes (does not mark a choice), the hacked software could print a vote into the bubble for the candidate that the hacker wants to win." • It's not enough to have hand-marked paper ballots. You need hand-counted, too.

"Deny, defy, disdain: Georgia election chief adopts familiar voting security strategy" [Politico]. "[Georgia Secretary of State Brad] Raffensperger and his staff are pushing ahead with a $150 million plan to switch the state to new voting machines that an array of experts warn would be susceptible to hacking. He's dismissed critics of the devices — including the National Academies of Sciences, Engineering and Medicine — as fringe figures. And his deputy recently scolded the tea party-aligned group FreedomWorks, which also opposes the machines, by saying its Georgia-born and -based top policy executive doesn't understand how things work in the state."

"Ceci n'est pas une preuve: The use of trapdoor commitments in Bayer-Groth proofs and the implications for the verifiabilty of the Scytl-SwissPost Internet voting system" (PDF) [Sarah Jamie Lewis, Olivier Pereira, and Vanessa Teague]. "The implementation of the commitment scheme in the SwissPost-Scytl mixnet uses a trapdoor commitment scheme, which allows an authority who knows the trapdoor values to generate a shuffle proof transcript that passes verification but actually alters votes." • Oops.

* * *

"Fear the reparations backlash" [Damon Linker, The Week]. "Might [reparations] nonetheless be worth the consequences? Perhaps — if we could know that demands for reparations would be limited to the descendants of slaves. But we can know no such thing. On the contrary, the dynamic of grievance politics in the United States tells us that reparations for African Americans would only be the start. Just as anti-discrimination law and affirmative action began with blacks and then spread to different races, ethnic groups, and other protected classes, so calls for reparations would quickly metastasize to different groups demanding recompense for past and present injustices." • It's clear to me that there's a moral case for reparations for human sale (slavery). Why, then, is there not a moral case for reparations for human rental (wage work). Do reparations advocates not view capitalism as exploitative? (NOTE: HR40 has been reintroduced.)

DSA:

The NPC spent $150k on The Movement Cooperative which includes access to VAN, the Dem Party's voter data software of choice. So every time we go canvassing that info is shared with all other VAN users which includes the DNC and every other Democratic campaign for future use

— Emily Cameron ? (@emilyfresno) March 10, 2019

When you think that $5000 a pop would be manna from heaven for the locals, you've gotta wonder what National is thinking.

"Marx and Gandhi in the Spooky Forest" [Benjamin Studebaker]. • Fun!
Stats Watch'
NFIB Small Business Optimism Index, February 2019: "the small business optimism index fell short of expectations" [Econintersect]. "One plus is that the outlook for economy, after dropping sharply in January, did turn positive in the month."
Consumer Price Index, February 2019: [Econintersect]. "Housing makes up nearly half of the consumer price index and general softness here, fundamentally underscored by slowing home price appreciation, is not giving much lift to the core which missed expectations… Yet it's medical care, another major category, that is the smoking gun in today's report, down and reflecting marginal increases for physician services and sharp declines for hospital services and prescription drugs…. Forecasters rarely miss the core CPI which really didn't come close to expectations…. Yet this report probably won't be ringing any alarms at the Federal Reserve as the core, despite February's setback, is still right at their 2 percent target. But a turn lower for the economy, hinted at perhaps by last week's employment report, could raise the risk of further price moderation in the coming months."\
The Bezzle: "Man City Accused of Using Shadow Firms to Flout Rules" [Der Spiegel]. "Football Leaks documents outline how Manchester City's owners may have used a surreptitious company in the Cayman Islands to conceal a player investment fund. The team has been accused of violating UEFA spending rules." • Football Leaks seems like a WikiLeaks for soccer football. Pretty neat!
The Bezzle: "How a Bitcoin Evangelist Made Himself Vanish, in 15 (Not So Easy) Steps" [New York Times]. "Mr. Lopp, a self-described libertarian who works for a Bitcoin security company…."
Manufacturing: "U.S. to mandate design changes on Boeing 737 MAX 8 after crashes" [Reuters]. "Boeing confirmed the Federal Aviation Administration's announcement late Monday that it will deploy a software upgrade across the 737 MAX 8 fleet 'in the coming weeks' as pressure mounted. Two U.S. senators called the fleet's immediate grounding and a rising number of airlines said they would voluntarily ground their fleets. The company confirmed it had for several months 'been developing a flight control software enhancement for the 737 MAX, designed to make an already safe aircraft even safer.'" • So, MCAS is the problem? And FAA is stepping in to protect the brand?
The Biosphere
North America's oldest boreal trees are more efficient water users due to increased [CO2], but do not grow faster" [Proceedings of the National Academy of Sciences]. "The metabolism of North America's oldest boreal trees (Thuja occidentalis L.) is strongly affected by rising anthropogenic CO2 emissions. Intrinsic water use efficiency (iWUE) increased dramatically, although nonlinearly, since the beginning of the industrial Era."
"New Squid Genome Shines Light on Symbiotic Evolution" [Quanta]. "The bobtail squid has a unique quality that lends itself to symbiosis studies. Rather than going into partnership with a consortium of bacteria, as the human gut and most other symbiotic organs do throughout nature, the bobtail squid's light organ cultivates a strictly monogamous relationship with V. fischeri. The squid's immune system recognizes and nurtures only this one type of bacteria within the light organ, warding off all other suitors."
Health Care
"Pharma & Insurance Gave $43M to the 129 House Democrats Not Backing Medicare for All" [GritPost]. • That's nice.
"Medieval Diseases Are Infecting California's Homeless" [The Atlantic]. "Infectious diseases—some that ravaged populations in the Middle Ages—are resurging in California and around the country, and are hitting homeless populations especially hard…. Public-health officials and politicians are using terms like disaster and public-health crisis to describe the outbreaks, and they are warning that these diseases can easily jump beyond the homeless population." • Welcome to the Third World. I'm also a little dubious about looking at California for a national model ("optimistic, diverse, dynamic, moving forward").
Class Warfare
"Actresses Lori Loughlin and Felicity Huffman are among 50 people charged in massive college entrance exam cheating scandal in which parents paid up to $6M in bribes to get their kids into elite schools like Yale, Georgetown and Stanford" [Daily Mail] (Here's the indictment.) "Full House star Lori Loughlin and Oscar nominee Felicity Huffman are two of the 50 parents charged in a plot to get their children into schools including Georgetown, Stanford, UCLA, University of San Diego, USC, University of Texas, Wake Forest, and Yale…. The scheme was uncovered by the FBI and federal prosecutors in Boston, and involved parents paying bribes of up to $6 million to get their children into these elite schools." Here are the methods used:
The 'cheating' referenced in the documents occurred in four forms.

' to allow a third party to facilitate cheating on college entrance exams, in some cases by posing as actual students,' is the first.

' to designate applicants as purported athletic recruits – regardless of their athletic abilities, and in some cases, even though they did not play the sport,' is the second.

That is what the documents accuse Loughlin and her husband of doing with their daughters.

', with the understanding that the grades earned in those classes would be submitted as part of the students' application,' is the third.

The fourth was ' for admission to universities … that, among other things, included the fraudulently obtained exam scores and class grades, and often listed fake awards and athletic activities.'

Parties are accused of then 'disguising the nature and source of the bribe payments by funneling the money through the accounts of a purported charity.'
Note that the second method involve administrators at universities (like Georgetown, Stanford, UCLA, University of San Diego, USC, University of Texas, Wake Forest, and Yale), so the rot is institutional, not just on the parents; and the bribe money was funneled through a "purported charity," so the non-profit, NGO sector is involved, too. Of course, under neoliberalism, everything is for sale ("markets in everything") so perhaps the only shocking thing about this story is how long it took to come to light. But can we at least retire this "meritocracy" nonsense? That's clearly not happening. I periodically see, on my Twitter list, the joy and pride of actual, ordinary working class people who made it into school or grad school after a lot of hard work, holding multiple jobs, and all that. Chumps, eh? As one of the perps says:
This paragraph from the college bribe complaint just about says it all. https://t.co/quZ7nerEQU pic.twitter.com/24eha2bcqP

— Osita Nwanevu (@OsitaNwanevu) March 12, 2019
"A side door." Third World stuff.
* * *
More crooks:
There r so many similarities between drug gang growth model & silicon valley ones. Both focus on exploiting mules/workers, on hooking users with free/loss leading/cheap samples, & extracting max wealth for the generals/execs irrespective of whether their biz adds value socially.

— Izabella Kaminska (@izakaminska) March 11, 2019
"Why striking CSO musicians and management are at impasse" [Chicago Tribune]. "The Chicago Symphony Orchestra Association, which manages the ensemble, has proposed changing the musicians' pension from a traditional, defined-benefit plan to a direct contribution plan of the kind that many corporations and nonprofits began adopting several decades ago… The other major obstacle in negotiations is salary, with the CSO 2019-20 suggested annual base pay of $163,818 marginally ahead of the Boston Symphony… 'The most difficult aspect is this is a declining path,' said CSO bassist Lester. 'We used to be ahead of those orchestras 10 years ago. Now we're barely even with one and way behind on the other two. The association wants to keep us on this declining path. We are not a second-rate orchestra.'"
"Reducing socioeconomic disparities in the STEM pipeline through student emotion regulation" [PNAS]. " In a large-scale (n = 1,175) field experiment conducted in ninth grade science classrooms, students were asked to complete a control exercise, or they were given the opportunity to complete an exercise to help them regulate their worries and reinterpret their anxious arousal before their tests. We found significant benefits of emotion regulation activities for lower-income students in terms of their science examination scores, science course passing rate, and students' attitudes toward examination stress, suggesting that students' emotions are one factor that impacts performance. For example, 39% of lower-income students failed the course in the control group compared with only 18% of students failing the course if they participated in the emotion regulation interventions."
News of the Wired
"Against Willpower" [Nautilus]. "More fundamentally, the common, monolithic definition of willpower distracts us from finer-grained dimensions of self-control and runs the danger of magnifying harmful myths—like the idea that willpower is finite and exhaustible. To borrow a phrase from the philosopher Ned Block, willpower is a mongrel concept, one that connotes a wide and often inconsistent range of cognitive functions. The closer we look, the more it appears to unravel. It's time to get rid of it altogether." • If we have the strength.
* * *
Readers, feel free to contact me at lambert [UNDERSCORE] strether [DOT] corrente [AT] yahoo [DOT] com, with (a) links, and even better (b) sources I should curate regularly, (c) how to send me a check if you are allergic to PayPal, and (d) to find out how to send me images of plants. Vegetables are fine! Fungi are deemed to be honorary plants! If you want your handle to appear as a credit, please place it at the start of your mail in parentheses: (thus). Otherwise, I will anonymize by using your initials. See the previous Water Cooler (with plant) here. Today's plant (IM):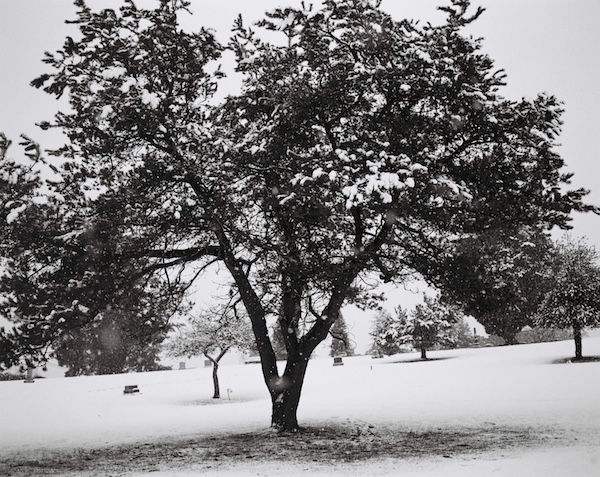 IM writes: "A shore pine in Mountain View cemetery in Vancouver." Now that winter is leaving, one hopes like a lamb, and there's only 75 days until planting time in Maine, I'm geting lots of lovely snow scenes!
* * *
Readers: Water Cooler is a standalone entity not covered by the annual NC fundraiser. So do feel free to make a contribution today or any day. Here is why: Regular positive feedback both makes me feel good and lets me know I'm on the right track with coverage. When I get no donations for five or ten days I get worried. More tangibly, a constant trickle of small donations helps me with expenses, and I factor that trickle in when setting fundraising goals. So if you see something you especially appreciate, do feel free to click below! (The hat is temporarily defunct, so I slapped in some old code.)
Or Subscribe to make a monthly payment!