By Lambert Strether of Corrente.
Trade
"$1.6 Trillion of Trade Means China Pain Is Asia's: Taking Stock" [Bloomberg]. "A slowing China puts into stark relief just how dependent many of the biggest export-driven countries in the region have become on the world's second-largest economy, if Tuesday's moves in Asia stocks are any indication."
China and US 'certain' to reach deal on opening up financial sector South China Morning Post
"China and US still have work to do but both 'certain' deal on opening financial sector can be achieved" [South China Morning Post]. "'I can say with certainty that, on the opening up of the finance sector, China and the US can achieve a complete agreement,' [Guo Shuqing, chairman of the China Banking and Insurance Regulatory Commission] said… 'We have some minor disputes, but I don't think it is a big problem.'" • I assume this isn't freelancing by Guo, since it's SCMP's story hook…
Politics
"But what is government itself, but the greatest of all reflections on human nature?" –James Madison, Federalist 51
"They had one weapon left and both knew it: treachery." –Frank Herbert, Dune
2020
You can't tell the players without a scorecard:

Running for President?

Harris: ✔️
Inslee: ✔️
Castro: ✔️
Booker: ✔️
Warren: ✔️
Sanders: ✔️
Gabbard: ✔️
Buttigieg: ✔️
Gillibrand: ✔️
Klobuchar: ✔️
Hickenlooper:✔️

Beto: ?
Biden: ?
Brown: ?
Bennet: ?
Cuomo: ?
de Blasio: ?
Bloomberg: ?

Holder: ❌
Clinton: ❌
Merkley: ❌

— Dan Diamond (@ddiamond) March 5, 2019

* * *

And now the actual or potential Presidential candidates (or non-candidates) in alphabetical order:

Brown: "Twenty Things You Didn't Know About Sherrod Brown" [National Review]. • Fascinating: An enormous oppo dump. NR must take Brown a lot more seriously than, well, I do.

Harris: "Big-dollar donors, including Donald Trump, fueled Kamala Harris' political rise in California" [Sacramento Bee]. "In 2011 and again in 2013, Trump donated a total of $6,000 to Harris' campaign for California attorney general…. The first donation from Trump, for $5,000 in September 2011, came months after he had begun popping up on cable news promoting a conspiracy theory that President Barack Obama was born in Kenya, not the United States, something that's been widely condemned as racist. Harris campaign spokesman Ian Sams told McClatchy that Harris donated the $6,000 Trump had contributed to a non-profit that advocates for civil and human rights for Central Americans. But that donation wasn't made until 2015, a year after she won her reelection for attorney general and as she was launching her run for the Senate." • Very sloppy staffwork. Of course, Ian Sams did work for Clinton and the DNC, so I suppose that is only to be expeccted.

Merkeley: "Senator Jeff Merkley Announces He Will Not Run for President in 2020" [KDRV]. "In the end Merkley says his best contribution is to run for re-election in the Senate, 'and do all I can to help the Senate be a full partner in addressing the challenges before us.'" • Generally, losing Democrat candidates do very well as talking heads and in the NGO world, so Merkley's passing up more than you might think.

Sanders (1): Put on your rally caps:

? Bernie Sanders' Rally Schedule: Rallies in Iowa This Week! ?

Council Bluffs, Iowa on March 7

Iowa City on March 8

Des Moines on March 9#Bernie2020 #NotMeUs https://t.co/GhjCttbtZg

— Me #Bernie2020 (@StopWithUrBS) March 5, 2019

Sanders (2): "Bernie Sanders Four Years Later" [Paste]. From the Brooklyn rally: "'I know where I came from!' Sanders cries out firmly—but his voice cracks." • I rarely watch video, preferring transcripts, but I watched the Sanders rollout, and that was a great moment; pivotal.

* * *

"Trump spread money around to 2020 Dems" [Politico]. "Kamala Harris received money from Donald Trump as recently as six years ago. Ivanka Trump and Jared Kushner hosted a Park Avenue fundraiser for Cory Booker. Kirsten Gillibrand took in Trump family donations three times across a seven-year period — and then gave a similar amount of money to a nonprofit years later after the president mocked her in a tweet… Harris, Booker and Gillibrand — along with Joe Biden, John Kerry and Terry McAuliffe — all share a common bond of receiving Trump family donations." • Trump has always been Trump, "ideological shapeshifter" or not. Oddly, or not, all the Democrat front-runners share that "common bond" — except for Warren and Sanders.
2016 Post Mortem
"Hillary and Bill Clinton Think Bernie Sanders Can't Beat Trump in 2020, Still Bitter Over 2016: Report" [Newsweek]. "Interacting with each other briefly in Selma, Alabama, this weekend at the 54th anniversary of 'Bloody Sunday,' the two continued to show signs of resentment. Sanders reportedly received a brief handshake from Hillary Clinton, while others, such as Booker, received a more welcoming hug, according to those at the event." • I think we should take this very seriously. The Clintons are, after all, experts at losing to Trump. (And what's with "the two"? The only one Newsweek says showed resentment was Clinton. And what was Sanders supposed to do? Get all handsy, Joe Biden style? Imagine the hysteria.

"Clinton camp stews over Sanders 2020 campaign" [Politico]. "When Sanders pulled in $1 million in the first three-and-a-half hours of his campaign, Adam Parkhomenko, the former director of grassroots engagement for the 2016 Clinton campaign, tweeted, 'Only half were named Vladimir.'" • Classy!

Another excuse. Thread:

Over 86,000 black voters stayed home in Milwaukee between 2012 and 2016. Clinton only needed 22,748 to win.

These voters were not "turned away." They just didn't see the benefit of voting for Clinton.https://t.co/jwGi6g6gD5@MalaikaJabali https://t.co/BrfHAtzudi

— Briahna Joy Gray (@briebriejoy) March 5, 2019
2019
Where the low road and the lower road meet:

It's frightening to see how many Resistance™ leaders are aligning themselves with someone who called @BernieSanders a "fucking fake Jew"

cc: @neeratanden, @AdamParkhomenko, @donnabrazile

Thoughts?#Bernie2020 pic.twitter.com/GmBd4DJag3

— NY For Sanders #Bernie2020 (@NYforSanders) March 3, 2019

"The Alexandria Ocasio-Cortez backlash begins" [Chris Cilizz, CNN]. "The real question then is not which part of the party is on the rise — it's the AOC/Bernie Sanders wing for sure — but rather how those moderates and conservatives are treated by the liberals in the party. Will they be driven out as insufficiently loyal to the cause — as tea party (and Trump) Republicans have done to their own centrist wing over the last decade? Or will liberals find a way to incorporate the views of their more moderate party members as they try to find a candidate who can oust President Donald Trump in 2020?" • Sure. Just vote for #MedicareForAll and everything will be jake with the angels. For now.

"Ilhan Omar's Criticism Raises the Question: Is Aipac Too Powerful?" [Sheryl Gay Stolberg, New York Times]. "Those questions have grown louder with the controversy around Ms. Omar and will grow louder still in the run-up to this month's annual Aipac policy conference — a three-day Washington confab that is expected to draw more than 18,000 people, including Prime Minister Benjamin Netanyahu of Israel and leaders of both parties in Congress." • I wonder if we'll ask Bibi to explain to us again what our foreign policy should be, to a Joint Session of Congress?

"Israel Boycott Exposes Serious Rifts in the Democratic Party" [The American Conservative]. "According to a 2018 Pew Research Center report, the number of Republicans that sympathize with Israel over Palestine has increased to 79 percent, while sympathy for Israel dropped among Democrats to 27 percent, a disturbing trend especially for the anti-BDS movement. Besides growing sympathy for the Palestinians, progressives are echoing the ACLU and other groups who say any law prohibiting [BDS] boycotts won't ultimately survive a Supreme Court test. They are probably right." • 27 percent.

* * *
Realignment and Legitimacy
"A retiring Marine reflects on 18 years of war: What have we achieved?" [Des Moines Register]. "For most of my career, I believed that policymakers were in control of the situation and regardless of how counterproductive decisions made at their level seemed at my level, national leaders would not commit such vast resources in support of a policy lacking a definitive objective. Divested of this illusion, I can see this war was inadequately planned, recklessly administered, and is now just wasteful. Retiring after more than two decades enables me to confidently say that ." • These must be hard words to write. And this vote is there for Sanders (and Gabbard). They are the only two candidates — besides Trump, in his random, bloviational, give-zero-[family blogs] way — who can claim it.

DSA (1): "How a Sanders 2020 Endorsement Will Hurt DSA" [Medium]. "As an organization with limited resources at our disposal, understanding the level of impact we can have on the working class per dollar or hour spent must be a vital part of our decision making…. We should look more towards methods of strengthening and growing our membership from the ground up — this means more support for smaller chapters, organizing committees and local elections as well as bridging gaps between national and local levels of organizing." • At least delay the decision until the National Convention in August — still more than a year away from election day. That just seems like a no-brainer.

DSA (2): It's a long way from Brooklyn, NY to Eugene, OR:

It's been 2 years since we started DSA Eugene.
It took 1.5 years to get a bank account.
It took 1 year to get incorporated.
It took 6 months to become a chapter.
We get zero help from national. https://t.co/51RfmGJt4j

— jen (@cruciverberella) March 5, 2019

DSA (3):

DSA is not a place to find dates. DSA is not a place to find dates. Repeat it over and over. Write it on your hand if you think you might forget. DSA is not a place to find dates. https://t.co/SyUO1WtE1u

— Birmingham DSA? (@BhamDSA) March 4, 2019

Good. I can't bring to mind the long-ago article that explained how, er, "finding dates" was a tactic used by agent provocateurs to divide and destroy entities to which they were inimical, but the anecdotes were vivid, believe me.
Stats Watch
New Home Sales, December 2018: "In a very solid headline for what has been a run of weak ones for the housing sector, new home sales jumped" [Econoday]. "The bad is mixed with the good in this report but, for the outlook, the latest month is always the most important of any month, and December's data for new home sales should give builders and sellers a lift." And: "December 2018 Headline New Home Sales Improved" [Econintersect]. "Because of weather and other factors, the rolling averages are the way to view this series. The rolling averages improved by [sic] remains deep in contraction."
Purchasing Managers' Services Index, February 2019: Up "sizeably" [Econoday]. "New orders are the best barometer of future activity and the report's description for February is a 'sharp increase.'" And: "Both services surveys are in expansion – and improved this month. This is a much stronger report than last month" [Econintersect].
Institute For Supply Management Non-Manufacturing Index, February 2019: "Demand for exports is a major theme of a very positive ISM non-manufacturing report for February where the index jumped" [Econoday]. "Strong incoming orders and the need to work down backlogs should give this sample's employment index in future months a lift." And: "This suggests faster expansion in February than in January" [Calculated Risk].
Commodities: "Goldman Tones Down its Bullish Outlook on Commodities" [Bloomberg]. "Raw materials are no longer significantly undervalued and further price increases will require data showing better demand and tighter supply, analysts including Jeffrey Currie wrote in a March 4 report. However, a stronger-than-expected recovery in global economic growth could boost commodity indices, and there are still some industrial metals that offer relatively good value, according to the bank."
Commodities: "Exclusive: U.S. to issue meat company guidelines as recalls mount – official" [Reuters]. "The U.S. government plans to issue new guidelines for food companies as early as this week after an increase in recalls of meat and poultry products possibly containing metal, plastic and other foreign materials, a food-safety official said on Monday… The , in the works for months, are designed to ensure companies meet pre-existing regulatory requirements, she said."
Manufacturing: "Passenger Jet Parts Not Properly Checked By Japanese Engine Maker" [Bloomberg]. "Japanese heavy-machinery maker IHI Corp. said employees didn't properly check some aircraft engines, the latest quality-control issue to dent the reputation of the country's manufacturing sector…. IHI is still investigating how many engines were involved and over what period…. According to IHI's website, the V2500 has been installed on Airbus A319, A320 and A321 jets, while the PW1100G powers the Airbus A320 neo."
The Bezzle: "Tesla Sell-Off Worsens After Elon Musk's Surprise Store Closings" [Bloomberg]. "Tesla Inc. shares continued a steep sell-off in the wake of Chief Executive Officer Elon Musk's surprise move to close most of the electric-car maker's stores and shift to online-only sales. Many sales personnel first found out about the decision when Tesla published a public blog post Thursday afternoon, said three people familiar with the matter, who asked not to be identified discussing sensitive matters." • Why would anybody buy a car from a company where the CEO openly treats his employees like garbage? It's not like there aren't other cars out there, even electric ones.
The Bezzle: "China suspends customs clearance for Tesla Model 3 imports – Caixin" [CNBC]. "China's customs authority has suspended customs clearance procedures for Model 3 cars built by Tesla Inc, the financial publication Caixin reported on Tuesday. The report said the customs authority in Shanghai had found various irregularities in 1,600 imported Model 3 cars, including the improper labelling of the vehicles." • "Improper labelling." Hmm.
The Bezzle: "How much does Tesla have in the bank?" [FT Alphaville]. "A lower implied cash balance also may go some way to explaining the cost savings Tesla has made over the past year, including three rounds of lay-offs, and last week's announcement that nearly all of its stores would be closing in-favour of online only sales." Here is a tweet with the product of the post's calculations in chart form:
another deep dive into $TSLA's accounts from me, this time looking at the battleground that is its cash balance. https://t.co/CTkrlGxIT9 pic.twitter.com/PLsiUn4mnt

— Jamie Powell (@ajb_powell) March 5, 2019
For balance sheet aficionados, this could be important. Readers?
The Bezzle: "40% of Europe's artificial intelligence start-ups have no AI" [Financial Times]. "The research by London-based investment firm MMC Ventures could not find any evidence, based on public information and interviews with executives, of artificial intelligence applications at 40 per cent of 2,830 AI start-ups in Europe." • Tsk!
Concentration: "How badly are we being ripped off on eyewear? Former industry execs tell all" [Los Angeles Times]. "[Charles Dahan] was once one of the leading suppliers of frames to LensCrafters, before the company was purchased by optical behemoth Luxottica. He also built machines that improved the lens-manufacturing process…. 'There is no competition in the industry, not any more,' he told me. 'Luxottica bought everyone. They set whatever prices they please.'… Dahan, who lives in Potomac, Md., was responding to a column I recently wrote about why consumer prices for frames and lenses are so astronomically high, with markups often approaching 1,000%." • That's a nice business to be in!
Our Famously Free Press
"Financial Times acquires majority stake in TNW (The Next Web)" [TNW]. "The deal forms part of a corporate development strategy that has seen the FT diversify its Group business in strategic business areas. The move complements the FT's recent investment in Sifted, a new media site and newsletter targeting Europe's innovators and entrepreneurs, and the expansion of various other tech-themed editorial products, and acquisitions by FT in recent years of AlphaGrid, a content production company, GIS Planning, a San Francisco-based investment intelligence company, and Longitude, a specialist provider of thought leadership and research services." • "Thought leadership." Gawd.
Helpful thread on Venezuelan coverage:
(Thread) If you're asking yourself "why is coverage of Venezuela so poor?" – I did a PhD and wrote a book on the topic.

What most people don't realise is this isn't a mistake. Journalists actively see themselves as the opposition to the government. pic.twitter.com/ZsQ52Fx5LN

— Alan MacLeod (@AlanRMacLeod) February 3, 2019
Maybe I should file this under guillotine watch:
In 2017, billionaire Laurene Powell Jobs inadvertently summed up why the super-rich buying media outlets is awful for journalism: "It was obvious that if we could be part of the creation of cultural narrative, that would enhance and amplify all the work that we're doing." pic.twitter.com/Uykvc5qzW3

— Walker Bragman (@WalkerBragman) January 30, 2019
"Hiding in Plain Sight: PAC-Connected Activists Set Up 'Local News' Outlets" [Snopes]. Ugh. One of the many sordid details: "Chris Butler, listed as the Tennessee Star's investigative journalist, covered the Lee campaign and administration for the Star. But just before joining the Tennessee Star as an "investigative journalist," he served as a media spokesperson "for a political PAC to help elect Bill Lee governor in 2018″ between May and August 2018." • We like, at least, to have a door that revolves.
"Why Misinformation Is About Who You Trust, Not What You Think" [New York Magazine]. "Bennett Holman and Justin Bruner give a great example of heart arrhythmias. When people were first studying anti-arrhythmic drugs, the question was, "Are these going to reduce heart attacks?" Other scientists asked, "Do they reduce arrhythmia?" Big Pharma funded the latter group. It poured money into scientists asking whether these drugs reduced arrhythmia. In fact, they did. But they also increased heart attacks and were responsible for upward of 100,000 premature deaths by heart attack. So, again, independent researchers were doing exactly what they were doing before. It was just that some of them now had a lot more money and that shaped the evidence." • 100,000 deaths seems like rather a lot.
Black Injustice Tipping Point
"Capital Prisoners: Unbranding the Narrative of Slavery" [Ghion Journal]. "Up until today, I used to refer to people who were indentured into forced labor as political prisoners [not slaves. But] a more appropriate name is capital prisoners. This is precisely what 'slaves' were, they were hostages of capitalism which turned human beings into assets and liabilities on the balance sheets of wicked traders…. The same way Africans once sold their own into bondage and overseers lashed capital prisoners, these modern day 'House Negros' are doing the bidding of the system by keeping their people oppressed while they live lavishly. I'm of course talking about Obama, Kamala, Booker and the army of black corporate courtiers who are unleashed upon the 'African-American' community." • A complicated post, worth a read, agree or not.
Guillotine Watch
"American Airlines will let super-rich passengers take private helicopters to avoid long lines" [Fast Company]. • Tumbrils are far more slow-moving.
News of the Wired
"MIT's latest dog-like robot can do backflips on command" [San Francisco Chronicle (J-LS)]. • Yeah, but is it electable?
Turning the knobs all the way up to 11:
#ThisisSpinalTap was released 35 years ago today. Here's a look back at Rob Reiner's rocking mockumentary, starring #ChristopherGuest, @MJMcKean, and @theharryshearer. What's your favorite scene? https://t.co/ITssGId7vj pic.twitter.com/xBdjZvHfkq

— IMDb (@IMDb) March 2, 2019
* * *
Readers, feel free to contact me at lambert [UNDERSCORE] strether [DOT] corrente [AT] yahoo [DOT] com, with (a) links, and even better (b) sources I should curate regularly, (c) how to send me a check if you are allergic to PayPal, and (d) to find out how to send me images of plants. Vegetables are fine! Fungi are deemed to be honorary plants! If you want your handle to appear as a credit, please place it at the start of your mail in parentheses: (thus). Otherwise, I will anonymize by using your initials. See the previous Water Cooler (with plant) here. Today's plant (HM):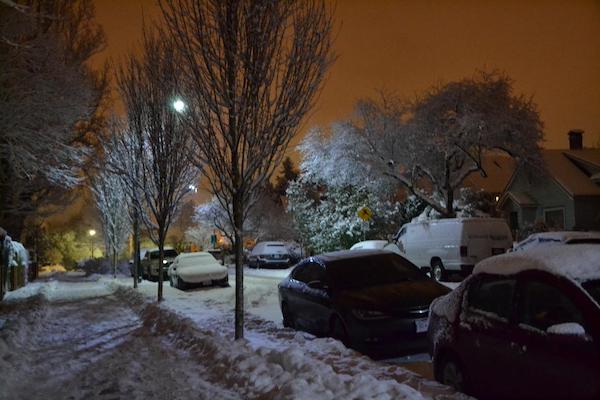 HM writes from here Vancouver, BC, Canada: "These (night time) photos were taken less than week ago, when our city was covered under a few cm of white powder." Definitely a city's night sky.
* * *
Readers: Water Cooler is a standalone entity not covered by the annual NC fundraiser. So do feel free to make a contribution today or any day. Here is why: Regular positive feedback both makes me feel good and lets me know I'm on the right track with coverage. When I get no donations for five or ten days I get worried. More tangibly, a constant trickle of small donations helps me with expenses, and I factor that trickle in when setting fundraising goals. So if you see something you especially appreciate, do feel free to click below! (The hat is temporarily defunct, so I slapped in some old code.)
Or Subscribe to make a monthly payment!