Readers, thanks to your rapid and generous response, last Friday's mini-fundraiser for Water Cooler reached its goal of 300 donations in a little over 24 hours. So thank you very much, and I'm a happy camper! But in case you were away for weekend, or like to wait until the first of the month for such things, or have been procrastinating (not that there's anything wrong with that) you can still join us and participate via Lambert's Water Cooler Tip Jar, which shows how to give via credit card, debit card, PayPal, or even a check in the US mail. And this will be my last nudge, I promise!
By Lambert Strether of Corrente.
Readers, this is a little disjointed because of the volume of material I had. I'll do better tomorrow! –lambert
Politics
"But what is government itself, but the greatest of all reflections on human nature?" –James Madison, Federalist 51
"They had one weapon left and both knew it: treachery." –Frank Herbert, Dune
Our Famously Free Press
The Financial Times to 'experiment' with taking its newsroom to the big stage The Drum.
2020
Abrams (D): "Stacey Abrams builds massive political network ahead of 2020 decision" [Politico]. "Stacey Abrams is set to reveal soon whether she'll run for president or senator or something else. At the reception for Abrams hosted by Boxer, held at in late February, local Democratic leaders and heard her talk about her work against voter suppression and about her brother's struggle with addiction. After the event, she was mobbed by attendees." • Joining Neera's team seems to be working out very well for Abrams.

Trump (R) (1): "Trump's Circus Maximus" [Maureen Dowd, New York Times]. Reporting from Trump's Michigan rally: "It's not clear why, on a night when his aides promised high energy, he seemed to lose altitude. Did he miss having Mueller as a foil? Did he know in his heart that he was guilty of some of those sins? Is he of rallies even before the 2020 race gets well underway? Does he know that his 'No Collusion' headline will not change the minds of all those Americans who disdain him? Or is he being a sore winner again? Maybe Trump, like America, is just of winning." • The new talking point seems to be that Trump is "tired"; I've seen this in a few other places on my travels.

Trump (R) (2): "Trump unleashes on critics in fiery glimpse of 2020 campaign" [The Hill]. From the same rally: "Trump was supremely confident about his odds of reelection on his current trajectory, portraying his presidency thus far as one of fulfilled promises. 'Now I've done more than I ever promised I was going to do, so the debates should be very easy.' 'It should be easy, don't you agree?' he added. 'It should be easy.'" • Step one would be to keep anybody involved with the Benghazi omnishambles very far away from whatever payback Trump has in mind for RussiaGate.

Trump (R) (3): "Trump's Unfulfilled Rust Belt Renaissance Poses Risks for 2020" [Bloomberg]. From the same rally: "Donald Trump landed in the White House by winning three Rust Belt states Democrats had carried in previous elections — Michigan, Wisconsin and Pennsylvania — and his re-election could hinge on whether he can hold them. It won't be easy. On the eve of the 2016 vote, Trump vowed at a late-night rally in Grand Rapids, Michigan, to bring transformative change. 'Michigan stands at the crossroads of history,' he said. 'If we win Michigan, we will win this historic election and then we will truly be able to do all of the things we want to do.'"

Weld (R): "Bill Weld Is Taking On The Trump Monster Because Some Republican Has To" [HuffPo]. "Weld denies that he is running merely to sabotage Trump's re-election. He explains repeatedly — in interviews, in panel discussions, to a domestic violence workshop — that he is running for president in order to be president. 'You run to win until you don't win,' he says. Whatever Weld's motivation, if Trump can be beaten anywhere — or at least, humiliated — New Hampshire seems to be the likeliest place. Open primaries, rebellious voters and Trump's continuing weakness in the polls may let Weld perform unexpectedly well — putting Trump on the defensive at the very start of the primary season."
RussiaGate
"Shocked Vladimir Putin Slowly Realizing He Didn't Conspire With Trump Campaign" [The Onion]. "Man, it seemed so legit. I can't believe I let myself get conned like this. I spent so much time emailing back and forth with DonaldTrump46@hotmail.com about compromising the democratic voting process, and now it turns out it was all fake?"
2019
"AOC's Organizing App Is Spreading to Democratic Socialist Campaigns" [Bloomberg]. "[The app designers] were frustrated by what struck them as the outdated methods for canvassing supporters: get a list of registered voters and knock on doors, hoping to catch them at home. The whole nature of the enterprise seemed off.Ocasio-Cortez's Bronx-Queens district is filled with and young people, who move often, don't spend tons of time at home, and rarely answer their phone. Her campaign—and her only hope of victory—was built around bringing underrepresented people into the system. Instead of taking a list and going off to find or call the people on it, DeGroot and Sussan thought it would make a lot more sense to go to places where large numbers of likely supporters gather—bars, churches, subway platforms—and be able to match them to the list right there." • Sanders campaign, pay attention!
Realignment and Legitimacy
So much for the Christianists of the Bush adminisration:

"No religion" is for the first time ever the most common religious orientation in America. I remember when America's religiosity was seen as part of what made it exceptional among Western democracies. pic.twitter.com/IsCtfDkUsg

— Wesley Yang (@wesyang) March 29, 2019

The DSA Dog Caucus:

PUPDATE: we r raising money for @AbortionFunds!!!

Donate and/or join one of our teams (DOMATIONS ARE MATCHED THIS WEEK1!!)@WVFREE: https://t.co/r8v1Fo8QqJ @FundMSabortions
& @YellowFund: https://t.co/PxJwkGKlu2 @GWAFund: https://t.co/xHFxYpEugt pic.twitter.com/VFkugy3F8b

— Dogs for Couches for the Canine Class (@DSADogCaucus) March 27, 2019
Stats Watch
Retail Sales, February 2019: "February wasn't so great but January definitely was as retail sales in February missed expectations entirely while the prior month got big upward revisions" [Econoday]. "Though January was stronger than February and not consistent with increasing momentum, retail's early results this year should keep up hopes for a solid consumer contribution to first-quarter GDP. Early indications on March, which itself will have challenging adjustment issues tied to this year's late Easter (April 21), have been mixed with Redbook same-store sales opening the month on the defensive before recovering." And: "Retail Sales Decline In February 2019" [Econintersect]. "There was a significant upward adjustment of last month's data. The real test of strength is the rolling averages which declined…. There is almost no growth in employment in this sector."
Business Inventories, January 2019: "Inventories are rising at a much faster pace than sales which may very well be an emerging red flag for the economy" [Econoday]. "There's every indication to suspect that the inventory build underway is not wanted and that slowing in production and in employment growth may be rising risks for the economy."
Purchasing Managers' Manufacturing Index, March 2019: "visible but still slight slowing from February" [Econoday]. "This sample has been reporting the lowest rate of composite growth since the summer of 2017 and an easing in new order growth to a 5-month low isn't pointing to acceleration going into the second quarter…. The manufacturing sector, because of exports, is a barometer for global demand and the slowing in this report, as well the slowing trend for the ISM report that follows at 10:00 a.m. ET later this morning, are not positives for the general outlook."
Institute For Supply Management Manufacturing Index, March 2019: "Solid growth despite slowing growth for exports is the indication from ISM's manufacturing sample" [Econoday]. "This report has definitely cooled from late last year…. But the current rate is still very solid and though exports are not a strength, weakness here doesn't appear severe enough right now to derail the nation's factory sector. Underscoring the breadth of health is that 16 of 18 industries reported composite growth in the month."
Construction Spending, February 19, 2019: "Public spending continues to hold up construction" [Econoday]. "Today's report is mixed with strength narrowed to public spending and with spending on single-family homes still a negative for the housing outlook."
Banks: "Wells Fargo CEO Tim Sloan steps down" [Reuters]. "The move amounted to an admission that the board erred three years ago by appointing another insider after the previous CEO, John Stumpf, resigned following revelations that Wells Fargo had opened potentially millions of unauthorized consumer accounts. Prior to becoming CEO, Sloan served as chief operating officer and head of the wholesale bank…. On the call, analysts tried unsuccessfully to get a direct answer to whether regulators had given Sloan the final push, or even whether the bank had been surprised by the most recent criticism from the Comptroller of the Currency." • Oops.
Commodities: "Aramco Unveils Financial Secrets of World's Most Profitable Firm" [Bloomberg]. "The first official glimpse of Saudi Aramco's financial performance confirms the state-run oil giant can generate profit like no other company on Earth: net income last year was $111.1 billion, easily outstripping U.S. behemoths including Apple Inc. and Exxon Mobil Corp…. While the prospectus revealed the richest company on the planet, it also showed how reliant Aramco is on high oil and natural gas prices. In 2016, when the price of Brent crude plunged to average $45 a barrel and OPEC cut production, the company struggled to break even. Net income for the full year was just $13 billion and free cash flow a tiny $2 billion."
The Bezzle: "Is Poland Spring Water Really From a Spring? 'Not One Drop,' Says a Lawsuit" [New York Times]. "[T]he class-action lawsuit contends that Nestlé Waters's marketing and sales of what it advertises as '100% Natural Spring Water' has been 'a colossal fraud perpetrated against American consumers.'… 'Not one drop' of Poland Spring water actually qualifies as spring water, the lawsuit says. It is common groundwater that has been illegally mislabeled in order to 'reap massive undue sales.' The result is that Poland Spring water has become 'the dominant brand in a market in which it does not even belong,' the suit says." • Indeed. Everybody's known this for years. And the town is letting Nestlé suck up Maine's groundwater and sell it out of state for a pittance, too.
The Bezzle: "Lyft, Uber, Pinterest: Are internet unicorns really worth billions?" [BBC]. Well, "worth" is just a word…
Transportation: "Wow Air ceases operations, leaving passengers stranded" [CNN]. "Icelandic budget carrier Wow Air has ceased operations and canceled its flights, leaving passengers stranded on both sides of the Atlantic…. It's the latest in a string of airlines to suffer problems as the aviation industry is buffeted by fierce competition and shifting business models. Primera Air ceased operations in October 2018. In February, German airline Germania filed for bankruptcy and British airline Flybmi stopped flying."
Concentration: "Food and Power: Addressing Monopolization in America's Food System" (PDF) [Open Markets Institute]. "concentrated power has many negative consequences, particularly for farmers, farm workers, and for rural communities that depend on agriculture to drive their economies. For example, because of spreading agribusiness monopoly, the prices farmers pay for inputs such as seed and fertilizer continue to rise rapidly. At the same time, growing concentration among meat processors, grain traders, food processors, and retailers is responsible for driving down the prices farmers and farm workers receive for their labor. Largely because of these factors, a farm crisis is building across America on a scale not seen since the 1980s. Monopoly also affects the quality of our food and agriculture's environmental footprint, making it a concern for both food producers and consumers, both in rural and urban areas. This brief documents the degree of concentration found in different agriculture-related sectors of the economy and lays out solutions for policymakers." • I'm not sure any market is very truly open.
Mr. Market: "Dow jumps back above 26,000 as China data eases global growth worries" [MarketWatch]. "The hotter-than-expected U.S. data followed the Caixin China manufacturing purchasing managers index, which rose to 50.8 in March from 49.9 in February, rebounding to expansionary territory for the first time in four months. Gains for the private gauge came on the heels of China's official manufacturing PMI released on Sunday, which rose to a six-month high of 50.5 in March from 49.2 in February."
Fodder for the Bulls: "Opinion: This is the real reason why the U.S. economy isn't in recession danger now" [MarketWatch]. "The yield curve is first and foremost predicting the outlook for Fed policy rather than the next recession. My research has confirmed this conclusion, as does a recent Fed study…. Hence our conclusion that it is credit crunches that cause recessions, not inverted yield curves and not aging expansions." • Readers may wish to assess this!
Rapture Index: Closes down one on Earthquakes. "The lack of activity has downgraded this category" [Rapture Ready]. Record High, October 10, 2016: 189. Current: 178. Still below the 180 floor. Remember that bringing on the rapture is a good thing.
The Biosphere
"Can Soil Microbes Slow Climate Change?" [Scientific American]. "Because so much exposed soil across the planet is used for farming, the critical question is whether scientists can find ways to store more carbon while also increasing agricultural yields. David Johnson of New Mexico State University thinks they can. The recipe, he says, is to tip the soil's fungal-to-bacterial ratio strongly toward the fungi. He has shown how that can be done. Yet it is not clear if techniques can be scaled up economically on large commercial farms everywhere…. In all this work, Johnson maintains that as the ratio of fungi to bacteria increases, the soil biome becomes more efficient in utilizing carbon and other nutrients and that the soil therefore releases less CO2 to the atmosphere. The jury is still out, however. Although peer-reviewed soil science literature contains some confirmation, other findings in submerged, forested and subarctic soils—admittedly different circumstances—failed to confirm the relation."
"Dozens Of Nonnative Marine Species Have Invaded The Galapagos Islands" [NPR]. "[S]cientists have discovered that dozens of exotic species have invaded the Galapagos — underwater…. Ruiz says they found exotic species clinging to pilings, docks and mangrove roots. The researchers hung plastic plates underwater and all sorts of alien invertebrates latched on…. It's hard to tell where the invaders came from, [marine biologist Gregory Ruiz] says. But rising tourism in the Galapagos means more boats, docks and pilings — transportation and homes for invasives, wherever their initial source was…. Ironically, he adds, the author of the theory of evolution, Charles Darwin, may have contributed to the alteration of the Galapagos. Darwin's ship, the HMS Beagle, sailed there in 1835 after visiting what is now Brazil, Argentina, Chile and several other places — bringing with it, in most likelihood, alien invaders."
"The Worst Disease Ever Recorded" [The Atlantic]. "[Ben Scheele's team from the Australian National University] estimates that the [Bd—Batrachochytrium dendrobatidis in full—]fungus has caused the decline of 501 amphibian species—about 6.5 percent of the known total. Of these, 90 have been wiped out entirely. Another 124 have fallen by more than 90 percent, and their odds of recovery are slim. Never in recorded history has a single disease burned down so much of the tree of life. "It rewrote our understanding of what disease could do to wildlife," Scheele says….. In the new study, Scheele's team compares the modern world to Pangaea—the single, epic supercontinent that existed at the dawn of the dinosaurs. It has long split up, but humans have effectively re-created it. For wildlife diseases, all the world is once again a single connected mass, easily traversed. For that reason, new fungal diseases seem to be emerging at an ever-increasing pace." • More invaders.
"The Surprisingly Little-Known History of White Rice in Korea" [Food52]. "Korea was always a largely agricultural country. According to R. Malcom Keir, by the beginning of Japan's occupation, 75 percent of Korea's population was engaged in farming, with 94 percent of the arable land devoted specifically to rice fields. The Japanese catalogued over 1,400 varieties of rice indigenous to Korea at this time, but by the end of the occupation, virtually none of them would remain."
"Comprehensive Plant List" [Wild Seed Project (CI)]. "Wild Seed Project's recommended NATIVE PLANTS for Maine Landscapes. All species are adaptable to landscape and garden situations and once established, make lovely low-maintenance plantings. Species with an * are tolerant of tough urban and roadside conditions such as infertile soil and salt spray. A # indicates an American plant native south or west of Maine." • This is a terrific list! And when you say "low maintenance," you're singing my song!
Police State Watch
"Women Describe How A Columbus Vice Cop Pressured Them to Trade Sex for Rent" [The Appeal]. "Danielle [not her real name] had fallen behind on rent on her Columbus, Ohio, apartment a few years ago. She wasn't working at the time, and her boyfriend was away from home, living in a residential drug treatment program. She asked her landlord if there were any jobs she could do to defray the cost of rent. 'I started doing things like painting,' she said, picking up trash outside of different apartment complexes that he owned. Danielle said she was painting the kitchen in one of the other homes her landlord owned when he arrived. He stood close to her and asked, 'Have you ever considered, like, sending nude photos?"" • Spoiler alert: The landlord was a cop.
Health Care
"Nordic-style ventilation could reduce hospital-acquired infections" [PLOS One]. • If I understand this correctly, it makes no sense to mix fresh air with potentially contaminated air. Rather, fresh air should replace potentially contaminated air, drawn out through vents high up on the walls. HVAC mavens, please correct!
Black Injustice Tipping Point
"Court Rules Against City, Millions of Dollars Of Wealth Restored" [Kings County Politics]. "In a sweeping decision, Kings County Supreme Court Judge Mark Partnow yesterday ruled that the City of New York violated the U. S. Consitution in the seizure of six central Brooklyn properties, and ordered the city to give them back to their owners, restoring millions of dollars of intergenerational wealth in the black and Latino community." • As it turns out, however, the "intergenerational wealth" belongs to landlords, not unproblematic from some political standpoints.
Guillotine Watch
"Barbra Streisand says Michael Jackson's accusers were 'thrilled to be there' and his 'sexual needs were his sexual needs'" [New York Daily News]. • Oh.
"The bizarre story of the L.A. dad who exposed the college admissions scandal" [Los Angeles Times]. "[Morrie Tobin was] the suspected ringleader of a stock scam that defrauded investors of millions of dollars…. [A raid by federal agents] Tobin's very comfortable life. Faced with the prospect of years in prison and a seven-figure fine, the businessman flew to Boston to meet with the federal prosecutors handling the case. They offered him a standard deal." • But Tobin gave up Rudy Meredith, the Yale soccer coach he bribed on behalf of his daughter, which is how the Feds found ringleader Rick Singer, and skated. Nice people!
"Forget Bribery. The Real Scam Is Pretending That Degrees Have Value." [Bloomberg]. "As long as Ivy League alumni occupy positions of power, academic credentials will remain costly and scarce. Ongoing credential inflation is not evidence of a bubble about to burst, but a reflection of how successful the elites are at convincing the greater populace that degrees are valuable." • Because nobody's bribing coaches to get into MIT or CalTech, right?
Class Warfare
"'Those Who Obeyed the Rules Were Favored by Evolution'" [Der Spiegel]. "We humans exhibit a number of biological characteristics that are more typical of pets than of wild animals, including a very low rate of face-to-face aggression. The reason that I attribute our peaceableness to our having been domesticated is because we share with our pets and farm animals some of these other characteristics, which we now call a domestication syndrome….. if you look at our skeleton, you will find a lot of peculiarities that are characteristic of pets. Four of them stand out compared to our ancestors: a shorter face; smaller teeth; reduced sex differences, with males becoming more female-like; and, finally, a smaller brain. This latest development is particularly fascinating. In fact, the evolution of humans is naturally characterized by a continuous increase in brain size. But it turns out this trend has reversed in the last 30,000 years." • So, very smart pets. But whose "companion animal" are we?
"The case for capitalism" [Financial Times]. "Iversen and Soskice insist both views are wrong: democracy and the advanced market economy are symbiotic. This combination has, they argue in Democracy and Prosperity, proved astonishingly successful over the past century and, in all probability, will continue to be so. Their thought-provoking thesis has three core elements. First, the state is central… Second, in an advanced economy, the educated and the aspirational are a large and highly politically engaged element in the population. … Finally, the skills on which advanced businesses (and so advanced economies) depend are embedded in networks of people who live in specific locations. Companies are, as a result, quite immobile. Only the less skilled parts of their operations are footloose….. These arguments have radical implications. They imply that capital is far less footloose than some suppose: core activities are geographically specific, with each advanced democracy gaining from the skills of the others, via globalisation." • As moving our industrial base to China proves! Oh, wait….
"Sears cutting life insurance benefits for up to 90,000 retirees: report" [The Hill]. "The move comes months after a U.S. bankruptcy court approved Sears's request to pay as much as $25.3 million in bonuses to the company's top executives and high-ranking employees in December. The company had filed for bankruptcy months before."
"The US Military Is Creating the Future of Employee Monitoring" [Defense One]. "The U.S. military has the hardest job in human resources: evaluating hundreds of thousands of people for their ability to protect the nation's secrets. Central to that task is a question at the heart of all labor relations: how do you know when to extend trust or take it away? The office of the Defense Security Service, or DSS, believes artificial intelligence and machine learning can help. Its new pilot project aims to sift and apply massive amounts of data on people who hold or are seeking security clearances. The goal is not just to detect employees who have betrayed their trust, but to predict which ones might — allowing problems to be resolved with calm conversation [lol] rather than punishment. If the pilot proves successful, it could provide a model for the future of corporate HR." • Sounds like pre-crime?
News of the Wired
"Hidden flaws in common piece of lab kit could botch experiments" [Nature]. "The rapidly whirling magnets used to stir mixtures in laboratories the world over can carry contaminants that confound experimental results. Stirring bars — little magnetic beads coated in plastic — are often used for months or years…. The rapidly whirling magnets used to stir mixtures in laboratories the world over can carry contaminants that confound experimental results. Stirring bars — little magnetic beads coated in plastic — are often used for months or years." • Yikes!
"Duffel Blog guide to safe for work porn sites" [Duffel Blog]. "[W]e can point you in the right direction to enjoy some good-enough-for-now porn at sites the filter software doesn't block!" For example: "Workout and diet sites. You've got a job that requires you to be fit and healthy, so it's only logical that you'd be allowed to visit sites for exercise programs like Crossfit, P90X, and the like. Many of these sites don't just have pictures of hotties doing exercises in very little clothing, but also feature message boards where users can post before/after pics." • News you can use (and also the kernel for a zeitgeist feature on pr0nification).
"The DMV Reviewed Thousands of Hilarious Vanity Plate Applications Last Year. These Are Our Favorites" [Los Angeles Magazine]. "As one of the most diverse states in the Union, California contains an expansive lexicon of offensive, lewd, and inappropriate words and cultural references. (Californians speak at least 220 languages—that's 220 different ways to say 'poop.') But armed with Google Translate, Wikipedia, and Urban Dictionary, the DMV's sentries gamely manage to weed out profanity in multiple languages, coded Nazi symbolism, and obscure internet acronyms." • Reporting based on a public records request from the California DMV!
* * *
Readers, feel free to contact me at lambert [UNDERSCORE] strether [DOT] corrente [AT] yahoo [DOT] com, with (a) links, and even better (b) sources I should curate regularly, (c) how to send me a check if you are allergic to PayPal, and (d) to find out how to send me images of plants. Vegetables are fine! Fungi are deemed to be honorary plants! If you want your handle to appear as a credit, please place it at the start of your mail in parentheses: (thus). Otherwise, I will anonymize by using your initials. See the previous Water Cooler (with plant) here. Today's plant (WS):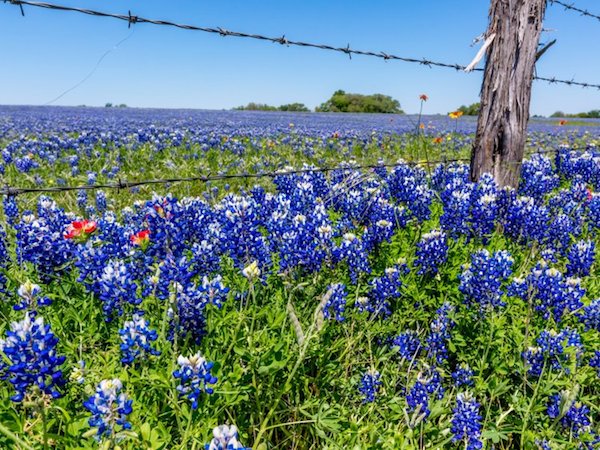 Via: "This year's Texas Bluebonnet & Wildflower Report predicted 'roadsides in bloom much earlier than normal and much earlier than fields.' The 'bloom-line' was predicted to reach San Antonio (roughly the same latitude as Big Bend) by mid-March or earlier." And I guess it's OK to break the rules about a level horizon, too, sometimes.
* * *
Readers: Water Cooler is a standalone entity not covered by the annual NC fundraiser. So do feel free to make a contribution today or any day. Here is why: Regular positive feedback both makes me feel good and lets me know I'm on the right track with coverage. When I get no donations for five or ten days I get worried. More tangibly, a constant trickle of small donations helps me with expenses, and I factor that trickle in when setting fundraising goals. So if you see something you especially appreciate, do feel free to click below! (The hat is temporarily defunct, so I slapped in some old code.)
Or Subscribe to make a monthly payment!