By Lambert Strether of Corrente.
Politics
"But what is government itself, but the greatest of all reflections on human nature?" –James Madison, Federalist 51
"They had one weapon left and both knew it: treachery." –Frank Herbert, Dune
2020
Buttigieg (D)(1): "Pete Buttigieg, Barack Obama, and the psychology of liberalism" [Ezra Klein, Vox]. "Buttigieg's rise has been unexpected and, to be honest, a bit weird. Young mayors of midsize cities don't typically vault ahead of talented presidential fields to poll third in Iowa and New Hampshire before they've even officially announced their campaigns. 'Candidly, I don't even know all the reasons why this is going so well,' Buttigieg told New York magazine. But there is a reason, and it's bound up in the psychology that attracts liberals to the word 'hope.'…. But this is still the Democratic Party that elected Barack Obama twice and that adores him today. A lot of liberals still want a candidate who sees the world the way Obama did, because that's the way they see the world, too." • I don't buy Klein's self-serving pop psychology distinction — you'll have to read the article — between "openness-minded liberals" and fearful, close-minded conservatives. Try mentioning Susan Sarandon in a Clinton forum if you want spectactular displayes of close-mindedness. Or Russia. (Oh, and "candidly." Plus "all the reasons." How about some of them?

Buttigieg (D)(2): "Buttigieg is the Democrats' flavour of the month. Just don't ask what he stands for" [Nathan Robinson, Guardian]. "Buttigieg represents the apex of a kind of "politics of demographic." … He's a man who checks all the right boxes. In fact, that's even how he pitches himself. Asked what sets him apart as a candidate, Buttigieg says: 'You have a handful of candidates from the middle of the country, but very few of them are young. You have a handful of young candidates, but very few of them are executives. We have a handful of executives but none of them are veterans, and so it's a question of: what do you want to have?" • "Alignment of attributes" sounds kinda McKinseyeque… But seriously, with [x] black [x] woman and [x] gay [x] youth both on offer, how on earth are we to choose? (And what kind of politics is this, anyhow? The concept that fitness for office, fitness for public service, is a straight readout from an "alignment of attributes"? Is there a nation on earth that has even used this logic? I suppose you could see it as a variety of sortition….)

UPDATE Buttigieg (D)(3) "Pete Buttigieg suggests national service program" [Politico]. "Democratic presidential candidate Pete Buttigieg on Monday night advocated a form of national public service for all young adults as a way to create unity among Americans. 'We really want to talk about the threat to social cohesion that helps characterize this presidency but also just this era,' the mayor of South Bend, Ind., told MSNBC's Rachel Maddow. 'One thing we could do that would change that would be to make it, if not legally obligatory, but certainly a social norm that anybody after they're 18 spends a year in national service.'" • It's festival of liberal Democrat fetishes! We've got unity! Random eligibility requirements! The Norms Fairy! And, naturally, the suppression of the real policy option here, a Jobs Guarantee.

UPDATE Buttigeig (D)(4): Reading The Shortest Way Home:

This is the conclusion he comes to? Wow! I hope he didn't study econ at Harvard pic.twitter.com/VgAeXpttyn

— Esha ??? (@eshaLegal) April 17, 2019

So, "innovation" was on the implanted chip. Smart move.

Gravel (D)(1):

.@QuinnipiacPoll @PollsterPatrick @jaselzer Mike Gravel just polled better than Kirsten Gillibrand + Jay Inslee in the new Emerson survey and tied Amy Klobuchar (https://t.co/RwFLtllkpf). Please start including him in polls!

— Mike Gravel (@MikeGravel) April 16, 2019

UPDATE Harris (D)(1): "Harris building support in South Carolina" [Politico]. "Sen. Kamala Harris is making inroads with elected officials and leaders in South Carolina ahead of her fourth visit to the crucial early-voting state this week — snagging the much-sought endorsement of former state Rep. Bakari Sellers on Monday… Harris has made early investments in the state given its central role in her fight for the nomination. Ahead of her presidential announcement — and before she and top surrogates began holding events across the state — Harris attended a gala for the nation's oldest black sorority, Alpha Kappa Alpha. Nearly 4 in 10 voters in the 2016 South Carolina Democratic presidential primary in the state were black women — and Harris has been working to lock down local endorsements…." • How'd that work out in 2016?

UPDATE Harris (D)(2): "Kamala Harris is crushing other 2020 Democrats in California fundraising" [McClatchy]. "Sen. Kamala Harris used her home-state connections to raise more than $4.3 million from California donors in the first three months of the year, far more than any of her Democratic rivals in the 2020 presidential race. All told, Californians accounted for 57 percent of the money Harris raised from donors who gave at least $200 from the time she launched her campaign in mid-January through the end of March, according to an analysis of newly filed financial reports."

Sanders (D)(1): "Bernie's clear lane to the Democratic nomination" [Matthew Walter, The Week]. "Sanders's willingness to go into the [FOX] lions' den shows that he already sees himself not as someone contending for the nomination of his party but rather as a de facto nominee pitching his ideas to the wider American public. This confidence puts him in a rhetorically advantageous position."" • I dunno. Picking out the White House drapes early in the race is never a good sign.

Sanders (D) (2):

Looks like President Trump is scared of our campaign. He should be.

— Bernie Sanders (@BernieSanders) April 17, 2019

Sanders (D)(3): "Bernie's a millionaire now. It doesn't matter." [Ryan Cooper, The Week]. "Nor is there any suggestion that Sanders would moderate his anti-plutocratic politics to benefit him personally. On the contrary, he promised to raise his taxes sharply in the statement accompanying the release of his returns: "I will continue to fight to make our tax system more progressive so that our country has the resources to guarantee the American Dream to all people." Indeed, Sanders would no doubt love to have had much higher taxes in the past so as to keep his wealth from getting even that high. As James Adomian's Sanders parody character put it in a video about him scrambling to finish his tax return: 'They are not taxing me at a high enough rate. Jane, is there any way we can pay an alternative maximum tax?' It would be wise for Sanders to make these points explicitly. So far he has been (as usual) a little prickly about his money, saying 'I didn't know it was a crime to write a good book.'" • My Father, a Depression-era child who remembered FDR, behaved exactly as the parody Sanders in real life.

Sanders (D)(4): FOX recap:

Bernie's Glorious Victory Moment On Fox News https://t.co/Wf8iXEX15w via @YouTube

— Jimmy Dore (@jimmy_dore) April 17, 2019

Non-Sanders supporters may find Dore's cheerleading excessive (though at least he's out front about it). But since I'm not a TV watcher, I also found Dore's "close reading" of the role played by the announcers interesting. I mean, of course the anchors have a producer yammering at them in their earbuds; but that isn't the first thing that occurs to me.

Sanders (D)(5): "For First Time, Major National Poll Shows Bernie Sanders at Top of 2020 Democratic Pack" [Common Dreams]. "Emerson's poll put Sanders in first place with 29 percent support, Biden in second with 24 percent, and South Bend, Indiana, Mayor Pete Buttigieg in third with nine percent." • Front-runner status isn't necessarily a good thing. But it would be sort of amazing of Sanders led out of the gate and won going away.

Trump (R): "There's a growing amount of evidence that Trump has a great shot of being reelected in 2020" [Business Insider]. "In mid-April back in 2011, shortly after Obama announced his reelection bid, his approval rating was hovering between 43% and 45%— right on Trump's current level…. The president raised $30 million in the first quarter of 2019 and has about $40 million in cash on hand. Sens. Bernie Sanders and Kamala Harris, who are leading Democrats in terms of money raised, raked in $18.2 million and $12 million respectively in the first quarter. At the same time, voters seem to overwhelmingly approve of Trump's handling of the economy, which also bodes well for him… A CNN poll from mid-March found 71% of Americans said the economy was in good shape. That was the highest percentage to express this view since 2001."

Warren (D): "My plan for public lands" [Elizabeth Warren, Medium]. "Any serious effort to address climate change must include public lands — fossil fuel extraction in these areas is responsible for nearly a quarter of all U.S. greenhouse gas emissions. The Trump administration, with its casual denial of science and apparent amnesia about massive crises like the BP oil spill, has also proposed opening nearly the entire U.S. coastline to seismic testing and offshore drilling…. on my first day as president, I will sign an executive order that says no more drilling — a total moratorium on all new fossil fuel leases, including for drilling offshore and on public lands. I'd also reinstate the methane pollution rule to limit existing oil and gas projects from releasing harmful gases that poison our air, and reinstitute the clean water rule to protect our lakes, rivers, and streams, and the drinking water they provide… As President, I will set a goal of providing 10% of our overall electricity generation from renewable sources offshore or on public lands. That's nearly ten times what we are currently generating." • Kudos to Warren, who is in there punching on policy.
2019
"Nancy Pelosi: Glass of Water Could Take Districts Like Alexandria Ocasio-Cortez's—'That's Not Where We Have to Win the Election'" [Newsweek]. • I guess Crowley wasn't a glass of water, then?

"Ocasio-Cortez admits bungling the Green New Deal rollout" [Dylan Stableford, Yahoo News]. "Ocasio-Cortez called the resolution itself 'very solid,' but conceded that competing documents — including an erroneous FAQ — were rolled out prematurely and 'muddied' the messaging surrounding it. That allowed opponents to mischaracterize what's in the plan…. 'It was done in a way that it was easy to hijack the narrative around it,' Ocasio-Cortez said in an interview with the Yahoo News podcast 'Skullduggery' on Sunday. 'It was too fast.'" • Or understaffed. I say be audacious!

But now there's this:

Climate change is here + we've got a deadline: 12 years left to cut emissions in half.

A #GreenNewDeal is our plan for a world and a future worth fighting for.

How did we get here?
What is at stake?
And where are we going?

Please watch & share widely ⬇️pic.twitter.com/IMCtS86VXG

— Alexandria Ocasio-Cortez (@AOC) April 17, 2019

(Interesting tie-in with Sunrise Movement, AOC, and The Intercept). Caveat that the GND is necessary but not sufficient.

UPDATE "Kentucky Republicans Worried Inviting AOC to Meet with Coal Miners Might Backfire" [GQ]. "Kentucky Republican congressman Andy Barr invited Ocasio-Cortez to come meet coal miners in his state 'who will tell you what the Green New Deal would mean for their families, their paychecks.' His concern, he said, is that the Green New Deal would phase out U.S. reliance on coal and fossil fuel, which would wreak havoc on the lives of people who work in those industries. Ocasio-Cortez accepted, saying she'd be 'happy' to go, adding that the Green New Deal was written to fund coal-miner pensions. 'We want a just transition to make sure we are investing in jobs across those swaths of the country,' she said. All in all, it seemed like an uncharacteristically cordial exchange for two members of Congress. And not even a month later, that cordiality is out the window: Barr has reportedly withdrawn his invitation, saying that Ocasio-Cortez has to first apologize to Texas representative Dan Crenshaw for a completely unrelated event before he brings her to meet with miners." • Ballsy move by Barr! (And can't AOC visit all on her own?)
Health Care
I hope Neera didn't hurt Topher:

If you'd like to have a constructive dialogue a good place to start would be to unblock the two top healthcare staffers who were responsible for drafting #MedicareForAll in the Senate.

— Warren Gunnels (@GunnelsWarren) April 17, 2019

Spiro being Economic Policy and VP, Health Policy, CAP.
Realignment and Legitimacy
No time to play. Readers?

Just updated with 2018 data: Our Global Indicators Database allows you to explore public opinion on key issues around the world, based on more than 500,000 interviews conducted in 64 countries. https://t.co/TxkyGheeUN

— Pew Research Center (@pewresearch) April 17, 2019
Stats Watch
MBA Mortgage Applications, week of April 12, 2019: [Econoday]. "Refinancing activity continued to ease from its great surge at the end of March…. Purchase activity has also benefited from lower rates but less dramatically."
International Trade, February 2019: "First-quarter GDP looks to get a major boost from improvement in the nation's trade deficit which, for February, came in…. much lower-than-expected" [Econoday]. "[T]he positives are more than just a technical calculation as exports, driven by aircraft, jumped 1.1 percent in the month on top of January's 1.0 percent gain." • Um, about those aircraft….
Wholesale Trade, February 2019: "The big build in wholesale inventories eased sharply in February which is good news for production balance but won't be giving any additional boost to first-quarter GDP" [Econoday].
The Bezzle: "Mark Zuckerberg leveraged Facebook user data to fight rivals and help friends, leaked documents show" [NBC]. "Facebook CEO Mark Zuckerberg oversaw plans to consolidate the social network's power and control competitors by treating its users' data as a bargaining chip, while publicly proclaiming to be protecting that data, according to about 4,000 pages of leaked company documents largely spanning 2011 to 2015 and obtained by NBC News… Facebook ultimately decided not to sell the data directly but rather to dole it out to app developers who were considered personal 'friends' of Zuckerberg or who spent money on Facebook and shared their own valuable data, the documents show." • Well, that's wonderfully clarifying.
The Bezzle: "Cruise control" [Reuters]. "Alphabet has direct investments in both Lyft, which listed its shares in March, and Uber, which has filed to do so soon…. The $848 billion company is at once a supplier, an investor and a rival to the two ride-hailing apps. Whichever wins the fight for investors' favor, Alphabet is the one that holds the keys."
Tech: "The $848 billion company is at once a supplier, an investor and a rival to the two ride-hailing apps. Whichever wins the fight for investors' favor, Alphabet is the one that holds the keys" [WaPo]. "A new YouTube tool for battling misinformation failed in a highly public way on Monday, wrongly linking video of the flaming collapse of the spire at Notre Dame Cathedral in Paris to the Sept. 11, 2001, terrorist attacks…. The 9/11 tragedy is a frequent subject of hoaxes, and the information panels were posted automatically, likely because of visual similarities that computer algorithms detected between the two incidents. YouTube began rolling out the information panels providing factual information about the subjects of frequent hoaxes in the past few months." • Well done, that algo!
Tech: Thread:
The latest Apple purposeful user sabotage: I have a fairly new Mac Air and a fairly old iPhone (5, I think). I made the mistake of updating to the latest version of MacOS. Now whenever I try to charge the phone from the Mac Air the phone keeps ringing a bell / not charging

— Rich Puchalsky Ⓐ (@RichPuchalsky) April 15, 2019
The only two platforms I know of that actually hate their users are Apple and Twitter, and I'm on both.
Honey for the Bears: "Bulging Stockpiles to Weigh on U.S. Growth Throughout the Year" [Bloomberg]. "Inventory accumulation added an average 1.2 percentage point to U.S. growth in the third and fourth quarters, government figures show, and were a key to the year's 3 percent expansion, the fastest since 2005 and President Donald Trump's annual goal. Reversing that buildup will trim growth in 2019, likely starting in the second quarter and continuing through the rest of the year, according to a Bloomberg News survey of 20 economists last week." • So, get it out of the way before the election…
The Biosphere
"CO2 levels at highest for 3 million years — when seas were 20 meters higher" [CNN]. "Using a new computer simulation, researchers at the Potsdam Institute for Climate Impact Research (PIK), in Germany, found that the last time the earth's atmosphere had a CO2 concentration as high as today's was during the Pliocene epoch, the geological period 2.6-5.3 million years ago… This research isn't the first to suggest that today's CO2 levels are the highest since the Pliocene, but the Potsdam researchers say their work is the first to combine ocean-floor sediment data with analysis of past ice volumes, and is more sophisticated than other model studies."
"Leading climate lawyer arrested after gluing herself to Shell headquarters" [Climate Home News]. "After decades working inside the law, international climate lawyer and diplomat Farhana Yamin charged through a police line, dived under the arms of an officer and superglued her hands to the pavement outside the London headquarters of oil company Shell…. Yamin is a legal expert who has advised various developing countries in climate negotiations and is an associate fellow at Chatham House. On Tuesday, she told Climate Home News that the Paris Agreement, which she helped negotiate in 2015, was 'not delivering.'" • Certainly an interesting (and courageous) tactic!
"Deciding on Geoengineering Will Be Harder Than Doing It" [Medium]. "At the UN Environment Assembly (UNEA) in Nairobi last month, we got a sneak preview of the future geopolitics of geoengineering as we followed events surrounding a draft resolution put forward by Switzerland. Hopes were initially high. The Swiss proposal was modest and was backed beforehand by a diverse group of countries, from Mexico to Montenegro. It did not call for a moratorium on or even a code of conduct for geoengineering. It simply proposed an expert study of the risks and benefits of geoengineering techniques, as well as ways each might be adequately governed. As alarm calls go, it was more of a cuckoo clock than a siren. It should have been an easy first step toward avoiding the free-for-all that Ban Ki-moon has warned against. But the negotiations collapsed almost before they had begun. Determined opposition, primarily from the United States and Saudi Arabia, killed the talks. After several days of fraught debate, the Swiss threw in the towel and withdrew the resolution." • As a foreign policy realist, I think it's dumb to get bent out of shape over Khashoggi. As a non-exterminationist, I think it's dumb not to get out of shape when carbon isn't left in the ground.
"World Atlas of Illicit Flows" [The Global Inititiative against Transnational Organized Crime]. "The illicit exploitation of natural/environmental resources, such as gold, minerals, diamonds, timber, oil, charcoal and wildlife, is the single-largest overall category of threat finance to conflicts today, estimated at 38% share of illicit flows to armed groups in conflict. When incomes from these natural resources are combined with their illicit taxation and extortion (26%) by the same non-state armed groups, the figure becomes as high as 64%."
"Groups sue Iowa, claim farm fertilizer runoff hurting Raccoon River, Des Moines drinking water" [Des Moines Register]. ""Iowans are tired of being told that our interests — our water, our health, our enjoyment of public waters, our drinking water, our pocketbooks — must be compromised or balanced with those of corporate ag and other industries willing to destroy our lives for profit," said Adam Mason, [Iowa Citizens for Community Improvement's] state policy director." • Now, if the Racoon River were a person, like Lake Erie…
"BP Funded Smarmy Opposition Ads Against Toledo's 'Lake Erie Bill of Rights' Ballot Initiative" [Cleveland Scene]. "With foreboding music in the background, the narrator said that 'outside special interests' were the ones behind pushing this Lake Erie environmental rights mess. Oh, the humanity! But in the ironies of all ironies, the ones that bankrolled the ads that bemoaned the 'outside special interests,' were in fact, 'outside special interests.' In post-election campaign finance filings released last week, it was revealed that nearly all of the smarmy ad funding came from a $302,000 donation from BP Corp. North America, affiliated with Houston-based BP America Inc., the subsidiary of one of the world's largest oil companies, formerly known as British Petroleum. You know, the one that caused the Deepwater Horizon oil spill in the Gulf of Mexico in 2010." • Good local reporting, here! Oh, and: "One more point: Markie Miller and Crystal Jankowski, both members of the Toledoans for Safe Water organization and originators of [putting Lake Erie personhood on the ballot], have been asked to address the United Nations in New York on April 22. Good for them." • Animism is the only form of religion that makes sense to me…
Health Care
Another in a continuing, never-ending series. Thread:
Fun medical billing story: I'm on a couple long-term meds — anti-depressant and a blood pressure med –that I get 90 day scripts for. Starting this year, my local pharmacy was for some reason only able to fill 30 days at a time, which was weird (1/x)

— Christopher Ingraham (@_cingraham) April 16, 2019
"Millions already lose or change health plans every year" [Axios]. "Critics and skeptics of "Medicare for All" worry about eliminating people's existing coverage because most people are relatively satisfied with their employer-based plans. But millions of workers and their families already switch or lose their insurance from their jobs… It's therefore reasonable to estimate at least 2 million workers and their families lose or transfer to new commercial health plans every month." • An argument Sanders made very successfully on FOX, as Jimmy Dore showed.
MMT
"Modern Monetary Theory, explained" [Vox]. The deck: "A very detailed walkthrough of the big new left economic idea." Notice the unself-conscious use of 'the left,' appropriate because, in general, liberal Democrats (e.g., Krugman) reject MMT (and embrace austerity). More: "The theory, in brief, argues that countries that issue their own currencies can never "run out of money" the way people or businesses can. But what was once an obscure 'heterodox' branch of economics has now become a major topic of debate among Democrats and economists with astonishing speed." • Grizzled veterans may quibble at "astonishing speed"; MMT's first mainstreamed idea, the Platinum Coin, as this data series shows, began in a blog post in 2010 and propagated to the blogosphere until 2013, at which point (due to the efforts of this blog, among others) it exploded. And that was six years ago. Still, it's good to see MMT treated in an even-handed way in Vox; here is a threaded critique from Rohan Grey.
The 420
"Police say missing marijuana eaten by mice" [Local 10]. • Sounds legit.
Our Famously Free Press
Very good advice:
As the #NotreDame fire is happening and people are starting to theorize the nuts and bolts behind the cause, please keep the following in mind (source: @onthemedia): pic.twitter.com/ap7QKiPGXb

— Megan Lavey-Heaton (@savvyliterate) April 15, 2019
Neoliberal Epidemics
"These 5 charts show inequality is bad for your health — even if you are rich" (charts) [MarketWatch]. From February, still germane: "'It's not just the poor who are affected by inequality, we're all affected by inequality. Our colleagues at the Harvard School of Public Health describe inequality as a social pollutant because it's like air pollution — you can't escape it, it's in the air, we all feel it,' [British epidemiologists Kate Pickett] said during a recent book talk at the Economic Policy Institute in Washington. [Pickett and British epidemiologist Richard Wilkinson] have written a new book called the 'Inner Level,' which focuses on wide-ranging psychological detriments from the experience of stark inequality, including feelings of inadequacy, depression, envy and other negative emotions. … 'What the research shows — not just ours but that of hundreds of researchers around the world — is that inequality brings out features of our evolved psychology, to do with dominance and subordination, superiority and inferiority, and that affects how we treat one another and ourselves, it increases status competition and anxiety, anxieties about our self worth, worries about how we are seen and judged,' [Pickett] said."
Guillotine Watch
"Tiger Woods and the Game of Life" [Thomas Friedman, New York Times]. "The biggest takeaway for me is the reminder of the truism that golf is the sport most like life, because it is played on an uneven surface and everything is on you." • Well, except for the parts that depend on other people. The Moustache of Understanding does not disappoint!
Class Warfare
"The world's largest hedge fund breaks down how the US workforce got screwed over the past 20 years" [Business Insider]. "The biggest driving factor behind soaring profits, Bridgewater reports, is the decline in the share of profit that workers receive. The decline in unionization among US workers, and to a lesser extent the advance of technology and outsourcing of jobs, are driving worker wages down." • It's almost like… class warfare.
"1 in 5 Bus Riders in New York City Evades the Fare, Far Worse Than Elsewhere" [New York Times]. • Maybe make public transportation de jure free, as opposed to de facto?
News of the Wired
"A struggle for the soul of theoretical physics" [Nature]. "The worry — expressed by a number of theorists and writers over several decades — is that theoretical physics has become a monoculture too focused on a small clutch of concepts and approaches. Those include string theory, overstated predictions of new discoveries, over-reliance on mathematical elegance as a guide and a general drift into what physicist and writer Jim Baggott, in Farewell to Reality (2013), called 'fairytale physics', divorced from its empirical base." • Sounds like macro. More: "The long experimental search for the Higgs [boson] was motivated by the fact that, before we accepted the existence of a quantum energy field that fills the whole Universe — part of the theory that predicted the particle — we demanded more evidence than 'it makes the maths come out right'. The need for evidence is even stronger if the argument is 'it makes the maths look beautiful'. The Universe might speak in numbers, but it uses empirical data to do so."
* * *
Readers, feel free to contact me at lambert [UNDERSCORE] strether [DOT] corrente [AT] yahoo [DOT] com, with (a) links, and even better (b) sources I should curate regularly, (c) how to send me a check if you are allergic to PayPal, and (d) to find out how to send me images of plants. Vegetables are fine! Fungi are deemed to be honorary plants! If you want your handle to appear as a credit, please place it at the start of your mail in parentheses: (thus). Otherwise, I will anonymize by using your initials. See the previous Water Cooler (with plant) here. Today's plant (Samuel Conner):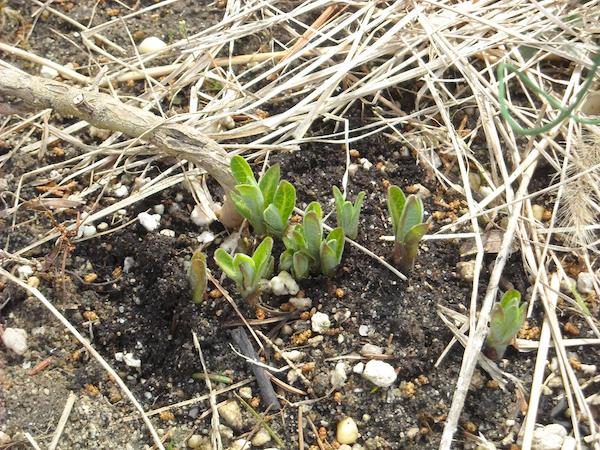 Conner writes:
"My 'prized' purple milkweed (a lot of effort trying to start from seed, with only two plants 'making it') was badly chewed by Monarch caterpillars last year and died back to nothing over the winter. To my relief, it did survive and in mid-April is poking out of the ground, with what seem to be well-formed leaves already on the stems as they break through the soil. There was only one major stalk last year, but there seem to be a half dozen growing up now. I hope to get blossoms and viable seed this year; will send updates as interesting things happen."
Always a great moment when a perennial pokes through the earth, especially one that is beneficial to insects. I look forward to the updates.
* * *
Readers: Water Cooler is a standalone entity not covered by the annual NC fundraiser. So do feel free to make a contribution today or any day. Here is why: Regular positive feedback both makes me feel good and lets me know I'm on the right track with coverage. When I get no donations for five or ten days I get worried. More tangibly, a constant trickle of small donations helps me with expenses, and I factor in that trickle when setting fundraising goals. So if you see something you especially appreciate, do feel free to click this donate button:
Here is the screen that will appear, which I have helpfully annotated. Because it's new and improved, I'll leave it up for a few days: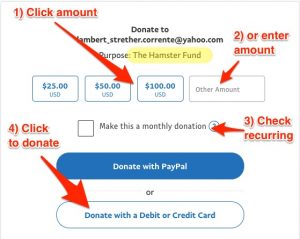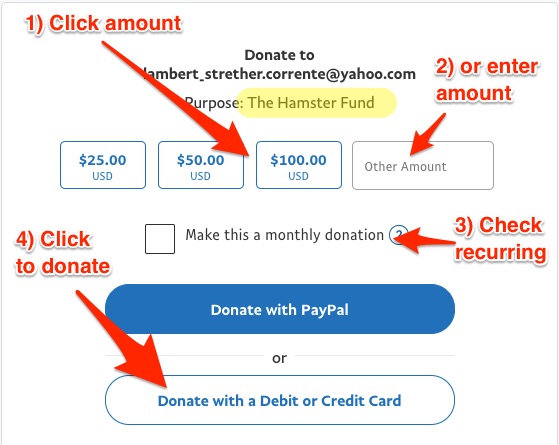 If you hate PayPal, you can email me at lambert [UNDERSCORE] strether [DOT] corrente [AT] yahoo [DOT] com, and I will give you directions on how to send a check. Thank you!