By Lambert Strether of Corrente.
Politics
"But what is government itself, but the greatest of all reflections on human nature?" –James Madison, Federalist 51
"They had one weapon left and both knew it: treachery." –Frank Herbert, Dune
2020
Biden (D) (1): Instigator of #MeToo:

I am proud to call Joe Biden a friend. He has been a leader and a champion on fighting violence against women for many years, and I have been fortunate to accompany him to events with survivors where he has listened to their stories, empathized with them, and comforted them. pic.twitter.com/cI0jsKlu3P

— Alyssa Milano (@Alyssa_Milano) April 2, 2019

What's remarkable in all this — and I suppose at this point by "remarkable" I mean "thoroughly predictable and to be expected" — is that so far as I can tell there's no difference — if you leave out the young girls — between what Al Franken did, and what Biden does (except of course that Franken supported #MedicareForAll, and Biden doesn't). Franken was defenestrated; Biden is not. It's almost like liberal Democrats, including the identity politics-flavored liberal Democrats, have no consistent principles whatever, which again is remarkable, consider the quantity and volume of virtue signaling they do.

Biden (D) (2): "Pelosi says Biden needs to respect people's personal space" [Politico]. "'I don't think it's disqualifying,' Pelosi said during a POLITICO Playbook interview, adding, 'He has to understand in the world that we're in now that people's space is important to them, and what's important is how they receive it and not necessarily how you intended it.'" • So, again, why does Biden get a free pass, but not others?

Biden (D) (3): "Joe Biden's 2020 Ukrainian nightmare: A closed probe is revived" [The Hill]. "Two years after leaving office, Joe Biden couldn't resist the temptation last year to brag to an audience of foreign policy specialists about the time as vice president that he strong-armed Ukraine into firing its top prosecutor…. But Ukrainian officials tell me there was one crucial piece of information that Biden must have known but didn't mention to his audience: The prosecutor he got fired was leading a wide-ranging corruption probe into the natural gas firm Burisma Holdings that employed Biden's younger son, Hunter, as a board member." • On Hunter Biden, see NC here and here (and anyone who can claim the attention of both Richard Smith and Michael Hudson must be quite a character).

Bloomberg (D): "Scoop: Mike Bloomberg might still run in 2020" [Axios]. "Michael Bloomberg [(77)]might still run for president in 2020, especially if former Vice President Joe Biden winds up not getting in, according to people who have discussed the matter with the former New York mayor…"

Booker (D): "Cory Booker lines up support in the financial industry to help him raise cash for 2020" [CNBC]. "Sen. Cory Booker, D-N.J., is dipping into his pool of financial industry donors as he looks for a fundraising edge in the early goings of the 2020 presidential race… Booker's connections to wealthy and influential donors could give his campaign an advantage over Democratic primary rivals who don't have similar relationships with players in the business world." • Wink wink nudge nudge.

O'Rourke (D) (1): "'Illuminating Exchange on Health Care' Reveals Beto Doesn't Think Insurance Industry Motivated by Greed" [Common Dreams]. "[A]n audience member [in Iowa] asked O'Rourke for more concrete policy ideas. 'So the greed has to stay in the insurance industry in your opinion?' asked the man. 'I don't see it as a function of greed,' said O'Rourke." • Beto's standing in something again….

UPDATE O'Rourke (D) (2): Looks like those new Clinton staffers are already making their presence felt:

Let us be clear: we will not be defined by our fears or the smallness of our differences; we will instead be known by our ambitions, our aspirations and the resolve, the creativity, the service and sacrifice by which we will have achieved them.

— Beto O'Rourke (@BetoORourke) March 30, 2019

Sanders (D) (1): This is good, actually:

Bernie Sanders on eliminating private health insurance: "get rid of the insurance companies"https://t.co/96QSsI7QZH pic.twitter.com/yzkWfOGN8J

— RNC Research (@RNCResearch) March 27, 2019

Even if Neera and her BFF, Beto, agree with the RNC.

UPDATE Sanders (D) (2): "Sanders leads poll of young Democrats by double digits" [The Hill]. "Thirty-one percent of likely voters between 18 and 29 years old surveyed by Harvard University's Institute of Politics said they prefer the Vermont lawmaker in a hypothetical primary. Former Vice President Joe Biden was the first pick of 20 percent of respondents, while former Rep. Beto O'Rourke (D-Texas) received 10 percent of the support. No other candidate received more than 5 percent. The youth vote has plenty of time to shift though, as 20 percent of the likely voters said they remain undecided."

Warren (D): "Koch Brothers Launch Ads to Push Back on Warren's Antitrust Campaign" [Inside Sources]. "The Koch-backed Americans for Prosperity (AFP) just announced an ad campaign lampooning 2020 presidential hopeful Elizabeth Warren's tech antitrust plan, begging senators not to make antitrust a political issue.' Warren responds:

Oh look—the Koch brothers don't like my ideas. Apparently they're horrified about any effort to try and rein in the economic and political power of giant corporations. I'm shocked. https://t.co/GAAYV4YIMB

— Elizabeth Warren (@ewarren) March 28, 2019

We'll see how Warren's message resonates; I prefer to look through "giant corporations" to real persons with names and addresses, which is why "the billionaire class" resonates with me.

"Too Many Democrats Are Running in 2020, According to Science" [Politico (RH)]. "like a music festival where you can have a hard time choosing among all the bands with competing time slots, a surplus of candidates will give Democratic voters what behavioral scientists like me call "choice overload." Simply put, having too many choices can make it harder to make a decision, and this is likely to have a profound—profoundly negative—effect on the 2020 campaign." • I don't understand this, even if the author is from Hill+Knowlton. What's "negative" about a brokered convention decided by superdelegated?

IA: "Warren, Klobuchar agree on breaking up Big Ag" [Associated Press]. "Targeting monopolies was a key part of the agriculture policy Warren rolled out this week, which included a handful of proposals aimed at helping family farmers compete in a market increasingly saturated by major corporations. Klobuchar and former Maryland Rep. John Delaney, another White House hopeful who attended the forum, also rolled out rural-focused policies this week. Klobuchar announced a $1 trillion infrastructure plan that would help expand access to rural broadband and strengthen roads and bridges. Delaney offered a comprehensive rural plan that included proposals to strengthen family farmers and rural infrastructure."
2019
Disintermediate the DCCC:

The @DCCC's new rule to blacklist+boycott anyone who does business w/ primary challengers is extremely divisive & harmful to the party.

My recommendation, if you're a small-dollar donor: pause your donations to DCCC & give directly to swing candidates instead.

Some great ones:

— Alexandria Ocasio-Cortez (@AOC) March 30, 2019
2016 Post Mortem
UPDATE [sings] "Two grifters, off to see the world…"

The Clinton Foundation revenues drop precipitously:
2015: $299M
2017: $59M

? It is almost as if, absent the allure of White House access, the global oligarchy lost interest in charity. https://t.co/6jbTAR5o9P pic.twitter.com/TX3KVPhIru

— ? Clark Feels The Bern (@Clarknt67) March 30, 2019
Health Care
"Pelosi aide sought to undercut Medicare for All" [Politico]. "Wendell Primus, Pelosi's senior health policy adviser and a long respected voice on health and domestic policy… dismissed Medicare for All during the private session as an unhelpful distraction, according to four people in the room and two people briefed on the meeting, and he expressed a need for more scrutiny of single-payer's policy implications. Some of those six sources interpreted it as a request for data and economic analysis, but others saw it as a harder-edged invitation to discredit the idea, or at least amplify its risks." • As I keep saying, preventing #MedicareForAll is the liberal Democrat leadership's #1 policy goal. It doesn't matter what they say in public, where they're already walking back their putative support in any case.
Realignment and Legitimacy
UPDATE I don't go to Whole Foods any more, so no:

"'It Just Went Poof': The Strange Aftermath of Virginia's Cascade of Political Scandals" [New York Times]. "In the space of a week in early February, the public was stunned by revelations about each of the three highest statewide elected officials, all Democrats: the racist photo in the governor's yearbook; accusations of sexual assault against the lieutenant governor; and the attorney general's appearance in blackface at a party in college…. And then? "It just went poof," said Natalie Draper, a librarian sitting in the back of a coffeehouse last week in Richmond. 'It's like it never happened.'…. But the idea of trying to raise money and hold rallies while spurning the three highest officeholders in the state came to be seen by many Democrats as just a needless handicap."• No doubt Biden is banking on the same thing. More: "'Don't apologize, move on, and everybody will talk about something else next week,' is how Ben Tribbett, a Democratic strategist, described it. 'Maybe we've been doing it wrong over the last 100 years."" • Those Democrat strategists…

"The Intergenerational Effects of a Large Wealth Shock: White Southerners After the Civil War" [NBER]. From the abstract: "White southern households with more slave assets lost substantially more wealth by 1870 relative to households with otherwise similar pre-War wealth levels. Yet, the sons of these slaveholders recovered in income and wealth proxies by 1880, in part by shifting into white collar positions and marrying into higher status families. Their pattern of recovery is most consistent with the importance of social networks in facilitating employment opportunities and access to credit." • Especially if you file "the Klan" under the "social networks" rubric. Maybe if the source of reparations were targeted in some way?
Stats Watch
Durable Goods Orders, February 2019: "However strong yesterday's ISM report for March was, today's durable goods report for February shows more weaknesses than strengths" [Econoday]. "Reflecting an expected cooling for aircraft, durable goods orders fell… Shipments of core capital goods (nondefense ex-aircraft) are also soft, coming in unchanged but following a surge in January. … Weakness in core capital goods shipments will limit expectations for first-quarter business investment." And: "In the adjusted data, the weakness was defense and civilian aircraft. This series has wide swings monthly so our primary metric is the unadjusted three-month rolling average – which declined. The rate of growth of the rolling averages is below the values seen over the last year" [Econintersect]. "Note that inflation-adjusted new orders are in contraction."
Coincident Indexes: "Philly Fed: State Coincident Indexes increased in 38 states in January" [Calculated Risk]. "In the past month, the indexes increased in 38 states, decreased in seven states, and remained stable in five."
Finance: "Wall Street Is Getting Cut Out of Bond Market It Long Dominated" [Bloomberg]. "The banks that have stood in the middle of the corporate bond market for decades are increasingly getting pushed aside. Eectronic marketplaces like MarketAxess Holdings Inc., Tradeweb Markets LLC and Liquidnet Holdings Inc. say that more of the company bond trades that happen on their platforms are between investors directly, without banks necessarily being involved. Known as all-to-all trading, this shift may weigh on revenues for banks that have long profited from being either buyers or sellers in just about every trade in the $9.2 trillion market."
Finance: "Private-equity tricks mask mounting debt: 'I'm 5 feet 8 inches, but I change the scale and make myself 6 feet 2 inches on a pro forma basis'" [Business Insider]. "The industry is rife with overestimates, a worrying sign that in some cases has seen credit as a percentage of the transaction ramp up to more than 30%… '"If you start seeing people not generating cash flow and not deleveraging, particularly in their first two years, I'd start worrying," [Lavine told the FT].
Retail: "Reis: Regional Mall Vacancy Rate increased Sharply in Q1 2019" [Calculated Risk]. "In the mid-'00s, mall investment picked up as mall builders followed the "roof tops" of the residential boom (more loose lending). This led to the vacancy rate moving higher even before the recession started. Then there was a sharp increase in the vacancy rate during the recession and financial crisis. Recently both the strip mall and regional mall vacancy rates have increased from an already elevated level."
Retail: "Walgreens lowers 2019 expectations after 2Q forecast miss" [Associated Press]. "Walgreens slashed its 2019 forecast and missed second-quarter expectations with a performance that sent its shares plunging Tuesday and helped knock down the Dow Jones Industrial Average. Company leaders told analysts that challenges they had been expecting like reimbursement cuts and lower price increases for branded drugs hit Walgreens much sooner than they anticipated."
Retail: "Subway Closings Accelerate as Cold-Cuts Fail to Draw In Diners" [Bloomberg]. "While closely held Subway has been retrenching in the U.S. for years now as Americans forgo the Italian foot-longs that once felt like a healthier alternative to traditional fast-food, the shutdown rate quickened in 2018. The entirely franchised chain lost more than 1,100 total shops in the U.S., compared with about 800 in 2017. That marks the third straight year of a shrinking domestic store count."
Marketing: "A startup is putting ads inside Ubers and Lyfts" [Digiday]. • Because of course they are.
The Bezzle: "On-Demand Startups Are Hemorrhaging Tens of Billions a Year" [Bloomberg]. "The on-demand industry probably lost around $30 billion in 2018. That's a guesstimate—even the companies own pre-IPO financial disclosures may overstate or understate the full amount of cash out the door. I plan to revisit this number when we have more clarity later in the year. Of course, all these companies are deliberately spending profligately now to build their brands and win over dense populations of customers, so that in the future they can be more efficiently served. This is the exact playbook that once worked for Amazon.com." • Hmm. I dunno. There's no need for more than one or two AWSs.
The Bezzle: "The Publicist Who Dreads Getting Caught for Her Illegal Airbnb" [The Cut]. "We Airbnb our apartment whenever we leave town or go home to visit our parents. It's a studio with two queen beds and a sectional couch. I don't know why Airbnb approved it because it's definitely not legal. ." • "Got lucky," lol. Regulatory arbitrage is AirBnB's business model.
Tech: "Moral Crumple Zones: Cautionary Tales in Human-Robot Interaction" [Engaging Science, Technology, and Society]. "As debates about the policy and ethical implications of AI systems grow, it will be increasingly important to accurately locate who is responsible when agency is distributed in a system and control over an action is mediated through time and space. Analyzing several high-profile accidents involving complex and automated socio-technical systems and the media coverage that surrounded them, I introduce the concept of a moral crumple zone to describe how responsibility for an action may be misattributed to a human actor who had limited control over the behavior of an automated or autonomous system. Just as the crumple zone in a car is designed to absorb the force of impact in a crash, the human in a highly complex and automated system may become simply a component—accidentally or intentionally—that bears the brunt of the moral and legal responsibilities when the overall system malfunctions." • When you think of liability issues with robot cars, for example, yes, that's exactly what would happen.
Tech: "Researchers find mountains of sensitive data on totalled Teslas in junkyards" [Boing Boing]. "Two pseudonymous security researchers called GreenTheOnly and Theo recovered "hundreds" of wrecked Teslas from scrappers and junkyards and systematically investigated the data left behind on the cars…. Teslas are incredibly data-hungry, storing massive troves of data about their owners, including videos of crashes, location history, contacts and calendar entries from paired phones, photos of the driver and passengers taken with interior cameras, and other data; this data is stored without encryption, and it is not always clear when Teslas are gathering data, and the only way to comprehensively switch off data-gathering also de-activates over-the-air software updates for the cars, which have historically shipped with limited or buggy features that needed the over-the-air updates to fix them. Tesla has a history of being secretive about the data its cars collect."
Tech: "The CEO behind 'Fortnite' says it's 'evolving beyond being a game' and explains the company's ambitious vision" [Business Insider]. "'We see that as 'Fortnite' evolves, it's evolving beyond being a game,' said [Epic Games CEO Tim Sweeney]. He says 'there'll be more and more interesting things happening in that world' that will allow it to 'evolve in ways that previous games haven't.'" • I'll say it again: At some some, a political campaign is going to be smart enough to get its avatar into this world.
Tech: "Google's Inbox by Gmail service is about to shut down for good. Here are 19 other Google products that bombed, died, or disappeared." [Business Insider]. "Google Reader was a news-reading app that let users pull in stories from blogs or news sites. Google announced it was shutting down Reader in March 2013 — much to users' dismay and outrage — and it was officially killed in July 2013." • Monsters.
Manufacturing: They've got a point:
everyone talking shit abt the 737 max requiring a paid upgrade to not crash/explode, but I think it's cool as hell. boeing is pushing the freemium pricing model to its natural conclusion and I respect them for doing so

— stool disliker (@KrangTNelson) March 29, 2019
Transport: "New York will be the first US city to charge drivers to enter its busiest areas" [Quartz (SlayTheSmaugs)]. "The plan was sharply criticized by the taxi industry as a devastating price increase that would further disadvantage drivers already struggling to keep pace with changes wrought by Uber. Nine for-hire drivers in New York City have died by suicide since late 2017, with the most recent death reported on March 24. Congestion pricing will also make deliveries into Manhattan more expensive, which will likely trickle down to consumers in the form of price increases. Uber and Lyft are now pushing for a similar toll in Seattle as an alternative to a specific tax on ride hailing."
The Biosphere
"Restoring natural forests is the best way to remove atmospheric carbon" [Nature]. "Keeping global warming below 1.5 °C to avoid dangerous climate change1 requires the removal of vast amounts of carbon dioxide from the atmosphere, as well as drastic cuts in emissions…. Keeping global warming below 1.5 °C to avoid dangerous climate change1 requires the removal of vast amounts of carbon dioxide from the atmosphere, as well as drastic cuts in emissions… [U]nder current plans… almost half of the pledged area is set to become plantations of commercial trees. , which develop with little or no disturbance from humans. . To stem global warming, deforestation must stop. And restoration programmes worldwide should return all degraded lands to natural forests." • To put this in starker terms, you've got to remove capital from the reforestation equation, since that's where the harvesting requirement comes from.
Australian eucalyptus trees. Thread:
Meet Australia's biggest River Red Gums, ranked as measured by trunk girth, height and canopy spread.

#10 Charleston Tree' near Charleston in the Mount Lofty Ranges of South Australia. 12.0 m trunk circ, 42 m tall, 28 m spread, for 632 total points. ? Dean Nicolle #EucBeaut pic.twitter.com/E1JsY7XzIy

— Eucalypt Australia (@EucalyptAus) April 1, 2019
"Ancient 'Snowball Earth' thawed out in a flash" [Science]. "More than half a billion years ago, our planet was a giant snowball hurtling through space. Glaciers blanketed the globe all the way to the equator in one of the mysterious 'Snowball Earth' events geologists think occurred at least twice in Earth's ancient past. Now, scientists have found that the final snowball episode likely ended in a flash about 635 million years ago—a geologically fast event that may have implications for today's human-driven global warming. The ice, which built up over several thousand years, says Shuhai Xiao, a paleobiologist at Virginia Polytechnic Institute and State University in Blacksburg who was part of the team that made the discovery. That's the blink of an eye in our planet's 4.56-billion-year history, suggesting the globe reached a sudden tipping point." • Funny to imagine a civilization based entirely on ice; no wonder there are no records!
"A Framework for Climate Action in the US Congress" (PDF) [Paul Tonko, Chair, House Environment & Climate Change Subcommittee]. "We agree that climate change is real. We agree humans are driving it. We agree that we need to build solutions that meet the scale and urgency of the crisis we face. The principles outlined in this document are meant to provide a framework that moves the lines of our agreement forward and helps us build a comprehensive national climate action plan together." • I don't know Tonko. Would any readers more knowledgeable about the politics of climate changer than I am care to comment?
"Tips for visiting super-bloom sites. And please, don't kill the poppies" [Los Angeles Times]. "The spaces [between plants] are tempting for visitors who think it's OK to squeeze in because there are no flowers to harm. But adding your feet (or your butt) to the bald spot compacts the soil, kills the fragile roots of nearby poppies, and ensures new ones won't grow there. 'Walking near the flowers for photos will kill the plants,' park interpreter Jean Rhyne yells to visitors as she walks along the reserve's trails." • In other words, don't act like a [family blogging] influencer. I was taught never to walk on soil in the beds at all, for just these reasons.
Dear Old Blighty
Because it is all her fault:
interviewed as a swimming instructor the other day, they asked what my favourite stroke is. apparently "the one that killed margaret thatcher" isn't the answer they were looking for. https://t.co/1emxApap87

— ? (@goIdgIoss) March 27, 2019
Neoliberal Epidemics
"What Loneliness Does to the Human Body" [The Cut]. "The bodies of lonely people are markedly different from the bodies of non-lonely people. Prolonged loneliness, [Brigham Young University psychology and neuroscience professor Julianne Holt-Lunstad] says, 'can put one at risk for chronic health conditions, exacerbate various health conditions, and ultimately put us at increased risk for premature mortality.'" Interestingly: "[Holt-Lunstad] helped usher in new legislation designed to make hearing aids more affordable, since hearing loss is a risk factor for social isolation and loneliness, especially for older adults."
"The share of Americans not having sex has reached a record high" [WaPo]. "The share of U.S. adults reporting no sex in the past year reached an all-time high in 2018, underscoring a three-decade trend line marked by an aging population and higher numbers of unattached people. But among the 23 percent of adults — or nearly 1 in 4 — who spent the year in a celibate state, a much larger than expected number of them were 20-something men. The portion of Americans 18 to 29 reporting no sex in the past year more than doubled between 2008 and 2018, to 23 percent…. ince 2008, the share of men younger than 30 reporting no sex has nearly tripled, to 28 percent. That's a much steeper increase than the 8 percentage point increase reported among their female peers." • Hmm.
"Stop Calling It 'Casual Sex'" [Ella Dawson]. "I wanted to, y'know, talk a little, even if only in the service of more sex. It would take me years to understand why such a simple concept was a challenge for two thousand arrogant nincompoops at a college rated the horniest school in the US. We had no idea how to talk to our sexual partners. No one ever taught us how…. I wish I'd known sooner that the careless is the enemy of the good."
Class Warfare
"Meet the People Coding Our World" [One Zero]. Important:
Do you foresee we'll someday have the equivalent of "organic" tech, or a "slow" tech movement?

Bulletin board services. If you and I discover that we're both into Toyota Corollas, we can go into any number of free bulletin board services. It costs pennies a month to run, so we don't need ads or to make money. It's just for fun. Every time I talk to people and ask what they do online, they'll say Instagram, Facebook, etc. But when I ask what they really like doing online, their eyes light up when they talk about some weird forum they belong to. These aren't optimized for engagement, so they have the normal pain-in-the-ass problems of dealing with humans, but not abnormal problems.

So, in one sense, yes, this will exist; . Anytime the hand of the marketplace gets involved, you really start to torque up into the idea that we need scale, which means we need engagement, which means we need algorithms to find the best things to look at, which means toxic garbage and extreme utterances get pushed to the top. I've been asking some of the top thinkers how to design a large social network that doesn't fall into those problems, and no one has a good answer.
Readers, are any of you still on bulletin boards?
Beware of squillionaires with bright ideas:
Good morning! This is a great Sunday read: "A new sort of American messianic religion has gathered in Silicon Valley under a techno-futurist banner emblazoned with one word: 'Singularity.'https://t.co/d5MTIfGC6B

— Flavia Dzodan (@redlightvoices) March 31, 2019
"When Socialism Was Tried in America—and Was a Smashing Success" [The Nation]. "'Someday' was dramatically delayed by the results of the 1932 elections. The Socialist ticket did well, securing almost 900,000 votes nationwide and registering its highest percentage of the total vote in Wisconsin. The winner of that year's race, Democrat Franklin Delano Roosevelt, took notice: He met with Thomas after the election and borrowed liberally from proposals that had long been championed by the Socialists—for a Social Security system, unemployment compensation, strengthened labor unions, and public-works programs. Roosevelt's New Deal took the wind out of the Socialist Party's sails in the national arena, but the party remained a force in Milwaukee for decades to come."
"Where in The U.S. Are You Most Likely to Be Audited by the IRS?" [Pro Publica]. Handy map: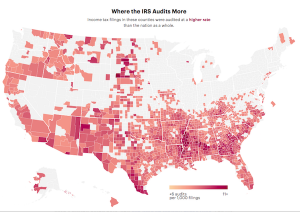 "[T]he IRS audits EITC recipients at higher rates than all but the richest Americans, a response to pressure from congressional Republicans to root out incorrect payments of the credit…. The states with the lowest audit rates tend to be home to middle income, largely white populations: places like New Hampshire, Wisconsin and Minnesota. Generally, the IRS audits taxpayers with household income between $50,000 and $100,000 the least."
News of the Wired
"A Historical Treasure Bordering Ancient Mesopotamia" [CNRS News]. "In Iraqi Kurdistan, excavations carried out by a French archaeological mission have revealed an ancient city on the site of Kunara….. One morning in 2015, the ground beneath these structures that date back multiple millennia offered new surprises. "One of our partners said breathlessly 'We found a tablet!'" Tenu recalls, filled with emotion. It was followed by dozens and dozens of others, in the shape of small clay rectangles approximately 10 centimetres on each side. They were all inscribed with closely-spaced cuneiform signs…. The first tablets found in a building of the lower city, register a large number of entries and departures of flour," [researcher Aline Tenu] continues. 'It was actually a kind of flour office," [he] adds, 'in all likelihood for the benefit of the 'Ensi' of Kunara.'" • In 4000 years, our digital storage devices won't be nearly as legible as clay.
Alert reader RH sends in "Five minutes of dissonant music":
It's got a good beat and you can dance to it!
* * *
Readers, feel free to contact me at lambert [UNDERSCORE] strether [DOT] corrente [AT] yahoo [DOT] com, with (a) links, and even better (b) sources I should curate regularly, (c) how to send me a check if you are allergic to PayPal, and (d) to find out how to send me images of plants. Vegetables are fine! Fungi are deemed to be honorary plants! If you want your handle to appear as a credit, please place it at the start of your mail in parentheses: (thus). Otherwise, I will anonymize by using your initials. See the previous Water Cooler (with plant) here. Today's plant (JU):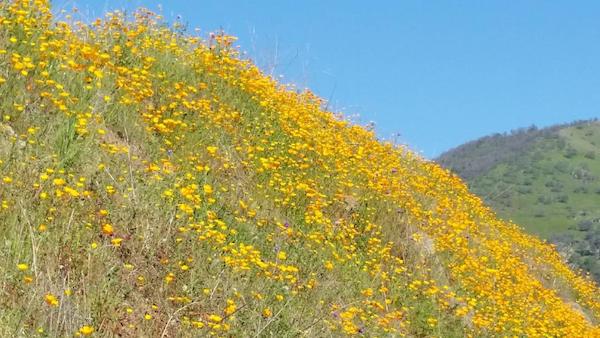 JU writes: "A hillside view of golden poppies."
* * *
Readers: Water Cooler is a standalone entity not covered by the annual NC fundraiser. So do feel free to make a contribution today or any day. Here is why: Regular positive feedback both makes me feel good and lets me know I'm on the right track with coverage. When I get no donations for five or ten days I get worried. More tangibly, a constant trickle of small donations helps me with expenses, and I factor in that trickle when setting fundraising goals. So if you see something you especially appreciate, do feel free to click this donate button:
Here is the screen that will appear, which I have helpfully annotated. Because it's new and improved, I'll leave it up for a few days: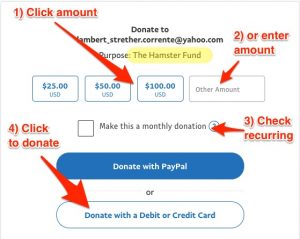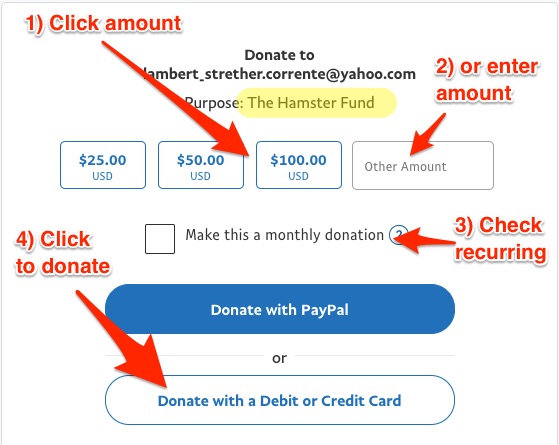 If you hate PayPal, you can email me at lambert [UNDERSCORE] strether [DOT] corrente [AT] yahoo [DOT] com, and I will give you directions on how to send a check. Thank you!