A Rare Bald Eagle Trio—Two Dads and a Mom—Captivates Webcam Fans Audobon (Timotheus)
Two Adorably Adventurous Cats Travel All Around Japan with Their Human My Modern Met. So cute!
Norway finds 'Russian spy whale' off Arctic coast BBC
The impact of the 'open' workspace on human collaboration Philosophical Transactions of the Royal Society (David L). From last year, still important.
Bart Chilton, former CFTC commissioner, 1960-2019 Financial Times (Scott)
Why Your Gas Mileage May Be Declining Forbes (David L)
Nicola Sturgeon declares 'climate emergency' at SNP conference BBC (martha r). Nicola Sturgeon continued to look like the most serious politician in the UK…but that's an awfully low bar.
Before raid, 'seasteaders' planned floating resort off Thailand Reuters
Summer Bummer: A Young Camper's $142,938 Snakebite NPR (David L)
A chronic fatigue syndrome blood test can finally prove people really do suffer from the mystery disorder, study says Daily Mail. Funny, a friend who had chronic fatigue consumed a lot of salt on her MD's advice and said it helped her.
Study estimates 15,000 cancer cases could stem from chemicals in California tap water CNN (David L)
China?
Huawei tech would put UK-US intelligence ties at risk, official says Guardian

The New Silk Roads reach the next level Asia Times (Kevin W)
Brexit
'Danger of doing a deal': Hunt warns May Brexit agreement with Labour could alienate more Conservative MPs Telegraph. Honestly, there isn't a deal to be done unless the Government decided to go for pure optics, since some of the things Labour wants will never fly with the EU
"Deutschland könnte Trumps Lieblingsland werden" Bild. Talk is cheap.
5 takeaways from Spain's election Politico
Spain bans Catalonia's ex-leader Puigdemont from EU vote DW
Trump Transition
Dems want climate change, tax hikes in infrastructure deal The Hill
2020
Chicago prosecutor Kim Foxx subpoenaed over Jussie Smollett Daily News (furzy)
The 2019 Election That Should Have Hedge Funds And Wall Street Worried Huffington Post (Tom F)
Fake News
Rachel Maddow slams YouTube for recommending RT YouTube (EDH). A bit agitated but the points are sound.

Facebook's newest 'fact checkers' are Koch-funded climate deniers ThinkProgress
737 Max
Boeing Signals Additional Software Problem Affecting 737 MAX Airliners Wall Street Journal. I had to resist the urge to write this up, since NC has been giving a big dose of Boeing coverage. But I also hesitated because the story doesn't make sense, as in there must be some missing pieces that the reporters couldn't get their hands on. From the Journal:

Boeing Co. on Monday said certain safety alerts on its 737 MAX jets didn't operate as airlines would have anticipated because of a previously undisclosed error on its part….

Before Monday, neither Boeing nor the Federal Aviation Administration had disclosed that an additional software glitch—rather than an intentional plan by the plane maker—rendered so-called angle of attack alerts inoperable on most MAX aircraft.

How is it that a software problem shows up on most but not all 737 Maxes? That suggests that there were differences in hardware elements, since you'd expect software to operate the same way on all planes if the relevant hardware components were identical. Am I missing something?

Major Boeing customer threatens to switch to Airbus Financial Times

Boeing safety system not at fault, says chief executive BBC

Boeing boss rejects accusations about 737 Max jets that crashed Guardian (Kevin W)
Alphabet drops after reporting ad revenue slowdown CNBC
Farmer Income Drops Most Since 2016 as Trade War Losses Mount Bloomberg
Tesla Discloses Record Pollution Credits for Q1: Without Them, it Would Have Lost $918 Million and Bled $1.14 Billion in Cash Wolf Street (EM)
Why You Should Be Worried About Tech's Love Affair With NDAs Fortune (Dr. Kevin)
Class Warfare
Antidote du jour (martha r):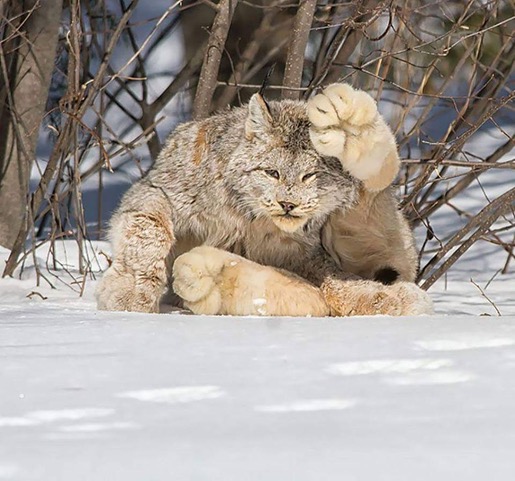 And a bonus, again from martha r:
Family of harmless black bears? pic.twitter.com/3NXjm9RVxr

— NativeAmericanSoul (@Nativeesoul) April 29, 2019
See yesterday's Links and Antidote du Jour here