Spoiler alert: No. (Normally, I deprecate humanizing nicknames for political figures. Sanders, not "Bernie"; O'Rourke, not "Beto"; Clinton, not "Hillary," let alone mi abuela. But with "Mayor Pete" there's a remote possibility of a better search ranking. So sue me.)
Let's start with a recap of the Q1 Democrat fundraising figures just released. A couple of days ago, I published this table summarizing them, flagging them Buttigieg's spending as (eyebrows raised) "extremely frugal" (Buttigieg having spent less than a million in his "meteoric rise").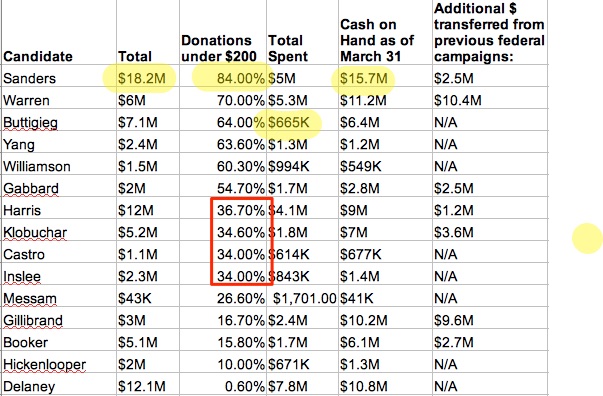 In this post, I want to raise two questions for the consideration of reportorial or analytical forces greater than my own: (1) Do the figures show that Buttigieg's donors are small? (2) Do the figures show that Buttigieg's campaign is frugal?
Do the Figures Show that Buttigieg's Donors Are Small?
No. True, the table shows that 64% of Buttigieg's donations are under $200. But are donations an adequate proxy for donors? No, because a donor with $2700 to spend (the Federal maximum for one election) could write one check (for $2700), or they could "debundle" their contribution by writing 100 checks (each for $27). In the latter case, the "donations under $200" figure would be artificially inflated, for public relations purposes. Analyst Nate Silver falls into this trap just today ("Silver Bulletpoints: We've Got Your Backlash To The Buttigieg Backlash"):
Here at Silver Bulletpoints, we like nothing better than to backlash against the backlash when we think the data supports our case. And in this case, we're wary of the notion that the Buttigieg boom is solely a media concoction.

There's no doubt about the initial spark for the Buttigieg bump: It was his CNN town hall on March 10. You can see it in itemized donations to Buttigieg's campaign, which begin to spike on March 10 and continued from there.
"Spark" there may be, but if the "spike' is from debundled donations, you're looking at a spark from a propane fire starter rather than one of Nature's lightning strikes. Again, one donor writing one check, or one donor writing a hundred checks? From the FEC data, you can't tell.
Is debundling a mere theoretical possibility? No. The Obama campaign used debundling tactics in 2008, to make it appear that their candidate was small donor-driven[1]. From Thomas Ferguson, interviewed in 2011 by the Citizen Action Monitor:
To this day, despite all the noise about small contributions, and particularly on the Obama campaign, which made a big pitch that they were a small contribution group, we now know they were not. ["debundling"[. And the studies that initially started reporting that they were small contributor-driven — I know the data sources that they worked on – neither they nor the data sources have good enough matching programs to enable you to get the same person more than once unless everything is matched – that is to say, you know, the junior, the address, you change a middle initial and stuff like that you won't typically catch it. And so they just miss the repeated contributions by the same folks. They keep recording them as multiple contributions.
(Note in passing that Ferguson's Political Money Project has the proper methodology to clean the donation data; see Thomas Ferguson, Paul Jorgensen, and Jie Chen, "Party Competition and Industrial Structure in the 2012 Election," International Journal of Political Economy.) The debundling tactic must, at this point, be well known to political professionals.
At this point, the rightly cynical reader will ask: But what about the Sanders campaign? They too "trumpet" their small donors. Could they be using debundling as well? In practice no. From Thomas Ferguson, Paul Jorgensen, and Jie Chen, "Industrial Structure And Political Outcomes: The Case Of The 2016 US Presidential Election" (PDF):
With respect to the Sanders campaign, these tables show something we are confident is without precedent in American politics not just since the New Deal, but across virtually the whole of American history, waiving the dubious case of the legendary 1896 election: a major presidential candidate waging a strong, highly competitive campaign whose support from big business is essentially zero. We are hardly the first to notice this fact, but like many other others, we had trouble believing our eyes. Thus we checked carefully. Sanders stands out not only for the high percentage of small contributions, but the minuscule totals of large contributions in the aggregate. Later in this essay, when we consider the sectoral breakdown of contributions, we will see that the handful of small donations scattered among our counts of big business contributions to Sanders clearly derive from many lower level employees, not top management. The few large contributions arise from aggregated contributions from a handful of unions (the official union leadership of most unions supported Hillary Clinton, see below). In 2016, Bernie Sanders was sui generis.
At least in 2016, Sanders did not employ debundling.
Do the Figures Show that Buttigieg's Campaign Is Frugal?
No. The FEC table looks like Buttigeig is getting a big bang for the buck: A large number of small contributions ("Donations under $200") for a small budget ("Total Spent"). If the donations are debundled, Buttigeig's large number of small contributions looks less impressive. Similarly, if Buttigieg's budget comes from just a few rich people, he also looks less impressive. Sadly, "just a few rich people" are the kinds of people Buttigieg hangs out with. From that hand-wringing New York Times story about "Stop Sanders" Democrats:
When Leah Daughtry, a former Democratic Party official, addressed a closed-door gathering of about in San Francisco last month, all it took was a review of the 2020 primary rules to throw a scare in them.

The matter of What To Do About Bernie [caps in the original] and the larger imperative of party unity has, for example, hovered over a series of previously undisclosed Democratic dinners in New York and Washington organized by the longtime party financier Bernard Schwartz. The gatherings have included scores from the moderate or center-left wing of the party, including Speaker Nancy Pelosi of California; Senator Chuck Schumer of New York, the minority leader; former Gov. Terry McAuliffe of Virginia; Mayor Pete of South Bend, Ind., himself a presidential candidate; and the president of the Center for American Progress, Neera Tanden.
And just today from CNBC:
Pete Buttigieg's increasingly popular presidential run has drawn the support of more than two dozen top Democratic fundraisers, including people who bundled big-dollar donations for Barack Obama and Hillary Clinton during their White House bids, according to a list CNBC obtained from campaign aides.

The financiers on the roster range from former U.S. ambassadors to real estate executives, the latest evidence that the South Bend, Indiana, mayor's underdog[2] bid to challenge President Donald Trump next year is catching on with Democrats as the party sorts through a crowded primary field.
And:
Particularly, Buttigieg's sincere approach is generating enthusiasm among the Democratic donor class.
ZOMG, ZOMG. Buttigieg's "sincere approach." I can't even. But back to the matter at hand: If Buttigieg's has fundraisers who worked for Obama, then he has fundraisers who know the techniques of debundling. And if Buttigieg has some significant fraction of those 100 wealthy liberal donors in his corner, his budgetary coffers would be very easy to fill. That doesn't sound frugal to me.
Conclusion
Of course, means, motive, and opportunity don't necessarily add up to a smoking gun. However, as Thomas Ferguson commented in email:
Even baseball scores get looked at more closely than the claims candidates and interested parties in the media advance about 'small donors.' No one should print such claims without careful checks. It's the sort of thing that gives the free press a bad name.
I can only hope somebody does some serious investigation on this issue of how small Buttigieg's donors really are. In addition, the Sanders campaign would do well to develop and publish its own figures on small donors, not small donations, to filter for debundling using a proper methodology. This would not only serve to emphasize their own uniqueness and legitimacy, it would serve as a lash and a spur to encourage other campaigns — and news organizations, if any such remain — to do the same.
NOTES
[1] I'm not all that enthusiastic about "small donors," either. While it's better to give small "small donors" some clout instead of simply having the 1% buy elections outright, the whole process skews upward and is in essence a modern-day property test. There are plenty of people who can't contribute $27, and why should they have unequal abilities to affect elections?
[2] "Underdog" would imply the front-runner is… who?