By Lambert Strether of Corrente.
Those of you who followed the 2016 campaign may remember a pattern where Trump would create a debacle, the polls would drop, a cry of "This time we've got him!" would arise, whereupon Trump would rebound and the polls would rise, sine wave-style fashion (see charts from my post here). And as election day, 2016, neared, the sine wave was heading upward…. It's possible that, following the release of the Mueller report, Trump is about to repeat the same pattern, on a much larger scale. Polls down, 2016-2018; polls up 2019-2020. Perhaps.
I got to thinking of this when I read the following mildly titled article by Jack Goldsmith: "Thoughts on Barr and the Mueller Report." Here's Goldsmith's biography, in its entirety:
Jack Goldsmith is Henry L. Shattuck Professor of Law at Harvard University. He is the author, most recently, of The Terror Presidency: Law and Judgment Inside The Bush Administration (W.W. Norton 2007), as well as of other books and articles on many topics related to terrorism, national security, international law, conflicts of law, and internet law. Before coming to Harvard, Goldsmith served as Assistant Attorney General, Office of Legal Counsel, from October 2003 through July 2004, and Special Counsel to the General Counsel to the Department of Defense from September 2002 through June 2003. Goldsmith taught at the University of Chicago Law School from 1997-2002, and at the University of Virginia Law School from 1994-1997. He holds a J.D. from Yale Law School, a B.A. and M.A. from Oxford University, and a B.A. from Washington & Lee University. He clerked for Supreme Court Justice Anthony M. Kennedy, Court of Appeals Judge J. Harvie Wilkinson, and Judge George Aldrich on the Iran-U.S. Claims Tribunal.
I quote this to point out that whatever else he may be, Goldsmith isn't a swivel-eyed loon. (We can postpone discussion of whether all conservatives and/or all liberals and/or the political class are swivel-eyed loons for another day; personally, I think that in our enormous country, there are gradations.)
Goldsmith's piece, which in essence is a defense of Barr's release process for the Mueller report, is worth reading in full, especially if you don't read a lot of conservative fare (I don't), but here are the paragraphs that caught my eye:
Finally, a few words about Barr's statements that the executive branch was "spying" on the Trump campaign. Barr explained himself on May 1 in response to a question from Sen. Sheldon Whitehouse:

I'm not going to abjure the use of the word spying. I think, you know, my first job was in CIA and I don't think the word spying has any pejorative convert connotation at all. … [T]o me the question is always whether or not it's authorized and adequately predicated, spying. I think spying is a good English word that in fact doesn't have synonyms because it is the broadest word incorporating really all forms of covert intelligence collections. So I'm not going to back off the word "spying" to—except I will say I'm not suggesting any pejorative.

Barr also added that his original remark was "off the cuff" but that he "commonly" uses the term "spying" in this way. (For what it's worth, Senator Whitehouse, among many others, has used the term "spying" in this way too—see here and here.)

I have no idea if Barr is being candid here or winding people up—or both. But he has signaled, especially in his original "spying" pronouncement, that he has concerns about the origins and operation of the investigation of the Trump campaign. And he says he plans to investigate it.

This is in theory an appropriate thing for the Justice Department to do, for two reasons. First, . For example: the horrible animus displayed in texts by Peter Strzok toward the president and his supporters while investigating his campaign; the truly unprecedented and terribly damaging leaks of U.S. person information collected via FISA or E.O. 12,333; and the at least questionable FBI decision, after Trump fired FBI Director James Comey, to investigate the President as a counterintelligence threat premised on the judgment that he was a "threat to national security."

Second, the FBI and intelligence community more broadly need better internal guidance and procedures when they confront possible evidence of improper foreign contacts or counterintelligence threats by a presidential campaign. These institutions faced what was probably an unprecedented situation. It would have been entirely irresponsible for senior leadership in this agencies to not follow up and investigate the extraordinary Russia contacts by the Trump campaign. But they would have been much better situated to avoid controversy later if there were express guidance, process, and accountability mechanisms in place for the decisions they made in this most delicate of contexts.

and in other presidential campaigns, as a basis for needed reform in this area. that would weaken the important Justice Department norm against politicized retaliatory investigations. That argues, I think, for inspector general review, not attorney general review. I am not sure Barr agrees, however. We will see.
While I agree with Goldsmith on the need for a "full accounting," I think Goldsmith is being pretty naive if he thinks any review by Barr will be seen as anything other than "political payback," especially by Trump, who has a knack for saying the quiet part very loudly indeed. As for example in this letter to Barr — not crude, to be sure, but loud — from the President's Special Counsel, Emmet T. Flood, who "most notably represented Clinton during the impeachment proceedings brought against the former president by the House of Representatives and tried before the Senate" (!). This too is worth reading in full, just because it's always fun seeing an attack dog doing its thing, but I think this is the key paragraph. From Flood's letter: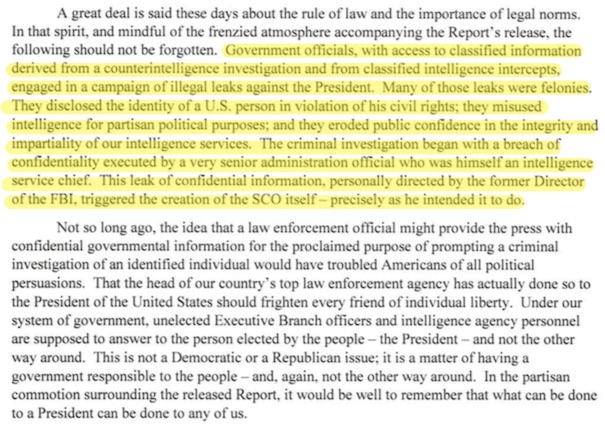 Flood (and Goldsmith) and, for that matter, Barr, are serious people; they're not going to run a flaky operation like Benghazi, for example. If they say they're going to look into this, and if Trump can manage to maintain a modicum of self-control, the "accounting" they think should take place, will take place.
* * *
To the "prima facie evidence" listed by Goldsmith, I would add some random bits I've picked up in my travels on the Twitter; this should not be taken to suggest I'm "in the weeds" on this material, because I'm not. Goldsmith doesn't mention how oppo (the Steele Report) was laundered into a FISA warrant. Nor does he mention what looks to a LeCarré fan like an FBI coat-trailing operation, complete with honeypot, directed against low-level Trump operative George Papadopoulos. He also doesn't mention the presence of a mole — oh, I'm sorry, an "FBI informant" — in the Trump campaign. (British intelligence seems to have inserted what looks rather like a mole in the Sanders campaign; and given the lack of "express guidance, process, and accountability mechanisms" to which Goldsmith alludes, it would certainly be interesting to know if the FBI has moles planted in 2020 campaigns and if so, which.) Nor does Goldsmith mention the media campaigns conducted by former intelligence officials (if there is such a thing) Clapper, Brennan, and Comey that helped create the "frenzied atmosphere" to which Flood alludes and with which we are all familiar, and which was extremely profitable for them personally, as well as for the media venues on which they appeared. Really, has cashing in on one's tenure as a high official in the intelligence community given a whole new meaning to "craft"? It does seem so.
From the 30,000-foot level of the Constitutional order, we have ended up with the intelligence community having potential veto power over who gets on the Presidential ballot (I mean, will either party want an unvetted candidate after the object lesson of what happened to Trump?), we have the intelligence community having potential authority over the results of counting those ballots (if DHS delegitimizes a count based on a claim that cyberwarfare interfered), and we have the intelligence community having inserted moles in not one but two Presidential campaigns (on the assumption that there was some sort of intelligence sharing arrangement for the UK mole in the Sanders campaign). That's rather a lot of power for an unelected body with enormous operational and disinformation skills that works in secret using a black budget to have. These are strange times, but on the merits I tend to agree with Goldsmith and Flood. Of course, in 2020, "the merits" will be the last thing on anybody's mind, so let me know how that turns out…
* * *
Readers: Water Cooler is a standalone entity not covered by the annual NC fundraiser. So do feel free to make a contribution today or any day. Here is why: Regular positive feedback both makes me feel good and lets me know I'm on the right track with coverage. When I get no donations for five or ten days I get worried. More tangibly, a constant trickle of small donations helps me with expenses, and I factor in that trickle when setting fundraising goals. So if you see something you especially appreciate, do feel free to click this donate button:
Here is the screen that will appear, which I have helpfully annotated.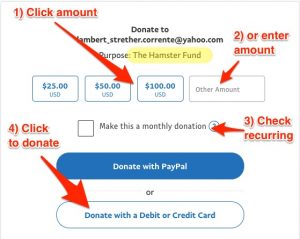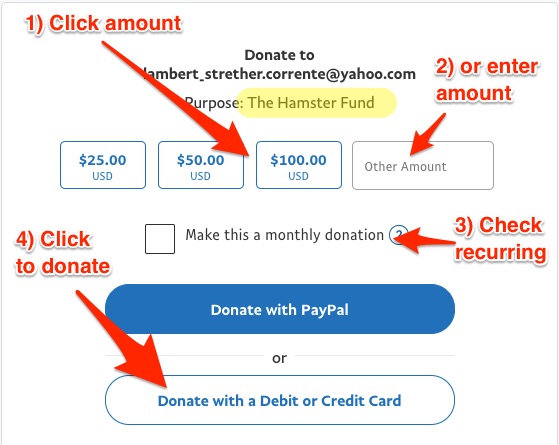 If you hate PayPal, you can email me at lambert [UNDERSCORE] strether [DOT] corrente [AT] yahoo [DOT] com, and I will give you directions on how to send a check. Thank you!