Deepest ever dive finds plastic bag at bottom of Mariana Trench CNN
Escalating Floods Putting Mississippi River's Old River Control Structure at Risk Weather Underground
Los Angeles Fire Season Is Beginning Again. And It Will Never End. A bulletin from our climate future. New York Magazine
Effects Of Surgery On A Warming Planet: Can Anesthesia Go Green? NPR
Wild Pig Wars: Controversy Over Hunting, Trapping in Missouri AgWeb. I wonder if pigs rooting is good for the soil.
US court orders Bayer to pay $2bn in Roundup cancer case FT
Uber Shares Are Quickly Approaching 'White Knuckle' Territory Bloomberg (DL). Pardon my schadenfreude.
Do transportation network companies decrease or increase congestion? Science. Increase. That's why we need robot cars.
IHOP And Ramadan: A Uniquely American-Muslim Tradition WAMU. Like (American) Chinese food for Christmas…
Syraqistan
White House Reviews Military Plans Against Iran, in Echoes of Iraq War NYT. "The 120,000 troops would approach the size of the American force that invaded Iraq in 2003." In 2003 it took many months to preposition the materiel for the invsasion. If that's happened already, it hasn't been reported.

Satellite images show no major damage to 'sabotaged' ships Associated Press. I don't recall articles like this in major venues during the Iraq WMDs debacle. The administration better get busy faking evidence and planting stories like Bush did! Maybe they can ask British intelligence to help out….

Iran Squeezed Between Imperial Psychos and European Cowards Pepe Escobar, Consortium News
Venezuela
Activists at Venezuela Embassy served with eviction notice Associated Press

Inside the secret plot to turn senior Venezuelan officials against Maduro WaPo.

US Press Reaches All-Time Low on Venezuela Coverage Counterpunch
Brexit
German Failure on the Road to a Renewable Future Der Spiegel
India
Did Narendra Modi have the questions for his News Nation interview beforehand? Watch this video Scroll.in

Meet the Indian 'Miss Marple' snooping on election candidates Asian Correspondent

The Election Game The Wire
China?
Dow plunges 617 points after China retaliates with higher tariffs CNN
Hong Kong's new Extinction Rebellion chapter looks to turn up the heat on the government over climate change South China Morning Post
RussiaGate
Connecticut U.S. Attorney John Durham tapped to lead Russia investigation review Hartford Courant. The blowback begins.

Mueller's report is done. Is there still a point in having a prayer candle with his image on it? WaPo

No Democrats have read the less-redacted Mueller report. But five Republicans have. CNN. A good lawyer never asks a question without knowing the answer…
New Cold War
U.S. Senate Threatens Sanctions Over Russian Pipeline Foreign Policy. We're gonna force them to buy our more expensive gas? That's not a good look.
The Rising Tide Of The Populist Right LobeLog
Trump Transition
How Trump Can Transform Nuclear Arms Control The National Interest

US Border Patrol Is the Most Brutal Militia of All The Atlantic
Sweden Reopens Investigation of Julian Assange for Rape, Complicating U.S. Extradition The Intercept
The Re-Opening of the Swedish Assange Case Should Be Welcomed Craig Murray
Boeing 737 Max
From Boeing to E-Ring: Shanahan is Industry's Man at the Pentagon The American Conservative. By a happy coincidence, Boeing bailout's bailout is already teed-up.
These Motorhome and RV Crash Tests Are Remarkably Terrible Jalopnik
Big Brother Is Watching You Watch
WhatsApp voice calls used to inject Israeli spyware on phones FT
Kavanaugh Takes a Shot at Apple, and Big Tech Should Take Note Bloomberg
AI can now defend itself against malicious messages hidden in speech Science. We keep hearing nobody knows how AI "deep learning" works; this article says it several times. What could go wrong?
Notre-Dame and the Paradoxes of Historical Preservation The New Yorker
Doris Day dies; legendary actress and singer was 97 Los Angeles Times
Antidote du Jour (CC):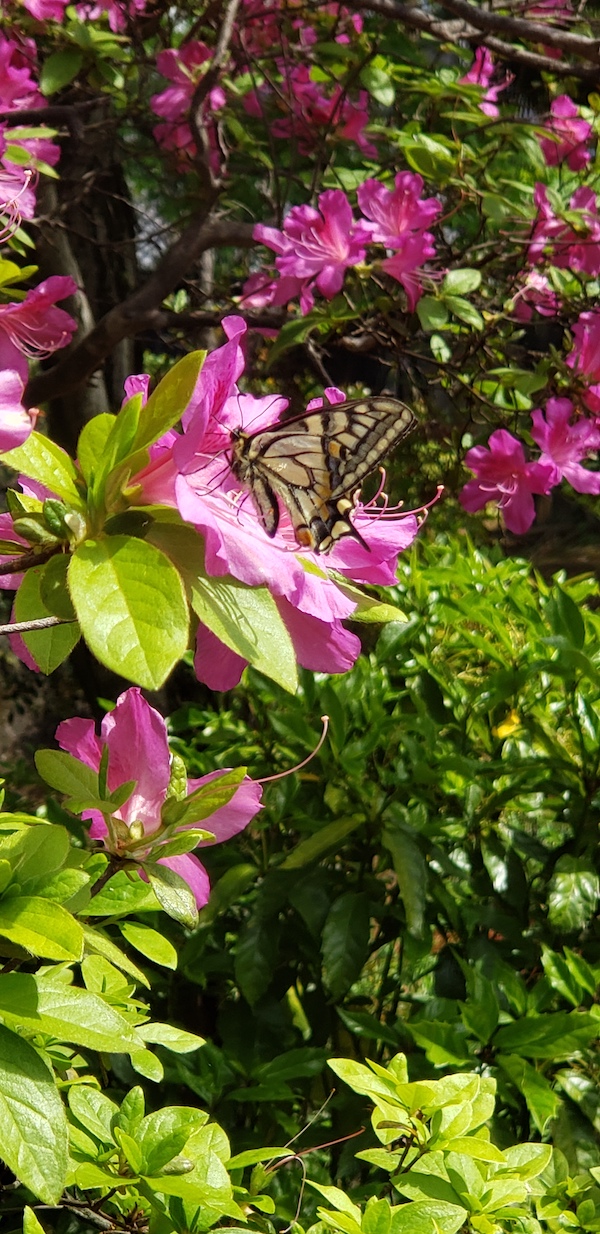 CC writes: "Attached is a photo of a butterfly that I took last week when I was in Noda, Chiba Prefecture, outside of Tokyo. The butterfly and the flower are in the Noda City Museum garden."
See yesterday's Links and Antidote du Jour here.