'Cow kiss challenge': Austria tells people to shun charity dare Guardian (ChiGal).
Nearly a quarter of West Antarctic ice is now unstable Science Daily (DL). Original.
Jared Diamond: There's a 49 Percent Chance the World As We Know It Will End by 2050 (interview) New York Magazine (OregonCharles). "49%" is an obvious case of spurious precision, oddly unquestioned by the interviewer, David Wallace-Wells. But it's still interesting.
Boom in Dodgy Wall Street Deals Points to Market Trouble Ahead Bloomberg
How the Promise of a $120 Billion Uber I.P.O. Evaporated NYT
Silicon Valley's 'kingpin banker' takes an Uber hit FT
Loose Lips and FX Tips: How Chatrooms Cost Banks $1.2 Billion Bloomberg
Facebook has struggled to hire talent since the Cambridge Analytica scandal, according to recruiters who worked there CNBC
Meltdown Redux: Intel Flaw Lets Hackers Siphon Secrets from Millions of PCs Wired (DL).
Boeing 737 MAX
Boeing says its software fix for the 737 MAX is ready, awaits FAA approval Seattle Times

How much was pilot error a factor in the Boeing 737 MAX crashes? Seattle Times

In his opening statement Wednesday at the House Aviation subcommittee hearing on the 737 MAX in Washington, D.C., the lead Republican congressman blamed errors by the Indonesian and Ethiopian pilots for the two deadly MAX crashes in those countries.

"Pilots trained in the United States would have successfully been able to handle" the emergencies on both jets, said Rep. Sam Graves of Missouri, ranking member of the House Transportation and Infrastructure Committee. He added that preliminary reports about the accident "compound my concerns about quality training standards in other countries."

Graves was repeating the main points in a report written by two pilots at a major U.S. airline that pointed to pilot error as "the most consequential factor" in both crashes. Their report was commissioned and paid for by institutional investors with large holdings in Boeing stock.

Hmm. A must-read.

Bjorn's Corner: Why I wouldn't hesitate to fly on the MAX after the fix Leenam News.

Now a person of logic says: "If Boeing was as negligent in the development of the 737 MAX to let MCAS slip through, what else is in there?"

Here I rely on the Boeing CEO and top management to have realized the Boeing airliner which pays the bills can't fail. If there's one more blip, Boeing will not only be shaken, it will be down for counting.

I expect the top management to have put the question to its MAX team:

"If there's anything else in the MAX you don't feel 100% confident about, just tell us. We'll fix it, no matter what."

"This time, there's no pressure," the engineers would have been told. "You will crash your career if you don't speak." Before, it was the reverse.

I rely on this question being put and any answers finding its way into the fix. A 737 flight control software update is not a local patch of a software corner. It's a global update of the system and any cleanups will ride along. Any such cleanups have been flying on the MCAS test flights for more hours than any cleanups before.

"This time, there's no pressure" strikes me as requiring an inordinate amount of trust in management by workers. Not so easy for a union-busting firm.

More Questions Than Answers About Boeing, the 737 Max, and the F.A.A. John Cassidy, The New Yorker (MA). The final sentence: "The problem at the FAA] predates the Trump Administration, and it urgently needs dealing with." Name the problem that doesn't. Cassidy, however, probably flies a good deal. So, on this issue he keeps a cool head.
Syraqistan
Donald Trump says he hopes US can avoid war with Iran FT

Full Senate briefing on Iran scheduled for Tuesday The Hill

Trump Admin Moves Fueled Iran's Aggression, U.S. Intel Says Daily Beast
Venezuela
U.S. federal agents arrest protesters occupying Venezuelan Embassy Reuters

Venezuela: Gov't-Opposition Talks Reported as DC Embassy Raided Venezuelanalysis

What 50 Countries are Backing Guaidó? Who Knows? Who Cares? If the Media Say It Enough It Must Be True Counterpunch
Brexit
Why did we not know? LRB. Review of The New Enclosure: The Appropriation of Public Land in Neoliberal Britain
Angela Merkel Identifies U.S. as Global Rival That, Along With China and Russia, Europe Must Unite Against Newsweek
China?
Russiagate
Trump Administration Withholds Information That Could Debunk Russian Interference Claims Moon of Alabama. Perhaps they wish to show somebody a horse's head too.

The Russian "Firehose of Falsehood" Propaganda Model (PDF) RAND Corporation (d tivol). From 2016. If you delete the words "Russia" and "Russian(s)" throughout, you actually add value, because you get a generic primer on disinformation techniques, most of which you will readily recognize from the daily media flow.
Trump Transition
* * *
The Spycraft Revolution Foreign Policy
Imperial Collapse Watch
The Pivot Point Craig Murray

The Military-Industrial Virus Alexander Cockburn, Harpers
Health Care
Health care CEOs took home $2.6 billion in 2018 Axios,

161,000 avoidable deaths occur in hospitals annually, Leapfrog Group finds Modern Healthcare
Black Injustice Tipping Point
'Not a Big Deal,' Police Commander Said as Eric Garner Died NYT
Class Warfare
When American Capitalism Meant Equality Matt Stoller, Pro-Market
The Liberal Embrace of War Matt Taibbi, Rolling Stone
Antidote du jour (via):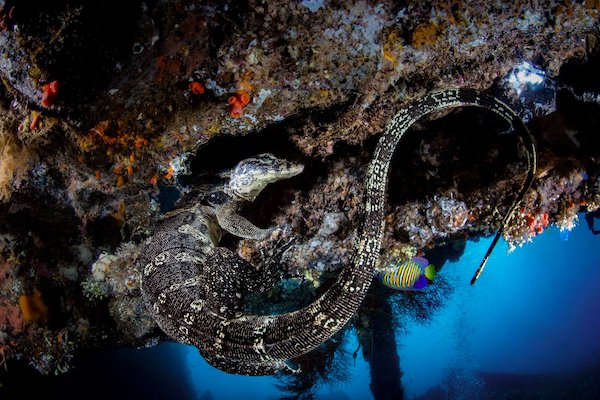 Bonus antidote:
Family of Leopards from Londolozihttps://t.co/RmJVdt1QUE pic.twitter.com/xjtd8fhmNM

— Life on Earth ☘ (@planetepics) May 14, 2019
See yesterday's Links and Antidote du Jour here.