By Lambert Strether of Corrente.
Politics
"But what is government itself, but the greatest of all reflections on human nature?" –James Madison, Federalist 51
"They had one weapon left and both knew it: treachery." –Frank Herbert, Dune
"2020 Democratic Presidential Nomination" [RealClearPolitics] (average of five polls). As of June 11: Biden down 32.2% (33.4) and Sanders steady 16.8% (17.3%) stabilize. Warren up 10.8% (9.8%), Buttigieg up 7.2% (6.8%), others Brownian motion. Of course, it's absurd to track minute fluctuations at this point. But Warren's jump over the last week isn't Brownian; the chart makes that vivid.
* * *
2020
CA:

In California, the Democratic presidential race is wide open, with no clear front-runner, a new @BerkeleyIGS Poll for @LATimesPolitics finds. https://t.co/uL6yD2hmyj pic.twitter.com/o0G5AOTw09

— Los Angeles Times (@latimes) June 13, 2019

One thing is clear: The Hamptons may love Kamala Harris, but California needs to be sold.

Biden (D)(1): In reaction to Sanders' speech on democratic socialism:

Biden on Sanders, tonight at a high-dollar fundraiser in Chicago: "Things have changed in a way that needs to be turned around. And it doesn't require socialism&it doesn't require some fundamental shift. It requires sort of reordering capitalism to make capitalism work&save it" https://t.co/ch99PNKJHv

— Edward-Isaac Dovere (@IsaacDovere) June 13, 2019

"High-dollar fundraiser." Does Biden know how to read the room, or what?

Biden (D)(2):

Joe Biden actually says, "Know what I was most proud of? For eight years, there wasn't one single hint of a scandal or a lie."

— David Harsanyi (@davidharsanyi) June 12, 2019

Lol. To bankers, after the crash: "My administration is the only thing between you and the pitchforks." To the American people, before ObamaCare: "If you like the plan you have, you can keep it. If you like the doctor you have, you can keep your doctor, too." Of torture, before "Bloody Gina" became head of the CIA: "We need to look forward as opposed to looking backwards." No scandals here! And those were the Obama quotes that were easy to find!

Sanders (D)(1): "Read: Bernie Sanders defines his vision for democratic socialism in the United States" [Vox]. • The full text, also on the Sanders camaign site. Did Sanders say, with FDR, "Never before in all our history have these forces been so united against one candidate as they stand today. They are unanimous in their hate for me — and "? He did! He went there!

Sanders (D)(2): "Bernie Sanders: 'We Have to Talk About Democratic Socialism as an Alternative to Unfettered Capitalism'" (interview) [The Nation]. Sanders, relentllessly on message: "So the point here is that, in the year 2019 in the wealthiest country in the history of the world, we have got to conclude that economic rights are human rights. And that's what democratic socialism means to me. I should also add just one other thing: that, obviously, when we see the power of government in action… what we have seen in recent years is not that it works for working people. You have seen attempts to make massive cuts to health care and education and environmental protections. But you have also seen massive federal aid to Wall Street with the biggest bailout in American history in 2008; and massive help to the fossil-fuel industry, to the pharmaceutical industry, and so forth and so on. So, as people like Martin Luther King Jr. talked about, we do have socialism: We have socialism for the rich and large corporations, and we have unfettered free enterprise for working families."

Sanders (D)(3): "Sanders goes full FDR in defense of democratic socialism" [Politico]. "In trying to tie his campaign to Roosevelt, Sanders was also making an implicit argument about his electability, a question mark that's hovered over both his campaigns for president. 'FDR and his progressive coalition created the New Deal, won four terms, and created an economy that worked for all and not just the few,' he said." • FDR has been persona non grata for the Democrat establishment since the Clintonites took over. So by all means let us have that discussion.

Sanders (D)(4): For the "Bernie never held a job in his life" crowd:

@mffisher In your new Bernie piece you talked about Bernie struggling financially before entering mayor race. Please read this 1989 profile on him from reporter who were following him than some quotes now and Guma's book. it's free to read registered users https://t.co/IYGFmsQwVw pic.twitter.com/cVEMtq0O1k

— Davis Tom (@Datoism) June 13, 2019

(Thread from the same source.)

Schultz (D)(1): "Howard Schultz Announces Campaign Staff Cuts, Summer Hiatus" [HuffPo]. "Schultz came into the office Wednesday for the first time in months and met with the staff, according to a person in the room. He announced that he was letting everyone go except those in senior leadership positions, adding he would not make a decision about running for president until after Labor Day…. Schultz said that if Biden does not appear to be the nominee, he would think about jumping into the presidential race after Super Tuesday." • Dilettante.

Warren (D)(1): "Elizabeth Warren Spends Evenings Tutoring Underperforming Candidates On Creating Comprehensive Policy" [The Onion (RH)]. Warren: "It's only a couple hours a week out of my campaign schedule, and I believe it's my duty to help candidates who can't help themselves. Some of them, like Beto or de Blasio, may never get it, but if I can reach even one of them, I'll know I've done my job. It's my way of giving back."

"How Pete Buttigieg and Elizabeth Warren Cracked the Code of the 2020 Race" [New York Times]. "Over the first six months of the presidential campaign, Mr. Buttigieg and Ms. Warren have out-maneuvered the other 21 Democratic candidates, demonstrating an innate understanding of the value of viral moments and nonstop exposure that drives politics in the Trump era. Mr. Buttigieg, a man who has made himself all but unavoidable for comment, rode a wave of positive press about his personal story… Ms. Warren took the opposite route to the same destination. Rather than lean into her biography*, she rolled out unusually detailed domestic policy plans to grab headlines and inspire activists. She also earned attention for her devotion to taking photographs with every attendee at her events who wants one — more than 30,000 to date, she said on Sunday." • NOTE * A very polite way of saying she personally poisoned that well.

Democrat Debates (1): "Rachel Maddow, Savannah Guthrie, Lester Holt will moderate first Democratic presidential debate" [USA Today]. • I'll have to brush up on my Cyrillic.

Democrat Debates (2): "Here's what's wrong with the Democrats' debate plan" [Matt Bai, Yahoo News]. "If you've read about the winnowing process here but still don't have a grasp on it, then don't feel bad, because this is a little like quantum physics; only the Democratic chairman, Tom Perez, and maybe a dozen other people on the planet really get what's going on, and everyone else just nods a lot. Near as I can tell, it goes like this: The party will automatically admit to this first debate any candidate who can meet two thresholds. You have to clear 1 percent in an average of three credible national polls of your choosing, and you have to have collected donations from 65,000 donors, comprising at least 200 separate donors in 20 different states…. At this point, 13 candidates are expected to clear both hurdles. The rest will then be ranked according to which, if any, of the criteria they've managed to satisfy, with polling being the more important." • If you've ever seen an election rigged in the Third World, the complexity and obfuscation looks a lot like this.

TX-28: "First shot fired in Democratic civil war as 8-term incumbent gets a challenger" [NBC]. "Backed by [Justice Democrats,] the same progressive group that helped elect Rep. Alexandria Ocasio-Cortez, immigration lawyer Jessica Cisneros announced Thursday her intent to unseat longtime Rep. Henry Cuellar, D-Texas…. 'Here's the truth: Henry Cuellar fights to protect Trump and the big corporations,' Cisneros said in a video announcing her primary campaign. 'I'm fighting to end the separation of families. I'll fight to pass a $15 minimum wage, Medicare For All and the Green New Deal, so that we can create jobs here at home.'" • We'll see how the DCCC blacklist works…

"Who knew? Ranked-choice voting is coming to the presidential election." [The Fulcrum]. "Ranked-choice voting is one of the more revolutionary ideas gaining momentum with advocates for a revamped and healthier democracy. They view it as a straightforward and logical way of rewarding candidates with broad backing and a commitment to consensus-building – while punishing those with a divide-and-conquer style aimed at galvanizing a base of impassioned supporters…. Because Iowa goes first, its use of RCV could prove to be pivotal to the future of the system, either accelerating its acceptance or burying it in derision." • I've used RCV in Maine, and it's fine. It's not confusing, and it's not hard. The establishment hates it.
Realignment and Legitimacy
"We're All 'Socialists' Now" [Eric Levitz, New York Magazine (Re Silc}]. "Sanders's implicit argument is quite similar: If our 'capitalist' economy depends on constant discretionary interventions by policy-makers, we might as well determine those interventions through democratic debate — and aim them at advancing the best interests of the 99 percent. We are all 'socialists' now. Some of us just happen to be democratic ones."

"Trump's war on socialism will fail" [E.J.Dionne, WaPo]. "The 2018 PRRI American Values Survey offered respondents two definitions of socialism. One described it as 'a system of government that provides citizens with health insurance, retirement support and access to free higher education," essentially a description of social democracy. The other was the full Soviet dose: "a system where the government controls key parts of the economy, such as utilities, transportation and communications industries.' You might say that socialism is winning the branding war: Fifty-four percent said socialism was about those public benefits, while just 43 percent picked the version that stressed government domination. Americans ages 18 to 29, for whom Cold War memories are dim to nonexistent, were even more inclined to define socialism as social democracy: Fifty-eight percent of them picked the soft option, 38 percent the hard one." • And speaking of "branding"

Use "decentralized distributism" or "progressive federalism." FDR won, in part, because he was a branding genius. You can't win like FDR by just adding adjectives, such as "Green" or "For All," to his creations. Transform the discourse like FDR with your own power of creativity. pic.twitter.com/o5RvH7ota9

— Navid (@NYCNavid) February 13, 2019

Great poster. But "progressive Federalism" sounds like pretty thin gruel. "The Green New Deal Is The Only Deal"™ might be pretty good, though.

"They'll come and tear your welfare state apart" [Fredrik DeBoer (JB)]. " I don't care about fighting for the definition of socialism, not anymore. What I do care about is that this New New Left, this DSA left, this Jacobin left, has utterly failed to offer a remotely coherent response to the critique of such left liberalism that comes from the radical left, the communist left. That critique is simple: all of the wonderful pity charity welfare programs this new left would pass would be forever at the mercy of the relentless power of capital. Because the new left has focused so myopically on redistributive programs and essentially ignored the basic dynamics of power, the ideal systems that they describe are ones where there is no meaningful check on the rapacious power of capital. Which means that the welfare state they build will be taken apart, brick by brick, as soon as it is put together."

"Opinion: I'm Covering The Most Important Election In The South This Year. Where Is Everyone Else?" [Buzzfeed]. "From today until Friday, 1,700 workers at a Volkswagen factory here in Chattanooga will be voting on whether or not they want to join the United Auto Workers union. Five years ago, workers at the plant voted down the union 727–626. Many who voted against the union back then say they'll vote in favor now, after seeing Volkswagen break promise after promise. If they prevail, it will mark the first time the UAW has successfully unionized a foreign-owned auto plant in the South, after more than three decades of trying…. Similar spikes in national attention and support have played a crucial role in the organizing drive that has unionized at least three dozen digital media outlets in recent years. So you would think that somewhere, in the very online and very unionized national media, there would be a few editors motivated to send a reporter to cover a historic and hugely consequential union vote in Tennessee?" • Lol, no.

"Grassroots Vs. Segregation: The Ongoing Fight Against Amazon HQ2 In Arlington" [DSA Build]. "On a weekday morning in February, local activists from the 'For Us, Not Amazon' coalition interrupted a $200-per-ticket networking event between real estate developers, investors, Arlington County Board members, and Amazon representatives. The "business community" was taken off-guard, and after forcing out the protestors, the host claimed "they must have followed us here from New York". The 'For Us, Not Amazon' coalition developed organically from the overlap in multiple groups' efforts in the face of Amazon's initial announcement…." • If "organic overlap" is being held up as an organizing model, I'm unsure.

"The next recession will create an opportunity to redefine the government's role in the economy" [Economic Policy Institute]. "Healthcare in the United States, unlike in other rich nations, is sadly and dangerously tied to the business cycle—because most workers receive insurance coverage through their employers, job losses can be doubly devastating. That's why it's important to think about an eventual next recession as an opportunity to redefine the federal government role in the economy, and in the healthcare sector in particular." • Correct headline, ollowed by centrist mush.
Stats Watch
Jobless Claims, week of June 8, 2019: "[N]ew jobless claims edged higher" [Econoday]. "[T]he sharp slowing in the employment report for May was not signaled by claims which held steady and low through the month. Nevertheless, low levels of claims are a fundamental signal of labor market strength."
Import and Export Prices, May 2019: "Import prices were weak in May," expected for the month but below consensus for the year [Econoday]. "Ongoing tariff effects are still to be measured and future tariff effects are unknown, but cross-border inflationary pressures otherwise are unusually subdued and for now will support global central bank efforts to stimulate accelerated economic growth."
Retail: "Amazon-Whole Foods Is Two Years Old. And?" [Bloomberg]. After two years, "Whole Foods still basically feels like the same old Whole Foods. Amazon's lack of imagination at Whole Foods is something we've seen repeatedly as the e-commerce giant experiments with physical stores. Amazon's bookstores aren't that different from conventional shops. Its 4-star knick knack stores are Hallmark gift stores crossed with Brookstone. Amazon recently shuttered dozens of mall kiosks where it sold Kindle tablets and other electronics. Those Amazon formats, and those of companies like Kohl's Corp. with which Amazon has an in-store partnership, sometimes seem to exist largely as outposts for people to return unwanted Amazon orders…. What's perhaps surprising is that two years in, there have been few glimpses of new ideas that Amazon could bring to the supermarket shopping." • Maybe there aren't any?
Shipping: "Trans-Pacific trade tensions are starting to land heavily at U.S. ports. Combined loaded container shipments through Southern California's big port complex fell sharply last month… suggesting an abrupt end to the rush by shippers to import goods ahead of escalating tariffs flying between the U.S. and China" [Wall Street Journal]. "The neighboring Los Angeles and Long Beach ports are a key sign of the direction of seaborne trade because they make up the largest U.S. gateway for container imports, particularly goods from Asia. The steep year-over-year decline signals that importers are pausing orders after pulling shipments forward in a pre-tariff push that has swamped warehouses and distribution channels in the region. The timing just ahead of the traditional peak shipping season suggests weak prospects for growth this summer, and one forecast has already pared back projections for container imports in coming months." • 
Shipping: "U.S. weekly rail traffic slumps 8.5 percent" [Freight Waves]. "Flooding impacts, cheap natural gas prices, and trade and economic uncertainty could be factors contributing to a significant slump in weekly U.S. rail volume. The biggest losers in carload volume for the week include coal, which slumped 15.9 percent, non-metallic minerals, which dropped 13.9 percent, and motor vehicles and parts, which fell 12.9 percent."
The Bezzle: "Uber will test its flying taxis in Melbourne" [Engadget]. "The ride-hailing service plans to start testing UberAir's electric vertical-take-off-and-landing vehicles in 2020, three years before the service's expected launch. Melbourne's test flights will take passengers from one of the Westfield shopping centers to the city's main international airport. That's a 12-mile journey that typically takes 25 minutes or so by car — with a flying taxi, it'll only take 10 minutes. Passengers will be able to book flights through the Uber app like any other ride for prices comparable to UberX's, though they have to be cool with making their way to and from landing pads called 'Skyports.' Uber is currently working with a number of companies to design its flying vehicles. It also working with NASA to create an air traffic control system to manage its flying taxi fleet." • Does getting to and from the "Skyports" eat up any of those putative ten-minute (!) savings?
The Bezzle: "Uber is making a fintech push with a New York hiring spree" [CNBC]. "There are many possible payment and lending innovations Uber could come up with: It has 93 million active users globally, most of whom use linked credit cards or fund a wallet called Uber Cash to pay for rides and food delivery. The two major areas being looked at by its financial products team involve building "payment experiences" that encourage riders and eaters to use Uber or remove costs from the system, and helping contractors manage the funds they earn, according to a job posting. That's in line with products Uber has already released, like Uber Cash, which includes discounts when a user funds the wallet, its loyalty program Uber Rewards, and its co-branded credit card. On the other side of the service, Uber allows drivers to get paid as often as five times a day instead of waiting for weekly paychecks. A more radical possibility is an Uber bank account, according to a person with knowledge of the matter." • Like when GM was a finance company with a factory attached…
The Bezzle: "uBiome convinced Silicon Valley that testing poop was worth $600 million. Then the FBI came knocking. Here's the inside story." [Business Insider]. "But the problems at uBiome extended far beyond billing issues, according to interviews with 11 former employees across its billing, operations, marketing, and science departments, as well as with customers, lawyers, and medical experts…. uBiome, these sources said, presented conjectural science about gut microbes as medically sound in an increasingly frantic effort to convince health insurers to pay for it. When not enough new customers were signing up for uBiome's services, the former employees said, the company tried to bill insurers for conducting updated tests of stored samples that were in some cases years-old. When the insurance companies required assurances from doctors that the tests were medically necessary, the sources said, uBiome hired doctors to remotely sign off on tests using tactics that appear to violate the regulations of some states' governing of telemedicine." • Venture capital learned nothing from Theranos, apparently. And since when did "poop" become a word adults used between adults?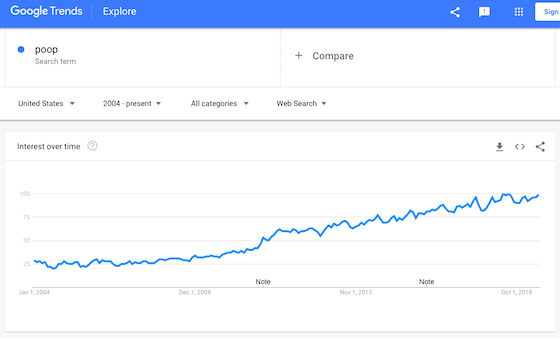 I thought "poop"'s rise was sudden, but that must have happened only when it invaded my reading universe; in fact, "poop" has become more pervasive in the zeitgeist, but steadily. Unsurprisingly, I suppose.
The Bezzle: "These emails reportedly show Mark Zuckerberg knew Facebook violated FTC protocol" [The Week]. "As the social media giant prepares to pay a fine of upwards of $5 billion for violating users' privacy, it's also scrambling to ensure its CEO isn't implicated in the ongoing settlement discussions. That's become especially difficult, seeing as Facebook has 'uncovered emails that appear to show' Zuckerberg was 'closely involved' with 'potentially problematic privacy practices at the company,' people familiar with the matter tell The Wall Street Journal."
The Biosphere
"Why a hipster, vegan, green tech economy is not sustainable" [Al Jazeera]. "Improving efficiency would always involve maintaining and indeed expanding production to satisfy growing demand. This is reflected in the so-called 'Jevons paradox', named after the 19th-century English economist William Stanley Jevons, who discovered that increasing energy efficiency also led to higher demand." • This chart from yesterday?
During the last five years, there have been significant gains in renewable energy (e.g. wind and solar), but fossil fuel use has still grown even faster.

Plans to rapidly reduce fossil fuel use would require a 5-10 fold increase in the annual deployment of carbon-free energy. pic.twitter.com/HTUXQ9kJ5h

— Robert Rohde (@RARohde) June 12, 2019
Jevons Paradox? Or something else?
"Nuclear Disarmament's Lessons for Climate Change." [Foreign Policy]. "[T]hanks to the concerted work of a coalition of activists, nuclear weapons were banned outright in a 2017 treaty that has been signed by 70 countries and ratified by 23. Although the treaty is not yet in force, if it ever becomes international law, it will represent a major step forward toward nuclear disarmament. And even states that have not signed the nuclear ban treaty can already feel its stigmatizing effects: British banks and U.S. cities are divesting from the nuclear weapons industry, and nuclear powers are increasingly forced to defend their nuclear stance against social and ethical demands for disarmament…. A 2012 report of experts published by the aid organization DARA International calculated that 400,000 people die every year as a direct result of carbon-induced climate change… Like nuclear disarmament, the key problem in global climate governance is not our scientific understanding of the problem. Rather, it is creating the political will to solve it. What has a chance of working is to shake the carbon villains out of their cost-benefit thinking by adopting a moral shaming approach… Shaming people into sacrificing for the common good is what wins wars, fuels wartime economies, and generally helps populations accept and enforce austerity measures in times of conflict… [E]liminating carbon emissions must be seen as a moral and humanitarian imperative requiring decisive action regardless of whether the United States and China agree. To do so, [climate change activists] will need to build a strong set of global norms prohibiting carbon emissions." • Necessary. But sufficient?
"Atlanta's Food Forest Will Provide Fresh Fruit, Nuts, and Herbs to Forage" [City Lab]. "A food forest 'kind of flips our agricultural model on its head,' said Mike McCord of the nonprofit Trees Atlanta, who has been managing the Atlanta site over the past few years. 'Unlike with commercial farming, we're growing food on multiple layers. A forest has canopy trees, small trees, bushes, ground covers, vines, fungus, things going on in the root zone. The idea is to mimic our natural forests and grow productive things on all seven layers.'" • More like this, please.
"A Nature Writer for the Anthropocene" [Jedidiah Purdy, The Atlantic]. 'A scientist tells [Underland author Robert Macfarlane] how he feels knowing that 100 trillion neutrinos pass like ghosts through his body every second: 'When I'm out for a walk with my wife, along the cliff-tops near here, on a sunny day, I know our bodies are wide-meshed nets, and that the cliffs we're walking on are nets, too, and sometimes it seems, yes, as miraculous as if in our everyday world we suddenly found ourselves walking on water, or air. And I wonder what it must be like, sometimes, not to know that.'" • I like the class-based zinger at the end.
Health Care
Idea: Let's optimize for brand confusion!
Ways and Means Committee chair Richard Neal tells panel members the hearing on Medicare for All shouldn't use the phrase "Medicare for All" https://t.co/kY14GAFzw2 by @akela_lacy and me

— Ryan Grim (@ryangrim) June 11, 2019
Black Injustice Tipping Point
"Police who shot Vallejo rapper 55 times in 3.5 seconds acted reasonably, report found" [KTVU]. • Oh.
Our Famously Free Press
"Mandy Jenkins will build McClatchy's Google-funded new local sites. What's her plan?" [Nieman Labs]. " Google has pledged to fund the development of three local news sites over the next three years. It's the first time the Google News Initiative is actually putting money into building newsrooms." • That's great, I suppose, but after destroying thousands of newsrooms, Google now wants to experiment with rebuilding three? Solitudinem faciunt, pacem appellant –Tacitus. ("They made a desert, and called it peace. Yes, I had to look it up, and I quoted the Latin for the sound of it.
"'Orphan counties,' and a battle over what local news really means" [Columbia Journalism Review]. "La Plata, which has a population of nearly 56,000, is an 'orphan county,' one of many that pock the US—from the Berkshires of Massachusetts to the northern border of Georgia, through the mountains of Wyoming, parts of Kentucky, and beyond. Some orphan county residents "receive no news coverage and political advertising for their own statewide races, irrelevant information pertaining to candidates in the neighboring state who will not appear on their ballots, or both," according to a 2010 study published in Political Communication. The same study, by political scientists Keena Lipsitz and Jeremy M. Teigen, estimated that orphan county residents comprise more than 10 percent of the US electorate. Orphan counties, Lipsitz and Teigen wrote, 'have lower turnout rates than non-orphan counties, and … this difference is explained by lower levels of interest in the campaign stemming from exposure to irrelevant information.'"
Guillotine Watch
"This Picture Featuring 15 Tech Men And 2 Women Looked Doctored. The Women Were Photoshopped In.' [Buzzfeed]. "Last week, men's lifestyle magazine GQ published this photo [the site has an animation that showed the changes. –lambert] of Silicon Valley executives including LinkedIn founder Reid Hoffman and Dropbox CEO Drew Houston from their pilgrimage to a small village in Italy to visit Brunello Cucinelli, a luxury designer famous for his $1,000 sweatpants. But if you think something looks a little off in this photo, you're right: A BuzzFeed News 'investigation' reveals that two women CEOs, Lynn Jurich and Ruzwana Bashir, were photoshopped into what was originally a photo featuring 15 men." • Lol. A culture utterly without shame or remorse.
Class Warfare
"The Meritocracy Is Under Siege" [Thomas Edsall, New York Times]. "The brutal caste system that meritocratic competition engenders fuels politically potent rage. That rage found expression in 2016 when Trump's electoral success depended heavily on the millions of non-college whites infuriated by what they perceived as their relegation to second class status." • "Percieved"? More: "Testing for 'merit' is certain to remain a crucial element in education and training in such professions as medicine, the law, accounting and engineering. Patients and clients will insist on qualified surgeons, lawyers, CPAs and architects." • Edsall assumes the professional classes won't game the system to credential their children; I think that's foolish in the extreme. See, e.g., "Many More Students, Especially the Affluent, Get Extra Time to Take the SAT" from the Wall Street Journal.
"Bastion of Anti-Vaccine Fervor: Progressive Waldorf Schools" [New York Times]. "All three parents represent an anti-vaccine fervor on the left that is increasingly worrying health authorities. They often cluster around progressive private schools that are part of the Waldorf educational movement, and at the Waldorf school here, 60 percent of the school's 300 or so students were not vaccinated against measles and other highly contagious diseases as of late last year.The Green Meadow Waldorf School in Rockland County, about 25 miles northwest of New York City, costs roughly and is grounded in an educational philosophy that frowns upon rote learning. Over the last two decades, Waldorf schools across the country have had a spate of disease outbreaks, which is why they are the focus of concern in the measles epidemic." • Of course, if you can afford to health care for your child, vaccination can seem like a bad option. Especially if you have no concept whatever of the public good.
News of the Wired
"Craft beautiful equations in Word with LaTeX" [Nature]. • A victory for old, open source, textual coding. Sweet. Picky scientists agree!
* * *
Readers, feel free to contact me at lambert [UNDERSCORE] strether [DOT] corrente [AT] yahoo [DOT] com, with (a) links, and even better (b) sources I should curate regularly, (c) how to send me a check if you are allergic to PayPal, and (d) to find out how to send me images of plants. Vegetables are fine! Fungi are deemed to be honorary plants! If you want your handle to appear as a credit, please place it at the start of your mail in parentheses: (thus). Otherwise, I will anonymize by using your initials. See the previous Water Cooler (with plant) here. Today's plant (Samuel Conner):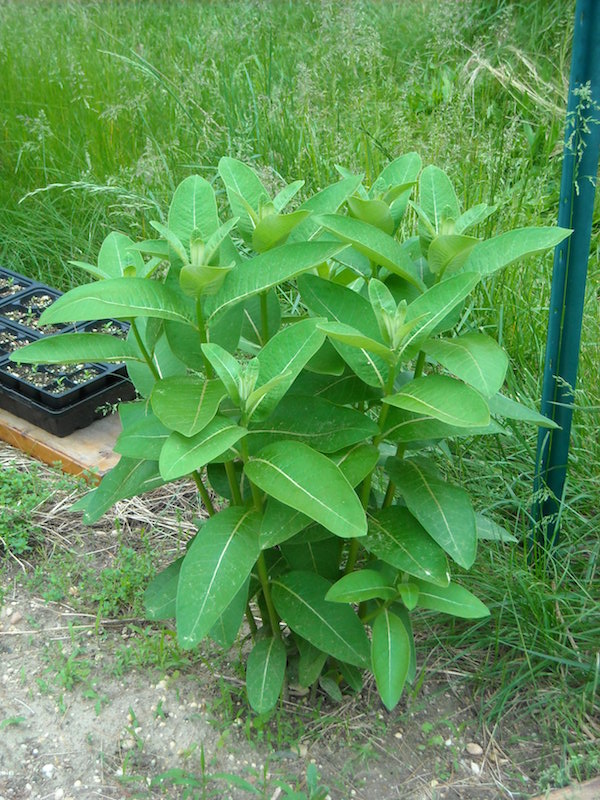 Samuel Conner sends the following bulletin:
The first of what I hope are several updates on the purple milkweeds. The plants have become handsome, perhaps unusually for such a young plant (was a small seedling in starter medium 13 months ago)….

Four weeks of mostly favorable weather have wrought wonders on the purple milkweed. From about 1 inch at the last photo, these stalks are approaching 30. There is a 2nd plant, not pictured, that is shooting stalks up as much as foot from the main cluster of stems. Even if I don't get seed* this year (I am hoping for a lot), these two plants may turn into a substantial colony by themselves. These plants seem to me to be unusually robust for their youth (were seeds completing "in home" cold treatment in February 2018 and have been "in ground" for less than 12 months); the bed in which they are growing was double dug just before their planting, and is still visibly higher and presumably better aerated and more root-friendly than the surrounding compactified soil; perhaps that has helped.

I hope at the next update to have lovely blossoms to share. Monarch caterpillars have not shown up yet, but they will and they can be voracious. Summer is coming.

* The quip about seed is not a joke. I tried this Winter to cold/moist stratify 100 seeds purchased online, and not one has germinated so far (and I got only 2 strong plants out of 75 seeds the year before). If I get a good seed harvest, I'll consider trying to run some experiments over the next winter to see if I can quantify what it takes to make the seeds germinate. This is a lovely and in-these-parts rare plant and it would be cool to be able to grow it reliably.
* * *
Readers: Water Cooler is a standalone entity not covered by the annual NC fundraiser. So do feel free to make a contribution today or any day. Here is why: Regular positive feedback both makes me feel good and lets me know I'm on the right track with coverage. When I get no donations for five or ten days I get worried. More tangibly, a constant trickle of small donations helps me with expenses, and I factor in that trickle when setting fundraising goals. So if you see something you especially appreciate, do feel free to click this donate button:
Here is the screen that will appear, which I have helpfully annotated.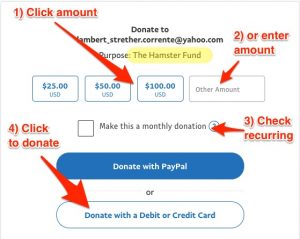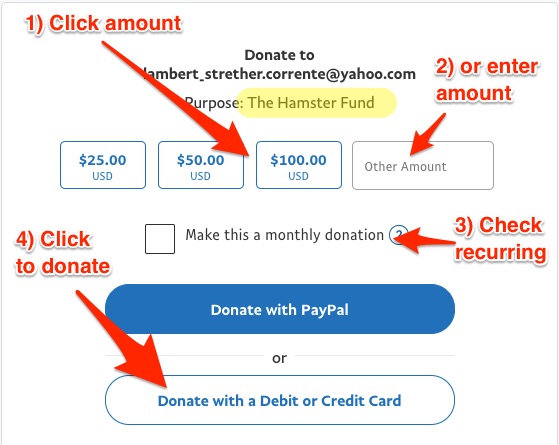 If you hate PayPal, you can email me at lambert [UNDERSCORE] strether [DOT] corrente [AT] yahoo [DOT] com, and I will give you directions on how to send a check. Thank you!