By Lambert Strether of Corrente
Today, June 14, is the second anniversary of the GrenFell Tower fire in London, a public housing block where 72 people died in a conflagration where the proximate cause was inflammable cladding installed on the outside of the building during a remodelling, and the ultimate cause was Thatcherite deregulation and a neoliberal infestation in London's Housing authority (see NC here). From a photo essay, also at NC, published in the immediate aftermath of the fire, you can see the Brutalist tower sticking out of the London skyline like a rotten tooth and a harbinger of a future Dystopia: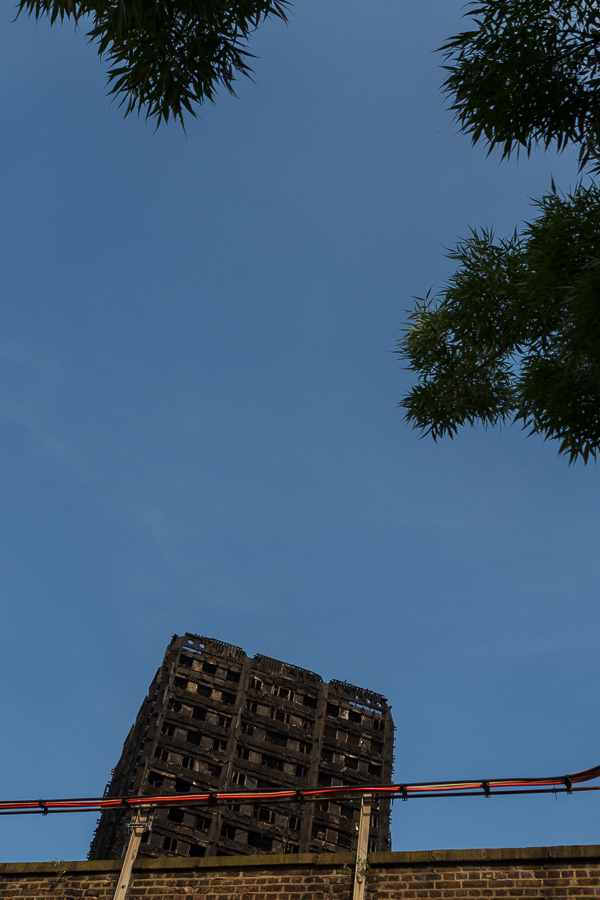 (Pleasingly, the London authorities are considering turning Grenfell Tower into a monument — to what, I am not quite sure[1].) As if on cue, on June 12, we had a second fire, in the London district of Barking, where the proximate cause was also inflammable cladding[1]. Here it is:
100 firefighters were called to the fire that engulfed a block of flats in Barking, London.

Full story here: https://t.co/FqEbjZRrTU pic.twitter.com/YSFJh7nOas

— Evening Standard (@EveningStandard) June 10, 2019
(The Barking apartments are billed as "luxury." Maybe now regulation will get some traction.) On the cladding, from the Barking and Dagenham News, "Cladding on Barking block where flats were destroyed by blaze was not fire retardant, developer reveals." Oh:
During a meeting at the Thames View Community Centre, developer Bellway Homes' regional chairman Ian Gorst was asked by one of the residents whether the cladding on Samuel Garside House, in De Pass Gardens, Barking Riverside, was fire retardant.

He said: "The cladding is not fire retardant."

Mr Gorst clarified: "Every building needs to be built and constructed in accordance with building regulations.

"In terms of non-combustible materials, the requirements comes in above 18 metres and the building itself is 13.75.
([puts head in hands].) So, as soon as we dolly back from proximate to ultimate — six inches, maybe — we see a failure of regulation as well. It would seem that little progress has been made, at least as far as the safety of tenants is concerned. In this post, I'll focus on the cladding issue, the failure of regulators to regulate, and a lawsuit just brought by Grenfell tenants, in Philadelphia, against the cladding manufacturer.
Inflammable Cladding Everywhere
From the Independent, "Government warned of another Grenfell-type disaster as 60,000 people still living in buildings covered in same flammable material":
Almost 60,000 people are still living in tower blocks covered in the highly flammable material that was used on Grenfell Tower, two years on from the blaze at the west London block, new figures have revealed.

There are 24,800 homes in high-rise blocks that are still covered in Aluminium Composite Material (ACM) cladding that is "unlikely to meet building regulations", ministers admitted.
And then, besides cladding, there are sprinkler systems to think of. From the Fire Brigades Union:
Coroners' reports have called for sprinkler systems to be fitted, but so far only 32 out of 837 council tower blocks over 30m tall have sprinklers.
Failure of Regulators to Regulate
From the Guardian, "Grenfell residents' rights were breached – equalities watchdog." This is brutal:
After a 15-month investigation, the Equality and Human Rights Commission (EHRC) said "the state either knew, or ought to have known, of the real and immediate risk to life posed by the cladding on Grenfell Tower", and that regulation had failed and that it had also failed to tell residents about the dangers they faced.

"Everyone has the right to life and the right to safe adequate housing, but the residents of Grenfell Tower were tragically let down by the public bodies that had a duty to protect them," said David Isaac, the chairman of the EHRC.

The EHRC pointed the finger at the central government and at Kensington and Chelsea, which owned the tower. It said the use of combustible cladding raised questions about "". It warned that, with 354 high-rise residential and public buildings with ACM cladding yet to be fixed, "the failure to protect lives and violation of article 2 [of the European Convention on Human Rights (right to life)] continues".

"Grenfell raises many questions about the suitability of the housing in the tower, for example, placing older, vulnerable and disabled people on upper floors," it said. "Many of the people killed by the fire were older people who were housed at height."

Firefighters have told the inquiry they did not know how to tackle the fire in the building's cladding, and the watchdog said the government would be in breach of its duties under the European convention on human rights if it did not train firefighters to do so. It must also reconsider stay-put policies for buildings with similar cladding. Many Grenfell residents died after following advice to stay in their flats which was based on any fire remaining being contained.

Other issues that could amount to breaches of human rights include a lack of planning for what to do with evacuated residents, poor and sometimes non-existent consultation with residents and that "responsible authorities did not make reasonable adjustments for disabled people living in Grenfell Tower".

It said: "."
Yes, putting the weak where they are most likely to die in a fire is a nice touch (see Rule #2 of neoliberalism). And of course the human rights violations are on-going for 60,000 people.
Lawsuit on Cladding by Grenfell Tenants
From Insurance Journal, "Lawsuit Filed for 'Defective' Products Linked to London's Grenfell Tower Fire Disaster" (two days before the statute of limitations would have expired):
[T]he exterior cladding, which was manufactured by Aconic Inc.[2], and "highly combustible insulation" manufactured by Celotex Corp., part of Saint-Gobain Corp., said the complaint.

"The highly flammable cladding turned Grenfell Tower into a flaming coffin, entrapping the residents and their guests and sentencing the victims to agonizing and painful deaths by burning and suffocation," said the lawsuit. (Estate of Gloria Trevisan, et al. vs. Arconic, Inc., et al., Philadelphia Court of Common Pleas, June 2019: 005311.)…

The lawsuit demands a jury trial in Philadelphia County and seeks undetermined compensation, including punitive damages, on behalf of 247 plaintiffs, who include 69 of the 72 killed and others who "sustained life-altering injuries." (Two of the defendants are headquartered in Pennsylvania — Arconic and Saint-Gobain — while Whirlpool[3] is based in Benton Harbor, Mich.)

The Arconic cladding product is marketed under the trade name "Reynobond PE," which the complaint said cannot be installed in U.S. high-rise buildings higher than 40 feet "due to its highly flammable nature." The Grenfell Tower was more than 200 feet tall.

As a result,

"Through its behavior, …," the complaint continued.

The lawsuit accused Celotex of selling insulation, which it knew "was highly combustible and was not fit or suitable for use in external cladding for buildings…." The complaint further accused Celotex of "fraudulently" manipulating test results to hide the product's flammable nature.
The bastards are trying to penalize regulatory arbitrage! (Oddly, or not, Aconic tried to sell its cladding business in 2018.) The New York Times, "Survivors of London's Grenfell Fire Sue in Philadelphia Court," explains the choice of venue:
For a disaster that enraged Britons and set off sprawling investigations in London, the venue for the lawsuit — the Philadelphia County Court of Common Pleas — was unorthodox.

But it reflected an increasingly prevalent dilemma for lawyers bringing cases against multinational corporations. Drawn to American courts for plaintiff-friendly liability laws and the opportunity for big payouts, the lawyers and their clients must nevertheless contend with questions about when American rules should apply in disasters abroad….

British courts, on the whole, are much more deferential to businesses. Punitive damages are uncommon in Britain, on the theory that excessively penalizing companies could become a burden to them. The American system, on the other hand, treats punitive damages against companies as an incentive for them to follow the law, and often puts cases in front of juries, which tend to award larger payouts.
Are "foreign lives…worth less than American lives"? An interesting question indeed! Our foreign policy (and immigration policies) would argue that indeed they are.
Conclusion
I don't really know what to conclude from all this, except "nobody could have predicted," or, with affirmative cynicism, "everything's going according to plan. I hate words like "victim" or "survivor," because I think they put those to whom they are applied in a "one-up" position with regard to ascribed virtue, but a one-down position in terms of actual power. So I'll say "tenants." Here is what the tenants are doing; their struggle (as with the lawsuit) is on-going, and must at some point become what life is, rather than an aberration to be followed by a return to normalcy. From the Mirror:
Representatives from Grenfell United said they were still waiting for change and justice.

Ed Daffarn said: "We've warned you before Grenfell Two is in the post and you must act."

Mr Daffarn, who fled the 16th floor of the West London tower, was speaking in Parliament to mark the second anniversary this Friday of the fire that killed 72 people.

He told MPs and ministers that the survivors had been let down at every stage.

"Like a tragedy in three acts our community was failed before, during and after the fire," he said.

"In the days after the fire the Government promised no stone would be left unturned in addressing the causes of the fire. We were promised justice and we promised change.

"However, two years on the reality is that little has changed and justice seems as far away as ever.

"Unsafe cladding is still on blocks across the country, fire regulations have yet to change, the social housing regulator that so utterly let us down is still in place," he said.

Mr Daffarn said that "tens of thousands of people" across the country are still living in buildings covered in dangerous cladding.

"We cannot bring back our loved ones but we can make sure justice is served and change is achieved. Please do not fail us," he added.
There's a lot of labor in an appearance before Parliament, not just by the speaker but by a team behind them; and the work is on-going in other venues, like the press, the courts, regulators, etc. A friend of mine referred to such uncompensated labor as "the cost of citizenship." Perhaps a Jobs Guarantee could cover that; citizenship is definitely something we need more of.
NOTES
[1] I must say that a thin layer of surface decoration catching fire, and destroying the structure around which the installers — having intended concealment or a semblance of modernization or improvement — wrapped it, is an excellent metaphor for the methods and results of neoliberal policies generally. We have to set the building on fire so that we can find out what's in it.
[2] Oddly, or not, Aconic tried to sell its cladding business in 2018.
[3] The Grenfell Fire started with a Whirlpool refrigerator (as the Barking fire is said to have started from a balcony barbecue). I am not treating those as "causes" because even the most fiery of refrigerators shouldn't be able to burn down a building, and people have a reasonable expectation they can barbecue on their decks, ffs.