By Lambert Strether of Corrente
Trade
"Trump's Trade War Is Keeping the Dollar Strong, Not the Fed" [Bloomberg]. "Donald Trump has blamed the stubbornly strong dollar on the Federal Reserve's reluctance to slash interest rates further. But real yields suggest investors fearful of the president's trade war are what's keeping the greenback strong."
Politics
"But what is government itself, but the greatest of all reflections on human nature?" –James Madison, Federalist 51
"They had one weapon left and both knew it: treachery." –Frank Herbert, Dune
I'm abandoning the RCP poll on the Democrat Presidential nomination race, despite the fancy presentation, because I don't like the way the polls used keep changing (and RCP doesn't include Reuters/IPSOS either, at least not now, even though Reuter is one of the polls that the DNC uses to determine — if that's the word I want — candidate eligibility for the debates. So I'll try FiveThirtyEight (I know, I know) for awhile. Here are results going a week back, last updated 2019-08-20: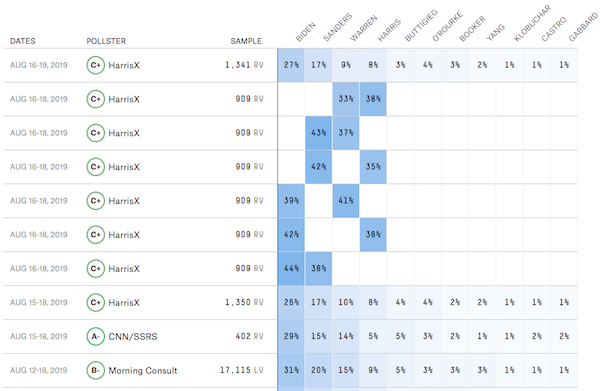 Morning Consult (B-) is still the pick of the litter today on sample size, and it has Biden, Sanders, and Warren, in that order, and Sanders solidly ahead of Warren. CNN (A-) has Warren breathing down Sanders' neck. Harris (C+) has interesting head-to-head comparisons. Hopefully we'll have something better than this screen dump shortly.
* * *
2020
Biden (D)(1): "Obama Repeatedly Tried to Get Biden Not to Run for President" [GQ]. "The most surprising part of the Times story though is how Obama has on multiple occasions tried to dissuade Biden from running for president. First, in 2016, Obama pressured Biden to sit out the race because he believed Hillary Clinton was the best shot at continuing his legacy. Even though that didn't pan out for Obama, he still tried to talk Biden out of running in 2020…. The Times also reports that in March, Obama summoned Biden's top campaign advisers, Anita Dunn and Kate Bedingfield, to his Washington office. Multiple sources confirmed to the Times that the ex-president warned the advisers to make sure that Biden doesn't "embarrass himself" or "damage his legacy.'" • That Obama. All class.

Biden (D)(2): "Biden's Complicity in Obama's Toxic Legacy" [Counterpunch (Re Silc)]. "Central to [Biden's] narrative is the presentation of the difference between Trump and Obama as akin to the difference between Hitler and Gandhi. A better analogy – especially when it comes to foreign policy – would be the difference between John Wayne Gacy, the serial killer who was known for dressing up as a clown at public events, and Ted Bundy, the tall, handsome serial killer who enticed his victims into his car with his charm and good looks." • I picked out the sickest burn, if we still say that, but the article as whole is quite a bill of particulars.

Biden (D)(3): "Jill Biden: 'Swallow a little bit' and vote for Joe" [CNN]. Jill Biden: "Your candidate might be better on, I don't know, health care, than Joe is, but you've got to look at who's going to win this election. And maybe you have to swallow a little bit and say, 'OK, I personally like so and so better,' but your bottom line has to be that we have to beat Trump." • Liberal Democrats: "You have no place to go, so take it and like it."

De Blasio (D)(1): "De Blasio Says He's Still in Race to Win: Campaign Update" [Bloomberg]. "New York Mayor Bill de Blasio has less than 1% support in national polls, and he's far short of the 130,000 donors needed to participate in a September debate among Democratic presidential candidates, yet he says he's still in the race to win. 'I'm standing up for working people. I'm standing up for labor unions. I'm saying very bluntly that we can not depend on private insurance companies to give people the kind of health care they actually deserve,' de Blasio said Tuesday during an MSNBC interview." • I think there's a candidate in that lane already.

Harris (D)(1): "Kamala Harris, Who Just Clarified Her Rejection of Real Medicare for All, to Snub Climate Forum in Favor of Big Donors" [Common Dreams]. "[T]he Harris campaign told CNN Harris would not attend the network's September 4 climate forum, citing previous commitments—big dollar California fundraisers." • Classy!

Harris (D)(2): Poor optics:

This shit looks like the day party at a slave combine. Then I see Kamala Harris' name and I understand completely. https://t.co/nbruJofwHn

— Keep Rae Shining (@GuruBluXVIII) August 19, 2019

Inslee (D)(1): "Climate Candidate Who Proposed Climate Debate Won't Qualify for Climate Debate" [New York Magazine]. "In June, a small first-year-of-the-primary controversy flared after Washington governor Jay Inslee proposed a field-wide town hall on climate change and the Democratic National Committee told him that if he participated in an unofficial event focused on the crisis of our time, he would be barred from official DNC debates in the future. In July, the tone of the conversation changed when CNN announced it would host a climate-only debate in New York on September 4 for candidates who made the cut for the next all-issue debate by snagging at least 2 percent in four qualifying polls. Unfortunately for Inslee — who has proposed a plan for a 100 percent–renewable, zero-emission America by 2035 — it appears unlikely that he will get invited to the debate he proposed, as he hasn't reached 2 percent in any polls approved by the DNC." • Great job, DNC, turning selected — and, naturally, totally objective! — pollsters into gatekeepers.

Sanders (D)(1): If you build it:

⚾️ The crowd goes wild as @BernieSanders runs to first base and @Celentra scores! ⚾️ #FeelTheBern pic.twitter.com/9BuZv6kRvz

— People for Bernie (@People4Bernie) August 20, 2019

Sanders (D)(1): In the Hamptons, the Monogram Cup Straw Poll (similar to the kernel poll in Iowa):

Doesn't seem like Bernie is on the ballot in the Hamptons monogram poll. https://t.co/ngiXO2JCOO

— Alex Thompson (@AlxThomp) August 19, 2019

Trump (R)(1): "An Anti-Trump Landslide?" [The American Conservative]. "Anything could happen between now and November 2020, but this new Fox News poll is not good news for the president. If the vote were held today, Joe Biden would clobber him, which is no surprise. But also, a geriatric New England socialist would beat the stuffing out of Trump. So would a preachy Harvard professor and a militantly progressive black woman from the San Francisco Bay Area.* An anti-Trump landslide at the top of the ticket could wash the GOP Senate majority away. We would then have a Democratic president and Congress — and they would be in a score-settling mood. One more time: anything could happen between now and Election Day 2020. But a recession, which is growing more likely by the day, would be something extremely hard for Trump to overcome." •  "Anti-Trump landslide" is Bitecofer's theory of the case for 2018 and 2020. NOTE * Harris, lol.

Warren (D)(1): "Native American Forum Focuses On Elizabeth Warren's Policies, Not DNA Test" [HuffPo]. "But despite the media's attention on the DNA issue, it wasn't the focus of the forum. Warren talked about the contents of her sweeping plan for empowering tribal nations and indigenous peoples. And it was a hit. 'What I'd like to see us do is reverse Oliphant,' Warren said to applause, referring to the Supreme Court decision in Oliphant v. Suquamish Indian Tribe, which prevents tribal governments from prosecuting non-Indians…. Two tribal leaders raved about Warren's plan to create a Cabinet position for someone to work directly with Native American communities." • Warren may finally have secured her rear from attack on this issue — at least in the primary.

Williamson (D)(1): "Marianne Williamson Wants Presidential Politics to Enter the New Age" [The New Yorker]. "Williamson, a nondenominational psycho-spiritual leader, who mixes references to Christianity with quotes from philosophers, Martin Luther King, Jr., and Deepak Chopra, has based her Presidential candidacy on an unspoken premise: that the country might be experiencing an epidemic of mental illness. Actually, it's not that unspoken: 'We have a problem with the psychological fabric of our country,' a section on her campaign Web site, titled 'The Issues Aren't Always the Issue,' says. "A low level emotional civil war has begun in too many ways to rip us apart.'… [A retired San Francisco publicist named Stephen Kenneally said that he] was not of Williamson's demographic at the time. I asked him what that demographic was. 'People that had no hope,' he said." • Then Williamson's demographic is enormous, because neoliberalism is about removing hope ("there is no alternative"). Every so often The New Yorker still delivers, and this is one of those times.
Obama Legacy
"The Trump vs. Obama economy — in 15 charts" [WaPo]. • Not a lot of difference, though there's no discussion of the long-lastiing damage to the economy (hysteresis) caused by Obama's miserably inadequate response — unless you were a bankster — to the Crash.

"Obamas' first film charts life in US factory under China bosses" [Yahoo News (Re Silc)]. "[American Factory] charts a Midwestern rust belt community's journey from optimism at the giant plant's reopening — bringing back vital jobs — toward creeping anger and disillusionment as the Chinese management imposes its strict, exhausting demands on workers and sacks those who don't comply." • Absolutely shameless.
Our Famously Free Press
Susan Sarandon makes Soledad O'Brien's skin crawl?

Ick. I'm going to have to block this acct. https://t.co/xJfNhn47s3

— Soledad O'Brien (@soledadobrien) August 20, 2019

Nothing unique about O'Brien's views; what is remarkable — besides the fact that Susan Sarandon (!) has become a hate figure among former Clinton supporter — is that the open expression of such views has been normalized. Can anybody seriously believe they don't affect coverager?
L'Affaire Joffrey Epstein
"EXCLUSIVE: Ghislaine Maxwell STAGED In-N-Out photo in Los Angeles with her close friend and attorney, using confidante's dog Dexter in the snapshot" [Daily Mail]. • You can read for the detail, which is awfully fun, but I did think the title of the book Maxwell was reading, The Book of Honor: The Secret Lives and Deaths of CIA Operatives, was more than a little odd.
Realignment and Legitimacy
"Newt Gingrich Slams 'New York Times' 1619 Project As Shameless Abolitionist Propaganda" [The Onion]. "In fact, if they're going to be putting out biased nonsense like this, the newspaper's editors might as well have left-wing lunatics like William Lloyd Garrison writing up their anti-slavery screed for them."

"Trump's Quiet Attack on Redistricting" [The New Republic (Re Silc)]. "President Donald Trump ordered the Census Bureau to compile citizenship data from existing federal records last month, after the Supreme Court effectively blocked a citizenship question on the census itself. In a letter to Massachusetts Representative Ayanna Pressley, the bureau confirmed it would produce that data in a highly auspicious form. "Administrative records will use existing government information to produce citizen voting age population (CVAP) data at the census block level, the smallest geographic data unit," the bureau told Pressley's office last week. While not obvious at first blush, this arcane minutiae carries massive consequences for American politics. Every ten years, state legislatures redraw both their own seats and federal House districts using the bureau's block-level data on total population—the Census-tabulated head count of every single person inside the United States. By also providing block-level data on eligible voters, the bureau is opening the door for states to redraw their legislative maps in 2021 based on that population base instead…. Such a move would reshape the political and social topography of any state that tries it. Legislative seats—and the raw political power that comes with them—would shift away from diverse urban areas and gravitate toward whiter suburban and rural communities." • Important! Obama's 2010 debacle continues to echo.

"What Rep. Abigail Spanberger learned after clashing with progressives" [WaPo]. "Mother of three," paragraph 21. "CIA officer," paragraph 26. "Linda Higgins, the pastor at St. John's United Church of Christ, was in the audience. She wants Congress to impeach the president. She also worked to get Spanberger elected. 'Would we have loved to put a progressive up? Yeah,' Higgins said. 'Would they have won? No. There is some reality in politics. We knew who she was. But she is wonderfully who she is.'" • Oh.

"EXCLUSIVE: Harry Reid: 'Of Course' Medicare for All and Decriminalizing Border Crossings Are Bad Ideas" [Vice]. "Nearly all of the 2020 candidates have made a point to kiss the ring of the man who built Nevada's vaunted Democratic political machine and still holds immense power in the state — he's had long conversations recently with candidates including Pete Buttigieg and his old Senate colleague Joe Biden." And then there's this: "[H]e recently penned an op-ed calling for the elimination of the filibuster, a controversial view even among Democrats." • That lets the cat out of the bag; there would have been a path to single payer if Reid had abolished the filibuster in 2009. So when Reid asks, of Medicare for All, "How are you going to get it passed?" the answer was right in front of him, all the time.
Stats Watch
Tnere are no official statistics of note today.
Retail: "Big Brands Are Using Amazon's Anticounterfeiting Measures to Crush Small Businesses" [Vice]. "[F]or a small retailer like Card & Party, Amazon is a pivotal source of online revenue. Aaron Schwartz, Card & Party's attorney, argues that Amazon's process for authorizing vendors to sell branded merchandise allows large companies to unlawfully drive smaller competitors, especially discounters like Card & Party who sell the same products for cheaper, from Amazon. 'Our allegation is that they've misused the Amazon Brand Registry as a vehicle to boycott third party retailers who compete with them. They can do this because they are both a retailer and a manufacturer,' he said. 'They're leveraging their monopoly.'"
The Bezzle: "WeWork Analyst Warns IPO Filing a 'Masterpiece of Obfuscation'" [Bloomberg]. "The We Co., which is expected to raise about $3.5 billion in what would be 2019's second-biggest initial public offering, must have put in a great effort to conceal the unit economics underlying the coworking space provider, said Triton Research Inc. Chief Executive Officer Rett Wallace. 'The prospectus is a masterpiece of obfuscation," he said in an interview. 'If the underlying facts were positive, why would a company go to so much trouble to prevent you from understanding them?' Using what it calls an obfuscation index as one component of its ratings, Triton has built a strong track record predicting the winners and losers among technology IPOs. Since January 2018, listings that won an above-average score from Triton have risen about 92% from their offering prices, nearly triple the return of those scoring below average." • That's the Wheee! Co.
The Bezzle: "UK shoppers leave £228m of click-and-collect products unclaimed" [Sky News]. "It said more than 70% of shoppers in the UK chose click and collect, selecting the option twice a month on average. But a third of shoppers who failed to pick up their items from the retailer after choosing the option did so because the process was a "hassle" and they preferred to wait for a refund before reordering the goods via home delivery." • You get a refund if you don't pick up your order? Huh?
Tech: "Apple's Goldman Card Launches in U.S. With Uber Cash-Back Offer" [Bloomberg]. • Tim Cook gets into bed with Uber? Ick.
Tech: "Data Sweat" [Real Life]. "Data sweat, in addition to self-published inputs, fuels the algorithmic creation of personalized profiles which include large-scale assumptions about individuals' identity and inner life. These categorizations generate emotional appraisals, not just topical targeting. For example, keystroke patterns or finger movements across a phone screen might differentiate a conservative shopper from a compulsive one. Advertising strategies — ranging from the content individuals receive to these ads' aesthetic appearance and when they appear on screen — will adapt according to these affectively influenced labels. Netflix's eerily personalized image thumbnails that pitch the same movie as a thriller to one user and a romance to another are just the tip of the iceberg."
Tech: ""I don't own the data": End User Perceptions of Smart Home Device Data Practices and Risks [Madiha Tabassum, Tomasz Kosinski, Heather Richter Lipford, USENIX]. "In this qualitative interview study of smart home users, we found that participants generally understand that a wide range of information is being collected about their interactions with smart home devices, and shared with a variety of entities to provide useful functionality as well as for marketing and advertising. Much of this information is stored in the cloud, where it is out of the control of users. Yet users are also highly uncertain about these data practices, and desire greater awareness and control over what is occurring. Participants also identified several threats common across computing contexts – such as breaches and financial theft, as well as home safety and security. Yet, despite this awareness of potential threats, they did not view these as serious risks and practiced few mitigation strategies beyond trying to provide devices with no more information than necessary." • Taking candy from babies.
Manufacturing: "Airlines are selling thousands of flights on the Boeing 737 Max, even though it's still grounded" [Business Insider]. "Airlines including American, United, Southwest, Norwegian, and TUI are selling thousands of flights in November and December of this year using the [737 MAX], the UK's The Sunday Times newspaper reported. These flights are just after when the airlines think that the plane will be allowed to fly again — a date that the airlines keep pushing back."
Manufacturing: "Despite Devastating Crashes, Boeing Stocks Fly High" [The American Conservative]. "Other powerful forces are hard at work to save the corporate behemoth from going into a terminal stall. Boeing, for example, is a component of the Dow Jones Industrial Average, the 30-stock index generally if misleadingly cited as a bellwether of the market as a whole, and even the entire U.S. economy. Because the Dow is weighted by price, an upward or downward move in Boeing has a significant effect on the index, which makes it a particular object of interest for the trading desks at major Wall Street players. Hence the stock is traded very actively in the 'dark pools,' otherwise known as "alternative trading systems," with opaque names such as JP Morgan's JPMX, operated by the big banks and major institutions as unregulated stock exchanges, courtesy of a toothless SEC. These are ideal instruments for manipulating the market, since they don't have to show their bids and offers to the general market place as is required on regulated exchanges."
Manufacturing: Thread:
just realized that it's probably a double layer of semi fraudulent businesses – the factory making crappy electronics is an OEM set up to make store brands so they already have a workflow – probably automated by now – to use whatever silkscreen art they're sent

— Utterly dispassionate, documentary hog slaughter (@gravislizard) August 20, 2019
The script that generated that packaging needs work: "Tolmnnts"?
Transportation: "Germany: Berlin tests driverless buses" [Deutsche Welle]. "The buses will be able to travel at up to 15 kph (9 mph). They will initially only cover a 600-meter distance from the end of the U6 metro line to Lake Tegel…. The vehicles will have a member of staff permanently on board, in case of difficulties." • Not exactly Level 5 autonomy!
Honey for the Bears: "The recreational-vehicle industry is hurting and that could mean pain for the U.S. economy. Shipments of recreational vehicles to dealers have fallen about 20% so far this year, after a 4.1% drop last year. …[T]hat's a worrying signal since multiyear declines in RV shipments have preceded the last three recessions" [Wall Street Journal]. "The RV manufacturing business centered in Elkhart, Ind., has been something of an economic bellwether since a big part of the industry's supply chain, from parts to final assembly, is based in the region. Dealers keep inventories lean since RVs are luxury items, and they pull back ordering when they sense cooling demand."
* * *
Today's Fear & Greed Index: 23 Fear (previous close: 26, Fear) [CNN]. One week ago: 26 (Fear). (0 is Extreme Fear; 100 is Extreme Greed). Last updated Aug 19 at 12:39pm. Note that the index is not always updated daily, sadly.
The Biosphere
"Stable isotope and dental caries data reveal abrupt changes in subsistence economy in ancient China in response to global climate change" [PLOS One]. "Prior to the introduction of wheat and barley from Central Asia during the Neolithic period, northern Chinese agricultural groups subsisted heavily on millet… Here we examine published stable isotope and dental caries data of human skeletal remains from 77 archaeological sites across northern and northwestern China. These sites date between 9000 to 1750 BP, encompassing the period from the beginning of agriculture to wheat's emergence as a staple crop in northern China. The aim of this study is to evaluate the implications of the spread and adoption of these crops in ancient China… [T]he sudden change in subsistence economy across northern and northwestern China was likely related to climate change. Moreover, the substantially increased prevalence of dental caries from pre–to post–4000 BP indicates an increase in the consumption of cariogenic cereals during the later period. The results from this study have significant implications for understanding how the adoption of a staple crop can be indicative of large-scale environmental and socio-political changes in a region."
The players behind fake meat:
1) So I was curious why there was this sudden push to cut meat, particularly beef consumption, it seemed to come out of nowhere, so I did a little research, a thread: https://t.co/8baJfISZ7c

— S____ (@_S70DD) August 4, 2019
Health Care
"CDC probes lung illnesses linked to e-cigarette use" [Reuters]. "The U.S. Centers for Disease Control and Prevention is investigating a 'cluster' of lung illnesses that it believes may be linked to e-cigarette use after such cases were reported in 14 states…. E-cigarettes are generally thought to be safer than traditional cigarettes, which kill up to half of all lifetime users, according to the World Health Organization. But the long-term health effects of the nicotine devices remain largely unknown."
"Gut-associated IgA+ immune cells regulate obesity-related insulin resistance" [Nature] (mouse study). "Obesity is a global concern that is associated with many chronic complications such as type 2 diabetes, insulin resistance (IR), cardiovascular diseases, and cancer. Growing evidence has implicated the digestive system, including its microbiota, gut-derived incretin hormones, and gut-associated lymphoid tissue in obesity and IR….These findings identify intestinal IgA+ immune cells as mucosal mediators of whole-body glucose regulation in diet-induced metabolic disease."
The 420
"Cannabis legalization may not provide the pot of gold that was expected. Startups in states where cannabis is legal are having trouble competing with the formidable supply chains of traditional drug dealers… even as a spreading legalization movement has marijuana coming out of the shadows. Governments that were planning for huge tax windfalls and investors expecting to reap big returns now are adjusting to a slower burn" [Wall Street Journal]. "The new generation of above-board sellers face big hurdles, including complicated regulations on production and distribution as well as high taxes that drive up cannabis prices at licensed retail stores. Brand-name transportation operators have largely shied away from the trade, leaving companies unable to tap into broader and cheaper shipping networks. Experts say the U.S. cannabis market is huge but much of it likely remains in the hands of illegal dealers." • (!!!)
Class Warfare
"Finance Needs People Who Work Well With Robots" [Bloomberg]. "Today, it's not just humans competing for work in banking. Machines are becoming a threat to warm-blooded number crunchers worldwide. Indeed, almost one-third of financial-services jobs could be displaced by automation by the mid-2030s, according to a report by PricewaterhouseCoopers LLP last year." • Then, they came for the analysts…
News of the Wired
"Impact of multiple food environments on body mass index" [PLOS One]. "We examined the relationship between characteristics of three distinct food environments and BMI among elementary school employees in the metropolitan area of New Orleans, LA. We assessed the food environments around the residential and worksite neighborhoods and the commuting corridors…. Significant results were found between [body mass index (BMI)] and the availability of food stores around residential neighborhoods and the commuting corridor, adjusted for individual-level factors. This study expands the analysis beyond residential neighborhoods, illustrating the importance of multiple environmental factors in relation to BMI."
"Hundreds of extreme self-citing scientists revealed in new database" [Nature]. "The world's most-cited researchers, according to newly released data, are a curiously eclectic bunch. Nobel laureates and eminent polymaths rub shoulders with less familiar names, such as Sundarapandian Vaidyanathan from Chennai in India. What leaps out about Vaidyanathan and hundreds of other researchers is that many of the citations to their work come from their own papers, or from those of their co-authors." • The age of the selfie…
* * *
Readers, feel free to contact me at lambert [UNDERSCORE] strether [DOT] corrente [AT] yahoo [DOT] com, with (a) links, and even better (b) sources I should curate regularly, (c) how to send me a check if you are allergic to PayPal, and (d) to find out how to send me images of plants. Vegetables are fine! Fungi are deemed to be honorary plants! If you want your handle to appear as a credit, please place it at the start of your mail in parentheses: (thus). Otherwise, I will anonymize by using your initials. See the previous Water Cooler (with plant) here. Today's plant (Skookum Red):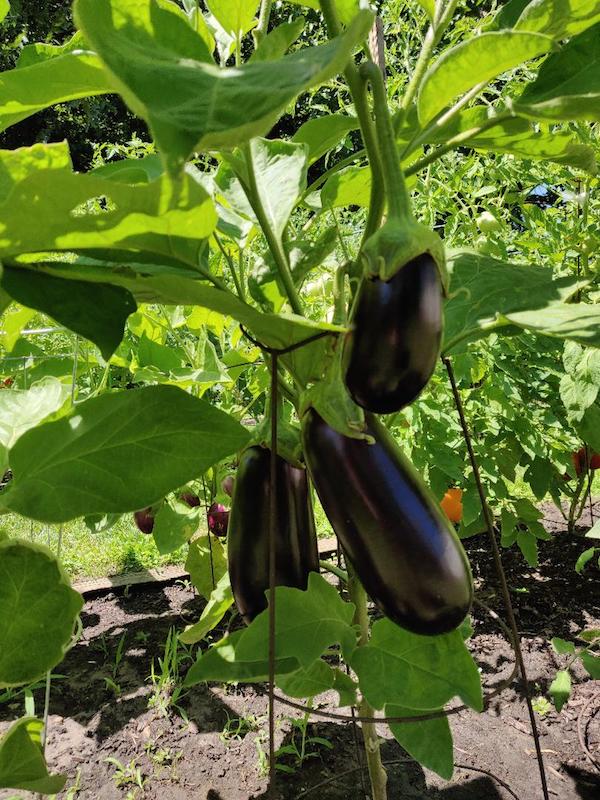 Skookum Red writes: "Last spring a close friend (fellow Boeing retiree) pulled up stakes here in N. Puget Sound to take care of his folks in Iowa. We are both organic gardeners. A few days ago he sent me this photo of some of his eggplants that are progressing quite well. I am envious. I love batter-fried eggplants but I am allergic to them. *sigh*. Looking at this photo makes me very peckish." Yum!
* * *
Readers: Water Cooler is a standalone entity not covered by the annual NC fundraiser.Remember, a tip jar is for tipping! So if you see a link you especially like, or an item you wouldn't see anywhere else, please do not hesitate to express your appreciation in tangible form. Regular positive feedback both makes me feel good and lets me know I'm on the right track with coverage. When I get no donations for five or ten days I get worried. More tangibly, a constant trickle of donations helps me with expenses, and I factor in that trickle when setting fundraising goals:
Here is the screen that will appear, which I have helpfully annotated.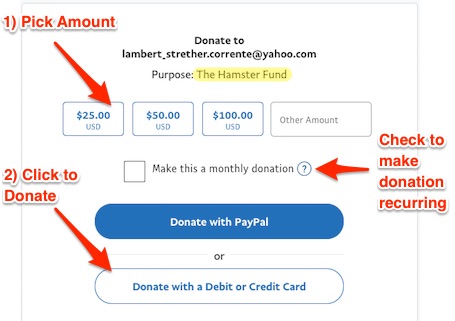 If you hate PayPal, you can email me at lambert [UNDERSCORE] strether [DOT] corrente [AT] yahoo [DOT] com, and I will give you directions on how to send a check. Thank you!