By Lambert Strether of Corrente
Politics
"But what is government itself, but the greatest of all reflections on human nature?" –James Madison, Federalist 51
"They had one weapon left and both knew it: treachery." –Frank Herbert, Dune
I'm abandoning the RCP poll on the Democrat Presidential nomination race, despite the fancy presentation, because I don't like the way the polls used keep changing (and RCP doesn't include Reuters/IPSOS either, at least not now, even though Reuter is one of the polls that the DNC uses to determine — if that's the word I want — candidate eligibility for the debates. So I'll try FiveThirtyEight (I know, I know) for awhile. Here are results going a week back, last updated 2019-08-26: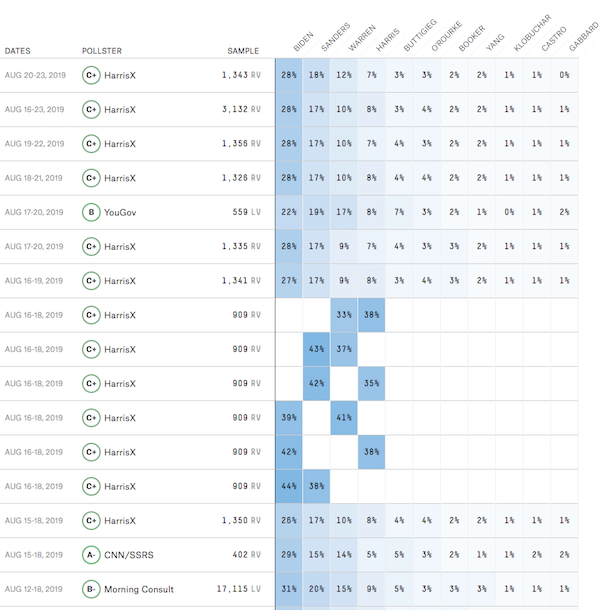 The pipeline for major polls feels oddly clogged. Over the weekend, we got a bunch of new HarrisX (C+) polls. Relative positions of Biden, Warren, Sanders are same, with Warren still firmly in third after Sanders. Morning Consult (B-) is still the pick of the litter today on sample size. CNN (A-) has Warren breathing down Sanders' neck. Anticipation rises on something better than this screen dump shortly.
* * *
2020
UPDATE Biden (D)(1): "Joe Biden: 'I want to be clear, I'm not going nuts" [Newsweek]. [staffer groans, slaps forehead].

UPDATE Harris (D)(1): Classy:

Kamala Harris's speech at the DNC was boosted by a cheering section of about 40 people that her campaign brought in, erupting every time she hit a big line — and then that group got up and walked out as soon as she finished

— Edward-Isaac Dovere (@IsaacDovere) August 23, 2019

From a mainstream reporter, note well.

Sanders (D)(1): "Cardi B might be one of Bernie's most powerful 2020 allies. Seriously." [Politico]. "The fact that Sanders chatted about parenting with Cardi B in the moments before one of the most important events in the presidential race is a testament to the oddball alliance the two have developed over the past year. It's a friendship and political partnership that's drawn the attention of millions of people: Since Sanders and Cardi B unveiled a videotaped conversation this month that they had at a nail salon in Detroit, it has racked up a stunning 22 million views on their social media accounts." • Sanders looked like he was having fun in that "converation," too. And why wouldn't he?

UDPATE Sanders (D)(2):

Over 40 years, income per person doubled. But half our people live paycheck to paycheck. Why?

Because the top 1% captured 45% of new income. And the median hourly wage grew by $2 over 40 years.

This is a rigged economy. And the working class needs to come together to fix it.

— Bernie Sanders (@SenSanders) August 25, 2019

UPDATE Sanders (D)(3): "Elegy for Bernie? Not quite yet: Sanders 2020 poses a conundrum Democrats must solve" [Salon]. "[T]he overarching conclusion that Bernie Sanders is not an important factor in the 2020 race [is false]. He is older than either Joe Biden or Trump, but appears far more vigorous and alert than either of them. He remains second to Biden in most Democratic primary polls, neither surging nor declining much* while other candidates go through their exceedingly minor boom-and-bust cycles. Remember when your friends were confidently aboard the Pete Buttigieg juggernaut, for five minutes? Remember when Kamala Harris set Biden on fire that one time, and looked like the tough-as-nails leader who would prosecute Donald Trump for everything? Those were good times. Well, neither of those people has cracked double figures in any major poll this month." • Because, I would argue, Sander has his own list, his own media operation, and his own canvassing operation. And then there's the issue of whether the polling and the computer models are really providing good proxies for whatever is happening out there in the dark matter of the electorate….

UPDATE Steyer (D)(1): "Tom Steyer's bets on private prisons and coal mining could spell trouble in 2020" [Los Angeles Times]. • C'mon. What good liberal doen't love private prisons and coal?

Trump (R)(1): "Joe Walsh says he is challenging Trump 'to make the moral case against him'" [CNN]. • I prefer the Eagles without Joe Walsh, thank you very much.

Trump (R)(2): "GOP fundraises off Greenland flap: 'Support President Trump and his efforts to help America grow!'" [Politico]. "The National Republican Congressional Committee began running a promotion in which donors contributing $25 or more receive a limited-edition T-shirt depicting the semiautonomous Arctic island, part of the Kingdom of Denmark, as part of the U.S."

Warren (D)(1): "Elizabeth Warren Draws Record Crowd of 15,000 in Seattle" [Bloomberg]. "Elizabeth Warren drew the largest crowd of her presidential campaign Sunday in Seattle, as an estimated 15,000 people turned out to support what she calls a movement for change. When touting her wealth tax of 2 cents on every dollar of assets above $50 million, Warren drew chants of '2 cents! 2 cents!' The loudest applause came when she called for overturning the Supreme Court's ruling that lifted campaign finance restrictions. Warren, who is running on a platform of economic populism with proposals such as the wealth tax and more regulation, comes in second behind Democratic frontrunner Joe Biden in many polls." • 15,000 is impressive. "Two cents" is the very reverse of impressive (let alone "big, structural). And "many polls." Come on. What is this, WaPo?

Warren (D)(2): "Elizabeth Warren Manages to Woo the Democratic Establishment" [Edward-Isaac Dovere, The Atlantic]. "Joe Biden is ostensibly the candidate of the Democratic establishment. But it was Elizabeth Warren—who's built her career on trying to challenge the status quo—who spent the weekend wowing party insiders…. it was a surprise when more than 150 of the Democratic Party's biggest donors similarly lined up on Thursday night after her speech at a dinner here—and it struck even some of the Democrats waiting to take photos with her. 'These are people who should not like her,' said one attendee, who spoke to me on the condition of anonymity to avoid showing favoritism. 'And they love her.' The next day, at the summer meeting of the Democratic National Committee, party members were on their feet cheering when she took the stage for a brief address. Do the opinions of party insiders even matter anymore? The answer is a resounding 'maybe.' DNC members are among the superdelegates whose power in the presidential-nominating process was stripped [except in the case of a brokered convention –lambert] last year. But all the people at the summer meeting are active and influential in local politics, and they have the potential to softly sway opinions in ways that could ripple out of their communities." • "When a man knows he is to be hanged in a fortnight, it concentrates his mind wonderfully." ― Samuel Johnson. And so with the DNC.

Warren (D)(3): They give donations:

2/2 Warren campaign treasurer gives $650,000 dollars to David Brock. He of that famous line "a little bit nutty and a little bit s*utty" regarding Anita Hill. What kind of woman puts a man in charge of her campaign money who gave over half-a-Million dollars to an admitted liar? pic.twitter.com/59Hpv3hmXq

— today (@kfgibson) August 23, 2019

* * *

"DNC Chief Plans to Raise Money From Americans in Mexico City" [Bloomberg (Amfortas the Hippie)]. • You can't escape them! So effing entitled, it makes me want to scream. You want the expat vote, do something about FATCA and make it less onerous for dull normals. Or, if you're ambitious, work out a way to make existing Medicare portable across borders (appealing to the open borders crowd, too, naturally).

"Video: CNU Professor Rachel Bitecofer Explains 'Exactly What's Wrong with Democrats,' Namely That They 'Absolutely Suck at Messaging'" [Blue Virginia]. Bitecofer on Joy Reid: "Democrats absolutely suck at messaging. They don't tap into emotion. They want to have these cerebral conversations with voters that don't exist. Because, you know, we we are not typical people and we want to talk to ourselves. And you know, you have to tap into emotion the way that the GOP does. Not, I would argue, in such a negative way, but in a way that gets people to connect their day-to-day lives with the political process." • Not sure what RussiaGate was but emotional, not to mention the occasional Susan Sarondon eruptions. And we went through all that "messaging is the problem" once already back in 2003 with George Lakoff; the result was Why Mommy is a Democrat:

(Ow! My eyes!) Anyhow, it looks to me like Bitecofer wants to be a Democratic strategist. Like Lakoff. Good luck to her.

"Democrat congressman says U.S. needs illegal immigrants to 'mow our beautiful lawns' and do jobs 'Americans are not willing to take'" [Daily Mail]. "Mr Malinowski [NJ-07] who took the seat in the 2018 mid-term elections told those gathered at Cafe Brio on Tuesday evening there were a lot of jobs illegal migrants were doing that Americans would not do. 'There are a lot of jobs in our community, that like it or not, for better or for worse, Americans are not willing to take.' He cited health aides caring for senior citizens and gardeners as roles commonly done by those without a legal right to reside in the United States." • The event took place at the Café Brio in Hillsborough, NJ. As I keep saying, is there some mysterious power that prevents the magic of the marketplace for raising wages for health aides?
Realignment and Legitimacy
UPDATE "The Cherokee Nation Nominated a Delegate to Congress as Stipulated in Treaties" [Teen Vogue]. "The Cherokee Nation announced last week that it has, for the first time in its history, nominated a delegate to the United States Congress in accordance with provisions in treaties the tribe has with the federal government. In a Thursday press release, Principal Chief Chuck Hoskin Jr. nominated the Cherokee Nation's vice president of government relations, Kim Teehee, for the job." • Hoskin on Warren. Lots to speculate about there.

UPDATE Centrism:

The Democratic Party's centrist caucus — which has openly criticized the Green New Deal for being unrealistic and unaffordable –is now tweeting out proposals "for an iceberg-making submarine that could produce 82-foot-wide, 16-foot-thick chunks of ice" to combat climate change. pic.twitter.com/BEbKOiZQU3

— Waleed Shahid (@_waleedshahid) August 24, 2019

Maybe we could dock the submarines in Greenland, thereby combining Trump Genius with Democrat Centrist Genius to create a glorious new world.
Stats Watch
Durable Goods Orders, July 2019: "Aircraft orders proved strong for a second straight month in July while core capital goods orders proved steady and solid despite a downward revision to what was still a very strong June" [Econoday]. "With the ongoing grounding of the 737 Max and amid prior questions over demand for capital goods, today's report, despite areas of weakness, may help ease concerns at the Federal Reserve which is focused on the health of the manufacturing sector and specifically aircraft and especially business investment. On net, today's report may reduce the need at the Fed, at least slightly, for further rate cuts." • "Durable goods orders are new orders placed with domestic manufacturers for factory hard goods."
Chicago Fed National Activity Index, July 2019: "Deep contraction in production pulled down the national activity index in July" [Econoday]. "[Production-related indicators] declines speak to the effects of slowing global demand and the slowdown in export demand. Personal consumption & housing was the next greatest negative… This index represents a wide roundup of prior indicators based on which and in contrast to many individual indications on the economy suggests that 2019 has been a poor year for the economy."
Dallas Fed Manufacturing Survey, August 2019: "Texas manufacturing activity unexpectedly snapped back into expansion in August" [Econoday].
Retail: "Now bigger than eBay, Shopify sets its sights on Amazon" [Financial Times]. "Shopify's shares, which first listed on the New York Stock Exchange in May 2015, have been on a tear this year. The stock has climbed more than 150 per cent since the beginning of 2019, making Shopify more valuable than well-known internet companies including Twitter, Square and Spotify. Its market capitalisation — now more than $40bn — surpassed that of ecommerce pioneer eBay earlier this year…. Shopify has investors excited because it is increasingly seen as the most likely challenger to Amazon's ecommerce dominance. While many retailers, both traditional and online, have tried to tackle Amazon's 'everything store' head-on, Shopify has succeeded by arming individual merchants with the same technology and capabilities, but with more control."
Housing: "Here's exactly what it cost to buy my 3-bedroom, 2-bath house near Daytona Beach, Florida" [Business Insider]. "[O]ur total cash needed at closing [was] $6,325.63." • Readers, the arithmetic is in the post. Does that cash figure seem low?
Manufacturing: "Bjorn's Corner: Fly by Steel or Electrical wire, Part 5" [Leeham News & Analysis]. • If you've been following the 737 MAX story, or Boeing v. Airbus generally, this is a really educational series — though I'd be interested to hear what our professional pilots say.
Manufacturing: No "dignity" in trying to type on a keyboard where the spacebar doesn't work:
Not a fan of doing this, but never getting a Mac book pro again. For many reasons, one is cost. But the keyboard breaking, and now it turns off if I open it beyond 60 degrees.

— Chris Arnade (@Chris_arnade) August 26, 2019
Tim Cook came up through his supply chain skills. Maybe Cook's management of Apple's supply chain wasn't really all that hot? Since they can't seem to avoid brand-impacting manufacturing defects?
* * *
Today's Fear & Greed Index: 24 Extreme Fear (previous close: 18, Extreme Fear) [CNN]. One week ago: 26 (Extreme Fear). (0 is Extreme Fear; 100 is Extreme Greed). Last updated Aug 26 at 11:56am. Note that the index is not always updated daily, sadly.
Rapture Index: Closes up one on Unemployment. "The 2018 [sic] jobless numbers were 500,000 too high." [Rapture Ready]. Record High, October 10, 2016: 189. Current: 185. Remember that bringing on the rapture is a good thing.
The Biosphere
"Brazil, the Amazon, and Global Warming: It Ain't Quite What the Media Tell You" [Dean Baker, Beat the Press]. "The reason that we are worried about global warming is because rich countries, most importantly the United States, have been spewing huge amounts of greenhouse gases into the atmosphere for well over a century, while destroying the native forests on their lands. They also have paid to have forests in other countries destroyed in order to meet their resource needs. This is the context in which the destruction of the Amazon is a worldwide problem of enormous proportions. (The Amazon is treasure which should be preserved even if global warming was not a crisis, but that is a different matter.) The blame Brazil story is one where a group of rich boys are sitting around in their mansion eating a huge plate of cookies. Meanwhile, they send the housekeeper from room to make the beds and clean up. After the housekeeper finishes, she sees the last cookie on the plate and begins to reach for it. The rich boys then all yell at her for being greedy for wanting to take the last cookie." • G7 set aside $20 million in "emergency aid" for the Amazon. The decimal point is in the wrong place. Because the "emergency" isn't the fires.
UPDATE "Why Libertarianism Will Kill Us All" [Nathan J. Robinson, Current Affairs]. "[T]his whole "my property is mine to do as I see fit" framework only holds up if you fail to think about the most basic complications. If my "choice" to use my property one way ends up damaging the planet we all live in, then why should I get unilateral decision-making power? [Brendan O'Neill] poses the question: Is Brazil a sovereign nation, or isn't it? As far as the Amazon goes, the answer should be: Of course it isn't." • Equally true for the United States, then. More: "Climate change as a problem is very difficult for many libertarians to deal with, because it poses a serious challenge to the individualistic view of property rights whereby I can simply 'do as I please' so long as I am not committing an act of violence against you. I suspect this is why so many libertarians are such vehement climate change deniers." • But if Brazil (and the United States) are not sovereign, then what should they be? Robinson is silent (and so am I, since I don't know the answer either).
"In Detroit, 'revolutionary' mapping could help residents with asthma" [Grist]. "'What's happening is, for better or for worse, a lot of Detroit is becoming reforested,' says Daniel Katz, a plant ecologist at ​the University of Michigan School of Public Health. 'And so, we have these vacant lots, and first there's ragweed in them, but then other grasses come in and we get this kind of grassland habitat.'… [A]lthough the precise contribution of this increase in pollen is hard to determine, it can't help but add to the city's already heavy asthma burden. Detroit currently ranks in the top 10 cities in the U.S. for asthma-related deaths… Katz and his colleagues say they can create maps that show where in town ragweed is likely to be high, and where it will be low, something that has never been done before. This stands to give Detroiters who suffer from things like hay fever extremely accurate pictures of parts of town that they should avoid."
"In Nepal, Out-Migration Is Helping Fuel a Forest Resurgence" [Yale Environment 360]. "A forthcoming paper by a NASA-funded research team, using the most detailed analysis of Landsat satellite images of Nepal to date, has found that forest cover expanded from 26 percent in 1992 to 45 percent in 2016. This makes Nepal an exception to the global trend of deforestation in developing countries. Many locals and experts attribute the forest regrowth to policy changes from about three decades ago… But there is another factor at play in Nepal's forest resurgence: human migration. In recent decades, millions of Nepalis have left the country to work in the Persian Gulf, Southeast Asia, and beyond. As Nepalis wire money home, population and economic pressures shift away from agriculture to other types of rural and urban livelihoods. The families of migrants often rely less on forest products or they abandon farmland, aiding reforestation and helping create what one 2016 study termed a "remittance landscape," referring to the funds sent back to Nepal. A 2018 study, which mapped the spatial distribution of reforestation and out-migration in Nepal, showed that the areas with the highest out-migration experienced, on average, the most forest recovery. There is a "strong positive effect of international out-migration on forest regeneration in Nepal," the researchers concluded." • "Remittance landscape." I wonder if the same process operates in the Philippines?
"Monsanto Behind GOP Effort to Defund Cancer Researchers" [The Intercept]. "In 2015, the World Health Organization's cancer research arm, the International Agency for Research on Cancer, classified glyphosate, an active ingredient in the herbicide Roundup, as a 'probable carcinogen,' setting off a global debate about the world's most popular weedkiller. … [A]ccording to a recent trove of documents, the ongoing political assault on the IARC has been scripted in part by Monsanto, the St. Louis-based chemical and seed conglomerate that produces Roundup and Roundup-resistant crops. Roundup has been cash cow for the company since the 1970s, fueling billions of dollars in annual profits. Its use has skyrocketed in recent decades since the company developed genetically modified corn and other crops that are resistant to it; it is now the world's leading herbicide."
"Conflicted Judge Abets Chevron Retaliation Against Heroic Lawyer Steven Donziger" [Activist Post]. • No time to assess the source for being overly tendentious and Making Sh*t Up™, but I love the headline.
Gunz
"Elementary school cheerleaders asked to sell raffle tickets – with a semiautomatic weapon as the prize" [CBS]. "While the cheerleaders' raffle prize was an AM15, the football team is selling raffle tickets for a Glock 9 mm. Club president Robert Wooten told WKRC all the media attention actually resulted in an increase in ticket sales."
Class Warfare
UPDATE "American Factory, Netflix — harsh truths about the new world of work" [Isabella Kaminska, Financial Times]. "Chairman Cao's views on unions, meanwhile, are set out clearly from the beginning. 'You all know how we stand on this. We don't want to see the union developing here. If we have a union it will impact our efficiency, thus hurting our company, it will create loss for us. If a union comes in, I'm shutting down,' he tells his fellow Chinese employees." • Wait. I thouught that under globalization the magic of the marketplace was supposed to bring forth liberal democracy?
"The Obamas' Netflix Doc American Factory Gestures Toward the End of the Working World" [Vulture]. "American Factory isn't all black-and-white. [Chinese CEO] Cao and his ilk aren't malevolent, exactly. They simply equate productivity with happiness and expect American workers not only to feel the same but to be grateful for the opportunity to experience such happiness. What Cao doesn't grasp is that Americans no longer have faith in a social contract. Why should they give themselves physically and emotionally to a corporation when U.S. corporations feel absolutely no responsibility for the welfare of their employees? It's the worst of communism (become a cog, a zombie drone) and the worst of free-market capitalism (you're expendable in all ways)." • Hysteresis, in the most charitable reading. Contrast–
"Name, age, and Local 19: Why Philly men list their unions on Tinder" [Inquirer]. "[T]he guys who did talk to me — stagehands, electricians, operating engineers — most of them unwilling to let me print their names, told me this: It was a pride thing. 'Going from non union to union, you realize you really earned something,' one electrician said. 'You bust your ass for it.' Listing their local served a practical purpose — it was the most accurate way to describe their job because they didn't have one consistent employer — but others said it might suggest they were a catch. 'I always grew up hearing the word union and thought it pretty much meant you'd be taken care of,' said Evan Sanders, who had recently left Sheet Metal Workers Local 19 for the Drywall Finishers Local 1955, whose profile read 'union steel worker.' He's alluding to the fact that trade union members are paid well, have good health-care benefits, and get that most elusive of perks among young people these days: a pension." ª Hmm…
News of the Wired
"Dairy Queen burgers are not made of human flesh, a county coroner is forced to confirm" [WaPo]. • There's good news tonight!
"Complex quantum teleportation achieved for the first time" [Phys.org]. "In future work, the quantum physicists will focus on how to extend the newly gained knowledge to enable teleportation of the entire quantum state of a single photon or atom." • Matter transmission a ways off, then.
"No Son of Mine Is Going to Be a Benthamite Utilitarian. This Is a John Stuart Mill Family, Dammit" [McSweeney's Internet Tendency]. "Seriously, do you really think that hedonistic, short-term pleasure is just as good as long-term fulfillment? It's like night and day, you dimwit!"
"George RR Martin: 'Game of Thrones finishing is freeing, I'm at my own pace'" [Guardian]. This is interesting: "What did impress [Martin], however, was how those who had read the books kept the saga's secrets. 'The way in which no one spoiled the Red Wedding is one of the biggest stories in the history of television because there were literally millions of book readers who knew what was coming and they gave nothing away. Instead, they did something which I didn't expect either – they recorded the shock and dismay of their loved ones.' He laughs. 'Suddenly, there were videos all over the internet of people reacting to the Red Wedding, all set up by their relatives who wanted to capture the grief and shock of their husbands, wives, siblings… Has that ever happened in the history of television? Not as far as I know.'" • Maybe I should have filed this under "Zeitgeist Watch."
* * *
Readers, feel free to contact me at lambert [UNDERSCORE] strether [DOT] corrente [AT] yahoo [DOT] com, with (a) links, and even better (b) sources I should curate regularly, (c) how to send me a check if you are allergic to PayPal, and (d) to find out how to send me images of plants. Vegetables are fine! Fungi are deemed to be honorary plants! If you want your handle to appear as a credit, please place it at the start of your mail in parentheses: (thus). Otherwise, I will anonymize by using your initials. See the previous Water Cooler (with plant) here. Today's plant (BM):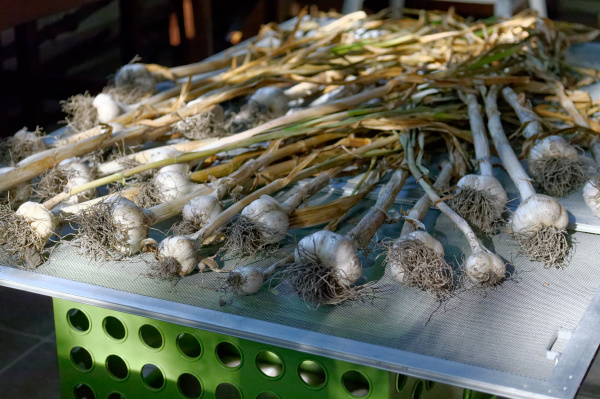 BM writes: "Garlic is very easy to grow here in Iowa. Next year we'll grow even more." When the time was right to plant garlic, I would always be too busy — I accelerate during the summer! — to do it. Which is a shame!
* * *
Readers: Water Cooler is a standalone entity not covered by the annual NC fundraiser.Remember, a tip jar is for tipping! So if you see a link you especially like, or an item you wouldn't see anywhere else, please do not hesitate to express your appreciation in tangible form. Regular positive feedback both makes me feel good and lets me know I'm on the right track with coverage. When I get no donations for five or ten days I get worried. More tangibly, a constant trickle of donations helps me with expenses, and I factor in that trickle when setting fundraising goals:
Here is the screen that will appear, which I have helpfully annotated.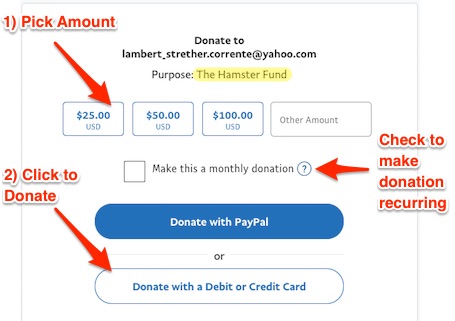 If you hate PayPal, you can email me at lambert [UNDERSCORE] strether [DOT] corrente [AT] yahoo [DOT] com, and I will give you directions on how to send a check. Thank you!