By Lambert Strether of Corrente
Politics
"But what is government itself, but the greatest of all reflections on human nature?" –James Madison, Federalist 51
"They had one weapon left and both knew it: treachery." –Frank Herbert, Dune
Alert reader dk (not to be confused with DK) is in the process of developing the following interactive chart. Today, I figured I'd include all the bottom feeders, and used a "stair step" presentation, which, although a little jarring, conveys the idea that polls are only slices in time; it's the voters who move in curves, whereas the polls really are jagged proxies for whatever is happening out there in the dark matter of the electorate: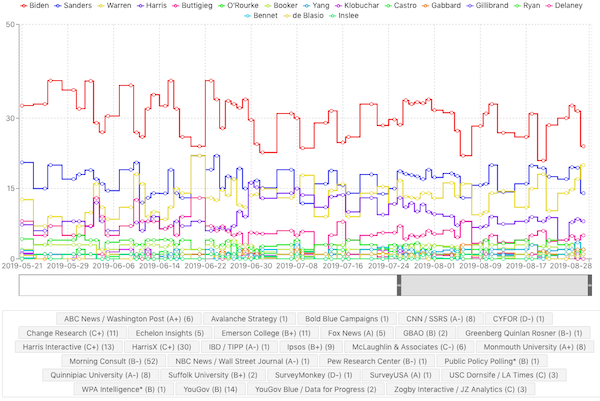 And here are the numbers as of 8/29/2019, 12:30 PM EDT: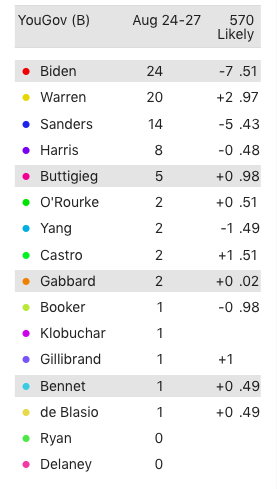 Sanders took a big hit in the YouGov poll, the latest. However, Biden's trendline is clear. I think DK has started a really neat project, and in the near future we'll seek your feedback (within reason) for the tool "live."
UPDATE 2019-08-30: Now the polls aggregated (all available) are shown at the bottom of the poll; unlike RCP, there is no "secret sauce" for poll selection. We also give more detail about each poll than RCP, and allow candidates to be selected or deselected. That's three reasons what dk is doing beats RCP, and if we can make the individual polls selectable/highlightable, that will be four reasons. With more to come, grid willing.
* * *
2020
Biden (D)(1): "Biden recounts war story rife with inaccuracies in latest gaffe: report" [New York Post]. ""This is the God's truth,' Biden insisted. "'. But virtually every detail was wrong, the [Washington Post] reported, adding that Biden apparently conflated several actual events to come up with his story." • Dude.

Biden (D)(2): "If This Is the Democrats Best Hope, They Better Start Praying" [Dana Milbank, Reader Supported News]. "I am so certain that Biden's gaffes will propel him to victory that I have written him a draft acceptance speech, based on actual Bidenisms, for the Democratic convention in Milwaukee: Hello, Memphis! Ladies, gentlemen and other genders — there are at least three! — I say: This is a big f—ing deal! I see poor kids in the arena and I see white kids. I see Grandpa Finnegan, God rest his soul! I would not be here in Manchester accepting your nomination without the support of articulate, clean black people. And you disabled veterans — stand up! I have known you intimately. And so I say: I would rather be making love to my wife! You are a dull audience." • 10%-ers going all-in for Warren?

Gabbard (D)(1):

Rep. Tulsi Gabbard: "There's no explanation or transparency around why certain polls are qualifying while other very credible, recognized polls are somehow not qualifying… Frankly the DNC has not provided any transparency to voters about how they're making these decisions." pic.twitter.com/J4hX5gXFOW

— The Hill (@thehill) August 29, 2019

I have yet to see the DNC's rules for candidate selection in the debates published anywhere; the whole process reminds me of how a Third World military junta manipulates an opaque and arbitrary process to stay in power.

Sanders (D)(1): "Bernie Sanders" (interview) [Council on Foreign Relations]. Sanders: "My administration would not be in the business of regime change." • BOOM. As they say.

UPDATE Sanders (D)(2): "Sanders, Killer Mike talk income inequality, health care" [The Hill]. "Killer Mike, who endorsed Sanders's 2016 presidential bid, told the Vermont senator that his economic policy was 'the only policy that matches up with the Poor People's Campaign,' the sweeping effort led by Martin Luther King Jr. to combat income inequality. The two went on to discuss health care and income inequality, and how the issues relate to the black community. 'Black people are more disproportionately affected by diabetes than any other group,' Killer Mike said. 'So when you say diabetes and are talking about free health care, I want people who look like me on the other side of the camera to recognize this is a black issue.'" • If you have a baseline, and some people are further beneath the baseline then others, then bringing everybody up to the baseline benefits the most disadvantaged the most! Why is that so hard to see?

UPDATE Sanders (D)(3): "Bernie Sanders's supporters find anger not as compelling this time around" [WaPo]. • Sigh. Another hit piece, based on five quotes (and I would very much like to know how those five were selected and what questions were asked of them). Sanders certainly didn't seem all that angry having fun with Cardi B. Or Killer Mike.

UPDATE Trump (D)(1): "A rattled Trump scrambles for victories ahead of election" [CNN]. "President Donald Trump has become increasingly rattled over the potential of an economic downturn and is spinning to find victories to sell to voters. He and his economic team, who are often at odds with one another, have been searching for ways to prevent market anxieties from spilling over into next year's presidential election, but have yet to agree on a solution. They have wavered between floating tax cuts to insisting they aren't considering tax cuts. They have feuded privately over which direction to take. They have contradicted each other publicly." • In other words, business as usual. I don't want to say there's won't be a real economy-driven recession next year, just that outfits like CNN seem a little anxious to talk themselves and Mr. Market into one; who created "the potential," after all? It's also odd, or not, that CNN omits the factor of fiscal stimulus — which is good, actually, given that the central banks shot off all their ammo in the last debacle — and that the budget deal that (idiot) Trump cut with (genius) Pelosi allows such stimulus next year.

Warren (D)(1): "Before Politics, Elizabeth Warren Gained a Following With a Personal Finance Book" [Bloomberg]. "For thousands of readers, Warren's book on personal finance [All Your Worth] was their introduction to the Democratic presidential candidate, then best known as a Harvard professor who studied bankruptcy…. The advice lines up neatly with her campaign: "All Your Worth" tells readers to pay off debt; the Warren campaign wants to cancel $640 billion of student loans. The book advises keeping the cost of necessities such as child care below half of your income; the campaign wants to ensure that no family spends more than 7% of its income on child care. "All Your Worth" advises black and Hispanic homebuyers to watch out for racial bias; the campaign wants to create a down-payment assistance program for areas that faced racial discrimination in mortgages. The book led some readers to support the Warren campaign."

* * *

UPDATE "A Smaller Debate Lineup Ushers In the Next Stage of the 2020 Democratic Primary" [The New Yorker]. "Ten candidates means that ABC will be able to keep the debate to a single night. And it means that the candidates with the highest poll numbers, biggest campaigns, and most money in the bank will be onstage together during prime-time television for the first time. That's a useful thing, up to a point. Voters have yet to see Warren and Biden side by side, for instance. The very real differences between the leftward turns advocated by Warren and Sanders and the more traditional approach pushed by Biden have, at times, been obscured by the sheer number of candidates running and the glut of plans and policy proposals on offer—Medicare for All, Medicare for America, Medicare for All Who Want It, Medicare X. In practice, though, ten candidates onstage still means ten candidates onstage. The September debate is likely to feature the same ping-pong arguments and jostling for air time that the first two rounds did. It'll just be one night of it instead of two."

"NH Pollster: 'Our Polling Schedule is Determined by CNN'" [Medium]. "In an exclusive comment to CitizenSource, the University of New Hampshire Survey Center — one of the only DNC-approved pollsters in New Hampshire (due to the fact that they are 'partners' with CNN) — explained why they wouldn't be conducting a poll this month in the battleground state before the crucial September debate. Director Andrew E. Smith responded: 'The UNH Survey Center is funded by grants and contracts. We have contracted with CNN during this primary cycle as we have since 2000. Our polling schedule is determined by CNN and their polling budget.'" • Oh.

"'Even Worse Than the DCCC Blacklist': Schumer Accused of Effort to Hamstring Progressives Trying to Unseat GOP Senators" [Common Dreams]. "[T]he Democratic Senatorial Campaign Committee—controlled by Senate Minority Leader Chuck Schumer—is reportedly taking the policy of its House counterpart 'one step further' by undermining progressive candidates attempting to flip Republican-held seats. The Intercept reported Thursday that Andrew Romanoff, a Medicare for All and Green New Deal supporter running for Sen. Cory Gardner's (R-Colo.) seat, has had 'multiple consultants' turn down offers to work on his campaign due to 'pressure from the DSCC.'… On Twitter, Romanoff suggested his support for Medicare for All and the Green New Deal is unacceptable to the Democratic establishment, which has thrown its support behind the anti-Medicare for All and pro-fracking Hickenlooper. As Sludge reported just before The Intercept's story was published, the DSCC "raked in cash from healthcare and fossil fuel lobbyists before endorsing Hickenlooper.'" • I've been saying forever that party politics is not a spectrum of left to right, but a terrain of liberals, conservatives, and (for want of a better term) "the left." The pattern couldn't be more clear here, as liberals and conservatives gang up against their common enemy.

"Candidates hope to replicate Ocasio-Cortez's tactics across the country" [Yahoo News]. "Jessica Cisneros, a 26-year-old first-time candidate, is among the Democratic contenders attempting to connect to voters in similar ways [to AOC]. Cisneros, backed by the Justice Democrats, is challenging eight-term incumbent Rep. Henry Cuellar, D-Texas, with a platform that includes free college, Medicare for All and the Green New Deal…. In Maryland, House Majority Leader Steny Hoyer is being challenged by Mckayla Wilkes, an African-American mother of two. Hoyer, the No. 2 Democrat in the House, has held his seat since 1981." • Not if Schumer gets his way!

* * *
2019
The AOC I like to see:

Fmr officials should not become corporate lobbyists, in letter or spirit. It's an abuse of power + a stain on public service.

I don't care if it's a Democrat doing it (both parties do). In fact, that makes it worse – we're supposed to fight FOR working people, not against them. https://t.co/r6DN9mwf3A

— Alexandria Ocasio-Cortez (@AOC) August 29, 2019
Realignment and Legitimacy
"A Former White Supremacist Explains How to Combat White Supremacy" [Medium]. Interesting article, but this caught my eye: "Since abandoning the skinhead movement in the mid-1990s, Picciolini has dedicated his life to white supremacist outreach. But the Free Radicals Project is now in danger: Under Donald Trump, the Homeland Security Department has rescinded a major grant, issued during the Obama administration, to fund the group's work." • Absolutely typical of the liberal nomenklatura to fund anti-fascism through an NGO and a grant ffs.

UPDATE "The Antifascist Question" [The Baffler]. "The function of fascism, when capitalism is in crisis, is the destruction of workers' movements that might apply the death blow; behind their cartoonish performance of hypermasculinity, fascists' primary concern is the violent defense of capitalism and the racial order that maintains it. The real question, then, should not be how to make antifascism more palatable to mealy-mouthed liberals or reactionary leftists whose squeamishness is premised mostly on unserious—or even, to invoke a favorite accusation of such critics, bourgeois —arguments about aesthetics, but how to make antifascism a core principle of a mass, working-class movement. Without a mass working-class movement, antifascist organizing is doomed to failure; but without antifascist organizing, so too is a mass working-class movement. Just as capitalism will not be defeated at the ballot box, fascism will not be defeated in the streets; nevertheless, electoral campaigns and community defense both offer opportunities to build toward something more radical and liberatory." • This is very good. Watch out for the Proud Boys.

"The DNC Doesn't Want a Climate Debate for a Reason" [Jacobin]. "While tech money is important, . Obviously, most of these firms want to be able to continue to invest in fossil fuels as well as in companies looting the Amazon. Such companies are run by — and depend on the continued existence of — the very rich, our planet's biggest liability. (Not only do they create immense pollution through private jets and multiple homes, the rich also support such lifestyles through immensely planet-ravaging investments.) The finance class does not want to hear plain talk about solutions to climate change; in many cases, they are getting rich from destroying the planet and do not wish to stop doing this. That's probably why DNC head Tom Perez called the idea of a climate debate 'dangerous.' The DNC also seems to be trying to avoid two likely outcomes of a climate debate: Joe Biden looking bad and Bernie Sanders looking good." • Ka-ching.
Stats Watch
Personal Income and Outlays, July 2019: "Two dominant themes of the economic assessment have been confirmed: consumer spending is very strong and inflation is very flat. Consumer spending jumped an outsized 0.6 percent in July to hit the top end of Econoday's consensus range" [Econoday]. "The consumer, benefiting from a strong jobs market, is spending aggressively even though wage growth continues to lag. Yet it's the lack of wage growth that is contributing to the benign inflation outlook that itself is pointing to lower interest rates and the prospect of future acceleration for employment and wages. Yet in a note for savers, today's report is not favorable showing ongoing deterioration in interest-bearing income and the hint of further deterioration ahead."
Consumer Sentiment, August 2019 (Final): "Add consumer sentiment to the list of multi-year lows, falling well below low expectations" [Econoday]. "Rhis report contrasts sharply with the consumer confidence report which showed resilience in data released Tuesday, and given acceleration in consumer spending and strong demand for labor suggests that the likely state of the consumer's mood probably lies somewhere between and remains, at the worst, solid to moderately strong."
Chicago Purchasing Managers Index, August 2019: "Shot higher" [Econoday]. "There's more good news than bad news for this report which should firm expectations for a plus-50 score in next week's ISM manufacturing report and a solid score for ISM non-manufacturing as well."
Employment: "Job Satisfaction at Highest Level in 20 Years: Conference Board" [Industry Week]. "Conducted by The Conference Board, the survey shows that about 54% of U.S. workers are satisfied with their employment. This marks the second-biggest increase in the survey's 32-year history. An improved labor market has played the main role in boosting job satisfaction, which has risen in each of the past eight years. 'In today's strong jobs market, people are quitting their current positions at the fastest pace in over two decades,' said Gad Levanon, Conference Board's Chief Economist for North America." • If the quits rate is high, that's another indicator that a recession is not imminent.
Employment: "Horrified Amazon Worker Awakes From Warehouse Accident To Find Jeff Bezos Welding Mechanical Limbs Onto Stumps Where Arms Used To Be" [The Onion]. • I've gotta say I trust The Onion more on job satisfaction than I trust the Conference board, especially since The Onion is now unionized.
The Bezzle: "Experts say we're decades away from fully-autonomous cars. Here's why." [Business Insider]. "Level 5 is full automation. In this hypothetical situation, the car drives you, and there isn't even a steering wheel. So what level are we currently at? Most experts would agree: somewhere between Levels 2 and 3. However, one of their biggest concerns is the public's misconception* that we're much further along. Now, I'm not saying that that's not the future. It is the future. But, as many have begun to admit publicly, that future is further away than anybody has realistically considered, to date…. [T]he timeline to driverless technology changing how I live and move is probably in the order of several decades, if not further away." • As I wrote back in 2016 — just let me break out my calculator, that would be 2019 – 2016 = 3 years ago, and multiplied by some hype factor we'd come to the number of robot car hype stories published since then — "Level 5 isn't happening any time soon; Shladover's Level 4 'low-speed shuttles' sound like a solid little product, but not exactly what Kalanick has in mind, eh? What that implies is that self-driving car technology companies should be valued a lot more like GM, or Delco, rather than at the stratospheric prices of Silicon Valley unicorns." #JustSaying. NOTE * However could that have happened?
Manufacturing: "Bjorn's Corner: Fly by steel or electrical wire, Part 6" [Leeham News and Analysis]. Useful to contrast Boeing and Airbus: "A Classical mechanical system, as exemplified by the Boeing 737 system, employs flight laws where the pilot moves the control surfaces proportionally to his movements of Yoke and Pedals…. A feedback FBW system like the Airbus A320 (plus all Airbus aircraft after the A300 and A310) can go further in helping the Pilot…. In an A320 the Pilot in normal flying gets the same pitch load factor for the same stick deflection, irrespective of speed and altitude. In roll, he gets a pitch rate. The pedals are footrests, as there is no need to kick rudder in normal flight, all turns are 100% coordinated. Further, you don't apply pitch up in a turn, you just deflect the stick sideways and the aircraft does a clean turn without losing altitude. It is then logical the FBW does the trimming for you. When you release the stick the aircraft remains in this attitude until the Pilot commands an attitude change. This means the system handles all Speed, Altitude, Configuration and Mach changes."
The Bezzle: "Uber, Lyft, DoorDash Put $90 Million to Possible Ballot War" [Bloomberg]. "Ride-hailing and food-delivery companies that rely on contractors who aren't guaranteed employment protections like overtime and unionization have been scrambling to address the threat posed by a state legislative proposal that would make it much harder to claim their workers aren't employees."
Mr. Market: "The Big Short's Michael Burry Sees a Bubble in Passive Investing" [Bloomberg]. "Michael Burry shot to fame and fortune by betting against mortgage securities before the 2008 crisis, a trade immortalized in "The Big Short." Now, Burry sees another contrarian opportunity emerging from what he calls the "bubble" in passive investment. As money pours into exchange-traded funds and other index-tracking products that skew toward big companies, Burry says smaller value stocks are being unduly neglected around the world. In the past three weeks, his Scion Asset Management has disclosed major stakes in at least four small-cap companies in the U.S. and South Korea, taking an activist approach at three of them." • I love this clip:
(Christian Bale plays Burry as slightly autistic, albeit highly functional.) Taking the mug is a great touch.
* * *
Today's Fear & Greed Index: 27 Fear (previous close: 26, Fear) [CNN]. One week ago: 18 (Extreme Fear). (0 is Extreme Fear; 100 is Extreme Greed). Last updated Aug 30 at 11:59am. Note that the index is not always updated daily, sadly.
The Biosphere
"Six Things to Know About Hurricane Dorian" [Weather Underground]. "[T]he highest high tides of the year, known as 'king tides,' are expected this weekend in parts of Florida. King tides occur several times a year, and when combined with a major weather system, the floodwater inundation can be much more significant." • Like Hurricane Sandy.
"An introduction to the state of solar power in the U.S." [Yale Climate Connection]. Good wrapup, but here is the conclusion: "Solar is a super-abundant resource, but its stepped-up use calls for fundamental changes in the way we generate, store, and use electricity. The dimensions and dynamics of an economy substantially fueled by renewable energy are just beginning to take shape." • It doesn't seem like we're moving as fast as we ought to be on this, partly because of the opposition of utilities.
Water
"SC regulators tell Google 'yes' on groundwater plan but Mount Pleasant gets a 'no'" [Post and Courier]. "Google gets to pull the groundwater it wants. Mount Pleasant Waterworks doesn't…. Google wants to be able to pull an additional 1.5 million gallons per day from the aquifer, enough to fill three Olympic-sized swimming pools. The water would be at least a back-up to cool servers installed for its $600 million service center expansion, which is already under construction…. Groundwater is a concern because residents and industry in South Carolina already are drawing it from wells faster than it can replenish below the surface. The levels are dropping in many of the monitoring wells and have never really recovered from the drought 20 years ago, according to state monitors. The drop in groundwater, along with more pressure on surface water supplies, has the makings of a water crisis." • When the locals in flyover come for the data centers bearing torches, this will be one reason.
The 420
"Weed From Well-Known Lifestyle Brands Is Next Stage of Legal Cannabis" [Bloomberg]. "In July, to commemorate their first anniversary, a Colorado couple in their 30s wanted a treat that would help them extend the high of their special day: custom gold-foil-tipped marijuana cigars. They went to Made in Xiaolin for a $1,200 set of "cannagars," made with premium flower and bearing the wedding date stamped on the rolling paper. "We compare it to popping bottles," says Christopher Louie, the founder of the company 30 miles southwest of Denver. He has aims on Aspen's party scene next. Four-figure blunts are but one part of a burgeoning market for personalized, high-end cannabis products, especially on the West Coast, where growers often have a glut and are trying to find new ways to market their harvest. Oregon and California, two states with a long history of cultivation, have experienced oversupply since marijuana was legalized." • Meanwhile, the black and working class people who made the market rot in jail, thanks to the War on Drugs. I should really file this under Guillotine Watch.
Our Famously Free Press
"15 former spooks who work at CNN and MSNBC now" [BizPac Review]. "CNN added to its deep roster of former FBI and CIA officials-turned-analysts Friday with the hiring of Andrew McCabe, the former FBI deputy director fired for lack of candor during an investigation last year…. Jack Shafer, a media critic who writes for Politico, noted the potential pitfalls of networks like CNN and MSNBC having a stable of ex-spies and G-men as paid, on-air contributors. 'But the downside of outsourcing national security coverage to the TV spies is obvious,' Shafer wrote in a Feb. 5, 2018 article at Politico. 'They aren't in the business of breaking news or uncovering secrets. Their first loyalty — and this is no slam — is to the agency from which they hail.'" • A conservative source but oddly, or not, this doesn't appear in outlets like WaPo or the New York Times.
"Local journalists uncovered sex cult Nxivm years before Hollywood paid attention" [Poynter Institute]. "It took less than five hours for a jury this June to convict Keith Raniere of everything he'd been charged with – sex trafficking, forced labor, posession of child pornography, sexual exploitation of a child, obstruction of justice and more…. The Albany (New York) Times Union's coverage of Raniere and his alleged cult, Nxivm (pronounced nex-ee-um, like the medicine) began in 2003. It included Raniere's attempt to build a headquarters, countless lawsuits against detractors and defectors, his questionable business, his history of preying on minors and the group he built around himself. A reporter working at Metroland, an alt-weekly in Albany, uncovered Raniere's tactics for persuasion, how he silenced critics and his obsession with a former girlfriend. But nothing stopped Raniere or the group until that 2017 New York Times story." • Seems like the same dynamic with the Miami Herald and Epstein? Or Gawker and Epstein.
"Why Is Joe Rogan So Popular?" [The Atlantic]. "In the more progressive corners of culture, it's become a familiar rallying cry to wonder out loud, 'What are men even for now?; That's an excellent question, but you can maybe understand why it rings a bit more ambivalently in the ears of men trying to find their footing in this new world. A brighter and more virtuous future? Wonderful! If you need anything from us, we'll just be over here peering into the void. Meanwhile, the irony is that so many of the men who demonstrate a level of intelligence and empathy worth aspiring to—they've pretty much all been on Joe Rogan's podcast. There's a tendency right now to make every single thing about Donald Trump, but if you don't see the dotted line connecting the president to a wave of men who feel thwarted and besieged and sentenced to an endless apology tour, then you're not paying attention. Lots of these panicked men, as it happens, despise Trump every bit as much as they love Joe Rogan. But that's just a healthier response to the same core stimulus: a plunging sense of self-worth caused by a rapidly changing society." • I'd like to see some income statistics here. Nothing on class in the article. I'm guessing not many 0.1%ers listen to Joe Rogan.
Class Warfare
"No Kentucky coal company has complied with a law designed to protect miner wages" [Herald-Leader]. "Not a single coal company formed in Kentucky within the past five years has posted a bond required by state law to protect miners' wages if the company suddenly shuts down, according to records obtained by the Lexington Herald-Leader. In addition, officials in Gov. Mat Bevin's administration urged lawmakers last year to pass a bill that would have eliminated the requirement." • So, the Democrats are running a candidate against McConnell who says that McConnnell doesn't support Trump enough.
"NLRB Says Misclassifying Workers Doesn't Violate Labor Law" [Law360]. "A split National Labor Relations Board ruled Thursday that misclassifying employees as independent contractors doesn't break federal labor law because it doesn't interfere with worker organizing rights — even though independent contractors can't unionize. The NLRB affirmed an agency judge's ruling that a company misclassified its workers as independent contractors but did not agree that the move violated the NLRA. The board's three-member Republican majority affirmed an agency judge's ruling that medical logistics company Velox Express misclassified its workers as independent contractors but did not agree with the judge that the company's move violated the NLRA. The board's decision means employers will not face NLRB litigation for misclassifying workers absent some other labor law violation. …. But Velox did violate the NLRA by firing driver Jeannie Edge after she complained about being misclassified, the majority said, affirming another part of Administrative Law Judge Arthur Amchan's decision." • Phew.
"States are trying to change a system that keeps poor people in jail. The bail industry is blocking them." [CNN]. "As structured, the bail bonds industry survives largely off those who don't have the financial resources to post bail. Overwhelmingly, the service of a bail bondsman is their only way out of jail. Bail bond companies make money by charging a fee — typically 10% of a defendant's bail amount. So if a defendant has bond set at $50,000, the bail bond company charges $5,000 to get them out. No matter what, the bonds company will collect that charge — guilty or not guilty. Even if the charges are dropped. That is the price and process of release. Those who can't afford the 10% the bond company charges can set up a payment plan, usually in small installments like $100 a week until the big bill is paid off. Contracts like those tether vulnerable families to debts that can linger on for years — landing them in court for missed payments, with garnished wages and accruing interest. Experts say defendants will sometimes plead guilty to lesser charges, even if they are innocent, in order to avoid the bail system and get out of jail sooner. More affluent defendants, who can afford to post bond with their own money, go free and get the money back provided they show up for their court dates." • Of course.
News of the Wired
This is violence:
We updated our hyphen guidance this year to say no hyphen is needed in a compound modifier if the modifier is commonly recognized as one phrase, and if the meaning is clear and unambiguous without the hyphen.
One example is first quarter touchdown. pic.twitter.com/8AJc0zCwJm

— AP Stylebook (@APStylebook) August 28, 2019
Many hilarious examples in the responses. First they try to kill the Oxford comma, now, this.
* * *
Readers, feel free to contact me at lambert [UNDERSCORE] strether [DOT] corrente [AT] yahoo [DOT] com, with (a) links, and even better (b) sources I should curate regularly, (c) how to send me a check if you are allergic to PayPal, and (d) to find out how to send me images of plants. Vegetables are fine! Fungi are deemed to be honorary plants! If you want your handle to appear as a credit, please place it at the start of your mail in parentheses: (thus). Otherwise, I will anonymize by using your initials. See the previous Water Cooler (with plant) here. Today's plant (Carla):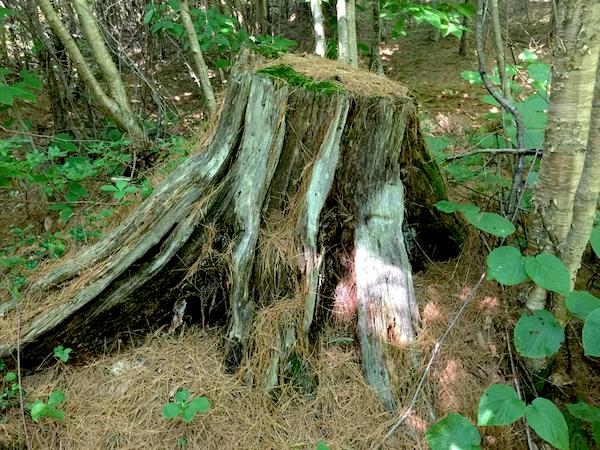 Carla writes: "From Wanakena, New York (northwestern Adirondacks)." As readers know, I like photographs of stumps!
* * *
Readers: Water Cooler is a standalone entity not covered by the annual NC fundraiser.Remember, a tip jar is for tipping! So if you see a link you especially like, or an item you wouldn't see anywhere else, please do not hesitate to express your appreciation in tangible form. Regular positive feedback both makes me feel good and lets me know I'm on the right track with coverage. When I get no donations for five or ten days I get worried. More tangibly, a constant trickle of donations helps me with expenses, and I factor in that trickle when setting fundraising goals:
Here is the screen that will appear, which I have helpfully annotated.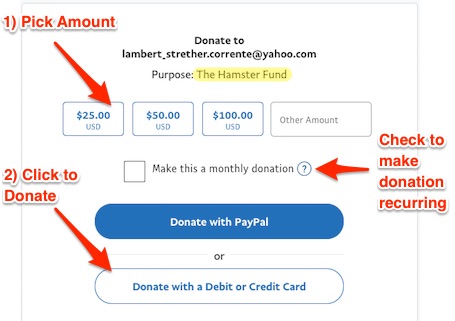 If you hate PayPal, you can email me at lambert [UNDERSCORE] strether [DOT] corrente [AT] yahoo [DOT] com, and I will give you directions on how to send a check. Thank you!