By Lambert Strether of Corrente.
Let me start out with a sidebar on "add oil" (加油), which you see all over the coverage of the Hong Kong protests: It originated, says the OED, as a cheer at the Macau Grand Prix in the 1960s, meaning "step on the gas" (which is good to know, because I thought that the underlying metaphor was adding cooking oil to a wok preparatory to frying). It translates roughly to "go for it!" Here, an apartment block encourages the protesters by chanting it:
#HongKongers in Tin Shui Wai screaming "Add oil, Hongkongers 香港人加油"

Proud of you all!!! So loud and so many people screaming together! #HongKongProtests#HongKongProtesters#StandwithHK#AntiELAB#HongKong#FollowBackHongKong#HKLastWord pic.twitter.com/2VAhDE7krc

— yannnnnn (@yannnnnn111) August 27, 2019
Interestingly, "add oil!" was also used as a cheer by the 2014 Umbrella movement, which should tell you that Hong Kong has considerable experience in running a protest.
Sidebar completed, this post will have a simple thesis: The people of Hong Kong have considerable experience in running protests, and we don't need to multiply invisible entities ("hidden hands") to give an account of what they're doing. For example, it's not necessary to postulate that the participants in the 2019 Hong Kong anti-extradition bill protests consulted CIA handlers on tactics; their tactics are often available, in open source, on the Internet; other tactics are based on Hong Kong material culture, things and situations that come readily to hand and can be adapted by creative people (which the protesters clearly are).
I started thinking about this post when I read this tweet:
Hi @AMFChina , someone already translate into chinese on Facebook.

Herewith the link for your reference…https://t.co/rFmQtcKPQQ嚴敏華/198種非暴力行動方法-已underline香港示威者用過的方法/10150098121775952/

— eden?? (@edennnnnn__) August 27, 2019
So, a well-meaning Westerner suggests Gene Sharp's well-known 198 Methods of Non-Violent Action to a HKer, who politely informs him that Sharp's work is already available in Chinese. Clearly, #genesharptaughtme is alive and well! (In fact, I remember Black Lives Matter using the same hashtag.) I am well-aware of Gene Sharp's equivocal role as a defense intellectual — in strong form, the Godfather of "color revolutions" — but at this point Sharp's influence is attenuated. Out here in reality, information on non-violent strategy and tactics has gone global, like everything else. You don't have to wait for your CIA handler to vouchsafe The Sacred Texts. Very sophisticated and tested protest tactics are all available on the Internet, if you research the media coverage of Tahrir Square, los indignados in Spain, the state capital occupations in the United States, Occupy proper, the Carré Rouge in Quebec, and many, many other examples (including the Umbrella movement organic to Hong Kong). It's not all Maidan — which is on the Internet too, and I don't regard it was useful to forcefit all protests into that model.
So, I'm going to go through a few of the tactics used in the 2019 Hong Kong protests: Umbrellas, Laser Pointers, Lennon Walls, and a Human Chain. For each tactic, I will throw it into the open source bucket, or the material culture bucket; in either case, there need be no "hidden hand." Also, I find protest tactics fascinating in and of themselves; I think a movement is healthy if its tactics are creative, and when they are so no longer, the movement has not long to live. (For example, Black Lives Matter started to disintegrate as a national movement when the college die-ins stopped (and when the liberal Democrats co-opted it by elevating Deray.) To the tactics!
Umbrellas
Umbrellas were already a symbol of protest in Hong Kong, from the Umbrella Movement of 2014. Here we see umbrellas being used to shield protestors from surveillance cameras (although they can also be used as shields against kinetic effects).
Some protesters begin to dismantle the smart lamp posts. At least five have been seen targeted pic.twitter.com/SwSFW8MTrL

— Chris Lau (@hkchrislau) August 24, 2019
In concept, the testudo (tortoise) formation dates to Roman times:
Hongkongers use umbrella-Testudo formations to protect themselves from police's batons.
Source: @SCMPgraphics ?#HongKongProtests #HongKong #香港 pic.twitter.com/0TKTigwqJ1

— ??? Hugo Lpz 羅禹國 (@Hugo_Lz) July 30, 2019
One can indeed see that Maidan protestors using literal shields:
The virgin flimsy umbrella Hong Kong testudo vs the chad Ukrainian actual testudo pic.twitter.com/BCutbEEB6d

— ⚡️ Boltz ⚡️ (@Boltzmann02) August 25, 2019
However, I would classify umbrella tactics as deriving from Hong Kong's material culture; Hong Kong is sub-tropical; there are typhoons; there is rain, fog, drizzle; and there is also the sun. Massed umbrellas scale easily from the tens to the hundreds; they create a splendid visual effect en masse; and they are available in any corner shop. So, it is not necessary to postulate an entity translating Maidan's heavy medieval shields to Hong Kong umbrellas; the protestors would have worked out the uses of umbrellas themselves, adapting the tools that come to hand to the existing conditions.
Laser Pointers
Hong Kong, under Mainland influence, is increasingly a surveillance state; it makes sense that HKers would give considerable thought to surveillance, and how to avoid it, in the normal course of events. How much more so protestors:
Hong Kong protestors are on another level. Here they're using lasers to avoid facial recognition cameras. A cyber war against Chinese artificial intelligence. pic.twitter.com/t1hIczr5Go

— Alessandra (@alessabocchi) July 31, 2019
I would classify the laser pointers tactic open source, since that's how I found out that yes, laser poinerns can knock out surveillance cameras. Again, there's no need to postulate that some unknown entity gave the protesters the idea; anybody with a little creativity and some research skills could come up with it, given the proper incentives (like being arrested, say).
Lennon Walls
Here is a Lennon Wall ("you may say I'm a dreamer") in Hong Kong:
Lennon Wall @ Fortress Hill, Hong Kong" pic.twitter.com/dsquLjwCQt

— Jeffrey Chau (@JeffreyChau3) August 23, 2019
Lennon Walls originated in Prague after John Lennon's murder in 1980: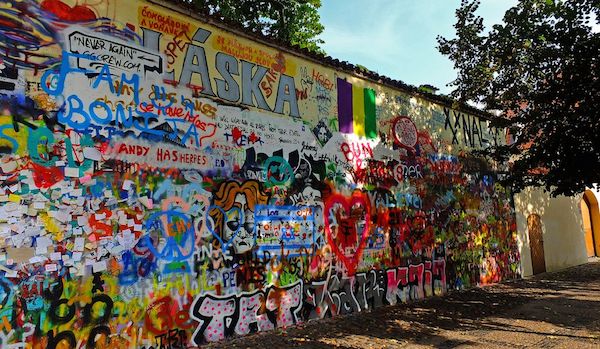 (The 2014 Umbrella movement also used them.) But these are Lennon Walls with Chinese characteristics:
Colourful Lennon Walls have sprung up all over Hong Kong. If you look closely at this one in Tsim Sha Tsui, someone has come up with the genius idea of using cling film/Saran wrap so the Post-It notes stick to the tiled wall—not an easy feat in HK's 90+% humidity. https://t.co/c46cl893Pk pic.twitter.com/gycPrrYdzI

— Mary Hui (@maryhui) July 7, 2019
The idea that one may "post" anything has been actualized with Post-It Notes, giving HK walls a digital, pixelated look:
8bit 連豬? #HKprotests #8bit #streetart #HongKonger pic.twitter.com/MWCMGKuce7

— Sam (@Kalent16) August 21, 2019
And the authorities have just begun to tear them down:
It appears a greater clampdown has begun in Hong Kong. As authorities arrest leading democracy activists – iconic "Lennon Walls", throughout the city, have been torn down wholesale overnight. #antiELAB #HongKongProtests pic.twitter.com/glFOGfcyUu

— Steve Chao (@SteveChaoSC) August 30, 2019
Reminds me of the NYPD bulldozing the Zucotti Park library, sadly.
I would classify Lennon Walls in both categories: They originated, conceptually, in Prague (so open source) but they are well adapted for massed protest in the material culture of Hong Kong. (Like massed umbrellas, massed PostIt notes scale easily from the tens to the thousands; they create a splendid visual effect en masse; and they are available in any corner shop.)
Human Chain
Here is a poster publicizing "the Hong Kong Way," a human chain across Hong Kong:
8.23 the #HongKong Way:
30th Anniversary of the Baltic Way#BalticWay30 #TheHongKongWay #823HKWay #香港之路#HongKongProtests #HKprotests #StandWithHongKong #FreeHongKong #HongKongers #香港デモ #홍콩시위 #香港 pic.twitter.com/xgjwxcFDFu

— seopia (@yyseop01051) August 21, 2019
Here is the beautiful result:
The best night view in HK ever. Hikers on Lion Rock supporting the Hong Kong Way campaign #HongKongWay #StandWithHongKong pic.twitter.com/EvX7RXQYi8

— fivepluszero (@fivepluszero1) August 23, 2019
I would classify "the Hong Kong Way" as open source, since the idea originated from "the Baltic Way," where some two million people joined hands to form a human chain across the three Baltic states: Estonia, Latvia, and Lithuania
Conclusion
Just to tweak the "It's a color revolution!" crowd, here's an image of HKers watching a movie about Maidan:
'Winter on Fire – Ukraine's Fight for Freedom' shown in 40 places in Hong Kong tonight ?? ?? pic.twitter.com/FLeCIWlv3K

— Aivaras Abromavicius (@aivaras_aivaras) August 29, 2019
I hope I have persuaded you that (a) this Maidan movie is open source"; knowledge of Maidan as a worthy object of study, that (b) by Occam's Razor, it doesn't take a CIA handler to tell this to HKers, and that (c) if the HKers end up building catapults, they will be adapted to Hong Kong's material culture (i.e., probably not medieval in appearance or structure).[1]
NOTES
[1] The HKers may also be sending a message to the authorities: If Maidan is what you want, bring it!