Give A Dam About This Beaver Spotted Swimming In The Hudson River Gothamist
Cashless Stores Alienate Customers in the Name of Efficiency WIRED
The Fed is getting into the real-time payments business CNN
Robots Are Solving Banks' Very Expensive Research Problem Bloomberg. The deck: "Banks can't always afford to put analysts on the ground in developing nations—about the only places where investors can get yield right now." But we can afford to hire expensive tech people to pull a few algos out of their digital assets? Or maybe the MBAs figure Bangalore is close enough to Jakarta for learning by osmosis to take place. Oy.
A Decline in Capital Investment Reveals the False Promise of Trump's Tax Bill The New Yorker. The entire country is awash in capital ("over-production crisis") and has been for some time. That's why frivolous albeit malevolent projects like Uber exist. Trump ain't it.
Five eyes of tax cases in global probe Australian Financial Review
With big questions remaining, Alaska Legislature's second special session set to quietly end Tuesday Anchorage Daily News
Brexit
Syraqistan
Venezuela
Washington hits Venezuela with full economic embargo Miami Herald

Venezuela hyperinflation hits 10 million percent. 'Shock therapy' may be only chance to undo the economic damage CNBC [licks chops].

Bolton warns China, Russia not to double down on support of Maduro Reuters
India
Correcting a historic blunder Indian Express. "Abrogation of Articles 370 and 35A is a much-needed step for the complete emotional integration of people of Jammu and Kashmir with the Indian Union."

Kashmir turmoil: Internet, broadband, landline services snapped, unprecedented developments taking place India Today. Probably the Internet blackout is meant to protect the privacy of Kashmiris completing their emotional integration at this difficult time.

This Photo Tells Us More About Amit Shah's Kashmir Plans Than The Govt Has So Far HuffPo
The Asian strategic order is dying FT. Important.
Nutrient deficiencies in rice grown under higher carbon dioxide could elevate health risks for tens of millions Phys.org
The Koreas
North Korea fires more weapons, denounces US military drills Associated Press

The Japan-South Korea Trade Dispute: What to Know Council on Foreign Relations

Who lost South Korea? Japan Times
China
Live Now: China Holds Briefing on Hong Kong's Social Unrest Bloomberg. Many other stories key off this.

Masked Hong Kong protesters hold rare press conference Channel News Asia

Hong Kong shares extend drop as US-China conflict escalates Nikkei Asian Review

Protest Innovation:

This legend was trying to clear the tear gas with a hand vacuum. I mean, it didn't work, but I'm in awe of the level of fucks not given. pic.twitter.com/zVbfVkrOgm

— Hong Kong Hermit (@HongKongHermit) August 5, 2019

"Spontaneously":

In order to prevent the Chinese national flag from being damaged again, dozens of #HongKong residents spontaneously organized an operation to protect the flag on Tuesday morning at Tsim Sha Tsui Star Ferry Pier. #香港 pic.twitter.com/QNnb34ioEM

— Global Times (@globaltimesnews) August 6, 2019

I don't deny there's support for the Mainland in HK, but holy moley, can't we get an upgrade to the style guide?

How Tear Gas Works: A Rundown of the Chemicals Used on Crowds Scientific American

* * *

China warns of countermeasures if U.S. puts missiles on its 'doorstep' Reuters
Trump Transition
Trump explores executive action on guns Politico

Unqualified UN Ambassador is the Perfect Weak Link The American Conservative

The Metadata Trap: The Trump Administration Is Using the Full Power of the U.S. Surveillance State Against Whistleblowers The Intercept
El Paso Shootings
Health Care
Column: Health insurance companies are useless. Get rid of them Michael Hiltzik, Los Angeles Times

CMS wants to force hospitals to reveal negotiated rates. Can it do that? Health Care Dive

The vaccine whisperers: Counselors gently engage new parents before their doubts harden into certainty STAT
L'affaire Joffrey Epstein
The mysterious case of Jeffrey Epstein Chicago Reader. A clear summary.
There is no evil like reCAPTCHA (v3) Stoicism and Me. Amen.
Antidote du jour (via). Leveling up my cat game: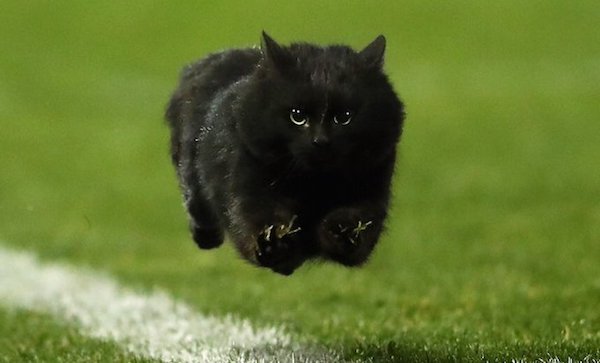 Bonus antidote. The original video:
Black cat at a rugby game. Please sign him up. pic.twitter.com/BYL5HM0vvO

— Cats 🐈 (@bestcataccount) July 28, 2019
See yesterday's Links and Antidote du Jour here.