By Lambert Strether of Corrente
Trade
"U.S. manufacturers are investing less in their factories and workforces as they cope with uncertainty from the trade dispute with China…. [S}ome companies are putting business plans on hold and others are cutting capital spending, decisions that will ripple across supply chains as suppliers adjust to a leaner purchasing market" [Wall Street Journal]. "Truck maker Navistar International Corp. expects to spend 25% less on capital projects this year compared to last year, and Caterpillar Inc.'s capital spending dropped 16% in the June quarter from the year before. U.S. imports of capital goods also fell in July to the lowest level since 2017. Company executives says the shifting contours of the tariffs between the U.S. and China have made it more difficult to forecast sales and costs, and making a choice to invest more of a gamble." • Animal spirits….
"The conflicting signals over the grain are among the complications U.S. farm exporters face as they adjust to diminished agriculture purchases from China. Corn is one of many commodities at the heart of restructuring supply chains as a result of the U.S.-China trade dispute, and the search for new markets shows how tough it will be for farmers to match production to demand in foreign markets" [Wall Street Journal]. "Farmers turned to more corn production after China stopped buying U.S. soybeans, creating an inventory surplus that has sent prices tumbling."
Politics
"But what is government itself, but the greatest of all reflections on human nature?" –James Madison, Federalist 51
"They had one weapon left and both knew it: treachery." –Frank Herbert, Dune
Alert reader dk (not to be confused with DK) is in the process of developing the following interactive chart:
And here is (are) the latest poll(s) as of 9/9/2019, 12:00 PM EDT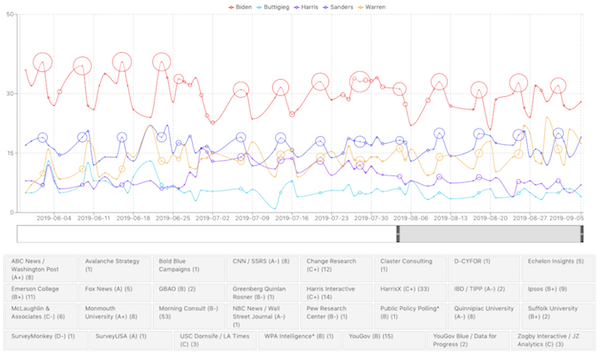 Biden up, Warren and Sanders exchange the lead again. And the polling detail: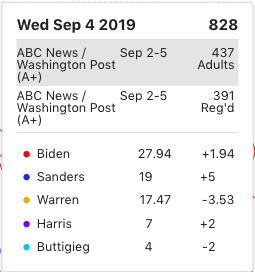 I think dk has started a really neat project, and in the near future we'll seek your feedback (within reason) for the tool "live."
UPDATE 2019-08-30: Now the polls aggregated (all available) are shown at the bottom of the poll; unlike RCP, there is no "secret sauce" for poll selection. We also give more detail about each poll than RCP, and allow candidates to be selected or deselected. That's three reasons what dk is doing beats RCP, and if we can make the individual polls selectable/highlightable, that will be four reasons. With more to come, grid willing.
* * *
2020
Harris (D)(1): "Internal Kamala Harris document acknowledges 'Summer Slump'" [Politico]. "A briefing memo accidentally left behind at a restaurant here showed Kamala Harris' staff expected her to be grilled on her lack of presence in the state as well as her campaign's 'summer slump.'… The document had several pages of talking points, including: "NH absolutely a priority for my campaign — excited to be back for the convention and other events around the state," and, "Note: Recent polling- Boston Globe/Suffolk (8/1-8/4) Biden 21%, Sanders 17%, Warren 14%, YOU 8%." • I don't see anything out of the ordinary here, except possibly the "YOU," oft-repeated.

UPDATE Harris (D)(2): "Teamsters Union Splits From Uber and Lyft on California Worker Rights Law" [Bloomberg]. "One asset for Uber is Laphonza Butler. She was president of one of the SEIU's largest local unions until last year and is now a partner at SCRB Strategies, a California-based business and political consulting firm. There, Butler has advised and represented Uber in its dealings with organized labor on employment issues and also serves as an adviser to the presidential campaign of Kamala Harris, the Democratic senator from California." • Well, well, well.

Sanford (R)(1): "And Sanford Makes Three: The Former S.C. Governor Enters GOP Primary To Challenge Trump" [Inside Sources]. "Former South Carolina governor and congressman Mark Sanford made it official on Sunday: He's joining the GOP presidential primary field. The announcement comes just hours after his home-state GOP announced they won't even be holding a presidential primary next year….Sanford has been discussing a possible run for weeks, and he spent two days in New Hampshire last month talking to party leaders and activists — including a stop at the Center Right Meeting in Manchester hosted by former NH House Speaker Bill O'Brien…. Sanford enters a field that already featured former Massachusetts Gov. Bill Weld and former Illinois Rep. Joe Walsh, not to mention an incumbent Republican with close to 90 percent support within the GOP….. President Trump reacted to the announcement via Twitter on Monday morning, mocking Sanford over the infamous 'Appalachian Trail' incident when, as governor, he was caught having an extramarital affair and labeling his primary opponents 'The Three Stooges.'" • Sanford, when on the Appalachian Trail, did not call his primary opponents "The Three Stooges." Commas are your friend!

UPDATE Sanders (D)(1): "Bernie Sanders better organized, more focused in SC than four years ago" [Post and Courier]. "What is noticeably different from 2016 is that Sanders is also more assertive in trying to connect with South Carolina's black communities, which are expected to make up more than 60 percent of the primary turnout. For instance, he used an August stop at the Greenview neighborhood in Columbia to release what he called his 'comprehensive plan to reform the entire American criminal justice system.'… Then there was his visit to Denmark, a tiny South Carolina community of 3,000 where a fight is continuing over the quality of the water. More than half of the Sanders' campaign staff in South Carolina is African American, [Sanders' South Carolina communications director Michael Wukela] said. … In the audience was Judy Dozier, a 68-year-old nurse assistant from Georgetown who said she was attending her first presidential political rally ever…. 'He is trying to help,' she said. 'He is not trying to hurt.'"

Sanders (D)(2):

Instead of putting resources into sign wars outside of the #NHDems2020 convention, the Sanders campaign is knocking doors. Excellent use of time IMO. You don't win a campaign by having the most signs. You win by organizing. https://t.co/j80hDZ3tdt

— The Purity Tester (@WAProgressive) September 7, 2019

The Sanders campaign did the same thing in Iowa. Last campaign we had a lot of reader reports on signage. I guess this year we need reports from the field on door-knocking — both the knockers and the knocked!

Warren (D)(1): "Warren endorses Texas Democrat Cuellar's primary challenger" [The Hill (RH)]. "Sen. Elizabeth Warren (D-Mass.) on Monday endorsed Jessica Cisneros, a Democratic primary challenger to Rep. Henry Cuellar (D-Texas)…. Cisneros launched her campaign in June and was immediately endorsed by Justice Democrats, the group that helped Rep. Alexandria Ocasio-Cortez (D-N.Y.) in her primary bid against 10-term incumbent Rep. Joseph Crowley (D-N.Y.). The liberal advocacy group has made Cuellar a top target since January, bashing his voting record." • Tacking left after meeting with Clinton?

Warren (D)(2): "How Elizabeth Warren Raised Big Money Before She Denounced Big Money" [New York Times]. "[E]arly this year, Ms. Warren made a bold bet that would delight the left: She announced she was quitting this big-money circuit in the 2020 presidential primary, vowing not to attend private fund-raisers or dial up rich donors anymore. Admirers and activists praised her stand — but few noted the fact that she had built a financial cushion by pocketing big checks the years before…. The open secret of Ms. Warren's campaign is that her big-money fund-raising through 2018 helped lay the foundation for her anti-big-money run for the presidency. Last winter and spring, she transferred $10.4 million in leftover funds from her 2018 Senate campaign to underwrite her 2020 run, a portion of which was raised from the same donor class she is now running against." • The only venue I've previously seen this story was the Gloucester Times, to which we linked on June 17, 2019.

* * *

"Inside Democrats' 2020 Trump war room" [Axios]. "The DNC research team has mined thousands of lawsuits from nearly 50 states as part of a massive new trove on President Trump that will be weaponized through pols and reporters in key battlegrounds….. The research includes roughly 7,000 lawsuits, as well an extensive document detailing every time then-candidate Trump told supporters at his 2016 campaign rallies that Mexico would pay for the wall…. A source familiar said this document will likely find its way to local reporters, groups and Democrats in battleground states as Trump diverts funds from the military to pay for his border wall…. Using Trump's specific actions and broken promises is how DNC chairman Tom Perez is advising party officials and surrogates to define him in states he won in 2016 that they think are crucial to their 2020 election efforts." • Never get in a pissing match with a skunk….
Health Care
Wowsers:

"Medicare for All which is…going to eliminate 150 million people's health care and provide health care for people that just come over the border. That's an untenable position for the general election." –@RahmEmanuelpic.twitter.com/WTgicw5mOA

— Waleed Shahid (@_waleedshahid) September 8, 2019

Rahm landed on his feet with "New York investment banking boutique Centerview Partners" (see, e.g., "Centerview builds record on pharma deals"). So I'm happy for him.
Realignment and Legitimacy
"Exxon Mobil Is Funding Centrist Democratic Think Tank, Disclosures Reveal" [The Intercept]. "The Progressive Policy Institute, a centrist Democratic think tank that grew out of the party's pro-business wing in the 1980s and '90s, received $50,000 from Exxon Mobil in 2018 via its parent organization, the Third Way Foundation, according to the oil giant's 2018 Worldwide Giving Report." • Ka-ching.

Brake light clinics:

Another successful brake light clinic! Shoutout to our comrades in the Mutual Aid Committee for all their hard work. We have these clinics regularly, so if you ever find yourself in need of a brake light repair, keep us in mind! We're always happy to lend a hand.? pic.twitter.com/96TlubH3dB

— Salt Lake DSA ? (@slcDSA) September 5, 2019

I can't emphasize enough how much I like this DSA program. In addition to preventing some number of black people, who are often stopped by cops for minor traffic infractions, from getting whacked, DSA members are actually meeting people who, well, need their brakelights fixed (as opposed to, say, needing somebody to give their dissertation a reading). Also, serving the working class is what socialists should do.
Stats Watch
There are no official statistics of interest today.
Real Estate: "Foreign Investment in U.S. Commercial Property Drops Almost 50%" [Bloomberg]. "Deals totaled $16.9 billion, down from a record $32.7 billion in the same period last year, according to a report by CBRE Group Inc. Much of the decline was in spending on large mergers and acquisitions, which tumbled 83%, the brokerage said. Individual asset and portfolio sales fell 26%."
Retail: "Lord & Taylor Will Be Sold to Le Tote, a Clothing Rental Start-Up" [New York Times]. "It's a surprising marriage, especially given the relatively low profile of Le Tote. The San Francisco-based company, started in 2012, lacks the name recognition of Rent the Runway, the best-known clothing rental business, and has raised only $75 million in venture capital. (It is still securing financing for the purchase.) It is one-tenth the size of Lord & Taylor based on revenue, Mr. Tondon said….. The idea emerged from discussions Le Tote was having with Lord & Taylor about helping the chain develop rental and subscription services, he said. Clothing and accessory rentals have been on a tear recently, attracting interest from high-end designers to mall chains like American Eagle. The start-up grew to believe it could use its technology and data know-how to personalize store visits and online shopping for Lord & Taylor customers, while injecting new fuel into its rental offering." • Heaven forfend customers should go to a store and be helped by a competent and knowledgeable salesperson!
Shipping: "Trucking companies appear to be bracing along with factory owners for a slower goods-producing U.S. economy. Trucking fleets slashed payrolls by 4,500 jobs last month" [Wall Street Journal]. "The halt in hiring after a four-month expansion coincides with tepid job expansion in businesses that push parts and finished products through distribution networks and the pace of hiring slowed across the logistics field. Goods-producing companies added just 12,000 jobs to the country's hiring growth in August, and employment in manufacturing rose by only 3,000 jobs. A big share of that growth came in a transportation-equipment sector that is already projecting production cutbacks in the coming months. Many big fleet operators have signaled they are focused on maintaining pricing leverage they won following last year's surge in freight demand even as shipping cools down. The latest jobs figures aren't likely to turn instead to adding capacity."
UPDATE The Bezzle: "The People Paid to Dox Airbnb Addresses" [Vice]. "But a cottage industry of tech companies dedicated to uncovering the exact addresses of Airbnb and HomeAway properties has popped up, and is paying human contractors to find these addresses using Google Maps, Zillow, White Pages, Facebook, and other online sources and give them to governments, Motherboard has learned. City governments say they need these addresses to make sure Airbnbs are in compliance with local regulations… " • And the "cottage industry" uses pieceworkers hired on Mechanical Turk. For example: "A current contractor leaked Motherboard an internal training video for those working for Host Compliance. When working on a task, contractors are presented with a Google Maps style interface, with yellow and orange pins on top of buildings, according to the video. Orange pins are ones that the automatic part of the system has determined are likely rental properties, the video narrator says. Contractors can use people search tools such as WhitePages.com embedded within the Host Compliance panel to conduct searches." Hilariously, Tote Bag Radio falls for the PR of Host Compliance, writing: "Host Compliance uses artificial intelligence software to figure out the address and owner."
UPDATE The Bezzle: "Uber And Lyft Take A Lot More From Drivers Than They Say [Jalopnik]. "Jalopnik asked drivers to send us fare receipts showing a breakdown of how much the rider paid for the trip, how much of that fare Uber or Lyft kept, and what the driver earned…. In total, we received 14,756 fares…. Of all the fares Jalopnik examined, Uber kept 35 percent of the revenue, while Lyft kept 38 percent. These numbers are roughly in line with a previous study by Lawrence Mishel at the Economic Policy Institute which concluded Uber's take rate to be roughly one-third, or 33 percent…. Those take rates are 10.6 percent and 8.5 percent higher than Uber and Lyft's publicly reported figures, respectively."
Tech: "Apple, Foxconn Broke a Chinese Labor Law to Build Latest iPhones" [Bloomberg]. "Apple Inc. and manufacturing partner Foxconn violated a Chinese labor rule by using too many temporary staff in the world's largest iPhone factory, the companies confirmed following a report that also alleged harsh working conditions. The claims came from China Labor Watch, which issued the report ahead of an Apple event on Tuesday to announce new iPhones. The non-profit advocacy group investigates conditions in Chinese factories, and says it has uncovered other alleged labor rights violations by Apple partners in the past. For its latest report, CLW said undercover investigators worked in Foxconn's Zhengzhou plant in China, including one who was employed there for four years. One of the main findings: Temporary staff, known as dispatch workers, made up about 50% the workforce in August. Chinese labor law stipulates a maximum of 10%, CLW noted."
UPDATE Tech: "How Cam Models Changed the Porn World Forever" [Vice]. ""This is all part of my actual bedroom, where I eat, sleep, and fuck," [adult cam star Ela Darling] says in the video. It looks like a room you'd come back to after any date, not the filming studio of an industry-pioneering cam model and chief marketing officer of PVR, a virtual reality porn technology company. But the casualness of the setting doesn't make it accidental. Darling is catering to a market that seeks the fantasy of the real: messy, silly, mundane life. 'When people want content directly from a performer, they want something that's authentic,' Darling said over the phone. 'They don't want some big staged scene, they want something that feels like getting a glimpse into your life, into your sex life.'" • Significant because many (all?) content innovation begins with erotica, and propagates from there.
UPDATE Tech: "Bang Bros Bought a Huge Porn Doxing Forum and Set Fire to It" [Vice]. • Next stop, entire data centers?
UPDATE Tech:
When Google puts 4 paid ads ahead of the first organic result for your own brand name, you're forced to pay up if you want to be found. It's a shakedown. It's ransom. But at least we can have fun with it. Search for Basecamp and you may see this attached ad. pic.twitter.com/c0oYaBuahL

— Jason Fried (@jasonfried) September 3, 2019
Why does Google — I know why, but hear me out — put paid results at the top? Why not just put them in a sidebar, to the right?
Fodder for the Bulls: "This is the factor that's likely to determine whether there's a U.S. recession" [Washington Post]. "Where things go from here largely hinges on a single factor: the almighty consumer. Broadly speaking, economic growth in the United States is driven by three factors — spending by consumers, the government and businesses. At the moment, businesses have pulled back because of the trade war, and government spending is not expected to change much, especially with a two-year budget deal in place. That leaves the consumer as the most significant variable that can change the country's fortunes… The concern is that after businesses stop spending, they typically pare down hiring — or even start layoffs. That would be a devastating blow to those who lose their jobs, and it has wider psychological effects. Even for those who are still employed, negative headlines about market drops, mass layoffs and gloomy expectations can spook Americans into tightening their belts." • Now, if there were a Jobs Guarantee…
UPDATE Fodder for the Bulls: "Are We Headed for a Recession?" [Dean Baker, Jacobin]. "At the most basic level, it is important to recognize that some sectors are very cyclical, meaning they grow rapidly in upturns and fall sharply in recessions, and others tend not to fluctuate very much over the course of a business cycle. The cyclical group is led by housing construction, durable goods consumption (cars and big household appliances), nonresidential construction, equipment investment, and inventories. These components of demand tend to plunge in a recession. On the other hand, we have several components of demand that are mostly unresponsive to the business cycle. Spending on consumer services (largely medical spending and rent) varies little over the course of the business cycle. Spending on consumer services fell just 0.3 percent in 2009 and actually rose through all prior postwar recessions. This point about the varying cyclicality of different sectors matters for recession predictions because the highly cyclical components have shrunk sharply as a share of the economy in the last four decades, as the less cyclical components have grown."
UPDATE Honey for the Bears: "Maybe Warren Buffett Is Warning Us About Something" [Bloomberg]. "he vast cash hoard of his company, Berkshire Hathaway Inc., has been vaster only once before — just before the worst financial crisis since the Great Depression. And Buffett has already told us how he likes to gauge the stock market's relative value, Nir writes: He compares it to GDP. And, uh, this is pretty ugly." Handy chart: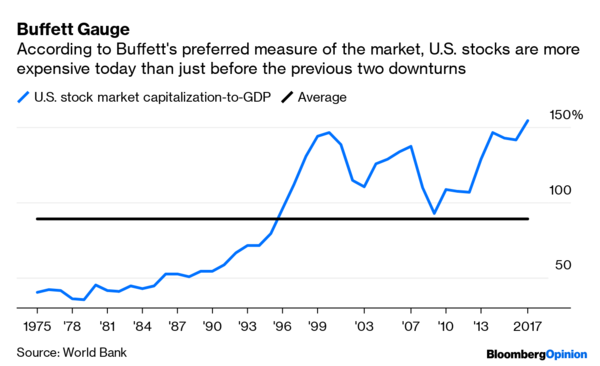 Readers, do you have views on this chart? (Note that I think Buffet made his real money on left-hand, pre-90s side of the chart, not the right).
* * *
Today's Fear & Greed Index: 44 Fear (previous close: 35, Fear) [CNN]. One week ago: 23 (Extreme Fear). (0 is Extreme Fear; 100 is Extreme Greed). Last updated Sep 9 at 12:39pm. Note that the index is not always updated daily, sadly.
Rapture Index: Closes down one on Earthquakes. "The lack of activity has downgraded this category." [Rapture Ready]. Record High, October 10, 2016: 189. Current: 184. Remember that bringing on the rapture is a good thing.
The Biosphere
"Fires in the Amazon: What's Agriculture Got to Do with It?" [Modern Farming]. "While there are some sustainable agricultural endeavors in the Amazon, such as tapping rubber trees and harvesting native foods (such as acai, hearts of palm and brazil nuts), cattle ranching and soybean production (largely grown to feed cattle) are by far the biggest forms of agricultural land use…. Soy fields and cow pastures require the removal of trees, of course, and fire is often the easiest method…. Grileiro, roughly translated, means "land grabber" in Portuguese. These are folks who go into virgin forest and clear it for the purposes of claiming ownership — if you can show that you've been using the land, it's possible to gain ownership through a form of squatter's rights — often selling the land to farmers once they have done so. This would never fly in more developed countries, but because the Amazon is such a vast and largely unpoliced frontier, and because the land registry is notoriously corrupt, grilagem ("land grabbing") is a common and profitable form of organized crime. What Can You Do? Buy local beef." • Doing well by doing good…
"Alaska's Sea Ice Completely Melted for First Time in Recorded History" [Truthout]. "Also for the first time in recorded history, Alaska's sea ice has melted completely away. That means there was no sea ice whatsoever within 150 miles of its shores, according to the National Weather Service, as the northernmost state cooked under record-breaking heat through the summer."
"Pollinators – Chocolate midge" [National Park Service]. "Every bite of chocolate we eat starts off as seeds in pods that grow on Theobroma cacao, a tree whose name translates to "cacao, food of the gods." Enter chocolate midges—without the midges, there would be no chocolate!… The native habitat of chocolate midges is dense, shady rain forests, so the midges seldom seek the sunnier, unnatural arrangement of cacao trees in commercial plantations for pollination. Also, within commercial plantations, the time of peak flower abundance is out of sync with the peaking of midge populations. To make matters even less attractive to the midges, wild cacao flowers have more than 75 distinct aroma ingredients, while cultivated cacao flowers have only a few…. Like many other pollinators, chocolate midges suffer from loss of habitat, as large tracts of natural rainforest are replaced by cacao plantations. Approximately one third of the world crop of cacao is lost every year because of plant pests and diseases. Pesticides and herbicides may be used to combat crop loss, resulting in contaminated waters and soils and an increased loss of biodiversity."
You want fires? Here's a fire. Thomas Pepys on the Great Fire of London in 1666. Thread:
Some of our maids sitting up late to get things ready against our feast to-day, Jane called us up to tell us of a great fire they saw in the City.

— Samuel Pepys (@samuelpepys) September 2, 2019
(One of the minor pleasures of Twitter is bots sending out excerpts from works of literature, works of great painter, etc.)
Black Injustice Tipping Point
"The Lost Promise of Reconstruction" [Eric Foner, New York Times]. "Many Americans feel that we are living at a time like the end of the 19th century, when, in the words of Frederick Douglass, 'principles which we all thought to have been firmly and permanently settled' were 'boldly assaulted and overthrown.' Douglass was referring to the rights enshrined in three constitutional amendments ratified between 1865 and 1870. The 13th Amendment irrevocably abolished slavery. The 14th constitutionalized the principles of birthright citizenship and equality before the law. The 15th sought to guarantee the right to vote for black men throughout the reunited nation. All three empowered Congress to enforce their provisions, radically shifting the balance of power from the states to the nation. the amendments should be seen not simply as changes to an existing structure but as a second American founding, which created a fundamentally new Constitution…. The task of definition fell to the Supreme Court. And in a series of decisions familiar today only to specialists (with the exception of Plessy) — the Slaughter-House Cases, Cruikshank, Hall v. DeCuir, the Civil Rights Cases, Plessy v. Ferguson, Giles v. Harris — the court drastically restricted the scope of the second founding."
Health Care
Yellow peril meets anti-vax. Check the left-hand image:
The racist imagery and language targeting @DrPanMD used by some who oppose #SB276 is unacceptable and must be condemned. All #SB276 opponents must publicly denounce this Anti-Asian attack. @RobSchneider #CALeg pic.twitter.com/kbljkTAcrA

— Rob Bonta (@RobBontaCA) September 8, 2019
I don't know quite what to make of that. Nothing good.
Guillotine Watch
UPDATE "Bye Bye Mast Bros: Controversial Confectionary Hipsters Decamp For Mount Kisco" [Gothamist]. "Pour one out for chocolate's least favorite hipsters, local beards Rick and Michael Mast, whom Eater reports will be moving their "bean-to-bar" Brooklyn chocolate factory to Mount Kisco, New York. Meanwhile, the Mast Brothers have already closed their Williamsburg storefront, at 111 North 3rd Street. Run out of town by mobs of hipster luddites duped into buying overpriced, industrial chocolate melted down and then dressed up in expensive terrazzo-print paper, perhaps? Who's to say!"
Groves of Academe
"MIT Media Lab Agrees To Return All Of Jeffrey Epstein's Donated Girls" [The Onion]. • Read all the way to the end.
"On Joi and MIT" [Lawrence Lessig, Medium]. Lessig creates a typology of people who want to "give" to universities, one of which is Type 3: "Type 3 is people who are criminals, but whose wealth does not derive from their crime. This is Epstein, but not just Epstein." Then: "But what I — and Joi—missed then was the great risk of great harm that this gift would create. Sure, it wasn't blood money, and sure, because anonymous, the gift wasn't used to burnish Epstein's reputation. But the gift was a ticking time bomb. At some point, it was destined to be discovered. And when it was discovered, it would do real and substantial pain to the people within the Media Lab who would come to see that they were supported in part by the gift of a pedophile." • Lessig seems unable to focus on the idea that the real problem is donations as such; that is, the very notion of private universities. Both this story (MIT) and the story below (Liberty University), and, potentially, the story below tha (Johns Hopkins) could be said to raise the same issue.
"'Someone's Gotta Tell the Freakin' Truth': Jerry Falwell's Aides Break Their Silence" [Politico]. "'We're not a school; we're a real estate hedge fund,' said a senior university official with inside knowledge of Liberty's finances. 'We're not educating; we're buying real estate every year and taking students' money to do it.'" •. Lol. Ever heard of NYU? And then there's this: "With Falwell Sr., 'you could feel his passion and love for the Lord and others. He knew everyone's names, their stories and struggles. He was genuine and loving. And that love bled from the campus,' a former longtime university official said. "It's a cold place now.'" • As long as I've been following the Christian right, all the way back to the administration of George Bush, the Second of His Name, the "genuine and loving" part has been surprisingly small. And corruption has bulked surprisingly large (Matt 6:19-20).
"Johns Hopkins has launched the first center devoted exclusively to researching psychedelic drugs in the U.S." [CNN]. "Johns Hopkins has a had a psychedelic research group since 2000. This center will be a step forward for the group, allowing them to move forward with even more psychedelic-focused research. 'This very substantial level of funding should enable a quantum leap in psychedelic-focused research," said James Potash, director of the Department of Psychiatry and Behavioral Sciences, in a statement. "It will accelerate the process of sorting out what works and what doesn't.'… The center is funded by a group of , who collectively donated $17 million to start the center." • Oh.
"Cheating, Inc.: How Writing Papers for American College Students Has Become a Lucrative Profession Overseas" [New York Times]. "Since federal prosecutors charged a group of rich parents and coaches this year in a sprawling fraud and bribery scheme, the advantages that wealthy American students enjoy in college admissions have been scrutinized. Less attention has been paid to the tricks some well-off students use to skate by once they are enrolled…. The essay-for-hire industry has expanded significantly in developing countries with many English speakers, fast internet connections and more college graduates than jobs, especially Kenya, India and Ukraine. A Facebook group for academic writers in Kenya has over 50,000 members…. Contract cheating is harder to detect than plagiarism because ghostwritten essays will not be flagged when compared with a database of previously submitted essays; they are generally original works — simply written by the wrong person."
#NotAllDeans. A great story. Thread:
So, I worked one summer at Harvard's freshman dean's office, under the legendary Elizabeth Studley Nathans.

— Nicole Cliffe (@Nicole_Cliffe) September 7, 2019
Class Warfare
"As billions flow to farmers, Trump administration faces internal concerns over unprecedented bailout" [WaPo]. • Now, if it were banks that were being bailed out…
Everything's going according to plan:
Poverty is, in my view, a death sentence. The poorest older Americans die at twice the rate as the richest.

We must end our country's obscene inequality and ensure basic economic security for all—or we will condemn an entire generation to early death. https://t.co/h6D1lzC8ES

— Bernie Sanders (@SenSanders) September 9, 2019
News of the Wired
Punctuation wars:
Everything works better with variable numbers of HYPHEN-MINUS. pic.twitter.com/0CaTRah1Nv

— Fake "Unicode." ↙️ (@FakeUnicode) September 7, 2019
The enormous wave of endorphin that came when I discovered, lo these many years ago, that I could do proper em-dashes and proper typographer's quotation marks on the Mac probably locked me into the platform forever. Big moment!
* * *
Readers, feel free to contact me at lambert [UNDERSCORE] strether [DOT] corrente [AT] yahoo [DOT] com, with (a) links, and even better (b) sources I should curate regularly, (c) how to send me a check if you are allergic to PayPal, and (d) to find out how to send me images of plants. Vegetables are fine! Fungi are deemed to be honorary plants! If you want your handle to appear as a credit, please place it at the start of your mail in parentheses: (thus). Otherwise, I will anonymize by using your initials. See the previous Water Cooler (with plant) here. Today's plant (TH):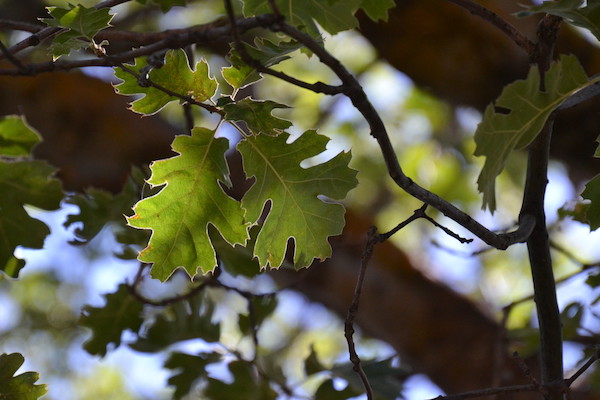 TH writes: "Though I've since looked up 'Valley Oak Tree' when I learned of its species, I've yet to find any mention of the tree emitting a scent. It produces acorns, not flowers that I've ever noticed. Seventeen years on, yes, I still look forward to that first deep breath of vanilla scented air upon each arrival, and, yes, we've had to trim it to keep it from interfering with wires or resting on roof tiles, but it's never been such a nuisance as to warrant that awful dreaded word, REMOVAL." Lovely backlighting and bokeh!
* * *
Readers: Water Cooler is a standalone entity not covered by the annual NC fundraiser.Remember, a tip jar is for tipping! So if you see a link you especially like, or an item you wouldn't see anywhere else, please do not hesitate to express your appreciation in tangible form. Regular positive feedback both makes me feel good and lets me know I'm on the right track with coverage. When I get no donations for five or ten days I get worried. More tangibly, a constant trickle of donations helps me with expenses, and I factor in that trickle when setting fundraising goals:
Here is the screen that will appear, which I have helpfully annotated.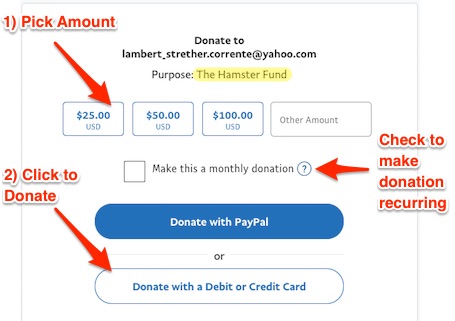 If you hate PayPal, you can email me at lambert [UNDERSCORE] strether [DOT] corrente [AT] yahoo [DOT] com, and I will give you directions on how to send a check. Thank you!