By Lambert Strether of Corrente
Trade
"The Trade War Spurs China's Technology Innovators Into Overdrive" [Industry Week]. "In Shenzhen's glitzy financial district, a five-year-old outfit creates a 360-degree sports camera that goes on to win awards and draw comparisons to GoPro Inc. Elsewhere in the Pearl River Delta, a niche design house is competing with the world's best headphone makers. And in the capital Beijing, a little-known startup becomes one of the biggest purveyors of smartwatches on the planet. Insta360, SIVGA and Huami join drone maker DJI Technology Co. among a wave of startups that are dismantling the decades-old image of China as a clone factory — and adding to Washington's concerns about its fast-ascending international rival. Within the world's No. 2 economy, Trump's campaign to contain China's rise is in fact spurring its burgeoning tech sector to accelerate design and invention. ." • Gee, didn't we have this advantage once? Thanks, neoliberals!
Politics
"But what is government itself, but the greatest of all reflections on human nature?" –James Madison, Federalist 51
"They had one weapon left and both knew it: treachery." –Frank Herbert, Dune
Alert reader dk (not to be confused with DK) is in the process of developing the following interactive chart:
And here is (are) the latest poll(s) as of 9/16/2019, 11:00 AM EDT: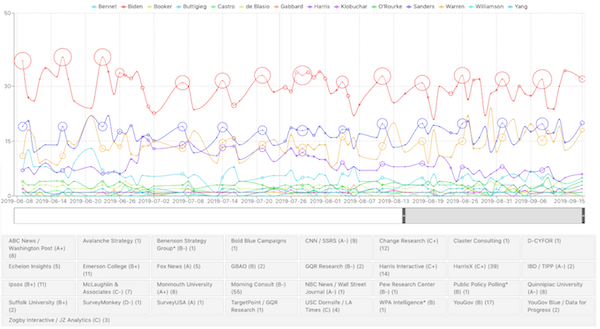 Biden, Sanders, Warren, again, with a drop for Biden. (Note that the circles denote the size of the population(s) polled; so the big circles are Morning Consult). And the polling detail: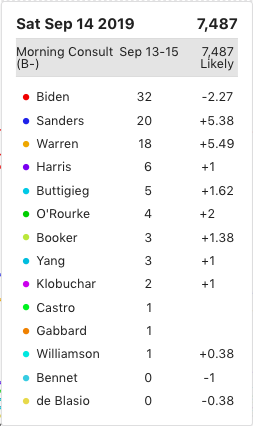 I think dk has started a really neat project, and in the near future we'll seek your feedback (within reason) for the tool "live."
UPDATE 2019-08-30: Now the polls aggregated (all available) are shown at the bottom of the poll. We also give more detail about each poll than RCP, and allow candidates to be selected or deselected. That's three reasons what dk is doing beats RCP, and if we can make the individual polls selectable/highlightable, that will be four reasons. With more to come, grid willing.
* * *
2020
Biden (D)(1): "Playing to Win" [Eschaton]. "Joe Biden believes that he is the only candidate who will be treated 'fairly,' that his good friends, those fine people in the Republican party, wouldn't possibly be mean to kindly old white Uncle Joe. The presidency is a big prize and Republicans play to win. I'm not always sure what game Democrats are playing, but they should at least understand the game that Republicans are." • Biden probably does believe that; and his voters do, too.

UPDATE Buttigieg (D)(1): "Secret Tapes Reportedly Suggest Pete Buttigieg Fired South Bend's Black Police Chief Due To Donor Pressure" [Inquisitr]. This comes from a TYT story, which is so convoluted I couldn't figure out how to quote from it. "[L]egal documents that suggest Democratic presidential candidate Pete Buttigieg fired South Bend's first black police chief, Darryl Boykins, due to a plan by white police officers to pressure him via his campaign donors. In particular, the documents detail secret phone recordings of South Bend police phone lines in which officers describe their plan to use two of Buttigieg's donors, Sam Hensley and Steve Luecke — who deny having any such discussions with the Mayor — to oust Boykins from the South Bend Police Department (SBPD). 'It is going to be a fun time when all white people are in charge," one officer is quoted as saying in the documents. Although the plan was concocted without Buttigieg's knowledge — they reportedly called him a 'little f*cking squirt' on the recordings — the report claims he learned of the secret SBPD police recordings in January of 2012. Buttigieg asked Boykins to resign two months later but eventually rescinding the resignation due to outage from the black community and demoted Boykins instead." • Say what you like about Booker, he seems to have handled Newark better than Buttigieg has handled South Bend. And if Buttigieg isn't seasoned enough to handle the SBPD, what happens when he encounters The Blob?

Sanders (D)(1): "The Working Families Party Has Written Itself Out of History" [Jacobin]. "n 2015, Sanders got the party's endorsement (with a whopping 87 percent support from the membership). The following year, he urged New Yorkers to vote for Hillary Clinton on the party's ballot line, calling the WFP 'the closest thing there is to a political party that believes in my vision of democratic socialism.' Now, in 2019, Sanders looks like he has every chance of winning the Democratic primary and bringing this vision to the White House. But he'll be doing so without the WFP's support. The party announced its backing of Sen. Elizabeth Warren for president yesterday." • Here is the kicker:

It's impossible to know, given the process the party used to choose their candidate, split evenly between the votes of tens of thousands of WFP members and a small board of several dozen people. The party announced that Warren drew just over 60 percent of the ranked-choice vote, but refused to release the exact breakdown of member votes versus board votes, as they did in 2015 when Sanders won.

For "a small board," read "superdelegates," right? (The board is also, interestingly, dominated by the SEIU.) That said, I agree with this bracing subtweet:

When you get get out organized and out maneuvered on a terrain you didn't bother to organize or maneuver on, don't blame the terrain.

— Comrade Scalawag ✊?? (@ComradeScalawag) September 16, 2019

Even if liberal Democrat gangsters did rig the election by controlling the ballot, there's no point fussing, because that's what they do.

Sanders (D)(2): "Bernie Sanders won't kiss your baby, but he feels your pain" [Politico]. "Though Sanders began holding smaller town halls and events months ago, his aides said he started making them more participatory at the beginning of August…. Sanders' advisers said they understand that campaigning with a personal touch is critical in early caucus and primary states such as Iowa and New Hampshire…. Sanders' aides said his intimate town halls have helped them recruit more volunteers in Iowa and other states. They've also spread his message that the nation's health care industry is failing and workers are suffering through the mouths of everyday voters. His social media team often quickly clips the interactions and shares them on social media. Unlike some other parts of campaigning, Sanders' aides also said he enjoys hearing the life stories of working-class Americans — and is energized by them. 'We'll get in the car and he'll tell me, 'Did you hear that one? Did you hear this one?'; Shakir said. 'They stick with him.'" • This is good. And the article has a lovely — no doubt beat-sweetening — photo of Sanders playing baseball.

Warren (D)(1): "At rally, Warren decries Trump as 'corruption in the flesh'" [Associated Press]. • I don't want to be sour about this, but "corruption" is a very Third World middle class, dare I say bougie, issue. And it never goes anywhere, first because too many people, not only the powerful, are enmeshed in the system ("tea money"), and second because it assumes that if only "good people" ran the system, the system would be good. And if the Warren campaign really wanted to end corruption, it could take the very simple first step of relying only on small donors.

UPDATE Warren (D)(2): "Can the Mainstream Media See Elizabeth Warren Clearly?" [Ghion Journal]. "Krystal Ball, of the Hill's The Rising, recently quoted Naomi Klein, who called mainstream journalists view of Warren identity politics for journalists. She conceives of Warren as a political mirror who reflects the aspirations and self-conceptions of journalists, academics, and the rest of the professional managerial class. They take her at her word about what her politics are because they see themselves in her." • One way to look at the 2018 election is as a legitimacy crisis of the professional class, whose right to rule (on behalf of the 0.1%) was rejected, Clinton being an avatar of that class ("smart" being the key word, as Thomas Frank pointed out and was blackballed for in Listen, Liberal!). Warren asserts and embodies the right of the professional class to rule; Sanders does not. That's why he (and not Warren) needs to expand the Democrat base, and that's why he (and not Warren) needs a movement. Identity politics, among other things, asserts the moral value of seeing "people like me" in office. Journalists, being professionals, sadly, see "people like me" in Warren. (Hence all the complaints about Sanders being angry, anger which a Sanders supporter might say comes from really "fighting for," instead of virtue signaling about how important "fighting for" might be, were it to be done.)

Yang (D)(1): "Andrew Yang's campaign says over 450,000 people have entered debate contest" [Politico]. "Andrew Yang's surprising debate gambit — giving away $120,000 to 10 families over a year to highlight his universal basic income proposal — helped the outsider candidate raise $1 million in the 72 hours since the debate and collect more than 450,000 email addresses from people who entered the online raffle."
Realignment and Legitimacy
Political parties shouldn't control the ballot, and they shouldn't control redistricting either. Thread:

Unreal. Half of North Carolina Senate Dems largely voted for the GOP's new modestly-less-gerrymandered map, likely in part because some Dems got favorable seats to protect neighboring GOP incumbents. This happened in MO, OH, & PA after 2010, now it's happening again #NCpol #NCGA https://t.co/GPuGKXeLmN

— Stephen Wolf (@PoliticsWolf) September 17, 2019

I bet there are an awful lot of NC activists who are very upset right now.
Stats Watch
Industrial Production, August 2019: "Showing broad strength in August, strength that will ease concerns at the Federal Reserve over weakness in manufacturing, industrial production hit the very top of Econoday's consensus range" [Econoday]. "Production of business equipment rose 1.0 percent in the month which should ease specific concerns at the Fed that slowing in global demand is cutting into business investment."
Housing Market Index, September 2019: "Low mortgage rates are helping the housing sector, at least for builders whose September housing market composite index jumped" [Econoday].
Shipping: "Protesters cause part of Houston Ship Channel to close" [Associated Press]. "Eleven protesters have been arrested after they rappelled from a busy highway bridge over the Houston Ship Channel, closing the vital artery for hours…. The demonstrators were Greenpeace USA activists protesting the use of fossil fuels…. Firefighters rappelled to the protesters Thursday evening and lowered them to boats below. Harris County Sheriff Ed Gonzalez says 12 activists serving as spotters on the bridge also were arrested. The Port of Houston, located along the ship channel, is home to the largest petrochemical complex in the U.S."
The Bezzle: "Three J.P. Morgan precious metals traders charged as criminal probe continues" [CNBC]. "Federal prosecutors on Monday accused three J.P. Morgan precious metals traders, including the global head of base and precious metals trading, of participating in a racketeering conspiracy in connection with a multiyear scheme to manipulate the markets and defraud customers. The alleged scheme saw the nation's largest bank by assets profit handsomely, while investors suffered losses."
The Bezzle: "Buzzy exercise startup Peloton is being sued for $300 million over accusations it stole songs by Taylor Swift, The Beatles, and many more" [Business Insider]. "The National Music Publishers' Association originally filed a suit against [buzzy exercise-bike startup] Peloton in March accusing the company of using more than 1,000 songs in its virtual exercise classes without paying for licenses. Some of the songs mentioned in the lawsuit subsequently vanished, to the dismay of users. Now the NMPA has filed an amended suit after claiming it found a further 1,200 infringing songs — upping the damages sought to $300 million, double the original figure of $150 million… The amended lawsuit comes just ahead of Peloton's planned initial public offering." • So that's where we are. Exercise-bike start-ups. To be fair, the bikes are internet-connected.
Tech: Thank you, Silicon Valley brain geniuses:
Basically if you don't use your computer on a daily basis you've got a guaranteed 20-30min mess about with updates and spontaneous reboots commitment at the start of any session. If you're just wanting to print something out it's arguably quicker to go to the local print shop

— Izabella Kaminska (@izakaminska) September 17, 2019
To be fair to Apple, my Mac just starts. Unlike my cheap and horrid Android phone which acts just like Kaminska's computer, although for only three or four minutes. It's always downloading something, even though I've crippled as much of its functionality as I can, and I don't trust what it's downloading for a minute, either.
Manufacturing: "Nucor's Profit Wanes as Auto Demand Weakens" [Industry Week]. "Nucor Corp., the largest U.S. steelmaker, fell after saying its profit waned in the third quarter as prices decreased amid softening in several end markets…. Steelmakers raised some prices earlier this quarter, but buyers have been slow to accept the increases, underscoring fading optimism more than a year after the introduction of U.S. tariffs meant to bolster the industry."
* * *
Today's Fear & Greed Index: 65 Greed (previous close: 67, Greed) [CNN]. One week ago: 55 (Neutral). (0 is Extreme Fear; 100 is Extreme Greed). Last updated Sep 17 at 12:08pm. Note that the index is not always updated daily, sadly.
The Biosphere
"How to navigate Anglo media's Amazon doublespeak" [BrasilWire]. "Brazil is a country with a 500-year history of monoculture and mining commodity boom-and-bust cycles, which has always produced high levels of income inequality and poverty. This pattern only began to be broken under Workers Party President Lula, through the implementation of redistributive socioeconomic polices, most importantly through massive minimum wage and pension payment increases, which lifted 29 million people above the poverty line. It is absurd to imagine that a monoculture production-based approach tied to the international supply chain, using low labor-intensity activities such as cattle ranching and soy farming on indigenous reservations, will make up for the setbacks caused by the post–2016 coup's dismantlement of successful poverty-fighting policies and gutting of labor laws, which have plunged millions of people into extreme poverty."
"As Rising Heat Bakes U.S. Cities, The Poor Often Feel It Most" [NPR]. "In dozens of major U.S. cities, low-income neighborhoods are more likely to be hotter than their wealthier counterparts, according to a joint investigation by NPR and the University of Maryland's Howard Center for Investigative Journalism…. NPR analyzed 97 of the most populous U.S. cities using the median household income from U.S. Census Bureau data and thermal satellite images from NASA and the U.S. Geological Survey. In more than three-quarters of those cities, we found that where it's hotter, it also tends to be poorer. And at least 69 had an even stronger relationship than Baltimore, the first city we mapped. This means that as the planet warms, the urban poor in dozens of large U.S. cities will actually experience more heat than the wealthy, simply by virtue of where they live. And not only will more people get sick from rising temperatures in the future, we found they likely already are." • Everything's going according to plan.
Health Care
"Health Care Premiums and Taxes" [Dean Baker, CEPR]. "Our pundit class have to decided to make a crusade out of forcing Senators Warren and Sanders into saying that their proposals for universal Medicare will require a tax increase. Both have repeatedly responded by saying that total costs for the vast majority of people will fall, since Medicare for All will lead to a large reduction in costs by all accounts, because it reduces waste in the health care system. Our pundit class have insisted that this is some sort of dodge. While there may be no hope in addressing arguments to people who have their brains in a jar on a doctor's desk, there is a simple point that everyone else should understand. When employers pay for the health care insurance of their employees, this is effectively a tax on workers' wages. Employers don't pay for insurance because they are nice, they provide insurance as a way to attract and retain workers, just as offering higher wages is a way to attract and retain workers. If employers didn't have to pay for insurance, then the savings would mostly end up in workers' wages. This will not be true everywhere and always, but the fact that employers are indifferent between paying another dollar for health care and paying another dollar for wages is pretty much universally accepted by economists."
Water
"Aridity is expressed in river topography globally" [Nature]. "Here we present a global dataset of 333,502 river longitudinal profiles, and use it to explore differences in overall profile shape (concavity) across climate zones. We show that river profiles are systematically straighter with increasing aridity. Through simple numerical modelling, we demonstrate that these global patterns in longitudinal profile shape can be explained by hydrological controls that reflect rainfall–runoff regimes in different climate zones. The most important of these is the downstream rate of change in streamflow, independent of the area of the drainage basin. Our results illustrate that river topography expresses a signature of aridity, suggesting that climate is a first-order control on the evolution of the drainage basin." • Something imagery would be useful in visualizing.
Really the Last of the Feral Hogs, I Swear
Remember the "feral hogs" meme, a rare moment of purely goofy good humor on the hellsite that is Twitter, and truly a meme for our time? Re-upping for our British readers:
"30-50 of them, you say?" pic.twitter.com/M07mLraoSE

— Josephine Long, comedian (@JosieLong) August 5, 2019
Yashar Ali actually interviewed the guy–
"Exclusive: Feral Hog Man" [Yashar Ali (DK)]. "I'm pleased to share with you that I am the first reporter to speak with Willie McNabb, the man whose tweet about feral hogs went viral and spawned a meme." From the interview:
I don't know the answer to the gun debate. I'm not the avid outdoorsman I was when I was younger, but I do believe in my right to protect my home and my family. I'm for common-sense gun laws, including background checks, closing gun-show loopholes, and mental health requirements. I'm willing to look at anything that will help this carnage stop.

And finally, regarding Jason Isbell [on assault weapons], I love music and always have. My favorite band is Pearl Jam. They have always challenged my beliefs and opened me up to different perspectives, different ideologies, and a broader worldview. I find the same type of inspiration from Jason's music. That's why I asked him the question: because he grew up in the South and might be able to understand my perspective. At the heart of my question is a legitimate problem, and I firmly believe we don't learn anything living in a vacuum. We must push ourselves as a people and a society to be more tolerant of our fellow humans, even the ones we disagree with."
There are times I really do have hope for this country. I bet McNabb would like the Trillbillies, too. And as it turns out (McNabb explains this) feral hogs — not metaphorical ones, real ones) are a genuine problem–
"This 400-pound feral hog is one of more than 1,200 that have invaded a Texas Air Force base since 2016" [Task & Purpose]. "The United States is currently dealing with a 'rapidly expanding' population of 6 million feral hogs across 39 states, according to the U.S. Department of Agriculture, an explosion that, in some places, has given rise to a cottage industry of helicopter-based hog hunting. According to a 2017 JBSA environmental assessment, roughly 2.6 million of those swine reside in Texas, where they poses 'a threat to human safety' near flight training facilities and military bases, among other properties. 'Feral swine are considered a harmful and destructive non-native, invasive, species,' the assessment reads. 'Being prolific breeders, increasing population of feral swine has led to various types of damage to vegetation, soils, ground and surface waters, floodplains, wetlands, and sensitive karst topography, while also posing threats to private property, and human health and safety.'" • I would bet feral hogs will do very well for themselves as global temperatures rise.
Black Injustice Tipping Point
"Book Review: Jazz and Justice" [Monthly Review]. Review of Jazz and Justice: Racism and the Political Economy of the Music, by Gerald Horne. "Horne submits that while U.S. capitalism produces an insecure environment for all artists, the exigencies of racism cut far more profoundly into the work of African American jazz musicians than others. They were denied exposure, radio airplay, and jukebox access, barred from clubs entirely, or if permitted to perform then only under strictly segregated conditions. The policy prevailed well outside the South. Horne points out that the existence of segregated clubs in California prompted union leader Harry Bridges to lead a campaign against them. Working conditions on the road were especially challenging: finding food, accommodations, relief of thirst, and basic comfort entailed a frustrating, often violent-prone search. Dizzy Gillespie, Charlie Parker, Benny Carter, Miles Davis, and Bud Powell were assaulted, either by audience members or police." • Well worth a read.
Guillotine Watch
""What we found is that these millennials are actually quite thrifty. We discovered that often they will split a checked bag with their friend when they're going on a girls' trip":
Rich People Podcasts are wild. pic.twitter.com/DlxlCrPbZs

— Phil the Pill (@PhilthePill) September 16, 2019
Class Warfare
"Our Homes Are Key To Our Health" [Robert Wood Johnson Foundation]. Some numbers:
+45%: The increase of extremely poor neighborhoods from 2010-14

50% Of cost-burdened households pay more than half of their income for housing

4.6 M Estimated number of people who have asthma in the United States and can attribute their condition to dampness and mold exposure in their homes

6,300 Approximate number of people evicted every day
"Antiracism: a neoliberal alternative to a left" [Adolph Reed, Dialectical Anthropology]. ". Antiracist activism and scholarship proceed from the view that statistical disparities in the distribution by race of goods and bads in the society in which blacks appear worse off categorically (e.g., less wealth, higher rates of unemployment, greater incidence of hypertensive and cardiovascular disease) amount to evidence that "race" remains fundamentally determinative of black Americans' lives. As Merlin Chowkwanyun and I argue, however, disparity is an outcome, not an explanation, and deducing cause simplistically from outcome (e.g., treating racially disparate outcomes as ipso facto evidence of racially invidious causation) seems sufficient only if one has already stacked the interpretive deck in favor of a particular causal account (Reed and Chowkwanyun 2012, 167–168). We also discuss a garbage in, garbage out effect in studies that rely on large-scale aggregate data analysis; gross categories like race may mask significant micro-level dynamics that could present more complex and nuanced understandings of causality. Put another way, if you go out looking for racial effects in data sets that are organized by race as gross categories, you will be likely to find them, but that will not necessarily lead to sound interpretations of the factors that actually produce the inequalities. As likely as not that purblind approach can lead to missing "the extent to which particular inequalities that appear statistically as 'racial' disparities are in fact embedded in multiple social relations" (Reed and Chowkwanyun 2012, 150–151, 158–159). This issue is not a concern for antiracist politics because its fundamental goal is propagation of the view that inequalities or injustices suffered by black Americans should be understood as resulting from generic white racism. Its objective, that is, is rhetorical and ideological, not political and programmatic." • Reed is always bracing.
News of the Wired
"Can we really know what animals are thinking?" [The Conversation]. "[C]an we really know what non-human animals are thinking? Drawing on my background as a philosopher, I argue that the answer is no. There are principled limitations to our ability to understand animal thought…. Their thoughts are structured too differently from our language." • Hmm. "[I]f a lion could speak, we could not understand him" (Wittgenstein). Yeah, but how about cats? Is it possible that we don't understand cat language because that's no adaptive reason for it, but that cats understand us, because they have every reason?
Seasonal:
Word of the Day: "feuille-morte" – "the colour of withered leaves in autumn" (John Locke); lit. "dead-leaf". Scumbled ochre-brown & russet, fox-red & mustard. "Feuille" is at the root of "foliage"; at the root in turn of feuille is *bhel-, Proto-Indo-European, to thrive or bloom. pic.twitter.com/0xYY7SxtEt

— Robert Macfarlane (@RobGMacfarlane) September 14, 2019
My personal aesthetic strongly favors feuille-morte, not just the color, but the scumble.
Subtweeting the universe:
You should LIKE this, but if you don't, we guess that's ok, whatever.. pic.twitter.com/Vqjg1TFFah

— Philosophy Matters (@PhilosophyMttrs) September 14, 2019
"The Brave New World of Sports" [New York Times]. "It's hard to imagine the public wouldn't want to see swimmers with fingers surgically webbed together to act like paddles." • It is?
* * *
Readers, feel free to contact me at lambert [UNDERSCORE] strether [DOT] corrente [AT] yahoo [DOT] com, with (a) links, and even better (b) sources I should curate regularly, (c) how to send me a check if you are allergic to PayPal, and (d) to find out how to send me images of plants. Vegetables are fine! Fungi are deemed to be honorary plants! If you want your handle to appear as a credit, please place it at the start of your mail in parentheses: (thus). Otherwise, I will anonymize by using your initials. See the previous Water Cooler (with plant) here. Today's plant (meeps):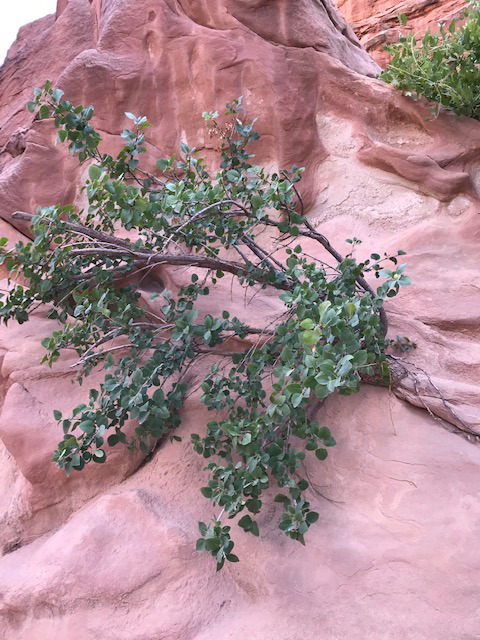 Meeps writes: "Here are some trees I photographed while hiking in the National Parks."
* * *
Readers: Water Cooler is a standalone entity not covered by the annual NC fundraiser.Remember, a tip jar is for tipping! So if you see a link you especially like, or an item you wouldn't see anywhere else, please do not hesitate to express your appreciation in tangible form. Regular positive feedback both makes me feel good and lets me know I'm on the right track with coverage. When I get no donations for five or ten days I get worried. More tangibly, a constant trickle of donations helps me with expenses, and I factor in that trickle when setting fundraising goals:
Here is the screen that will appear, which I have helpfully annotated.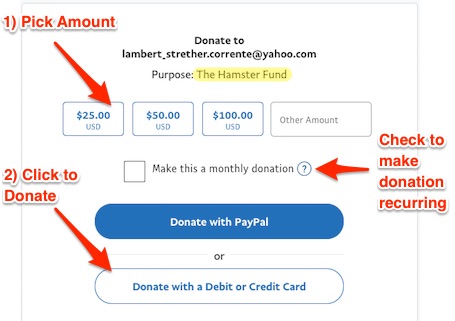 If you hate PayPal, you can email me at lambert [UNDERSCORE] strether [DOT] corrente [AT] yahoo [DOT] com, and I will give you directions on how to send a check. Thank you!