By Lambert Strether of Corrente
Trade
"The U.S. drive to isolate Iran is reaching China's biggest shipping company. The Trump administration blacklisted several firms including tanker units of China's Cosco Shipping Holdings Ltd. for allegedly shipping Iranian oil in violation of U.S. sanctions…, part of an attempt to choke off Iran's crude exports" [Wall Street Journal]. "The Department of Treasury blacklisted companies includes Cosco Shipping Tanker (Dalian) Co. Ltd. and Cosco Shipping Tanker (Dalian) Seaman & Ship Management Co., operators within Cosco's sprawling global maritime network. The sanctions are the most dramatic step the U.S. has taken to throttle Iran's revenue-generating oil trade, and it hits the world's biggest ship operator and a carrier central to Beijing's global maritime ambitions."
"U.S. Farmers Get A Much-Needed Break Under Partial Trade Pact With Japan" [NPR]. "U.S. farmers, who have been hard hit by President Trump's trade wars, got some relief Wednesday, when Trump signed an interim trade deal with Japan. The agreement calls for lower Japanese tariffs on U.S. farm exports such as beef and pork. It also locks in tariff-free digital commerce. But it does not address the president's threat to level punishing tariffs on imported cars from Japan. A top trade negotiator says Trump has no plans to act on that threat for now. Trump signed the partial trade agreement along with Japanese Prime Minister Shinzo Abe in New York, where the two men are attending the United Nations General Assembly."
Politics
"But what is government itself, but the greatest of all reflections on human nature?" –James Madison, Federalist 51
"They had one weapon left and both knew it: treachery." –Frank Herbert, Dune
Alert reader dk (not to be confused with DK) is in the process of developing the following interactive chart:
And here is (are) the latest Dem Primary Polling as of 9/25/2019, 12:00 PM EDT: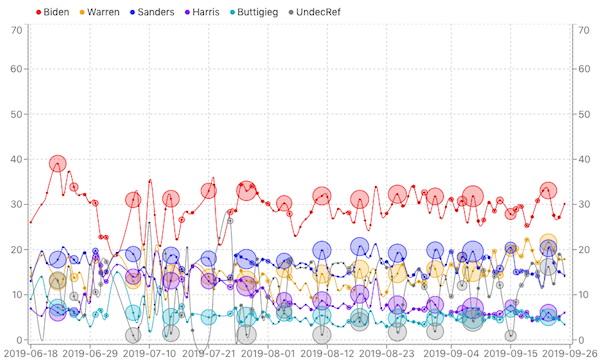 Undecideds down, Biden up. With this one poll.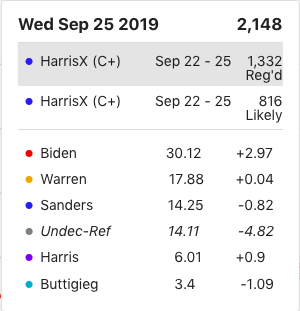 I think dk has started a really neat project, and in the near future we'll seek your feedback (within reason) for the tool "live."
UPDATE 2019-09-24: These screens are from a revised version that now includes Undecided-Refused, which is in grey.
UPDATE 2019-08-30: Now the polls aggregated (all available) are shown at the bottom of the poll. We also give more detail about each poll than RCP, and allow candidates to be selected or deselected. That's three reasons what dk is doing beats RCP, and if we can make the individual polls selectable/highlightable, that will be four reasons. With more to come, grid willing.
* * *
2020
Patient readers, I should have more, but the impeachment saga drowned everything out. –lambert

Warren (D)(1): "Wall Street Democratic donors warn the party: We'll sit out, or back Trump, if you nominate Elizabeth Warren" [CNBC]. "n recent weeks, CNBC spoke to several high-dollar Democratic donors and fundraisers in the business community and found that this opinion was becoming widely shared as Warren, an outspoken critic of big banks and corporations, gains momentum against Joe Biden in the 2020 race. 'You're in a box because you're a Democrat and you're thinking, 'I want to help the party, but she's going to hurt me, so I'm going to help President Trump,' said a senior private equity executive, who spoke on condition of anonymity in fear of retribution by party leaders. The executive said this Wednesday, a day after Speaker Nancy Pelosi announced that the House would begin a formal impeachment inquiry into Trump." • Party loyalty. I like that in a big donor.

Warren (D)(2): "Elizabeth Warren secured endorsement from far-left 'Working Families Party' after think tank where her daughter, is chairwoman gave it $45,000" [Daily Mail]. • The WFP is said to have a million-dollar budget; I'm not sure that a $45K contribution from Demos, where Amelia Warren Tyagi is on the board, is significant. I'm more concerned that Tyagi is President of a body shop, Business Talent Group, with a for-profit health care practice (not because of any direct malfeasance, but because professional-class networks can operate to defeat #MedicareForAll, particularly where their own profits are concerned).

Warren (D)(3): More crawfishing from Warren on #MedicareForAll:

"Right now, what we've got in 'Medicare for All' is a framework, and it doesn't have the details and you're right to be asking, but the most important part of your asking is to raise awareness so we get this right as we go through it." pic.twitter.com/nlJ1HfRJOW

— wideofthepost (@wideofthepost) September 25, 2019

#MedicareForAll all is not a "framework." A framework is something you have a consultant write up so you can publish it in Medium. #MedicareForAll has been crafted into two pieces of legislation (Jayapal; Sanders), which Warren doesn't mention on her health care page and very visibly refuses to endorse on the campaign trail.

* * *

NY: "Cuomo Signs Bill Making It Easier To Change Party Enrollment" [Spectrum News]. "The measure addresses a long-standing complaint of good-government organization and voter-rights' groups that New York's election laws make it difficult to access party primaries, which are closed to those enrolled in a party. The law signed Thursday will end the Oct. 11 deadline and allow voters to register by Feb. 14 to make changes to party enrollment. New York's presidential primary is scheduled for April 28." • Cuomo did the right thing. For once.
Impeachment
On "crossing the Rubicon," Joe Costello threw the following over the transom. I'm turning the mike over to him:

"For me each reader should give his keen attention to the following: what was the manner of life, what was the behavior, through what men and by what means at home and abroad was empire acquired and increased, then let him follow in his mind how, as discipline faltered little by little, behavior at first subsided, then became more and more unsteady, and then began to plunge headlong, until we arrived at the present age in which we can endure neither our disorders nor the cures for them." – Livy, The History of Rome, 30 BC

It should be remembered, ok that's a joke for ahistorical America, nonetheless, when Augustus seized power over the Roman republic, he neither got rid of any of the republic's centuries old institutions or added any new ones. He did add a few more titles to himself, the best was princeps civitatis, first citizen — the first Latin lesson, a better one yet to come. Imperial Rome would then last another 500 years.

The Roman republic fell not because of their failures, but their successes. Rome grew from a monarchial city-state of renegades, who threw-off their king, conquered Italy and eventually the entire Mediterranean. With this success gradually came a massive centralization of wealth, degrading the ability of most citizens to act as citizens, while the ever increasing weight of empire ossified republican institutions.

It took the Roman republic a good eight decades to fall, traditionally starting with the assassinations of the Gracchi, who had attempted to do something about deepening wealth inequality. Fifty years later, Sulla would be the first Roman to march Roman troops on Rome, to be followed thirty years later by Caesar. After his assassination and two civil wars, Augustus' reign would begin, the republic was history. The next period of self-government in the West would not be for well over a thousand years with the rise of Renaissance Italy. As historian Gore Vidal wrote, republics are historical anomalies.

So fast forward to today, to the circus that is now the American republic. Its last days heralded not from troops marching on DC, but from an unchecked National Security State, entrenched in DC since the end of the Second World War, the self-aggrandized brain trust of imperial America. We are witnessing the second coup attempt against an elected President in just over two years. It is no coincidence that once again the attack begins from within the former Soviet Union, which despite being dismantled 30 years ago, remains threateningly alive and ever menacing in the paranoid minds, dead hearts, and limitless budgets of our anti-democratic National Security State.

The first coup attempt by the security state bureaucracy came with collusion from the Democratic and Republican establishments, once again arm and arm, despite the endless rhetoric of division. Allied, they attempted to blame Russian interference for their election defeat. After failing spectacularly to do so, now comes a second attempt, this time with the added amusement of old Joe Biden as collateral damage. Joe's son has been caught with his hand in a Ukrainian oligarch's cookie jar, following in the footsteps of Paul Manafort and Tony Podesta. By the way, whatever happened to Tony Podesta, brother of John and friend of the Clintons and Obamas?

Most amusing, when announcing the impeachment action, the Speaker of the House used both crossing the Rubicon and alea iacta est — as promised the second Latin lesson. "The die is cast," Caesar's infamous words upon crossing the Rubicon river with his troops, on his way to Rome to install himself as dictator perpetuo or dictator in perpetuity – an extra Latin lesson. It seems whoever is feeding the Speaker her lines, as they most certainly are not the Speaker's, didn't understand these lines may as well been written atop the Roman republic's autopsied corpse.

Now, we shall suffer through more bad impeachment political theater, maybe at some point a fellatio or two will appear giving us a little nostalgia for the good old days. The very bad smell of the last decades of the Roman republic wafts across this land, the inability, or more accurately the not wanting to make a more equitable economy, an eminently corrupt political class picking and choosing various crimes to bring down enemies, and institutions incapable of reform increasingly crushed by the weight of an empire they were never designed to carry.

A decade and a half ago, I had the great fortune of spending an afternoon drinking tumblers of "whiskey" with Gore Vidal in his house in the Hollywood Hills. We talked about the state of political affairs in America, including at that point the most recent imperial action of occupying Iraq under a veil of lies and misinformation provided by the National Security apparatus. At one point I exclaimed, "We have to ask the American people if they still want their republic." Gore looked at me across the table, eyebrows raised in bemused shock and replied, "They'll have no idea what you're talking about."

History repeats, first time tragedy, second time farce, as the Old Moor said.

* * *

The whistleblower's complaint, which is in the form of a letter to "Dear Chairman Burr and Chairman Schiff," is now available (PDF); more reading to do. Comment from Politico's Blake Hounsell:

One thing I'm struck by is that the WB is not a direct witness, really. More like a reporter putting all the pieces of the story together. https://t.co/fZ6ngJ4Idf

— Blake News (@blakehounshell) September 26, 2019

A reporter, perhaps. Or an intelligence analyst.

Interestingly, the complaint is dated August 12. So one might well ask how long insiders have known about it (and reverse engineer all the current "hot" takes, too).

"Whistleblower alleges White House coverup" [CNN]. • A round-up of CNN coverage.

"Spy chief defends handling of "unprecedented" whistleblower complaint" [CBS]. Live blog, Includes live video coverage.

"Pelosi Says Impeachment Inquiry Is All About Ukraine – for Now" [Ed Kilgore, New York Magazine]. "Speaker Nancy Pelosi made it clearer than before that the impeachment inquiry she announced yesterday would — for now, at least — focus exclusively on the president's dealings with Ukrainian President Volodymyr Zelensky." • So, three years of RussiaGate really was gaslighting? "Never mind"?

"Ukrainians understood Biden probe was condition for Trump-Zelenskiy talks, says former Ukrainian adviser" [ABC] but "'Nobody Pushed Me.' Ukrainian President Denies Trump Pressured Him to Investigate Biden's Son" [Time].

"Whistleblower complaint says White House officials acted to 'lock down' record of Trump-Ukraine call" [NBC]. "The complaint, which was made public with minimal redactions, makes clear there are witnesses who can back up the account, and it indicates concern over the internal handling of the White House record of the phone call. The whistleblower says White House officials told them the conversation on July 25 between Trump and Zelenskiy was removed from the computer system that is typically used for such records of calls with foreign leaders. Instead, the whistleblower writes, the transcript was loaded into a separate electronic system that is used only for information that is of an 'especially sensitive nature.' One White House official [past or present?] described that as an abuse of the secure system because there was nothing 'remotely sensitive' on the phone call from a national security perspective, the whistleblower said." • Hmm.
L'Affaire Joffrey Epstein
"'Prince Andrew's role in Jeffrey Epstein paedo scandal is being covered up by the FBI, claims ex top cop who say he has hours of damning CCTV footage" [The Sun]. "A former US cop claims the FBI may be helping cover up Prince Andrew's alleged role in the Jeffrey Epstein sex abuse scandal. John Mark Dougan – who fled to Moscow following a raid by the Feds on his home – also says he has hundreds of hours of footage from the billionaire paedo's Florida mansion." • Speaking of CCTV, I don't think we ever did get any usable footage from the Metropolitan Correctional Center, did we? Odd.
2016 Post Mortem
"2016 Revisited: Electronic Balloting Favored Clinton, Paper Balloting Sanders" (interview) [Rodolfo Cortes Barragan, Black Agenda Report]. Barragan: "We saw irregularities in vote patterns. For example, everyone knew that there were discrepancies between most exit polls and reported polls. However, we found that there were more discrepancies in states with strictly electronic voting machines. Clinton won 65%, Bernie Sanders 35% in those states. In states with paper ballots, Clinton won 49%, Sanders 51%." • Sadly, Barragan (GP) retails Jon Ralson's false report that chairs were thrown at the Nevada caucus in 2016, by Sanders supporters.
Stats Watch
Jobless Claims, week of September 21, 2019: "Jobless claims remain very low to confirm that layoffs are low and the job market strong" [Econoday]. "Labor market strength is the foundation of the US economy and looks to continue to generate growth for consumer spending."
GDP, Q2 2019: "The second quarter was a deceptively strong quarter, confirmed by the third estimate which leaves headline GDP at a moderate looking 2.0 percent annual rate" [Econoday]. "But the contribution from consumer spending was unusually strong… The Fed is specifically concentrating on weakness in business investment which was an issue in the second quarter…. But new home sales, benefiting from low mortgage rates, have been pivoting higher and may help residential investment turn positive in the third quarter. The outlook for business investment, however, is flat though consumer spending, supported by a strong jobs market, does look like it will continue to underpin the US economy. Net exports pulled second quarter GDP lower though indications for the third quarter, underlined by this morning's international goods data, are pointing to improvement as exports are showing less weakness than imports. Inventories also pulled down the second quarter which, however, is a positive for restocking and a possible inventory contribution to the third quarter."
International Trade in Goods, August 2019: "Sharp improvement in agricultural exports is an isolated highlight of an otherwise subdued August report on goods trade that shows continued weakness overall for exports and limited results for imports" [Econoday]. "Outside of capital goods there's little sign that domestic demand is strengthening on the import side of the ledger that also shows sharp declines for industrial supplies and vehicles. Yet imports of consumer goods, which are the Achilles' heel for the US trade balance, did rise… Global trade has been slowing and may well be in contraction right now, a risk underscored convincingly by the year-on-year declines in both US imports and exports. The Federal Reserve is concentrated on the risk of slowing global growth, and this report offers arguments for the doves and their push for further rate cuts."
Corporate Profits, Q2 2019 (revised): Up [Econoday].
Wholesale Inventories [Advance], August 2019: higher-than-expected [Econoday]. "Overall, inventories have been running on the lean side this year and whatever build that may be taking place in the third quarter is probably welcomed and a plus for employment and production."
Retail Inventories [Advance], August 2019: Unchanged following a steep build in July [Econoday].
The Bezzle: "Unprofitable Companies Are Raising the Most IPO Cash Since the Dot-Com Era" [Bloomberg]. Uber, WeWork, Peloton. • Um, are markets supposed to do that? And if IPOs don't take place in a market, what sort of institution do they take place in?
The Bezzle: "SolarCity was insolvent when Tesla paid $2.6 billion to buy it, lawsuit says" [Ars Technica]. "Back in 2016, Tesla acquired solar panel manufacturer SolarCity, billing the $2.6 billion deal as an opportunity to create 'the world's only vertically integrated sustainable energy company.' From a SolarCity solar panel to a Tesla battery, the company promised, the in-house supply chain would scale up clean energy for all and provide cost synergies to the businesses and shareholders. But SolarCity, of which Tesla CEO Elon Musk was chairman, was deeply in debt at the time. Now, newly unsealed documents in an investor lawsuit say the situation was far worse than that. They allege that SolarCity wasn't just carrying a heavy debt load: it was completely insolvent. The upshot of reams of law surrounding mergers and acquisitions is that C-suite executives and company boards of directors are supposed to make sure shareholders get the most money possible out of their investment. If they're going to sell the company, they have to make sure they're accepting the most valuable reasonable offer. Companies doing the acquiring, meanwhile, are supposed to do their homework to make sure they're not wasting their resources on a bad deal—and Tesla shareholders say the SolarCity acquisition was exactly that."
The Bezzle: "A top hedge fund's reported $800 million bet on vaping could be in jeopardy as regulators set their sights on e-cigarettes" [Business Insider]. "As regulatory pressure ramps up against vaping and e-cigarettes, a top hedge fund's $800 million bet on the space could be in trouble.
Mudrick Capital Management — a hedge fund founded by high-profile investor Jason Mudrick that manages about $2.8 billion — has close to 30% of its total assets invested in e-cigarette maker NJOY Holdings…. Mudrick's stake in NJOY was the sole driver of the its 25% return in the second quarter, and without the investment the fund would have posted a loss for the period." • Always pleased to see a bet on regulatory arbitrage go the wrong way for the rentiers.
The Bezzle: "SEC proposes to give big investors IPO information edge over retail investors" [Francine McKenna, MarketWatch]. "Two years ago the SEC gave all companies the benefit of a confidential IPO filing process. Going through the sometimes lengthy and messy SEC review process in public is no longer necessary. However, the provision means the back-and-forth when a company's "tests the waters" with the SEC about its IPO is not available for retail investors to scrutinize until the agency has given its final blessing on the filing. Companies are required to publicly file the final IPO registration statement and all prior nonpublic draft submissions at least 15 days prior to any road show or, in the absence of a road show, at least 15 days prior to when it will go live on a national securities exchange." • Speaking of regulations and regulators…
Tech: "Amazon CEO says company working on facial recognition regulations" [Reuters]. " Amazon.com Inc Chief Executive Jeff Bezos said the company's public policy team is working on proposed regulations around facial recognition, a fledgling technology that has drawn criticism of the technology giant's cloud computing unit. 'Our public policy team [translation: lobbyists] is actually working on facial recognition regulations, and it makes a lot of sense to regulate that,' Bezos told reporters at the company's annual Alexa devices launch in Seattle on Wednesday." • It sure makes sense, from Amazon's perspective, to write its own regulations. Wowers, Bezos must think we're stupid.
Manufacturing: "US govt watchdog barks at FAA over 737 Max inspectors' lack of qualifications" [The Register]. "Potentially, a whistleblower told the [US Office of the Special Counsel (OSC)] – essentially a federal watchdog – 11 out of 17 [Air Safety Inspectors (ASIs)] working for the FAA's Seattle-based Air Evaluation Group either did not have the right classroom training or the required on-the-job training to perform their duties correctly…. [T]he OSC also alleged that the FAA misled the US Congress about its inspectors' qualifications and competence when that body was investigating similar reports in April. The FAA was said to have specifically denied that its ASIs working on the 737 Max weren't properly qualified."
Manufacturing: "Boeing's 737 Max Flight Tests Underestimated Risks, US Investigators Say" [Industry Week]. "Boeing Co.'s evaluation of the 737 Max system during development used an oversimplified test that didn't anticipate the cacophony of alarms and alerts that actually occurred during a pair of deadly crashes, U.S. investigators [from the National Transportation Safety Board] concluded…. The way Boeing designed its flight tests were permitted under existing rules. But the NTSB is calling on the FAA to require more realistic assessments of complex emergencies during certification testing. [Dana Schulze, the director of NTSB's Office of Aviation Safety] said that it should be done before the Max flies again. Boeing is close to finalizing a redesign of the plane and has said it hopes that the grounding will be lifted before the end of the year. The recommendations also ask the FAA to review all aircraft models to ensure that they don't have similar safety issues lurking in the background, and to urge other nations to conduct similar reviews."
* * *
Today's Fear & Greed Index: 54 Greed (previous close: 59, Greed) [CNN]. One week ago: 63 (Greed). (0 is Extreme Fear; 100 is Extreme Greed). Last updated Sep 26 at 11:58am. Whoa, outright neutrality.
The Biosphere
"The ocean is key to achieving climate and societal goals" [Science]. "The just-released Intergovernmental Panel on Climate Change (IPCC) special report on the ocean and cryosphere in a changing climate (SROCC) (1) details the immense pressure that climate change is exerting on ocean ecosystems and portrays a disastrous future for most life in the ocean and for the billions of people who depend on it unless anthropogenic greenhouse gas (GHG) emissions are slashed. It reinforces in stark terms the urgency of reducing carbon emissions expressed in a 2018 IPCC report (2). But another just-released report (3) provides hope and a path forward, concluding that the ocean is not simply a victim of climate change, but a powerful source of solutions. Drawing on this report organized by the High Level Panel (HLP) for a Sustainable Ocean Economy, which quantifies and evaluates the potential for ocean-based actions to reduce emissions, we outline a "no-regrets to-do list" of ocean-based climate actions that could be set in motion today." • It does no good to make people fearful if you still leave them with "no place to go."
Water
"The Indian children who take a train to collect water" [Reuters]. "As their classmates set off to play after school each day, nine-year-old Sakshi Garud and her neighbour Siddharth Dhage, 10, are among a small group of children who take a 14 km (9 miles) return train journey from their village in India to fetch water. Their families are some of the poorest in the hamlet of Mukundwadi, in the western state of Maharashtra, a village that has suffered back-to-back droughts… They are not alone. Millions of Indians do not have secure water supplies, according to the UK-based charity, WaterAid. It says 12% of Indians, or about 163 million people, do not have access to clean water near their homes – the biggest proportion of any country."

Class Warfare
"Income inequality grew in 2018, Census data shows" [PBS]. "The gap between the haves and have-nots in the United States grew last year to its highest level in more than 50 years of tracking income inequality, according to Census Bureau figures. Income inequality in the United States expanded from 2017 to 2018, with several heartland states among the leaders of the increase, even though several wealthy coastal states still had the most inequality overall, according to figures released Thursday by the U.S. Census Bureau. The nation's Gini Index, which measures income inequality, has been rising steadily over the past five decades." • Everything's going according to plan.
"Billionaires hurt economic growth and should be taxed out of existence, says bestselling French economist" [CNBC]. "In an interview with the French magazine L'Obs, Thomas Piketty calls for a graduated wealth tax of 5% on those worth 2 million euros or more and up to 90% on those worth more than 2 billion euros…. 'So no, there won't be billionaires anymore. How can we justify that their existence is necessary for the common good? Contrary to what is often said, their enrichment was obtained thanks to these collective goods, which are the public knowledge, the infrastructures, the laboratories of research,' [said Piketty]."
"General Motors Co. customers are getting an unwelcome lesson in the fragile nature of supply chains. Many vehicle owners turning to GM dealerships for repairs are finding needed replacement parts in short supply… as a strike against the auto maker persists through a second week" [Wall Street Journal]. "The United Auto Workers walkout has brought production at more than 30 GM factories in the U.S. to a standstill and debilitated the company's biggest parts warehouse and distribution centers. That's rapidly affecting repair shops across the country, leaving staffers scrambling to find backup components for repairs and maintenance." • This is why, from a management perspective, union busting and just-in-time manufacturing are two sides of the same coin.
News of the Wired
"The Requiem Along the Roadside" [The Bitter Southerner]. "For all we have gotten so very, very wrong in the South, we get dying right. Death is the great equalizer. It matters not who a man was in life; maybe he had pulled a child from a burning building, maybe he had set the fire. Rich or poor, respected or reviled, the occasion of one's burial is marked with great ceremony and solemnity. Or at least it was, once upon a time… And when encountering an oncoming hearse, a motorist would, as reflexively as Pavlov's dog, pull the car to the side of the road and turn on the headlights. If on foot, one would remove any headwear and stand at attention until the final car in the motorcade had passed." • That seems quite remarkable to me, almost as remarkable as the Texas "mums." Readers?
"Seven Key Misconceptions about Evolutionary Psychology" [Areo]. "No matter how widespread the belief, an evolutionary approach to psychology does not imply that behavior is genetically determined There are two ways to appreciate this point. First, like all other life scientists, evolutionary psychologists subscribe to an interactionist view that states that everything in the mind, body and brain is jointly co-determined by genes and environment. Second, an evolutionary perspective emphasizes the centrality of the environment, pointing out that it is crucial at every phase of the causal process: the initial evolution of adaptations, their development across the lifespan and their triggers in the immediate present. In other words, an evolutionary approach suggests that a) environmental pressures drive the evolution of adaptations in the first place, b) adaptations require environmental input to develop properly during an organism's lifespan, and c) environmental triggers are necessary to activate the adaptation in the present moment. Across all three timescales of import, an evolutionary perspective places the environment center stage." • Interesting piece.
* * *
Readers, feel free to contact me at lambert [UNDERSCORE] strether [DOT] corrente [AT] yahoo [DOT] com, with (a) links, and even better (b) sources I should curate regularly, (c) how to send me a check if you are allergic to PayPal, and (d) to find out how to send me images of plants. Vegetables are fine! Fungi are deemed to be honorary plants! If you want your handle to appear as a credit, please place it at the start of your mail in parentheses: (thus). Otherwise, I will anonymize by using your initials. See the previous Water Cooler (with plant) here. Today's plant (Angie Neer):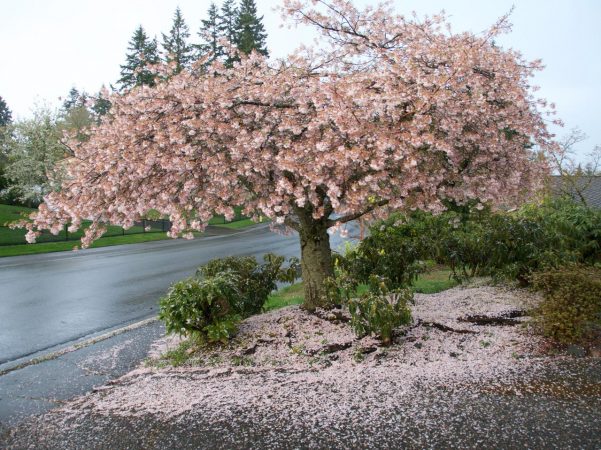 Angie Neer writes: "Greetings Lambert, here in the NW the blossoms are already being rained off the cherries [Whoops –lambert]. This picture was actually taken last April 18, but it looks the same now."
Readers, I'm still running short on plants. Several new people have sent in photos, but I could still be more comfortable about not ending up with bare walls in the gallery. Perhaps you are all too busy harvesting? All plants and honorary plants welcome (as well as more of those very interesting garden projects).
* * *
Readers: Water Cooler is a standalone entity not covered by the annual NC fundraiser.Remember, a tip jar is for tipping! So if you see a link you especially like, or an item you wouldn't see anywhere else, please do not hesitate to express your appreciation in tangible form. Regular positive feedback both makes me feel good and lets me know I'm on the right track with coverage. When I get no donations for five or ten days I get worried. More tangibly, a constant trickle of donations helps me with expenses, and I factor in that trickle when setting fundraising goals:
Here is the screen that will appear, which I have helpfully annotated.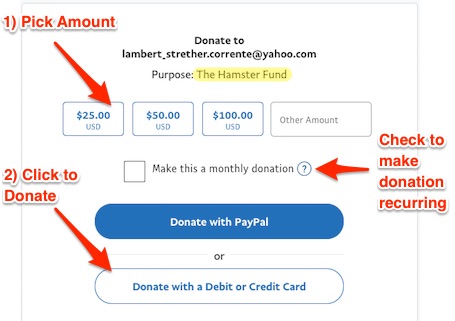 If you hate PayPal, you can email me at lambert [UNDERSCORE] strether [DOT] corrente [AT] yahoo [DOT] com, and I will give you directions on how to send a check. Thank you!