Citizens need to know numbers aeon (Micael)
Astronomers Chase a Very Eccentric Interstellar Object Atlantic (UserFriendly)
Global climate strike: how you can get involved Guardian (furzy) v. Just Say No to Fake Action Wrong Kind of Green (TH)
Only a Global Green New Deal Can Save the Planet Nation. Resilc: "As everyone drives to the strikes today in their cars."
Here's The Best Place To Move If You're Worried About Climate Change FiveThirtyEight. Haha, the UP!
Vaping Criminal Probe Announced By FDA As Illnesses Rise To 530 CDNet
Veterinarians Face Unique Issues That Make Suicide One of the Profession's Big Worries Time
China?
The story of China's great corporate sell-off Financial Times (David L)

UK police chiefs train elite Hong Kong officers: Asian city's force subject to fierce criticism over handling of protests
Brexit
'Brexit will happen' and UK 'can get a deal', says EU boss Jean-Claude Juncker after Boris Johnson sends him ideas for a draft deal The Sun. Which Juncker has yet to read…

People's Vote campaign tells Labour MPs not to back a Johnson Brexit deal Guardian

Johnson should enjoy this moment. It may be as good as it gets. Richard Murphy. LibDems ahead of Labour?!?
Syraqistan
Horrific DoE letter to @DukeMideast threatening to pull funding because of the program's "considerable emphasis placed on the understanding the positive aspects of Islam" among other sins, among them teaching about US interference in the region. https://t.co/4JY6NQh62P pic.twitter.com/2LpSz1rHPm

— Sam Thielman (@samthielman) September 19, 2019
Big Brother is Watching You Watch
Silicon Valley is terrified of California's privacy law. Good. TechCrunch (UserFriendly)

UK worsens Julian Assange's persecution as US seeks extradition Aaron Mate, YouTube

YouTube Is About to Demote a Wide Swath of Its Creators New York Times. Kevin W: Alternate good link at https://www.rt.com/news/469200-youtube-verification-update-reaction/
Imperial Collapse Watch
Immigrants as a Weapon: Global Nationalism and American Power Yasha Levine. Important.

When Big Business Won't Let the Troops Repair Their Equipment American Prospect (resilc)
Trump Transition
Barack Obama's Biggest Mistake New York Times (UserFriendly). Cites Stoller's new book Goliath!
2020
Why college students could draw new attention in 2020: Their turnout doubled for the midterms, study finds Washington Post (UserFriendly)

2020 and the Party We're Building Together Working Families Party. UserFriendly: "LOL our super delegates aren't like the Democrats' super delegates."

Pete Buttigieg's Health Care Plan Is the Worst Yet New Republic (resilc)

The Bernie Sanders camp is urging the DNC Rules & Bylaws committee to consider sanctions against NY if Gov. Cuomo doesn't sign a bill sitting on his desk that would make it easier to switch parties to vote in a primary, as recommended by the party's Unity & Reform Commission. pic.twitter.com/1mEZmukFNB

— Alex Seitz-Wald (@aseitzwald) September 19, 2019
Gunz
Colt will stop making AR-15s for civilian sale, says there's already plenty on market NBC (furzy)
Australian Aboriginal Flag Mess Is Getting Worse — All Thanks To Copyright Techdirt (Chuck L)
Not a free speech platform: Facebook declares it's a 'publisher' & can censor whomever if wants, walking into legal trap RT (Kevin W). Wowsers, this sounds as if Zuck is giving himself legal advice. A web publisher is liable for reader-provided content if it doesn't act like a chat board and let everything through.
Authorities Consider Taking Legal Action Against Facebook Over Storm Area 51 Event Gizmodo
Could Ultra-Low Interest Rates Be Contractionary? Project Syndicate (UserFriendly). I've been saying this for years. 1. Takes low-risk interest income away from savers, leading them to cut spending and try to save more or at least not deplete capital. 2. Signals deflationary expectations. 3. Encourages borrowing only by those for whom the cost of money is their biggest expense item, ie, banks and leveraged speculators, aka rentiers, who are also bad for productive activity.
Guillotine Watch
Bugatti Is Building a $33,000 Car for Kids Popular Mechanics (resilc)
Class Warfare
In other words, 43% of white Harvard students are receiving some form of affirmative action. https://t.co/xmtFzC1T4z

— Jordan Weissmann (@JHWeissmann) September 20, 2019
Antidote du jour. Oguk: "This hive was loading up on pollen last weekend":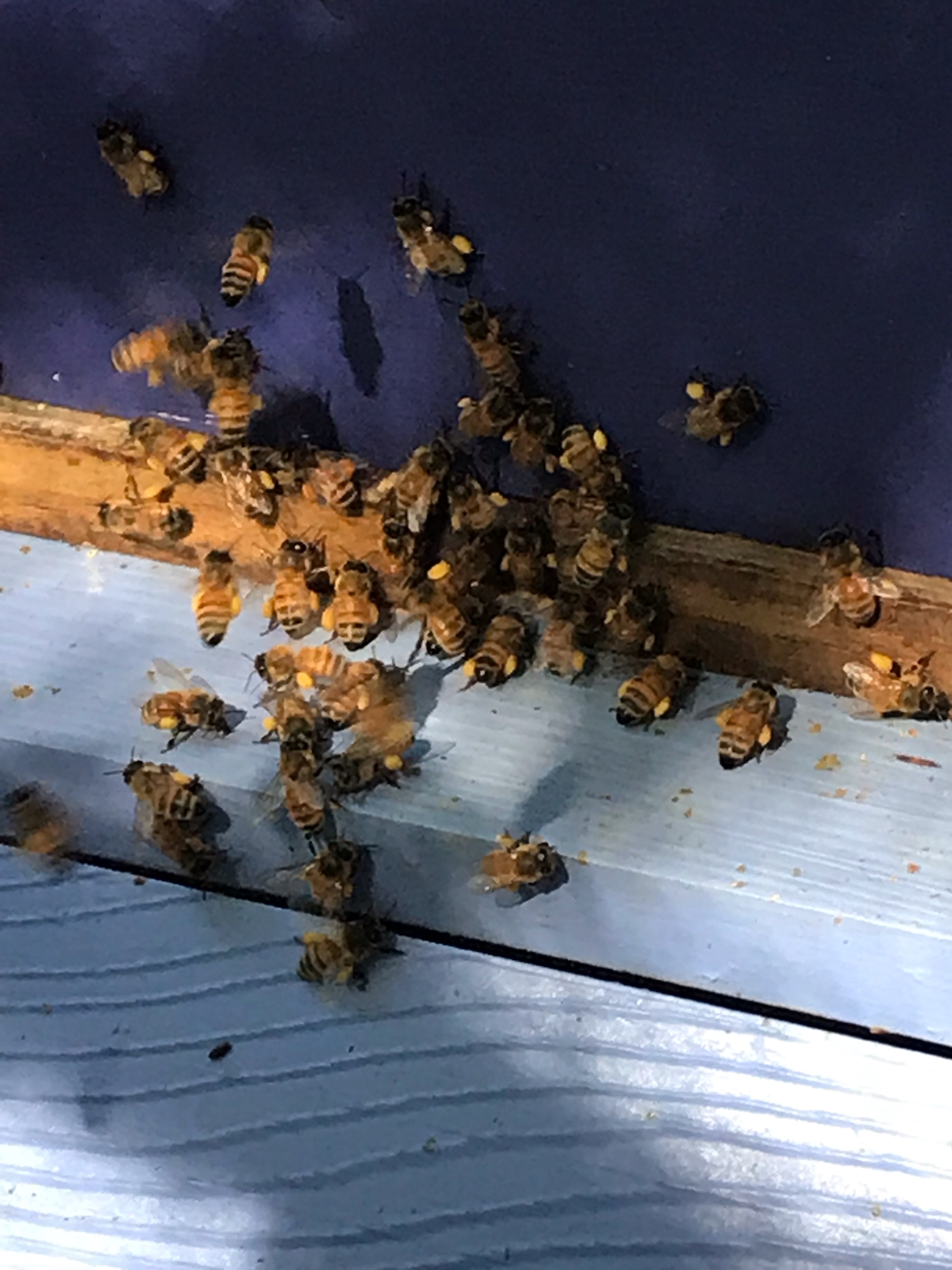 And a bonus (Dan K):
Human tests are no match for cats (1 inch = 2.5cm).   https://www.youtube.com/watch?v=qlJTLSncEV4
See yesterday's Links and Antidote du Jour here.