Cats Like People! (Some People, Anyway) NYT. So everything's gonna be OK!
Rentier capitalism does not come with a reset button New Statesman
A climate intelligence arms race in financial markets Science (abstract only, sadly).
WeWork illustrates everything that's wrong with the economy and with our capitalist system — and shows just how far that system has gone off the rails Matt Stoller, Business Insider
Danske Bank Executive Ensnared in Money-Laundering Scandal Found Dead Bloomberg
Uber stopped its own investigators from reporting crimes to the police The Verge
Brexit
Parliament Returned For A Toxic Day Of Frustration, Bitterness, And Fury Buzzfeed

Boris Johnson lays ground for 'people vs parliament' election FT

Tesco, Sainsbury Warn of Brexit Threat to Tomatoes and Lettuce Bloomberg
Merkel's political twilight sees Germany's influence wane FT
Syraqistan
How Yemen's Houthis are bringing down a Goliath Pepe Escobar, Asia Times

Benjamin Netanyahu offered chance to form Israeli coalition FT. Ma nishtana…

Egypt's anti-Sisi protests explained in 5 key questions Africa News. Lots of protests, these days.
Russia and the Asia-Pacific Lowy Institute
The Koreas
How a sanctions-busting smartphone business thrives in North Korea Reuters
China?
US bill on Hong Kong democracy, which has angered China, gets approval in House and Senate committees South China Morning Post

Why the Hong Kong Human Rights and Democracy Act of 2019 Must Be Opposed Kevin Zeese, Margaret Flowers and K.J.Noh, Black Agenda Report. "… the US is already credibly accused…" The link is to a YouTube from CGTN, "which is part of Beijing-based China Central Television (CCTV) and under the control of the Publicity Department of the Communist [sic] Party of China." Really?

Between Washington and Beijing Lausan 流傘 Collective, Jacobin

What's with the tiny roller?

Workers painting over the Lennon Wall at exit B2 of HKU MTR Station. I asked them which gov dept they work for & they pointed me to the police officer. I asked the officer what he's doing there and he said he's here to "protect" the workers. #antiELAB #HongKongProtests #hongkong pic.twitter.com/MasjSIcRNI

— Jennifer Wang (@jenniferlywang) September 23, 2019

* * *

Chabuduo! Close enough … Aeon. So China has crapification, too!

The Quantified Country SupChina

Alibaba unveils AI chip to boost cloud plans and cut reliance on US Nikkei Asian Review
'We refuse to return to New Order': Students protest against controversial bills Jakarta Post. The bills are the revised criminal code. They have demands:
It's available now, the english version of 7-point declaration of the Indonesian protest movement. Please help to spread this one pic.twitter.com/eGtlkTuzkc

— febriana firdaus (@febrofirdaus) September 25, 2019
(The source is at least blue-checked. That's all I can say.)
Indonesia says at least 20 killed, dozens injured in Papua unrest France24
India
Young boys tortured in Kashmir clampdown as new figures show 13,000 teenagers arrested The Telegraph

Modi's War The Caravan

Shamshuddin: a spanner still in the works People's Archive of Rural India
Trump Transition
US govt watchdog barks at FAA over 737 Max inspectors' lack of qualifications The Register
Air Force testing vegan napalm Duffel Blog (KW).
Impeachment
Forgive the wretched excess; the political class is losing its mind. –lambert

House's move toward impeachment leaves gaping questions about the road ahead WaPo. Like "What does 'impeachment inquiry' even mean?" Here is the H.R. 803 (text), with which the House initiated the impeachment of President Nixon during WaterGate. Resolution sponsor and House Judiciary Committee Chair Rep. Peter Rodino (D-NJ) on the House floor:

Our responsibility in this is clear. The Constitution says, in article I; section 2, clause 5:

The House of Representatives, shall have the sole power of impeachment.

We are asking the House of Representatives, by this resolution, to authorize and direct the Committee on the Judiciary to investigate the conduct of the President of the United States, to determine whether or not evidence exists that the President is responsible for any acts that in the contemplation of the Constitution are grounds for impeachment, and if such evidence exists, whether or not it is sufficient to require the House to exercise its constitutional powers.

As part of that resolution, we are asking the House to give the Judiciary Committee the power of subpoena in its investigations.

And (importantly) from House Judiciary Ranking Member Edward Hutchinson (R-MI):

Mr. Speaker, the first section of this resolution authorizes and directs your Judiciary Committee to investigate fully whether sufficient grounds exist to impeach the President of the United States. This constitutes the first explicit and formal action in the whole House to authorize such an inquiry.

The last section of the resolution validates the use by the committee of that million dollars allotted to it last November for purposes of the impeachment inquiry. Members will recall that the million dollar resolution made no reference to the impeachment inquiry but merely allotted that sum of money to the committee to be expended on matters within its jurisdiction. All Members of the House understood its intended purpose.

But the rule of the House defining the jurisdiction of committees does not place jurisdiction over impeachment matters in the Judiciary Committee. In fact, it does not place such jurisdiction anywhere. So this resolution vests jurisdiction in the committee over this particular impeachment matter, and it ratifies the authority of the committee to expend for the purpose those funds allocated to it last November, as well as whatever additional funds may be hereafter authorized.

I'm the very last person, at this point, to invoke the Norms Fairy, but it's worth pointing out that whatever it may be that Pelosi has actually done, it does not conform to the "explicit and formal action" performed by the House the last time the Democrats impeached a Republican President. Nor have I heard of any monies explicitly allocated for this purpose.

Trump and House Democrats are 'crossing the Rubicon' with impeachment showdown, and nobody knows where it will lead WaPo. Worth noting that Caesar crossing the Rubicon brought on a civil war and the end of the Roman Republic; see, or rather listen to, Mike Duncan's History of Rome podcast, episode "043- Insert Well Known Idiom Here."

Why the House Democratic Caucus Was Able to Move So Rapidly Toward Impeachment Ryan Grim, The Intercept. Perhaps I'm not as au courant with Democrat nomenklatura jargon as I once was, but "front-liners" is new to me (it refers to the freshperson Democrats elected as a result of Rahm Emmanuel's Nancy Pelosi's strategy of moving the Democrat center of gravity toward conservatives in 2006 2018). Speculating freely: The only other place I've routinely encountered "front-liners" is in Hong Kong protests, where it denotes the black-clad protesters battling the police. Perhaps this really is how the heroic members of the #Resistance see themselves…. Certainly "front-liners" has, as it were, better mouth-feel than "Blue Dogs."

Washington Post editorial quietly broke open Trump's Ukraine scandal Politico. If I wanted to invoke the Norms Fairy again, I'd say that doing reporting on the editorial page is a little odd, but Fred Hiatt says it's OK, so I guess it is.

* * *

Pelosi has finally taken ownership of impeachment. Now she must own the process. Donna Edwards, WaPo. Pelosi has always owned the process (see above). That's what a Speaker is for.

Weak, Exhausted Nancy Pelosi Given Saline Drip Following Hours-Long Attempt To Stand Firm In Convictions The Onion

Why Ukrainegate Is Nothing Like Russiagate Foreign Policy. If the Democrats impeach narrowly on Ukraine, they'll have to treat three years of RussiaRussiaRussia as a sunk cost.

A Flagrant Abuse of Power The American Conservative

Trump's Ukraine transcript: Unwise words but no proof of a crime Jonathan Turley, The Hill

How to Talk to Your Aging Parent About Colluding With Foreign Governments McSweeney's Internet Tendency
Migration
Detained The Marshall Project
How the global fish market contributes to human micronutrient deficiencies Nature
Historic find suggests bottle-feeding not a modern phenomenon Guardian (KW).
Slow eco-friendly washing machine cycles put more plastic in the environment, tests show Telegraph (TL).
Mont Blanc: Roads closed as experts warn glacier may collapse The Local (Italy).
Here's How We Are Silenced by Big Tech Of Two Minds (DS).
Algorithmic Colonialism Rumman Chowdhury (dk)
Antidote du jour (via):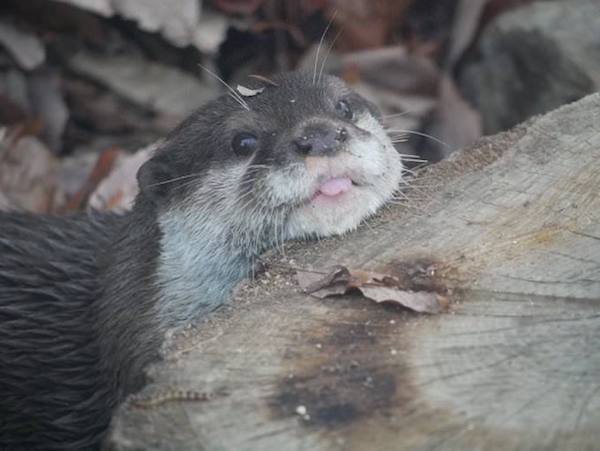 See yesterday's Links and Antidote du Jour here.