Spiders Can Fly Hundreds of Miles Using Electricity The Atlantic. From 2018, but so amazing I have to run it.
Fungus-Farming Ants Might Hold the Secret to Fighting Drug-Resistant Microbes Discover
In a New Study on Bird Loss, Some Scientists Say Subtlety Is Lost, Too Undark
Tesla Labor Practices and Musk Tweet Broke the Law, Judge Rules Bloomberg
It's Kids vs. the World in a Landmark Climate Complaint Gizmodo
Could Massive Storm Surge Barriers End the Hudson River's Revival? Yale Environment 360
Economist Stiglitz sees 'significant slowdown', not crisis RTE
Brexit
Tory conference: Five things to look out for in Manchester BBC

Johnson's obscene behaviour this week confirms the arrival of Trumpian Britain Prospect. "The old Conservative Party, for all its faults, has withered and died." I'm not from the UK, but this reminds me of (the delusional and pathetic) liberal Democrat nostalgia for Reagan. Surely Johnson is Thatcher with her civilizational veneer, such as it was, stripped away?
U.S. Congress demands answers on DOJ and Lava Jato BrasilWire. Thanks, Obama!
Syraqistan
Saudi Arabia accepts cease fire in Yemen Sic Semper Tyrannis

Dubai's Desperate Realtors Told Not to Hound Clients at Showcase Bloomberg
Man with a plan to make Indonesia more Islamic Asia Times
Man-Made Rain Helps Lower Indonesia's Hotspots by 90%: Ministry Bloomberg
India
'Why is the climate changing like this?' People's Archive of Rural India
China?
* * *
Trump Transition
When Donald met Scott: a reporter's view of Trump and his White House wonderland Guardian

State Dept. intensifies email probe of Hillary Clinton's former aides WaPo
Impeachment
Trump Team Bets Impeachment Will Backfire on Democrats WSJ. From earlier in the week, still germane. Despite the rapid development of UkraineGate (unlike the more slowly moving RussiaGate), "both sides" have had the opportunity to plan their moves since at least August 12, when the "whistleblower" complaint was filed. So, in a sense, we are still in opening phase of the chess game, where each player is deploying known, pre-planned gambits.

The Integrity of the Trump Impeachment Inquiry The New Yorker. "The complaint, filed on August 12th, by a person whom the Times has described as an intelligence officer…." The political ménage à trois — dare I say*, "open marriage"? — between (factions of) the press, the Democrats, and the intelligence commumnity, evident to the discerning since at least late 2016, is now normalized. NOTE * Usually, I deprecate sexual metaphors for political relationships, because I don't think the power structures are isomorphic. But here I refer to the polymorphous mingling of Constitutional functions once held at arms length by the separation of powers, as designed by the Framers.

Amodei denies he was first House Republican to back impeachment inquiry WaPo

What The First Few Post-Ukraine Polls Say About Impeachment FiveThirtyEight

Washington is again captivated by an anonymous source. It's different now WaPo [nods vigorously].

A Phone Conversation Between Dread Lord Nyarlathotep and a Minor Shoggoth Regarding Investigating Rival Great Old One, Hastur McSweeney's Internet Tendency

White House accused of restricting access to Putin transcripts FT
American diplomat Joseph Wilson, who challenged reasoning for Iraq war, dies at age 69 CNN. Deceptive headline. Wilson didn't "challenge" "reasoning," or write a memo. He proved that one of the Bush administration's ever-shifting rationales for war — evidence that Niger supplied Iraq with yellowcake uranium — was outright false.
MSM Defends CIA's "Whistleblower", Ignores Actual Whistleblowers Caitlin Johnstone, Medium
Julian Assange 'subjected to every kind of torment' in Belmarsh prison as he awaits extradition Independent
Spanish security company spied on Julian Assange in London for the United States El Pais
Health Care
The Fetishization of Employer-Provided Health Care The New Republic
2020
Is Impeachment the End of the Road for Most of the 2020 Field? New York Magazine

Cosmo Asks Bernie Sanders the Questions Young Women Want Answered Cosmopolitan

Let's do the time warp again:

MSNBC pundit says if you support Bernie Sanders over Elizabeth Warren it's "showing your sexism." pic.twitter.com/fghFIqOF6C

— Ibrahim (@IbrahimAS97) September 27, 2019

The pundit, Emily Tisch Sussman, is a billionaire heiress, Democratic strategist, and was formerly employed by CAP as Vice President of Campaigns. Cory Booker officiated at her wedding ceremony.

'Look at his record': Buttigieg faces new criticism from his city's black leaders Guardian
Imperial Collapse Watch
The Making of Neoliberal Globalization: Norm Substitution and the Politics of Clandestine Institutional Change (PDF) Alexander E. Kentikelenis, Sarah Babb American Journal of Sociology

The Return of the Condottieri? How Military Drones are Changing the World Cassandra's Legacy
Class Warfare
5G wireless technology comes with big promises, but city of Portland has big concerns KATU (Furzy Mouse). From March, still germane. "'The federal government has made something of a land grab against local infrastructure, like telephone poles, where these wireless nodes will be connected,' said Mayor Ted Wheeler."
Antidote du Jour (via):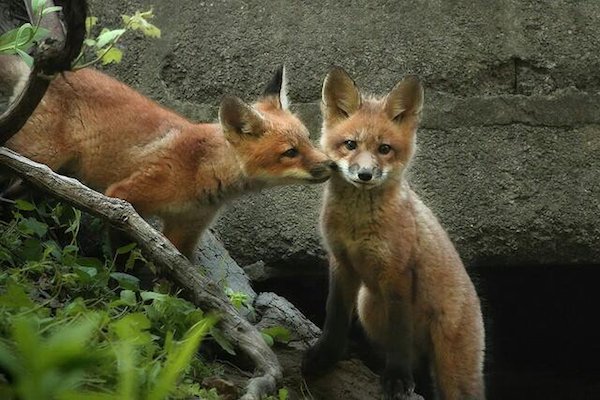 See yesterday's Links and Antidote du Jour here.