By Lambert Strether of Corrente.
Patient readers, more shortly on the Republican occupation of the House "secure facility." –lambert UPDATE All done. It's very ugly.
Politics
2020
"But what is government itself, but the greatest of all reflections on human nature?" –James Madison, Federalist 51

"They had one weapon left and both knew it: treachery." –Frank Herbert, Dune

* * *

Alert reader dk (not to be confused with DK) is in the process of developing the following interactive chart. Here is (are) the latest Dem Primary Polling as of 10/24/2019, 12:00 PM EDT:

I've been wondering about the weird pattern of Undecideds, shown in grey — and shown by dk alone, and not RCP — approximately between the left and right blue lines. It seems that Undecideds increased after the first debate. What decreased them? They started to fall before the second debate. They did fall, with a lag, after Sander's heart attack. Readers, thoughts? And here are the latest results:

dk went ahead and added states, which as readers know have smaller samples and are less frequent. Since IA was Tuesaday, and NH Wednesday, here is NV, as of 10/24/2019, 12:00 PM EDT:

Here, Sanders is doing much better. Let us remember, however, that NV is Reid's territory, and Reid is in Warren's corner. And the latest result:

Note the tiny, tiny samples in the state polls.

I think dk has started a really neat project, and in the near future we'll seek your feedback (within reason) for the tool "live."

* * *

UPDATE Biden (D)(1): "Biden allies intensify push for super PAC after lackluster fundraising quarter" [CNN]. "A coalition of top Democratic strategists and donors are intensifying conversations about setting up an outside group to bolster Joe Biden's presidential candidacy, people familiar with the matter tell CNN, aiming to create a super PAC designed to fight back against a barrage of well-funded attacks from President Donald Trump's campaign. The idea of building an outside organization has been the subject of discussion for weeks by Biden allies, but the conversations intensified in the wake of a cash crunch for the former vice president's campaign. He reported last week having less than $9 million in the bank, significantly less than his leading rivals…. 'They know they can use all the help they can get,' one Biden ally told CNN, speaking on condition of anonymity to discuss the group. 'Trump is crushing him with spending.'" • Not just Trump…

Biden (D)(2): "Biden brings in biggest total from itemized donors in Nevada, Sanders pockets most individual donations" [Nevada Independent]. "The campaign finance reports hint at the kind of support the campaigns have here on the ground in Nevada, with Biden raising significant sums from well-known casino executives and former elected officials while Sanders and Warren tended to bring in generally smaller amounts from everyday donors." • Sanders, 30,000 total individual donors. Warren, 650 individual donations.

UPDATE Buttigieg (D)(1): "Pete Buttigieg on His Plans to Address Climate Change and Revamp the Supreme Court and, Oh, Tackle Halloween" [Cosmopolitan]. The interviewer: "News just broke, in fact, that Mark Zuckerberg is advising you on some of your hiring. So given that, will you talk us through why it's okay for you to accept that kind of funding?" • And that is the single mention of "Zuckerberg" in the article!

(?) Clinton (D)(1): "Freedom Rider: The Return of Hillary Clinton" [Black Agenda Report]. "It's not clear if smear-mongering Clinton is running for president, or just fleeing reality…. At every opportunity she said that she would not run again. But in the last few weeks that claim has been called into question. She recently said of Trump, "Obviously I can beat him again." That little hint has become more real in recent days as Joe Biden's campaign has faltered… It isn't clear if Hillary Clinton has just lost it and can't control herself, really thinks she can make a third presidential run, or is trying to keep the unraveling narrative of her defeat together. Like all establishment Democrats she has Bernie Sanders in her crosshairs and will do anything to keep him from getting the nomination." • FWIW, I don't think Clinton wants to run (though I am totally here for the liberal Democrat Götterdämmerung that would result of she did). I think she wants to be a power broker.

UPDATE (?) Clinton (D)(2):

Philippe Reines went on Tucker Carlson's show last night and said Hillary Clinton had not ruled out a 2020 bid for the presidency. "This is a huge if," he says, adding it is "unlikely." Carlson adds: "She's become like the most reasonable person in the Democratic Party."

— Josh Dawsey (@jdawsey1) October 24, 2019

Wait, a Democrat went on FOX?! Where's the hysteria?

Gabbard (D)(1): "The 'Russian asset' and the 'warmonger': The roots of the Clinton-Gabbard dispute" [Politico]. "The blowback against Tulsi Gabbard began the day after she endorsed Hillary Clinton's primary rival in 2016." • Yep. The Clintons always pay their debts.

UPDATE Klobuchar (D)(1): "Amy Klobuchar qualifies for November Democratic debate" [CNN]. "Sen. Amy Klobuchar of Minnesota is the latest candidate to qualify for the next Democratic presidential debate in November after receiving 3% in a new Quinnipiac University poll out Thursday…. Candidates must receive 3% or more support in at least four DNC-approved polls (nationally, or single-state polls in Iowa, New Hampshire, South Carolina or Nevada) or receive 5% or more in two of the accepted early state polls. The deadline for qualifying polls and donations for the November debate will be November 13 at 11:59 p.m., according to the DNC." • DNC jiggering candidate selection by polls is so Third World (and it corrupts the system by making pollsters power players at the tactical level).

Sanders (D)(1): "Sanders Campaign Says Winning Democratic Nomination Requires New Voters" [Wall Street Journal]. "Faiz Shakir, who runs Mr. Sanders's campaign, told The Wall Street Journal that the lawmaker's path to both the nomination and the presidency 'is the most ambitious and the most difficult path of any candidate' because it relies on support from voters who haven't been active in the nominating process previously. 'It is undeniably true that for Bernie Sanders to win, he needs a mass mobilization of people who have not voted before,' Mr. Shakir said. . In some states, the campaign will have to convince those voters to register with the Democratic Party to participate in caucuses or primaries. …. 'It's ambitious to expand the electorate, but that's what Bernie has always done,' Jane Sanders, Mr. Sanders's wife, told the Journal. When Mr. Sanders was first elected mayor of Burlington, Vt. in 1981—by 10 votes—just over 9,000 people showed up at the polls. In 1983, when he was re-elected, more than 4,000 new voters participated. Mr. Sanders won by nearly 3,000 votes, according to records from the city of Burlington." • (NOTE: Not locked.) First, [lambert preens] as I've been saying for some time (no time to dig out the links, but certainly since befoer Shakir was hired in February 2019). Second, how come we're getting reporting from this from inside a citadel of capitalism like the WSJ? Third, is the app enough? How do we know? Fourth, to the numbers add to 50%+1. What are the proxies for getting a reading on this? On polling: "Mr. Shakir said the team believes Mr. Sanders's numbers are depressed because pollsters are only contacting likely Democratic caucus-goers, often on landlines. Mr. Sanders pulls his strongest support from voters under age 50, a group that is less likely to be identified as a likely primary voter or use a landline." I certainly hope Sanders supporters aren't engaging in groupthink on this.

Sanders (D)(2): See above, again. Now:

I am happy to volunteer to be a Bernie delegate. Each State has their own rules on this. Can we get a conference call &/or instructional video for each State on "how to"?
Many folks would like to volunteer but have no clue how to start…@GunnelsWarren @fshakir @ninaturner

— Lana Dell #MMT #RealProgressives (@organicfanatic5) October 23, 2019

This material should already exist. Why doesn't it? Indivisible has material like this up the wazoo.

Sanders (D)(4): "Listen to 360 – Bernie Blanco Goes to Queens feat. Matt Karp" (podcast) ][Chapo Trap House]. • Very good, and none of the crassness that, in this context, I found grating. (I'm a William Burroughs fan, so don't @ me for being prudish, mkay?) I'm also a Matt Karp fan; see NC here for a review of his This Vast Southern Empire. Interestingly, that post doesn't come up in either Google or DDG searching on "Matt Karp" or "Southern Empire."

Warren (D)(1): "Elizabeth Warren: All Parents Want Good, Safe Schools For Their Kids. So Do I" [Romper]. "As a teacher and a product of public schools myself, I know how important it is for kids to get a good education. I expect you probably feel the same way. That's why you've spent hours and hours trying to find a good child-care or pre-K program for your little one. That's why you moved to a neighborhood with a better elementary school, even though it doubled your commute time to work. That's why you got a second job, to put a little bit more money away for when your daughter applies to college. That's why you'd move heaven and earth to ensure your children have a fair shot in life. And I want to help you." • Excellent staffwork from Warren.

* * *

"Most 2020 Candidates Have Something In Common: Their Supporters Also Like Warren" [FiveThirtyEight]. "So what do we make of the fact that such a high share of Biden's and Sanders's potential supporters were only considering them? It's definitely a good sign for their campaigns, as it might be harder for other candidates to win these voters over. But it's also not the only way to understand the strength of someone's campaign, especially at this early stage in the primary. If you're a candidate, getting a lot of voters to at least consider supporting you is important, too, as it means you're still in the hunt for their vote, and the other candidates on a voter's list tells you something about what parts of the party your message is appealing to."
Impeachment
Remember the Democrat sit-in on the House Floor back in 2016 over — dammit, I can't even remember what for — gun control? The Republicans show them how it's done by occupying a hearing room. I took some time trying to sort through the hysteria, and these are the best links I can find.

"Republicans breeze past security protocols, occupy secure impeachment area" [Roll Call]. "Defying established security protocols, a cadre of House Republicans led by Minority Whip Steve Scalise and Rep. Matt Gaetz stormed the Sensitive Compartmented Information Facility (SCIF) in the Capitol Visitor Center on Wednesday, where the top Pentagon official overseeing U.S. policy in Ukraine was giving her deposition for the House's impeachment inquiry into President Donald Trump. Hours into a standoff between frustrated Republicans and Democrats leading the impeachment inquiry, a handful of GOP members remained sitting in the SCIF, refusing to leave…. As the Republicans stormed the secure area, several brought their cell phones with them into the secure area, according to Democratic Reps. Ted Lieu and Harley Rouda of California." • Read it twice, and couldn't find a statement from a Republican on why they entered the "Sensitive Compartmented Information Facility." So–

"Rep. Matt Gaetz and House Republican Press Conference Transcript: House Republicans Interrupt Impeachment Testimony" [Rev]. • Everybody gets a turn at the mike, ffs. The Republican inability to create a coherent narrative, first displayed in Benghazi, continues. This is perhaps the most coherent comment, from Lee Zeldin (NY-01): "I've sat through all of the depositions. I'm about to go back into Adam Schiff's bunker here in the Capitol basement to sit through another deposition today. I want all of my colleagues to know every single question that's been asked and every answer that's been told. I want all of my constituents and their constituents to know every question that's been asked and every answer that's been told. What is happening behind closed doors is unclassified. There's no reason why the American public shouldn't be able to watch this in real time, live. This is a process lacking legitimacy, credibility, and fairness, and we have a huge problem with that." • This transcript is worth reading in full, simply for the incoherence. Which isn't to say there's not a pony in there.

"Elise Stefanik: Schiff 'unfit' to chair Intelligence Committee" [Roll Call]. Important issue: "House Intelligence Committee member Elise Stefanik called limitations on access to impeachment inquiry transcripts for committee members 'unprecedented.' The New York Republican said Intel members were notified this week that the panels would . 'And you would have to read it with a member of Democratic staff. That is unprecedented and unfair,' she said. 'Americans should know that their member of Congress has had no access to any of the transcripts.'" • If true, this is appalling.

Lambert here: I wouldn't hang a dog on intelligence community information that the public cannot see or verify, not even if the name on the dog's diamond collar was "D*O*N*A*L*D T*R*U*M*P". The fact that the hearings (a) are taking place in an SCIF suggest that the Democrats plan to do just that, as does (b) the CalPERS-like grip by the Democrats on the transcript. This would meet my criterion for a soft coup, expressed here. And anybody who thinks the Praetorian Guard at Langley will go back to its barracks is delusional.

* * *

UPDATE "We're Tracking the Impeachment Inquiry of President Donald Trump" [GovTrack].

"Why Trump's Impeachment Might Be Different Than Clinton's" [FiveThirtyEight]. "[A]lthough there's still a significant risk that the investigation will be perceived as partisan, the nature of the allegations against Trump are quite different. Many Americans saw Clinton's affair with Lewinsky as 'private matter,' but Trump pressuring Ukraine to investigate the son of Democratic presidential candidate Joe Biden is much more clearly tied to his role as commander-in-chief. So it's entirely possible that the public will be less forgiving this time." • On the other hand, Democrats at that time were seen as having some moral standing, no matter how low.
Realignment and Legitimacy
"Beyond Nonprofits, Toward Change" [Sacramento DSA]. "Beyond the clear conflicts of interest that limit nonprofits' ability to affect change, there's an underlying philosophy within the nonprofit world that idealizes addressing social problems using the logic of commodity markets and technocratic social controls. Nonprofits aim to direct advocacy, resources, and behavior modifications (sometimes framed as education, skills training, or wellness workshops) on an individual basis as if they're consumer goods and services, all the while avoiding direct political conflict. In this landscape, . And nonprofit workers can internalize these ideas, seeing themselves in a savior role, paying it forward to their less-privileged clients. They also fit conveniently within a neoliberal schema of privatization because they are designed to be stopgaps against the myriad social crises that emerge after universal public assistance programs are decimated by austerity. . In short, nonprofits capitalize on crisis by resolving social problems on behalf of those they serve in place of the state. Radicals are often allured to the nonprofit world in hopes they can contribute to a good cause and even alter their organizations for the better, but nonprofit workers with radical politics usually can't resist the roles and structures they find themselves in." • Hard to quarrel with; the Maine non-profit I was, for a short time, associated with actually missed the opioids crisis entirely. If indeed they missed it.

"Red Flag Over The White House?" (review) [New Left Review]. Review of Jacobin founder Bhaskar Sunkara's book, The Socialist Manifesto: The Case for Radical Politics in an Era of Extreme Inequality. "Two important flaws vitiate this 'case for radical politics'. First, no actual transition to socialism, though hoped for, is envisaged. The Socialist Manifesto's opening parable of a worker-run pasta-sauce factory and its concluding list of vague precepts stand in place of any concrete imagining of transition. Second, no emergent historical logic is identified that would permit the establishment of socialism in a wealthy developed country that has heretofore eluded the first-world left. If radical parties and trade unions were not able to bring about socialism in developed countries in the past, when they were far stronger than they are today, what new conditions make the twenty-first century more propitious for rich-country socialism than was the nineteenth or twentieth? The purpose of what Marxists used to call historical science was to produce useful forecasts of the future; here the project is dropped. Level-headed as Sunkara's book is on the whole, his silence on this question of transition gives it a utopian rather than scientific air, in Engels's terms." • As usual from NLR, lengthy, but worth it for situating DSA.

"Why Political Candidates' Family and Friends Are Fair Game" [Jacobin]. "A candidate's class location matters because class shapes our social world, and we are continually reshaped by the people around us. While actual conflicts of interests are important — see: every minute of the Trump administration — the media's fixation on grifters and parasites tends to miss the way close relationships influence a person's ideas. So it's worth asking, who does the candidate associate with? Whose conversation is informing their view of the world? Elizabeth Warren's daughter, Amelia Tyagi, with whom she has coauthored two best-selling books, has come a long way from her mom's humble Oklahoma origins. Tyagi is now a founder and CEO of a consultancy called the Business Talent Group. Like Mayor Pete (BOOTEdgeEdge), she's also worked as a consultant for McKinsey, a secretive consulting firm that has been rightly blamed for some of the worst miseries of working life at many major corporations."
Stats Watch
Durable Goods Orders, September 2019: "An emphatically weak set of durable goods headlines for September raises the alarm for the health of the manufacturing sector while unexpectedly substantial contraction in capital goods orders deepens specific questions on the outlook for business investment" [Econoday]. "Breaking down capital goods orders, weakness appears to be concentrated in fabrications… and computers which fell 0.9 percent. Machinery actually rose."
Kansas City Fed Manufacturing Index, October 2019: "Tenth district manufacturing activity eased further into contraction in October" [Econoday]. "Further deterioration in durable goods production was partly offset by non-durable goods manufacturing, which expanded slightly for the second month in a row."
Purchasing Managers' Index Composite FLASH, October 2019: "In what has been a contrast to the ISM manufacturing report, Markit's manufacturing PMI is showing stability and slight but still tangible acceleration" [Econoday]. "New orders are a big plus this month for Markit's manufacturing report in contrast to services which sank."
Jobless Claims, week of October 19, 2019: "The labor market, despite deepening weakness for the manufacturing sector underscored by this morning's durable goods report, remains very solid" [Econoday].
New Home Sales, September 2019: "Steady is not usually the theme for new home sales which are usually volatile, but back-to-back reports point straight at extending growth at a respectable rate" [Econoday]. "New home sales have been outperforming resales all year though Tuesday's existing home sales report also showed strength for single-family homes. The gains, especially for new home sales, are pointing to a long-awaited positive contribution from residential investment in the GDP account, this for the third quarter. Housing was a major negative for the 2018 economy but may yet, boosted by low mortgage rates and a strong jobs market, prove to be a useful positive for 2019."
Retail: "Records show Sears and Kmart, whose previous parent company was a member of a safety-monitoring group, have resumed importing from banned factories" [Wall Street Journal]. "Some clothing items produced by banned factories were for sale by Amazon directly while most were being sold by third-party sellers on Amazon's marketplace. Amazon says it inspects factories that supply its own brands to ensure they are in line with international safety standards similar to those of safety-monitoring groups."
The Bezzle: "WeWork Isn't Worth $47 Billion Anymore, But Its Rent Bill Is" [Bloomberg]. "$47 billion: WeWork's peak valuation, attained at the start of this year as SoftBank poured money into the venture, is now a fading memory. The Japanese conglomerate's latest investment in the troubled company values it at roughly $8 billion. It also happens to be the sum of future rent payments that WeWork's on the hook for, thanks to its model of raising money to rent office space that it renovates and then leases to companies."
Manufacturing: "Boeing Co.'s troubles are spreading beyond the grounded 737 MAX jet. The aircraft manufacturer is cutting production of its 787 Dreamliner jet next year… as trade tensions weigh on its market for wide-body jets. Sales of the big aircraft used in international transport are more crucial than ever to Boeing as it tries to weather the financial impact of the troubled MAX program" [Wall Street Journal]. "Slowed production of that jet will cost an additional $900 million on top of the $2.7 billion already booked over the life of the program, and the jet maker's profit fell by more than half in the latest quarter. Perhaps worse, free cash flow came in at negative $2.9 billion, as 42 MAX jets are still built without being delivered every month. Trade tensions and tariffs have slowed the growth in passenger numbers that's underpinned huge jet orders,"
Intellectual Property: "Disney Is Quietly Placing Classic Fox Movies Into Its Vault, and That's Worrying" [New York Magazine]. "[E]ven major first-run chains like Cineplex will now lose access to Fox repertory titles. That collection of movies is a gold mine for many commercial theaters — particularly art houses, regional chains, and big-city multiplexes that like to mix things up by sprinkling a few older works into their screening lineups. In addition to films that have already been mentioned, Fox's holdings include hundreds of notable films in a variety of genres and modes, a layer cake of options which, taken together, give a sense of the richness of American cinema over the last 100 years: everything from Miracle on 34th Street, All About Eve and The Sound of Music to Deadpool, The Revenant, The Simpsons Movie, and Terrence Malick's version of The Thin Red Line…. Fox classics are going into the vault as well, for reasons the company won't publicly explain or justify. And Disney's vaultification of Fox titles is bad news for movie theaters that depend on repertory screenings to shore up their increasingly shaky bottom lines. The decision to broaden Disney's artificial scarcity tactic to include thousands of movies released by a onetime rival is a wounding blow to a swath of theatrical venues that used to be able to show them, and where film buffs were able to see them with an audience."
Today's Fear & Greed Index: 57 Greed (previous close: 55, Neutral) [CNN]. One week ago: 50 (Neutral). (0 is Extreme Fear; 100 is Extreme Greed). Last updated Oct 23 at 12:00pm. Yay! Back to greed!
The Biosphere
"A Giant Factory Rises to Make a Product Filling Up the World: Plastic" [New York Times]. "When completed, the facility will be fed by pipelines stretching hundreds of miles across Appalachia. It will have its own rail system with 3,300 freight cars. And it will produce more than a million tons each year of something that many people argue the world needs less of: plastic. As concern grows about plastic debris in the oceans and recycling continues to falter in the United States, the production of new plastic is booming. The plant that Royal Dutch Shell is building about 25 miles northwest of Pittsburgh will create tiny pellets that can be turned into items like phone cases, auto parts and food packaging, all of which will be around long after they have served their purpose. The plant is one of more than a dozen that are being built or have been proposed around the world by petrochemical companies like Exxon Mobil and Dow, including several in nearby Ohio and West Virginia and on the Gulf Coast. And after decades of seeing American industrial jobs head overseas, the rise of the petrochemical sector is creating excitement." • Leave it in ground!
"Extinction Rebellion Has a Politics Problem" [Current Affairs]. "'Beyond Politics' is a slogan at the center of Extinction Rebellion organizing: You can see it on posters, on flyers, on candy-colored flags…. I do not think it is possible to find an apolitical solution to a political problem…. Another reason why this supposedly apolitical position is deeply worrying is because of the increasing prominence of ecofascism, whose adherents embrace both aspects of the green movement and militant xenophobia. Since Extinction Rebellion's founding, the perpetrators of two major mass shootings—one at a WalMart in El Paso, the other at a mosque in Christchurch—have left behind manifestos that root their xenophobia in ecological concerns. Whether they frame nature conservation in explicitly nationalistic terms, or latch onto overpopulation as an excuse for curbing nonwhite populations, or argue that climate change needs to be halted because of the waves of migration from the global south that will inevitably result, ecofascists are a growing presence within white nationalist and neo-Nazi groups in the United States and elsewhere. To be clear, XR has in no way endorsed these kinds of far-right beliefs. But in the absence of taking any strong stance in the opposite direction, the movement leaves room for these kinds of reactionary forces to gather strength from the mass appeal of XR's galvanizing pro-green message, its media attention, and its organizing systems."
"Extinction Rebellion must decide if it is anti-capitalist – and this greenwashing mining company shows us why' [The Independent]. "Across Europe, Extinction Rebellion has succeeded against the odds in making climate breakdown a public priority. Its broad-church approach of remaining avowedly 'apolitical' (i.e. not anti-capitalist) made sense initially, bringing together a wide coalition from across the political spectrum. As the national conversation begins to move towards specific policy and infrastructure objectives, however, what I see as XR's reluctance to tackle extractivism threatens to give carte blanche to governments and corporations who are happy to shift the burden of climate destruction onto poor and indigenous communities of colour in the global South."
Health Care
The neoliberal infestation at NHS is really bad:
Please read & act on this long but incredibly important #NHS thread…

Gimms founding member and longtime dedicated public service campaigner at @ThePublicMatter Deborah Harrington, who when asked 'How much of the NHS has already been privatised?'

Answered –

— Gower Initiative for Modern Money Studies (@GowerInitiative) October 6, 2019
I imagine the next step will be the Tories selling off great hunks of it to American private equity. The "special relationship," donchya know.
"Rob Delaney on Writing While Grieving and the Real Work of Comedy" [The New Yorker]. Interesting:
[I]t's better to get sick in the U.K. than here. I'm a pretty vocal advocate for Medicare for All in the U.S. and for support of the N.H.S. in the U.K. I had private health insurance that I paid for back in 2002 when I had my accident—this was pre-A.C.A., or Obamacare—so, when I started to generate fairly sizable hospital bills, my insurance company just dropped me, which they could do back then. So I was paying for surgeries with credit cards. People in this room have done that—maybe they're doing it right now.

So I knew something needed to change here. I knew my dad and my stepdad get care from the V.A., and I knew if you were very poor or over sixty-five there was something for you. I just thought, it's really weird that some people get health care from the government and some people don't. And then I went to the N.H.S. in the U.K., and I remember walking into our local general practitioner to sign up my family and being, like, [breathing heavily] "So what do you need? Do you need a retinal scan? What fluids from me do you need?" And they were, like, "What's your address?" And I was, like, "O.K., now what else?" That's it. Now we can go to the doctor. It's not free—your tax dollars pay for it—but, if you get sick in the U.K., you don't immediately begin to stress out. What's the story with my deductible? Was my private prescription plan sold three weeks ago without my knowledge to another company, so I got dropped because I didn't answer an e-mail? The stress that you have when you get sick in the U.K. is so much less than over here because the financial element isn't a part of it. You're still sad or angry because your knee fell apart or something's wrong with your butthole, but you don't have the ancillary stress of what's going to happen to my wallet.

.

We have to do it, because the amount of money we spend on health care for people in Medicaid and Medicare and Tricare—we're doing that, and then we're paying private health-care companies, C.E.O.s who are making hundreds of millions of dollars, and spending money on advertising. "Your choice! Get the plan that's right for you"—what the fuck is that? The plan is go to the hospital and it's covered. There's your choice. Yeah, I'm a zealot on that one, and I won't stop until you can go to the hospital without fear of going bankrupt.
"Majority of Healthcare Professionals Support Single-Payer System, Poll Says" [MedScape]. From December 2018, still germane: "Sixty-six percent of physicians who responded [to our reader poll] said they favored a single-payer system, compared to 68% of administrators and 69% of nurses. About a quarter of respondents among those three professions opposed single-payer healthcare."
"Column: A brilliant economist diagnoses the U.S. healthcare system — from beyond the grave" [Los Angeles Times]. "As Reinhardt documents, the American system as it exists essentially rations healthcare by income class. This isn't always easily discernible because the system is 'exceedingly complex and almost beyond human comprehension.'" • Well worth reading in full, simply for what every mainstream economist should know and be able to say.
Everything's going according to plan:
A minimum wage job meant he couldn't afford health insurance.

Then he stopped taking insulin—it cost $500/month.

Last night I admitted him to the ICU, another 29-year-old with diabetic ketoacidosis.

Insulin has become a commodity for the rich. And those who can't pay, die.

— Augie Lindmark (@AugieLindmark) October 22, 2019
Neoliberal Epidemics
"Lower income neighborhoods have bigger mosquitoes that may be more efficient at transmitting diseases, a study finds" [CNN]. • Again, verything's going according to plan.
Guillotine Watch
"Caracas Country Club: Where the 0.01% Await Socialism's Collapse" [Bloomberg]. "[T]he Caracas Country Club isn't mere frippery. Its persistence represents many things — including how far the world's oil-richest nation has fallen. The club is also proof of the limits of government power in this self-declared socialist country. The late Hugo Chavez, who dismissed golf as bourgeois, used to enjoy threatening to seize the course for a public housing project but never took it beyond talk. His successor, Nicolas Maduro, has dealt with the place largely by ignoring it. Lately, U.S. economic sanctions have forced him in desperation to turn a blind eye to renewed private enterprise by members and others that could support what's left of the economy. Some associated with his regime have even sought club membership, sparking a campaign by the old guard to keep them out. Now, inside the clubhouse and on the well-cared-for grounds, there is more than a little regret that before the revolution of the late '90s, when Chavez created a Cuban-inspired and -supported authoritarianism, the business class had stayed out of politics, yielding the field to populists."
Class Warfare
"For the first time, workers are paying a higher tax rate than investors and owners" [WaPo]. "Most Americans have to work to earn a living. But the rich are different: They get most of their income not from labor but from what they own — companies, stocks, real estate and the like. These income-generating assets are what economists call capital. And because capital is heavily concentrated among the rich, the U.S. government taxed earnings derived from capital at a higher rate than earnings made through labor for the entirety of the 20th century. But that's no longer the case, according to economists Emmanuel Saez and Gabriel Zucman of the University of California at Berkeley. In their new book, "The Triumph of Injustice," they present data showing that in 2018, labor income was taxed at a higher rate than capital income for the first time in modern U.S. history."
The "recovery" of the labor market:
participation rate hasn't recovered

large numbers of created jobs have been low wage services, government and *checks notes* vape-shops pic.twitter.com/BTxvvv0YI2

— Graystoke 真相 (@graystoke) October 16, 2019
News of the Wired
Going meta:
"The simplest solution is most likely the correct one." – Occam's Razor

so, tell me which is simpler: santa is fake and every parent is engaged in a giant false flag conspiracy to convince us he's real OR santa is real

— Ben Rosen (@ben_rosen) October 24, 2019
Using power for good?
I just lost my wallet on the way home from work. I didn't have much identifying info in there so a good Samaritan got in touch with my via my… bank account ?

4x transfers of £0.01 each with a reference up to 18 chars pic.twitter.com/RVK8I1ZctQ

— Tim Cameron (@Timcammm) October 14, 2019
Call any vegetable:
Kroger attempting to sell a selection of slightly-to-extremely familiar tropical fruits, including papayas, passionfruit & mangoes, as "freaky fruit" pic.twitter.com/8FBtdM5Psc

— Hot Take Appreciator (@IHateNYT) October 24, 2019
* * *
Readers, feel free to contact me at lambert [UNDERSCORE] strether [DOT] corrente [AT] yahoo [DOT] com, with (a) links, and even better (b) sources I should curate regularly, (c) how to send me a check if you are allergic to PayPal, and (d) to find out how to send me images of plants. Vegetables are fine! Fungi and coral are deemed to be honorary plants! If you want your handle to appear as a credit, please place it at the start of your mail in parentheses: (thus). Otherwise, I will anonymize by using your initials. See the previous Water Cooler (with plant) here. Today's plant (meeps):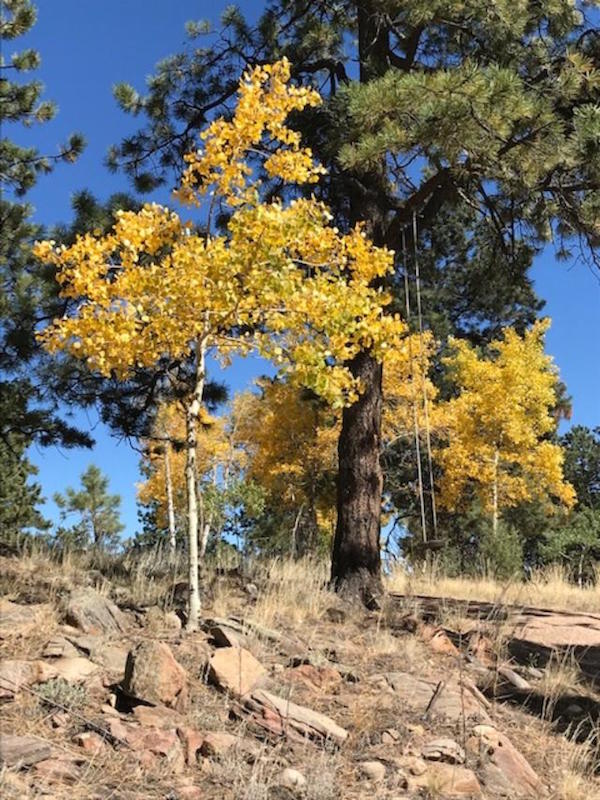 Changing leaves at least!
* * *
Readers: Water Cooler is a standalone entity not covered by the annual NC fundraiser (which has just concluded; thank you all very much!) Remember, a tip jar is for tipping! So if you see a link you especially like, or an item you wouldn't see anywhere else, please do not hesitate to express your appreciation in tangible form. Regular positive feedback both makes me feel good and lets me know I'm on the right track with coverage. When I get no donations for five or ten days I get worried. More tangibly, a constant trickle of donations helps me with expenses, and I factor in that trickle when setting fundraising goals:
Here is the screen that will appear, which I have helpfully annotated.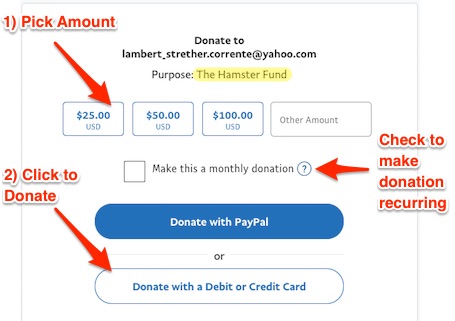 If you hate PayPal, you can email me at lambert [UNDERSCORE] strether [DOT] corrente [AT] yahoo [DOT] com, and I will give you directions on how to send a check. Thank you!