By Lambert Strether of Corrente.
Politics
2020
"But what is government itself, but the greatest of all reflections on human nature?" –James Madison, Federalist 51

"They had one weapon left and both knew it: treachery." –Frank Herbert, Dune

* * *

Alert reader dk (not to be confused with DK) is in the process of developing the following interactive chart. Here is (are) the latest Dem Primary Polling as of 10/23/2019, 12:00 PM EDT:

And here are the latest results:

dk went ahead and added states, which as readers know have smaller samples and are less frequent. Since IA was yesterday, here is NH as of 10/22/2019, 12:00 PM EDT:

And the latest result:

I know Massachusetts is Vermont's neighbor too, but Sanders seems low.

I think dk has started a really neat project, and in the near future we'll seek your feedback (within reason) for the tool "live."

* * *

Biden (D)(1): "Biden's Attacks on Medicare for All Undermine the Entire Democratic Agenda" [Eric Levitz, New York Magazine]. "If you are committed to abetting the meteoric rise of private health-insurance premiums, a debate moderator will not ask you to level with the American people about how much your approach to health-care policy will cost them. If you are committed to reducing overall health-care costs by expanding the public sector's role in medical provision, you will be ritually scolded for the extraordinary (and extraordinarily decontextualized) fiscal price of your program. As the party that favors higher levels of taxation and public provision, Democrats have an interest in contesting this norm. Biden's agenda may be less ambitious than Sanders or Warren's. But he still (officially) aims to raise taxes and increase spending by trillions of dollars. A political discourse that treats taxation as presumptively suspect (even as it treats private rentierism as presumptively legitimate) will not be a favorable one for any Democratic president."

Sanders (D)(1): "Sanders Pledges Not to Use Espionage Act on Whistleblowers as President" [The Intercept]. "The century-old law had largely gone out of fashion until it was deployed heavily by the Obama administration, which prosecuted eight people accused of leaking to the media under the Espionage Act, more than all previous presidents combined. President Donald Trump is on pace to break Barack Obama's record if he gets a second term: He has prosecuted eight such whistleblowers, five of them using the Espionage Act, according to the Press Freedom Tracker. Asked if it is appropriate to prosecute whistleblowers using the Espionage Act, Sanders said, 'Of course not.'" • NippersMom commnts: "I think this is pretty important. The MSM should be all over this as it would protect them were they actually doing their jobs, but of course they aren't."

Sanders (D)(2): "Colorado endorsements for Bernie Sanders show Working Families Party split with national group" [Denver Post]. "Democratic presidential candidate Bernie Sanders announced endorsements from 14 Colorado progressives Tuesday, including two Democratic National Committee members. Most of the endorsers are associated in some way with the Colorado Working Families Party. Their backing of Sanders contrasts sharply with the national Working Families Party's endorsement in September of U.S. Sen. Elizabeth Warren."

Trump (R)(1): "Trump calls impeachment probe a 'lynching' ahead of scheduled visit to SC black college" [Post and Courier]. "resident Donald Trump's description of the ongoing impeachment inquiry as a "lynching" ignited yet more controversy in an already polarizing political process Tuesday…. Trump's 'lynching' tweet also comes just days before he is scheduled to speak in South Carolina at Benedict College, a historically black campus in Columbia where students established an NAACP chapter in 1937 to support a nationwide campaign against lynching. Trump will be at Benedict on Friday taking part in the school's 2019 Second Step Presidential Justice Forum. Several of the Democrats in the 2020 field will also attend beginning Saturday, including former Vice President Joe Biden and Sens. Bernie Sanders, Elizabeth Warren, Kamala Harris and Cory Booker." • Well, that should sharpen the contradictions.

Warren (D)(1) "Examining Elizabeth Warren's Political Identity: Is She Really a Rose?" [Ghion Journal]. From September, still germane: "An argument (unpersuasive, in my estimation) could be made for Warren's progressive bona fides on the basis of the CFPB being a progressive institution. The problem is, it isn't. As argued by UK sociologist Frank Furedi, consumer activism, which is what drives to CFPB, is really an alternative to direct political engagement. It's a form of activism that essentially thrives under conditions of social and political alienation, wherein citizens find a decreased ability to directly effect policy change…. It makes sense that an agency focused on citizens—in relation to capitalism, rather than in relation to their overall needs and desires—is not progressive. The CFPB has offered useful reforms, to be sure, but nothing durable, as evidenced by the massive profits credit card banks continue to make from gouging customers on fees, despite the CFPB's existence."

Warren (D)(2): "The Wall Streeters who actually like Elizabeth Warren" [Vox]. "I spoke with more than three dozen people from across the financial sector — professionals who work at hedge funds, big banks, and private equity funds, in asset management, financial advice, investment banking, trading, research, and compliance — who support Warren's presidential bid. They know if she lands in the White House that may make their jobs a bit different, their companies a little less lucrative, or mean they'll pay more in taxes. And they think that's great. They support Warren because of her policies, not in spite of them. 'Even though, on a personal basis, Elizabeth Warren may be bad for me economically, she would be better for society, which I want my kids to grow up in,' a director at Citi told me." • I'm totally here for optimizing society on behalf of a Citi director's kids. What kind of monster wouldn't be? Worth reading in full.

UPDATE Warren (D)(3): "Leaked Video Shows Elizabeth Warren Backing Away From Bernie's Medicare for All Plan" (video) [Mediaite]. "[A] leaked video of a private meeting with union officials." • I don't think much of Mediaite, but I haven't heard they fake videos. What I don't see is a date on the video, so I don't know if this comes before or after Sanders' clarification on existing union plans. Here's their partial transcript (which doesn't include the opening where Warren says she's going to be more "open-textured," yech).

[WARREN:] And for me, I think of it like that way I think of trade, and that is, it matters who is at the table. I want to make sure that the folks who are at the table are folks who don't have health care coverage – I want to make sure they're there – but also folks who do have health care coverage. I want to make sure the unions are there. And I know not all of the unions are on the same place because they have members that have — they're in different places on health care. This is going to be a process that is fundamentally about respecting the fact that we've got to work together on this. For those for whom it is already part of their compensation package, then we've got to think about adjustments in the law that make sure, not just out of the goodness of their hearts, that some employers will make up the difference, but that that is part of the legal structure. For people who don't have any coverage, we've got to make sure that they're represented about how fast we can get them into the system, so when I hear people say, well, we'll do 55, 50, 45, well that's great if you have health insurance. We've got to find a way to get people into Medicare for All as quickly as we can. No, instead . We're going to make sure that everybody gets represented. We're going to understand the urgency of the moment to get this solved with people who aren't covered, and get ourselves on a path where everybody can get there and everybody can get covered at the lowest possible cost. That's what Medicare for All is all about.

(1) Warren does not have a plan on health care. She has a plan to have a plan. A commitment to process is not a commitment to policy. (2) Why is it important that "everybody" is represented? Why should health insurance companies be at the table at all? (3) Every bill in Washington — and this includes the Sanders bill that Warren refused to endorse on the trail by bill number — is written by people "around the table." Can Warren truly believe that Sanders and Jayapal's bills were put together by staffers with no outside input? (4) None of the other Warren "plans" are being subjected to this "everybody round the table" foo-fraw. Why not? (5) Warren has said she's going to produce a "pay for" scheme for some unknown variant of #MedicareForAll. Is she going it alone on that, or will everybody be round the table there, too? (6) We see here even more clearly that crawfishing ("I support a lot of plans") really is who Warren is on this issue, and that goes along with her crude rebranding of #MedicareForAll as a "framework." UPDATE And one more (7): "the lowest possible cost" leaves the door open to co-pays, deductibles, even networks. #MedicareForAll must be free at the point of delivery, because otherwise the entire industry that currently manages complex eligibility requirements gets to be part of the system. Granted, complex eligibility requirements are a Jobs Guarantee for the liberal Democrat professional base, but that's not necessarily a point in their favor.

* * *

"Anxiety rises among Democrats worried about party's prospects in 2020" [WaPo]. " Clinton, according to two people close to her, has not ruled out jumping in herself, a sign that she is hearing similar dissatisfaction." • Do it, say I. It would be wonderfully clarifying!

UPDATE "How Centrist Democrats Botched the 2020 Primary" [Eric Levitz, New York Magazine]. "So, how did center-left Democrats end up in a position so desperate, the concept of "John Kerry 2020" strikes them as cause for consideration instead of laughter? There are probably an infinite number of (partially) correct answers to that question. But if I had to limit myself to three: 1. Kamala Harris doesn't have "it."… 2. Joe Biden is losing it (and much too slowly). … 3. The outsize role of money in politics now puts corporate Democrats at a disadvantage (in Democratic presidential primaries, anyway). This point may be controversial (and a little premature). But small-dollar online fundraising seems to have radically changed the political economy of presidential campaigns…. progressive Democrats don't just tweet more than moderate ones — they also spend more of their disposal income on politics. Thus, candidates who command the enthusiasm of progressive news junkies now have a much easier time making payroll than those who don't. Bernie Sanders and Elizabeth Warren aren't just out-raising their rivals, they're doing so without having to expend precious time and energy on ritzy fundraisers." • The candidate's time is a campaign's single most precious resource. It's an interesting angle that small donor campaigns deploy their candidate more effectively. (I might add that all of the classist eruptions — Obama's "bitter"/"cling to", Romney's "47%," and Clinton's "deplorables" — came at high-dollar fundraisers, which apparently are more risky than they might seem.)
Health Care
UPDATE "Stop fearmongering about 'Medicare for All.' Most families would pay less for better care." [Donald M. Berwick, USA Today]. "With costs rising painfully, insurance companies denying care and nearly 30 million people still uninsured, America desperately needs an honest health policy discussion. That's why it has been so disappointing over the past several weeks to watch multiple candidates parrot right-wing attacks on 'Medicare for All,' like claiming that it will greatly increase spending on health care or ringing alarms about raising taxes on the middle class. The truth is the opposite: Medicare for All would sharply reduce overall spending on health care. It can be thoughtfully designed to reduce total costs for the vast majority of American families, while improving the quality of the care they get. But covering all Americans through a single-payer, federal insurance program would now be a wiser path. President Obama has said it himself: It is now time for "good new ideas like Medicare for All.'" • Berwick was administrator of the Centers for Medicare and Medicaid Services in the Obama administration. Note that Berwick supports genuine, single payer #MedicareForAll, not some Tanden-esque "Medicare for Some" ersatz subsitute, or Warren's crawfishing "framework," or gutless "progressive" jibber-jabber about the "north star" of policy.
Pollsters
Going through CNN's latest. Thread:

1) it's only 10 am but the polling shenanigans are already incredible. First we have a new CNN poll that was so badly manipulated that the Biden numbers basically discredit the poll on it's own

— Greg C (Bernie 2020) (@greg06897) October 23, 2019

I can't vouce for this, because I'm not enough of a poll expert. That said, the thread's indictment of RCP for gaming the polls it includes for its chart, which everyone uses, seems plain enough. dk's charts do not do this.
Impeachment
"McConnell to Republicans: Defend Trump on process" [The Hill]. "McConnell recognizes that some members of his conference are uncomfortable defending Trump on charges his administration linked aid to Ukraine to that country's government running politically motivated investigations meant to help the White House. As a result, he's telling his members they have plenty of reason to offer a vigorous defense of Trump, as the president publicly urged them to do Monday, by focusing on Democratic tactics that McConnell and Trump view as unfair. Senate Republicans also privately make the point that it's difficult to defend Trump on the substance of the charges against him because so much remains unknown. GOP lawmakers don't know the identity of the whistleblower who filed a complaint against Trump or what exactly House Democrats have discovered in their investigation, which has been conducted largely behind closed doors."
L'Affaire Joffrey Epstein
"SEX SLAVE FILES Jeffrey Epstein 'sex slave list' soars by hundreds as new 10,000 page document is made public in Virginia Roberts trial" [The Sun]. • Very bad. Now what about the billionaires?
Realignment and Legitimacy
"Hunton Andrews Kurth Taps Terry McAuliffe for Cybersecurity Think Tank" [The National Law Journal]. "McAuliffe, Virginia's Democratic governor from 2014 to 2018, was named global strategy adviser for the Centre for Information Policy Leadership, a Hunton subsidiary that counsels with industry leaders, regulatory authorities, and policymakers on global cybersecurity issues." • Awesome. A Clintonite bagman cashes in.
Stats Watch
MBA Mortgage Applications, week of October 18, 2019: "Housing data have been improving but today's purchase applications index, down…. won't be lifting forecasts for home sales. [Econoday].
FHFA House Price Index, August 2019: "There have been reports of price traction developing in the housing sector but strength isn't apparent in FHFA's August data" [Econoday]. "Despite this year's emerging but still uneven gains for home sales, FHFA's data have been trending consistently lower for the last year-and-a-half as have Case-Shiller's numbers."
Banking: "Nearly 60% of banks need to make changes or they'll struggle during the next downturn, McKinsey says" [Business Insider]. "'The global industry approaches the end of the cycle in less than ideal health, with nearly 60% of banks printing returns below the cost of equity,' [McKinsey & Company said in its latest global banking review]. 'A prolonged economic slowdown with low or even negative interest rates could wreak further havoc.'" • Seems to me like McKinsey is looking for work. Anybody with more reliable views?
Banking: "TARP auditor wants bank CEOs to certify they've checked for fraud" [Francine McKenna, MarketWatch]. "Christy Goldsmith Romero is the current independent watchdog, or SIGTARP, for the federal law enforcement agency that targets crime by financial institutions and executives who received TARP funds. Her latest report to Congress says the agency has assisted in recovering $10.29 billion through its investigations, including $8.2 billion paid back to the federal government and $2.1 billion paid to other fraud victims. But Romero is not yet satisfied. 'While SIGTARP's law enforcement has led to indictments of executives at mid-sized and smaller banks, we found it difficult to prove the criminal intent of senior executives at large financial institutions,' she told MarketWatch. Wall Street culture 'isolates these leaders from knowledge of fraud' in their organizations, she said." • Watch out, Christy. You're gonna end up like Bill Black you keep it up:
(Long-time readers know I love this video from the Crash, but not everybody may have seen it.)
Retail: "Walmart stores post ominous signs warning of a 'national supply shortage' of dish soap that's expected to persist for weeks" [Business Insider]. "In a statement to Business Insider, Procter & Gamble, which makes Dawn and Gain, confirmed a dish-soap shortage." • I can see how this would happen with vaccines, since they're a low-margin, one-time use product that only saves lives, but dish soap?
Shipping: "United Parcel Service Inc. is flying high on the push for faster delivery. U.S. next-day air shipping volume jumped 24% in the third quarter, pushing the company's profit to $1.75 billion as it works to lower costs through automation and other measures" [Wall Street Journal]. "UPS expects the surge to extend into the holidays… as U.S. consumer strength and the rise of online shopping offset softening industrial production and weak global growth. Those latter elements may be casting a shadow over UPS's freight division.
Manufacturing: "Tesla Model 3: Comprehensive Buyer's Guide To Known Issues, Problems" [Inside EVS]. • Plans Mars flight, can't manage a paint shop. Fine.
Manufacturing: "Boeing's Crisis Grows: Tense Meetings, Falling Stock, Angry Lawmakers" [New York Times]. Congressional hearings coming up: "[M]embers of Congress… are preparing intensely for the hearings. On Oct. 8, staff members for the House Transportation and Infrastructure committee gathered for a meeting on Capitol Hill for a briefing by Phil Barnett, who worked in Congress for years before starting a nonprofit consulting firm, Co-Equal, that helps lawmakers prepare for hearings. At the briefing, Mr. Barnett and his colleagues walked the congressional staff members through effective questioning techniques, and played video clips from past hearings demonstrating moments when lawmakers got the upper hand on executives." • Wait. Congress (a) doesn't already know how to question witnesses and (b) has to outsource the training?! This is late Roman Republic stuff.
Manufacturing: "Boeing earnings call: still hopes for 4Q recertification" [Leeham News and Analysis]. "CFO Greg Smith outlined a host of caveats for future financial performance. No guidance was provided, given the variables facing Boeing." • The piece includes a summary of analyst reactions.
Today's Fear & Greed Index: 57 Greed (previous close: 59, Greed) [CNN]. One week ago: 47 (Neutral). (0 is Extreme Fear; 100 is Extreme Greed). Last updated Oct 23 at 12:00pm. Yay! Back to greed!
The Biosphere
"The United States leads the global green economy. For now." [Anthropocene]. "The green economy in the United States employs the equivalent of almost 9.5 million workers, the researchers found. Both employment and sales in the green economy grew by more than 20% between 2012-13 and 2015-16. Currently the green economy accounts for about 7% of U.S. gross domestic product (GDP). China has a similar number of green economy workers as the United States, but this represents a much smaller percentage of its workforce. Green economy sales per capita are higher in the United States than they are in China, the G20 nations (consisting of 19 large-economy countries plus the European Union), or the OECD (a group of 36 mostly high-income countries)." • Despite the powers that be doing everything they can to oppose it. Yes, this is not enough on its own, but I'd rather we go in the right direction than the wrong.
"How to Sell a Pretend Climate Movement: Reading Act IV of Cory Morningstar's Series on the NGO Industrial Complex" [The Ghion Journal]. "I noticed how [Morningstar] highlighted elite use of nuanced language—language that smacks of lawyerly thinking—as one of the key methods members of the Non-Governmental Organization (NGO) industrial complex use to mask the basic assumptions behind the solutions they want the world to adopt….. About a quarter of the way through the piece, Morningstar notes the use of a very specific phrase in the proposals of NGO-connected elites to define their specific goal for reducing carbon emissions: 'Net Zero Emissions.' As she explains, this is a very precise modification of carbon goals articulated by NGOs in previous years, and certainly a departure from what grassroots climate activists seek. Because 'net zero emissions' doesn't mean a massive reduction in the amount of carbon we're pumping into the atmosphere: 'Rather, it is the amount of emissions being put into the atmosphere being equal to the amount being 'captured.' To achieve that carbon capture, the NGO industrial complex is seeking huge investments for carbon capture storage technology, investments they don't want to make with their own money but want to take from pension funds and our tax dollars. And, as Morningstar laid out in Act III of her series (which you can listen to here), they want to securitize these investments in green technology so they can become a series of financial products that invigorate growth in a now perpetually sluggish capitalist economy." • On carbon capture, see here on BECCS. On Morningstar's series, I'm intrigued but leery (one chapter that I did read seemed light on sourcing, in the sense that screen dumps substituted for URLs; they should accompany each other). That said, when I was writing my piece on coral, I skipped writing up what looked like an interesting case study in Madagascar (IIRC), first because the language sounded driven by marketers ("blue carbon"), second because the project was driven by carbon credits. So Morningstar is onto something.
"Climate Change and Capitalism: A Political Marxist View." [New Socialist]. "To date, resources have not been conserved under capitalism. Rather when we become more efficient or find new resources, this frees up resources that are used by other parts of the capitalist machine. This explains why, for example, renewable energy and nuclear power remain only a small part of the global energy system (Figure 2). Under capitalism, low-carbon energy sources have grown but they have not replaced fossil fuel at any meaningful scale. Instead low-carbon energy is simply another energy pot available to fuel growth in economic activity in order to generate profits." • True? Rather like building more highways makes for more cars….
"A Textbook Evolutionary Story About Moths and Bats Is Wrong" [The Atlantic]. "The standard version of the tale—the one told in textbooks and hundreds of scientific papers—goes like this. Millions of years ago, bats evolved a kind of sonar, allowing them to perceive the world by making high-pitched calls and analyzing the rebounding echoes. This ability, known as echolocation, allowed them to pick out and pick off flying insects, even in total darkness. In response, moths repeatedly evolved ultrasonic ears that could detect bat sonar, giving them time to make evasive maneuvers. An evolutionary arms race began. Scientists have been studying this ancient battle for 50 years, but they've been laboring under a critical misunderstanding for all that time. A team of researchers led by Akito Kawahara of the University of Florida has now shown that moth ears almost always evolved before bat sonar. They came first, by at least 28 million years. Their original purpose is unclear—but spotting bats wasn't it. 'I think it's going to be a bit of a bombshell for the field,' Kawahara says." • Waiting for the young Earth creationists to jump on this one.
Health Care
Whistleblower accuses Group Health of millions in Medicare fraud Seattle Times
Police State Watch
"In north Louisiana, sheriff and private prison operator trade prisoners for ICE detainees" [Times-Picayune]. "As the number of immigrants held behind bars nationwide has grown under President Donald Trump, ICE has turned to Louisiana sheriffs and private prison operators. Louisiana is now the No. 2 jailer of immigration detainees, behind Texas…. The boom in immigration detention in Louisiana stems from the availability of cheap jail beds in rural lockups like Brown's. Sheriffs and private prison operators are happy for the business…. The ICE deals have also been a boon for jail employees. Federal contracts dictate minimum pay that's often far above what entry-level employees at rural lockups make. In Jackson Parish, pay now starts at $17.31 an hour, Brown said, more than many long-tenured employees used to make. Supervisors got raises as well, Brown said…. 'In a small community I've been able to create over 200 jobs, and it's very meaningful in our parish,' said [Jackson Parish Sheriff Andy Brown]. 'And these jobs, not only the pay but they get health benefits. And so I'm proud of that fact. I don't back away from being able to do some of the things that we've done.'"
Guillotine Watch
"Lori Loughlin, more parents face new bribery charge in college admissions scandal" [USA Today]. "The new charges do not allege new actions. Prosecutors are looking to ramp up pressure against the remaining 23 parents, coaches and other defendants who have not caved and are preparing for trial in the 'Varsity Blues' casel."
"WeWork Needed a Bailout—But Adam Neumann Still Leaves a Billionaire" [Bloomberg]. "WeWork's value has tumbled, about 2,000 employees are being cut and many investors are nursing losses after the firm's bailout. But founder Adam Neumann is still a billionaire. SoftBank Group Corp.'s proposed rescue package of WeWork involves Neumann selling about $1 billion of stock and getting a $185 million consulting fee from the Japanese firm." • Has anybody made book on whether the Japanese are stupider than the Saudis?
Class Warfare
"New Jersey school district proposes banning students with lunch debt from field trips, prom" [The Hill]. "Under the policy, students with a negative balance will be able to get a hot meal, but not a la carte items. The if debt goes over $75, high school students will be prohibited from going to school dances including prom until the debt is fully repaid." • Train 'em up young.
"Auto Workers Ask: If We Can't Win It Now, When Will We?" [Labor Notes]. "GM has maintained all the tiers that it had before. Second-tier workers—those permanent employees hired after 2007—will still receive a 401(k) for retirement rather than a defined pension. They are not eligible for retiree health care, and their Supplemental Unemployment Benefits when laid off will last half as long as first-tier workers'. GM workers at warehouses and at four 'components' plants will continue to make far less than assembly workers, with an eight-year grow-in. And temporary workers will continue at pay barely more than half that of Tier 1 workers. GM can continue to use them as probationary employees–with a very long probation." • So. Is the UAW a business union, or a solidarity union?
News of the Wired
Chesapeake, VA, what has gotten into you?
Sooooooooooooooooo lemme get this straight, a group of municipal law makers affirmatively banded together in agreement over the decision to jail 13 year olds up to 6 mos for over-age trick-or-treating? K pic.twitter.com/dQnxRxlKnG

— julie warren (@JulesAWarren) October 21, 2019
"[T]he city wants everyone to come out for a night of safe family fun" [WTKR].
"Consciousness is one of science's final frontiers" [Financial Times]. "Human consciousness is a remarkable phenomenon: the means by which we comprehend the world, but seemingly impervious to scientific inquiry. A deeper understanding may allow us, for instance, to more accurately infer levels of consciousness in locked-in patients and non-human animals. Then again, some philosophers and scientists think human consciousness itself is an illusion, a charade in the cranium destined to keep us fooled." • I can't think of any scientific advance I'd rather hand over to corporate marketing departments.
"More and more people are finding out there's no substitute for margarine":
The smoothest spread to put on bread (1949) https://t.co/V5hDp19ZWk pic.twitter.com/qGe5nf6eQI

— Masque of the Red Death (@doctorow) October 19, 2019
What would the subsitute be? Drippings? Crankcase oil?
* * *
Readers, feel free to contact me at lambert [UNDERSCORE] strether [DOT] corrente [AT] yahoo [DOT] com, with (a) links, and even better (b) sources I should curate regularly, (c) how to send me a check if you are allergic to PayPal, and (d) to find out how to send me images of plants. Vegetables are fine! Fungi and coral are deemed to be honorary plants! If you want your handle to appear as a credit, please place it at the start of your mail in parentheses: (thus). Otherwise, I will anonymize by using your initials. See the previous Water Cooler (with plant) here. Today's plant (JS):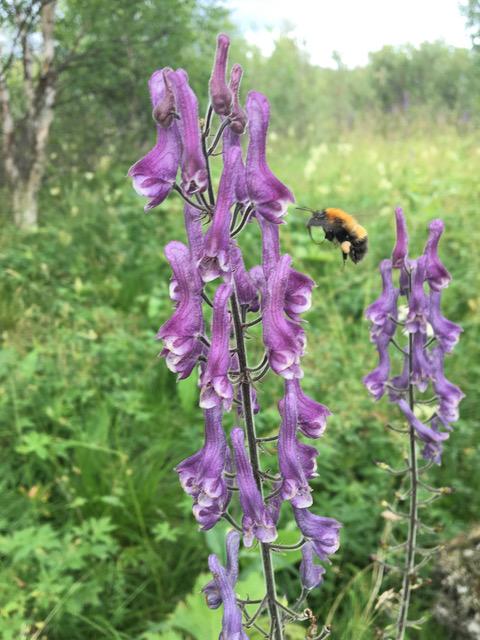 JS writes: "Greetings from the Nordics! I'm in my final year of landscape architecture school. Here's a picture I took back in August in the river valley of Vålådalen in the Swedish mountains. Aconitum lycoctonum ssp septentrionale, or Northern Wolfsbane is quite common and around here grows in rich soils, meadows, mountain birch woodlands, gullies, screes or beaches."
Bonus plant (I think):
'Untitled' by Australian Aboriginal artist Annunciata Nunuk Wilson, a Ngan'gikurunggurr woman born c. 1969 who lost a finger to a crocodile when hunting for turtles in the Northern Territory #womensart pic.twitter.com/BneUmFv1nK

— #WOMENSART (@womensart1) October 23, 2019
These look like fall leaves, even if they are not. Very pretty.
* * *
Readers: Water Cooler is a standalone entity not covered by the annual NC fundraiser (which has just concluded; thank you all very much!) Remember, a tip jar is for tipping! So if you see a link you especially like, or an item you wouldn't see anywhere else, please do not hesitate to express your appreciation in tangible form. Regular positive feedback both makes me feel good and lets me know I'm on the right track with coverage. When I get no donations for five or ten days I get worried. More tangibly, a constant trickle of donations helps me with expenses, and I factor in that trickle when setting fundraising goals:
Here is the screen that will appear, which I have helpfully annotated.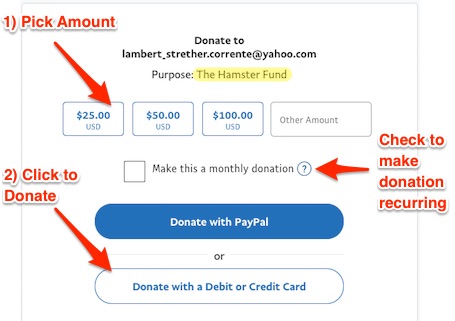 If you hate PayPal, you can email me at lambert [UNDERSCORE] strether [DOT] corrente [AT] yahoo [DOT] com, and I will give you directions on how to send a check. Thank you!