This is Naked Capitalism fundraising week. 736 donors have already invested in our efforts to combat corruption and predatory conduct, particularly in the financial realm. Please join us and participate via our donation page, which shows how to give via check, credit card, debit card, or PayPal. Read about why we're doing this fundraiser and what we've accomplished in the last year, and our current goal, funding comments section support.
Patient readers, more shortly. My ISP staggered and fell over. –lambert UPDATE All done!
Trade
"The first shots are being fired in a new trans-Atlantic front of the U.S. global trade fight. The Trump administration plans to roll out tariffs on $7.5 billion of imports from the European Union on Oct. 18… after the World Trade Organization said the U.S. is entitled to impose levies in response to the bloc's subsidies to Airbus SE" [Wall Street Journal]. "The decision marks the WTO's biggest arbitration award and raises the potential for retaliatory actions by the trade partners that go beyond rival plane makers Airbus and Boeing Co. The new levies will include commercial aircraft as well as agricultural and industrial goods. That's likely to lead to bigger volleys between the trading partners."
Politics
"But what is government itself, but the greatest of all reflections on human nature?" –James Madison, Federalist 51
"They had one weapon left and both knew it: treachery." –Frank Herbert, Dune
* * *
2020
Alert reader dk (not to be confused with DK) is in the process of developing the following interactive chart. Here is (are) the latest Dem Primary Polling as of 10/1/2019, 1:00 PM EDT:

Biden up, Sanders (up) trades votes with Warren (down). All together now: "It's just one poll!" And here are the poll results:

And a C+ poll with a small sample size, as well.

I think dk has started a really neat project, and in the near future we'll seek your feedback (within reason) for the tool "live."

UPDATE 2019-09-24: These screens are from a revised version that now includes Undecided-Refused, which is in grey.

UPDATE 2019-08-30: Now the polls aggregated (all available) are shown at the bottom of the poll. We also give more detail about each poll than RCP, and allow candidates to be selected or deselected. That's three reasons what dk is doing beats RCP, and if we can make the individual polls selectable/highlightable, that will be four reasons. With more to come, grid willing.

* * *

Biden (D)(1): "Biden Inc." [Politico]. "Three former Paradigm executives said James and Hunter Biden also sought to capitalize on Joe's strong ties to labor unions in the hopes of landing investments from them; Charles Provini, who briefly served as Paradigm's president, said both James and Hunter repeatedly cited Joe's political ties when they recruited him to work for the fund. "I was told because of his relationships with the unions that they felt as though it would be favorably looked upon to invest in the fund as long as it was a good fund," Provini recalled. Documents submitted as part of a legal dispute over Paradigm's acquisition show James Biden planned to solicit investments for it from union pension funds. A spokesman for James and Hunter said they did not end up marketing the fund to unions." • Everything is like CalPERS?

Biden (D)(2): "'You're Not Going to Destroy Me,' Biden Warns Trump" [Bloomberg]. "Joe Biden on Wednesday gave a preview of a potential general election face-off with Donald Trump by taking a more aggressive tone and assailing the president for his 'abuse of power' and for 'smearing' him and his family. 'Let me make something clear to Trump and his hatchet men and the special interests funding his attacks against me — I'm not going anywhere,' Biden said to applause in a speech in Reno, Nevada. 'You're not going to destroy me. And you're not going to destroy my family.'"

Gabbard (D)(1): "2020 Hopeful Tulsi Gabbard: The U.S. Needs To 'Stop Acting As The World's Police'" [WBUR]. Gabbard: ""Yes I support [it]. I prefer to call it 'Medicare Choice,' where we are ensuring quality health care for all people regardless of how little they may have in their pocket or their bank account, while maintaining their freedom of choice. If they've got an employer-sponsored plan or a union-sponsored plan that they're happy with, they should have the opportunity to do so." • Gabbard supports a multipayer system. At least she's not waffling about it, like Warren. But hijacking the #MedicareForAll brand with the object of keeping the health insurance industry in business is a pretty low blow. Oh well.

Sanders (D)(1):

Important point- along with the formal announcement that he will participate in the debate, Sanders is sending surrogates on the road for him this weekend and the campaign infrastructure is running as normal. Clear signs the campaign will continue on despite his health issue. https://t.co/JHr8PVlcPJ

— Ryan Nobles (@ryanobles) October 3, 2019

Sanders (D)(2): "Dr. Gupta explains Bernie Sanders' heart procedure" (video) [CNN]. "The recovery, 7-10 days… This is not open-heart surgery." • Worth listening to in its entirety. At CNN, of all places!

Sanders (D)(3): "Factbox: Bernie Sanders heart procedure common, usually with fast recovery" [Reuters]. • A good explainer.

Sanders (D)(4): Home Despot*:

Billionaire Home Depot co-founder Bernie Marcus: "Don't bring up Bernie Sanders… He's the enemy of every entrepreneur that's every gonna be born in this country." pic.twitter.com/sa7Osg4lkm

— Ibrahim (@ibrahimpols) October 3, 2019

* Hat tip, Elizabeth Bruenig.

Warren (D)(1): "Elizabeth Warren's book, The Two-Income Trap, explained" [Matt Yglesias, Vox]. "If Two-Income Trap were released today, I'd say it suffers from . Tougher regulation of consumer lending would be welcome but obviously would not fundamentally address the underlying stagnation of income." • This is good by Yglesias, and not just because it reinforces my priors.

CA: Media: It's a two-person race:

California polling firms aren't having any of the baloney that @PollsterPatrick, David Binder, Quinnipiac and YouGov (but only when in league with @gelliottmorris and @SeanMcElwee) are serving. It's a 3-way race in the state that will provide 1/4+ of delegates through Super Tues. https://t.co/8Wm59Nw8HV

— Doug Johnson Hatlem (@djjohnso) October 3, 2019

Two reactions to Sanders v. Warren union plans. (1) Sara Nelson, President of the Association of Flight Attendants-CWA:

The details matter and this plan is really good. @ewarren not only addresses all of the policy issues that keep workers from gaining the right to negotiate, but it puts real power back in the hands of workers to raise wages with the full right to strike in every sector. 1/2 https://t.co/RVO3pgbYDN

— Sara Nelson (@FlyingWithSara) October 3, 2019

(2) Cato of Utica, DSA organizer at The South Lawn:

Now that Warren's labor plan is out, I'm going to be voting for Sanders. Warren's plan is fine, but Sanders' plan ending at-will employment is way more powerful on a fundamental level than the things her plan addresses that his does not.

— Asinus Pervicax (@Cato_of_Utica) October 3, 2019

* * *

"These 526 Voters Represent All of America. And They Spent a Weekend Together." [New York Times]. An experiment in "deliberate democracy" with a population selected for "diversity." "NORC surveyed the group before the conference, and again on the same questions at the end; the results were compared with a similar panel of voters who did not get an intense dose of deliberative democracy in the interim. Voters at the event on both the left and the right appeared to edge toward the center. Democratic support receded for a $15 federal minimum wage and for "Medicare for all"; Republican support grew for rejoining the Paris climate agreement and for protecting from deportation immigrants brought to the United States as children." • Yay, centrism!

"Black men will matter in 2020: They will be vital to winning the Democratic nomination, and they may be a swing vote in November" [New York Daily News]. "But the black vote includes black men as well, and campaign messaging and priorities need to reflect the priorities that matter to black men — or we run the risk of reliving 2016 where many black men stayed home. In 2016, I served as an adviser to the Hillary Clinton campaign in my home state of South Carolina. African Americans, as a group, made up 61% of the oh-so-important Palmetto State primary vote, according to a CNN exit poll. Break the numbers down further: black women: 37%; black men: 24%; white women: 21%; white men: 14% Now add this fact: According to a more recent CNN poll, President Trump has a 15% approval from black men. (The same CNN poll has his support from black women at around 3%.) In 2016, exit polls tell us 13% of black men voted for him in the general election." • Lots of careful language leading up to these numbers, too.
Impeachment
"Trump says China should investigate Bidens" [Axios]. "President Trump told reporters on the South Lawn of the White House Thursday that China should launch an investigation into Joe and Hunter Biden, though he noted that hasn't yet asked Chinese President Xi Jinping to do so." • Doubling down with a vengeance! More: "Why it matters: It's another instance of the president publicly calling for a foreign power to investigate one of his top political rivals. Trump is currently in the throes of an impeachment inquiry for doing exactly that with Ukrainian President Volodymyr Zelensky — something he admitted to but continues to argue is perfectly appropriate." • Perhaps I'm overly jaded and cynical — although history shows I'm never cynical enough — but surely Hunter's business dealings open the possibility that Biden can be blackmailed? If it's colorable for Democrats to hire a foreign intelligence community-adjacent foreign national (Christopher Steele) through a cutout (Fusion GPS) hired by a straw (Perkins Coie) to investigate a Republican candidate for blackmail as a matter of "national security", then why shouldn't a Republican President take a simpler and more direct route to answer the same question of a Democrat candidate? Surely not because that smashes the rice bowls of the cut-outs and the straws? Fortunately for us all, we have been spared the mental imagery of Hunter Biden hiring prositutes to piss on a bed. Trump, at least, has standards MR SUBLIMINAL Not that I'm defending Trump; the surreality of the situation needs bringing into focus, if focus is the word I want. And don't @ me on the rule of law or the Norms Fairy; all that stuff died when Obama didn't prosecute the bankers; or the torturers, for that matter, one of whom is now running the CIA.

If the ratings aren't as good this time:

The 2016 investigation discredited itself by relying on DNC-funded dirt (Steele) & a laughably weak predicate (Papadopoulos hearsay) That's why it's being investigated & that's why those behind it, like Brenann, & those who credulously/endlessly hyped it, like MSNBC, are upset: https://t.co/kfiFP0KX2M

— Aaron Maté (@aaronjmate) October 3, 2019
Pollsters
Why I'm grateful to dk for his work:

My "buddies" at @RealClearNews have reached a new low in their corruption or incompetence, you decide which it is, they added the latest YouGov poll while keeping the previous YouGov poll in same average. Never happened before. It's not like it's warrens very best poll tho… pic.twitter.com/s95y1F3iFd

— Greg C (Bernie 2020) (@greg06897) October 2, 2019
Realignment and Legitimacy
"Voting machines pose a greater threat to our elections than foreign agents" [The Hill]. "'Right now there are no mandatory federal cybersecurity standards for elections,' Sen. Ron Wyden (D-Ore.) reported in a July speech. 'It is perfectly legal for the biggest voting machine company in America … to sell a small county equipment that every cyber-security expert in America knows is insecure.'…. One reason? They are among the most expensive systems on the market, allowing a higher profit for vendors. Comparison studies indicate that using a barcode ballot-marking system for all voters can double or triple costs." • I think election theft is a feature, not a bug. It's a unique selling proposition for electronic machines, and attractive to both parties.

"The Culmination of Republican Decay" [Sean Wilentz, New York Review of Books]. "Control of the courts for the Christian right and the Federalist Society, tax windfalls and deregulation for the donor class: these were the causes that truly stirred the GOP majorities in Congress. It's not simply that the recumbent Republicans are intimidated by the party base that Trump has captured; they are motivated chiefly by right-wing dogma and their own baseness, which Trump understands and manipulates."
Stats Watch
Factory Orders, August 2019: "Factory orders edged percent lower" [Econoday]. "But there is also new information on the durable sides and that's an unwanted downward revision to core capital goods (nondefense ex-air)." • Ew. You want capital investment in a capitalist economy. Still, capital investment is sporty, IIRC.
Challenger Job-Cut Report, September 2019: "Layoff announcements cooled in September" [Econoday]. "Yet layoffs in retail remain heavy as they have all year though layoffs among industrial goods manufacturers, a sector being hurt by slowing global trade and related declines in business investment, were also heavy in the month. Overall, however, today's report does point to improved conditions in September's labor market which is a positive indication for tomorrow's employment report." • Mr. Market has a nervous stomach already, if the ADP report makes him feel fluffy.
Jobless Claims, week of September 28, 2019: "Jobless claims are steady and low" [Econoday]. "This report along with employment data from Challenger, ADP, and the Conference Board's consumer confidence report are all pointing to a solid monthly employment report for tomorrow."
Purchasing Managers' Services Index, September 2019: "Still above water but uncomfortably so is the indication from September's PMI samples [Econoday]. "Total new business for the services sample, in 10 years of available data, is also at a record low. The drop in orders is making for a scaling back in hiring with this reading for the services sample posting a sharp contraction and its first contraction since February 2010. Another record low is input cost pressure with selling prices also moving lower. Confidence in the outlook is the second weakest on record."
Institute For Supply Management Non-Manufacturing Index, September 2019: [Econoday]. "ISM's non-manufacturing sample continues to report monthly expansion but at the lowest rate since August three years ago. New orders also slowed abruptly in September… Report after anecdotal report, whether from the ISM or Markit Economics, are increasingly signaling slowing if not contraction underway right now, representing a downward pivot from mid-year. These point to a pending turn lower for definitive data and risk putting a lid on third-quarter GDP, particularly components outside of consumer spending."
Tech: "Facebook Can Be Ordered to Delete Illegal Content Worldwide, EU's Top Court Rules" [Facebook]. "Facebook and other social media platforms can be ordered to delete illegal content world-wide, Europe's top court has ruled. The European Court of Justice said current EU law did not prevent Facebook from being ordered to remove 'identical', and in some circumstances 'equivalent' versions of a post that has been ruled illegal by an EU country's court. Platforms may also be required to search for duplicates of illegal content, such as hate speech, and delete them, as opposed to waiting for posts to be reported, according to the ruling."
Mr. Market: "Stocks rebound from sharp losses suffered after alarming service-sector data" [MarketWatch]. Deck: "Rough start to October for the bears."
Honey for the Bears: "The Trade War Has Already Caused a Recession for America's Factories" (podcast) [Bloomberg]. "One silver lining to all this, says [Penny Goldberg, chief economist at the World Bank], is that more attention is finally being paid to trade policy. She also discusses whether this period will mark the high point for globalization – and confirms the suspicions of manufacturers that [senior trade reporter Shawn Donnan] spoke to out in the field, who believe that they are paying the tariffs – not China, as claimed so often by Donald Trump." • Can Wisconsin readers confirm?
* * *
Today's Fear & Greed Index: 28 Fear (previous close: 34, Fear) [CNN]. One week ago: 57 (Greed). (0 is Extreme Fear; 100 is Extreme Greed). Last updated Oct 3 at 12:00pm.
The Biosphere
"Reverse logistics may be out of style in the garment trade. A growing amount of textiles are being sent to the dump as shoppers buy more clothes and discard them faster than ever… with the buildup of used apparel now overwhelming efforts to recycle or resell the goods" [Wall Street Journal]. "The problem has grown as fast-fashion retailers like Hennes & Mauritz AB and Inditex SA's Zara that compete to deliver cheaper and quicker styles, have flooded the world with clothing. Separate studies show the number of garments purchased annually by the average consumer jumped 60% from 2000 to 2014, while the number of times an item is worn before it is discarded has dropped drastically. The technology to recycle old textiles into fiber for new garments remains embryonic, however, leaving retailers focus on improving their collection of used clothes for increasingly swamped markets." • That's great. If the apparel supply chain ever collapses under the demands and "side effects" of fast fashion, we'll be left with crappy clothes that don't last. Assuming we retain the right to repair them.
Doing the same thing while expecting different results?
Three decades before @gretathunberg, this young environmental activist gave a moving speech to the UN.

Listen to their striking calls for action – before it's too late. pic.twitter.com/wSypLKXJAt

— AJ+ (@ajplus) October 2, 2019
Disagreeable opinion, but maybe "youth-led" movements don't work? As for example with "the Parkland kids"? Then again–
"Climate Messaging: A Case for Negativity" [Long Reads]. "The prevailing wisdom has been that environmentalists should avoid getting angry, compromise, don't make people feel guilty, and whatever you do don't scare people. But the last year has proven that fear is actually a pretty effective strategy for stirring people to action. Effective when used bluntly, without defeatism or apology. "Adults keep saying: 'We owe it to the young people to give them hope,' sixteen-year-old climate activist Greta Thunberg said at Davos. 'But I don't want your hope. I don't want you to be hopeful. I want you to panic. And then I want you to act.'" • Hmm. Much of this discussion reminds me of quotation dug up by (the brilliant) Mark Fisher: "It is easier to imagine an end to the world than an end to capitalism." "I want you to act." Well, there's a spectrum of possibilities, ranging from eco-fascism to some sort of Archdruid-esque retrotopia. I wouldn't say that power is lying in the street, exactly, but blood and oil make the hands slippery…
"Adopted, yet ignored: Hybrid structure offers hope for sinking villages" [Jakarta Post]. • Effing paywalled. From the photo caption: "A resident in Timbulsloko village, Demak, Central Java, checks the bamboo fence structure near his village. The fence was built to restore the lost land and mangrove forests." More capital misallocation, exactly as with underfunded coral gardening!
Health Care
"After Hospitals' Donation to New York Democrats, a $140 Million Payout" [New York Times]. "With Medicaid costs soaring in New York, the Greater New York Hospital Association was pushing for the seemingly impossible: more state reimbursement money… As Mr. Cuomo was locked in a bitterly fought Democratic primary last year, his campaign asked the association, one of Albany's most influential and richest power centers, to make a major donation to the State Democratic Party, according to a person familiar with the discussions…. The hospital association wrote two checks for the state party, totaling more than $1 million, campaign finance reports show. Soon after, the state quietly authorized an across-the-board increase in Medicaid reimbursement rates for the first time since 2008 — a move officials expect will cost the state roughly $140 million a year in extra payments to hospitals and nursing homes. The increase in Medicaid payments underscored the power of the hospital association, whose deep pockets and long alliance with an influential union, 1199 S.E.I.U., make it a fearsome presence in Albany." • The SEIU does seem to be cropping up in the news rather often these days. I remember how they fought single payer tooth and nail back in the first Obama administration.
"St. Mary's hospital employees created a 'wall of shame' of patients with disabilities" [Bangor Daily News]. "Employees at St. Mary's Regional Medical Center in Lewiston created a "wall of shame" where they displayed confidential medical records of patients with disabilities detailing issues with their genitalia and bodily functions, according to an investigation by the Maine Human Rights Commission that found the exhibit had contributed to a hostile work environment…. St. Mary's hospital is part of a network of facilities operated by Covenant Health, a Catholic nonprofit based in Massachusetts. " • Yikes.
ObamaCare rolls on:
This is a six-page PDF from @HealthCareGov with information about 2020 open enrollment. Seriously, is anyone shocked that some folks are so overwhelmed by this process that they just go without coverage? What a nightmare. This is such awful health policy, @neeratanden. pic.twitter.com/PwA5L3isLU

— Medicare For All is Single-Payer (@AllOnMedicare) September 23, 2019
Yay! Complex eligibility requirements!
Groves of Academe
"The Harvard Ruling Misses the Point" [Boston Review]. "Consider a 2014 study that found that an elite college or university education has almost no effect on the later success of the typical well-heeled graduate: the children of privilege do no better after graduating from very prestigious universities than similarly situated peers who graduated from less elite schools. By contrast, a prestigious university degree does give a dramatic boost to black and Latino students and to students from lower-class backgrounds. The discrepancy is somewhat puzzling if the social mobility offered by an elite school education is a consequence of the education itself: one might expect a better education at an elite school to provide a greater boost to all students. But it makes perfect sense if the benefits lie largely in networking, socialization, and elite credentialing. The university has little to offer the upper-class student in terms of networking opportunities, acculturation to upper-class norms, and the imprimatur of the elite; she has these already by virtue of her social class. It is the lower-class student who stands to gain them by attending an elite university or college." • Dogs in the manger…
Guillotine Watch
"Jeffrey Epstein Raked In $200 Million After Legal and Financial Crises" [New York Times]. "Jeffrey Epstein's biggest client had deserted him, his money management firm had lost more than $150 million during the financial crisis, and he was a registered sex offender. But after he started a new company with a wildly speculative business plan in 2012, Mr. Epstein had no problem pulling in cash. His start-up, Southern Trust, reported more than $200 million in revenues over the next five years… Southern Trust was trying to gauge customers' predisposition to cancer by 'basically organizing mathematical algorithms,' Mr. Epstein told Virgin Islands officials." • "Basically." More: "[T]he documents do not say who was paying vast sums of money to Mr. Epstein's new venture just a few years after his 2008 guilty plea to soliciting a minor for prostitution. Nor do they offer an explanation for why customers would hand over money to a man who had apparently switched from financial services to DNA research." • Hard to imagine there's that much stupid money that stupid. But maybe there is!
Class Warfare
"GM Shutters All but Three NA Plants in Face of Sustained UAW Strike" [Industry Week]. "The longest U.S.-wide strike in almost half a century at the automaker has lasted 16 days and cost GM $1 billion so far, according to JPMorgan analyst Ryan Brinkman. By the second week of the strike, most of GM's North American plants were shut down. One important factory that remained operational, a truck plant in Silao, Mexico, stopped work Tuesday due to parts shortages, and its 6,000 employees are being temporarily laid off. The facility builds the Chevrolet Silverado and GMC Sierra pickups, which are all-new and just ramping up to full production."
"Carpenters say prominent developer turns blind eye to abuse allegations" [Workday Minnesota]. "During a final round of public comment on an arrangement between the city and Reuter Walton Companies, two carpenters stepped forward and detailed abuses they experienced while working on the Minneapolis-based developer's construction sites. Samuel Saucedo of Minneapolis and Eric Macias of Rochester say they are still owed thousands of dollars in unpaid wages for work they did on Reuter Walton projects over the course of more than a year. The two men, who often worked side by side, decided about a year ago to stop accepting jobs arranged by a common "labor broker," Jose Merino. That included jobs on Reuter Walton sites. They subsequently filed complaints with the state Department of Labor, but dropped them, Saucedo and Macias told council members Sept. 16, after receiving hostile phone calls from Merino. '. Somebody will find you," Macias remembered hearing. 'He said he's going to kill me and kill my wife and my daughter, just because I want to get paid the money he owes me.'" • "You don't know me. I've got money. I've got people." I mean, there you are. But note also the importance of public comment!
"Lessons from the Long Sixties for Organizing in Tech" [Science for the People]. From Spring 2019: "Europe saw an incredible amount of radical organizing among various kinds of technical workers during the social upheavals of 1968. These movements illustrate the importance and potential of solidarity with workers of all skill sets as well as the necessity of engaging with the education system and its production of new workers. On the other hand, the experiences of technical workers in the US in the 1970s–as documented by Science for the People (SftP)–shows the necessity of not underestimating how disruptive the ideologies of professionalism and individualism can be for our organizing. Before all else, professionalism and the way it muddles the class position of techno-scientific workers must be confronted." • Apparently SftP was big in the 70s, and has just been revived.
News of the Wired
"Sugar-coated RNAs could 'alter the face of biochemistry as we know it'—if they're real" [Science].
Sugar isn't just for sweets. Inside cells, sugars attached to proteins and fats help molecules recognize one another—and let cells communicate. Now, for the first time, researchers report that sugars also appear to bind to some RNA molecules, the cellular workhorses that do everything from translating DNA into proteins to catalyzing chemical reactions. It's unclear just what these sugar-coated RNAs do. But if the result holds up, it suggests vast new roles for RNA.

The report, posted to the preprint server bioRxiv on Monday, drew immediate Twitter responses verging on the hyperbolic: "a new era is starting!!" wrote one scientist. "A brilliant example of how collaboration … can alter the face of biochemistry as we know it!" wrote another. "This is a mind-blowing result," tweeted a third. Asked by Science for comment, scientists were somewhat more measured. "This is a profound observation that nobody anticipated," says Mark Lehrman, a pharmacologist at the University of Texas (UT) Southwestern Medical Center in Dallas who was not involved in the work. That profound observation still spurs caution: Others aren't yet convinced about the basic findings.
I love the difference in tone between the Twitter and comments; good job, Science. As I keep saying, "We don't know anything." (We do not, for example, know how soil "works," if that's even the right word.) Of course, that's hyperbole; there's just an extraordinary amount we don't know. I personally find that hopeful, and we should remember that when we talk about "the science." That's not an attack on science, or the scientific method; just a reminder that there is much yet to discover. It would be helpful if so many of our institutions weren't seemingly designed to make us stupid. "The Snow of Ignorance remains untrodden" –Ursula LeGuin, The Left Hand of Darkness. Caps in the original.
* * *
Readers, feel free to contact me at lambert [UNDERSCORE] strether [DOT] corrente [AT] yahoo [DOT] com, with (a) links, and even better (b) sources I should curate regularly, (c) how to send me a check if you are allergic to PayPal, and (d) to find out how to send me images of plants. Vegetables are fine! Fungi and coral are deemed to be honorary plants! If you want your handle to appear as a credit, please place it at the start of your mail in parentheses: (thus). Otherwise, I will anonymize by using your initials. See the previous Water Cooler (with plant) here. Today's plant (TH):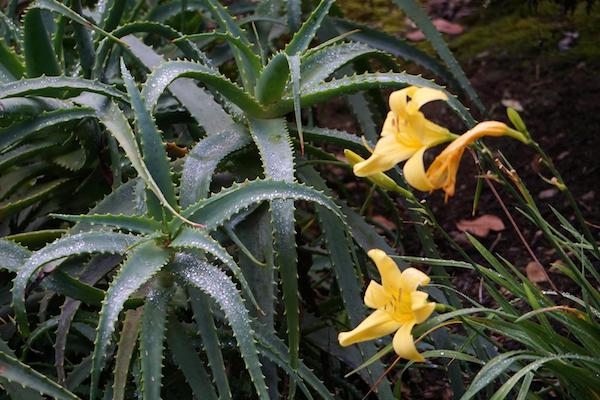 TH writes: "This jolly Aloe Vera, with it's neighboring lilies, lives in Rancho Palos Verdes, CA."