This is Naked Capitalism fundraising week. 638 donors have already invested in our efforts to combat corruption and predatory conduct, particularly in the financial realm. Please join us and participate via our donation page, which shows how to give via check, credit card, debit card, or PayPal. Read about why we're doing this fundraiser and what we've accomplished in the last year, and our current goal, funding comments section support.
Politics
"But what is government itself, but the greatest of all reflections on human nature?" –James Madison, Federalist 51
"They had one weapon left and both knew it: treachery." –Frank Herbert, Dune
* * *
2020
Alert reader dk (not to be confused with DK) is in the process of developing the following interactive chart. Here is (are) the latest Dem Primary Polling as of 10/1/2019, 1:00 PM EDT:

More wild swings: Biden and Warren up, Sanders down. And here are the poll results:

I think dk has started a really neat project, and in the near future we'll seek your feedback (within reason) for the tool "live."

UPDATE 2019-09-24: These screens are from a revised version that now includes Undecided-Refused, which is in grey.

UPDATE 2019-08-30: Now the polls aggregated (all available) are shown at the bottom of the poll. We also give more detail about each poll than RCP, and allow candidates to be selected or deselected. That's three reasons what dk is doing beats RCP, and if we can make the individual polls selectable/highlightable, that will be four reasons. With more to come, grid willing.

* * *

Biden (D)(1): "Biden's trip to China with son Hunter in 2013 comes under new scrutiny" [NBC]. "In 2013, I was one of four reporters who traveled aboard Air Force Two with Biden and his son to China, a visit that was sandwiched between stops in Japan and South Korea….. What wasn't known then was that as he accompanied his father to China, Hunter Biden was forming a Chinese private equity fund that associates said at the time was planning to raise big money, including from China. Hunter Biden has acknowledged meeting with Jonathan Li, a Chinese banker and his partner in the fund during the trip, although his spokesman says it was a social visit."

Sanders (D)(1): "Sanders has heart stent procedure after chest discomfort" [Politico]. "'Sen. Sanders is conversing and in good spirits. He will be resting up over the next few days,' senior adviser Jeff Weaver said in a statement Wednesday. 'We are canceling his events and appearances until further notice, and we will continue to provide appropriate updates.'" • Like everyone else in America, I searched: "When do you need a heart stent?" [Harvard Medical School]; "After Your Angioplasty & Stenting Procedure" [Seconds Count]; "Stent: Why and How They Are Used" [HealthLine]. • There's a certain lack of redundancy in the Sanders movement at the top levels, which could prove unfortunate.

Sanders (D)(2): "When You See The Word "Stent" — Remember Medicare for All" [David Sirota, Bern Notice (Nippersmom)]. "This campaign's motto is 'Not Me, Us' — and because we are always on message for the 99%, we are encouraging media outlets that are reporting on stents to note that stents are a perfect example of why the United States needs to join the rest of the world and pass Bernie's Medicare for All legislation. An October 2018 study published in Health Affairs found that stents — which are very common — cost up to six times more in the United States than in other industrialized countries with government-sponsored health care systems. The study found that one set of stents cost $670 in the United States "but only $120 and $130 in Germany and the U.K., respectively." Another form of stent 'remained about $1,000 more expensive in the U.S. than Germany.' Why the price differential? In part, because America's dysfunctional health care system involves a complex web of payers — rather than a single-payer Medicare for All system that can negotiate better prices." • Normally, I rarely source to campaign sites, but this shows a disciplined campaign.

Sanders (D)(3): Nice timing, Steve:

"Maybe @BernieSanders shouldn't exist," says Blackstone's Schwarzman in response to @alansmurray asking him to defend billionaires, which Sanders says should NOT exist pic.twitter.com/YG5tHoSz3K

— Cristina Alesci (@CristinaAlesci) October 2, 2019

The decor is everything.

Sanders (D)(4): "Killer Mike Still Believes Bernie Sanders Can Start a Revolution" [The New Yorker]. "[Michael Render, better known by his stage name, Killer Mike] had come to Greensboro to stump for Sanders again. He and the senator have stayed in touch, he said—Sanders appears in Render's iPhone contacts as The OG. "He texts pretty cool. You wouldn't know you're talking to a seventy-something-year-old dude," Render said. Recently, he and Sanders had messaged about reparations. Sanders had been opposed to the idea, but, in April, he announced that he would sign a bill funding research into the subject. "I educated him on that," Render said." • There's "The OG" again! Oh, and "Still." Nice spin, New Yorker.

Trump (R)(1): "Trump campaign, RNC say they raised record-breaking $125 million in Q3" [Axios]. "Former President Obama and the Democratic National Committee raised approximately $70 million for his re-election campaign in 2011's third quarter. "Trump is going to have more resources to deploy earlier and more aggressively than any candidate in history," Dan Pfeiffer, a former senior adviser to Obama, tweeted in response to the news on Tuesday."

Warren (D)(1): "Warren gets 'dramatic shift' in support from black voters" [Politico]. "A Quinnipiac University national poll last week showed Warren winning 19 percent of the African-American vote — a nine-point jump over the poll's August results. In the latest Morning Consult poll, released Wednesday, she's up by five percentage points with black voters since August… Those advances have played a role in her surging overall numbers, which have seen Warren expand her lead over the African-American candidates in the primary — Sens. Kamala Harris and Cory Booker — and even overtake Joe Biden and Sen. Bernie Sanders in some state and national polls." • Hmm.

Warren (D)(2): "Silicon Valley donors starting to back Elizabeth Warren despite her pledge to break up Big Tech" [CNBC]. "Sen. Elizabeth Warren has vowed to break up big technology companies such as Google, Facebook and Amazon if she becomes president. Even so, a growing contingent of Democratic donors in Silicon Valley, where many of these behemoth tech companies are located, are looking to support Warren's 2020 campaign." • "Even so." And: "Meanwhile, Warren has sworn off taking part in big-money events in the primary and has vowed to not be swayed by wealthy business leaders." • Oh.

Warren (D)(3): "Saagar Enjeti calls Warren's credibility into question" [The Hill]. • Enjeti is from the Daily Caller, so cum grano salis. Here's a new one: "This weekend a clip resurfaced of Warren claiming that her parents had to elope because she was part Cherokee, her mother was part Cherokee, and part Delaware." • Haven't seen the clip go by, and I'd want to authenticate it — but think of this as a preview of one possible future 2020.

* * *

"Why the Differences Between Elizabeth Warren and Bernie Sanders Matter" [Jacobin]. "Bernie is uniquely positioned to help us do so. Every time he opens his mouth, he clarifies who the enemy is — the billionaire class, the health insurance and pharmaceutical industries, fossil fuel companies, Wall Street, the military-industrial complex — and names capitalism as the problem to boot….. More than any other figure in recent history can be said to have done so, Bernie is expanding our horizons. Rather than policies or plans alone, he is calling on social movements to overturn the entire state of affairs. For all her progressive policy ideas, Elizabeth Warren isn't. If we're serious about changing the world, that difference matters."
Impeachment
"The Hazards of 'Normalizing' Impeachment" [The American Conservative]. "I must confess I am torn on impeachment. Not the "whistleblower report" or the House Democrats' looming inquiry into President Donald Trump, that is, but on the question of whether impeachment should become a routine form of White Housecleaning or remain, as impeached former President Bill Clinton often said of abortion, 'safe, legal and rare.'… Impeachment, James Madison wrote, is an "indispensable" tool "for defending the community against the incapacity, negligence, or perfidy of the Chief Magistrate." Aside from elections themselves, it is really the primary one the Founders gave us to rein the president. With Justice Department guidelines now recommending against the indictment of an incumbent president for any reason, it is arguably the only one… Alexander Hamilton warned concerning impeachment in Federalist 65, 'There will always be the greatest danger that the decision will be regulated more by the comparative strength of parties, than by the real demonstrations of innocence or guilt.' It's hard to imagine the partisan weaponization of impeachment enhancing the power's effectiveness or legitimacy." • Yep.

"Dems, media aim to squash Barr's probe of Russia collusion hoax" [New York Post]. "There are two known Department of Justice inquiries. One is a forthcoming inspector general report on the Foreign Intelligence Surveillance Act warrant on Trump campaign adviser Carter Page. Congressional sources say the report is expected to be thorough and may include criminal referrals. The investigation led by US Attorney John Durham, who ­reports to Barr, is more comprehensive. According to a Justice Department spokesperson, 'Mr. Durham is gathering information from numerous sources, ­including a number of foreign countries.'" • No leaks from either investigation, oddly.

"Trump Attacked the Women of Color Who Led the Push for Impeachment. Then CNN Erased Them." [The Intercept]. "Then there's the other narrative, one in which the media has selected different heroes of the burgeoning impeachment effort — without including the leftist women of color. According to a weekend CNN feature, credit for the impeachment effort should instead go to four freshmen members of Congress — all of them white women with backgrounds in national security work. These women, who rather unbearably call themselves "the badasses," only came around to supporting impeachment in the last two weeks." • The "badasses." Oh my.
Our Famously Free Press
"MSNBC's War On Accurate Graphics" [Front Page Politics]. • A catalog of horrors. Oddly, the errors for Sanders all go only one way. Like those coin flips.

"This Is the Moment Rachel Maddow Has Been Waiting For" [New York Times]. "Recently, I went to dinner at the home of Rebecca Kee, a preschool principal in San Francisco who turned to Maddow in her depression and confusion over the 2016 election. I brought a bottle of rosé, and she poured it into glasses decorated with charms that featured Russia-investigation figures on one side and characters from "Star Trek: The Next Generation" on the other. I sipped from the Hope Hicks/Beverly Crusher glass, and we watched Maddow's show over veggie enchiladas…. Last year, Kee had a Maddow-themed birthday party, at which her friends and her two young sons put on big black glasses and slicked their hair to the side. Also in attendance was a life-size cardboard cutout of Maddow, which is now in storage so as not to startle guests….. After Rebecca Kee bought her Maddow cardboard cutout, she got a Robert Mueller one, too. For a time she would sit him in her front window, posing him near speech bubbles that she wrote herself. But after the real Mueller filed his report and failed to step into the role she had imagined for him, she tucked him away in the closet with Maddow. Now her car is decorated with Elizabeth Warren bumper stickers." • Alrighty then.
Stats Watch
ADP Employment Report, September 2019: "ADP estimates that private payrolls in September will rise a respectable 135,000 which matches Econoday's consensus for Friday's results. This would indicate monthly acceleration in private payrolls" [Econoday]. "Yet relative to ADP's sample, which has been running hotter than actual payrolls and whose estimate for August rose a revised 157,000, a 135,000 rise would mark slowing…. ADP's data are often hard to read and in any case are not always an accurate gauge for actual employment change as reported by the government, yet today's 135,000 level, apart from any comparisons, offers confirmation that labor market conditions in September did remain solid." • Mr. Market must be skittish.
Retail: "Amazon Inc. is taking another big step into brick-and-mortar business in a bid to get closer to consumers. The e-commerce giant is advancing a plan to open a chain of U.S. grocery stores with early outposts in Los Angeles, Chicago and Philadelphia… with many proposed locations outside urban cores and catering to middle-income consumers" [Wall Street Journal]. "That's a different approach than Amazon took with its Whole Foods Market acquisition but it fits with the company's growing effort to extend its online identity into the physical world." • So if I have this right, Amazon destroyed existing bricks and mortar with e-commerce (and regulatory arbitrage), and now… It's going into the bricks and mortar business? Except, no doubt, with a lot more surveillance and a lot more crapification.
Shipping: "UPS gains FAA permission for drone deliveries with few restrictions" [Los Angeles Times]. "The Federal Aviation Administration gave the courier permission to use delivery drones at with few restrictions, for example, letting operators fly the aircraft at night and over people. Current regulations prohibit drone flights after dark, above people, beyond the remote pilot's line of sight and at weights heavier than 55 pounds. 'We believe now there are hundreds of campuses across the United States where we're going to be able to offer this solution,' UPS Chief Transformation Officer Scott Price said in an interview. 'We're pretty confident we're going to be at the forefront of trialing the various models.'" • Not un-neat, but very reminiscent of robot car hype turning into golf carts in retirement communities navigating fixed routes.
The Bezzle: "'At What Point Does Malfeasance Become Fraud?': NYU Biz-School Professor Scott Galloway on WeWork" [New York Magazine]. Very good. One nugget: "The interesting thing is whether or not these individual locations are special-purpose entities, meaning they can break the leases by declaring bankruptcy across multiple special-purpose entities. In other words, they may have employed what hotels do: If the Four Seasons New York goes out of business, it's its own corporation. It just goes out of business. It just declares bankruptcy and gives the building back to the bank, but it's not guaranteed by the headquarters in Toronto. Some of the reporting I've seen is that they have special-purpose entities so they can potentially close a bunch of their properties."
The Bezzle: "Zimbabwe's central bank has shut down the use of mobile money for cash transactions" [Quartz]. "in Zimbabwe, cash-in and cash-out has just been killed off by the government, because authorities have concluded the functions are being abused. Zimbabwean mobile money agents, mostly with the dominant EcoCash platform, have been capitalizing on cash shortages in Zimbabwe to buy cash for re-sale to mobile wallet holders at a premium of up to 50%. This means that when trying to access funds in your mobile wallet through the agents, one would only get about 50% of their balance."
Mr. Market: "Dow tumbles more than 530 points by midday as stock-market skid gathers steam" [MarketWatch]. "The Dow Jones Industrial Average late-morning Wednesday was on pace for the worst daily drop in about six weeks, with the broader market logging a fresh session low. The declines have accelerated since the the market's open and now put the major averages on track for the worst session since Aug. 23 after a reading on private-sector employment came in weaker-than-expected."
Today's Fear & Greed Index: 33 Fear (previous close: 48, Neutral) [CNN]. One week ago: 59 (Greed). (0 is Extreme Fear; 100 is Extreme Greed). Last updated Oct 2 at 12:33pm. Quite a swing.
The Biosphere
"Making War on the Planet: Geoengineering and Capitalism's Creative Destruction of the Earth" [Monthly Review]. Important on the Precautionary Principle: "It is clear that geoengineering promoted in a context of a capitalist regime of maximum accumulation would be ruled out completely by a strong Precautionary Principle based on each of the criteria listed above. There is a near certainty of extreme damage to the human species as a whole arising from all of the major geoengineering proposals. If the onus were placed on status quo proponents of capitalist geoengineering to demonstrate that great harm to the planet as a place of human habitation would not be inflicted, such proposals would fail the test. Since the alternative of not burning fossil fuels and promoting alternative forms of energy is entirely feasible, while planetary geoengineering carries with it immense added dangers for the earth system as a whole, such a technofix as a primary means of checking global warming would be excluded by that criterion, too. Finally, geoengineering under the present economic and social system invariably involves some entity from the power structure—a single multi-billionaire, a corporation, a government, or an international organization—implementing such action ostensibly on behalf of humanity as a whole, while leaving most affected parties worldwide out of the decision-making process, with hundreds of millions of people, perhaps billions of people, paying the environmental costs, often with their lives. In short, geoengineering, particularly if subordinated to the capital accumulation process, violates the most sacred version of the Precautionary Principle, dating back to antiquity: ." • If you like your whiskey neat, there's the Monthly Review. Also with a very clear picture of BECCS.
"Fire Sale: Finance and Fascism in the Amazon Rainforest" [Longreads]. "The following reading list attempts to make sense of the ongoing pillaging of the Amazon rainforest. From global capital to YouTube, carbon credits to indigenous land defenders in their own words, I tried to figure out who lit the match and how the fire might be stopped." • Although the author doesn't reach a conclusion, it's a good list.
"People have more trouble identifying climate falsehoods than truths" [Anthropocene]. "When evaluating true climate change statements, members of the public knew what they knew, and their confidence was justified by their accuracy. If anything, they tended to be underconfident in their knowledge. But for false climate change statements, members of the public seemed to have no idea that they didn't know. They tended to be overconfident in their knowledge, endorsing some false statements with high confidence." • n=509.
"A 60,000-year-old cure for depression" [BBC]. • If one can put away the touristic aspects of this piece, there are interesting glimpses of Indigenous Australian culture, e.g. "songlines."
"How to set-up a mobile mutual aid herbal apothecary" [Grassroots Economic Organizing]. "Atlanta-based herbalist Lorna Mauney-Brodek pioneered several mobile apothecary projects in the US, then took the tried-and-tested models to Ireland, inspiring projects in the UK as well. Her website, herbalista.org, provides a wealth of resources about a variety of community herbal projects, complete with set-up guides, recipes and widely used and accessible herbs. Below is an outline of general guidance for setting up a mobile apothecary project in your community. Please note: The sequence is not fixed — there is some overlap between the steps below, and each project is unique." • Absolutely fascinating.
The Carceral State
"GEO Group Runs Out of Banks as 100% of Banking Partners Say 'No' to the Private Prison Sector" [Forbes]. "All of the existing banking partners to private prison leader GEO Group have now officially committed to ending ties with the private prison and immigrant detention industry. These banks are JPMorgan Chase, Wells Fargo, Bank of America, SunTrust, BNP Paribas, Fifth Third Bancorp, Barclays, and PNC. This exodus comes in the wake of demands by grassroots activists — many under the banner of the #FamiliesBelongTogether coalition — shareholders, policymakers, and investors…. This shift represents an estimated shortfall of 87.4% of all future funding to the industry, which depends on these bank credit lines and loans to finance their day to day operations. Together, these banks commitments — alongside a federal judge's block on the Trump administration's plans to expand family detention this weekend, new policy initiatives such as California ending all contracts with private prisons, and Democratic primary candidates publicly raising the idea of a federal ban on for-profit incarceration — . " •
Class Warfare
"Labor protest to block some airfreight traffic at LAX Wednesday" [Freight Waves]. "The California local of the Service Employees International Union is organizing a demonstration to highlight how developers and big corporations are reaping financial benefits from existing rules, while their workers are having difficulty making ends meet. Between 1,000 to 2,000 union workers and supporters are expected to meet up across from the Sheraton Gateway at Century Blvd. and Avion Drive and then march to, and around, the horseshoe road that fronts the passenger terminals. California Senator, and Democratic presidential candidate, Kamala Harris, is scheduled to address the crowd." • I don't really think I should have filed this under class warfare…
"The SEIU's Nasty Fight With Its Own Staff Union" [Splinter News]. Here is the issue:
At the heart of this dispute lies the concept of "layoff protection," an important part of Local 2's contract—and one the SEIU would like to see disappear. Currently, if there are layoffs, the SEIU is obligated to find Local 2 members with at least five years of service another job within the organization. Their position can be eliminated, in other words, but the people cannot. Outside of the union world, this provision is sometimes derided as a "job for life," a relic of over-entitlement in the workplace. But the reality is that for those working at SEIU, layoff protection is more a basic survival staple than a luxury. That's because, unlike in standard private sector jobs, the SEIU has a convention every four years, which inevitably results in new plans, new campaigns, and a reorganization of the union's goals. "As a result of that, like clockwork, you can count on massive layoffs," says David Hoskins, an SEIU research analyst who serves as the chief shop steward for Local 2. "This provision is rooted in that history, and is a way to ensure that people… are not just tossed aside." Without layoff protections, the idea of building a full career at SEIU headquarters is hopeless.
Perhaps the SEIU leadership doesn't want staffers to build a career? (And I also wonder what the SEIU thinks about a Jobs Guarantee.)
"An Unpopular Article" [Craig Murray]. Inspired by BoJo's leg-squeezing: "The initiation of more intimate physical contact is the most critical point in the complex courtship rituals of developed human societies. To insist that verbal agreement must always be sought before a move to kiss or an exploratory caress of a leg or a shoulder, is a fundamental change in culture which I am not at all sure is desirable. The essential qualifier is of course that, if the other person either verbally or by action does not welcome the tentative first move, then the initiator must desist immediately. It is my own belief that sex-negative feminism seeks quite deliberately to invalidate perfectly normal heterosexual courtship and that the chattering classes have far too readily adopted this, in the interests of identity politics…. To deny the existence of non-verbal communication, and make an issue of non-violent initiation of contact outside an erogenous zone, is to me not legitimate. I would also refer you to …. the extraordinary difference in the treatment in these matters by the media and political classes purveying identity politics of those within the neo-liberal 'centrist' consensus, like Bill Clinton and Brendan Cox, and those outside it, like Boris Johnson, Alex Salmond or Julian Assange. This is a misguided and an extraordinarily selective outrage."
News of the Wired
"Unsung Beauty of Analog Devices Datasheets" [Neil Computer]. "I just want to thank the entire team at Analog Devices for paying intense attention to detail in their documentation, make it easy to access – datasheet links are everywhere on their website, a user doesn't even have to go to the product page to download. Moreover, all links are directly to PDFs, there is no need to register. They've ensured absolutely zero impedance (pardon the pun) for their customers to access the most critical piece of information they need – i.e., the almighty datasheet. Amazing really, and it needs to be known outside of the electrical engineering world. We need to do a better job of documentation anywhere and everywhere we work – no matter what type of job we have."
"Radio Tecnico: How The Zetas Cartel Took Over Mexico With Walkie-Talkies" [Popular Science]. "Radio was the clear choice. Unlike cell phones, which are expensive, traceable, and easily tapped, radio equipment is cheap, easy to set up, and more secure. Handheld walkie-talkies, antennas, and signal repeaters to boost transmissions are all available at a good radio shop or from a Motorola distributor. A radio network could provide communications in many of the remote areas in Mexico where the cartel operated. And, if they suspected law enforcement eavesdropping, the cartel's drug smugglers and gunmen could easily switch frequencies or use commercially available software to garble voice transmissions echnology." • From 2014, still germane. Pay attention, Hong Kong protesters!
* * *
Readers, feel free to contact me at lambert [UNDERSCORE] strether [DOT] corrente [AT] yahoo [DOT] com, with (a) links, and even better (b) sources I should curate regularly, (c) how to send me a check if you are allergic to PayPal, and (d) to find out how to send me images of plants. Vegetables are fine! Fungi and coral are deemed to be honorary plants! If you want your handle to appear as a credit, please place it at the start of your mail in parentheses: (thus). Otherwise, I will anonymize by using your initials. See the previous Water Cooler (with plant) here. Today's plant (TH):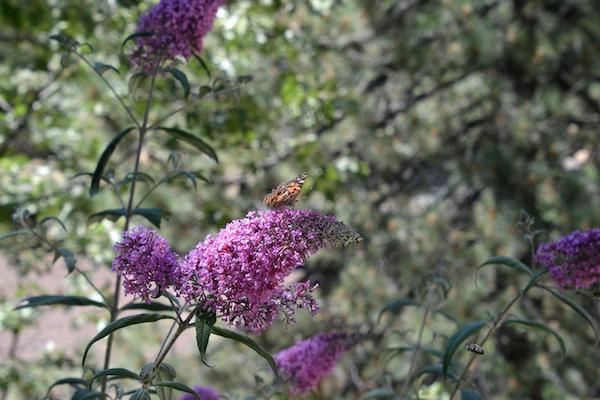 TH writes: "This is, yet again, a picture of our Butterfly Bush (Buddleia) with a Painted Lady visitation." Everybody should have a butterfly bush!