By Lambert Strether of Corrente.
Patient readers, I will be taking Thanksgiving Day off for Water Cooler. Thanksgiving is my favorite holiday! –lambert
Trade
"U.S. Presses Case to Defang the Global Economy's Trade Referee" [Bloomberg]. "The arc of Lighthizer's rocky relationship with the WTO is hurtling toward a potentially dramatic inflection point. The pressure he and the Trump administration are applying on the WTO may, in just a few weeks, render the Geneva-based arbiter of trade inoperative…. The Trump administration, which previously threatened to block the WTO's 2020 budget, offered members a proposal this week that would allow it to continue operating, but would hamstring the WTO's appellate body. The U.S. said it would back the WTO's 197.2 million-Swiss franc ($197.6 million) budget for 2020 with the condition that no more than 100,000 francs be paid to appellate body members, an 87% reduction from the full budget allotment, and spending by the body's operating fund also be limited to 100,000 francs, a 95% reduction. The Trump administration argues that the organization's compensation structure creates an incentive for appellate members, who can make more than 300,000 francs a year, to string out cases to boost pay."
Politics
"But what is government itself, but the greatest of all reflections on human nature?" –James Madison, Federalist 51
"They had one weapon left and both knew it: treachery." –Frank Herbert, Dune
Here is a second counter for the Iowa Caucus, which is obviously just around the corner:
* * *
2020
Alert reader dk (not to be confused with DK) is in the process of developing the following interactive chart.

Here is (are) the latest Dem Primary Polling as of 11/27/2019, 11:00 AM EST. Biden leads, Sanders strong second, Warren five points back (!), Buttigeig trailing. Quite a reversal for Warren, but Buttigieg, despite all the puffery, is still barely within striking distance of the leaders. This is the fourth post-debate national poll with the same pattern: Survey USA, Morning Consult, Quinnipiac, and now YouGov. No wonder the powers-that-be are getting a little antsy and phoning each other and taking meetings.

Here, the latest national results:

We also have a new poll out of New Hamphire from Emerson, as of 11/27/2019, 11:00 AM EST. Sanders and Buttigieg in a dead heat, Warren trailing:

And the results:

I think dk has started a really neat project, and in the near future we'll seek your feedback (within reason) for the tool "live."

* * *

Biden (D)(1): Heck, maybe this is what keeps Biden in the lead:

"People come up to me and say, I mean literally, people will say… 'I lost my daughter 10 days ago,'" @joebiden said in an interview. "'Will you just hug me.' Men. 'Just hug me. Let me know, can I make it?'" https://t.co/Q38v0F5ubT
— Des Moines Register (@DMRegister) November 26, 2019

I mean, we're seeing an actual drop in life expectancy, so people have a lot of grief to deal with. Voters who see Biden as undertstanding that may cut him a lot of slack in other areas.

Biden (D)(2): "Hunter Biden was suspected of smoking crack inside a strip club where he dropped "thousands of dollars" during multiple visits — at the same time he held a seat on the board of a controversial Ukrainian natural gas company, The Post has learned" [New York Post]. "The incident, which took place at Archibald's Gentlemen's Club in Washington, DC, late last year, represents the most recent alleged drug use by Biden, 49, who has acknowledged six stints in rehab for alcoholism and addiction that included a crack binge in 2016. Workers at Archibald's, located about three blocks north of the White House, said Biden was a regular there, with two bartenders and a security worker all instantly recognizing his photo and one worker identifying him by name." • If this were, say, Donald Trump Jr. (son of President) instead of Hunter Biden (son of Vice President and Presidential candidate) we'd be seeing a ginormous liberalgasm about kompromat. Lots of furrowed brows by putatively ex-spooks making the big bucks on cable. And so forth. Oddly, nothing.

UPDATE Biden (D)(3): "Betrayed by Joe Biden: a Personal History" [Counterpunch]. "Alas, Biden's mis-handling of the Thomas hearing is hardly an anomaly. As chair of the Judiciary Committee, Biden pushed through bankruptcy "reform" over strong recommendations from Harvard law professor Elizabeth Warren, whose research found that consumers got into too much debt primarily because of medical bills, student loans and predatory credit card lending practices along with abusively-high interest rates. Acting on behalf of his campaign donors at credit card giant MBNA (headquartered in Wilmington, Delaware), Biden ignored Prof. Warren's recommendations and proceeded to all but eliminate access to Chapter 7 bankruptcy for consumers and families. Other instances of Biden's perfidy: As Judiciary chair, he pushed through the "crime bill" in 1994, imposing mandatory sentences for petty drug possession. The result has been well documented: Mass incarceration, primarily of poor people of color. And while in recent years he evades this point, Senator Biden voted in support of two wars in the Middle East." • Not a new bill of particulars, but clearly stated.

UPDATE Bloomberg (D)(1): "Bloomberg's 2020 Pollster Dumps His Ukrainian Oligarch Client" [Daily Beast]. "Pollster and pundit Doug Schoen told The Daily Beast on Tuesday that he has signed on to work on the former New York mayor's 2020 Democratic presidential bid. In anticipation of that role, he said, he terminated a contract with billionaire investor Victor Pinchuk." • That's nice.

Buttigieg (D)(1): "Pete Buttigieg's PAC Was Supposed To Help Elect Democrats. It Mostly Touted Him." [HuffPo]. "Pete Buttigieg launched a political action committee in June 2017 to relatively little fanfare. The mayor of South Bend, Indiana, at the time was still a minor political figure. He had made an unsuccessful run for Democratic National Committee chairman and been the subject of some positive press from national columnists, but he was little-known nationally. His PAC, dubbed 'Hitting Home,' would 'mobilize resources to elect Democrats, at every level and in communities both red and blue, who will put the lived experiences of Americans front and center,' Buttigieg wrote. . Of the slightly more than $400,000 Buttigieg raised for the PAC, it donated just $37,000 to other Democratic candidates. At the same time, the PAC paid nearly $70,000 to Lis Smith, who served as Buttigieg's spokesperson and became the communications director for his presidential bid. Another $27,500 went to Michael Schmuhl, who served as the PAC's treasurer and is now Buttigieg's campaign manager. The PAC's finance director received $34,500. A top Democratic media consulting firm was paid $28,500." • Lol. How Clintonian. I'm feeling a little schadenfreude here, because I remember Lis Smith getting a lot of good press at the start of Buttigieg's campaign (and she really is good). So it would be fun to ask her how she feels about cashing in on a sleazy scheme like this. (To fair, the PAC certainly did put "the lived experience" of "American" Democratic strategists "front and center." Ka-ching.

Sanders (D)(1):

Something to respect about Bernie Sanders is that for 10+ years, he ran a national town hall with Thom Hartmann where he just sat down and took unfiltered phone calls for an hour from across the country. Can't think of another lawmaker who has done anything like that.
— Zaid Jilani (@ZaidJilani) November 27, 2019

Sanders always has had a very advanced view of media, hasn't he? It may be that people recognize his consistency over the years because they've literally heard him state the same positions over and over (something the press, with its horserace coverage, simply doesn't cover and may not even be equipped to recognize).

Sanders (D)(2): Field of dreams:

By the numbers:

Over $50 billion. That's how much the top 20 MLB owners are worth.

$1,160. That's how little minor league players are paid a month.

Instead of paying them a living wage, MLB would rather throw them on the street.

It's time to rethink MLB's anti-trust exemption https://t.co/VyF92WTG6Q
— Warren Gunnels (@GunnelsWarren) November 25, 2019

UPDATE Trump (R)(1): "At Florida 'Homecoming' Rally, Trump Rails Against Familiar Targets" [New York Times]. "'The failed Washington establishment is trying to stop me because I'm fighting for you,' he told the roaring crowd, offering a key election battleground a fiery preview of what is probably going to be his foremost defense after a series of career officials testified that he had engaged in a pressure campaign to force Ukraine to investigate his political rivals. 'They're attacking me because I'm exposing a rigged system.'" • I don't know if "exposing" it is enough. Burning it down? Maybe.

Warren (D)(1): "Warren nosedives in new nationwide poll" [Politico]. Granted, Quinnipiac. But we're getting multiple indicators. Hilariously, all the exposure Warren got in the last debate didn't help her, and may have hurt her. "Sen. Elizabeth Warren's support among Democratic primary voters nationwide plunged 50 percent over the past month, according to a new Quinnipiac University poll, signaling that the shake-ups in the primary field are far from over…. And a little less than two months out from the Iowa caucuses, more than 1 in 10 Democratic primary voters are still undecided about who will get their vote next year, with only a third of voters who have a preferred candidate saying their mind is made up." • Help me. The Iowa primary is — checks counter — 69 days away.

UPDATE Warren (D)(2):

The speed with which Warren's polls started plummeting after she explained her plan to "pay for" healthcare confirms that all ambitious politicians should become versant in MMT.
— Joe Weisenthal (@TheStalwart) November 26, 2019

Yep. So I guess Sanders lacks ambition?

* * *

"Personal Income Booms in States With Decisive Role in 2020 Race" [Bloomberg]. "Personal income growth has been surging in some U.S. political battlegrounds, including a third of the counties in Pennsylvania — which Donald Trump narrowly flipped in 2016 and may need to win re-election next year. In the president's first two years in office, a total of 325 counties representing nearly 6% of the U.S. population experienced their best annualized income gains since at least 1992, according to data compiled by Bloomberg News. And 127 of those are located in perennial swing states, including Ohio and Iowa."
Impeachment
"Dems see one last chance to boost public support for impeachment" [Politico]. "The House Judiciary Committee will hold its first hearing next Wednesday focusing on the definition of an impeachable offense. At least two more Judiciary sessions are expected the following week — Democrats' presentation of their evidence against Trump and a vote on articles of impeachment, according to multiple lawmakers and aides. That schedule would keep Democrats on track to hold a full House vote by the end of the year." • Awesome. I can't imagine anything less politicized than holding an impeachment trial in an election year. After liberal Democrats have been yammering about impeachment from the first day of Trump's President, and after wasting the country's time on the damp squib of Robert Mueller, Hero of The Resistance™,
Realignment and Legitimacy
"Death is the biggest issue in the 2020 election" [Quartz]. "Apocalyptic political rhetoric in the US might not be that far off base: US life expectancy is falling for the first time since the 1950s, particularly where president Donald Trump and the eventual Democratic presidential nominee will contest the 2020 election…. And more to the nub of the national discourse, the largest increases in mortality have taken place in the states that could be determinative in next year's presidential elections, including Ohio, Pennsylvania, Michigan, and Florida…. The Democrats challenging Trump will certainly draw a contrast with their plans for the government to tackle the increase in mortality, from treating drug addiction like a public health problem to gun safety legislation." • Bandaids on cancer.

UPDATE What turning Virginia "blue" really means:

Union money Northam has recieved:
$500,000 – LIUNA
$362,000 – NEA
$350,150 – UFCW
$240,814 – Mid-Atlantic Laborers' PEF
$238,653 – SEIU
$201,000 – UA Plumbers & Pipefitters
$176,500 – AFT
$151,400 – CWA
$189,711 – Firefighters – International Assn
Etc.

https://t.co/4Sj49oAzb8
— Tovarisch (@nwbtcw) November 26, 2019

It means that Virginia is blue. That's all it means. It also means, apparently, that unions got suckered again (or the management did (or were complicit)).

UPDATE "Georgia election officials investigate prominent critics" [Star Tribune]. "Georgia election officials have opened an investigation into two prominent critics of the state's new touchscreen voting machines, secretary of state Brad Raffensperger's office confirmed Wednesday. Those critics called the investigation an attempt to intimidate detractors of the new machines."
Health Care
UPDATE "'There's a Fear Factor, a Fear of Change.'" [Politico]. "Plenty of Americans have opinions about single-payer health systems like "Medicare for All," and some have even studied them closely. But vanishingly few individuals in the world have actually built one from scratch. One who has is William Hsiao. A health care economist now retired from Harvard University, Hsiao designed a national health care system for Taiwan in the 1990s, and helped manage that country's transition from American-style employer-based insurance to a national single-payer system. He has also designed single-payer reform programs for Cyprus, Colombia and China. In recent years, Hsiao, now 83, has consulted with Sen. Bernie Sanders on his Medicare for All plan, and also supports Sen. Elizabeth Warren's version. But his reality-check prediction is that it will take two more election cycles, at least, before the political groundwork for Medicare for All will be laid. With powerful lobbies like insurers, hospitals and drug companies dug in against such plans, he points to two other forces that will need to play key roles: big employers, which he sees as nearing an inflection point where they will insist on a better system; and doctors, who are increasingly being paid as salaried employees, which is changing their views of private insurance." • Well, we'll have to speed things up, then. Well worth reading in full.
Stats Watch
All of the statistics are marked as "released On 11/27/2019" but only the numbers have been updated, not the prose snippets. Odd!
Personal Income and Outlays, October 2019: "For October, personal income is expected to rise a moderate" [Econoday].
Durable Goods Orders, October 2019: "Following broad weakness in September, durable goods orders are expected to extend their decline in October" [Econoday]. "Core capital goods orders have been very weak and are not expected to show much improvement."
GDP, October 2019: "unchanged from the first estimate" [Econoday].
Jobless Claims, week of November 23, 2019: "are expected to fall" [Econoday].
Chicago Purchasing Manager's Index, November 2019: Expectation of improvement [Econoday].
Retail: "The holiday competition between retailers is turning into a race over home delivery. Sellers looking to match Amazon.com Inc.'s e-commerce juggernaut are ramping up their own distribution services that promise to get packages to homes in just a day" [Wall Street Journal]. "While many traditional retailers are struggling to keep pace Walmart Inc. and Target Corp. have held their ground by increasing their delivery capabilities or getting shoppers to pick up online orders at their stores. The idea is to get consumers to spend more, whether by drawing people through store-pickup offers or by getting Amazon Prime members to binge on online purchases." • Stoking greed with an infantile desire for instant gratification….
Retail: "Indiana manipulated report on Amazon worker's death to lure HQ2, investigation says" [Indianapolis Star]. "When an Amazon worker was killed by a forklift in a Plainfield warehouse in 2017, the state of Indiana's investigator found the company was at fault. The state cited Amazon for four major safety violations and fined it $28,000. But an investigation by Reveal from The Center for Investigative Reporting has found that, as Gov. Eric Holcomb sought to lure Amazon's HQ2 to Indiana, state labor officials quietly absolved Amazon of responsibility. After Amazon appealed, they deleted every fine that had been levied and accepted the company's argument — that the Amazon worker was to blame. The investigator on the case, John Stallone, had arrived at the warehouse a day after 59-year-old Phillip Lee Terry was crushed to death. He was so troubled by the pushback he was getting from higher-ups that he secretly recorded his boss, Indiana OSHA Director Julie Alexander, as she counseled the company on how to lessen the fine. 'It's like being at a card table and having a dealer teach you how to count cards,' Stallone said."
Retail: "Amazon Workers Are Protesting for Better Conditions Ahead of a Gruelling Season" [Vice]. "Less than a week before the most grueling time of the year for warehouse workers begins in earnest, employees of the immense Amazon fulfillment center in Staten Island known as JFK8 will protest to demand better working conditions from the tech giant. The protest outside one of Amazon's most productive fulfillment centers, which employs at least 2,500 workers, marks a significant escalation between workers and management at the facility…. Workers will deliver their demands to management on Monday in a petition signed by over 600 employees, organizers say. They want Amazon to increase their 15 minute break period to 30 minutes in order to provide workers with ample time to rest. Currently, during the day time shift, workers—whose productivity and movements are closely surveilled by the company—receive two 15 minute breaks and one 30 minute break for lunch. Goris said that most of the short break is spent walking to and from the break room. Workers also want Amazon to provide free transit to and from the fulfillment center, as some commute on public transit from as far away as the Bronx and Queens." • Pretty modest!
Tech: "Google's Next Moonshot: Union Busting" [Google Walkout for Real Change]. "Four of our colleagues took a stand and organized for a better workplace. This is explicitly condoned in Google's Code of Conduct, which ends: "​​​​​​'And remember… don't be evil, and if you see something that you think isn't right — speak up.'
When they did, Google retaliated against them. Today, after putting two of them on sudden and unexplained leave, the company fired all four in an attempt to crush worker organizing. Here's how it went down: Google hired a union-busting firm. Around the same time Google redrafted its policies, making it a fireable offense to even look at certain documents. Using this policy, Google did all it could to frame our colleagues as "leakers." This is a lie. And Google confirmed this when pressured…. With these firings, Google is ramping up its illegal retaliation against workers engaging in protected organizing. This is classic union busting dressed up in tech industry jargon, and we won't stand for it…. One of the most powerful companies in the world wouldn't be retaliating against us if collective action didn't work. Stay tuned for more." • I can't help thinking that if by some happy mischance interrnal documents did leak, they'd show Google on the inside looks rather like one of Clive's banks: Layer upon layer of cruft.
Tech: "How emoji became a multimillion-dollar business" [Nikkei Asian Review]. "Forms of communication in Japan have traditionally been complex and subtle, involving politeness and nonverbal cues. For the Japanese, avoiding miscommunication proved tricky without social context, which would dictate proper forms of address. Letters usually include an honorific salutation, a seasonal greeting and possibly a "by the way" as a segue to the true point of the message. Email began to strip away at this subtlety, encouraging a more informal style without these conventions. At the same time, in the mid-1990s, small pagers became all the rage in Japan, especially among girls. They loved the heart icon in the messaging function and avidly created emoticons and kaomoji using the keyboard, according to Shigetaka Kurita, creator of the first widely used set of emoji. "That was my main inspiration," he told The Guardian newspaper years later." • I don't much care for emojis, since I feel I have complete control of my register in prose. I grant, on the small screen, that doesn't work so well ?.
* * *
Today's Fear & Greed Index: 75 Extreme Greed (previous close: 69, Greed) [CNN]. One week ago: 74 (Greed). (0 is Extreme Fear; 100 is Extreme Greed). Last updated Nov 26 at 1:00pm. Last updated Nov 27 at 11:59am. Excitement during Thanksgiving week after all!
The Biosphere
"When it comes to wildfires, should California be more like Australia?" [Cal Matters]. "The two locales have some key things in common: a similar climate, many of the same plants and trees strewn across often-arid landscapes — and residents bedeviled by wildfires that are worsening as climate change resets seasonal norms. A large swath of Australia has been plagued by brutal heat and withering drought; wildfires there, as here, rage for much of the year in 80% of the country. California leads in at least one way: with the depth of its 'toolbox,' the machines and equipment it employs during fires. Australia can't come close to the squadron of helicopters, large tankers and other aircraft that California dedicates to firefighting…. Other differences: Nearly 60% of California's forests are managed by the U.S. government. Australia has neither vast government land ownership nor a federal fire service. And Australia's owner-saving-his-property approach may not work well in areas of California dotted with seldom-visited vacation homes. But California might find lessons in several key Australian policies, particularly the principle of shared responsibility that underpins them. Australia's view is that government and citizens should work together to keep people safe and homes and property protected. The country has an extensive network of volunteer fire brigades, and not just in rural areas. The service that covers Sydney is staffed by 70,000 volunteers, making it the world's largest volunteer fire agency. These cadres work alongside paid professionals in a cooperative culture and with an intimate understanding of fire. The system fosters self-reliance and, critically, provides the tools for homeowners to protect themselves and their property when expecting firefighters' help is not realistic." • Hmm. I do wonder if Australian real estate development patterns are similar or different from California's, even beyond vacation homes. Perhaps there are material besides ideological reasons why Australia's cooperative culture is not exportable. Interesting article.
"Plastics are proving resistant to sustainability efforts in supply chains. Big brands are trying to reduce their use of single-use plastic but are struggling to reinvent their packaging. [E]fforts so far are niche and it isn't clear whether they will scale up" [Wall Street Journal]. "Experts say more innovation is needed to make alternatives more useful…. Niche efforts to promote reusable packaging have bumped up against logistics complications around cleaning, returning and refilling."
"A History of Human Waste as Fertilizer" [JSTOR Daily]. "[E]ighteenth century Japan, biosolids were an esteemed substance. Japanese citizens did not view human waste as unwanted muck, but rather as something of value. What fostered this view, so different from ours? The answer lies in the soil. Compared to many European and North American countries, blessed with an abundance of forests and fertile grounds, Japan had much less land that was suitable for agriculture. Large parts of Japan had soils that were sandy and low on nutrients. Without continuous fertilizing, they didn't yield rich harvests. When the Japanese population began to grow, people needed more food—and farmers needed fertilizer to produce it. Ultimately, it was the citizens who produced the fertilizer that put the food on the table. Population dynamics, particularly in large cities like Osaka and Edo, which later became Tokyo, drove up the value of human excrement, which sometime is referred to as humanure." • Why we need the buffalo back on the Great Plains.

Class Warfare
"Dying too young: Deaths among middle-aged adults reversing life expectancy trends" [NBC News]. "An increasing number of Americans are dying in the prime of their lives, a trend not observed in other wealthy nations, according to research published Tuesday in the Journal of the American Medical Association. These 'excess deaths' — that is, people who die years and even decades before they're expected to — tend to be clustered in the nation's Rust Belt, where economies once boomed with a thriving steel industry, but have been in decline since the 1970s." • Again, if the political class cared about statistics like this, it would be a political issue; Case Deaton published in 2017, after all. They either don't care, or they're actively seeking this result (cf. "ok boomer," while, ya know, people of that age cohort are dying, before they even had a chance to get to the ice floes. It's disgusting and enraging). Handy chart:
Americans are living shorter lives. https://t.co/XznI4C3b9O pic.twitter.com/Od1jvipejS
— Jim Roberts (@nycjim) November 26, 2019
Not hard to map this to swing states.
"Family Office for Huntsman Dynasty Bets on National Security" [Bloomberg]. "Like many family offices, the Huntsmans are increasingly looking to do direct deals, often tapping a network of wealthy families as co-investors. A UBS Group AG survey released in September found that 46% of 360 global family offices surveyed said they plan to put more money into direct private equity investments in the coming year, while 98% of 111 U.S. offices polled by Fidelity Family Office Services expected to maintain or increase direct investments over the next three to five years…. HFI's focus on investments linked to national security wasn't intentional, Huntsman said. But the office tends to like mature businesses that have good cash flow and high barriers to entry." • Not a lot of detail on what those investments actually are.
"Agitprop vs Agitpop" [Tribune]. On Sheila Rowbotham, author of Hidden from History, 70s ur-text. I can't really find a nugget to quote, but it's certainly worth soaking up the atmosphere, since very few of the issues raised seem to have been solved.
"Is Boutique Egg-Freezing a Scam?" [Jezebel]. "Businesses like Trellis, along with its competitors like KindBody and Extend Fertility, hinge on the idea that true freedom is the opposite of the kind I imagine—that by acknowledging and reinforcing the insidious forces that tell women they must birth their own biological progeny, and by offering an option for the deferment of that dream, a person could master their fate. It's an exchange that amounts to the literal purchasing of years. As an ad for Extend Fertility once described the procedure's promise: 'Take control of your biological future—freeze your eggs and freeze time.' Egg-freezing studios like this have multiplied over the last years: One investor in such businesses recently estimated the market is growing 25 percent a year." • Because large refrigeration units are totally sustainable and we'll always have them.
News of the Wired
"Single Headed Attention RNN: Stop Thinking With Your Head" [Archiv.org]. From the abstract: "This work has undergone no intensive hyperparameter optimization and lived entirely on a commodity desktop machine that made the author's small studio apartment far too warm in the midst of a San Franciscan summer." • I don't think this is a parody, but it's very funny and very well-written. Do we have any natural language processing mavens who can sort this out?
"Excerpt from Introduction of Data Selves" [Simply Sociology]. "While digital data assemblages are often conceptualised as immaterial, invisible and intangible, I contend that they are things that are generated in and through material devices (smartphones, computers, sensors), stored in material archives (data repositories), materialised in a range of formats that invite human sensory responses and have material effects on human bodies (documenting and having recursive effects on human flesh). The primary analytical focus is , and how they come to matter in people's lives." • Hmm. Embodiment.
* * *
Readers, feel free to contact me at lambert [UNDERSCORE] strether [DOT] corrente [AT] yahoo [DOT] com, with (a) links, and even better (b) sources I should curate regularly, (c) how to send me a check if you are allergic to PayPal, and (d) to find out how to send me images of plants. Vegetables are fine! Fungi and coral are deemed to be honorary plants! If you want your handle to appear as a credit, please place it at the start of your mail in parentheses: (thus). Otherwise, I will anonymize by using your initials. See the previous Water Cooler (with plant) here. Today's plant (MG):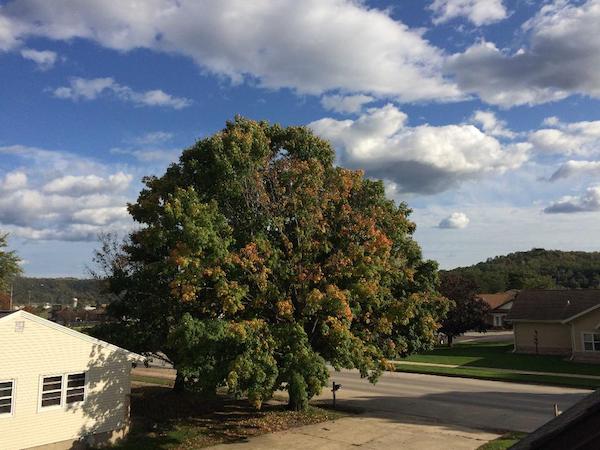 I had asked MG to keep me posted on this tree. He wrote: "Colors just aren't going to happen again this year. Too far south, too much rain. The big maple is thinning out just as fast as the leaves change and frankly will never meet your standards for fall foliage. Sky is nice today so here's the tree if you're up for a stealth cloud post otherwise maybe next year." To me, this photo couldn't have been taken anywhere other than the United States (not even Canada, sorry Canadians). But I can't put my finger on why.
* * *
Readers: Water Cooler is a standalone entity not covered by the annual NC fundraiser. So if you see a link you especially like, or an item you wouldn't see anywhere else, please do not hesitate to express your appreciation in tangible form. Remember, a tip jar is for tipping! Regular positive feedback both makes me feel good and lets me know I'm on the right track with coverage. When I get no donations for five or ten days I get worried. More tangibly, a constant trickle of donations helps me with expenses, and I factor in that trickle when setting fundraising goals:
Here is the screen that will appear, which I have helpfully annotated.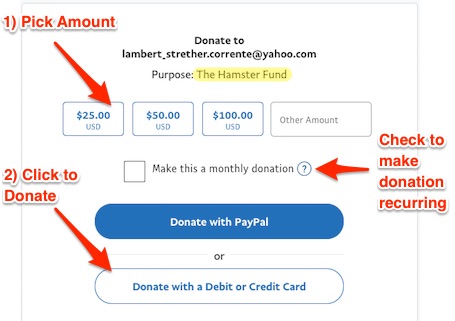 If you hate PayPal, you can email me at lambert [UNDERSCORE] strether [DOT] corrente [AT] yahoo [DOT] com, and I will give you directions on how to send a check. Thank you!