By Lambert Strether of Corrente.
Patient readers, forgive me for being slightly late; the mini-essay straightening out TAP on Warren's plan took a little more time than I expected, and then I had a technical glitch. I always accumulate too many bright shiny objects of the weekend, and I'll include more of them soon. –lambert UPDATE All done. In fact, I have a ton more, but it will have to wait 'til tomorrow.
Politics
"But what is government itself, but the greatest of all reflections on human nature?" –James Madison, Federalist 51
"They had one weapon left and both knew it: treachery." –Frank Herbert, Dune
* * *
2020
Alert reader dk (not to be confused with DK) is in the process of developing the following interactive chart. Here is (are) the latest Dem Primary Polling as of 11/4/2019, 11:00 AM EST:

Buttigieg is having a moment, and not without some justification:

Buttigieg isn't doing well in the latest poll, which is Emerson. Sanders supporters are excited though. As of 11/1/2019, 11:00 AM EDT:

Undecided seemed to be jumping about rather a lot, so just for grins I thought I'd pull it out by itself, also as ot 11/4/2019, 11:00 AM EST:

Readers, thoughts?

I think dk has started a really neat project, and in the near future we'll seek your feedback (within reason) for the tool "live."

* * *

Buttigieg (D)(1): "Pete Buttigieg Isn't Going Anywhere" [The Atlantic]. "When I asked Buttigieg which is more ridiculous, the idea of a black freshman senator winning the presidency in 2008, or the idea of the 37-year-old mayor of South Bend, Indiana, getting elected now, he said, 'I would like to argue that neither is ridiculous.' Buttigieg's response carried a characteristic edge to it: 'He had more national exposure sooner than I did. But then I have the benefit of executive experience. So I guess we're just different.'" • Buttigieg already was The Beltway Subjunctive ("I would like") down, doesn't he? I wonder if he finds that of help dealing with his police department.

Buttigieg (D)(2): "Pete Buttigieg tries to solve his South Carolina puzzle" [Roll Call]. "Why should black voters believe he would be able to implement his plans nationally when tensions between police and minority citizens in South Bend, which escalated after a police shooting, remain, and Buttigieg himself, when asked at a debate why the proportion of black officers dropped during his tenure, said, 'Because I couldn't get it done.' It was not just my question but one I've heard from quite a few black voters, and not just in South Carolina…. Two African-American women spotlighted their own South Bend experiences… [I]nformation leaked — not from his campaign, it says — that black voters, particularly if they are older, socially conservative and Southern, may not be as welcoming to a gay candidate. In the ensuing reaction and backlash, some black voters with many questions about Buttigieg's experience and candidacy wondered if incomplete information from a very small focus group would be used to blame low poll numbers on the perceived prejudices of an entire group, and build a divisive narrative."

Buttigieg (D)(3): "Pete Buttigieg has a problem with black voters. He needs to fix it or he'll wind up back in South Bend" [Los Angeles Times]. "Black voters make up about 20% of the Democratic electorate nationwide and more than half in several Southern states, including South Carolina, which falls fourth on the 2020 political calendar, after Iowa, New Hamphire and Nevada. Those numbers aren't enough to decide who will be the nominee. But African Americans may determine who won't be the nominee if they vote en masse the way they did for Obama over Hillary Clinton in 2008, and for Clinton over Bernie Sanders in 2016."

UPDATE Buttigieg (D)(4): "Pete for Corporate America" [New York Magazine]. "But running for president tends to clarify a person's ideology, and Buttigieg has recently encouraged speculation that he is pivoting to the right. He no longer supports Medicare for All and is even running ads against it. In a recent interview with Cosmopolitan, he said he still supports a proposal to expand the number of justices on the U.S. Supreme Court — and that he would appoint more judges like Anthony Kennedy, who ruled against the Affordable Care Act and in favor of Citizens United, then stepped down to make way for a Trump nominee. While his 'Medicare for All Who Want It' plan is a definitive reversal, it doesn't necessarily mean that Buttigieg has changed his overall ideology. The Buttigieg who admires the conservative Anthony Kennedy is the same Buttigieg who ran for DNC chair and for mayor. He is a technocratic liberal. He tried on Medicare for All for size and when it didn't fit, he recalibrated. The generational change he promised was never a political revolution. Buttigieg is in no respect significantly out of step with the rest of his party. Even his résumé is impeccable. Harvard, Oxford, military service, a stint at McKinsey: Buttigieg didn't miss a beat. His father may have driven him around Indiana in a Chevy Cavalier, as he said at the debate, but his father was Joseph Buttigieg, a lauded professor at the University of Notre Dame, and Buttigieg attended private schools. It's not exactly the stuff of a Bruce Springsteen song. Instead, Buttigieg's background is relatively common for party leaders." • Somebody needs to ask Buttigieg if he has asked to be released from his McKinsey NDA. Voters need to know what he worked on.

UPDATE Clinton (D)(1): "'The stakes are enormous': is Hillary Clinton set for a White House run?" [Guardian]. "A high-profile book tour. Countless TV interviews. Political combat with a Democratic primary candidate and Donald Trump. A year before the US presidential election, it looks like a campaign and it sounds like a campaign but it isn't a campaign. At least, not as far anyone knows…. Addressing law students, Clinton appeared more humorous and at ease than on the campaign trail. The final question concerned whether the guests were rooting for the Washington Nationals in baseball's World Series. Bill interjected: "I guess I should go first. I'm the only one that's not running for anything. Ever. but I can't legally run for president again."… Asked about Democratic fretting over finding the right nominee, [Robert] Shrum replied: 'That's the bed-wetting brigade in the party donors. That's not the primary voters.'" • Maybe.

O'Rourke (D)(1): "Goodbye, Beto O'Rourke. What a sad end to a pointless campaign" [Nathan Robinson, Guardian]. When Bernie Sanders was first asked about Beto O'Rourke entering the presidential race, his reply was dismissive: 'Free country, anybody can run.'" • Salty! Good article, but it boils down to "You can't beat something with nothing," which also applies to Bennet, Delaney, Hickenlooper, Moulton, and Ryan. And Harris, for that matter.

Sanders (D)(1): "The 7 big bets that will decide who wins the White House in 2020" [Politico]. "Sanders' big bet is that this movement has the capacity to grow and to appeal to voters who have not previously participated in Democratic contests. If true, this could give him staying power in the race even if he has yet to score big victories by spring. From early on, Sanders has demonstrated strength with younger voters, with Hispanics and with working-class voters. [Politico Repoter Holly] Otterbein notes the obvious risk: Lots of candidates historically have pledged to expand the electorate and not many have been successful. 'On the other hand,' she observes, 'there was evidence in 2018 that some of these groups actually did see a real big boost in turnout. Latinos — their voter turnout increased more than any other ethnic group. And the younger generations outvoted the boomers and older generations.'" • Both Latinos and young voters going disproportionately for Sanders.

Sanders (D)(2: For canvassers:

How to respond to: "I'm not into politics"

When canvassing for @BernieSanders, we're able to discuss how the problems we often feel are too personal or too big, are actually political.

This ex. has an answer I got last wk. We then talked abt PG&E, profit motive & $ in politics! pic.twitter.com/OHvTZwaD0F

— Molly Armstrong (@heyheyitsmollya) October 31, 2019

Trump (R)(1): "One Year From Election, Trump Trails Biden but Leads Warren in Battlegrounds" [New York Times]. "Despite low national approval ratings and the specter of impeachment, President Trump remains highly competitive in the battleground states likeliest to decide his re-election, according to a set of new surveys from The New York Times Upshot and Siena College." • Anything to keep Sanders out of a headline, eh Dean? Especially given the chart right after the lead:

UPDATE Trump (R)(2): "It's Not Like Trump Should Have to 'Watch Very Boring Sports'" [New York Times]. "President Trump walked onto the floor of Madison Square Garden on Saturday night from the same corner that the mixed martial arts fighters did, his own fighters at his sides…. [W]ithin seconds of Mr. Trump's entrance, the room was a cocktail of boos, roars and cheers, a din that Mr. Trump was eager to spin in his favor." • There was an enormous amount of gloating about being booed by his own demographic. The problem is, the 10%ers doing the gloating don't know New York (and apparently the New York Times doesn't, either). Chris Arnade:

It isn't customers in a damn rust belt diner, or 60 yr old Phoenix Tire store owners.

It is 28 yr old guys from the Bronx who speak Spanglish & will end the night at Don Coqui in Astoria, and 20 yr old gamers from Pace who wish they could punch as well as they meme

— Chris Arnade (@Chris_arnade) November 3, 2019

(BlueChecks are verified users, the 10% of the Twitterverse). Ryan Grim concurs:

MMA is popular with people under 35, white black and brown. That's not his demo.

— Ryan Grim (@ryangrim) November 3, 2019

This demo is, in fact Sanders', who does disproportionately it. It would take careful advance work, but I think Sanders would do very well at an MMA event. He certainly has the arena experience!

Warren (D)(1): "Elizabeth Warren is having a moment, but will it translate into South Carolina momentum?" [Post and Courier]. "Warren has yet to secure any major endorsements here. Her visits have been sporadic at best…. When Warren was invited to speak at the Charleston County Democratic Party's Blue Jamboree, she declined, despite the urging of multiple South Carolina Democratic leaders… The Warren [notes] they have more than 40 paid staffers on the ground and nine offices in eight cities across the state."

* * *

"Tickets for Obama fundraiser in Silicon Valley going for up to $355K" [Mercury News]. "Donors can get in the doors for $10,000 — but to even snap a photo with Obama they'll have to pony up $35,500. The eye-popping top ticket price will get attendees access to a VIP reception and a premium attendance package for the party's national convention next year. The event with Obama and DNC Chair Tom Perez will be hosted by Karla Jurvetson, a psychiatrist and ex-wife of a prominent venture capital investor, who became one of Democrats' largest donors during the 2018 midterms. She gave more than $6 million to the party's candidates and groups during that election cycle, helping boost female candidates for key congressional seats." • That's nice. Of course, Obama is very articulate. Who wouldn't want to pay $35,500 for a selfie with him?
Health Care
"Warren's Medicare for All Plan Includes No New Taxes on the Middle Class" David Dayen, The American Prospect]. • Readers may find the last paragraph of interest:

I could see hardcore Sanders supporters and claiming that Warren is not committed to getting Medicare for All done. But this plan is so wrapped up with her other concerns, and so in line with her populist message, that I think it will pass the test for most single-payer fans. And it allows her to go on offense against Joe Biden, Pete Buttigieg, and others, asking them why they don't cover everyone, why they don't cut costs, why they don't want to end the horror of medical bankruptcies and unnecessary deaths.

Dayen must be so busy these days that he has staffers do his reading for him; had he read Warren's piece, he wouldn't have made the claim. (Sadly, at least for Dayen, having not read the piece would also mean that he can have had no hand in writing it. Perhaps Neera thinks he's not ready.) Here is the passage in question from Warren's "plan." I have helpfully numbered and underlined the relevant portions:

[1] should explain why the "choice" of private insurance plans is more important than being able to choose the doctor that's best for you without worrying about whether they are in-network or not….

[2] should put forward their own plan to cover everyone…

[3] should put forward their own plan to make sure every single person in America can get high-quality health care and won't go broke…

[4] and refuses to answer these questions directly should concede that they have no real strategy

Here, Warren is using a rhetorical device called anaphora, "Repetition of the same word or group of words at the beginning of successive clauses." (For a master class in the uses of anaphora, as well as many other rhetorical devices, see "Julia Gillard and the Art of Rhetoric" at NC.) Anaphora was Obama's favorite rhetorical device. Here is why a speaker would use it: "[T]he successive repetition of an opening word or phrase… has a mesmerizing and rhythmic effect: It's easy to remember, too. Hear it once and you can repeat the basic story and it is that quality above all that makes it so successful and likely to stick and spread. Anaphora is a winning technique because it sticks." So, "my of Medicare for All" as a rhetorical device is baked into the very structure of Warren's piece. Warren, a scholarship-winning debate champion in high school, would surely be familar with it, and indeed, as with Obama, it's one of her favorite devices. Warren must surely have read the piece and signed off on it, knowing the effect that anaphora has. "Long-term" is not "cherry-picked"; it is designed to "stick" and Warren, as a debater, a public speaker, and a Professor of Law at Harvard, must surely have known that. She has hammered home "long term" using anaphora to make it "stick," because that is what anaphora does, and that is why speakers use it. Why Dayen is concerned to erase this I cannot imagine. NOTE: Warren has surprised me before: Her health care page is just a mess, but the Medium piece improves on it. Perhaps she will crawfish away from "long-term," as she seems to have crawfished away from calling #MedicareForAll a "framework." Time will tell.
Pollsters
"Biden Up 15. Warren Up 7. Are Primary Polls Too Far Apart?" "[FiveThirtyEight]. "[W]e expect some differences between polls in pretty much any race, even if the differences are just caused by random sampling variability (since no two random samples are exactly the same). And we almost always see some outlier polls, as long as pollsters aren't herding. But given that the spread between these polls was so large, it naturally raises the question of whether we should expect the polls to differ this much. Are these polls just normal outliers, or are they a sign that the polls overall are too spread out?" • The article doesn't mention Sanders once; it's almost like there's some kinda blackout going on. This is especially ironic, given the article's mentin of "herding."
Our Famously Free Press
"Democrats Lost the States. A New Book Says Activists Are Fighting Back" (review) [New York Magazine]. Meaghan Winter, of All Politics Is Local: "Most of these state-based campaigns are synchronized and nationalized. And what do I mean by that? I mean, for example, like an anti-union bill or an anti-LGBTQ bill. Anti-abortion bills. Gun bills. It's all cookie-cutter legislation passed around the country. Interest groups are using states to push a national agenda. But there's no platform to adequately show that these are multipronged, synchronized national agendas and strategies that are working. There are hundreds of statehouse reporters who are overworked and underpaid and are upholding a crucial lever of our democracy. National reporters, as we know, cover these bills when it's too late, when they are being decided by the Supreme Court. What else do we hear about them in the national press? Maybe The Daily Show will make a joke about it if a state lawmaker says something especially absurd. Getting a national pundit on cable news is cheaper, faster, and easier than the laborious, long work of figuring out what's happening with synchronized political campaigns across the country. It's a market problem. It's a collective-action media problem. And I understand to a certain extent that a lot of these media companies feel that they have their backs against the wall because of what's happened to the industry. But on the other hand, so many of these major news networks and publications are really complicit in not explaining to the American public what's actually happening." • I could almost believe private equity is destroying local news not for profit, but because blinding the American people serves their other, collective, business objectives.
Impeachment
"House committees releases transcripts from impeachment inquiry" [Guardian]. • Two of them. Clever to dominate several news cycles by releasing them in dribs and drabs. The chairs are shocked by "…the contamination of US foreign policy by an irregular back channel…." tl;dr: The Blob is having a sad. (In the rush of events, I haven't been able to determine whether the transcripts were vetted by the intelligence community, or what the policy is on that. Readers?)

"Trump allies assail impeachment on process while House Democrats promise open hearings soon" [The Hill]. "House Majority Leader Steny Hoyer (D-Md.) said on CBS's "Face the Nation" that open hearings were forthcoming but added that he could not commit to a specific timeline, as the process depends on what facts the probe uncovered. 'When [House Intelligence Committee Chairman] Adam Schiff [D-Calif.] is determined that he is through what he needs to have in terms of testimony and evidence, he will then, pursuant to the resolution, submit it to the Judiciary Committee, and the Judiciary Committee will proceed in a manner giving the rights to the president and to the Republicans that exceed, frankly, the rights that were available to the minority' during former President Clinton's impeachment, Hoyer said."
2016 Post Mortem
UPDATE "The Fed Helped Trump Win the 2016 Election" [Bloomberg]. "An excessively tight monetary policy from the Fed helped to get him elected, and could contribute to his defeat next year…. This tightening cycle wasn't one of the worst blunders in the Fed's history. The contractionary policies of the Great Depression, the 15 years of loose money starting in the late 1960s and the failure to cut rates at the start of the recession of 2007-2009 did more damage. But this mistake had negative consequences of its own: It suppressed the growth of employment, wages and asset values.Exit polls conducted on Election Day in 2016 showed that substantial majorities of voters in Michigan, Pennsylvania and Wisconsin — the three crucial states that gave Trump his electoral majority by swinging to the Republicans — rated the economy as poor. And the voters who felt that way selected Trump by a two-to-one margin. Those numbers, it's true, don't prove that Hillary Clinton would have won with a stronger economy…. The margin was so thin, it seems highly likely that even a slightly perkier economy would have changed the results."
Realignment and Legitimacy
UPDATE "Civil War Begins When the Constitutional Order Breaks Down" [The American Conservative]. "Civil war is, at root, a contest over legitimacy. Legitimacy—literally the right to make law — is shorthand for the consent of the citizens and political parties to abide by the authority of a constitutional order. Civil war begins when this larger political compact breaks down…. Hence civil war becomes a struggle in which one party must successfully assert a successor legitimate order, and to which the opposing party must eventually submit. This is above all a contest over constitutional authority. Inasmuch as civil war happens after constitutional breakdown, it means that resolution must be reached not only outside of a now-former legal framework, but also unrestrained even by longstanding political customs and norms. Extra-constitutional force is now the deciding factor, which is why these struggles are called civil wars." • This is a must-read.

"Once a rising Democratic star, Debbie Wasserman Schultz eyes new leadership role" [Miami Herald]. "Wasserman Schultz, a Democrat from Weston, is talking to lawmakers about a potential bid to lead the House Appropriations Committee after the 2020 election, according to six sources who spoke on the condition of anonymity to discuss internal conversations." • We don't have "rising stars" any more. We have "frontliners." Get with the program.
Stats Watch
Factory Orders, September 2019: "September factory orders fell" [Econoday]. "Orders for commercial aircraft, pulled down by the grounding of the Boeing 737 Max, have been struggling this year and were down… in September. Orders for core capital goods (nondefense ex-aircraft) have also been weak."
Shipping: "The logistics market is shifting into a lower gear, if employment is any measure. Truckers edged back into hiring mode last month but the jobs market over transportation's long haul looks more tepid" [Wall Street Journal]. "The 1,300 additional trucking jobs in October broke a three-month string of job losses, and the annual rate of hiring growth is at its lowest level in nearly two and a half years. That coincides with the steep retrenchment in heavy-duty truck orders, and it suggests that many operators are keeping a tighter lid on capacity as the larger economy shows restrained business investment. The broader U.S. jobs market remains buoyant, and the 3% gain in wages over the past year shows there's still pressure for companies to pay more to hire and retain workers."
The Bezzle: "Airbnb bans 'party houses' after 5 die in Halloween party shooting at home rental" [USA Today]. "Airbnb is banning 'party houses' after five people were killed and several were wounded in a shooting at a Halloween party at a Northern California… Chesky said the company would be expanding manual screening of high-risk reservations, creating a dedicated 'party house' rapid response team and taking immediate action against users who violate guest policies."
* * *
Today's Fear & Greed Index: 86 Extreme Greed (previous close: 80, Extreme Greed) [CNN]. One week ago: 67 (Greed). (0 is Extreme Fear; 100 is Extreme Greed). Last updated Nov 4 at 11:24am. Hoo boy.
Rapture Index: Unchanged [Rapture Ready]. Record High, October 10, 2016: 189. Current: 183. Remember that bringing on the rapture is a good thing. I wonder when, in 2020, the index will start flirting with 190 again. So far, the latest impeachment push hasn't affected the Index. I thought the California wildfires would give the index a boost under Wild Weather, but no. Perhaps the editors think California is burning in hellfire already, so there's no net change?
The Biosphere
"8-MILE STRIP OF WILDFLOWERS PROVIDES HABITAT TO INSECTS & POLLINATORS WHILE SAVING £23K MOWING COSTS" [Bright Vibes (https://fivethirtyeight.com/features/how-to-handle-an-outlier-poll/)]. "The South Yorkshire town of Rotherham has been planting wild flowers along eight miles of highways for the past six years. As well as producing a sensational splash of colour throughout the summer months, it provides a urban habitat for many insects, including bees. Great news for the environment, and the scheme also helps the council save around £23,000 in mowing costs per each two-year cycle." • This is the sort of project your town could do. "The augmentation of the complexity and intensity of the field of intelligent life" –Ursula LeGuin
Feral Hog Twitter Returns
Austin, not K Street:
Remember feral hog Twitter https://t.co/JTHVxqVIba

— Patrick (@patrickdehahn) October 31, 2019
Class Warfare
"Auto Workers' Union Chief Steps Aside as Corruption Probe Widens" [Industry Week]. "United Auto Workers President Gary Jones, who led negotiations that ended an almost six-week strike at General Motors Co., will take a leave of absence Sunday amid reports he is involved in a years-long corruption scandal. … The Detroit News said Thursday that the allegations were outlined in a criminal case filed against Edward "Nick" Robinson, 72, of St. Louis, president of a regional UAW community action program council. He was charged with conspiracy to embezzle — as much as $700,000 — in union funds, the newspaper said. Jones, 62, was not identified in the filing but he was referred to as "UAW Official A," according to people familiar with the investigation cited by the newspaper. The mild-mannered finance man was nowhere to be seen when the UAW announced the strike against GM on Sept. 15 in Detroit." • Not perhaps the best state for the union to be in when negotiating a major contract. And $700K is practically pocket change, these days. What's wrong with these people?
"Striking Teachers and Support Staff Forced Chicago's Mayor to Find Money She Said Wasn't There" [Labor Notes]. "Today Chicago teachers returned to school triumphant, after an 11-day walkout that became a showdown between their union and the proclaimed progressive new Mayor Lori Lightfoot. If you're looking for an example of the power of the strike, look no further. The strikers accomplished what months of bargaining could not. The mayor and her appointed school board had made all but no movement in the 10 months of bargaining that led up to the strike. (Lightfoot has only been mayor for five months, but she kept the previous bargaining team from former Mayor Rahm Emanuel.) Days before the strike, the district presented what it said was its best offer. Once the strike started, the union bargaining team reported that the district was finally moving on its bargaining demands. On day three, the mayor said there was no more money and sent a letter asking the union to end the strike. But the mayor must have found more money. … School resumed today; CTU has 10 days for members to ratify the tentative agreement."
* * *
"Silicon Valley billionaires keep getting richer no matter how much money they give away" [Recode]. "All but one of the world's 20 wealthiest tech figures have seen their net worth grow by billions of dollars in 2019… The only one who didn't made a record-setting divorce settlement this year; even so, he remains the world's richest person…. Billionaires keep getting richer and income inequality continues to grow. In a decade-long bull market, tech leaders who control the stock of their massive corporations keep getting fantastically wealthier — and often in ways that make any of their flashy philanthropic efforts pale in comparison. And too often, these tech billionaires are amassing their wealth by, in fact, perpetuating income inequality in their day jobs — whether by exploiting tax loopholes, displaying anti-competitive behavior, or pricing out poorer residents in the vicinities of their companies…. Mark Zuckerberg's net worth has increased by about 40 percent year to date." • Amazing statistics. Well worth a read.
"When The Robert Kraft Case Fell Apart, The Women Were Left To Pay The Price" [Deadspin]. "A review of court testimony as well as police and state health department records, shows a clear pattern of missteps that led to such a public unraveling. It also shows how unevenly the impacts of those mistakes have been divided between the most powerful man charged and previously unknown sex workers. It looks very likely that Kraft will defeat the charges and—if he succeeds in getting video evidence of his alleged hand jobs suppressed—his life will go on as normal. For the sex workers, who have lost their jobs, their homes, and their reputations, that couldn't be further from the truth." • From back in June, when Deadspin hadn't been gutted by private equity weasels.
News of the Wired
People get ready:
Rehearsal 4 Derek Smalls @SmallsLife was fun this PM! pic.twitter.com/kVULvcFmGR

— Billy Idol (@BillyIdol) November 3, 2019
Readers, feel free to contact me at lambert [UNDERSCORE] strether [DOT] corrente [AT] yahoo [DOT] com, with (a) links, and even better (b) sources I should curate regularly, (c) how to send me a check if you are allergic to PayPal, and (d) to find out how to send me images of plants. Vegetables are fine! Fungi and coral are deemed to be honorary plants! If you want your handle to appear as a credit, please place it at the start of your mail in parentheses: (thus). Otherwise, I will anonymize by using your initials. See the previous Water Cooler (with plant) here. Today's plant (SD):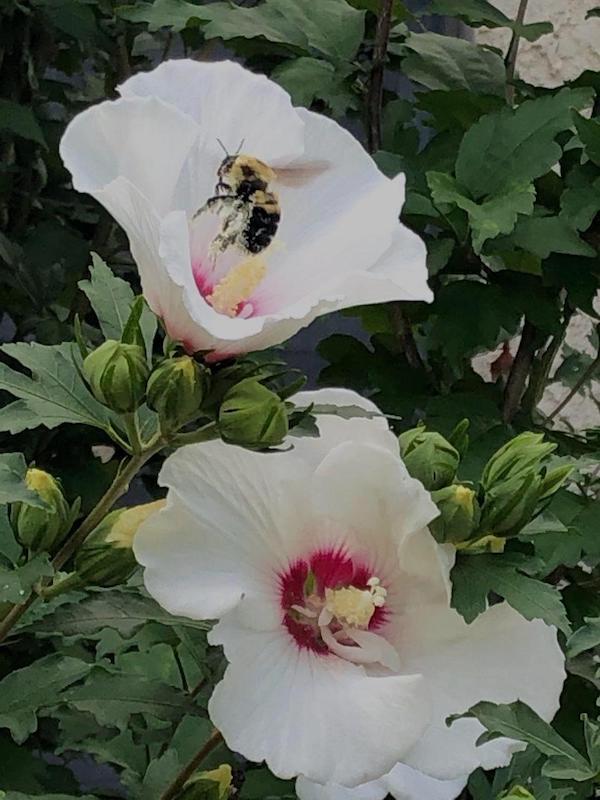 Getting those whites must have been quite challenging! (I hope the detail comes through on the site.)
* * *
Readers: Water Cooler is a standalone entity not covered by the annual NC fundraiser. So if you see a link you especially like, or an item you wouldn't see anywhere else, please do not hesitate to express your appreciation in tangible form. Remember, a tip jar is for tipping! Regular positive feedback both makes me feel good and lets me know I'm on the right track with coverage. When I get no donations for five or ten days I get worried. More tangibly, a constant trickle of donations helps me with expenses, and I factor in that trickle when setting fundraising goals:
Here is the screen that will appear, which I have helpfully annotated.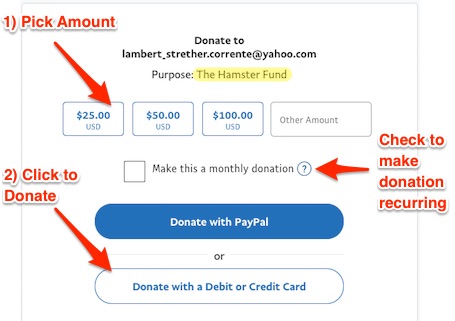 If you hate PayPal, you can email me at lambert [UNDERSCORE] strether [DOT] corrente [AT] yahoo [DOT] com, and I will give you directions on how to send a check. Thank you!