BREAKING NEWS: Michigan passes law ending cages for hens; first Midwestern state to do so A Humane World
Cryptoqueen: How this woman scammed the world, then vanished BBC. Former McKinsey consultant takes the punters for $4 billion with "OneCoin" cryptocurrency scheme. "The total worth of the cryptocurrency market has fallen to $139.7 billion – a staggering 80-percent-plus downswing compared to a $819 billion market cap in January 2018." So 4 / 139.7 = 0.02863278453829635 or 2.9%. That's impressive. As Yves has always said: Crypocurrencies are "prosecution futures" (2017). And, of course, Companies House! See our own RIchard Smith here (also 2017).
Private equity comes under fire in Washington FT. A week after the hearing? For a decidedly less rosy take, see Yves' contemporaneous reporting here.
Data Enrichment, People Data Labs and Another 622M Email Addresses Troy Hunt
Driverless car groups look past the engineering challenge FT. I'll bet they do.
Amazon files lawsuit contesting Pentagon's $10 billion cloud contract to Microsoft Reuters (Re Silc).
Former PG&E employee says he was fired after wildfire safety complaints San Francisco Chronicle
A Solar 'Breakthrough' Won't Solve Cement's Carbon Problem Wired. But it would ameliorate them.
Burger King is running out of zesty sauce because of climate change TreeHugger (Re Silc).
Ecommerce sites' mobile templates hide information that shoppers use to save money Boing Boing
Why Lifesaving Drugs May Be Missing on Your Next Flight NYT. "Citing chronic drug shortages, however, the Federal Aviation Administration has granted airlines exemptions that permit passenger planes to fly without a complete medical kit if the airlines say they cannot replenish the drugs."
Brexit
UK's Johnson pitches 'Christmas present' Brexit push in manifesto Daily Mail

The End of the United Kingdom May Be Nearing Bloomberg

Do Not Despair of This Election Craig Murray
How the Leader of the OAS Became a Right-Wing Hawk—And Paved the Way for Bolivia's Coup In These Times
Imposing Control Through Fire and Blood (interview) Álvaro García Linera, Tribune
Syraqistan
Despite threats, Iraq's medical volunteers keep protests alive Al Jazeera

Turkey Cracks Down on Cyanide Sale After Mass Killings, Suicides Bloomberg. In this country, we prescribe oxycontin for deaths of despair, not cyanide!
India
How Hindu Nationalism Came to Rule Jacobin

Intimations of an Ending Arundhati Roy, Caravan
Joyous scenes as Bougainville independence vote starts Japan Times
Halal certification bodies clear up confusion over Christmas greetings on food Jakarta Post
Game of Thrones in Malaysia The Interpeter
Where the Carbon Flows: Singapore's Emissions in a Global Context New Naratif
China?
* * *
In South Korea, Chinese and Korean students are clashing over Hong Kong protests SCMP
Impeachment
2020
Fighting Words Ryan Grim, The Intercept. "Warren is not just glomming onto a movement, but hoping to reorient it from a broad force of resistance to Trump into a fighting force for economic justice."
Pennsylvania To Spend $3M To Study Possible Link Between Fracking And Spike In Childhood Cancer KDKA
Evers signs bill making it a felony to trespass on pipelines WAOW. A Democrat.
Floods could be leaking pollution from Superfund sites in Charleston area. Post and Courier
Our Famously Free Press
The death knell for local newspapers? It's perilously close. Margaret Sullivan, WaPo
Health Care
Ralph Nader: American Seniors Are Being Duped Truthdig. Medicare Advantage, a Bush-era neoliberal infestation, supported by Democrats, now a new line of defense against #MedicareForAll, via loss aversion.
Sports Desk
How NBA executive Jeff David stole $13 million from the Sacramento Kings ESPN
Class Warfare
How America's Elites Lost Their Grip Time

When a deep red town's only grocery closed, city hall opened its own store. Just don't call it 'socialism.' WaPo

LA Has More Vacant Homes Than Homeless People, Report Finds LAist (JB4049).
Attacks on scholars worldwide raise concern Nature
Modern Monetary Theory: A Tool for the Global South? (interview) Fadhel Kaboub, Rosa Luxemburg Stiftung
Antidote du jour (via):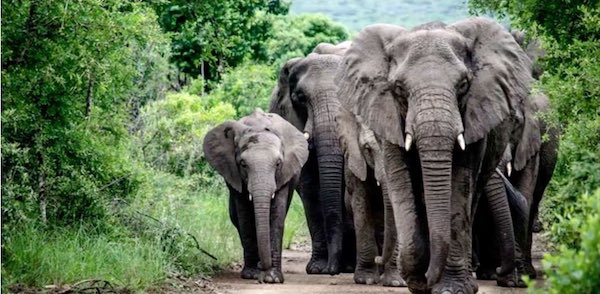 "A herd of elephants marched 12 hours to the house of Lawrence Anthony after he died – the man who saved them. They stayed there silent for two days. Exactly one year after his death, to the day, the herd marched to his house again."
Bonus antidote:
A mother cougar with two very playful not so small kittens pass by our trail camera. Along with @WildlifeLeague and @JohnEMarriott we set up a series of cameras to document interesting cougar behavior for our wild cat project. Watch for surprise ending! #cougar #trailcam pic.twitter.com/ssm0nUiuRs

— Jeff Wirth (@itsjeffwirth) November 21, 2019
See yesterday's Links and Antidote du Jour here.