Yves here. Funny how the zeitgeist has changed. The fact that today is Pearl Harbor Day was more widely remembered when I started blogging than now. Of course, one contributor is the last World War II vets are dying. One I knew personally who was 95 who was a Battle of the Bulge survivor passed away about a month ago. He led a local Battle of the Bulge group that met about monthly for World War II vets and other interested people.
Separately, I feel compelled to hoist a comment of mine that took issue with a reader yesterday who tried to depict those who were appalled at Uber's reported sexual assault level as innumerate. This is already a straw manning-argument, since most of the articles seemed to express concern at what looked to be a high absolute number, and as I'll demonstrate soon, it looks to be a high number relative to the incidence at regulated car services.
I've reworked the comment a bit to make it more accessible as a stand-alone piece:
Don't try "innumeracy" here. Let's start with the fact that total rides isn't the relevant basis for computing the risk of being raped, since you don't have the population at risk and in particular, solo rides by women at night (rapes of men are only about 9% of total rapes in the US) who were presumably sleeping in the back seat (driver has to stop the car and get in the back seat to have any physical contact). Oh, and remember that the biggest economic group per Hubert Horan taking cab is actually low earners taking cabs back from jobs at night…who are probably less likely to say anything due to legitimate concern of not being believed as a lower-class person.

But let's play your game. Using gross figures, you are still more than three times as likely to be assaulted in an Uber than in a regulated cab in NYC, Uber's biggest single market.

From my comment further down:

In NYC, the latest data I could find is that there were 14 rapes in 2016 in cabs and 10 in 2015. That includes all cars for hire that the TLC regulates, like green borough cabs.

24% of Uber's business comes from 5 cities. The prospectus lists NYC first. I can tell you that means NYC is the biggest. The convention in SEC filings is to list in order of importance (confirming that, the list was not alphabetical).

So let us charitably assume that NYC is only 5% of Uber's total bookings.

3000 x .05 = 150.

Now admittedly Uber has broader categories for abuse than just rape, like unwanted kissing. But it called the police (or probably more accurately, had police called in on them) 37% of the time. So take 150 x .37 and you get 55.5, still over 3 times as high as level TLC regulated taxis.

Let me add it may be worse than three times as much. Uber typically compares its volumes to yellow cabs, when yellow cabs have only ~13,000 medallions, and the TLC regulates about 40,000 other vehicles, such as green "boro" cars, licensed black cars (like Carmel) and ambulettes. Incorporating that, the level of total regulated NYC rides in 2016 likely exceeded Uber volumes now (particularly when you factor in that yellow cab ride levels were higher in 2106 than now).

Note that the level of reported rapes in the US is 127,000 for 2018. The Uber definition is broader, since it includes mere non-consensual kissing (but query how often a victim would complain about that, as opposed to never using Uber again) but Uber said the police were involved in 37& of its cases, which strongly suggests Seriously Bad Shit with them. So ste but their sexual assault numbers include only physical action, when the National Crime Victimization Study (which is widely cited) has an even broader definition and includes verbal threats and "unwanted sexual contact without force" which also would appear not operative with Uber.

That number is even worse when you consider that a large UK study found that only 9% of rape victims were raped by strangers, and most experts in the US estimate that the victim knows her rapist 80% to 90% of the time.
The Deep Sea Neal Agarwal (Chuck L). Trust me, you'll like this.
Recordings Reveal That Plants Make Ultrasonic Squeals When Stressed New Scientist
Has physics ever been deterministic? PhysOrg (Robert M)
200 Researchers, 5 Hypotheses, No Consistent Answers Wired (Robert M)
Can a single-celled organism 'change its mind'? New study says yes PhysOrg (Robert M)
From disbelief to dread: the dismal new routine of life in Sydney's smoke haze Guardian
Study finds BPA levels in humans dramatically underestimated MedicalXpress (Louis F)
China?
On the defensive on human rights, China's ambassadors go on the attack South China Morning Post (Troy P)

Huawei appeals to Japan as the US miscalculates Asia Times (Kevin W)

With People in the Streets Worldwide, Media Focus Uniquely on Hong Kong FAIR (UserFriendly)
Brexit
How People's Vote destroyed itself New Statesman

Former Conservative PM John Major tells Brits to vote against Tories in three key seats Sydney Morning Herald (Kevin W)

A Decade of The Tories. Jonathan Pie (Kevin W)
Emmanuel Macron's Plan to Take Control of Europe Moves On to Phase Two Bloomberg (Chuck L)
Argentina puts austerity sceptic in charge of debt talks Financial Times
New Cold War
Napoleon, Kutuzov, and the changing international order Irrussianality (Chuck L). Note this piece has broad implications.

"Zone of Uncertainty": What to Expect From US Fuel at Ukrainian Nuclear Power Plants Stalker Zone (Chuck L). Disturbing. Another proof of the costs to people in Ukraine of the US having its way..
Big Brother is Watching You Watch
Trump Administration Drops Plans For Mandatory Face Scans of Citizens US News

Keep Your IoT Devices on a Separate Network, FBI Says ZDNet. This seems to be the opposite of how the Echo works….you can't tell Alexa to order from Amazon or turn on your music unless it has access to your data and your files.

New vulnerability lets attackers sniff or hijack VPN connections ZDNet (David L)
Trump Transition
Supreme Court halts subpoena to Deutsche Bank for Trump records The Hill

700,000 people could lose food stamps under Trump administration's new SNAP rules USA Today (Chuck L)

Nikki Haley says Confederate flag symbolized 'service, sacrifice and heritage' until mass shooter Dylann Roof 'hijacked' it Market Watch. (UserFriendly). As readers know, this is flat out counterfactual.
Saudi king condemns 'barbaric' US base shooting BBC
Pensacola shooter's alleged manifesto slams 'crimes against Muslims' & US policies abroad – report RT. Chuck L: "A real confidence builder for those US military assigned to work with their Saudi confreres."
'It's This Culture of Secrecy That's Pervading the Courts' FAIR
Does DeSantis want to void Amendment 4? His lawyers suggest yes, he does. Tampa Bay Times (UserFriendly)
Impeachment
>Turley: Democrats offering passion over proof in Trump impeachment The Hill (Chuck L)

BC comment on tweet below:

The equivocation debate on the Clinton and Trump impeachment's is interesting, but I find Pelosi's explanation of why she pushed back on impeaching GW Bush absolutely astonishing. She admits that at the time leading to the Iraq War she "knew" that the public was being told lies, but "having said that, in my view was not grounds for impeachment…that was..they won the election, they made a representation…"

How Pelosi could be so comfortable glibly explaining why a President selling lies to convince Congress and the American people into a war that killed hundreds of thousands of civilians and thousands of U.S. Soldiers is NOT an impeachment offense, but whatever this twisted logic spectical is, does call for impeachment.

Whatever Trump might have done, nothing compares (for Pelosi et al) with the damage he has done to the status quo of political capital horse trading. Nauseating!

House Speaker Nancy Pelosi: Former Pres. Bill Clinton was impeached "for being stupid." #PelosiTownHall https://t.co/F4LwDf7emf pic.twitter.com/jVu5yxZ5GY

— CNN (@CNN) December 6, 2019
2020
Biden Says He Would Consider Giving Ambassadorships to Donors Bloomberg

Elizabeth Warren Tells Poor Parents to Fix Their Own Schools New York Magazine. UserFriendly: "Chait is a dishonest snake., but this still looks bad."
Our Famously Free Press
Fake News By Omission — The Mass Media's Cowardly Distortion Tool Caitlin Johnstone

Revealed: Ilhan Omar and Rashida Tlaib targeted in far-right fake news operation Guardian (JTM)
The Bezzle
Magic Leap, a Startup That Has Raised Over $2.3 Billion, Has Sold Just 6,000 Units of Its $2,300 VR Headset — Far Below 1 Million Units Its CEO Initially Hoped TechCrunch
Elon Musk wins defamation case over 'pedo guy' tweet about caver BBC
Trump Administration Weighs Putting Amazon Foreign Sites on 'Notorious Markets' List Wall Street Journal. Top of the story:
The Trump administration is considering adding some of Amazon.com Inc. 's overseas operations to a list of global marketplaces known for counterfeit goods, in what would amount to a public shaming of the e-commerce juggernaut, according to people familiar with the matter..

The action would be taken by the U.S. Trade Representative's Office, which publishes an annual list of "Notorious Markets" that identifies online and physical marketplaces believed to sell or facilitate the sale of counterfeit goods and pirated content.
Less than a year after abandoning HQ2 in New York City, Amazon says it's opening a new 1,500-employee office in NYC Business Insider. Kevin W: "Alternate link for this story called Ocasio-Cortez: 'Won't you look at that: Amazon is coming to NYC anyway' The Hill
PG&E Agrees to Pay $13.5 Billion in Settlement With Victims of California Wildfires Wall Street Journal. Half in stock. This from a serial bankrupt.
Congress Must Keep Big Tech Out Of Finance Data for Progress (UserFriendly)
Guillotine Watch
A banana duct-taped to a wall was sold for $120,000 at Art Basel Miami https://t.co/1tSqs6AbFM pic.twitter.com/pzH06RnBwq

— CBS News (@CBSNews) December 6, 2019
Class Warfare
Antidote du jour (Chet G, back in snapping turtle season):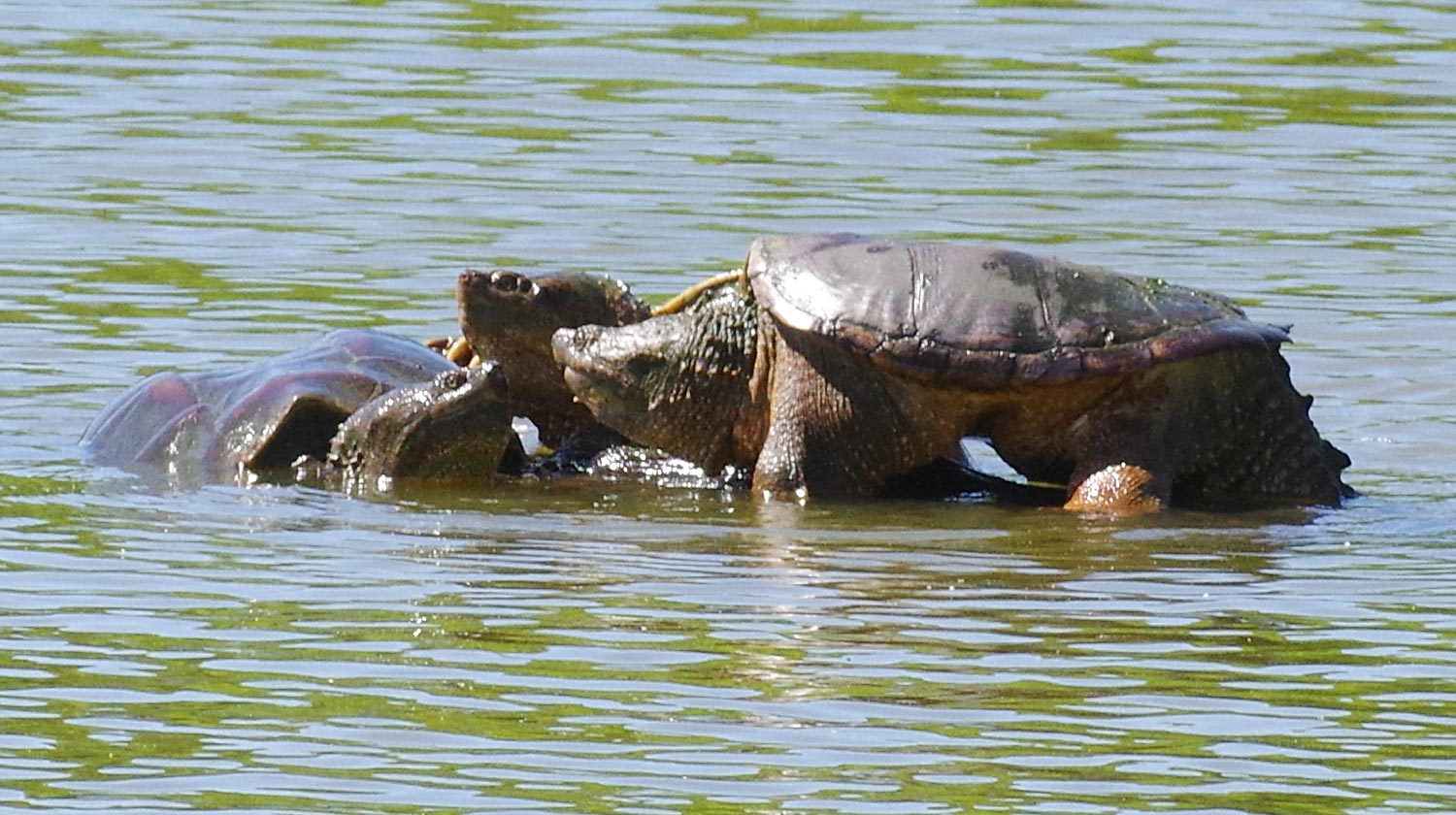 And a bonus:
Would you play with her?

Silly kitty ?? https://t.co/2bJBYpjPAd pic.twitter.com/GWA2V99oPN

— Animals Fantastic (@KissAnimals) November 30, 2019
See yesterday's Links and Antidote du Jour here.