By Lambert Strether of Corrente.
Politics
"But what is government itself, but the greatest of all reflections on human nature?" –James Madison, Federalist 51
"They had one weapon left and both knew it: treachery." –Frank Herbert, Dune
Here is a second counter for the Iowa Caucus, which is obviously just around the corner:
* * *
2020
Alert reader dk (not to be confused with DK) is in the process of developing the following interactive chart.

We have a lot of polls today, as of 1/27/2020, 12:00 PM EST, leading with ABC and Ipsos. Biden and Sanders are the pick of the litter, trailed by Warren and Buttigeig, with Bloomberg still closing, which is interesting or concerning. Of course, these are national polls, about to be massively thrown into confusion by IA, NH, SC, and NV — and then CA. I stopped using three-day averages because, this close to the first balloting, day to day fluctuations are important:

And the numbers:

We also have two new polls from Iowa:

And the numbers:

If I were Sanders, I'd assume skulduggery awaits, and I would want a much larger margin.

And from NH:

The numbers:

Warren's neighbors don't seem to think that highly of her.

Summary: The Biden juggernaut rolls on, but Sanders has pulled even. Warren is in trouble (meaning her smear of Sanders did not work). Needless to say — though of course IA, NH, SC, and MV are each different — this is a good place for Sanders to be. It's hard to believe this was the DNC's desired result.

CAVEAT I think we have to track the polls because so much of the horse-race coverage is generated by them; and at least with these charts we're insulating ourselves against getting excited about any one poll. That said, we should remember that the polling in 2016, as it turned out, was more about narrative than about sampling, and that this year is, if anything, even more so. In fact, one is entitled to ask, with the latest Buttigieg boomlet (bubble? (bezzle?)) which came first: The narrative, or the poll? One hears of push polling, to be sure, but not of collective push polling by herding pollsters. We should also worry about state polls with very small sample sizes and big gaps in coverage. And that's before we get to the issues with cellphones (as well as whether voters in very small, very early states game their answers). So we are indeed following a horse-race, but the horses don't stay in their lanes, some of the horses are not in it to win but to interfere with the others, the track is very muddy, and the mud has splattered our binoculars, such that it's very hard to see what's going on from the stands. Also, the track owners are crooked and the stewards are on the take. Everything's fine.

I think dk has started a really neat project, and in the near future we'll seek your feedback (within reason) for the tool "live."

* * *

Biden (D)(1): "Kamala Harris reportedly mulling Biden endorsement amid vice president speculation" [The Independent]. "Kamala Harris is reportedly weighing a potential endorsement of Joe Biden, as rumours swirl that she might be considered to become his running mate. The reports that Ms Harris is considering such an endorsement comes just under two months after she ended her own 2020 presidential run, and with a little over a week to the Iowa caucuses next month. The endorsement would make the California senator the sixth US senator to endorse Mr Biden, who leads the current field of democratic hopefuls in the so-called "endorsement primary". Endorsements are often seen as major victories for candidates, showing institutional support from fellow candidates with connection to various different voting blocks, though Mr Biden's middling lead in polls of early states shows endorsements are far cries from being silver bullets."

UPDATE Klobuchar (D)(1): "Amy Klobuchar: Bernie Sanders shouldn't 'be leading the ticket'" [Axios]. "What they're saying: "I think Senator Sanders' idea of kicking 149 million Americans off their current health insurance in four years is wrong. That's why I don't think he should be leading the ticket. I think I should be leading the ticket because my ideas are much more in sync with bold ways of getting things done," Klobuchar argued." • Why stop at merely verbal assaults? Here, let me help you:

Sanders (D)(1): "Listen to Ep. 24: On The Road In Iowa City (feat. Phillip Agnew, Stacey Walker & Mike Posner)" (podcast) [Micheal Moore, Rumble]. • I don't mean to be constantly stanning for Sanders, but watching his campaign — so far! — feels to me like watching the emergence of a new star to an astronomer must feel, or perhaps a biologist the emergence of a new species. This podcast has a collection of new voices — that is, new to me — that sound very unlike any I have heard before (though longer-term podcast listeners will doubtless correct me).

Sanders (D)(2): "It's Good That Joe Rogan Endorsed Bernie. Now We Have to Organize." [Jacobin]. "In reality, [Rogan's] about where many persuadable Americans are, which is to say that while he doesn't think about politics all the time, he likes and dislikes some individual politicians, he has kneejerk reactionary positions on some issues, and he finds egalitarian proposals for universal programs deeply appealing." • Elizabeth Bruenig comments:

you see, people aren't allowed to change, especially not subtly or with dignity. people are only allowed to attempt redemption with demonstrative, self-abasing confessions, and only then if those confessions are profitable somehow to others https://t.co/p6CYa8TPuB

— Elizabeth Bruenig (@ebruenig) January 27, 2020

That's a pretty acid comment from Bruenig, who is normally very level-headed and mild. Conflict at the office?

Sanders (D)(3): "Stealing California from Bernie — again? Palast with KPFA's Sabrina Jacobs" [Greg Palast]. "My dear Californians, I know you filled out that registration form at the DMV. Well, you know what? I'll bet you that your name is not going to be there because there's a 45% chance in California when you sign up to register to vote on a piece of paper, your name is never entered on the voter rolls. Guess what? California has one of the worst voting systems in the entire nation. My dear Californians, I know you filled out that registration form at the DMV. Well, you know what? I'll bet you that your name is not going to be there because there's a 45% chance in California when you sign up to register to vote on a piece of paper, your name is never entered on the voter rolls. Guess what? California has one of the worst voting systems in the entire nation." • The liberal Democrats control the ballot like a street gang controls a corner.

Sanders (D)(4): "Bernie Can't Win" [David Frum, The Atlantic]. "Bernie Sanders is a fragile candidate. He has never fought a race in which he had to face serious personal scrutiny. None of his Democratic rivals is subjecting him to such scrutiny in 2020. Hillary Clinton refrained from scrutinizing Sanders in 2016. It did not happen, either, in his many races in Vermont. A Politico profile in 2015 by Michael Kruse argued that Sanders had benefited from 'an unwritten compact between Sanders, his supporters, and local reporters who have steered clear' of writing about Sanders's personal history "rather than risk lectures about the twisted priorities of the press.' The Trump campaign will not steer clear. It will hit him with everything it's got. It will depict him as a Communist in the grip of twisted sexual fantasies, a useless career politician who oversaw a culture of sexual harassment in his 2016 campaign. Through 2019, Donald Trump and his proxies hailed Sanders as a true voice of the people, thwarted by the evil machinations of the Hillary Clinton machine. They will not pause for a minute before pivoting in 2020 to attack him as a seething stew of toxic masculinity whose vicious online followers martyred the Democratic Party's first female presidential nominee." • A classic of the genre, where Frum empties the dumpster while pretending to warn us of what Republicans will dump. (Frum's no dummy, despite being George W. Bush's speechwriter and the inventor of the hardy perennial, "axis of evil," which proved so catastrophically center to America's imperial design. A few points. First, the question is not whether Sanders is "fragile" in the abstract, but whether Sanders is more fragile than Clinton, who — as Frum and his new-found liberal Democrat friends will be the first to tell you — won election 2016. I think Sanders is less fragile than Clinton, for the simple reason that he's not already hated by a large percentage of the population. Second, a campaign that can raise four million in two days over Warren's smear is not fragile. Third, Sanders is not naive, and — although we will be more sure after IA and NH — his campaign had seemed sure-footed. It seems highly unlikely to me that the Sanders campaign has not gamed out Trump's tactics. They might even go on the offense and strike first. And may the best Borscht Belt comedian win.

UPDATE Sanders (D)(5): "Exclusive Polling: Iowa Youth Poised for Historic Caucus Turnout" [Tufts Now]. "More than a third (35%) of young Iowans (ages 18-29) surveyed say they are "extremely likely" to caucus on Feb. 3, 2020, which, if the survey results mirror actual participation, would represent a three-fold increase over estimated youth participation in the 2016 caucuses. Young Iowans who are registered or identify as Democrats are supporting Sen. Bernie Sanders by a substantial margin: 39% intend to caucus for Sanders, followed by 19% for Sen. Elizabeth Warren, 14% for former Mayor Pete Buttigieg, 9% for entrepreneur Andrew Yang, and 7% for former U.S. Vice President Joe Biden." • Big if true.

UPDATE Sanders (D)(6): "The DNC is Getting Ready For a Contested Convention, and So Should Bernie's Base." [Medium]. "Everything depends on Bernie getting fifty one percent of the delegates beforehand, and it is up to his base to turn out in record numbers to make sure that happens." • More than 51%. Expect shenanagains.

UPDATE Warren (D)(1): "Warren camp warns of 'breathless media narratives' out of Iowa" [Politico]. • Either Big Structural Bailey is deflating, or Warren is decreasing expectations. Impossible to tell, and soon we'll know.

UPDATE Warren (D)(2):

October 2018 vs today. Absolutely stupid campaign, anyone thinking of putting these people against the Trump campaign should have their heads checked pic.twitter.com/FAB4w7RizJ

— jack allison (@jackallisonLOL) January 15, 2020

Rewriting rewritten (and rewritten) history….

Yang (D)(1): "Yang qualifies for New Hampshire primary debate" [Politico]. "Yang is the seventh candidate to qualify for the debate — which will be hosted by ABC News, WMUR-TV and Apple News — joining Joe Biden, Pete Buttigieg, Amy Klobuchar, Bernie Sanders, Tom Steyer and Elizabeth Warren, according to POLITICO's tracking of public polling and donor data. To qualify, candidates need to hit 5 percent in four polls approved by the Democratic National Committee (or 7 percent in two polls in New Hampshire, Nevada or South Carolina) and receive donations from at least 225,000 individuals. Alternatively, candidates can automatically qualify by winning at least one pledged delegate to the Democratic convention out of the Iowa caucuses."

* * *

UPDATE IA: "Democrats' Iowa Caucus Voting App Stirs Security Concerns" [Wall Street Journal]. "Democrats will record the votes from the Iowa presidential caucuses in just over a week using a smartphone app, a procedure that has stirred questions about security. Party leaders said that the mobile app would make it easier and faster to report results from some 1,700 caucus sites. But critics expressed concern about the reliability of the app amid warnings that cyber adversaries could seek to disrupt the 2020 elections. Douglas Jones, an associate professor of computer science at the University of Iowa, who has studied election security, called the idea a 'security nightmare,' and said that cellphones were difficult to protect against the range of possible threats. , which Mr. Jones said could be vulnerable, depending on how well the workers take care of their devices." • Jesus Christ. More: "…" • Are you sh*tting me? "…along with the Department of Homeland Security and experts from Harvard University's Belfer Center for Science and International Affairs." • Oh, that's alright then. Who wrote the software? CrowdStrike? And can we please stop with "cyber adversaries" crapola? It's domestic actors that are the problem!

UPDATE IA "Iowa caucus app sparks election security concerns" [NBC]. "The app will be used in the key caucus states of Iowa and Nevada by caucus managers — local registered Democrats who sign up to organize and run the process in each precinct — to expedite the process, calculate and assign delegates and report results back quickly. The app will also be used in satellite voting locations across the country. But questions about the app remain unanswered, including who developed it and whether it has been subjected to independent security testing." • HOLY LORD. WE DON'T KNOW WHO DEVELOPED THE APP? More: "It's not clear how many of the 1,679 precinct leaders will opt to use the app, but it is the 'preferred' method for managers to report results, according to the caucus manager handbook." • Fix the handbook immediately. More: "Among the security procedures put in place for 2020, caucusgoers will also receive a physical, numbered presidential preference card to record their choice, which will be delivered to the Iowa Democratic Party through an established chain of custody." • In other words, exactly like Bolivia, where discrepancies between the more rapid (and hackable) electronic recording and the slower (and accurate) paper-based recording were used to discredit the election. So, a good architecture or a bad one, depending on your point of view.

UPDATE CA "State OKs LA County's New Voting Machines — With A Whole Lot Of Caveats" [LAist]. "On Friday, Secretary of State Alex Padilla granted conditional certification to the Voting Solutions for All People 2.0 system, including new 'ballot marking devices' that the county designed and built from the ground up. It's making history as the first publicly owned voting system in the U.S. to be certified for widespread use. But the county must meet a stack of requirements before primary election voters get their hands on the machines starting Feb. 22. 'Elections officials have a duty to make voting both as secure and as accessible as possible,' Padilla said in a press release. 'As part of my certification of VSAP, I am insisting on some essential modifications to the system and requiring on-going reports from Los Angeles County so that we can continue to improve the voting experience for Angelenos.' The headline? In a reversal of the county's plans, voters must be given the option to hand-mark paper ballots at new voting centers. (You can find the one closest to you here.) The mandate flies in the face of L.A.'s 10-year goal: to create a fully accessible voting experience where everyone, regardless of physical limitations or language abilities, votes the same way." • Great. Two big primaries, IA and CA, are using voting machinery that permits — nay, encourages — election fraud. What could go wrong? More on LA's VSAP debacle at NC here.

UPDATE "How The Democratic Candidates' Popularity Has Changed Over A Year Of Campaigning" [FiveThirtyEight]. "Three candidates — Sen. Bernie Sanders, Sen. Elizabeth Warren and former Vice President Joe Biden — are roughly tied for the distinction of being the best-liked Democrat in the field. About 70 percent of Democrats view each of them favorably, and about 20 percent view each of them unfavorably, giving them each a net favorability rating (favorable rating minus unfavorable rating) of around +50 points. What's more, these three have been the most popular candidates in the field all cycle — Biden had the highest net favorability rating at the beginning of last year, while Warren pulled into the top spot in August…. [Warren] has flatlined a bit in recent months (her net favorability is down 5 points since August), corresponding with her plateau and drop-off in horse-race polls…. [Biden's] net favorability rating has dropped by a whopping 22 points. The fact that it's still so positive now is a testament to how absurdly high (+69) it was a year ago… Finally, Sanders's popularity has been extremely consistent — too consistent, in fact, to bother plotting on an animated chart! All cycle long, almost all voters have had an opinion of him, and his net favorability has hovered between +50 and +52, reflecting how baked-in his support seems to be."
Impeachment
The dogs won't eat the dog food:

"Even in a focus group of Democratic voters, 'impeachment didn't even come up, no one volunteered it, for 80 minutes…and we're right in the middle of the trial.'

49.5% say Trump should be removed from office, while 44.8% [are] opposed."https://t.co/RqtbCDCo6R

— liz, mother of the zodiac ? (@lmcgrew) January 26, 2020

* * *

"Title, release date revealed for Bolton memoir" [The Hill]. "Former national security adviser John Bolton's forthcoming memoir is titled "The Room Where It Happened" and is scheduled to be released March 17, according to a posting for the book that went live Sunday night… A summary of the book posted on its Amazon page describes it as a 'substantive and factual account of [Bolton's] time in the room where it happened' during his 519 days as Trump's national security adviser. … The New York Times reported Sunday evening that Bolton writes in the manuscript of "The Room Where It Happened" about an August meeting with Trump in which the president said he wanted to continue a freeze on nearly $400 million in security aid for Ukraine until the government there agreed to investigate former Vice President Joe Biden and other Democrats. The revelation in the book directly contradicts the White House's insistence that the president did not explicitly connect the security aid and investigations… Bolton's book has already triggered renewed calls from Democrats for him to testify." • All the more curious, then, that Pelosi did not subpoena Bolton for what we laughingly call the House "investigation."
Realignment and Legitimacy
UPDATE Big ups to Tom Perez:

The DNC adding John Podesta to the convention governing committee is just trolling. So absurd, I almost respect it. https://t.co/Z4h61hMHKX

— Matt Taibbi (@mtaibbi) January 26, 2020

UPDATE "The establishment scam of 'unity'" [The Hill]. "Think about it. Where do we hear calls for unity in politics? The term has been thrown around regularly during the current Democratic primary and was pervasive too during the 2016 election… Unity consists of, preferably, not running in the first place, but if you must run, the race must be kept solely focused on personality. Never the issues. Never the votes. Certainly never the identity of which individuals and corporations these candidates depend on to fund their campaigns." • It's odd that the only form of identity politics liberal Democrats don't play is the identity of their donor class.
Stats Watch
Debt: "What the new FICO credit score reveals about the precarious state of Americans' finances" [MarketWatch]. "Fair Isaac Corp. (FICO) FICO, -1.03% is changing how it calculates credit scores, and the new criteria reveal some of the trouble spots in Americans' financial health… Previous FICO score models were not anchored as much to personal loan data, yet since 2015 the number of personal loans has risen 42%, making personal loans the fastest-growing category of debt in the country. Currently, there is upwards of $156 billion in outstanding personal loan debt…. With a greater emphasis on personal loans under the new FICO scoring system, consumers may be more likely to take out home equity loans to pay off their debt, Jeffrey Taylor, co-founder and managing director at Digital Risk said. Home-equity loans come with their own risks, however. Missing missing payments on home-equity loans can lead eventually to a foreclosure." • Oh.
The Bezzle: "Infosys could face fresh regulatory probe after whistleblower complaints" [Nikkei Asian Review]. "The troubles dogging Infosys seem to remain unabated after new reports surfaced that India's stock market regulator opened a deeper probe into whistleblower allegations against the nation's second-largest software exporter." • "Software exporter" as opposed to "offshore body shop."
The Bezzle: "Barons of Crap" (review_ [The Baffler]. "[Lawrence] Ingrassia, a former business editor at the New York Times, presents the pulse-deadening chronicle of a group of millennial businesspeople who managed to squeeze their way into the top echelons of the monied classes, all while leaving the lives of consumers almost completely unchanged or worse off than before." • A pleasingly dyspeptic review, well worth a read. See two examples immediately below.
The Bezzle: "Casper Will Go Public, Offering the Latest New and Exciting Way to Lose Money" [New York Magazine]. "Don't call Casper a mattress company. Casper, which filed paperwork to go public on Friday, says it is 'a pioneer of the Sleep Economy.'… So basically, they intend to be the Apple of sleep. Casper will be the trusted name for helping you sleep better; customers will be willing to pay a premium for Casper; Casper will make big profits. Unfortunately for Casper, that does not actually seem to be happening."
The Bezzle: Account is Pim Techamuanvivit. chef/owner @Nari_SF, @Kamin_SFO, and @KinKhao in San Francisco, executive chef @ Michelin-starred Nahm in Bangkok. Thank you, Silicon Valley:
If you want to hear another story about how @seamless @grubhub, and @yelp are defrauding us restaurants and their customers, pull up a chair. I have a story to tell.

— Pim Techamuanvivit (@chezpim) January 26, 2020
Whoever thought that interposing rent-seeking middlepersons between restaurateur and customer would be anything other than "innovative" and "disruptive"?
Mr. Market: "Hedge Funds Not Led by White Men Outperform Nearly 2 to 1" [Bloomberg]. "Hedge funds either controlled or managed by a minority or female leader had a return of about 6.6% over the past three years, compared to about 3.9% for their peers, the analysis of Bloomberg's hedge fund database found…. Macro funds, which invest in broad, global trends, had the biggest disparity. During the past five years, the funds not managed by white men outpaced their peers by about 41%, the data showed."
Mr. Market: "Global stock markets roiled as China's coronavirus spreads" [CNBC]. "Investors worldwide have been spooked by the rapid spread of the Chinese coronavirus, with stock markets around the globe sharply lower on Monday…. The flight from risk comes amid concerns about a possible economic fallout from the virus, with experts recalling the impact of the SARS crisis in 2003. At a press conference on Sunday, China's top health official said the virus's transmission ability is strengthening."
* * *
Today's Fear & Greed Index: 49 Neutral (previous close: 62 Greed) [CNN]. One week ago: 89 (Extreme Greed). (0 is Extreme Fear; 100 is Extreme Greed). Last updated Jan 27 at 12:28pm. Even bigger swing down!
Rapture Index: Closes up one on earthquakes. "Turkey is hit by a massive quake" [Rapture Ready]. Record High, October 10, 2016: 189. Current: 185. Remember that bringing on the rapture is a good thing. I would expect the Rapture Index to jump if evangelicals thought impeachment was likely to hurt Trump. So it looks to me like this index is delivering a verdict on the likelihood of Trump being successfully impeached as well.
The Biosphere
"The race to decipher how climate change influenced Australia's record fires" [Nature]. "So far, the conflagrations have killed at least 32 people and destroyed more than 2,000 homes across 3 states. Through it all, people have been asking [Sophie Lewis, a climate scientist at the University of New South Wales (UNSW) Canberra]: did climate change have a role in these catastrophic fires? Lewis and a handful of her collaborators were busy discussing that very question. They work in a small but growing field called attribution science, which calculates the likelihood that an extreme event such as a heatwave, a flood or a catastrophic bush-fire season was made worse by climate change. In a study published last December1, Lewis and her colleagues linked catastrophic 2018 fires in northeastern Australia to climate change, and they are now planning an attribution study for the fires that have gripped large parts of the country over the past few months (see 'A country aflame')."
"Names and Locations of the Top 100 People Killing the Planet" [The Decolonial Atlas]. • See the original for the full-sized map. It's of oil executives, though, not squillionaires, most of whom are not easy to locate: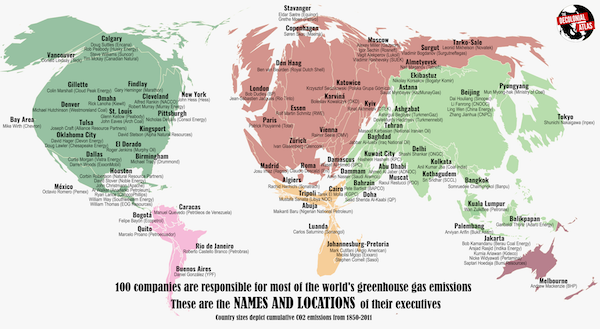 "Speedy horses evolved only recently, says landmark equine study" [National Geographic]. "An intensification of speed occurring around 200 years ago is due to breeders using only a small number of stallions, he adds. Though horses are quicker, this highly choosy breeding phenomenon has reduced genetic diversity between 14 and 16 percent, says study leader Antoine Fages, a molecular biologist also at the French research center."
"Use 'Roadside Wildflowers at Full Speed' to Identify Plants Without Leaving Your Car" [Colossal]. "'A Field Guide to Roadside Wildflowers at Full Speed,' which is available for free download, is a satirical take on the classic handbook that describes the plant, says when it's in bloom, and gives a hint about where to find it. For Helzer's project, though, each habitat is listed as "roadsides" and similar flowers tend to include descriptions like 'anything yellow.' The photographs identifying each species are blurred to "appear as they actually look when you see them from the road.'" • This actually sounds like an interesting project. I like blur.
Health Care
"The answer to America's health care cost problem might be in Maryland" [Vox]. "Maryland is the site of two big experiments in containing health care costs. The first: Since the 1970s, the state has set the prices hospitals can charge for medical care, known as all-payer rate setting. The second experiment: Since 2014, it's also capped how much health spending can grow overall, including how much revenue each hospital can take in…. Maryland has become a model for other states. Pennsylvania, for instance, has started experimenting with a small-scale version of the global budget system to keep rural hospitals afloat. But there are still problems with its model: On its own, the system hasn't shown insurance premiums dropping, employers can still push more costs onto workers, and drug companies are increasing prices rapidly. Perhaps more important, adopting Maryland's model nationally won't directly extend health coverage to the almost 27 million uninsured Americans. Still, any attempt to expand health care coverage in America — whether through Medicare-for-all or a more robust public option — will have to confront the issue of cost." • Part of a series from Vox.
"Universal Health Care, the South African Way" [Bloomberg]. "This is South Africa, where the inequities have for years been an exaggerated version of those in the U.S. The African National Congress party, which has led the country for more than 25 years and holds 58% of seats in Parliament, has committed to enacting universal health insurance, outlining the framework in a draft law published in August. Significant questions remain, including which drugs and services will be covered and how the whole thing will be financed. But with the country's biggest labor group behind it, the bill's fate is clear: South Africa will soon join the majority of the developed world in providing some form of nationalized health care. The grand experiment is a more mature version of the health-care debate in the U.S." • "More mature…."
Water
"'No fish': How dams and climate change are choking Asia's great lake" [Los Angeles Times]. "Across the Tonle Sap, a vast shallow lake in the heart of this Southeast Asian nation, fishermen are experiencing the least productive season in memory. Years of dam-building and droughts intensified by climate change have upset one of the world's richest freshwater fisheries, carrying potentially severe consequences for millions who rely on the lake for survival. Fishermen say they are capturing only 10% to 20% of their usual haul, and that the catches are smaller than in past years. Upstream, the waterways that feed the lake recently turned from their familiar caramel hue — rich with nutrients that sustain hundreds of species — to an unsettlingly clear aquamarine due to what experts called 'extremely low flows.' Normally, at the start of the year, the banks of the lake are piled high with thousands of tons of silvery, finger-length mud carp, which are mixed with salt to make prahok, a pungent, fermented paste that is an important source of protein in the Cambodian diet. By some estimates, three-quarters of the protein that Cambodia's 16 million people eat comes from the lake. But the catches were drying up by mid-January, weeks earlier than usual. The price of prahok in nearby markets has doubled to about $3 per pound. That is a substantial increase in a country where the average household has about $200 a month to spend on food."
Our Famously Free Press
"The Covington Kids' Revenge, One Year Later" [The American Conservative]. "You remember about a year ago, when Sandmann and his Catholic school classmates traveled to Washington, D.C., to join the annual March for Life rally on Capitol Hill. Sandmann was photographed smiling at a Native American. With one mighty flatulent blast, outlets like CNN imagined Sandmann, wearing his MAGA cap, as the distillation of everything evil, some redneck from Kentucky a-protestin' them abortions and rubbing his smug grin in the face of a noble Native American supposedly trying to defuse a tense situation. …. Most agenda journalism victims are expected to disappear in shame. But this time it was different. Sandmann sued a range of journalists, including Maggie Haberman, Ana Navarro, and Shaun King, for slurs they threw at him on Twitter. Included in the swath of additional lawsuits by Sandmann were CNN, MSNBC's parent company, the AP, Gannett, HuffPo, Slate, and The Washington Post. In the words of the suit, they "brought down the full force of corporate power, influence, and wealth on Nicholas by falsely attacking, vilifying, and bullying him despite the fact that he was a minor child." Sandmann beat CNN (the other suits are pending), which settled and paid rather than risk a trial. Assuming credibility and self-respect are worth about zero, we now know that the price tag for the agenda journalism CNN practices is reportedly $25 million." • Read, however, the Above the Law post cited to for the "rumored" (not "reportedly") $25 million, for a decidedly less triumphalist take.
Screening Room
This is a very long and very hilarious live thread on what seems to be a very gay Chinese horse opera:
oh no i accidentally started watching the gay exorcists for journalism and i've never seen a fool flirt so hard for so little reward oh my god ahaha pic.twitter.com/eEN570WQRB

— Aja Romano (@ajaromano) January 22, 2020
Department of Feline Felicity
Let's do the time warp again:
whoever yelled "IT WAS A RUSE, YOU IDIOT" after Macavity tricks Bustopher Jones into jumping into a hole at the @AlamoNYC midnight rowdy screening of CATS: thank you, I will be laughing about that for weeks

— Watson P. Skrimps (@whitneyarner) January 26, 2020
CATS seems to be taking on an underground life of its own…
Guillotine Watch
"Peter Thiel's Latest Venture Is the American Government" [New York Magazine]. "Thiel's increasing prominence as both an intellectual in and benefactor of the conservative movement — and his status as a legend in Silicon Valley — makes him at least as important as more public tech CEOs like Mark Zuckerberg. In fact, he still holds sway over Zuckerberg: Recent reports suggest Thiel was the most influential voice in Facebook's decision to allow politicians to lie in ads on its platform. What Thiel believes now is likely to influence the next generation of conservative and libertarian thinkers — if not what the president believes the next day. How to square Thiel's post-national techno-libertarianism with his bloodthirsty authoritarian nationalism? Strangely, he wants both. Today's Thielism is a libertarianism with an abstract commitment to personal freedom but no particular affection for democracy — or even for "politics" as a process by which people might make collective decisions about the distribution of power and resources. Thiel has wed himself to state power not in an effort to participate in the political process but as an end run around it."
Class Warfare
News of the Wired
"Your Guide to Not Getting Murdered in a Quaint English Village" [CrimeReads]. "In English villages, vats only exist for drowning people—in beer, in pickling brine, in whiskey, in jam. This is doubly true if the vat was built by 14th century monks. If anyone offers to show you a vat, say you need to get something from your car, then start the engine and run them over. The police understand this sort of thing. Tell them about the vat." • News you can use!
* * *
Readers, feel free to contact me at lambert [UNDERSCORE] strether [DOT] corrente [AT] yahoo [DOT] com, with (a) links, and even better (b) sources I should curate regularly, (c) how to send me a check if you are allergic to PayPal, and (d) to find out how to send me images of plants. Vegetables are fine! Fungi and coral are deemed to be honorary plants! If you want your handle to appear as a credit, please place it at the start of your mail in parentheses: (thus). Otherwise, I will anonymize by using your initials. See the previous Water Cooler (with plant) here. Today's plant (IM):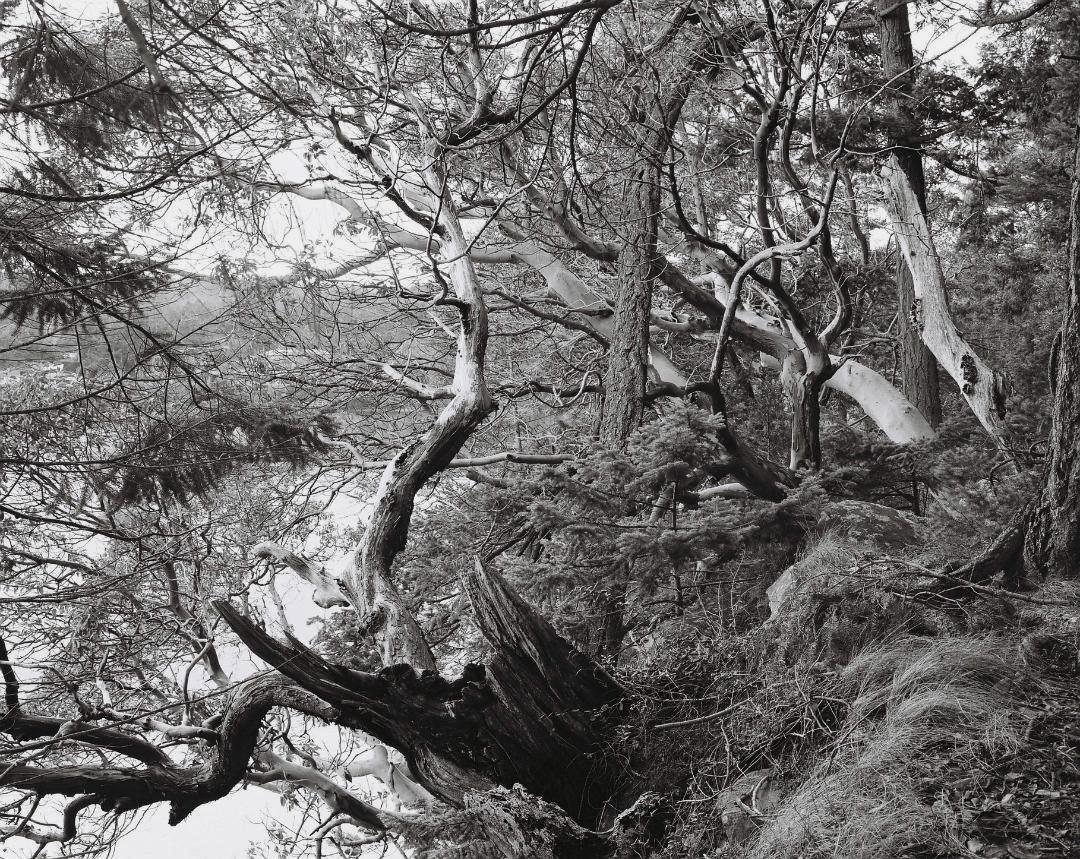 IM writes: "Gulf island coastline."
* * *
Readers: Water Cooler is a standalone entity not covered by the annual NC fundraiser. So if you see a link you especially like, or an item you wouldn't see anywhere else, please do not hesitate to express your appreciation in tangible form. Remember, a tip jar is for tipping! Regular positive feedback both makes me feel good and lets me know I'm on the right track with coverage. When I get no donations for five or ten days I get worried. More tangibly, a constant trickle of donations helps me with expenses, and I factor in that trickle when setting fundraising goals:
Here is the screen that will appear, which I have helpfully annotated.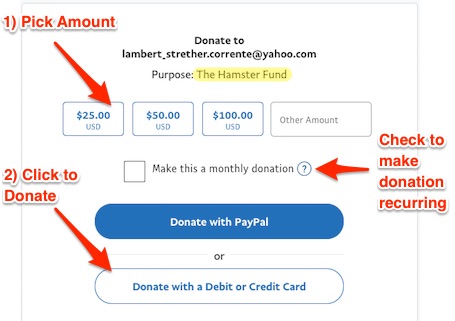 If you hate PayPal, you can email me at lambert [UNDERSCORE] strether [DOT] corrente [AT] yahoo [DOT] com, and I will give you directions on how to send a check. Thank you!