By Lambert Strether of Corrente.
Politics
"But what is government itself, but the greatest of all reflections on human nature?" –James Madison, Federalist 51
"They had one weapon left and both knew it: treachery." –Frank Herbert, Dune
Here is a second counter for the Iowa Caucus, which is obviously just around the corner:
* * *
2020
Alert reader dk (not to be confused with DK) is in the process of developing the following interactive chart.

We have new national Quinnipiac as of 1/28/2020, 12:00 PM EST. Biden and Sanders are the pick of the litter, trailed by Warren and, horridly, Bloomberg, who has lapped Buttigieg and Klobuchar. Of course, these are national polls, about to be massively thrown into confusion by IA, NH, SC, and NV — and then CA. I stopped using three-day averages because, this close to the first balloting, day to day fluctuations are important. Because there were many state polls, I disaggregated to the national poll only:

And the numbers:

And now for the state polls. IA:

IA numbers:

NH:

NH numbers:

Premature triumphalism is ugly and stupid, but it's hard to see — if these figures are right; Iowa is volatile! — how the Sanders campaign could be better positioned, less than a week out. Caveat: Sanders' young voters really have to come through, as do new voters. Those are big risk factors, but if the gamble pays off in early states, I would bet disaffected voters in later states will join in the fun. Of course, the negative advertising has already begun…

And for grins (no recent polling), SC:

SC numbers:

SC likes a winner, and will no doubt be greatly affected by what happens in NH and IA.

Ahd The Big One, CA:

CA numbers:

Yesterday I remarked how audacious it was for Sanders to try to win CA with the ground game, comparing it to a thrust through the Ardennes; for fans of the Aubrey/Maturin series, it reminds me of how the brig Sophie captured the much larger Cacafuego, by boarding it.

Summary: The Biden juggernaut rolls on, but Sanders has pulled even. Warren is in trouble (meaning her smear of Sanders did not work). Bloomberg is buying his way in.

CAVEAT I think we have to track the polls because so much of the horse-race coverage is generated by them; and at least with these charts we're insulating ourselves against getting excited about any one poll. That said, we should remember that the polling in 2016, as it turned out, was more about narrative than about sampling, and that this year is, if anything, even more so. In fact, one is entitled to ask, with the latest I boomlet (bubble? (bezzle?)) which came first: The narrative, or the poll? One hears of push polling, to be sure, but not of collective push polling by herding pollsters. We should also worry about state polls with very small sample sizes and big gaps in coverage. And that's before we get to the issues with cellphones (as well as whether voters in very small, very early states game their answers). So we are indeed following a horse-race, but the horses don't stay in their lanes, some of the horses are not in it to win but to interfere with the others, the track is very muddy, and the mud has splattered our binoculars, such that it's very hard to see what's going on from the stands. Also, the track owners are crooked and the stewards are on the take. Everything's fine.

I think dk has started a really neat project, and in the near future we'll seek your feedback (within reason) for the tool "live."

* * *

Biden (D)(1): "Biden won't say whether Sanders could unify Dems as nominee" [Associated Press]. "Former Vice President Joe Biden wouldn't say Tuesday whether he thinks Bernie Sanders could effectively unify the Democrats if the Vermont senator wins the party's presidential nomination. 'We have to unite,' Biden told reporters in Muscatine, six days before the Iowa caucuses. '. I just think that it depends upon how we treat one another between now and the time we have a nominee.' Biden has previously promised to support the Democratic nominee, regardless of who it is."

Bloomberg (D)(1): "Michael Bloomberg awkwardly shakes dog's snout at Vermont campaign stop" [New York Post]. "Presidential hopeful Michael Bloomberg touched off a social media debate on how to play with a dog on Tuesday after video emerged of him greeting a dog by shaking its snout at a campaign stop in Vermont. … The footage shows Bloomberg shake a man's hand, then grab the dog by the muzzle and shake the pooch up and down. After the snout-shake, Bloomberg scratches the top of the dog's head. The dog wagged his tale [sic] throughout the episode." • So, fine, right? Anyhow, for the record, the video:

While campaigning in Vermont yesterday, Michael Bloomberg met a dog – and shook its snout https://t.co/zhK9QC4Rm9 pic.twitter.com/IoFPys7S8k

— CBS News (@CBSNews) January 28, 2020

The history:

Apparently this is not even the first time Mike Bloomberg has greeted a dog by shaking its snout. pic.twitter.com/oTxMY2M40Y

— Aaron Blake (@AaronBlake) January 28, 2020

And Bloomberg's response:

Dog people get me. Dogs too. #DogsFurMike pic.twitter.com/gGejm10vZQ

— Mike Bloomberg (@MikeBloomberg) January 29, 2020

Adroit, I must say. (And it's not like Bloomberg strapped the dog to the top of his car.)

Buttigieg (D)(1): "Buttigieg campaign responds to allegations from minority staffers" [CBS]. "Amid accusations from former and current staffers of color that their concerns were repeatedly ignored, former South Bend Mayor Pete Buttigieg's presidential campaign is insisting that it's committed to diversity. Both The New York Times and The Wall Street Journal reported Tuesday that minority staffers felt they were placed under undue stress by campaign officials. According to the Times, the staffers said they suffered under the "emotional weight" placed on them by the campaign, which has struggled to attract support from Hispanics and African Americans." • Not a good time for big staff problems.

Sanders (D)(1): "Sanders Campaign Tells Volunteers to Back Off Phone Calls" [The Intercept]. "The move away from phone-banking comes as Sanders is surging in the polls in Iowa, New Hampshire, and nationally and is explained in a detailed memo sent via Slack to campaign volunteers by Claire Sandberg, the campaign's national organizing director. The directive applies to volunteers who live in states that vote in March, which together make up more than half the country…. Sandberg, in the memo, urges volunteers to pivot either to door-to-door canvassing in their home state, or to friend-to-friend organizing through the campaign's Bern app. … It is far more effective, campaign leaders have argued, to have friends and relatives urge those close to them to come out to caucus — known as relational organizing — than to carpet-bomb phone lines. The campaign's original goal for phone calls before Iowa was 5 million, but volunteers have already surpassed 7 million."

Sanders (D)(2): "Sunrise Movement to Host Nationwide House Parties to Boost Sanders, Demand Green Green New Deal" [Common Dreams]. "Youth led climate advocacy group the Sunrise Movement is asking supporters to host launch parties on Wednesday for the 2020 effort to pass the Green New Deal and back the presidential candidacy of Sen. Bernie Sanders, who has made addressing the climate crisis a major issue in his campaign. The launch is aimed at raising energy around the "Our Plan to Win" strategy the group is employing to help Sanders win the Democratic nomination and then the White House… The launch parties are scheduled across the U.S. all day Wednesday, January 29." • If any readers attend one of these meetings, a field report would be welcome.

Sanders (D)(3): "Can Bernie Beat Trump?" [The American Conservative]. "Sanders might actually be able to do a little of both: turn out Democrats who didn't vote in the pivotal states in 2016 while also competing for Obama-Trump voters. Sanders could more effectively run on Trump's failure to fully keep his campaign promises on foreign policy and trade (though he's had to capitulate on immigration) than Joe Biden or most of the other Democrats running. This populist pitch could win over some Trump 2016 voters while at the same time heightening progressive enthusiasm. And Trump's fundamentals outside of managing the economy are shaky enough he is not invincible head-to-head. Does that mean Democrats are wrong to worry about what would happen after the Sanders platform is exposed to a barrage of Trump campaign ads? Barring a recession, of course not. Sanders could have a higher ceiling than Biden, but he also almost certainly has a lower floor. Nevertheless, the political conditions that made Trump's election possible could do the same for Bernie." • It seems that conservatives are more clear-eyed about their enemies than liberals.

Sanders (D)(4): "Bernie Is the Opponent Trump Wants" [William Saletan, Slate]. "Sanders has major liabilities that haven't been exploited in the primaries. If he's the nominee, those liabilities could hand the election to President Donald Trump. David Frum made this case on Monday in the Atlantic, and Jonathan Chait, writing for New York magazine, has backed it up with evidence from recent elections. But polls suggest that Trump has already identified a theme that would destroy Sanders: his socialism." • I suppose, however, that if you're a volatility voter, "socialism ZOMG!!" is the ultimate volatility vote.

Sanders (D)(5): "Democrats court doom by backing Bernie Sanders. His ideas are toxic outside blue America" [Third Way, USA Today]. "Sen. Bernie Sanders, I-Vt.? We know that the Trump campaign will seek to label any Democratic nominee a "socialist" — a regular Republican tactic that usually goes nowhere because Democratic nominees have never really been socialists. Sanders is different, though. As he said in a 1983 political debate: 'I am a socialist; of course I'm a socialist.' The charge would stick, because this is an identity that he himself has proudly trumpeted. And most Americans view socialism negatively, by a margin of 42-55%. That would be quite a weight around a nominee's neck in a general election. The potency of this pending attack is also underscored by Sanders' central policy proposal: 'Medicare for All.' His plan would hand the government control over nearly a fifth of the American economy. It doesn't take much Trumpian demagoguery to label that 'socialized medicine.'" • If the election is about "change vs. more of the same," it's hard to see how "more of the same" on health care is anything but a loser.

UPDATE (D)(6): "The Democrats' Bernie Bind" [Politico]. "Republican presidential candidates found themselves in a similar pickle in 2016. They feared Trump was unelectable, but they didn't want to anger his supporters by trashing him or his positions. By bowing to Trump and his devout fans, Republicans won the White House. Sanders makes a parallel argument today: that 'excitement and energy' are needed to defeat Trump. One South Carolina elected official Dalhi Myers recently switched her support from Biden to Sanders on that logic. As the Associated Press reported, Myers, a member of the Richland County Council, 'said she started to feel that Biden's candidacy, while familiar and perhaps comfortable, wasn't going to be enough to inspire the young voters whom she sees as necessary to a Democratic general election win.' We can't know today whether Sanders could blaze a Trump-like path to the White House. We do know that the Republican acquiescence to Trump in 2016 changed the complexion of the GOP, perhaps for a generation. How Democrats react to the rise of Sanders today may similarly determine what kind of party they are going to be." • Surprisingly balanced for Politico.

Trump (R)(1): "Thousands in line for Trump's rally in Wildwood" [NJ.com]. "A line that snaked back and forth outside the Wildwoods Convention Center continued to grow early Tuesday as hundreds and hundreds of people from across New Jersey and other states joined to stand in the biting Jersey Shore cold for hours for a chance to see President Donald Trump. Bundled up in sleeping bags, hats and gloves, and sitting on folding chairs many of them planned to toss later, the crowd — which started to form Sunday afternoon — quickly grew to a few thousand people trying to be among those admitted inside to see Trump speak tonight." • Impressive.

Trump (R)(2): "Trump allies are handing out cash to black voters" [Politico]. "Allies of Donald Trump have begun holding events in black communities where organizers lavish praise on the president as they hand out tens of thousands of dollars to lucky attendees. The first giveaway took place last month in Cleveland, where recipients whose winning tickets were drawn from a bin landed cash gifts in increments of several hundred dollars, stuffed into envelopes. A second giveaway scheduled for this month in Virginia has been postponed, and more are said to be in the works…. [T]he cash giveaways are organized under the auspices of an outside charity, the Urban Revitalization Coalition, permitting donors to remain anonymous and make tax-deductible contributions." • "Urban," I love it. Seriously, this is Third World, clientelist stuff. Take the money, and voter however you want…

* * *

IA: "Age Of Voters, Not Candidates, Could Decide Who Wins The Iowa Caucuses" [HuffPo]. "The political fortunes of former Vice President Joe Biden and Vermont Sen. Bernie Sanders could hinge on how many young voters show up to next week's Iowa caucuses, which are historically dominated by older voters with the ability to dedicate a full night to participating in the lengthy, labor-intensive process…. Age has emerged as the crucial dividing line ahead of the Democratic caucuses here, neatly dividing the coalitions of the two septuagenarians in a way education, class and geography do not. Sanders, whose bold agenda includes aggressive plans to wipe out student debt and battle climate change, disproportionately draws support from millennials and members of Generation Z. Biden, who has unveiled more cautious policy proposals, is heavily reliant on the gray-haired." • Note that the shift by the Sanders campaign to "relational organizing" dovetails neatly with a requirement to get people to the caucuses.
Impeachment
But what did Bolton actually write:

Bolton news is fuzzy. Bolton isn't saying Trump tied Ukraine weapons $ to opening a Burisma/2016 probe. Bolton says Trump wanted Ukraine to "[turn] over all materials they had about the Russia investigation that related Mr. Biden & and supporters of Mrs. Clinton in Ukraine." Huh? pic.twitter.com/RNiBM6ANwT

— Aaron Maté (@aaronjmate) January 26, 2020

If only Michelle had given John Bolton candy:

….many more mistakes of judgement, gets fired because frankly, if I listened to him, we would be in World War Six by now, and goes out and IMMEDIATELY writes a nasty & untrue book. All Classified National Security. Who would do this?

— Donald J. Trump (@realDonaldTrump) January 29, 2020

"World War Six." You've gotta respect it.

"Red state Democrat says he's open to having Hunter Biden as witness in impeachment trial" [CNN]. • Joe Manchin. Of course.

"'Kind of pointless': In battleground Michigan, impeachment takes back seat to everyday issues" [Reuters]. "'You've got elderly who need help. You've got veterans who need help. You've got poor people who need help. Impeachment doesn't really help a person who is struggling,' said [Victor] Burch, 40, who took up cutting hair after he lost his job at a plastics factory in the 2007-2009 financial crisis. Burch, an undecided African-American voter, added: 'Close up the barber shop and say: 'Let's just sit and hold hands and watch and see if Trump is going or not'? We can't do that. .' Voters like Burch and places like Livonia will be at the epicenter of November's presidential contest. Michigan itself is a crucial battleground state that Trump carried unexpectedly in 2016 by about 11,000 votes, propelling him to the White House along with wins in Pennsylvania and Wisconsin. But interviews with two dozen voters in Livonia over recent days showed that months of impeachment hearings, testimony and political storms in Washington had done almost nothing to alter their views. Instead, many were focused on issues of the day, such as jobs, healthcare, immigration and education." • Who knew?
Stats Watch
Employment Situation: "Hiring at U.S. Firms Showed Signs of Cooling in Fourth Quarter" [Bloomberg]. "A survey of U.S. companies showed that hiring was flat in the fourth quarter, the first unchanged reading in a decade and the latest signal that the labor market is cooling off. Eighteen percent of 95 firms reported that employment had risen over the past three months, while an equal share said it had fallen, according to a National Association for Business Economics survey of member firms released Monday."
The Bezzle: "Shady Bitcoin Transactions Hit All-Time High" [PYMNTS.com]. "Bitcoin prices, trading and shopping are down but criminal activity involving the cryptocurrency is at an all-time high, the New York Times (NYT) reported on Tuesday (Jan. 28). Drug sales on the dark web are particularly high, up 60 percent and hitting $601 million from January to March 2019, according to blockchain analysis firm and government advisor Chainalysis. Bitcoin has also been pivotal in the rise in ransomware cyberattacks…. Criminal activity accounted for $3.5 billion stolen from millions of victims in 2019, over three times more than in 2018, according to the Chainalysis data." • Three billion is hardly real money. Why don't these people go into banking? That's where the real money is.
The Bezzle: "Salesforce Encouraged Employees to Expense Co-CEO Marc Benioff's Book" [Bloomberg]. • Because of course it did.
Tech: "Apple Inc.'s shift from devices to services as the top revenue source will have to wait. The electronics behemoth posted record revenue and a return to profit growth in its latest quarter…. behind strong sales of iPhones, apps and its AirPods wireless earbuds" [Wall Street Journal]. "The results marked a return to form for Apple, which for the first time last year failed to report a quarterly revenue record since the iPhone's 2007 release…. [T]he iPhone still accounted for 61% of Apple's revenue last quarter, and the company plans to release a low-priced phone this year that could give sales and a new jolt."
Manufacturing: "Consolidation is spreading across automotive supply chains as the race toward electric vehicles picks up speed. BorgWarner Inc. is buying fellow auto parts maker Delphi Technologies PLC in an all-stock transaction that values Delphi at about $3.3 billion" [Wall Street Journal]. "The companies are giants in components manufacturing, with nearly $15 billion in combined revenue last year. But sales at BorgWarner and Delphi fell in 2019 amid the broader overhaul that has seen car makers rush toward startups and new suppliers focused on electrification and autonomous technology. That has pushed some traditional suppliers of auto components into a corner. Both BorgWarner and Delphi have been working on 'electric propulsion' systems, but combining forces will allow them to share their resources and costs as they help auto makers go electric."
Manufacturing: "Does Tesla make solar glass roof tile in its Buffalo, New York factory? Or in China?" [PV Magazine]. "However, while photographing day 6 of this roof installation in Northern California: We noticed these boxes full of solar glass roof tiles: Based on that label, one might conclude that these boxes of solar roof tiles were coming from Changzou Almaden Co. on Qinglong East Road in Changzou, Jiangzhou, China — 7,135 miles from Buffalo, New York."
* * *
Today's Fear & Greed Index: 56 Greed (previous close: 53 Neutral) [
CNN
]. One week ago: 74 (Greed). (0 is Extreme Fear; 100 is Extreme Greed). Last updated Jan 28 at 12:59pm.
Health Care
"Wuhan Coronavirus (2019-nCoV) Global Cases" [Johns Hopkins CSSE]. • This is a very good, dynamically updated map using ArcGIS mapping software. Data sources: WHO, CDC, NHC and Dingxiangyuan. Consider bookmarking. The "Total Confirmed Cases" chart at bottom left is certainly an attention-grabber.
* * *
Meanwhile, one wonder how our own "health" "care" "system" would cope with an equivalent challenge:
"I've always had a voice, but it was not heard in this way…My daughter died and it wasn't God's work. Policy killed her. Politicians killed my daughter." -Callie Greer @AlabamaPPC, whose daughter died because she didn't have healthcare. #PoorPeoplesCampaign pic.twitter.com/3yJyvGubtz

— Poor People's Campaign (@UniteThePoor) January 29, 2020
(Incidentally, pandemics provide the strongest possible use case supporting universal health care for residents, not just for citizens.)
Class Warfare
"A West Coast union faces bankruptcy. Here's why unions nationwide are unnerved" [Los Angeles Times]. "But a $94-million federal jury award Nov. 4 to ICTSI Oregon Inc., a cargo terminal operator, has forced union leaders to warn that a filing for Chapter 11 bankruptcy protection may be ahead." • The details are complex; the whole article is worth a read, especially for those who view the supply chain as a chokepoint for working class activism.
"Blog Review of Quinn Slobodian's 'Globalists" [International Economic Law and Policy Blog]. "It is possible that we are at a crossroads with the trading system, although I don't really think so and my guess is that most of the apparent political difficulties of the moment are being overstated. But if there is a choice as to which direction we should be going, I'll be interested to see what left wing critics choose. There is a group on the left that seems to really want to dislike trade liberalization and trade agreements. And there are some issues (e.g., IP, ISDS) where I think they have a point, and I've said so publicly many times. But do they really want to support an anti-"globalist"/economic nationalist alternative? There's a lot of baggage that comes with that. I would have thought that self-proclaimed "progressives" would be looking for ways to promote a different version of international economic integration, rather than completely dismantle the system, and some of them are doing so. As for others who may feel inclined to reject trade liberalization and trade agreements, I would just encourage them to take a more nuanced look at the existing trading system before they decide what they think of it."
News of the Wired
"The environmental cost of keeping mail and files online keeps rising" [Japan Times]. "More and more, people rely on their electronic mailbox as a life organizer. Old emails, photos and files from years past sit undisturbed, awaiting a search for a name, address or photo of an old boyfriend. The problem is that all those messages require energy to preserve them. And despite the tech industry's focus on renewables, the advents of streaming and artificial intelligence are only accelerating the amount of fossil fuels burned to keep data servers up. Right now, data centers consume about 2 percent of the world's electricity, but that is expected to reach 8 percent by 2030. Moreover, only about 6 percent of all data ever created is in active use today, according to research from Hewlett Packard Enterprise. That means 94 percent is sitting in a vast 'landfill' with a massive carbon footprint. 'It's costing us the equivalent of maintaining the airline industry for data we don't even use," said Andrew Choi, a senior research analyst at Parnassus Investments, a $27 billion environmental, social and governance firm (ESG) in San Francisco." • Ha ha. We blew away all our paper records. Soon, we'll blow away all our digital records. Who needs a collective memory? Who needs oldthink?
* * *
Readers, feel free to contact me at lambert [UNDERSCORE] strether [DOT] corrente [AT] yahoo [DOT] com, with (a) links, and even better (b) sources I should curate regularly, (c) how to send me a check if you are allergic to PayPal, and (d) to find out how to send me images of plants. Vegetables are fine! Fungi and coral are deemed to be honorary plants! If you want your handle to appear as a credit, please place it at the start of your mail in parentheses: (thus). Otherwise, I will anonymize by using your initials. See the previous Water Cooler (with plant)
here
. Today's plant (EH):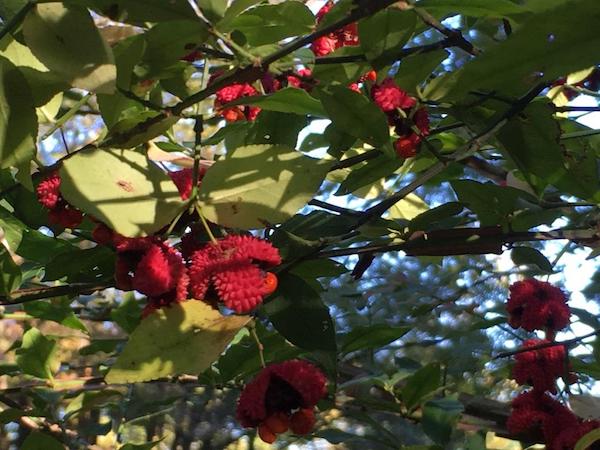 EH writes: "Euonymus americanus ('Hearts a' Busting') photographed Oct. 20 on woodland edge in Eastern Shore of Maryland in October. USA version of spindle tree." What a great name for a plant!
"
* * *
Readers
: Water Cooler is a standalone entity
not
covered by the annual NC fundraiser. So if you see a link you especially like, or an item you wouldn't see anywhere else, please do not hesitate to express your appreciation in tangible form. Remember, a tip jar is for tipping!
Regular positive feedback both makes me feel good and lets me know I'm on the right track with coverage
. When I get no donations for five or ten days I get worried. More tangibly, a constant trickle of donations helps me with expenses, and I factor in that trickle when setting fundraising goals:
Here is the screen that will appear, which I have helpfully annotated.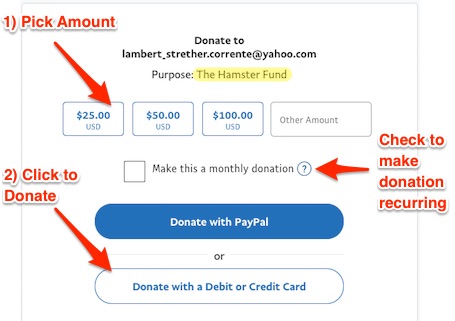 If you hate PayPal, you can email me at lambert [UNDERSCORE] strether [DOT] corrente [AT] yahoo [DOT] com, and I will give you directions on how to send a check. Thank you!