By Lambert Strether of Corrente.
Readers, please return at 7:30pm ET for this evening's Democrat Presidential debate. –lambert
Politics
"But what is government itself, but the greatest of all reflections on human nature?" –James Madison, Federalist 51
"They had one weapon left and both knew it: treachery." –Frank Herbert, Dune
Key dates coming fast now, so I added some counters:
Here is a second counter for South Carolina, coming soon:
And for Super Tuesday:
Super Tuesday states: AL, AK, CA, CO, ME, MA, MN, NC, OK, TN, TX, UT, VT, and VA.
* * *
* * *
2020
We encourage readers to want to play around with the charts; they are dynamic, and there are a lot of settings. Here is a link to alert reader dk's project. You can also file bug reports or feature requests using the same contact process as for Plants, below. Thanks — but no promises!

Today we have one new national poll from Morning Consult, and a new state poll from SC. As of 2/25/2020, 12:00 PM EST (three-day average):

And the numbers:

Again, hard to think this is what the DNC had in mind.

And now to states, with the caveat that they are all small samples, irregular, and bad. SC:

SC numbers:

Looks like Steyer took a nose-dive, and Biden picked up all his votes. Odd.

CAVEAT I think we have to track the polls because so much of the horse-race coverage is generated by them; and at least with these charts we're insulating ourselves against getting excited about any one poll. That said, we should remember that the polling in 2016, as it turned out, was more about narrative than about sampling, and that this year is, if anything, even more so. In fact, one is entitled to ask, with the latest I boomlet (bubble? (bezzle?)) which came first: The narrative, or the poll? One hears of push polling, to be sure, but not of collective push polling by herding pollsters. We should also worry about state polls with very small sample sizes and big gaps in coverage. And that's before we get to the issues with cellphones (as well as whether voters in very small, very early states game their answers). So we are indeed following a horse-race, but the horses don't stay in their lanes, some of the horses are not in it to win but to interfere with the others, the track is very muddy, and the mud has splattered our binoculars, such that it's very hard to see what's going on from the stands. Also, the track owners are crooked and the stewards are on the take. Everything's fine.

* * *

Biden (D)(1): You'd think word of this would spread:

Kinda weird to lie about being arrested with Nelson Mandela but idk https://t.co/FbAqLfKkQu

— The Alternative (@GetAlternative) February 24, 2020

Perhaps in tonight's debate?

Bloomberg (D)(1): "'The People Versus the Oligarch': Bloomberg Planning All-Out Media Assault on Sanders Ahead of Super Tuesday" [Common Dreams]. "'This will be a good test of the durability of Bernie's strength in polls against Trump,' tweeted [New York magazine writer Eric Levitz]. 'If Bloomberg's wall-to-wall character assassination campaign doesn't erase Bernie's advantage in those polls, no reason to think he can't hold strong in the general.'" •

Bloomberg (D)(2): Where's the lie?

"Oligarch"
Our office in Youngstown, OH

America deserves better. pic.twitter.com/zDdv2CZzVs

— Team Bloomberg (@Mike2020) February 24, 2020

What kind of "vandals" tape paper onto on a window, or bring their own sign and leans it against the wall?! They tag the wall!

Bloomberg (D)(3): Wowsers, this story is really escalating:

The Bloomberg campaign office in Salt Lake City was vandalized overnight. It is confirmed that roughly 50 rocks were thrown through the window. pic.twitter.com/sL5jPftDtM

— KSL NewsRadio (@kslnewsradio) February 22, 2020

Any forensic glaziers in the house?

UPDATE Bloomberg (D)(4):

a source sent me some bloomberg campaign training videoshttps://t.co/dVVJjUIDVj

— Crewman Number Guy (@Atrios) February 25, 2020

UPDATE Bloomberg (D)(5): "The Guy Behind "Homeless Hotspots" Now Works For The Bloomberg Campaign" [Buzzfeed]. "In 2012, the biggest story to come out of South by Southwest Innovation, the tech conference held in Austin, was 'Homeless Hotspots.' It was a project by an ad agency that gave 4G hotspots to 13 men without housing in the city to offer Wi-Fi to festivalgoers. The project was immediately slammed by press and attendees as dystopian and a 'blunt display of unselfconscious gall.' Now, the man who came up with it is working for the presidential campaign of Michael Bloomberg… Tim Nolan is currently a "creative lead" overseeing digital advertising for the well-funded machine of Bloomberg 2020." • All the money in the world, and Bloomberg hires this guy.

UPDATE Bloomberg (D)(6): "In 2019 speech, Bloomberg mocked Brooklyn father and son who died from heroin as 'not a good family'" [New York Daily News]. "Mike Bloomberg poked fun last year at a father and son who died from heroin overdoses at the same Brooklyn party… Speaking at the Bermuda Executive Forum in Manhattan last March, the billionaire ex-mayor referenced a Daily News front-page story about the tragic October 2017 deaths of Joseph and Carlos Andrade, a previously unreported video of the event shows. 'Daily News had a picture on the front page of a father and a son — they both OD'd at the same party. I mean, it's not a good family — craziness,' Bloomberg says to chuckles from the audience." • "Poked fun." Should go over big in the Heartland.

Buttigieg (D)(1): "The State endorses Pete Buttigieg in the South Carolina Democratic Party primary" [The State]. "It is vital, then, for the Democrats to nominate an energetic, disciplined candidate who can offer voters a powerful yet pragmatic vision of a better America. The Democrats need a nominee who seeks to bring Americans together based on broad common ground — and not divide them along narrow interests. Among the Democratic presidential candidates, former South Bend, Indiana Mayor Pete Buttigieg is the best person to meet these challenges." • Narrow interests….

UPDATE Buttigieg (D)(2): "Pete Buttigieg courts black voters in run-up to SC Democratic primary" [Greenville News]. "Buttigieg joined a march to a McDonald's restaurant where protesters chanted for a higher federal minimum wage — but the reaction was divided once he became involved. The rally was organized by Fight for $15, a movement that supports increasing minimum wage to $15 per hour. Rally organizers called on McDonald's workers to unionize and strike. Some protesters were angered by his presence. Brittany Smalls, a coordinator with the organization Black Voters Matter, came down from Pennsylvania to support the efforts for a higher minimum wage, but she stepped away from the protesters when Buttigieg appeared behind a banner at the front of the march that read 'Unions for all.' 'I finally stepped away when he decided to join the race for photo ops, because that's all he does,' Smalls said." • Of course, Smalls is from PA, but did Buttigieg really have to pop up in front of a banner?

Sanders (D)(1): "Sanders Rises as Primary Voters Grow More Confident About His Chances Against Trump" [Morning Consult]. "Sen. Bernie Sanders is consolidating support for the Democratic presidential nod following his victory in the Nevada caucuses, as the party's primary voters grow more bullish on the Vermont independent's chances of beating President Donald Trump in November…. The latest Morning Consult tracking poll also finds Sanders leading the field among black voters for the first time as the race moves to South Carolina, the second successive state with a significant black population that former Vice President Joe Biden's campaign views as a firewall. Thirty-three percent of black Democratic primary voters said they're backing Sanders, compared with 29 percent who said Biden, within the subsample's 4-point margin of error."

UPDATE Sanders (D)(2): "A line-by-line response to Fred Hiatt's pro-oil, anti-Sanders climate op-ed" [Heated]. • Hiatt needed a beat-down on this. Here it is!

UPDATE Sanders (D)(3):


Welcome to Florida, @BernieSanders

This was filed in state court today pic.twitter.com/Rf2NVMFUJt

— Matt Dixon (@Mdixon55) February 25, 2020

Here is a copy of the complaint. I think the lawyer, Karen Gievers, a former Judge, might be more interesting than the plaintiffs, who could well be straws.

Trump (R)(1): "More than 6 in 10 expect Trump to be reelected: poll" [The Hill]. "The CBS News-YouGov poll found 65 percent of voters say Trump will 'definitely' or 'probably' win the 2020 election, compared to 35 percent who say he will 'definitely not' or 'probably not' win. More than nine in 10 Republicans are confident Trump will continue to be president, with more than a third of Democrats agreeing. Although only 42 percent of Democratic voters in the poll have decided who they will vote for, six in 10 of all voters say their vote won't be affected by who the Democratic nominee is or what Trump does in the next year. The theoretical matchup races between Trump and the top six candidates are close, with no more than 3 percentage points between the Democratic candidate and the president. But no Democratic candidate obtains more than about a quarter of voters who believe they will defeat Trump. Sen. Bernie Sanders (I-Vt.) gets the highest score at 27 percent, who think he will win against the president. "

Warren (D)(1): Paging Thomas Frank:

Tied with post-graduate degrees https://t.co/itrRaxjnj2

— Nate Cohn (@Nate_Cohn) February 23, 2020

* * *

A good thread on opposition research:

1. Re-upping this thread from last year about oppo research (a term I hate but need to use so people don't get confused) as I'm seeing a lot of inaccurate takes on alleged research on Bernie Sanders…especially from Never Trumpers who have an outdated understanding of research https://t.co/t13Oti7WJJ

— Yashar Ali ? (@yashar) February 24, 2020

* * *

TX:

Turnout:

From @texasdemocrats: Turnout for the 2020 presidential primary is outpacing turnout in 2016 by about 60% pic.twitter.com/w8GR7kwzt5

— G. Elliott Morris (@gelliottmorris) February 25, 2020

* * *

NV:

"How a Rank-and-File Revolt in Las Vegas Dealt Bernie a Winning Hand" [The Nation]. "Shortly after noon, caucus participants were asked to rise from their chairs and vote with their feet. The vast majority promptly marched directly to Sanders's side of the room. Surprised by their strength, Bernie's supporters erupted in cheers and more than one of us broke down in tears. It would be hard to overstate the political importance of Saturday's win, which was replicated across the seven Las Vegas strip caucuses. A workforce made up predominantly of women of color enthusiastically gave their votes to a candidate who mainstream media pundits have repeatedly told them is backed only by white guys. Though one should never underestimate the perfidy of the corporate punditry, it's possible that these strip workers, together with Nevada's broader multiracial working class, may have finally put the 'Bernie Bro' myth out of its misery."
RussiaGate
Pushing a string?

Absolutely disgusting. MSNBC just ran this graphic. No question mark.. just the statement – Russia's Favorites. Their desperation is growing. #NotMeUs #Bernie2020 pic.twitter.com/hNFHl65Csm

— Geoff Campbell (MiamiGator) (@GeoffMiami) February 24, 2020

"Russiagate II: Return Of The Low Intelligence Zombies" [Peter Van Buren, The American Conservative]. "The intel community crossed a line in 2016, albeit clumsily (what was all that with Comey and Hillary?), to play an overt role in the electoral process. When that didn't work out and Trump was elected, they pivoted and drove us to the brink of all hell breaking loose with Russiagate I. The media welcomed and supported them. The Dems welcomed and supported them. Far too many Americans welcomed and supported them in some elaborate version of the ends justifying the means. The good news from 2016 was that the Deep State turned out to be less competent than we originally feared. But they have learned much from those mistakes, particularly how deft a tool a compliant MSM is. This election will be a historian's marker for how a decent nation, fully warned in 2016, fooled itself in 2020 into self-harm. Forget about foreigners influencing our elections from the outside; the zombies are already inside the house."
Realignment and Legitimacy
"Warren Buffett says 'I'm a Democrat,' and would have 'no trouble' voting for Bloomberg" [Reuters]. • Who knew, and who knew?

"Reliability of pricey new voting machines questioned" [Associated Press]. "Nearly 1 in 5 U.S. voters will be using ballot-marking machines this year, compared with less than 2% in 2018, according to Verified Voting, which tracks voting technology. Pivotal counties in the crucial states of Pennsylvania, Ohio and North Carolina have bought ballot-marking machines. So have counties in much of Texas, as well as California's Los Angeles County and all of Georgia, Delaware and South Carolina. The machines' certification has often been streamlined in the rush to get machines in place for presidential primaries…. Tampering aside, some of the newer ballot-marking machines have stumbled badly in actual votes. That happened most spectacularly in November when ES&S's top-of-the-line ExpressVote XL debuted in a Pennsylvania county. Even without technical troubles, the new machines can lead to longer lines, potentially reducing turnout." • You say "reducing turnout" like that's a bad thing! This article also devotes a fair amount of space to advocates for hand-marked paper ballots, hand-counted in public, which is encouraging.

"Game-changing LA County voting centers open, but some voters turned away amid early glitches" [Los Angeles Daily News]. "[S}everal of the new, highly touted hubs were forced to turn away voters because of missing codes required to operate the new machines, or for other missing components that poll workers needed to process voters."
Stats Watch
At reader request, I added some business stats back in. Please give Econintersect click-throughs; they're a good, old-school blog that covers more than stats. If anybody knows of other aggregators, please leave links in comments.
No stats of interest today
* * *
"Breaking bad… browser use: New Mexico accuses Google of illegally slurping kids' private data via G Suite" [The Register]. • Google's denial is at the end of the article. It seems carefully worded.
Today's Fear & Greed Index: 27 Fear (previous close: 29 Fear) [CNN]. One week ago: 51 (Neutral). (0 is Extreme Fear; 100 is Extreme Greed). Last updated Feb 25 at 12:08pm.
The Biosphere
"Can rationing carbon help fight climate change?" [BBC]. "Once a day, Katja Suhonen opens her phone to check on her carbon footprint. Every journey she makes in her home city of Lahti, a city in the south of Finland, is studied by an experimental app called CitiCap and the carbon impact of her travel choices deducted from a weekly budget. 'I have mainly travelled around by bike, public transport and walking before even using CitiCap, so it hasn't really changed my daily routine,' says Suhonen, an early adopter of the voluntary monitoring scheme. 'However, now I try to avoid private car even more than before.' If she has any credits left by the end of the week, she can exchange them for gifts like coffee or a free bike tune-up in participating businesses. Her journeys are automatically tracked by the app, and she only needs to manually input details such as how many passengers she is with if she is travelling by car." • I wonder how this app would be calibrated to the activities of an investment banker, or an oil executive..
"Great Barrier Reef on brink of third major coral bleaching in five years, scientists warn" [Guardian]. "The Great Barrier Reef could be heading for a third major coral bleaching outbreak in the space of five years if high ocean temperatures in the region do not drop in the next two weeks, scientists and conservationists have warned. Heat stress is already building across the world's biggest reef system, with reports of patchy bleaching already occurring. But a major widespread event is not currently taking place." • On coral reefs, see NC here.
"Marsquakes: NASA mission discovers that Mars is seismically active, among other surprises" [CNN]. "A NASA mission on Mars has recorded evidence of seismic activity, including 174 seismic events across Mars–and 20 events with a magnitude of three or four…. Mars doesn't have tectonic plates, unlike Earth, so its quakes occur through long-term cooling of the planet and other processes, scientists say. The brittle outer layers of the crust on Mars have to fracture to maintain themselves on the surface And Mars isn't a perfect sphere, so the contractions of the crust cause stress and quakes to occur in some areas more than others, [Suzanne Smrekar, InSight's deputy principal investigator] said. An analysis of the seismic waves detected by InSight revealed that the upper part of the Martian crust, the top six miles down from the surface, is "pretty broken up." It's another testament to the planet's quake activity and fracturing."
Health Care
"A Miami man who flew to China worried he might have coronavirus. He may owe thousands." [Miami Herald]. "After returning to Miami last month from a work trip in China, Osmel Martinez Azcue found himself in a frightening position: he was developing flu-like symptoms, just as coronavirus was ravaging the country he had visited. Under normal circumstances, Azcue said he would have gone to CVS for over-the-counter medicine and fought the flu on his own, but this time was different. As health officials stressed preparedness and vigilance for the respiratory illness, Azcue felt it was his responsibility to his family and his community to get tested for novel coronavirus, known as COVID-19. He went to Jackson Memorial Hospital, where he said he was placed in a closed-off room. Nurses in protective white suits sprayed some kind of disinfectant smoke under the door before entering, Azcue said. Then hospital staff members told him he'd need a CT scan to screen for coronavirus, but Azcue said he asked for a flu test first. 'This will be out of my pocket,' Azcue, who has a very limited insurance plan, recalled saying. 'Let's start with the blood test, and if I test positive, just discharge me.' Fortunately, that's exactly what happened. He had the flu… But two weeks later, Azcue got unwelcome news in the form of a notice from his insurance company about a claim for $3,270." • Our health care system is, amazing as it may seem, worse than China's. Our public health system is not, fortunately….
"Stress Is A Key To Understanding Many Social Determinants Of Health" [Health Affairs]. "Good health is not evenly distributed in the United States. Racial and ethnic minorities and those who live in socioeconomically disadvantaged circumstances are more likely to suffer from poor health compared to socioeconomically advantaged and white counterparts. How and why these disparities emerge and persist is complex and multifaceted. However, it is clear that the social conditions in which people live are fundamental in shaping health trajectories, and that the stress created through these social conditions serves as an important pathway driving poor health and furthering health disparities… How does stress contribute to health disparities? The first important fact is that, like health, stress exposures are not evenly distributed across the population. Individuals from racial/ethnic minority backgrounds and those with low socioeconomic status (SES) experience more stress exposures across the life course than more well-off populations. For example, individuals lower in income and education tend to report more frequent daily hassles than higher SES individuals. Similarly, racial minorities often report greater levels of perceived stress, a finding that in some cases is independent of SES. Individuals living in low SES environments also experience greater threats to safety across their lifespan, and this may lead to increased vigilance for threats in the environment. Furthermore, racial/ethnic minorities and low SES individuals may also lack many of the resources needed to cope with demands. ." • Yep.
Black Injustice Tipping Point
"Smithsonian Museum Celebrates Black Alternate History Month With Full-Scale Recreation Of W.E.B. Du Bois' War Zeppelin" [The Onion]. "Declaring the armored lighter-than-air sky fortress a testament to African American achievement across parallel realities, the Smithsonian Museum celebrated Black Alternate History Month Monday with a full-scale recreation of The B.S.S. Crisis, W.E.B. Du Bois' war zeppelin."
The Conservatory
"BTS's "Map of the Soul: 7″ Is Full of Hidden References and Easter Eggs" [Teen Vogue]. "Taking Carl Jung's analytical psychology as a narrative guide, throughout the album's 19 tracks (20 if you count the digital remix of lead single "ON," featuring Sia), the seven members embark on an introspective journey, both as individuals and as a group, all the while making ARMYs a core element in their narrative." • Seems like the K-Pop equivalent of the Clash's Sandinista… I ran across this in a discussion of Bernie's "army." Do we have any fans who care to comment? (Ask a Korean, a K-Pop maven, rates them highly.)
Sports Desk
"MLB Seeks to Toss DraftKings Suits, Says Fans Know Players Cheat" [Bloomberg]. "The DraftKings participants' claims fail because fans were on notice "that players often commit intentional rule infractions in order to obtain an advantage over the course of the game," the league said, quoting a 2010 Third Circuit ruling on the New England Patriots sign-stealing case. The fans can't deny they were aware of the possibility of cheating given that the clubs were publicly disciplined for electronic sign-stealing violations during the 2017 regular season, the league said. Despite being on notice, the plaintiffs continued to participate in DraftKings contests, and can't plausibly claim they were deceived into believing that rules violations would never occur, MLB said." • One can only wonder when this doctrine is going to cross over into other disciplines.
Groves of Academe
"USC will offer free tuition to students from families making $80K or less" [USA Today]. "The $80,000 threshold is comfortably above California's median household income of about $71,000, according to U.S. Census data." • Clinging to means-testing with a death grip…
"College admissions scandal: Ex-University of Texas tennis coach gets 6 months for taking $100,000 bribe" [NBC]. • This keeps happening.
Guillotine Watch
"How a Neighbors' Feud in Paradise Launched an International Rape Case" [New York Times]. "The neighbors had little in common except for extreme wealth and a driveway. But when Mr. Nygard wasn't allowed to rebuild after a fire, he blamed Mr. Bacon. Since then, the two have been embroiled in an epic battle, spending tens of millions of dollars and filing at least 25 lawsuits in five jurisdictions. Mr. Nygard, 78, has spread stories accusing Mr. Bacon of being an insider trader, murderer and member of the Ku Klux Klan. Mr. Bacon, 63, has accused Mr. Nygard of plotting to kill him." • Worth reading for the lurid details. After the Jackpot, when the world is reduced to robots, mercs, and a few billionaires living in bunkers, this story shows how the billionaires will spend their time.
Class Warfare
It can't happen here:
Money is a key factor in survival for many quarantined individuals/families in order to obtain:

-Food and sundries, plus delivery
-Prescriptions, plus delivery
-Utility access

Wuhan has been shut down for a month. Not all jobs are telework-friendly

— Rui Zhong 钟瑞 (@rzhongnotes) February 25, 2020
"The Postal Service Fired Thousands of Workers for Getting Injured While Delivering and Processing Your Mail" [Pro Publica]. "[44,000 employees] were either fired or left their jobs under pressure over five years in a program that 'targeted' employees with work-related injuries, according to the U.S. Equal Employment Opportunity Commission. A commission ruling on the class action complaint also found that the Postal Service discriminated against an additional 15,130 injured workers by changing their work duties or accommodations, and unlawfully disclosed the private medical information of injured workers across the country. Now, more than a decade later, despite the ruling, the Postal Service is still fighting the class-action complaint. It has refused to settle, stating in its latest financial report that the case's outcome could have a 'material impact' on the agency. The EEOC plans to go case by case through about 28,000 claims, and the Postal Service is contesting each worker's allegations, which could drag out the process for years. To dispute many of the claims, the Postal Service is arguing that the workers aren't providing sufficient proof that they actually had disabilities or were harmed by the program." • Thank you, privatization, for the speedup, for the injuries, and for the "targeting."
"'The Phantom of Ninth Street': A Bon Vivant's Lonely Decline" [New York Times]. "And he drank. 'Early retirement didn't serve him well,' [Tim Riordan, a Manhattan schoolteacher,] said." • Work 'til you drop, is my motto. Very New York, very sad story.
News of the Wired
"Mapping Wikipedia" [The Atlantic]. "While the United States accounts for nearly half of the editors, looking at the data from an international perspective reveals the United States as just one part of the colonial legacy of the English language. The five largest contributors were part of what once was the British Empire, and account for nearly 75 percent of all editors." • Musical interlude:
"Do not rely on facial expressions for how people are feeling" [The Economist]. This was worth the clickthrough: "An analysis of hundreds of research papers that examined the relationship between facial expressions and underlying emotions has uncovered a surprising conclusion: there is no good scientific evidence to suggest that there are such things as recognisable facial expressions for basic emotions which are universal across cultures. Just because a person is not smiling, the researchers found, does not mean that person is unhappy. As Lisa Feldman Barrett, one of the authors of the study, published in Psychological Science in the Public Interest, told the aaas meeting in Seattle, "We surprised ourselves". Dr Feldman Barrett is a psychologist at Northeastern University in Boston, Massachusetts, and along with her colleagues she found that, on average, adults in urban cultures scowled when they were angry 30% of the time. Which meant that some 70% of the time they did not scowl when angry. Instead, they did something else with their faces. People also scowled when they were not angry. "They scowl when they're concentrating, they scowl when someone tells them a bad joke, they scowl when they have gas, they scowl for lots of reasons," says Dr Feldman Barrett. A scowl, the researchers concluded, is certainly one expression of anger. But it is not the only way people express that emotion. The ambiguous nature of facial expressions was not restricted to anger, but seemed valid for all six of the emotional categories that they examined: anger, disgust, fear, happiness, sadness and surprise. All this raises questions about the efforts of information-technology companies to develop artificial-intelligence algorithms which can recognise facial expressions and work out a person's underlying emotional state." • Another reason AI is a bezzle. Who knew? Interesting topic–
"Facial and Vocal Expressions of Emotion" [James A. Russell, Jo-Anne Bachorowski, José-Miguel Fernandez-Dols, Annual Review of Psychology]. "Both scientists and nonscientists traditionally considered smiles, chuckles, and the rest tobe "expressions of emotion" (EEs)…. Traditionally, senders have been thought to "express" or "encode" – that is, emit veridical information about – their internal state, much as a lighthouse broadcasts its visual and auditory warning to any and all who happen to perceive it. In turn, receivers "recognize" or "decode" the message and benefit thereby. This image of honest and altruistic broadcasting has deep historical roots. Thought of as a God-given and universal language, EEs revealed passions (such as love and hate), virtues (courage), and vices (sloth). These ideas were evident in philosophical, religious, and artistic theories from ancient times to the 19th century, and continued to appear in later work by anatomists, physiologists, and other scientists (Montagu 1994). Among those scientists was Charles Darwin (1872). Although he relied on traditional assumptions about expression and emotion, Darwin substituted natural selection for God and made important observations about cross-species and cross-cultural similarities in EEs to bolster his argument for that substitution." • "Veridical information." Dear me…
"The Complex Emotion Expression Database: A validated stimulus set of trained actors" [PLOS One]. "The vast majority of empirical work investigating the mechanisms supporting the perception and recognition of facial expressions is focused on basic expressions. Less is known about the underlying mechanisms supporting the processing of complex expressions, which provide signals about emotions related to more nuanced social behavior and inner thoughts. Here, we introduce the Complex Emotion Expression Database (CEED), a digital stimulus set of 243 basic and 237 complex emotional facial expressions. The stimuli represent six basic expressions (angry, disgusted, fearful, happy, sad, and surprised) and nine complex expressions (affectionate, attracted, betrayed, brokenhearted, contemptuous, desirous, flirtatious, jealous, and lovesick) that were posed by Black and White formally trained, young adult actors. All images were validated by a minimum of 50 adults in a 4-alternative forced choice task. Only images for which ≥ 50% of raters endorsed the correct emotion label were included in the final database. This database will be an excellent resource for researchers interested in studying the developmental, behavioral, and neural mechanisms supporting the perception and recognition of complex emotion expressions." • It seems there are unsettled issues in this field….
* * *
Readers, feel free to contact me at lambert [UNDERSCORE] strether [DOT] corrente [AT] yahoo [DOT] com, with (a) links, and even better (b) sources I should curate regularly, (c) how to send me a check if you are allergic to PayPal, and (d) to find out how to send me images of plants. Vegetables are fine! Fungi and coral are deemed to be honorary plants! If you want your handle to appear as a credit, please place it at the start of your mail in parentheses: (thus). Otherwise, I will anonymize by using your initials. See the previous Water Cooler (with plant) here. Today's plant (Craig H.):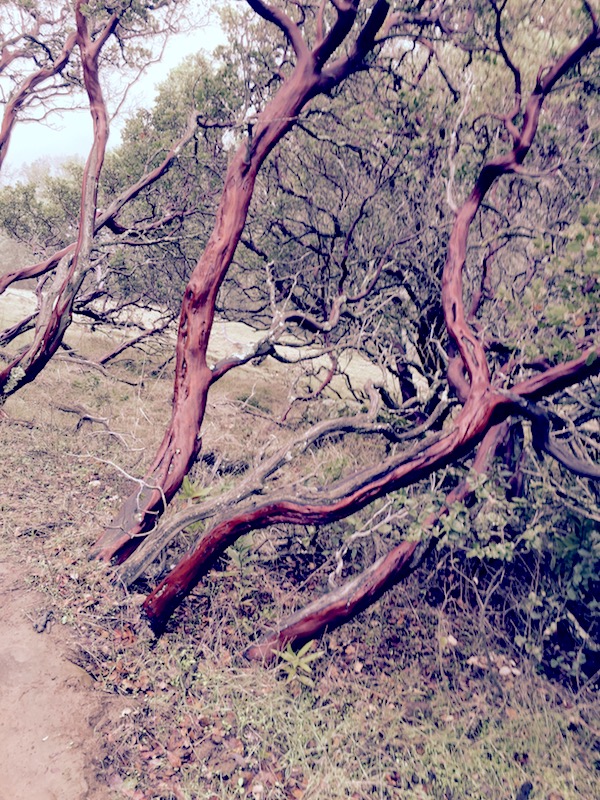 Craig H. writes: "Jan 18 2020; ~1/2 mile from the Morgan Territory staging area (37.818690, -121.795794_ The tilt is because the hillside is steep and it grows more straight out of the ground than straight up at the sky. I don't know what it is but there are hundreds of them there. Almost all the trees in the neighborhood are oaks. Keep up the good work Lambert!" Thank you!
* * *
Readers: Water Cooler is a standalone entity not covered by the annual NC fundraiser. So if you see a link you especially like, or an item you wouldn't see anywhere else, please do not hesitate to express your appreciation in tangible form. Remember, a tip jar is for tipping! Regular positive feedback both makes me feel good and lets me know I'm on the right track with coverage. When I get no donations for five or ten days I get worried. More tangibly, a constant trickle of donations helps me with expenses, and I factor in that trickle when setting fundraising goals:
Here is the screen that will appear, which I have helpfully annotated.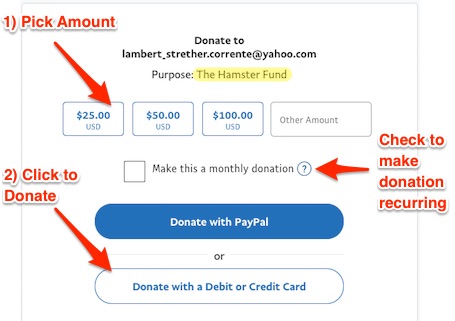 If you hate PayPal, you can email me at lambert [UNDERSCORE] strether [DOT] corrente [AT] yahoo [DOT] com, and I will give you directions on how to send a check. Thank you!