By Lambert Strether of Corrente.
Time: 8 p.m. to 10 p.m. ET (though some say "about 10:30").
Place: Gaillard Center in Charleston, SC
Hosts: CBS News, and the Congressional Black Caucus Institute.
Moderators: Norah O'Donnell (CBS Evening News anchor and managing editor) and Gayle King ("CBS This Morning" co-host). They will be joined in questioning by Margaret Brennan ("Face the Nation" moderator and senior foreign affairs correspondent), Major Garrett (CBS chief Washington correspondent), and Bill Whitaker ("60 Minutes" correspondent). Oddly, nobody from the Congressional Black Caucus Institute.
Candidate line-up, left to right in podium order:
Mike Bloomberg (squillionaire, former Mayor, New York, NY)
Pete Buttigieg (former Mayor, South Bend, IN)
Elizabeth Warren (Senator from Massachusetts)
Bernie Sanders (Senator from Vermont)
Joe Biden (former Vice President)
Amy Klobuchar (Senator from Minnesota)
Tom Steyer (squillionaire investor)
Klobuchar's gonna have to reach across four people to get at Buttigeig. Maybe she could throw something?
The debate will be streamed live on CBSN, CBS News' free 24/7 streaming service, and appear in its entirety on BET, a subsidiary of ViacomCBS. Twitter is a debate partner, and voters can use the hashtag #DemDebate to submit questions that might be posed to the candidates.
Readers might have fun with #DemDebate, though it's almost impossible for me to believe that the questions won't be pre-selected.
Here is a shot of the horrid stage: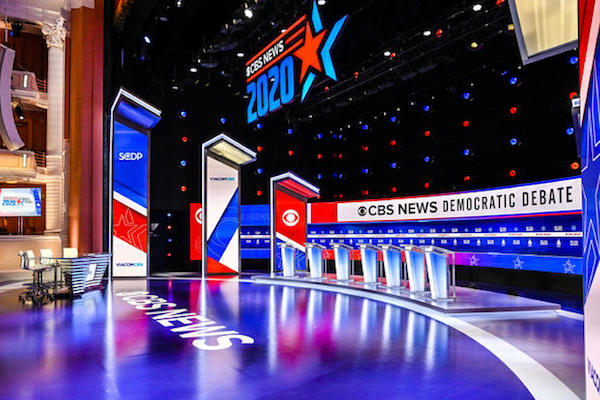 Tiny little figures, blaring lights, enormous glittering surfaces. Everything shiny, and yet insubstantial: No wood, stone, cloth, or even metal; the best we have in the way of metal is metallic coatings. File under Imperial Collapse Watch. This entire debate "ecosystem" needs to be burned to the ground, the ground should be salted, and the social function given back to the League of Women Voters, or the American Library Association, or some other legitimate institution.
There's no point gaming out the debate, save to note that Bloomberg seems determined to take the lowest road possible, based on his meme-age this week, much of which is even cruder than the Clintonite material from which it is derived. The dude is a lot cruder than I thought he would be, though I suppose the depositions should have prepared me.
My impression this week was that Sanders — hard to believe, but hear me out — was trolling the centrists. He finally published one of those stupid "pay for" documents, he fired a staffer for ugly (albeit private) remarks (which he had warned he would do), he threw Cuba into play. I felt he was doing a pantry clear-out of centrist canned goods that had passed their sell-by date. Better clear the board of centrist talking points now, since he's not expected to win South Carolina, and any damage can be repaired before California and Texas. In any case, Sanders has already introduced himself to the public; I'm extremely skeptical that Bloomberg, even with his squillions, can re-introduce him, even to "low information" voters. We shall see. I do expect this debate to be extremely ugly, far uglier than last time. Sanders had better be well-stocked with zingers.
* * *
As usual, this post does not update; readers may track the debate in real time in comments.
Please keep your comments as informative and analytical as possible. Write for the reader who hasn't seen the debate, and comes to this site in lieu of watching it on TV. There are no points at NC for knee-jerk, context-free one-liners ("Boo ____!" or "Yay!") that only those who are also watching can make sense of; that's for Facebook or Reddit.
I think it adds more value if you take a moment, use your critical thinking skills, then comment, and readers can discuss what you say. That way, those who cannot watch the debate — or can't stand to do so — can get a good idea of what really happened by reading what you write. This is what the NC commentariat is so very good at, after all. Last time, the times before that, and this time. Thank you!