NASA is Trying To Save Voyager 2 After a Power Glitch Shut Down Its Instruments MIT Technology Review
Australia fires: Residents told to seek shelter in Canberra region BBC
A new tidal energy project just hit a major milestone in Scotland We Forum (David L)
Green energy could now be cheaper than fossil fuels thanks to breakthrough New York Post (David L)
Coronavirus
China?
NEW: The arrested Harvard prof is tip of the iceberg. When the Texas A&M system investigated how much Chinese money its faculty was getting, officials were astounded—over 100 were involved in Chinese talent recruitment plans. Only 5 disclosed. https://t.co/Js50566lQt @aviswanatha

— Kate O'Keeffe (@Kate_OKeeffe) January 31, 2020
Brexit
Brexit happens BBC

It's extraordinary. As if they had lost rather than won. As if they were grieving rather than celebrating. The UK is going through all this because it is what they wanted but, still, they are consumed by anger. https://t.co/UXIOrnVvtX

— Chris Grey (@chrisgreybrexit) January 31, 2020

LibDems, it's on you:

◾Enabled Tory Govt to call EU Ref

◾Enabled austerity – led to Leave vote

◾Campaigned meekly in EU Ref

◾Refused vote for soft Brexit options

◾Refused temp Coalition Govt to hold soft Brexit/Remain Ref

◾Refused to stand down in Con/Lab marginals

— Matt Thomas – Stay In Labour (@Trickyjabs) February 1, 2020
Syraqistan
Erdogan warns of 'military force' against Syria amid Idlib exodus Al Jazeera (Kevin W)
Big Brother Is Watching You Watch
Imperial Collapse Watch
F-35's Gun That Can't Shoot Straight Adds To Its Roster of Flaws Bloomberg
The Foreign Influence Transparency Initiative Center for International Policy (Chuck L)
America Needs a Miracle Andrew Sullivan, New York Magazine. Resilc: "Headed to revolution." Moi: Stuff like this makes me want to scream. Why have ethnic/tribal splits become so acute? Because everyone outside the elites is scrambling for pieces of a shrinking economic pie. Notice how the rise in tribalism coincides with the start of the neoliberal era? That's a feature, not a bug.
Impeachment
Senate GOP passes resolution setting up end of Trump trial The Hill

REALITY CHECK

Anyone who thinks this GOP lawlessness is new needs to revisit the Bush era.

Torture. Indefinite detention. War crimes. Droning babies.

And guess what?

Dem leaders voted with Bush, continued his policies when they took power, and rehabilitated his image.

— Peter Daou (@peterdaou) February 1, 2020
2020
DNC members discuss rules change to stop Sanders at convention Politico. Dems are really committed to losing, as long as they have what they think is a credible excuse. First impeachment, now apparently the 2020 election.

The Party's Over: Bernie's Last Dance With the Dems Counterpunch. Jerry B: "Grab a cup of coffee as this is long but very good. Discusses not only Bernie but the future of the Democratic party if Bernie is the 'technical' winner but is prevented from winning by the DNC elite."

NEW POWERFUL Bernie Sanders AD (@KillerMike Speech) – THE TIME IS NOW! pic.twitter.com/tyjNFNjsQk

— GoodnightProductions (@GNproductions01) January 31, 2020

How the Dodgers Leaving Brooklyn Influenced the Politics of Bernie Sanders InsideHook. UserFriendly: "LOL, humanizing, though."

Bernie Sanders Leads Trump, All 2020 Democrats in Military Donations Rolling Stone (furzy)

Sen. Elizabeth Warren: "Young Trans Person" Will Choose My Secretary Of Education RealClearPolitics. UserFriendly: "Facepalm."

Bernie Sanders' real obstacle is not Trump. It's the Democratic establishment Guardian. Brian C: "'One of Bernie Sanders' greatest advantages in the race is that many of the most unlikable hypocrites in America despise him.'"

Speaking thereof:

Clinton: Sanders and supporters did not do enough to unify party in 2016 The Hill (UserFriendly). Can someone please tell her no one likes a sore loser?

Corporate Media Are the Real 'Sanders Attack Machine' FAIR (UserFriendly)
Our Famously Free Press
This: A Pro-Trump Blog Doxed A Chinese Scientist It Falsely Accused Of Creating The Coronavirus As A Bioweapon BuzzFeed…led to:

The corporate censorship of independent media outlets is escalating rapidly. After suspending dozens of Iranian and Venezuelan accounts, Twitter now suspended @ZeroHedge, one of the largest alternative news websites. The account had 670,000 followers and was active for 10 years

— Ben Norton (@BenjaminNorton) February 1, 2020

FWIW, ZH has so many investors who go there for news and rumors I doubt their traffic will be affected meaningfully. But not being on Twitter will lead to less MSM mention of their posts.

George Soros: Mark Zuckerberg Should Not Be in Control of Facebook New York Times (David L)
Uber Officially Bans Drivers From Carrying Firearms, But Company's Business Model Prevents Enforcement Atlantic
Lambert featured the tweet below yesterday in Water Cooler. This is the story by the same author: How Chaos at Chain Pharmacies Is Putting Patients at Risk New York Times
The American Psychiatric Association is particularly concerned about CVS, which it says ignores doctors' explicit instructions to dispense limited amounts of medication to mental health patients.

Patients may use the excess pills to attempt suicide, the association says.

— Ellen Gabler (@egabler) January 31, 2020
Huawei Outsells Apple In 2019, Becomes No. 2 Global Smartphone Vendor arstechnica
EU Lawmakers Vote Overwhelmingly in Favor of Charging Cable Standard, Despite Apple's Protestations MacRumors
Amazon Reveals New Details About Its Federal Tax Bill in Shot Across the Bow at Critics Geekwire. Not impressed.
Bayer considers new tactic in Roundup settlement talks Reuters
Preeminent Hospitals Penalized Over Rates Of Patients' Injuries Kaiser Health News
S&P 500 wipes out gain for the year on coronavirus fear Financial Times
'Godfather' of technical analysis says stock-market downturn is going to get worse: 'I am looking at a 10% drop maybe a little bit more' MarketWatch. Lead story.
Class Warfare
"In Aggregate," Consumers Are Doing Pretty Good, But America's Vast Income Disparity Skew the Data Wolf Street (Dr. Kevin)
Antidote du jour. Furzy: "My son's kitty in Berlin":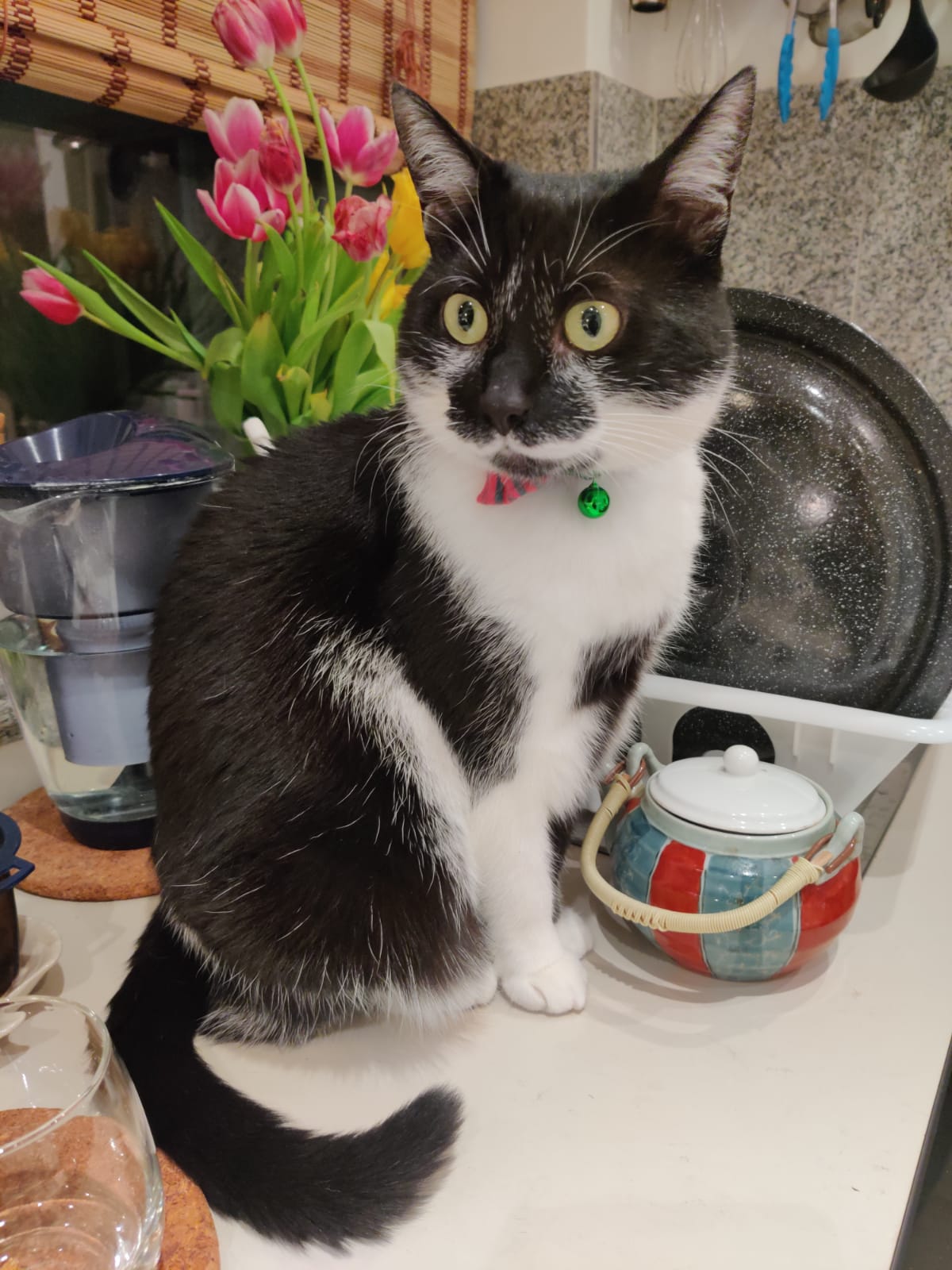 And a bonus, from Dan K. They look like they are having fun!
Sometimes, when the snow is deep, the ducks will give up on walking and scoot around on the snow like penguins pic.twitter.com/suSjPKE6Rc

— Foxfeather Zenkova (@foxfeather) January 30, 2020
See yesterday's Links and Antidote du Jour here.: