By Lambert Strether of Corrente.
#COVID-19
At reader request, I'm adding this daily chart: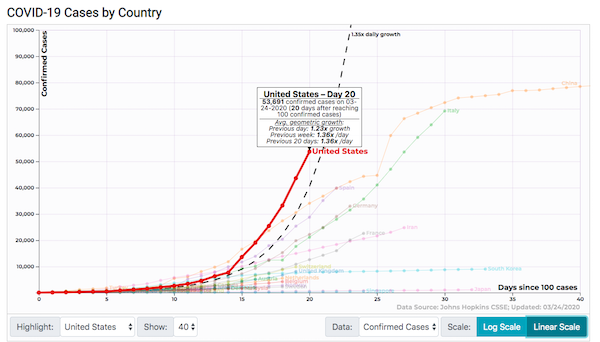 The data is the John Hopkins CSSE data. Here is the site. (If readers can suggest a better visualization, have at it, but this one seems very simple and clean to me.)
Politics
"But what is government itself, but the greatest of all reflections on human nature?" –James Madison, Federalist 51
"They had one weapon left and both knew it: treachery." –Frank Herbert, Dune
"They had learned nothing, and forgotten nothing." –Charles Maurice de Talleyrand-Périgord
Key dates coming fast now, so I added some counters:
Some of the next primaries. (I picked the major dates; here is a complete calendar.)
* * *
2020
We encourage readers to play around with the polling charts; they are dynamic, and there are a lot of settings, more than I can usefully show here. Here is a link to alert reader dk's project. You can also file bug reports or feature requests using the same contact process as for Plants, below. Thanks — but no promises!

We have two new national polls from Ipsos and YouGov, and no state polls, as of 3/25/2020, 12:00 PM EDT.

Biden's loss is not Sanders's gain; perhaps the undecideds are what Cuomo sees…. And the numbers:

It does seem that the strategy of keeping Biden out of the public eye pays off. Earlier in the year, we often had occasion to comment on the mysterious strength of the Biden Juggernaut, on display here; but it's also true that Biden's ups and downs have been of much greater amplitude than other candidates. As today!

* * *

Biden (D)(1): "Time's Up Said It Could Not Fund A #Metoo Allegation Against Joe Biden, Citing Its Nonprofit Status And His Presidential Run" [The Intercept]. "The Time's Up Legal Defense Fund was the recipient of an outpouring of donations over the past two-plus years, and is set up as a 501(c)3 nonprofit housed within the National Women's Law Center. It was launched in December 2017 and was the most successful GoFundMe in the site's history, raising more than $24 million. Among the accusers backed so far by Time's Up are some of those assaulted by Harvey Weinstein, as well scores of others with allegations against executives in male-dominated industries. The group has committed more than $10 million toward funding cases…. By February, [accuser Tara Reade] learned from a new conversation with Time's Up, which also involved Director Sharyn Tejani, that no assistance could be provided because the person she was accusing, Biden, was a candidate for federal office, and assisting a case against him could jeopardize the organization's nonprofit status…. Ruling out federal candidates marks as off-limits any member of Congress running for reelection, as well as President Donald Trump. Ellen Aprill, a professor of tax law at Loyola Law School in Los Angeles, said that Time's Up's analysis is too conservative, and the group wouldn't be putting its tax-exempt status at risk by taking a case involving a candidate for federal office as long as it followed its standard criteria for taking on cases… The public relations firm that works on behalf of the Time's Up Legal Defense Fund is SKDKnickerbocker, whose managing director, Anita Dunn, is the top adviser to Biden's presidential campaign." • I know liberal Democrat NGOs aren't used to thinking of themselves as mafiosi, but maybe a little criticism/self-criticism is in order…

Biden (D)(2): "Joe Biden's business allies are pushing Kamala Harris, Amy Klobuchar as potential VP picks" [CNBC]. "Since Biden announced earlier this month that he plans to pick a woman as his nominee for vice president, leaders of Wall Street, Silicon Valley and other industries have been reaching out to him and his presidential campaign about whom they think should join him on the ticket, according to people with direct knowledge of the matter… The names being floated and pushed to Biden by this group include Sens. Kamala Harris and Amy Klobuchar, two of his former rivals in the primary; Sen. Catherine Cortez Masto of Nevada; Michigan Gov. Gretchen Whitmer; and Florida Rep. Val Demings, these people added…. Notably absent from the names mentioned to CNBC is Stacey Abrams." • And Elizabeth Warren.

Biden (D)(3): Biden, like Trump and Warren, is a serial fabulist:

Judge Shira Scheindlin corrects Joe Biden, who claimed the Obama administration ended stop-and-frisk and appointed a federal monitor. She ended stop and frisk with a court ruling, and she appointed the monitor: https://t.co/O3jAzIlTnH

— Matt Taibbi (@mtaibbi) March 16, 2020

One more to add to the list.

Biden (D)(4): "It Takes More Than Malarkey for Joe Biden to Fire You" [The Daily Beast]. "Biden, [staffer Louisa Terrel said], instilled in all of his staff that it was better to just be truthful. 'Don't lie,' Terrell said. 'Say what you don't know.'" • So Biden holds his staff to a higher standard than he holds himself?

Biden (D)(5): "Biden: I don't want to be in a political fight with Trump over coronavirus" [The Hill]. • Oh.

Cuomo (D)(1): "Could a 'Draft Cuomo' Movement Be in the Democrats' Future?" [National Review]. "It's not out of the question if Biden keeps looking out of touch and irrelevant. Democrats are publicly talking about "contingency options" for their July convention in Milwaukee in case the coronavirus persists in being a public-health threat. But privately, some are also talking about needing a Plan B if Joe Biden, their nominee apparent, continues to flounder. Some Democrats are openly talking up New York governor Andrew Cuomo, whose profile has soared during the crisis, as a Biden stand-in. Yesterday, a Draft Cuomo 2020 account on Twitter announced that 'Times have changed & we need Gov. Cuomo to be the nominee. Our next POTUS must be one w/an ability to lead thru this crisis.' Charles Pierce, the politics blogger for Esquire magazine, wrote a piece headlined 'With Two Words, Andrew Cuomo Established Himself as the Leader This Country Needs Now.' He enthused that Cuomo's news conference last Friday 'essentially (shutting) down the economy of his state . . . was a master class in leveling with the public.'" • Charlie Pierce, Schwärmer. What a shame.

Cuomo (D)(2): "Andrew Cuomo shows how to lead during the coronavirus crisis" [Editorial Board, WaPo]. "[New York's] needs — for equipment, hospital beds, personnel and expertise — are as daunting as the scale of the outbreak. So is its need for effective, tough-minded, compassionate leadership. Fortunately, that is what Gov. Andrew M. Cuomo has been providing. When the pandemic's history is written, there will be long chapters detailing the mistakes made by leaders. Some of those, inevitably, will be Mr. Cuomo's. But what's notable is what he is getting right as a communicator, priority-setter, admonisher and empathetic voice of reason." • Sounds like an endorsement, to me (and nobody's floating Cuomo's name for VP, either.) Can it possibly be that these buffoons didn't know Joe Biden's condition when they foisted him on the voters? Or, worse, they did? I must say, I'm enjoying the picture of Obama taking Biden aside and telling him that he's done. But holy moley, what an election season….

Sanders (D)(1): "Sanders camp signals his presidential campaign will go on" [NBC News]. "But Tuesday, Sanders appeared to signal anew that he is in the race for the long haul: His campaign announced a full organizing effort ahead of New York's scheduled April 28 primary, and a spokesman said he would participate in a debate with former Vice President Joe Biden — if there is one."

Sanders (D)(2): "Bernie Sanders Should Retool His Campaign to Lead the Charge Against Coronavirus" [Jacobin]. "The campaign now faces a harrowing choice. If Sanders drops out, as mainstream media and centrist liberals are urging him to do, Biden and the establishment won't budge an inch, and a generation of socialists and progressives is demoralized. If Sanders stays in, his campaign is severely limited without the ability to hold big rallies or canvasses because of the pandemic, in addition to the many other enormous hurdles he faces. There is another option, though: stay in the race, but make a wholesale transition from campaigning for the nomination to campaigning for Bernie's coronavirus policy — not just redirecting some donations to charity or sending text messages to encourage social distancing, but transforming the entire organizational apparatus of the Bernie campaign into a virus-fighting machine." • Maybe, as long as it's along the lines of Non-Violent Method #198: "Dual sovereignty and parallel government." I would frame it as a shadow government, and it would need people of substance "in office" (and if that can't be done, best know that). Right now, Cuomo is beginning the muscle in on that space.

UPDATE Sanders (D)(3): "Sanders wins Utah in final presidential primary results" [KSL]. "Vermont Sen. Bernie Sanders won Utah's March 3 Democratic presidential primary with just over 36% of the vote, according to the final results released by the state elections office Tuesday. The front-runner nationally, former Vice President Joe Biden, earned 18.4%. Third place in Utah's Super Tuesday primary went to Massachusetts Sen. Elizabeth Warren… Sanders received 16 delegates from Utah; Biden, seven; and Warren and Bloomberg, three each." • Any readers from Utah know why the count took 23 days?

Trump (R)(1): Biden may not want to attack Trump, but Brock sure does:

what an ad. pic.twitter.com/yZV9KJCOEn

— Florida Chris (@chrislongview) March 25, 2020

Fascinating that not only Bush the Elder but Bush the Younger are positioned as successful "leaders." But then that does appeal to suburban Republicans, and anyhow, Bush the Younger gave Michelle candy. So it's all good.

Trump (R)(2): "Bill Gates on Trump call for quick end to lockdown: It's tough to tell people 'keep going to restaurants, go buy new houses, ignore that pile of bodies over in the corner'" [MarketWatch] • To be fair, America has always been rather good at ignoring piles of bodies; it just depends on which corner they are in.

Trump (R)(3): "Minnesota on the edge: 'I've voted Democrat my whole life. It's getting tougher.'" [Politico]. "A place that once gave Democratic native sons Hubert Humphrey and Walter Mondale 4-1 voting wins and considers the late Sen. Paul Wellstone a local hero has begun to embrace a president who bears little resemblance to them, except that he reversed the "injustice" of an Obama-era order that would have brought the nickel-copper project to a 20-year standstill. On top of that were the 25 percent tariffs Trump imposed on most foreign steel, which provided an initial boost to the 5,000 miners still employed in the region's numerous iron-ore mines that have served as the backbone to the region's economy." • Surely there's a way to avoid the devestation that mines bring, and keep the jobs? Say with a Green New Deal or a Jobs Guarantee? Something liberal Democrat NGOs never seem to think about?
Stats Watch
At reader request, I added some business stats back in. Please give Econintersect click-throughs; they're a good, old-school blog that covers more than stats. If anybody knows of other aggregators, please contact me at the email address below.
Shipping: "Trucking Industry Growth Improved In February 2020 – No Obvious Coronavirus Impact" [Econintersect]. "The CASS index is inclusive of rail, truck, and air shipments. The ATA truck index is inclusive of only trucking industry member movements (ATA's tonnage data is dominated by contract freight). Even so, CASS breaks out trucking and claims it is down 7.5 % year-over-year and up 6.2 % month-over-month Vs. up 2.6 % year-over-year and up 1.5 % month-over-month for the ATA. I put a heavier weight on the CASS index which is consistent with rail and ocean freight. It is not logical that truck freight goes up when industrial production and ocean freight decline – not to mention the continuing effects of the trade war and the coronavirus. Econintersect tries to validate truck data across data sources. It appears this month that the truck employment rate of growth continues to slow."
* * *
Retail: "Companies that haven't embraced e-commerce or sell nonessential items such as fashion are crumbling as sales plummet… while soaring online sales at general-merchandise stores have sellers like Amazon.com Inc. and Walmart Inc. struggling to keep up with demand" [Wall Street Journal]. "One survey found one-third of households said they used online grocery pickup or delivery during the week ending March 13, and 40% of those tried it for the first time, eating up delivery slots for groceries. Even retailers that have fledgling e-commerce businesses like Rite Aid Corp. are seeing huge growth. Meanwhile, footwear and apparel isn't selling and some nonfood retailers are discounting to clear out excess goods.
Shipping: "Another swath of cargo capacity may disappear from aviation networks. Major U.S. airlines are drafting plans for a potential voluntary shutdown of virtually all passenger flights across the U.S…. as travel demand withers and the nation's air-traffic control system continues to be ravaged by the coronavirus contagion" [Wall Street Journal]. "U.S. airlines have already eliminated the vast majority of international flying and have announced plans to cut back domestic flying by as much as 40%. The passenger planes provide a significant portion of domestic airfreight capacity. Most of it serves bulk-loaded, smaller shipments but the large number of daily flights give the airlines an important role for expedited goods. One option to keep cargo shipments flowing would be a decision to call up portions of the Civil Reserve Air Fleet, which enlists commercial jets to help the Pentagon with logistics during national emergencies."
Employment Situation: "COVID-19: Which Workers Face The Highest Unemployment Risk?" [Econintersect]. "Of the 46% of workers employed in occupations at "high risk" of a layoff, the largest share is in food preparation or serving-related occupations. This is followed by sales occupations, which in this case are predominately retail salespersons. The occupations at the highest risk of unemployment also tend to be lower-paid occupations. The average annual earnings of the low-risk occupations are $64,600, about 75% higher than earnings in the high-risk occupations, at $36,600. This indicates the economic burden from this health crisis will most directly affect those workers who are likely in the most vulnerable financial situation." • So everything's going according to plan?
Today's Fear & Greed Index: 18 Extreme Fear (previous close: 13 Extreme Fear) [CNN]. One week ago: 5 (Extreme Fear). (0 is Extreme Fear; 100 is Extreme Greed). Last updated Mar 24 at 12:42pm. The chorus of "put American back to work" must be gratifying to Mr. Market. As is the likely passage of the stimulus bill.
The Biosphere
"The therapeutic value of the garden in trying times" [WaPo]. "The mark of a true gardener is a person who does not see a finished landscape but a series of tasks that need to be tackled." • Yep! And: "Do set aside a cozy place to sit; all you need is a flat area, a couple of garden chairs and a table, and perhaps an umbrella against the sun." • Sitting in the garden is one of the great pleasures of life (though to me, "a couple of garden chairs" seems… crowded).
"Coronavirus: 'Nature is sending us a message', says UN environment chief" [Guardian]. "[Inger] Andersen, executive director of the UN Environment Programme, said the immediate priority was to protect people from the coronavirus and prevent its spread. 'But our long-term response must tackle habitat and biodiversity loss,' she added. 'Never before have so many opportunities existed for pathogens to pass from wild and domestic animals to people,' she told the Guardian, explaining that 75% of all emerging infectious diseases come from wildlife. 'Our continued erosion of wild spaces has brought us uncomfortably close to animals and plants that harbour diseases that can jump to humans.'"
"Bush-fire smoke linked to hundreds of deaths" '[Nature]. "Researchers estimate that smoke pollution probably killed more than 400 people during the unprecedented bush fires across southeast Australia from November to February. Thirty-three people were killed in incidents directly related to the fires. Air-pollution researcher Fay Johnston at the University of Tasmania in Hobart led a team that collected data on the average number of emergency-department admissions, hospitalizations and deaths on any given day. The researchers mapped detailed data on air-pollution levels from 1 October to 10 February and modelled how these would have increased the emergency admissions."
"Scientists plant 'sentinel trees' to warn of devastating pests" [Science]. "It's become an all-too-common tale: An introduced insect takes hold in a new home and then spreads, wreaking havoc with ecosystems and economies. Take, for instance, the emerald ash borer, an Asian beetle first spotted in North America in 2002; researchers estimate it has killed hundreds of millions of ash trees and caused more than $10 billion in damage. Now, in a bid to prevent such catastrophes—and get an early warning of which exotic pests are likely to cause trouble—researchers from the United States, Europe, and China are trying a new approach: planting 'sentinel trees' from their own regions in distant nations, and then observing which insects attack. The findings should help authorities more quickly recognize and snuff out threatening introduced insects if they show up in the trees' native countries. Sentinel trees are 'the new frontier' in fighting forest pests, says entomologist Jiri Hulcr at the University of Florida. Already, groves of North American and European trees planted in China have enabled scientists to identify and start to study more than a dozen insects of concern."
Health Care
"Why the Coronavirus Has Been So Successful" [The Atlantic]. "The structure of the virus provides some clues about its success. In shape, it's essentially a spiky ball. Those spikes recognize and stick to a protein called ACE2, which is found on the surface of our cells: This is the first step to an infection. The exact contours of SARS-CoV-2's spikes allow it to stick far more strongly to ACE2 than SARS-classic did, and "it's likely that this is really crucial for person-to-person transmission," says Angela Rasmussen of Columbia University. In general terms, the tighter the bond, the less virus required to start an infection. There's another important feature. Coronavirus spikes consist of two connected halves, and the spike activates when those halves are separated; only then can the virus enter a host cell. In SARS-classic, this separation happens with some difficulty. But in SARS-CoV-2, the bridge that connects the two halves can be easily cut by an enzyme called furin, which is made by human cells and—crucially—is found across many tissues. "This is probably important for some of the really unusual things we see in this virus," says Kristian Andersen of Scripps Research Translational Institute." • This is really good on the virus itself. Well worth a read. I wonder if we have an virologists in the readership who could comment?
"The Tip of the Iceberg: Virologist David Ho (BS '74) Speaks About COVID-19" [David Ho, CalTech]. On testing:
[Ho:] Now in terms of the U.S., we obviously are undergoing exponential growth. The 10,400 confirmed cases is a gross underestimate. The lack of testing is embarrassing. It's an outright failure in leadership….

What are the tests we need to detect coronavirus infection?

Everybody's talking about testing and that's actually referring to PCR [polymerase chain reaction] testing, looking for viral RNA to determine whether a person is infected. But there's still no talk of antibody testing to determine which people have had it and are immune, and that is another crucial tool we need to combat this epidemic. Many research labs throughout the country—I'm sure at Caltech too—could be running antibody tests right now to survey the population and tell us what the real penetrance of this pathogen is in our communities. We are, on a research basis, embarking on that to understand the degree of infection in New York City and outside of New York City.

How long before the U.S. sees test availability similar to what South Korea has implemented?

The PCR testing, which is the one that's approved, is now ramping up very, very rapidly in state and local labs as well as in academic medical centers and in the commercial sector. Their production will grow tremendously. Roche has a machine that will run 1,000 samples at a time. If you go to a commercial lab, they take a swab, they package it, they quite often send it to another facility somewhere else. The turnaround time is typically 72 hours. In that period, it's very, very hard to manage patients and their contacts. It's a nightmare for the healthcare worker.

We need point-of-care tests. Those kinds of tests are available for HIV and for many other diseases; you use a finger stick, drop the blood on a small device, and have a readout in 15 minutes. These tests measure antibody response to the virus and are extremely useful. Yet we don't have a single test licensed in the U.S. In China, in South Korea, and in Europe, those tests are used. The manufacturer for this rapid test is producing a million a day. It's there. But in the name of protecting the public, the FDA has moved very, very slowly. That delay, in my view, has caused more harm than good.
"Coronavirus may have infected half of UK population — Oxford study" [Financial Times]. "The new coronavirus may already have infected far more people in the UK than scientists had previously estimated — perhaps as much as half the population — according to modelling by researchers at the University of Oxford. If the results are confirmed, they imply that fewer than one in a thousand of those infected with Covid-19 become ill enough to need hospital treatment, said Sunetra Gupta, professor of theoretical epidemiology, who led the study. The vast majority develop very mild symptoms or none at all. 'We need immediately to begin large-scale serological surveys — antibody testing — to assess what stage of the epidemic we are in now,' she said…. The research presents a very different view of the epidemic to the modelling at Imperial College London, which has strongly influenced government policy. 'I am surprised that there has been such unqualified acceptance of the Imperial model," said Prof Gupta.'" • That doesn't mean that health care capacity won't be overwhelmed, though. But perhaps there's hope:
Prof Neil Ferguson from Imperial tells MPs that he is "reasonably confident" that at a national level NHS ITUs will remain within surge capacity due to measures and preparations being taken though some areas will be "extremely stressed"

— Fergus Walsh (@BBCFergusWalsh) March 25, 2020
"New York hospitals treating coronavirus patients with vitamin C" [New York Post]. "Seriously sick coronavirus patients in New York state's largest hospital system are being given massive doses of vitamin C — based on promising reports that it's helped people in hard-hit China, The Post has learned. Dr. Andrew G. Weber, a pulmonologist and critical-care specialist affiliated with two Northwell Health facilities on Long Island, said his intensive-care patients with the coronavirus immediately receive 1,500 milligrams of intravenous vitamin C." • As usual with treatment posts, this is a data point, not a recommendation!
"How to make a Face Mask" [Deaconess Hospital (judy2shoes)]. "While fabric masks are not to be used in the care of COVID-19 patients, according to the CDC, fabric masks are a crisis response option when other supplies have been exhausted. Fabric masks can also be helpful in other areas of patient care as supplies of PPE are depleted. ',' said Dawn Rogers, MSN, RN, FNP-C, Patient Safety & Infection Prevention Office. 'We will be able to sterilize these masks and use them repeatedly as needed. While it's less than ideal, we want to do our best to protect our staff and patients during this pandemic." • Here is a PDF of instructions, with pattern. Here is a video:
Our Famously Free Press
"Researchers are tracking another pandemic, too—of coronavirus misinformation" [Science]. Interview with two founders of the University of Washington's Center for an Informed Public founders, sociologist Emma Spiro and crisis informatics researcher Kate Starbird:
Q: Why is misinformation so pervasive during a crisis?

Kate Starbird: Historically, a lot of misinformation is a byproduct of the natural response that people have to a disaster event. There's a lot of uncertainty about the impacts of the event and what actions we can take to respond to it. That uncertainty contributes to anxiety, and in those conditions of high uncertainty and anxiety, people try to come together to try to make sense of what's going on, to participate in what we call collective sensemaking. Rumoring is a part of that, as people try to find the best information. Sometimes rumors turn out to be false, but rumors can also turn out to be true.

Emma Spiro: It's important to emphasize here that the process Kate was describing does help alleviate some of the anxiety people feel, because people can take actions and make decisions that are based on some communal group level understanding of what is currently happening. The other thing I would add is that sometimes the cost of not passing along information, even though you're not sure whether it's true or false, can be really, really high. You know, if there's a flash flood warning and some town has to [decide whether to] evacuate, you want to err on the side of caution.

K.S.: For a lot of people, participation in the process is altruistic. We're seeing that happen a lot in this current crisis as people pass along information because they think they can help their friends and family.
Games
"Crowdsourced virtual supercomputer revs up virus research" [MedicalXpress]. "Gamers, bitcoin 'miners' and companies large and small have teamed up for an unprecedented data-crunching effort that aims to harness idle computing power to accelerate research for a coronavirus treatment. The project led by computational biologists has effectively created the world's most powerful supercomputer that can handle trillions of calculations needed to understand the structure of the virus. More than 400,000 users downloaded the application in the past two weeks from "Folding@Home," according to director Greg Bowman, a professor of biochemistry and molecular biophysics at Washington University in St. Louis, where the project is based. The 'distributed computing' effort ties together thousands of devices to create a virtual supercomputer…. "Our primary objective is to hunt for binding sites for therapeutics," Bowman said." • Any readers participating?
Hoisting this comment from alert reader maria gostrey:
a week or so ago, my son stopped by & we watched this delightful video of irving finkel, a curator at the british museum, explain a game played 4,000 years ago in mesopotamia:

afterwards, my son drew the board on cardboard with a sharpie &, for markers, we used pebbles & shells picked up on our travels. the game was so much fun, we played for well over 2 hours. he won 2 games & i won 1, so i am eagerly awaiting his return to exact my revenge.

even if you dont want to try to play the game, irving finkel himself will make you happy, as will the other fine curators at the BM who post video at "curators corner".

And adds:

…i should have added that my son figured out how to play watching this video (in which our hero irving finkle takes on a competitor):

Pretty neat!

Class Warfare

"Sara Nelson Says People Are Ready for Solidarity" [Sarah Jaffe, The Nation]. "Who died on 9/11? It was front-line people and our passengers. Who suffered in the bankruptcies that followed? It was me and my friends. They took our pensions, they slashed our pay by more than 40 percent, diminished our health care, cut our jobs. They put it on our backs. For a lot of people, that meant real personal loss of our homes and cars and stressed marriages and divorces and the pain of telling our kids that they had to do without. We've seen this before, and we know exactly what didn't work. We won't stand for it again. We won't let that happen to the rest of the country." • Jaffe would obviously have a place in a Sanders adminsitration. Perhaps in his shadow government?

"Britney Spears calls for wealth redistribution, general strike on Instagram" [The Week]. ""Queen of [the] proletariat," cheered on one fan in the comments." • Well, celebrities. Interesting straw in the wind, though.

News of the Wired

We're not the only ones thinking of knitting:

IT BEGINS pic.twitter.com/skwAzQ9oTK

— unemployed elizabeth (@spindlypete) March 25, 2020

(I'm really listing this because I think it's a very funny account.)

"In this ___ I will be…. " is a snowclone! As the thread shows:

Coronavirus can cause a hacking cough. As a software engineer, I know a thing or two about hacking. In this Medium post I will be

— Matt Casey (@mattcasey) March 22, 2020

* * *

Readers, feel free to contact me at lambert [UNDERSCORE] strether [DOT] corrente [AT] yahoo [DOT] com, with (a) links, and even better (b) sources I should curate regularly, (c) how to send me a check if you are allergic to PayPal, and (d) to find out how to send me images of plants. Vegetables are fine! Fungi and coral are deemed to be honorary plants! If you want your handle to appear as a credit, please place it at the start of your mail in parentheses: (thus). Otherwise, I will anonymize by using your initials. See the previous Water Cooler (with plant) here. Today's plant (SS):

SS: "Very excited clematis in SW Oregon…." I'm not sure how to tell if Clematis is excited, but the scent must be quite pleasing coming out by that door…

* * *

Readers: Water Cooler is a standalone entity not covered by the annual NC fundraiser. So if you see a link you especially like, or an item you wouldn't see anywhere else, please do not hesitate to express your appreciation in tangible form. Remember, a tip jar is for tipping! Regular positive feedback both makes me feel good and lets me know I'm on the right track with coverage. When I get no donations for five or ten days I get worried. More tangibly, a constant trickle of donations helps me with expenses, and I factor in that trickle when setting fundraising goals:

Here is the screen that will appear, which I have helpfully annotated.

If you hate PayPal, you can email me at lambert [UNDERSCORE] strether [DOT] corrente [AT] yahoo [DOT] com, and I will give you directions on how to send a check. Thank you!